Three little kittens were found in a feral colony, crying desperately for their mom. They were starving and dehydrated.
A woman who heard their plea, saved them before it was too late.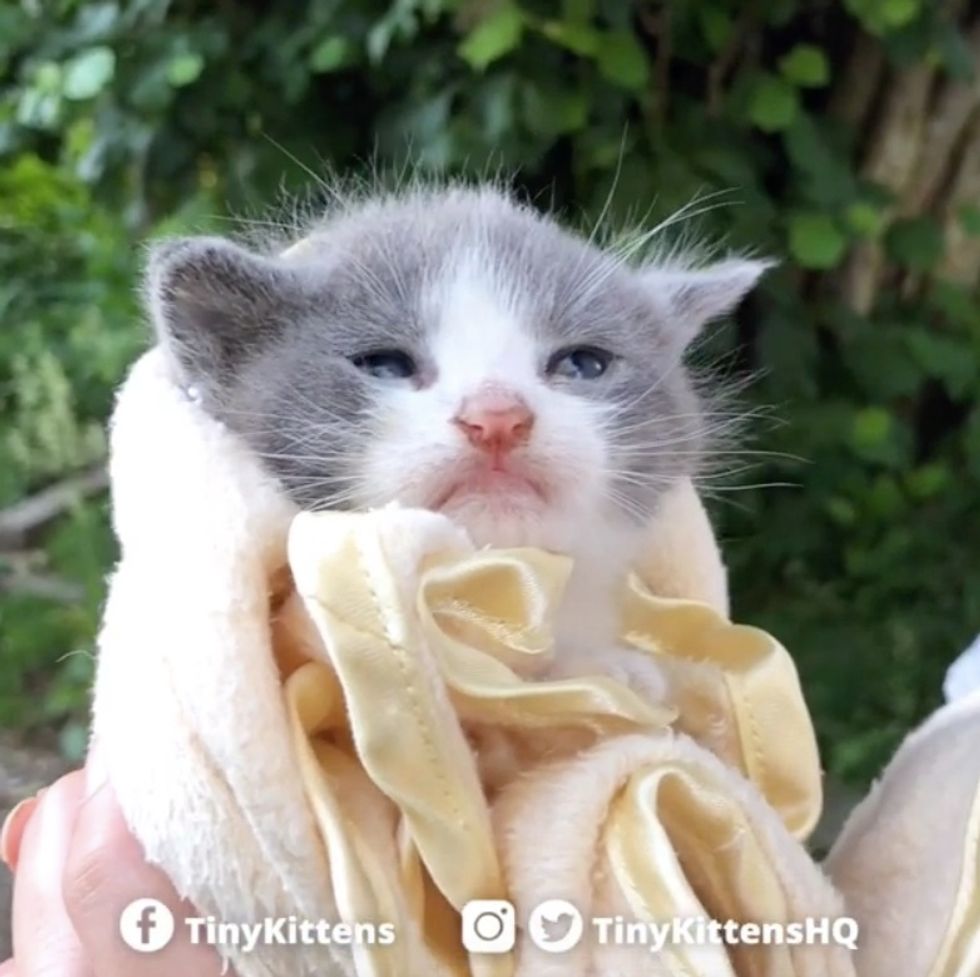 Tinykittens
Two weeks ago, Tinykittens, a rescue group in Langley, British Columbia (Canada), took in three bottle kittens who were in need of love.
"One of the awesome trappers (Trap-neuter-return rescuer) we are working with, Mona, heard them crying and managed to find all three before it was too late," Tinykittens wrote.

The kittens were given food and plenty of cuddles that day. "They were super hungry and dehydrated, but have been doing really well with their bottles."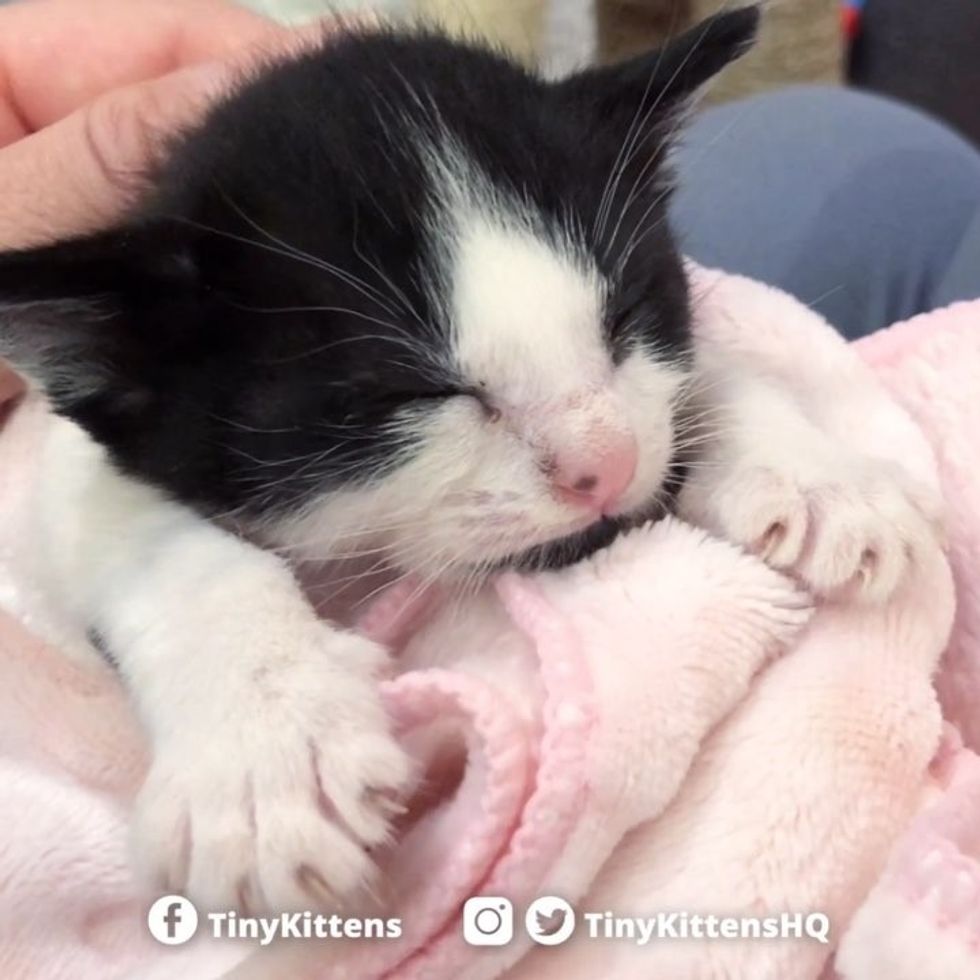 Tinykittens
The trio all came with an adorably special kinked tail, and they were named Avory, Arthur and Ray, the Kinks. Caretakers, Shelly, Suzanne and Gwen, started round-the-clock feedings and provided the kittens with lots of TLC.
The little ones are equipped with a set of pipes and are not shy about voicing their many opinions. (Scroll down for video)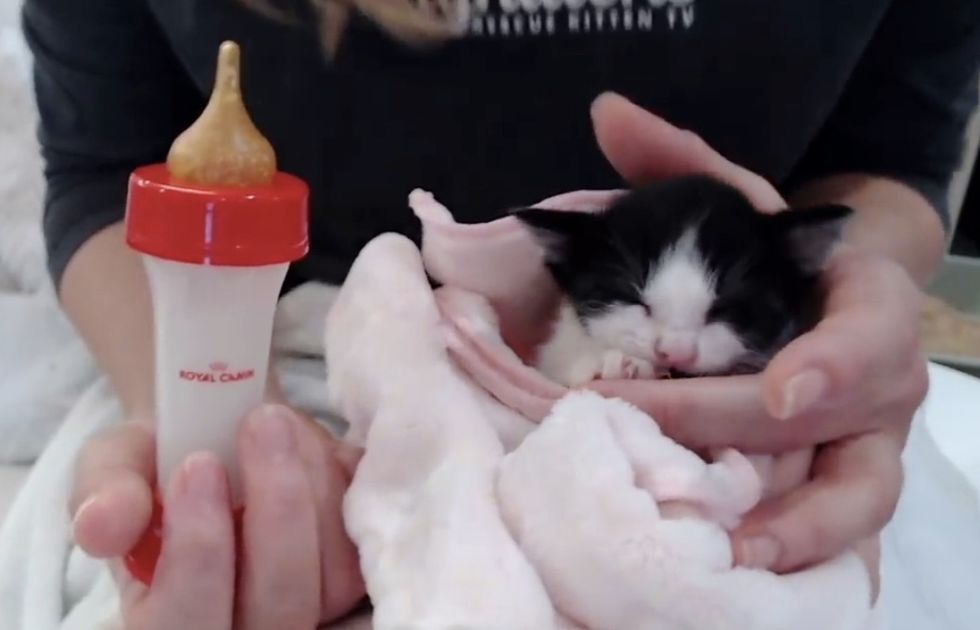 Tinykittens
With dedication from the caretakers, the kittens were gaining weight and recovering well from dehydration, malnutrition and various parasites.

When the their teeth had mostly come in, the kittens were ready to start transitioning from their bottles to "smoothies" (a mix of canned food and formula). "It's fantastic they are showing interest in eating on their own so they can snack in between bottle feedings," TinyKittens wrote.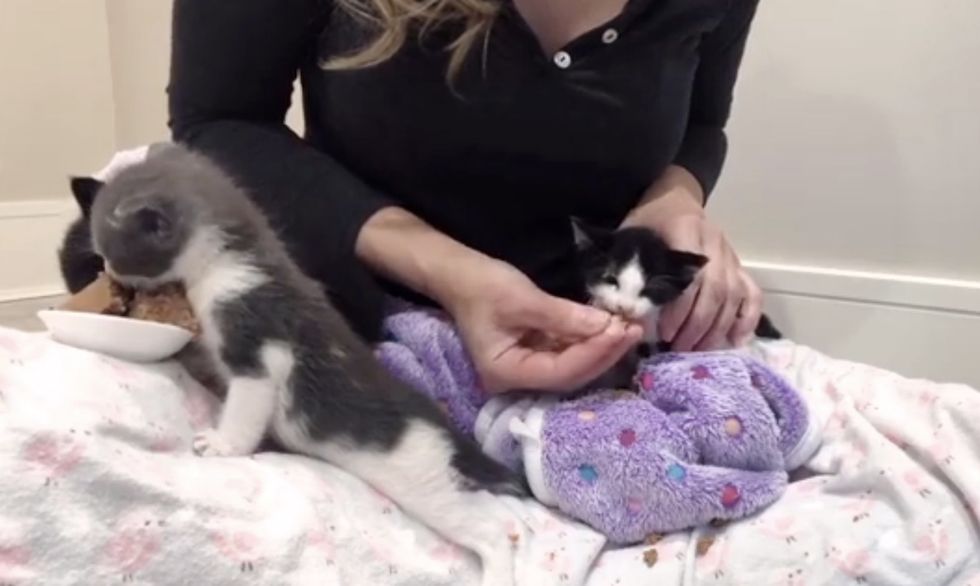 Tinykittens
"The boys are gaining weight like crazy, and doing great after treatment for some pretty wicked ear mites, fleas, dehydration, hunger and tummy troubles," the rescue said.
"These little ones are alive and safe thanks to their super dedicated trapper, who heard their cries and dropped everything to find them before it was too late."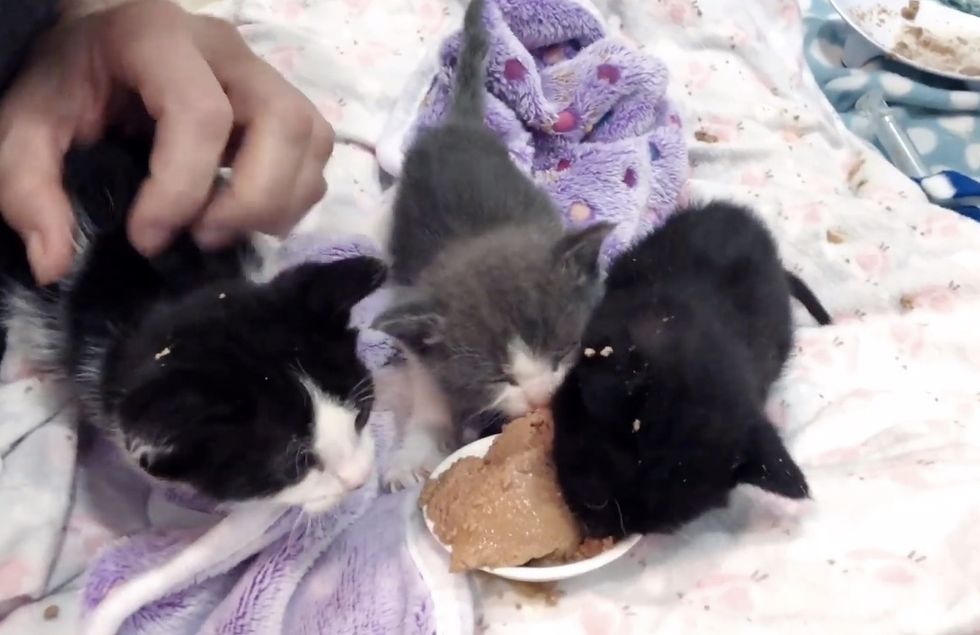 Tinykittens
In one week, the kittens were nursed back to health and gaining weight and strength.

The rescuers never forget about their mama and are on a mission to find her.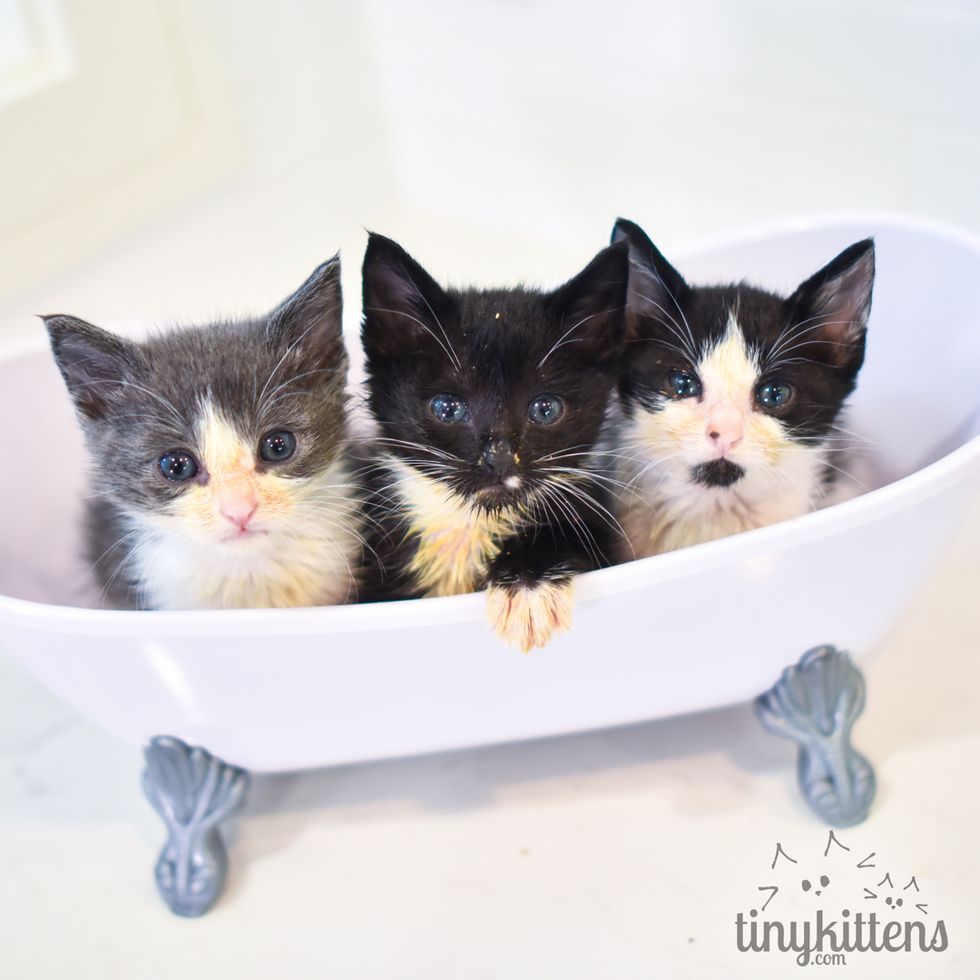 Tinykittens
"The search for their mom continues, but there has unfortunately been no sign of her. It is clear from their condition at that time that she hadn't been to the nest in possibly a day or so. Just one more reason it's so important to spay and neuter," the rescue added.

"We have a trail cam set up at the site with some tasty food, so if she's still out there we should be able to catch her on the cam."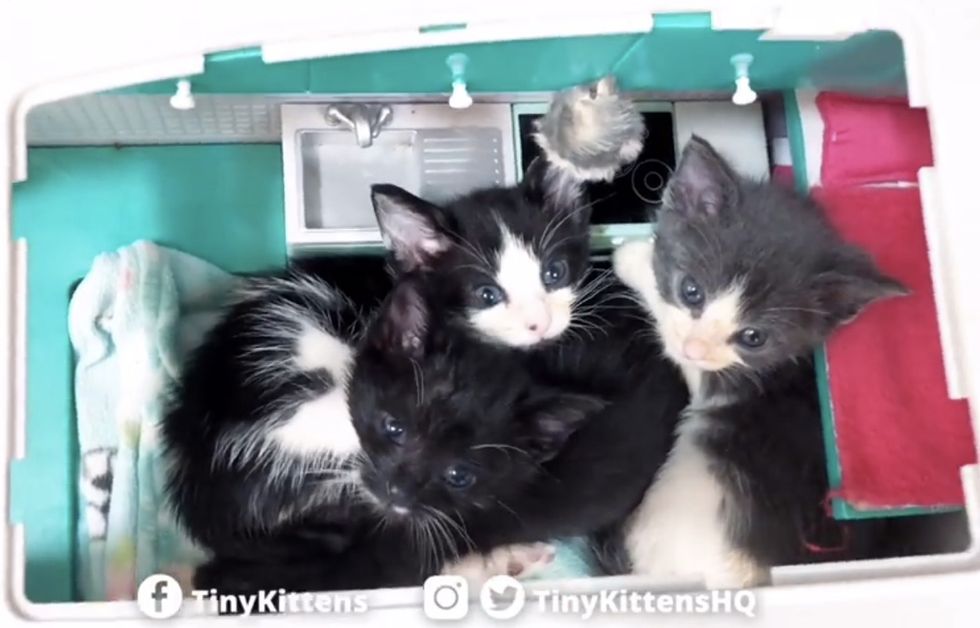 Tinykittens
As for now, the kittens have found a nurturing older cat to cuddle with and love on.
Grandpa Mason, a resident cat at TinyKittens, welcomed the trio with open arms. The little bundles of joy immediately gravitated toward Mason and snuggled right up to him.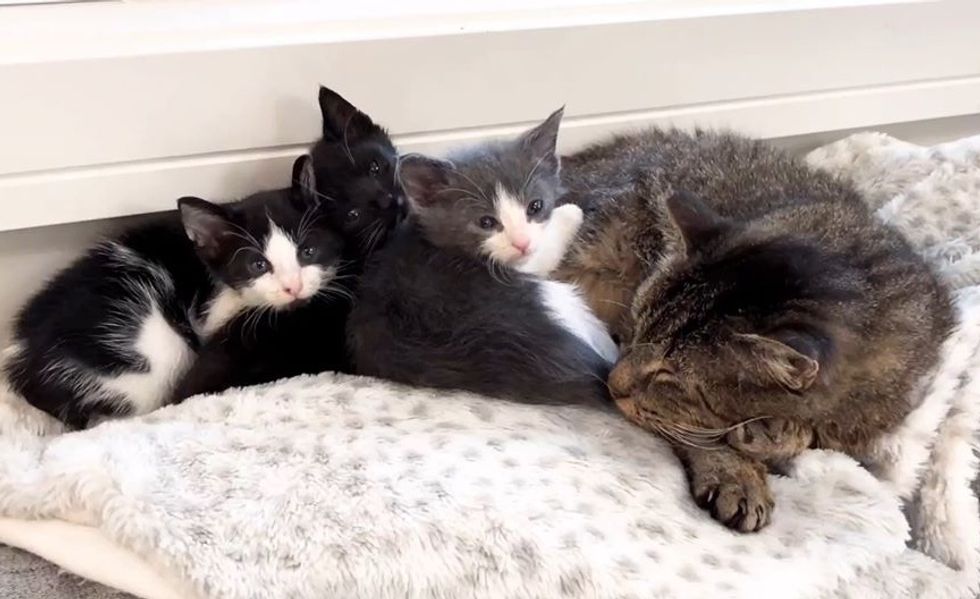 Tinykittens
Grandpa Mason has this calming presence to his foster kittens. Even the shyest kitten couldn't resist his love.
The three boys stopped crying and started cuddling with their grandpa. "This is the most quiet the Kinks have been since they arrived!"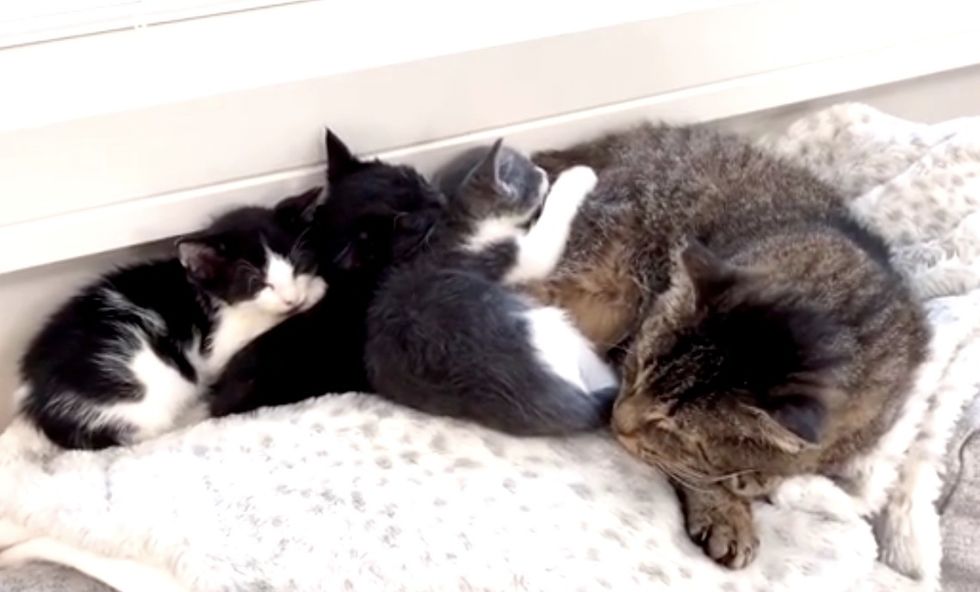 Tinykittens
Follow updates on the kittens on Facebook and Instagram. If you would like to support their rescue efforts, click here to see how you can help.
Watch their story in this video:
Share this story with your friends.

Related story: Feral Kitten With Sorrowful Eyes Steals Couple's Hearts and Learns to Love