A senior cat named Grandpa Mason was so happy when he received new kittens to cuddle with after months of waiting.
The little fosters snuggle up to him, forming a giant cuddle puddle. Grandpa is in pure bliss.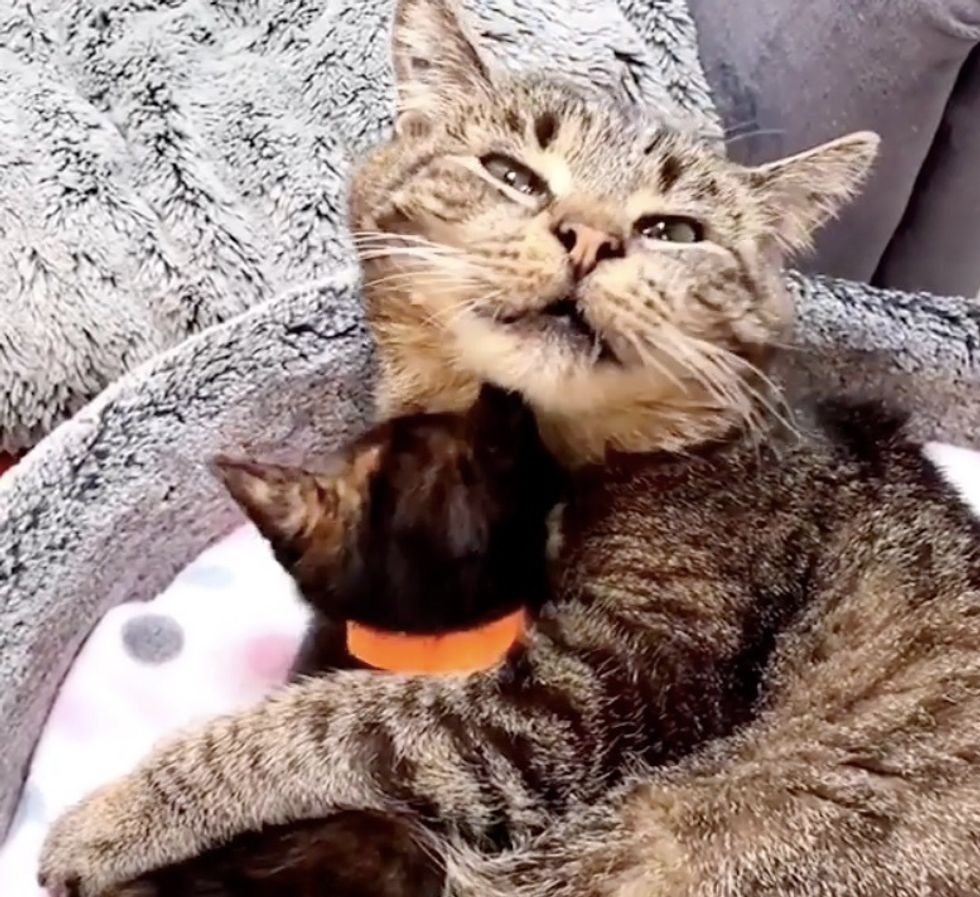 TinyKittens, Grandpa Mason and his kittens
Grandpa Mason came to TinyKittens, a rescue group in Langley, British Columbia, Canada, after spending most of his life living as a feral. He was found in poor shape, with terminal kidney disease, and was fighting to live.

Despite his health issues, rescuers were determined to save him. Grandpa Mason was extremely fearful of humans and would not let anyone near him. But everything changed, when his caregiver brought some foster kittens to keep him company.
His "fierceness" turned to mush and he began to purr and enjoy the company of tiny kittens.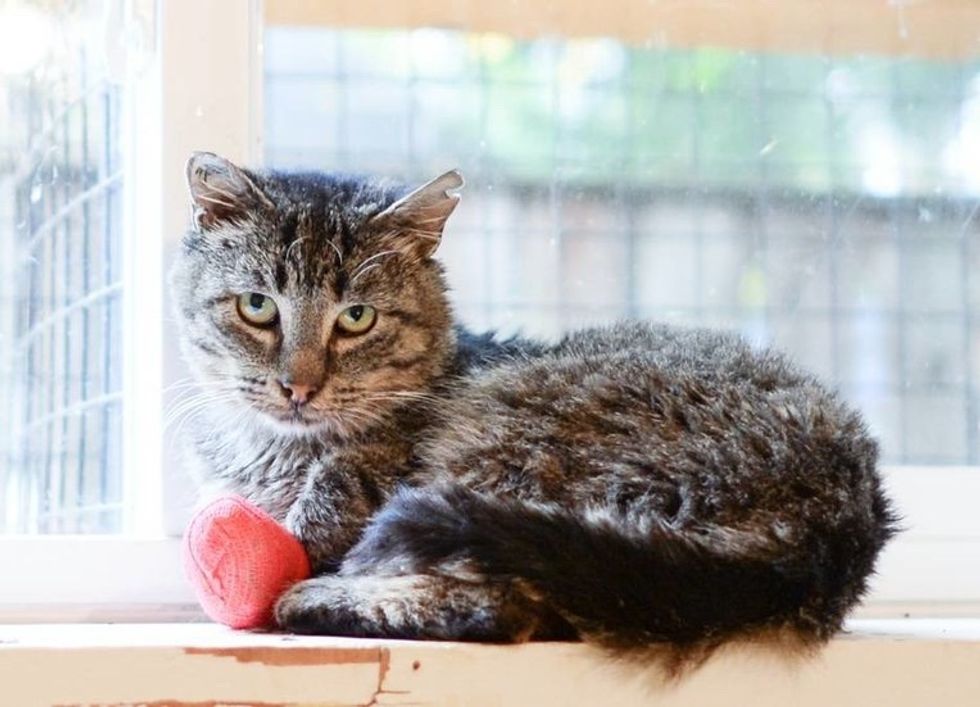 TinyKittens, Grandpa Mason and his kittens
His demeanors completely changed from fear to pure joy. Rescuers at TinyKittens were amazed by the interaction between Mason and his precious kittens, and decided to continue bringing fosters to the sweet grandpa.

"He is happiest when he is covered in a pile of purring kittens. He lets them nurse on him, styles their hair and teaches them important Grandpa secrets about how to be a cat," the rescue shared with Love Meow.
Since then, Grandpa Mason has fostered numerous litters of kittens.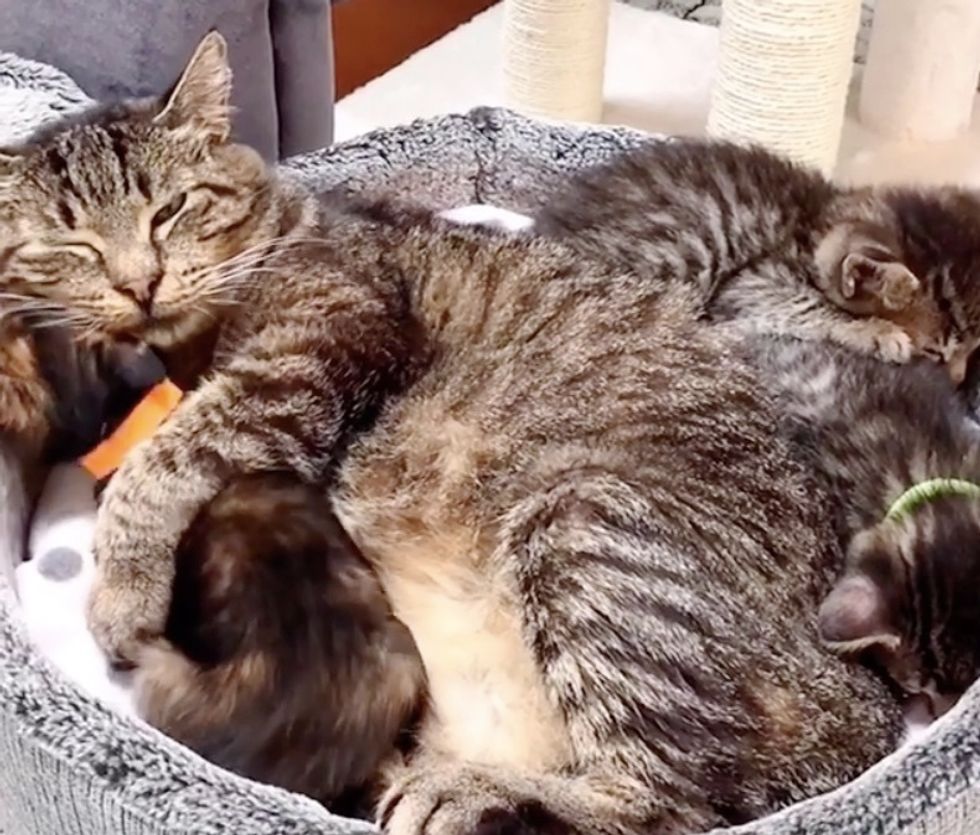 TinyKittens, Grandpa Mason and his kittens
When his last batch of fosters went to good homes in January, Grandpa curled up in his tiny couch where he normally cuddled with kittens, all alone.

TinyKittens reached out to the public to see if there were any relatively healthy kittens that could use some of Grandpa's love. After months of waiting, Grandpa Mason's dream came true.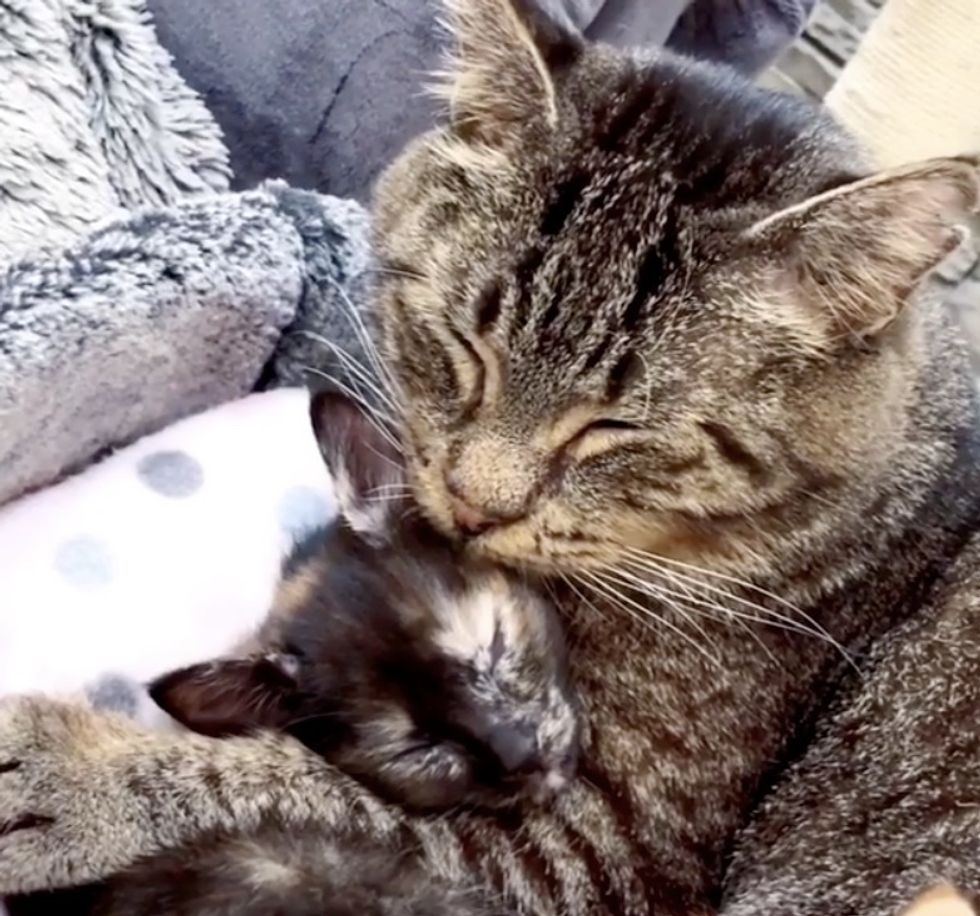 Nakia loves Grandpa MasonTinyKittens, Grandpa Mason and his kittens
TinyKitten rescued three pregnant feral cats so their kittens could be born in a safe place with lots of love and care. Once the kittens were big enough, they were introduced to Grandpa.

One of the kittens, Nakia, immediately went in to nurse. "Nakia was determined to locate Grandpa Mason's milk-bar, and he loved it when she gave him face-kisses."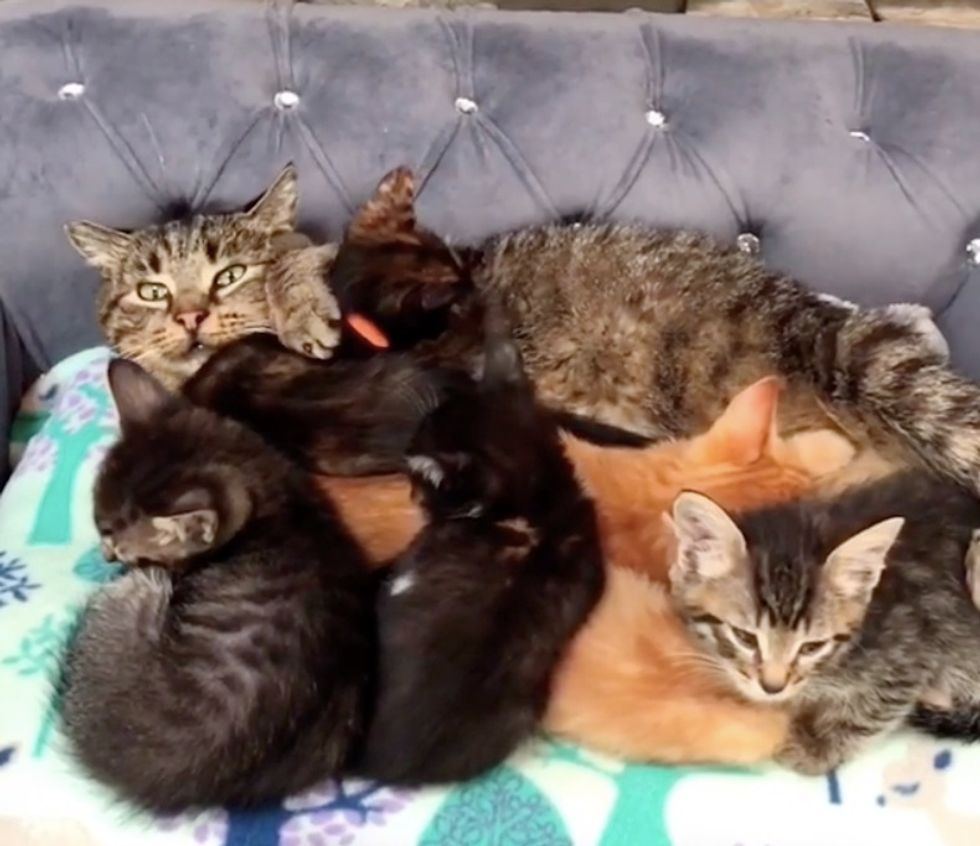 TinyKittens, Grandpa Mason and his kittens
"Comfort nursing is purrfectly normal and not harmful for kittens or Grandpa. It is beneficial for the kittens while they wait for their mother's milk to finish drying up, and Mason purrs the whole time," the rescue said.
The kittens gravitate to Grandpa. Within seconds, they are cuddling and purring nonstop around him.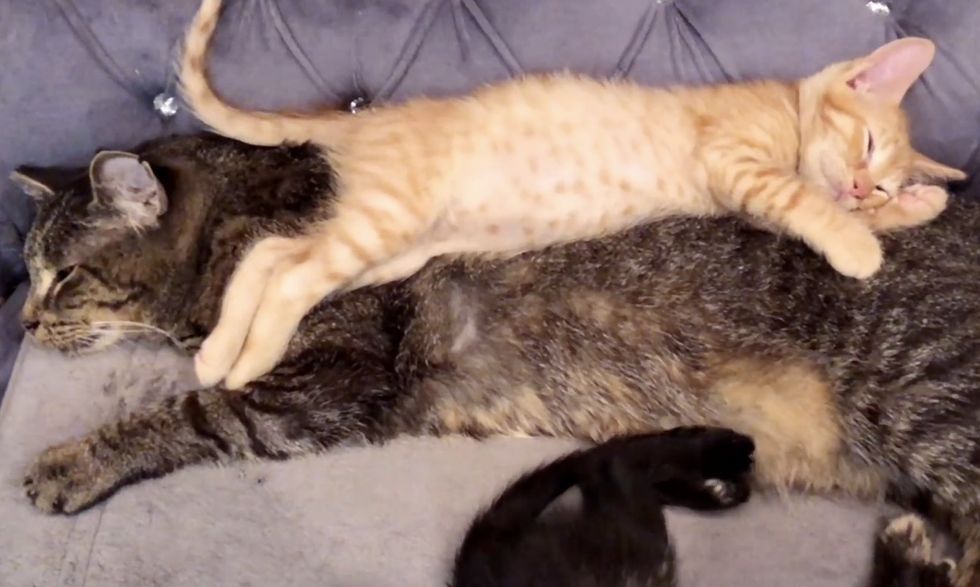 Cheddar
The little couch is back to how it used to be - full of foster kittens. "Grandpa Mason and his kittens are enjoying a good old-fashioned kitten pile on the tiny sofa," the rescue said.
Aura, a special needs kitten who was born with a cleft palate, can't resist grandpa's love.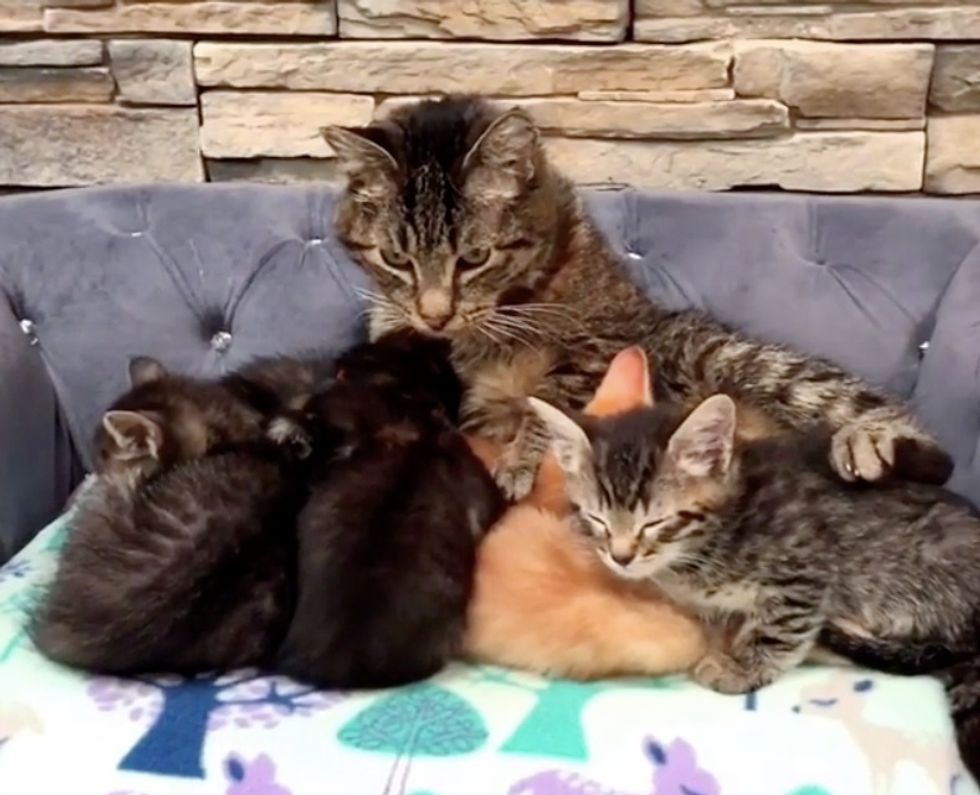 TinyKittens, Grandpa Mason and his kittens
Grandpa Mason gives the cat mamas a break from their demanding kittens.
When they return to their babies, sweet Mason gives them space to reunite with their kittens but is always ready to cuddle and play whenever the kittens need him.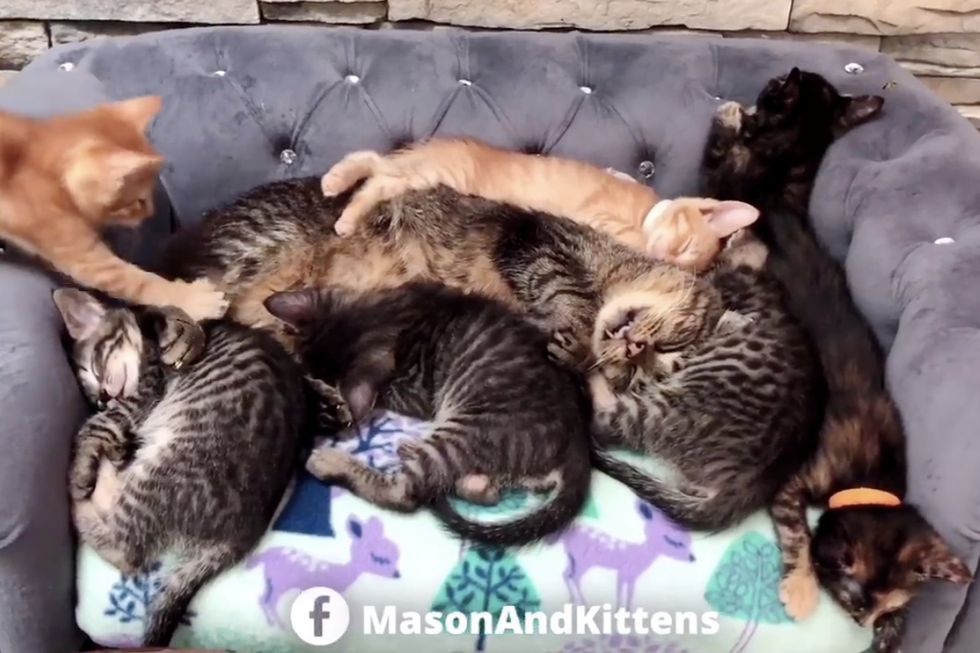 TinyKittens, Grandpa Mason and his kittens
"These kittens love them some Grandpa!"
After a few months of anticipation, Grandpa is cuddling with kittens that he so adores. He couldn't be happier.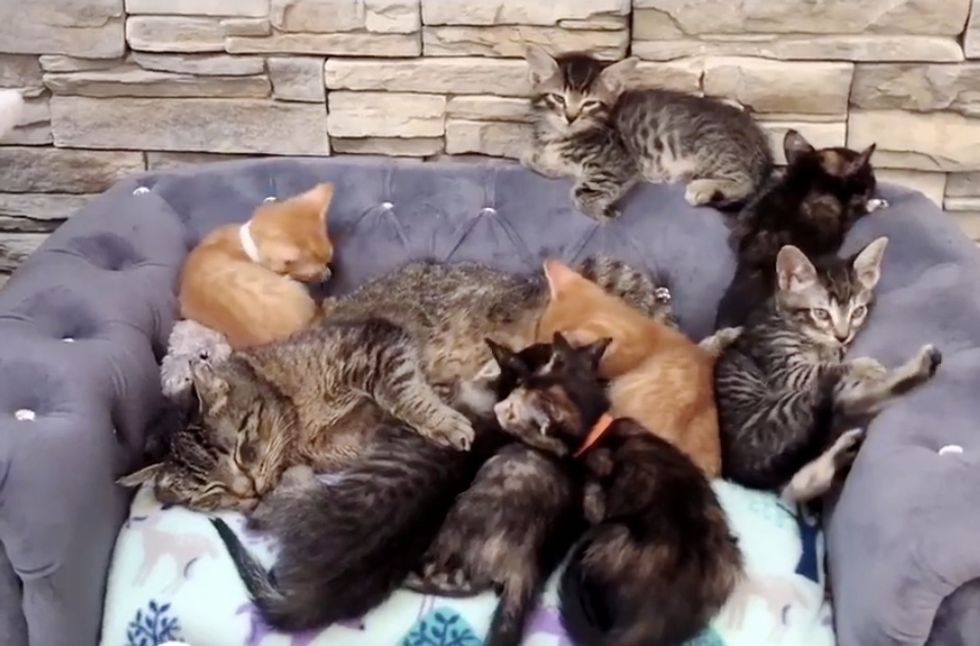 TinyKittens, Grandpa Mason and his kittens
Follow Grandpa Mason and His Kittens on Facebook. Follow TinyKittens on Facebook and Instagram. If you would like to support their rescue efforts, click here to see how you can help.
Watch Grandpa Mason and his new foster kitties in this adorable video:
Share this story with your friends.

Related story: "I Got A Cat For My Sick And Grumpy Grandpa, and He Turned His Life Around"