A little kitten has a condition, in which he will need to be held upright in a purrito every time after he eats.
He doesn't mind at all.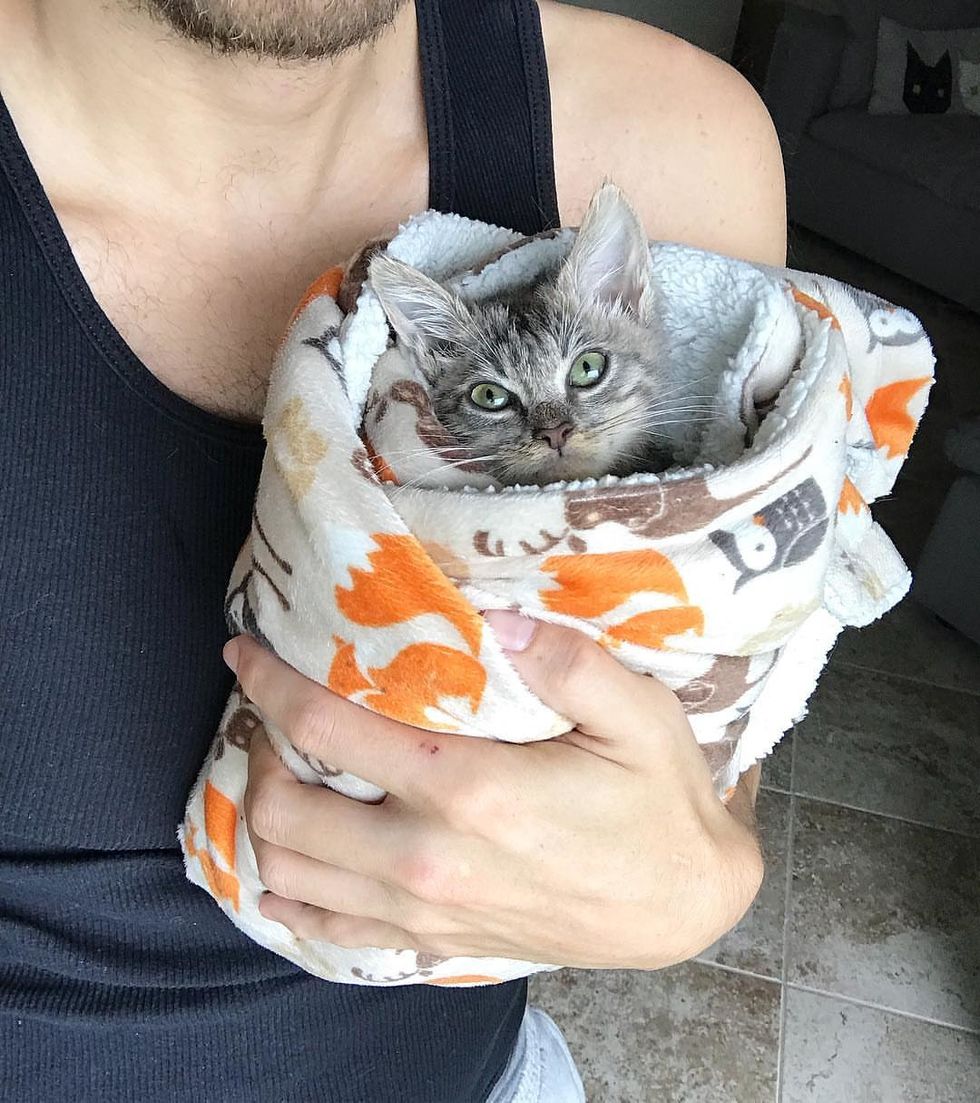 Andrew Marttila @iamthecatphotographer
Two kittens were brought to Orphan Kitten Club for a second chance at life. They were hungry but had trouble eating. One of them was very underweight.

Hannah Shaw, founder of the rescue, immediately started them on a nutrient-rich diet. Her partner Andrew Marttila joined in to provide cuddles and companionship to help them get back on track.
The tinier of the two, Jumbo Slice, was a challenging case. "These sweet boys were raised as bottle babies in a nursery, but came to us at seven weeks old because they were not thriving, were not gaining any weight, and had other odd symptoms," Hannah said. "We took them in and got to work, determined to discover why they were in such bad shape despite such attentive care."
Over the next five weeks and after many diagnostics, they discovered that Jumbo has a severe case of megaesophagus, in which his esophagus is enlarged and has decreased motility.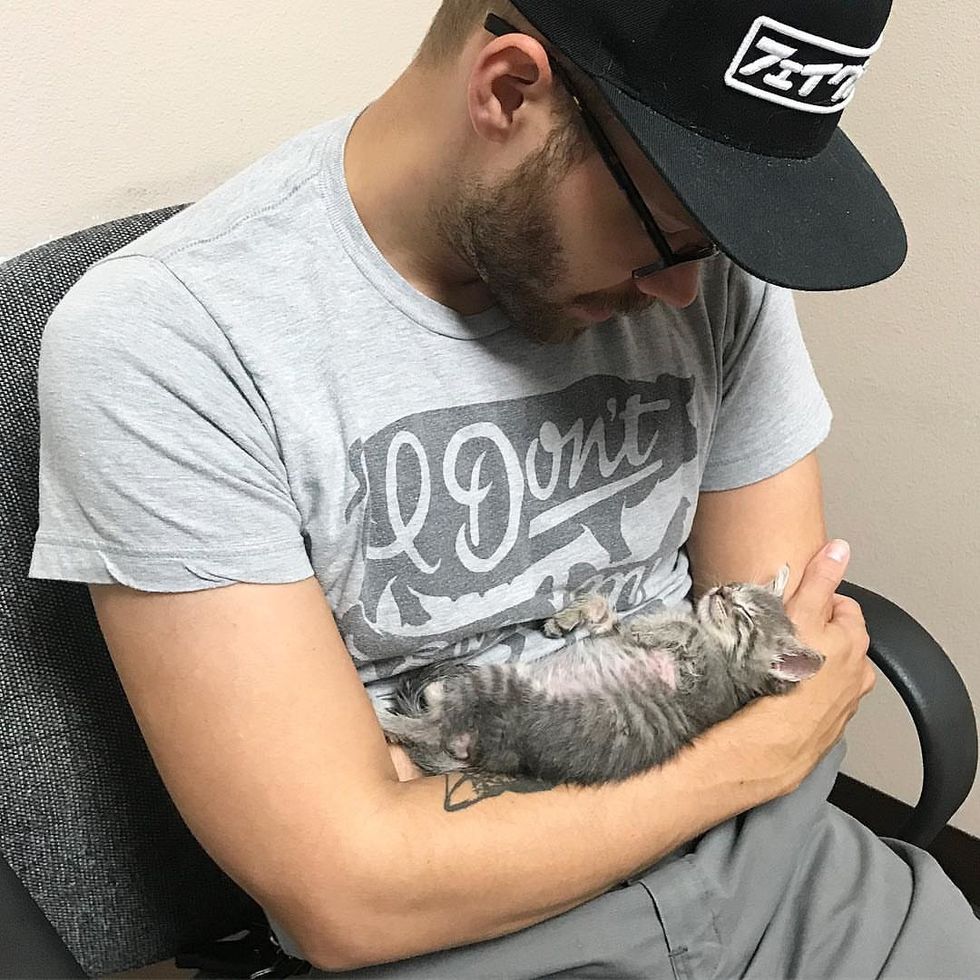 Andrew Marttila @iamthecatphotographer
"This means he has challenges getting his food to make it into his stomach, resulting in regurgitation, weight loss, and the potential for aspiration pneumonia. Megaesophagus might sound like a bummer, but it is completely manageable with specific care," Hannah explained.
Though this may be a lifelong condition for Jumbo, he doesn't let anything stop him. "He has a great appetite and we have a treatment plan in place for him that is simple to do."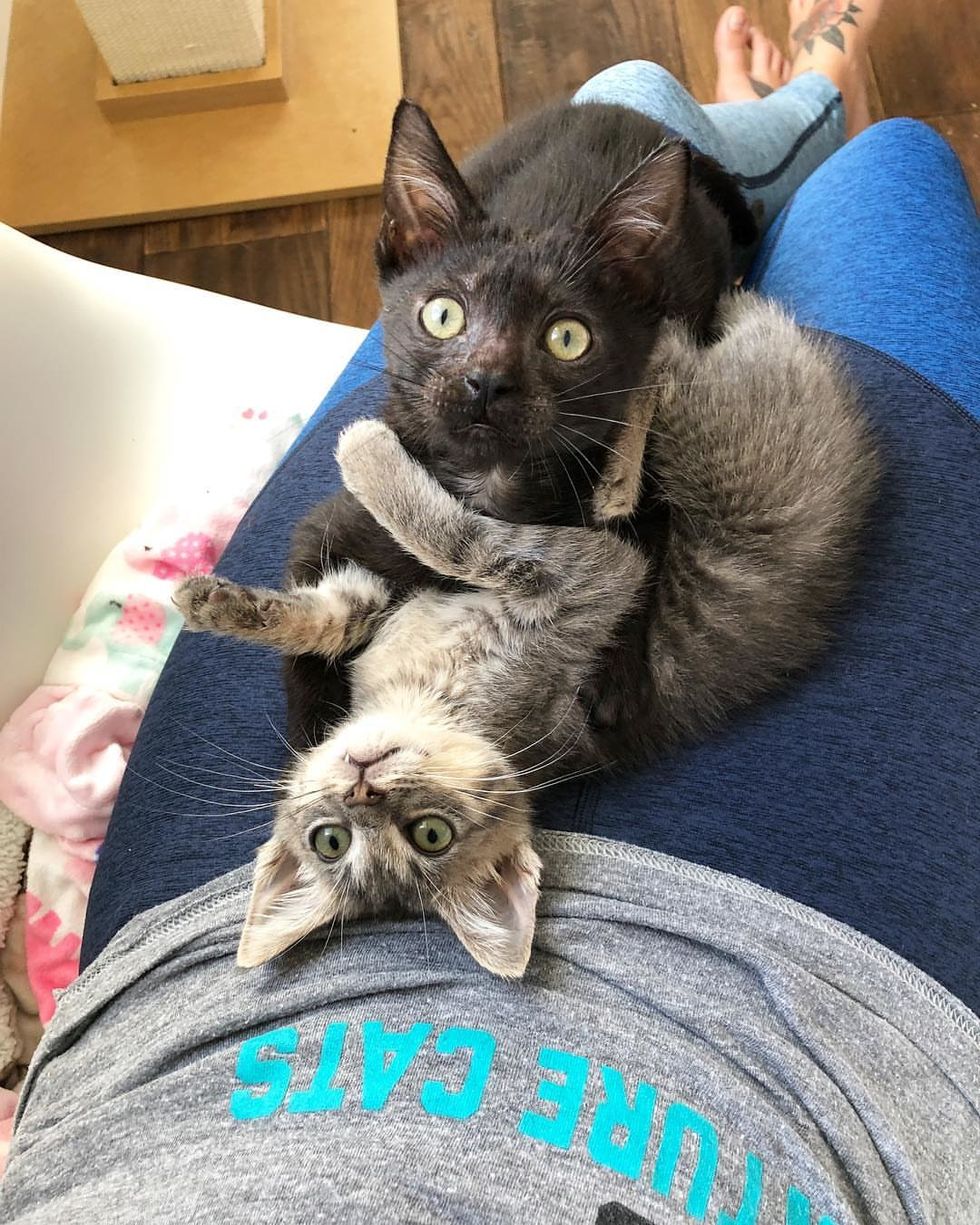 Hannah Shaw @kittenxlady
Jumbo has to be fed upright, so Hannah got him a special feeder made for kittens with megaesophagus. The device will allow him to eat safely.

After each meal, Jumbo needs to be held upright for a period of time and for as much of the day as possible. Hannah will wrap him into a purrito and carry him around in her arms to keep the kitty in the right position.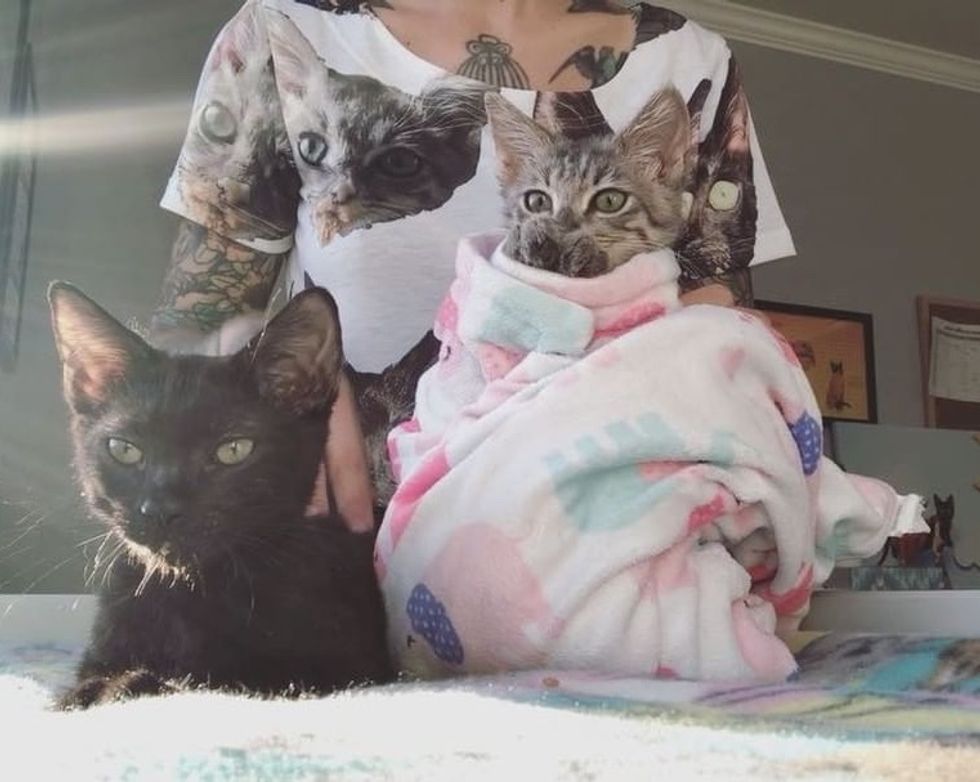 Hannah Shaw @kittenxlady
Throughout the day, Jumbo has many small, blended meals on the special feeder, followed by lots of purrito snuggling while being held upright for 15 - 20 minutes.

"This allows the smooth, soupy food to slide down the esophagus and into the stomach," Hannah said. "Holding him upright reduces the frequency and volume of his regurgitations which we hope will allow him to absorb nutrients, gain weight, and avoid further pneumonia."
Andrew jumps in to help with the cuddles whenever possible.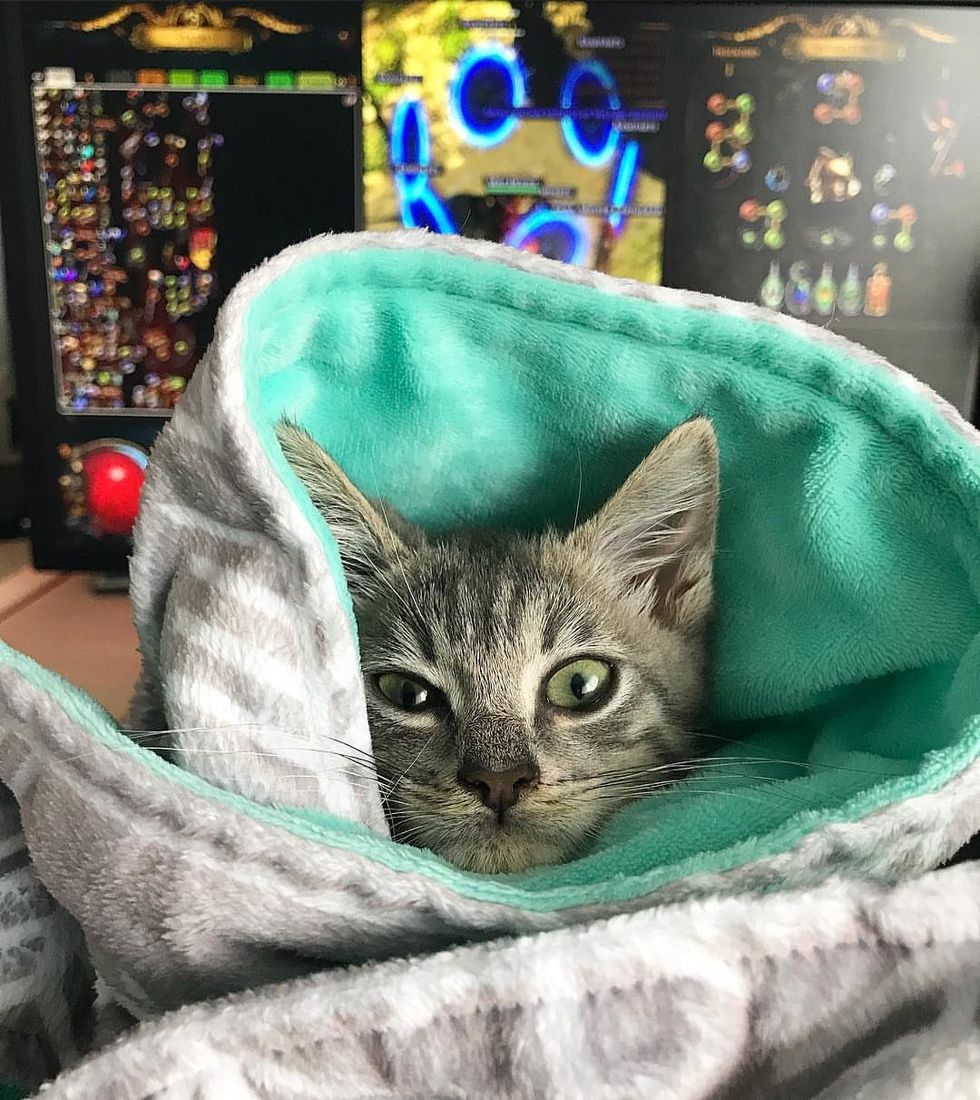 Andrew Marttila @iamthecatphotographer
During his purrito time, Jumbo gets lots of love and head scratches, and he often falls fast asleep. "I am completely and utterly in love with his gentle purrs and his fighting spirit," Hannah said.
Watch: Sweet Jumbo getting some head scratches during purrito time:
"When we got him, he was skin and bones; at almost eight weeks old, he was no where near the two pound mark. In fact, he wasn't even near one pound!
"It has been a long road but thanks to a lot of hard work and finding meds that are working for him, Jumbo is gaining steadily."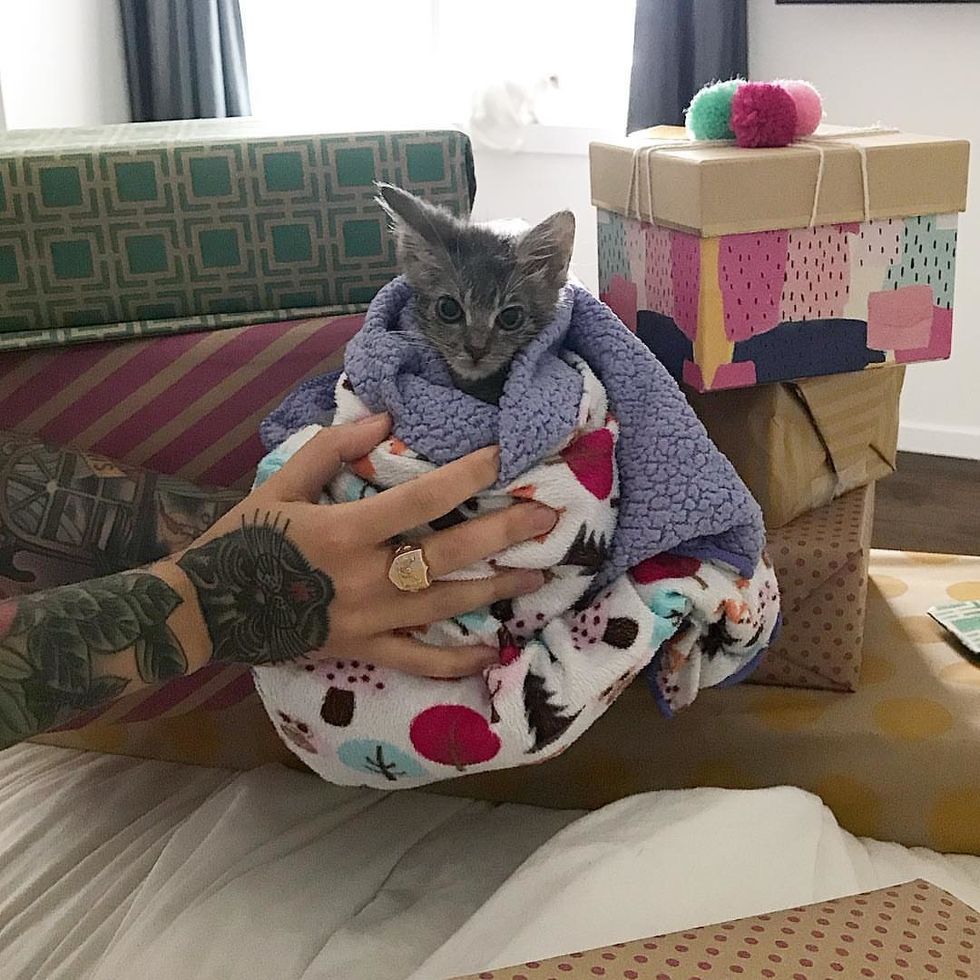 Andrew Marttila @iamthecatphotographer
In two months, Jumbo Slice and his brother, Deep Dish, have made massive improvement. The little purrito kitty has finally reached his two pound mark milestone.

"Although he will potentially be a special needs boy for the rest of his life, his condition is 100% manageable. Jumbo will need to find an adopter who understands that he eats a little differently and who can provide him his daily meds," Hannah said.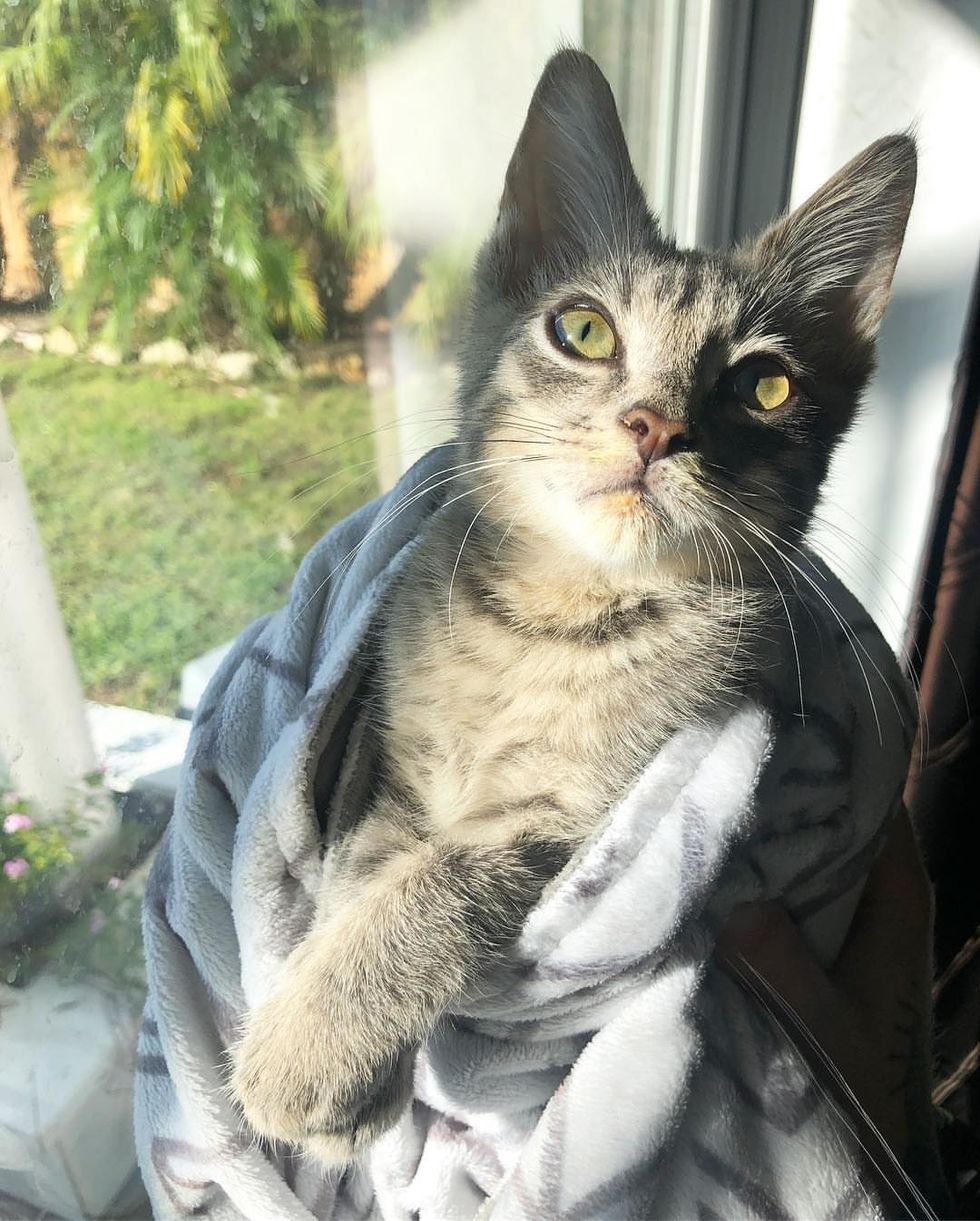 Hannah Shaw @kittenxlady
The two brothers share an inseparable bond and can't bear to be apart, not even for 15 minutes. "After a meal, Jumbo Slice gets his purrito time to help with his megaesophagus, and Deep Dish gets so concerned that he doesn't want to leave his brother's side! These boys love each other so much," Hannah said.

"Jumbo and DD have been through so much together and they are truly two of the most bonded kittens I've ever met."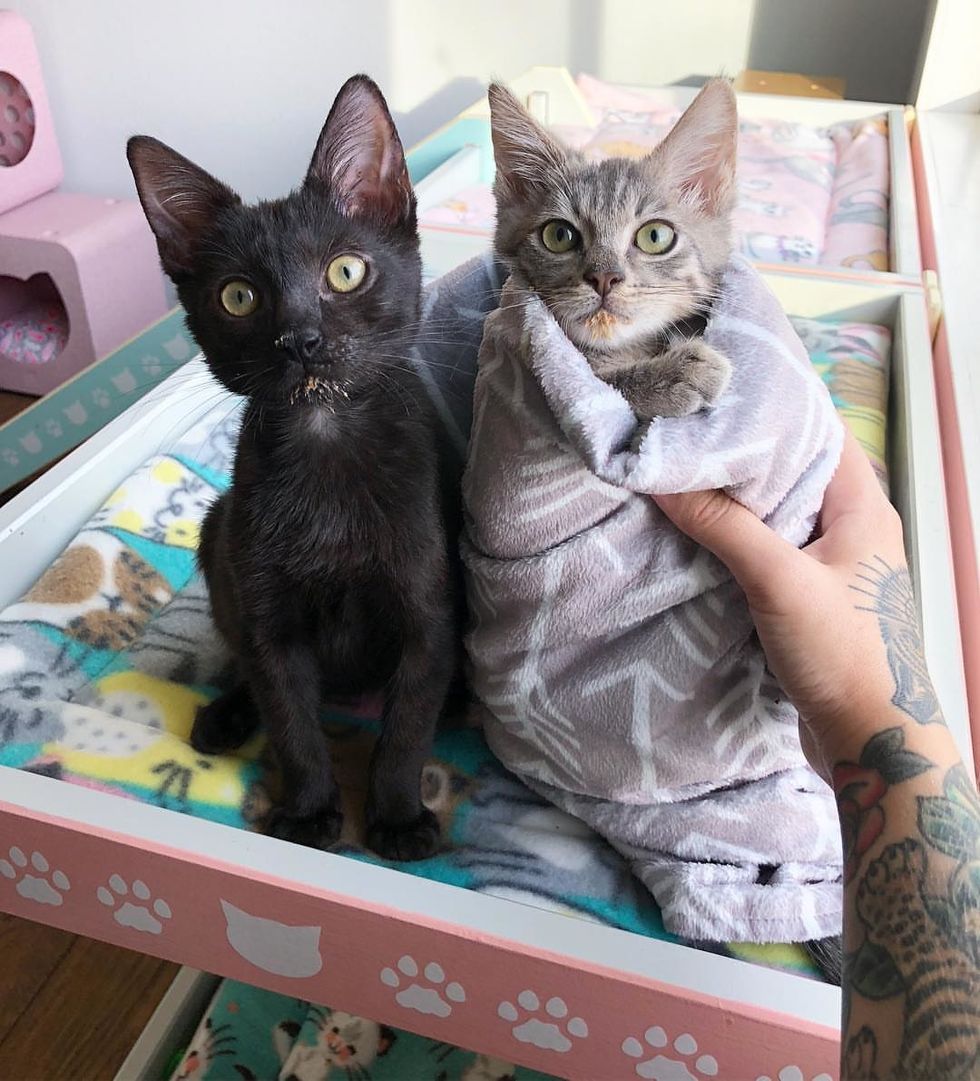 Hannah Shaw @kittenxlady
Share this story with your friends. If you are interested in adopting both Jumbo and DD, click here for more info. Follow updates on Jumbo and DD on Facebook and Instagram.
Related story: Cat Comforts Orphaned Kitten and Teaches Him How to Cuddle Every Day