A man, Uli Sharbinie, with a humble beginning and a tremendous heart for animals has been on a crusade to save stray cats in his village.
When he was young, his grandfather brought home stray cats and cared for them. It was instilled in Uli that with love and compassion, they could make a difference for these animals. He saw what a little bit of kindness could do to help those in need, and he has been on a journey to rescue local strays ever since.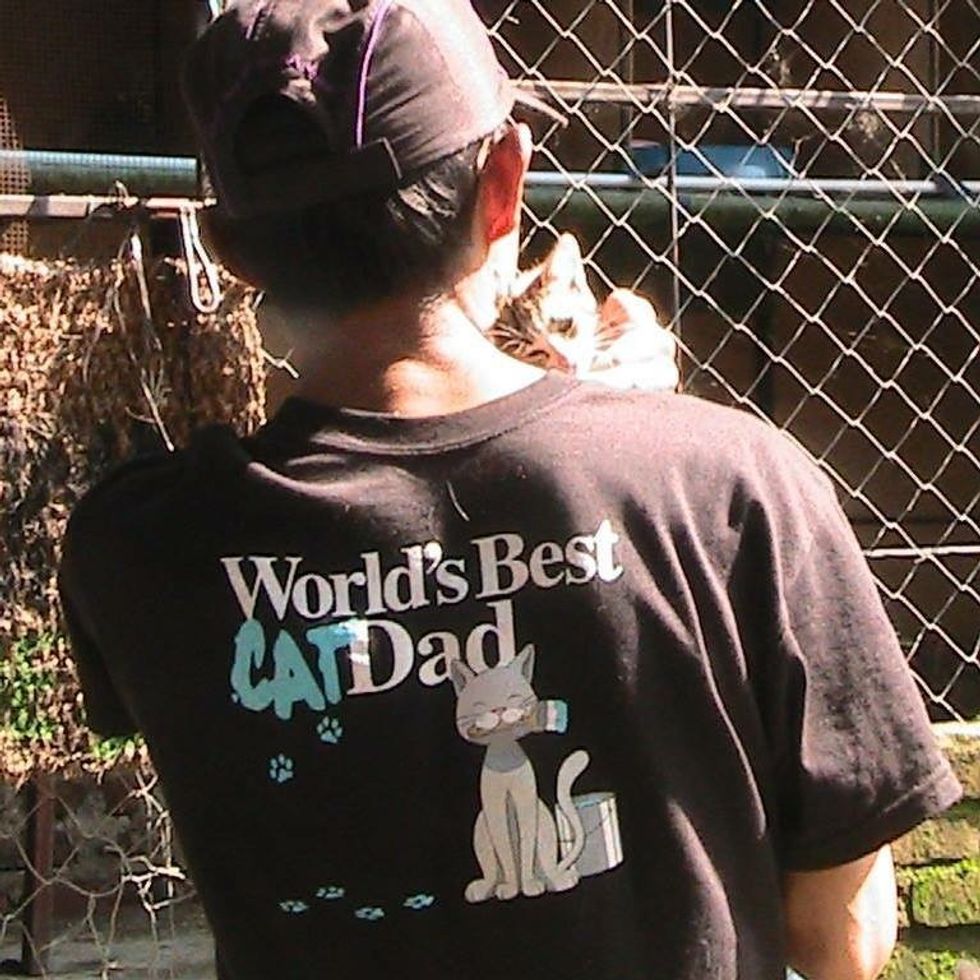 Courtesy: Uli Sharbinie
Uli lives in a village near Bogor, Indonesia. It is rural and covered with dirt roads. He brings home sick, injured cats and kittens from garbage disposal, traditional markets, schools, streets and parking lots.

Now at 47, a father of five children, his wife Desi and his mother, 90 years old, all live in one room home, but Uli is building a new home for the cats. "In 2011 I started building a small shelter to give home for stray cats," Uli told Love Meow.
But soon he realized that it wasn't enough as the number of needy cats kept increasing. Then he met an Angel named Kristen Larson who lives in Oxnard, California.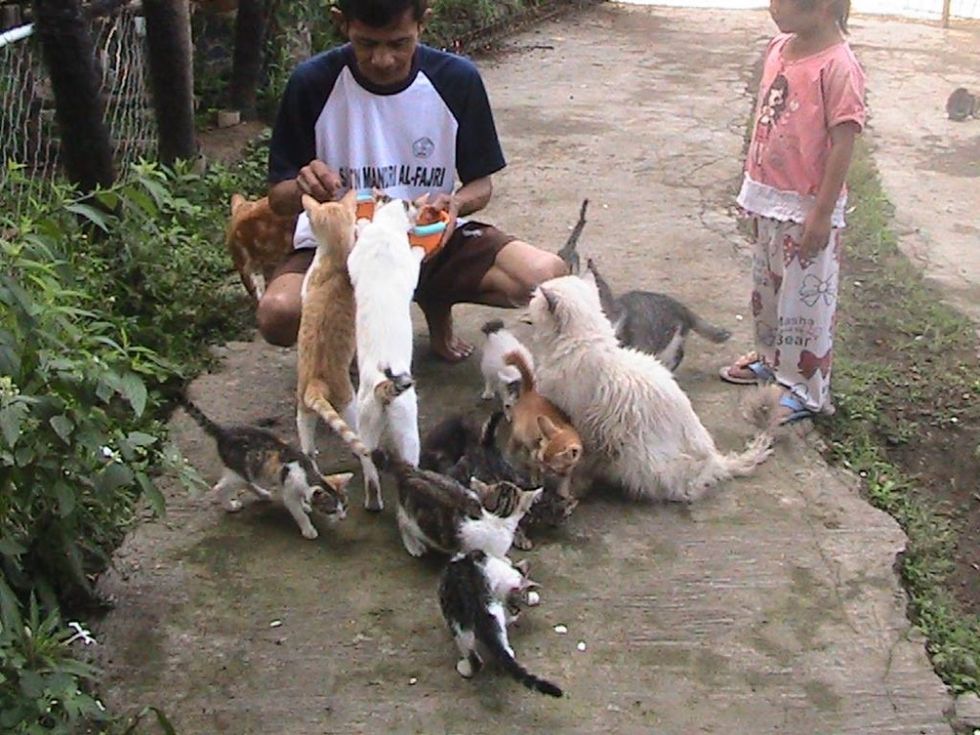 Courtesy: Uli Sharbinie
Larson and Uli connected on Facebook one day, though they were two hemispheres apart, they had one thing in common—rescue animals in need. When Uli found a kitten living in a cage for six months that was in desperate need of rescue. Larson reached out to help, and together they got the kitten out to safety and gave him the medical attention he needed.
"Uli asked me if I would give him a name. He was now called Liberty. This was in early 2015. Liberty was the first official cat to establish the cat sanctuary," Larson said.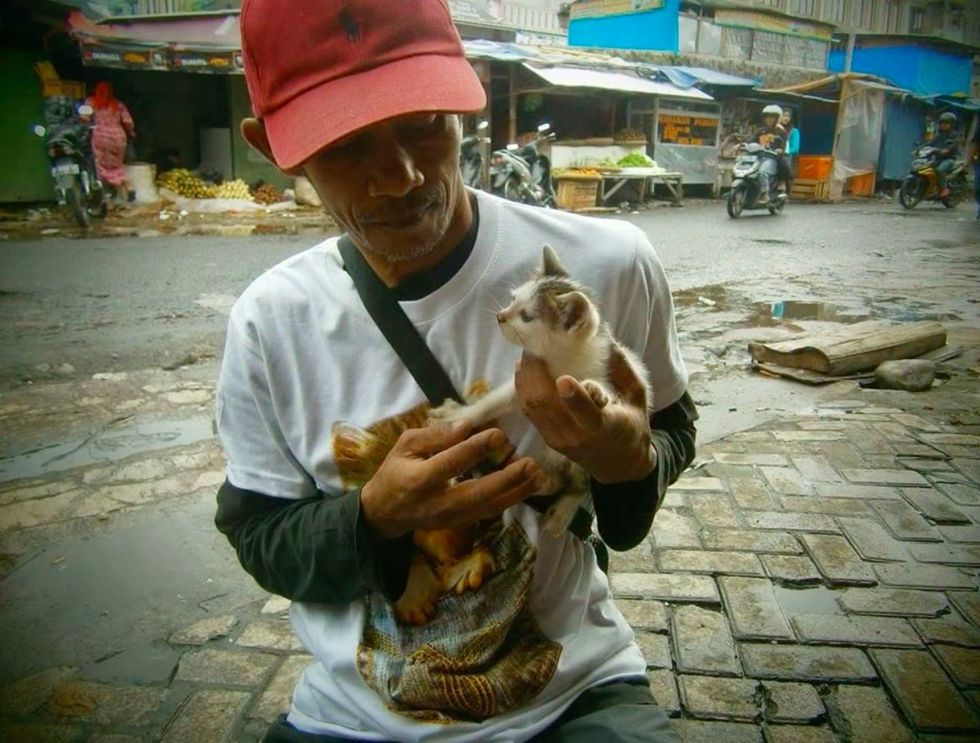 Courtesy: Uli Sharbinie
From that day on, Uli continued to bring home strays, and Larson knew that he couldn't do all on his own, so reached out to a few people she knew on Facebook that were animal rescue advocates and asked them to join the mission.
"Cher Callaway, Trish Delahaye and Daniela Langer-two of us are from the US, Trish is in the UK and Daniela is in Germany. We immediately started working on fundraisers for him by sharing his passion for the strays."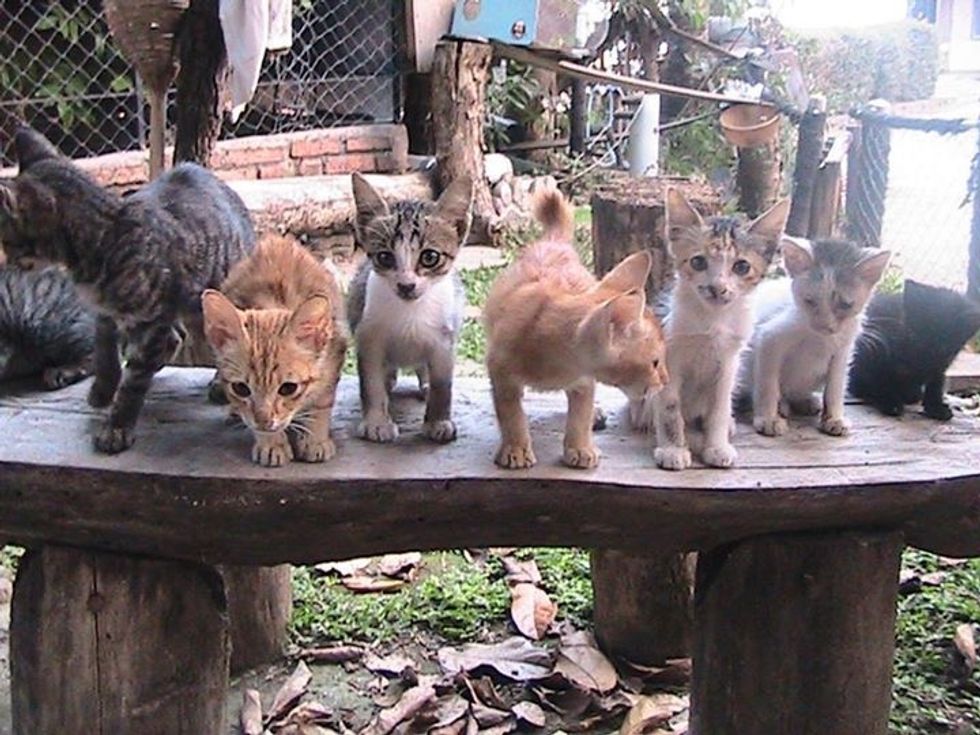 Courtesy: Uli Sharbinie
"He used that money to set up the sanctuary so he could bring more needy cats and kittens home. Uli's family have been very supportive of his cat rescue sanctuary and all take a very active part in the daily feedings, giving medical care, bottle feedings every hour because some of the kittens come to him only days old."
The cat sanctuary is not only a home for the stray cats but also a place to educate children about animals. "My wife and are teachers, and we bring our students here. To give more space, we are working to build a 3-story home for the stray cats," Uli told Love Meow.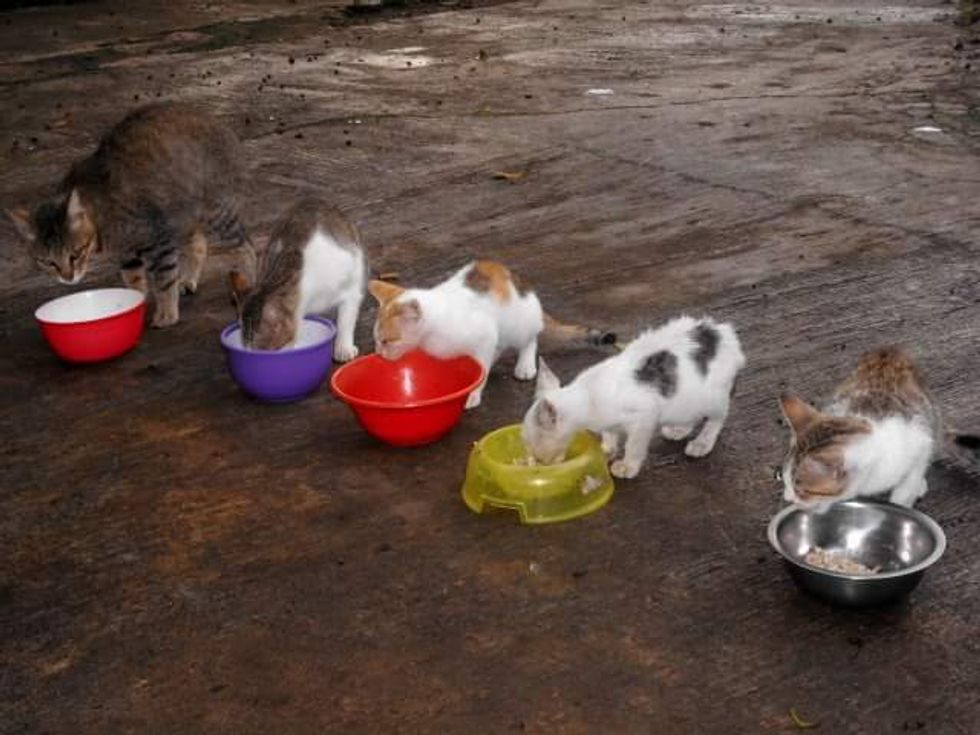 Courtesy: Uli Sharbinie
The cat situation was abhorrent in the area before Uli got known as the cat man. "The mother cats are poisoned and the kittens left at market places or the traditional garbage dump sites. Some kittens come with the umbilical cord still attached, only hours old, with the most horrendous eye infections, mange, worms etc. Some have been hit by cars, left on the roads and Uli's children have brought these cats and kittens home," Larson told Love Meow.

Uli always keeps the doors open for any needy animals and helps them no matter what.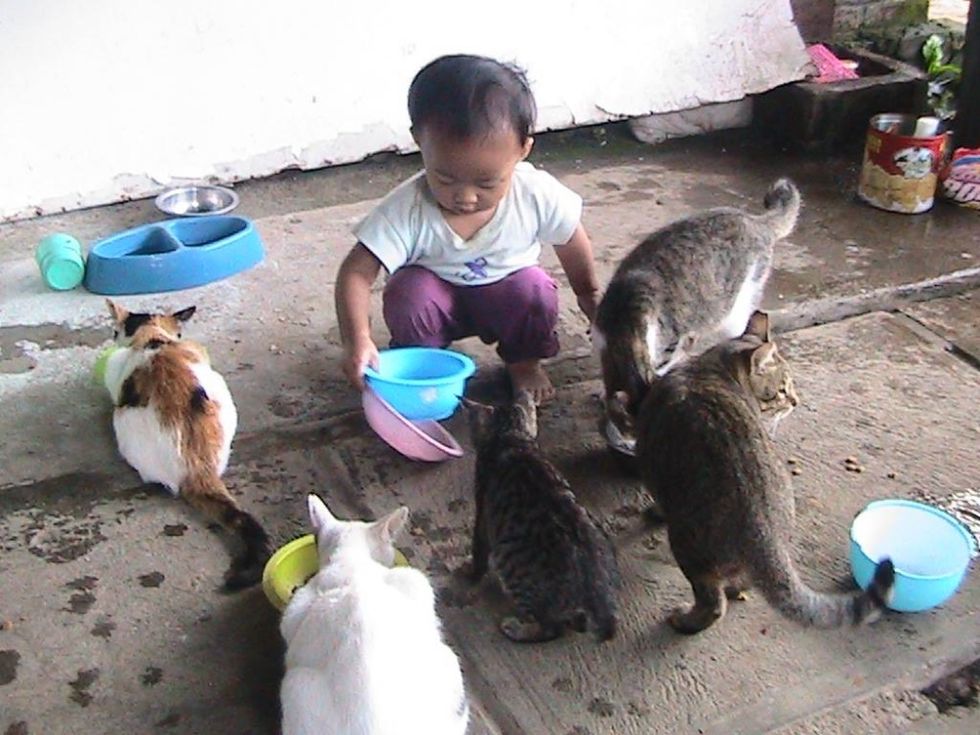 Courtesy: Uli Sharbinie
"It used to be that the neighboring villagers thought nothing about seeing a stray cat or kitten on the road dying, but it is changing for Uli. There isn't one week that goes by that someone isn't bringing him a needy cat," Larson said.
"Uli has gotten the recognition that he will try and save any and all. He is a teacher, works three jobs and will bring the strays home with him. whether he can feed them or not, he always makes sure that they have at least rice to feed them."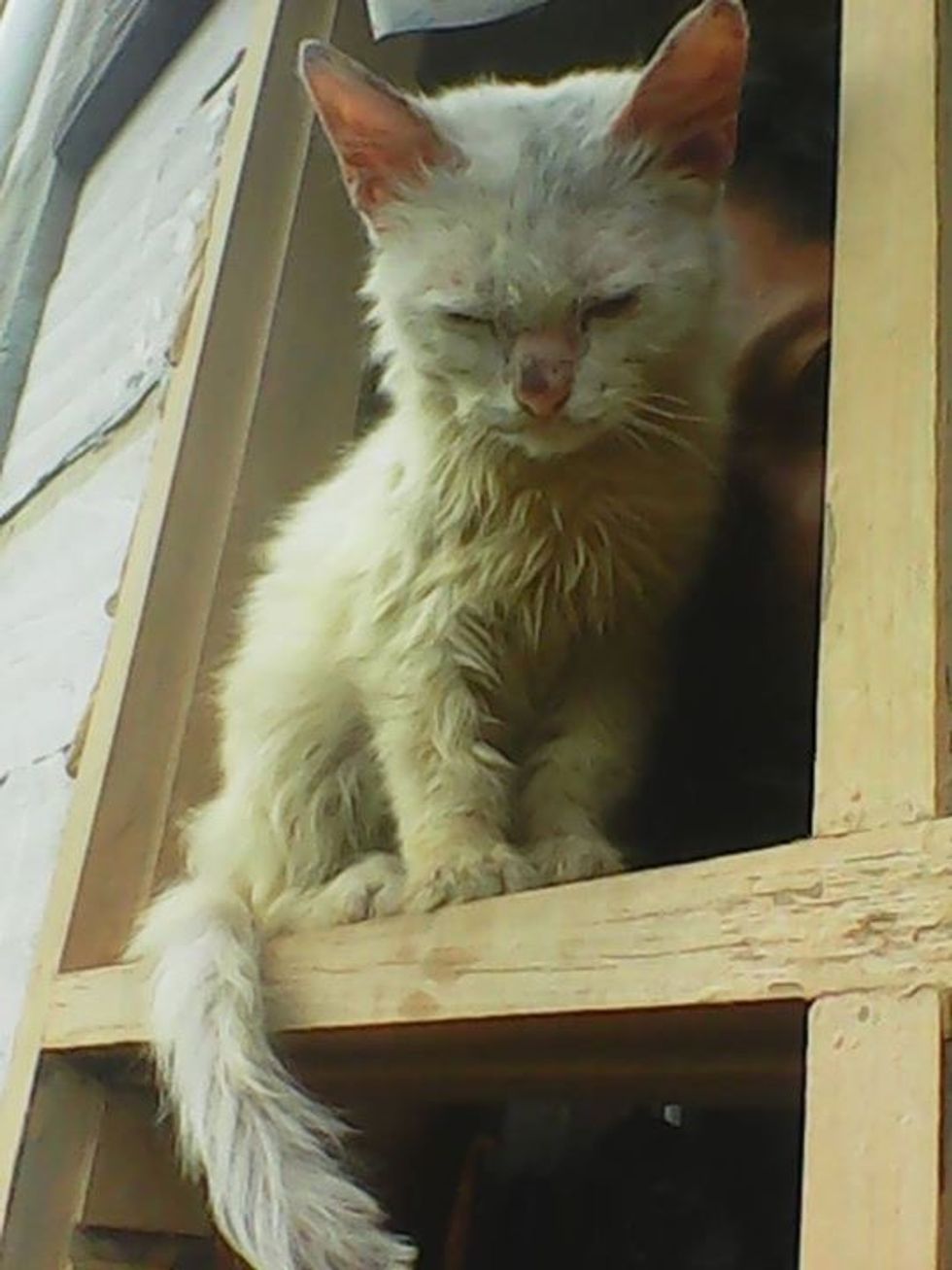 Courtesy: Uli Sharbinie
There are currently 33 cats living at the sanctuary. Uli and his family also care for cats living outside to make sure they are fed, vetted, and spayed/neutered.
"He taught everyone at his home how to bottle feed. The Angels were scrambling to get him supplies, kitten milk replacement, bottles, cages, blankets, eye medicine, ear medicine," Larson said.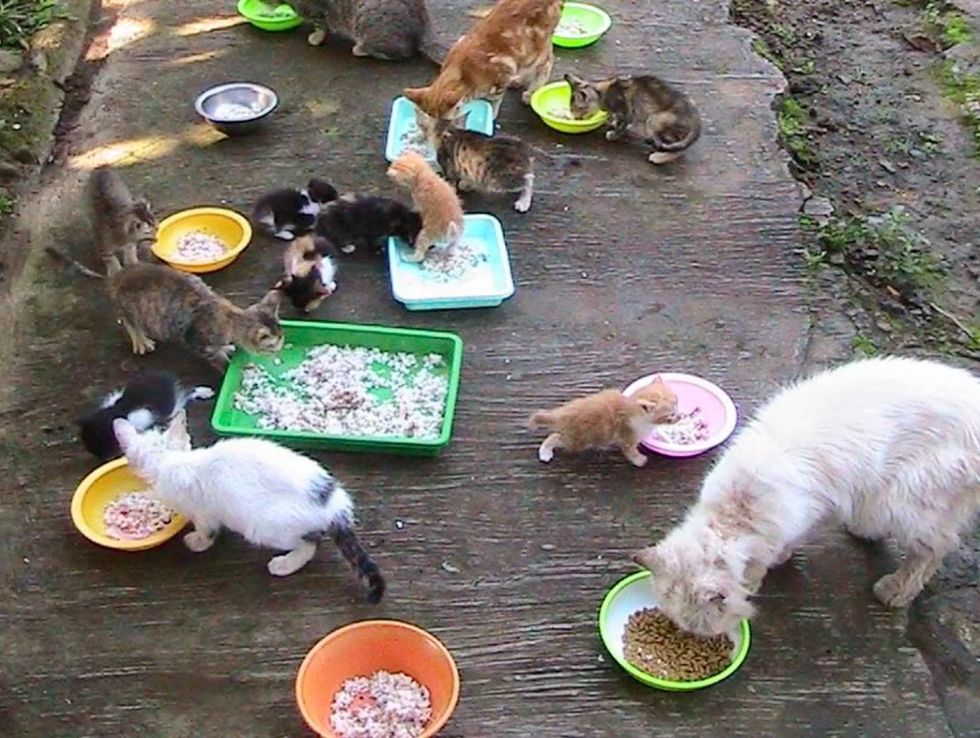 Courtesy: Uli Sharbinie
"At this time, Uli has some needy ones that just arrived. He does what he can, four hours one way on a scooter, most times in the rain."
The man is determined to save village kitties by spaying and neutering them, taking in any sick ones to nurse them back to health, and providing a sanctuary for these beautiful animals that he and his family adore.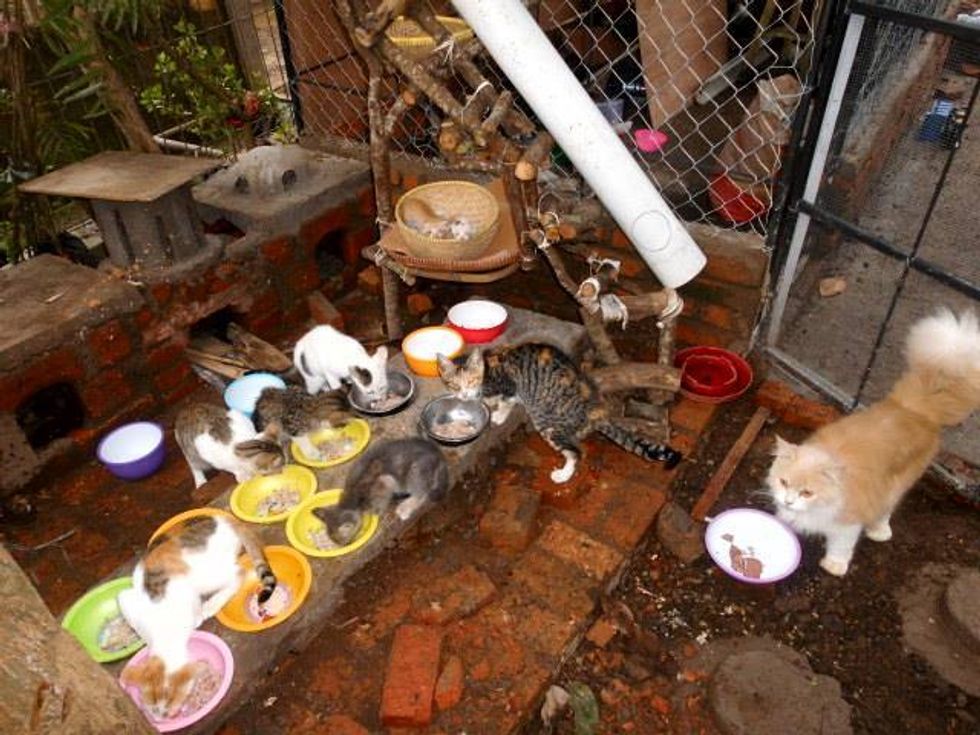 Courtesy: Uli Sharbinie
He is continuing what his grandfather taught him--spreading kindness to these helpless creatures and make a difference in their lives.
"They deserve to have a better life," Uli said.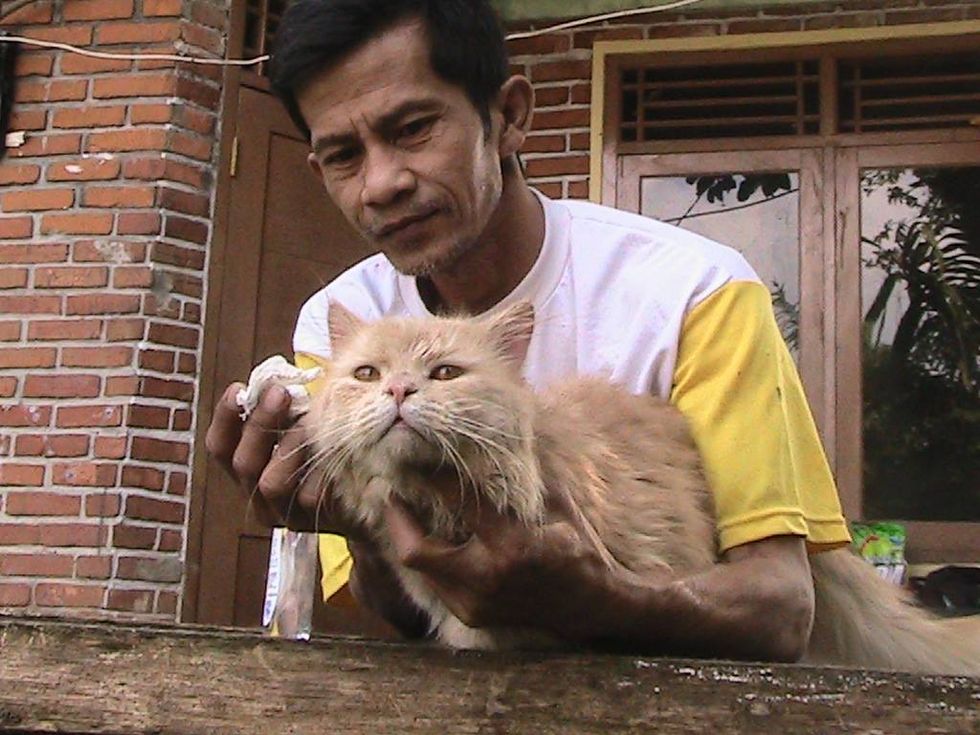 Courtesy: Uli Sharbinie
Share this story with your friends. If you would like to support their rescue efforts, you can make a donation at this link.
Related story: ER Doctor Brings Nearly Lifeless Stray Cat Back to Life