A tiny kitten who was found abandoned in an alley, was taken in by a loving Grandma cat. She took the little feline under her wing and made her feel loved again.
Meet Pastille!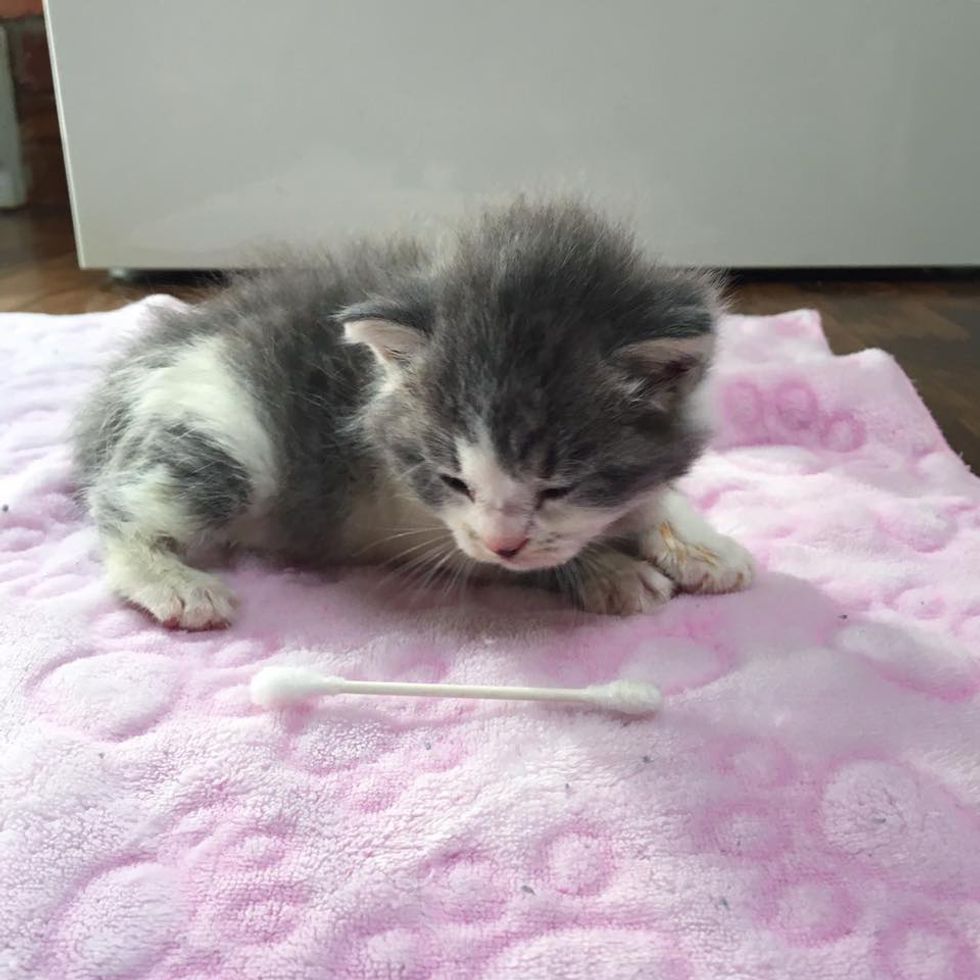 Chatons Orphelins Montréal
The 3-week-old kitten was found wandering all alone, meowing loudly for her mother. A kind woman from Montréal heard the pitiful cry and found the tiny ball of fur in the weeds, covered in dirt.
The mother cat never came back for her, so the woman took the kitten to a local rescue to seek help. When Pastille arrived at Chatons Orphelins Montréal, she was just skin and bones.
They gave her a much-needed bath and wrapped her up in a warm towel.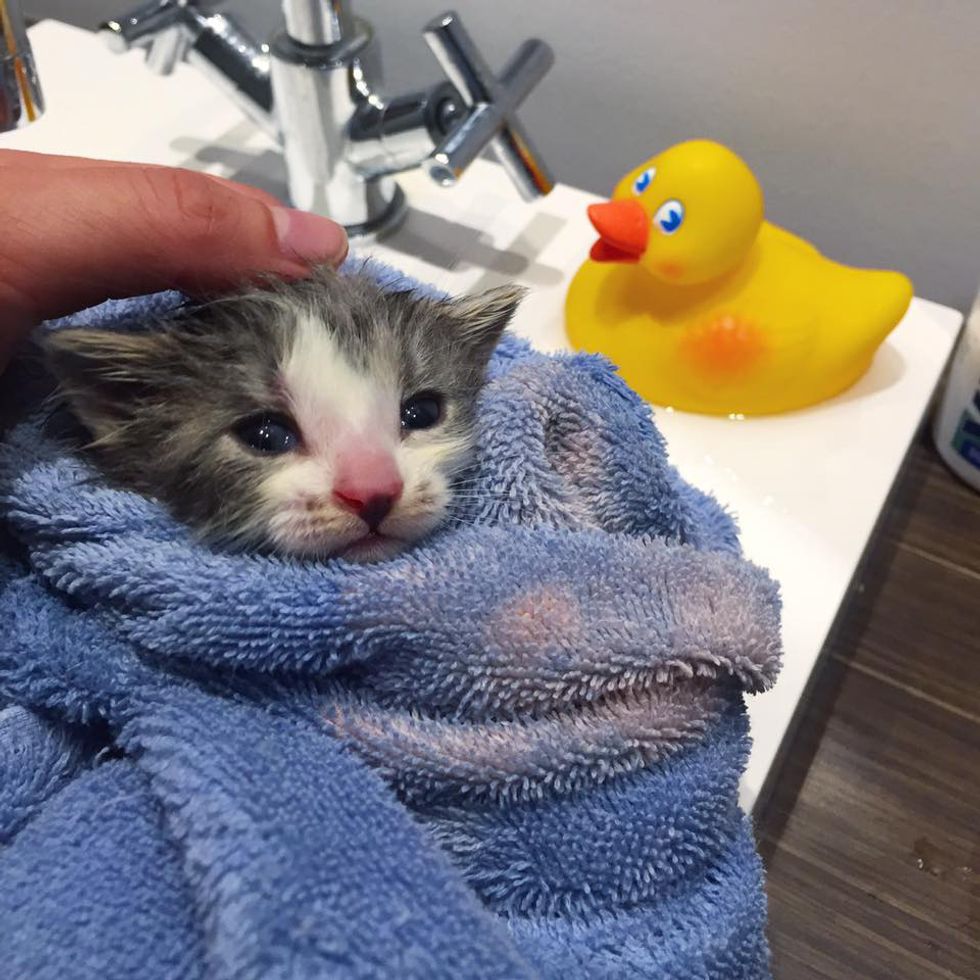 All clean and warm!Chatons Orphelins Montréal
"She hadn't eaten in a while. When we brought out the milk bottle, she threw herself on it," Celine Crom of Chatons Orphelins Montréal shared with Love Meow.
Little Pastille was eating like a champ. Her energy level went up and she was eager to be loved.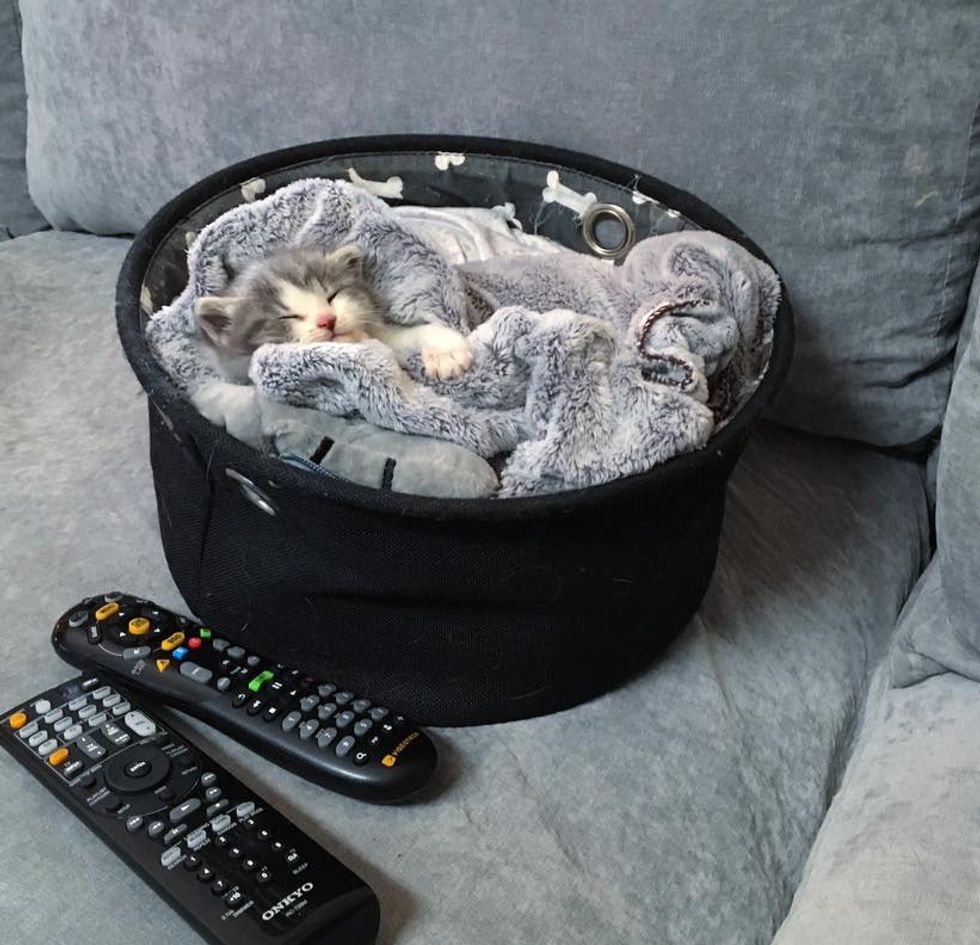 She loves her soft blanketChatons Orphelins Montréal
A few days after she settled into her foster home, she met Grandma Marscha, a 16-year-old senior cat, who took to the little feline and started grooming her.
The tiny kitten was so happy to have someone to love that she began to follow Grandma around the house and cuddle up to her whenever she got a chance.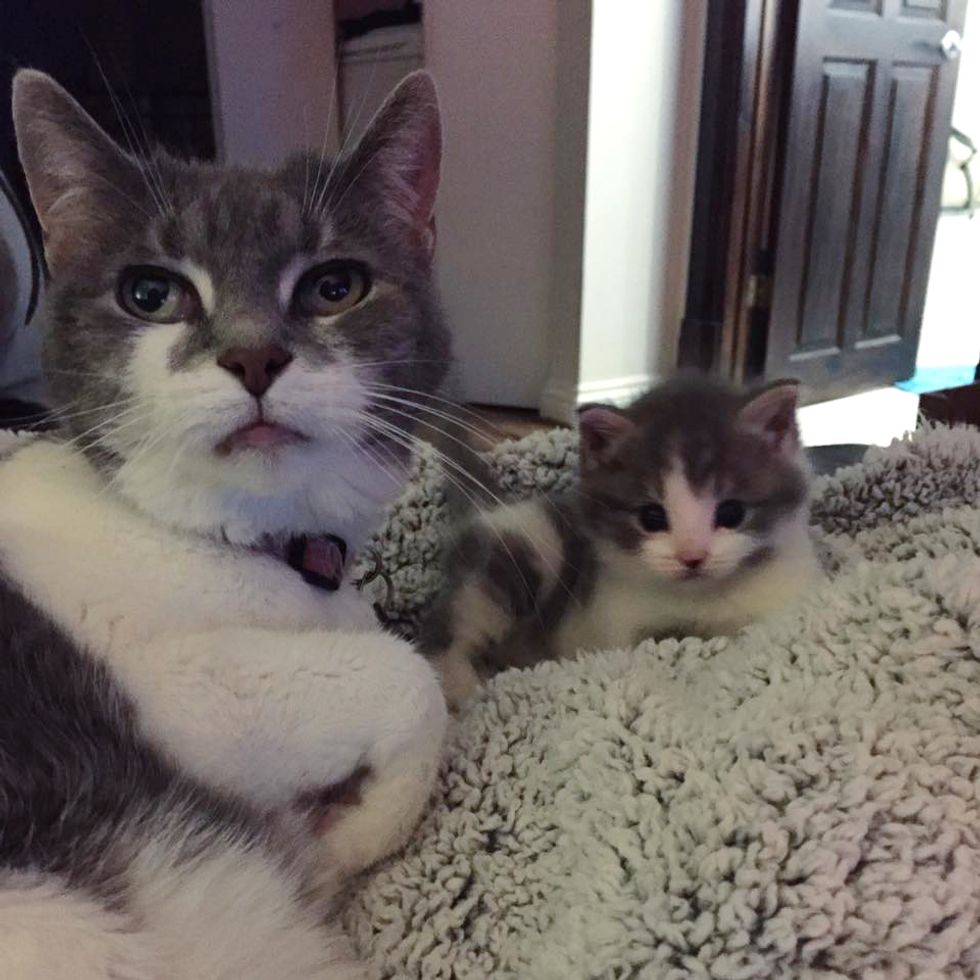 Chatons Orphelins Montréal
Grandma Marscha is very caring to little kittens in need. Every time her human brings home new fosters, she comes over to offer them some love and snuggles.
Pastille looks like a mini version of Grandma Marscha. They both have white and gray fur and similar markings.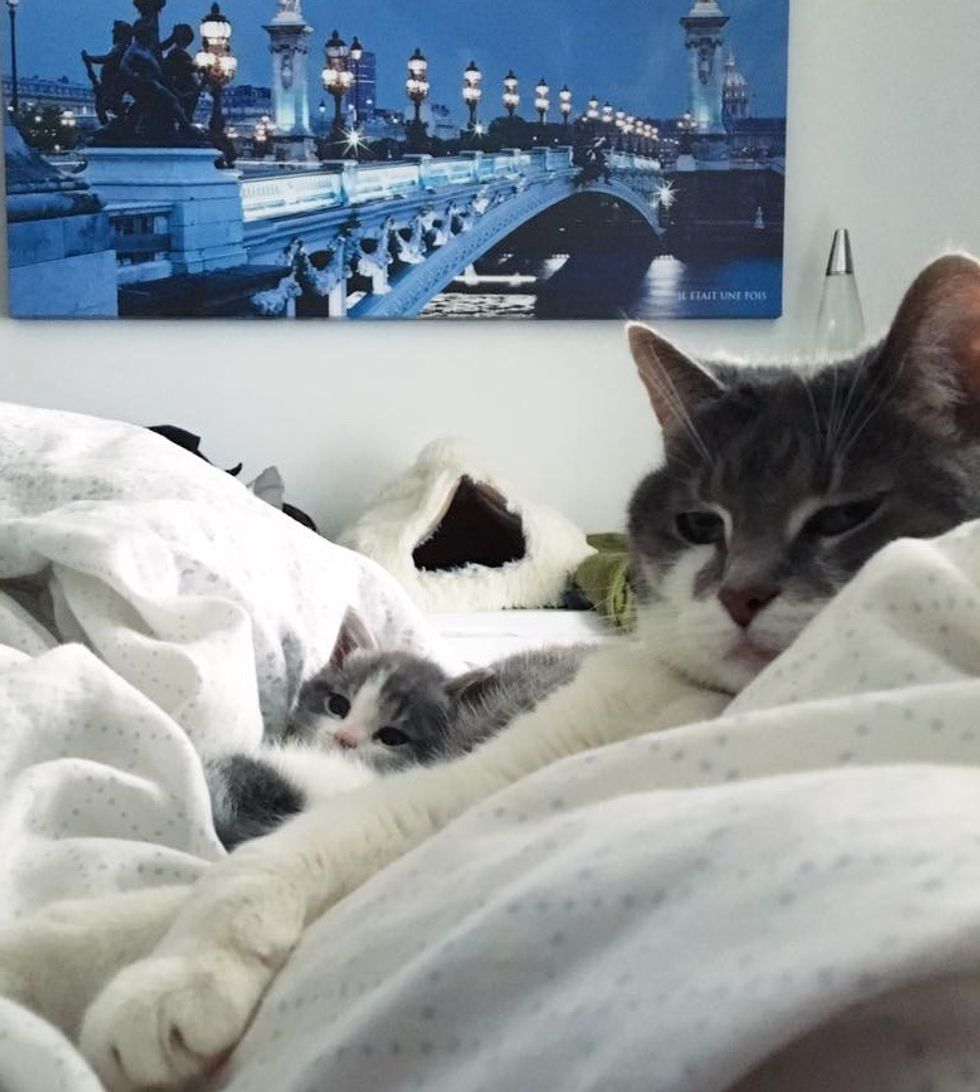 Chatons Orphelins Montréal
The sweet kitty loves her grandma and will climb in whatever she sleeps in and try to get close to her.

Napping in a tiny basket with Grandma Marscha, purring away.
Chatons Orphelins Montréal
Grandma is very protective of her foster kitten and watches over her every step of the way.
For the first time, Pastille feels loved and wanted.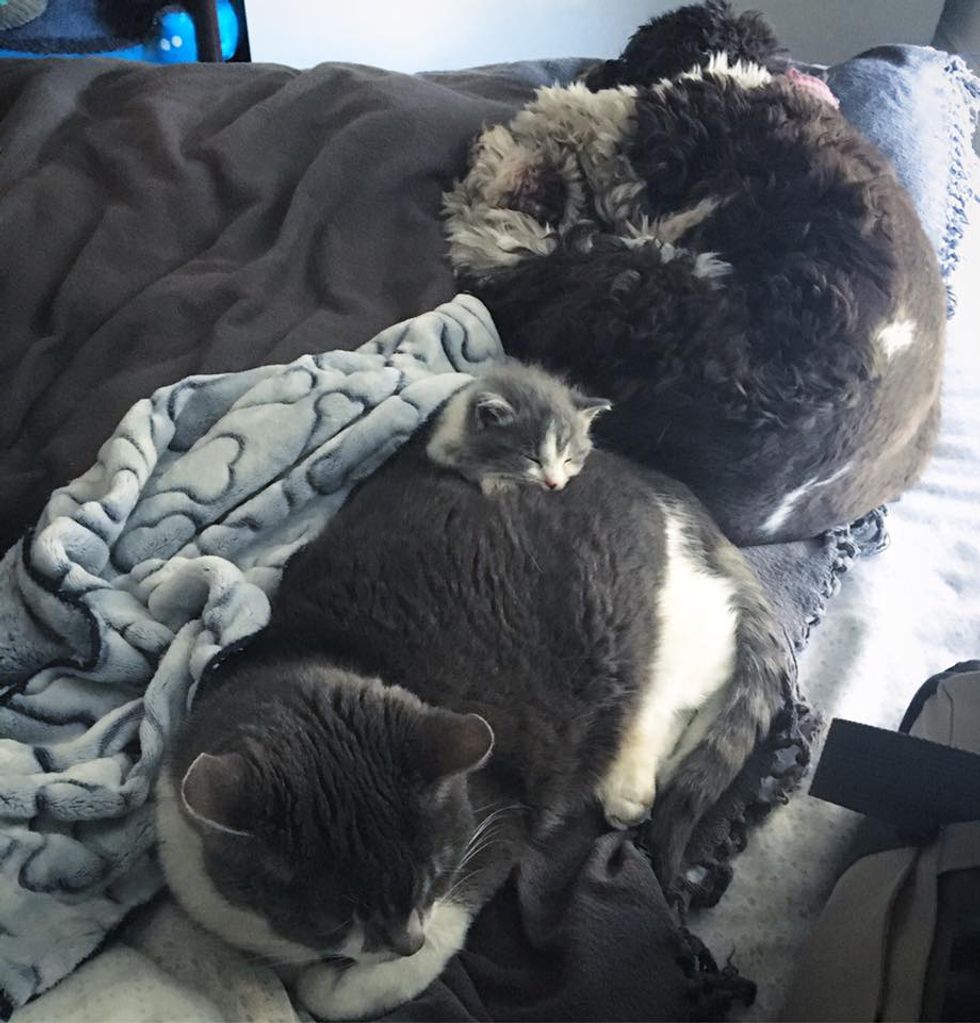 Chatons Orphelins Montréal
The kitten is learning everything from Grandma by copying whatever she is doing.
Patient Grandma Marscha gives Pastille a mandatory bath, keeping her mischievous foster clean and groomed.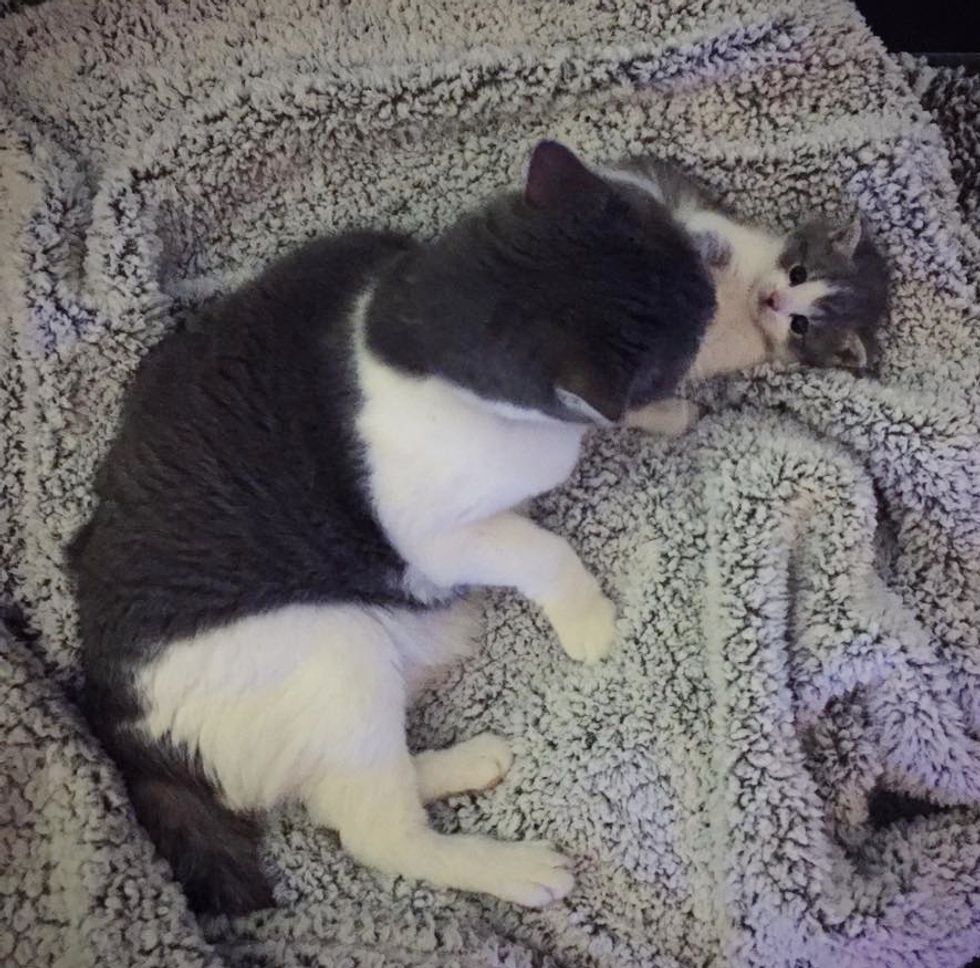 Chatons Orphelins Montréal
Now at five weeks old, the kitten has learned to drink water from a big dog bowl.
The sweet little one will be available for adoption in a few weeks when she's big enough.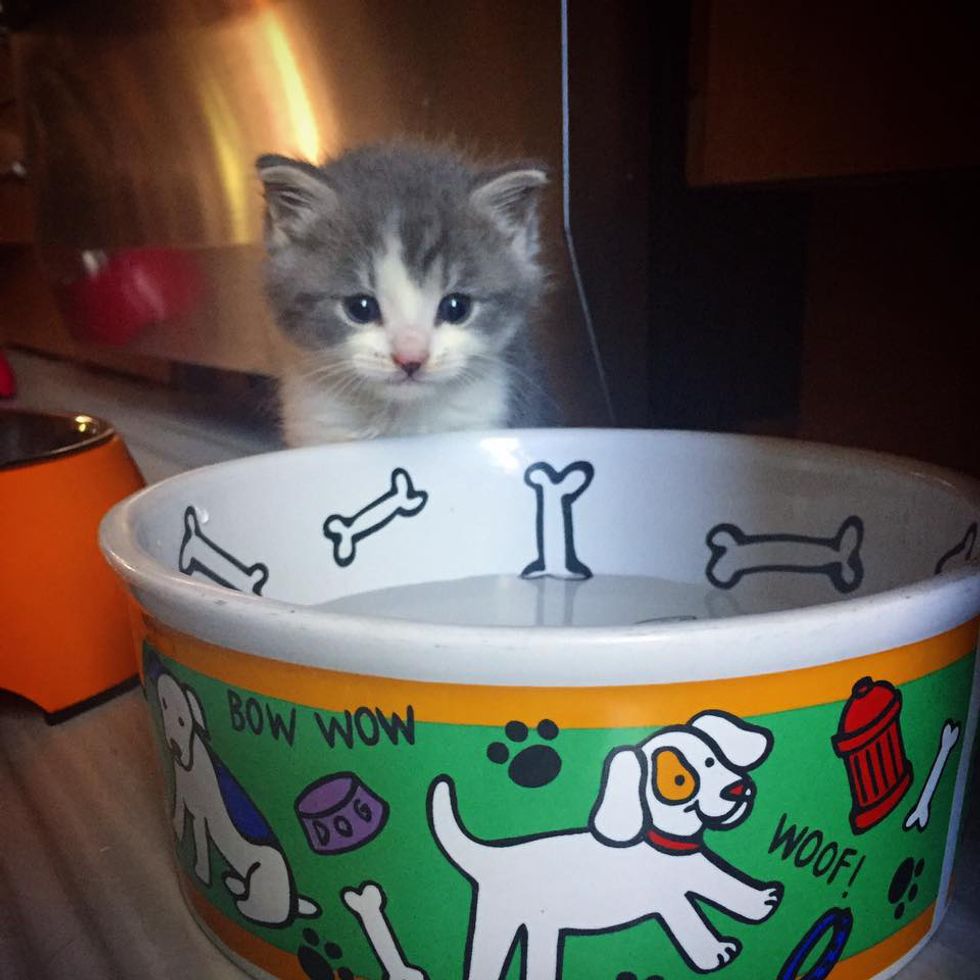 Chatons Orphelins Montréal
"She explores everywhere and follows us around the house. We find her sometimes in funny places."
Pastille has grown by leaps and bounds. She makes her Foster Grandma very proud :).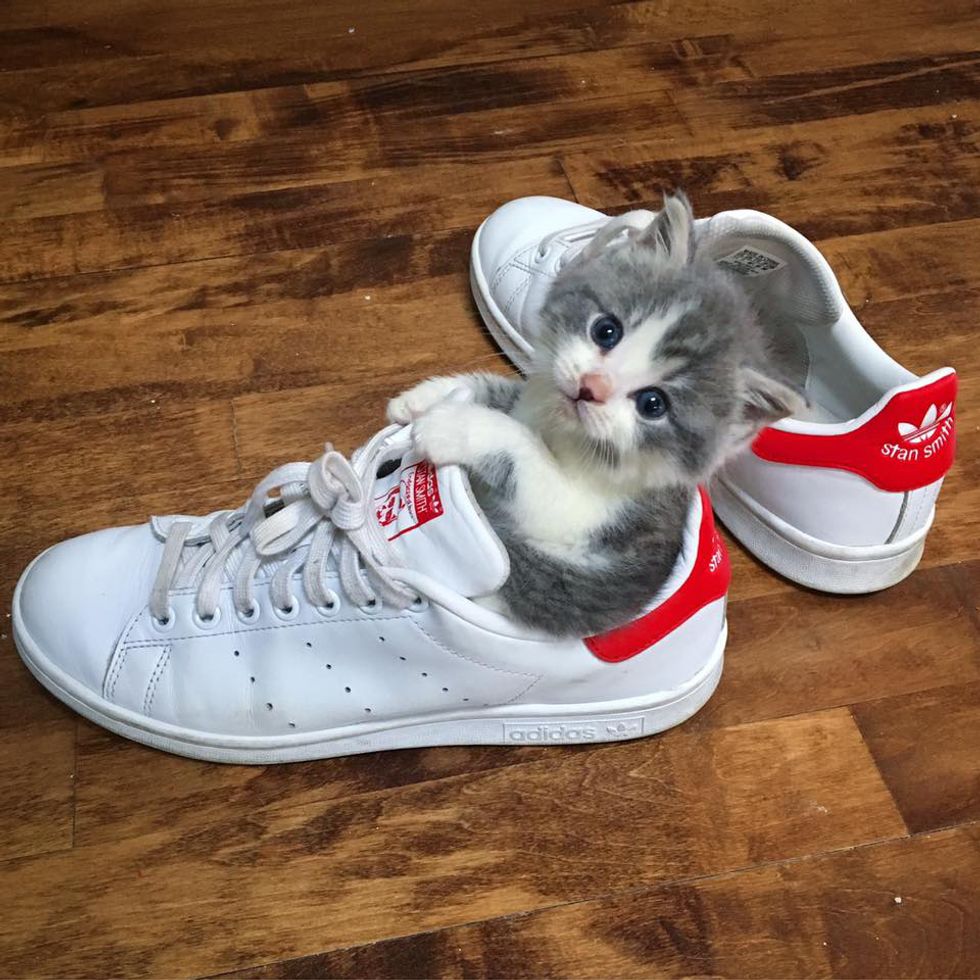 Chatons Orphelins Montréal
Share this story with your friends. If you would like to support their rescue efforts, click here to see how you can help. Follow Chatons Orphelins Montréal on Facebook.
Related story: 21-year-old Shelter Cat With Cutest Grandma Meow Has A Lot To Say When She Finds Her Forever Humans