Zoraline, a very pregnant Bengle cat mama was found by a shelter in San Francisco. At the time she had an injured left leg which made it difficult for her to bend down.
Later she gave birth to a litter of kittens, but only one survived. The shelter did not have enough room for the mother and son, and they were in danger of being put down, so many people started looking for foster parents who could take them in.
Kimberly Jennery who has been a foster mother for many years received a phone call about Zoraline and Ziggy. "I went to San Mateo to pick them up... After waiting for a long time for them to microchip her, and move her and the one surviving baby into a box, I brought them home. She was listed as a stray," said Kimberly.
Ziggy is a bundle of joy. After his eyes opened up, he couldn't wait to start venturing around the house. Zoraline was a sweet cat mama who did a great job looking after her baby. By day 3, Zoraline was comfortable enough in her new foster home to let Kimberly handle her baby Ziggy.
Mama Zoraline was not producing enough milk, so Kimberly stepped in to help. "Ziggy was losing weight and getting dehydrated, so I started supplementing." After that, Ziggy was thriving and growing like a champ.
Both Zoraline and Ziggy love to play and are always looking for things to play with whether it is a roll of toilet paper, foster parent's feet or anything they could turn into a toy. When Kimberly brought back a black little orphaned kitten, Rocky, Ziggy immediately took to her and even offered to wash her. Though sometimes he tried to wrestle with his foster sister, Ziggy always kept an eye on Rocky and made sure that she was ok. "Ziggy couldn't wait for Rocky to get just a little more mobile and bigger. Rocky purred like crazy even when Ziggy was a little rough with (her)."
Little Ziggy and Zoraline have found their forever loving homes and are having a blast with their new life.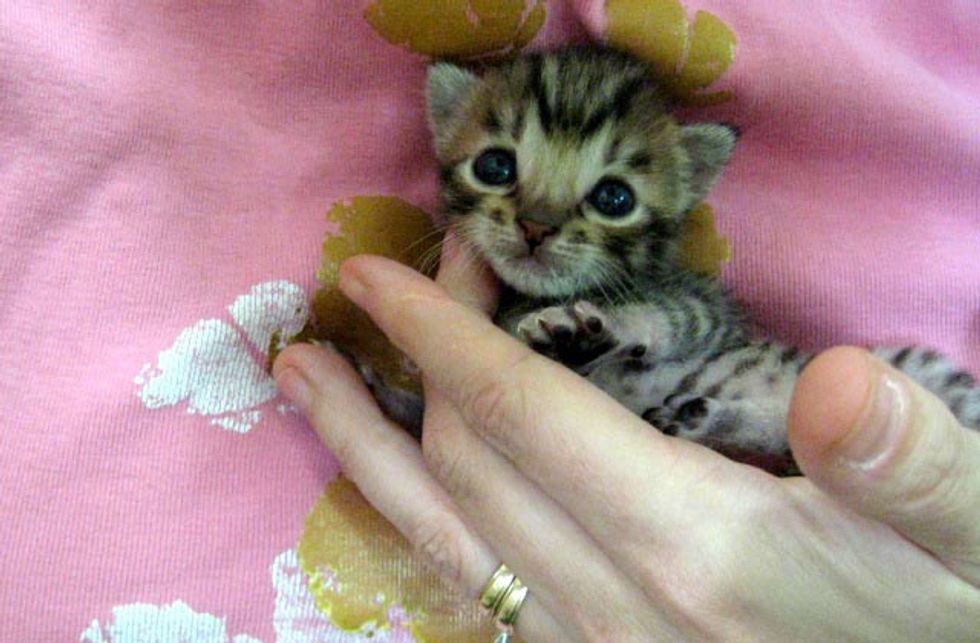 Photos courtesy of ©Kimberly Jennery (check out more pictures of Zoraline and Ziggy here.)