A 15 year old shelter cat finally found her forever home after waiting for nearly five years. The shelter staff were so happy for her that they cried as she left.
Meet Muffy the cat!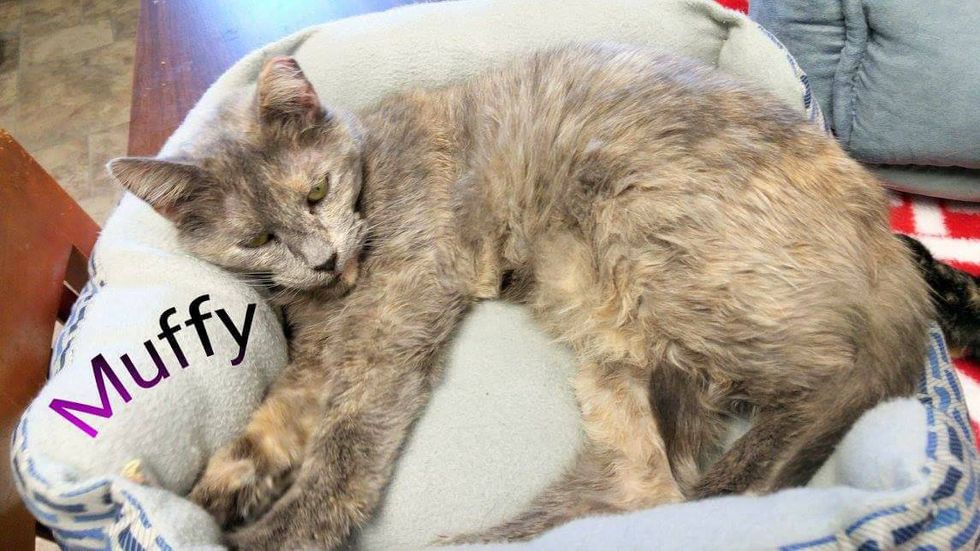 Supplied by Scarlett Wable
Muffy came to Fayettee Friends of Animals (FFOA in Uniontown PA) after she was rescued from a hoarding situation. She was nervous in her new surroundings but with lots of love and TLC, she slowly came around.
As time went by, the sweet tortie had said goodbye to many FFOA cats that got adopted. She was quietly waiting for her forever family to come along. The staff refused to give up hope and continued sharing her story on Facebook.
When Scarlett Wable and her children, Alex and Eve, came to the rescue to drop off donations they collected a few months ago, they were offered a tour around the shelter by the appreciative staff. Muffy quickly caught their attention as they entered the cat room.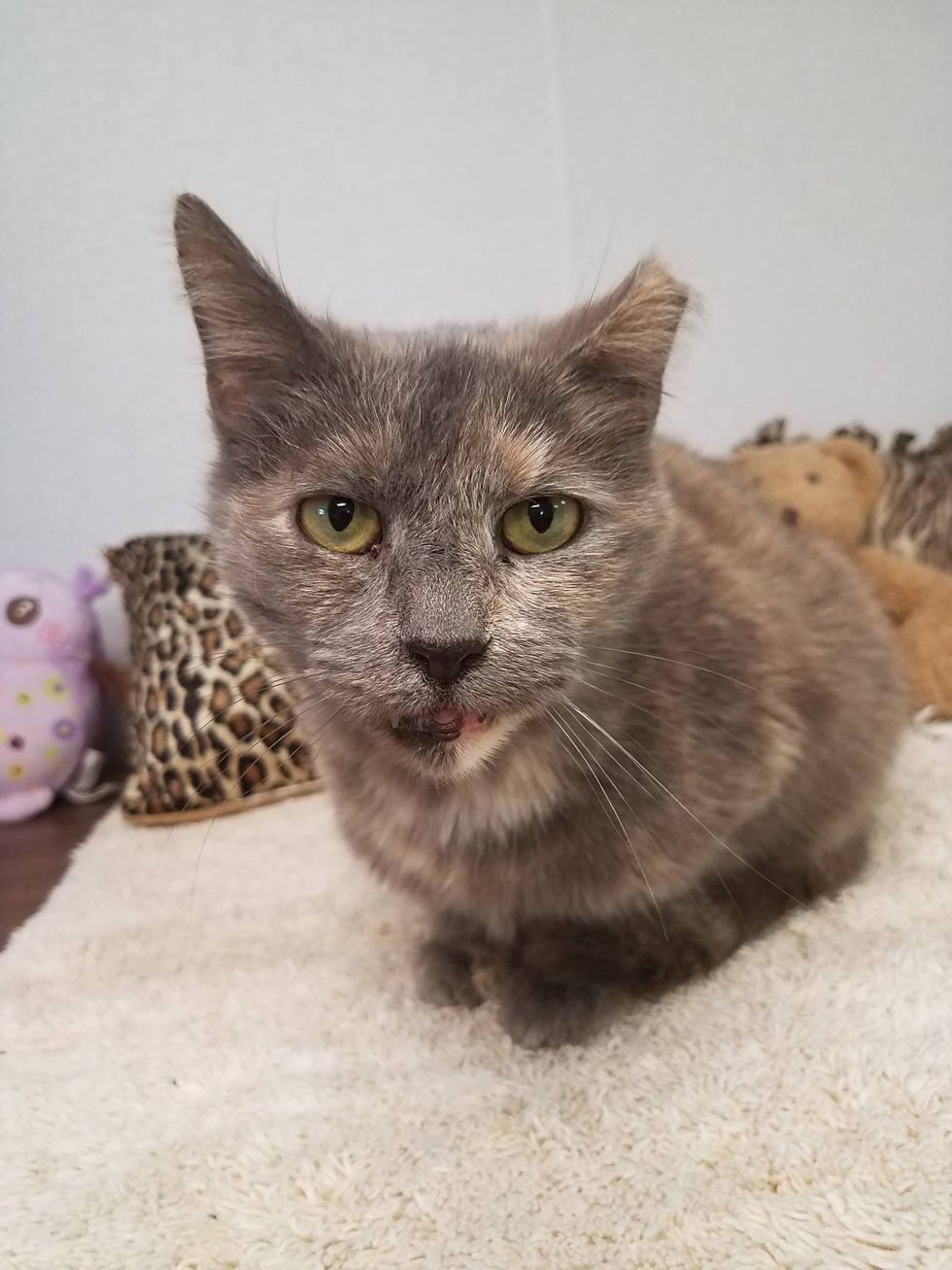 Supplied by Scarlett Wable
"Muffy was curled up in a Circular-shaped pet bed. I inquired about her and was informed that she was their 'oldest resident' and had been there over four and a half years," Scarlett told Love Meow.

The staff were concerned that she might never be adopted as she is a senior cat, missing teeth, and isn't as limber as younger cats.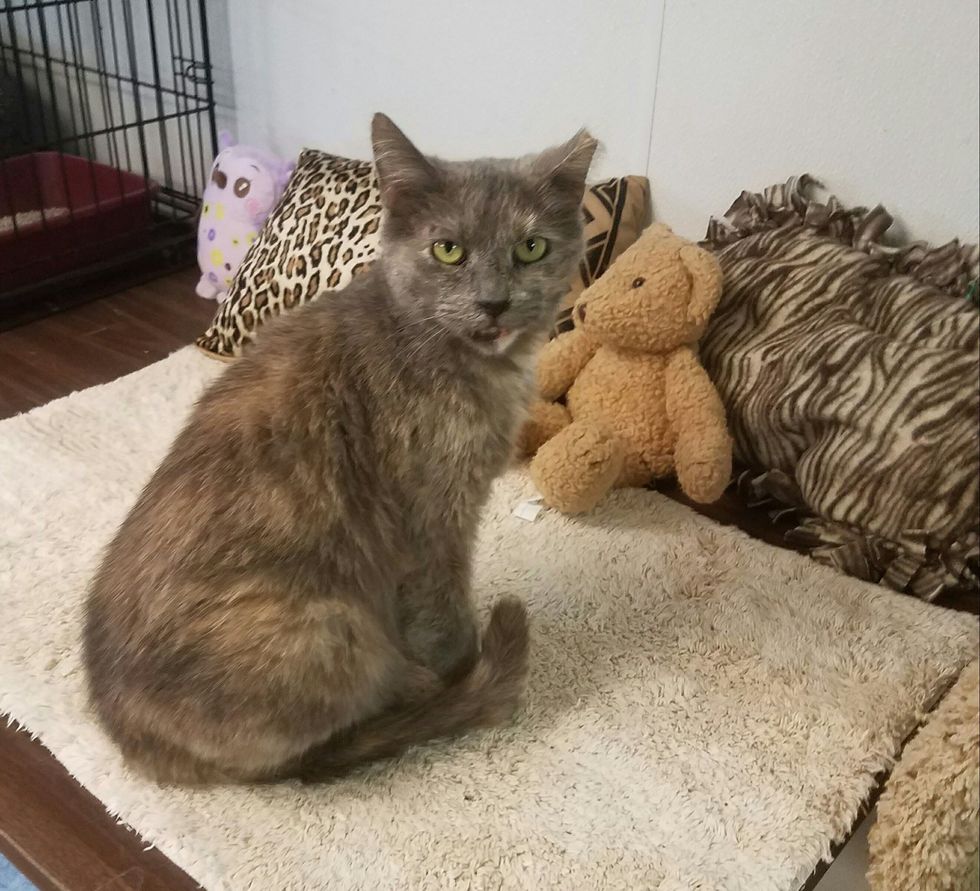 Supplied by Scarlett Wable
"She wasn't the crowd favorite for visitors, but the staff obviously had a soft spot for her. They verbalized their fear of her living the rest of her days without a family to love," Scarlett added.
After years of waiting, the senior cat appeared to have accepted her fate. When Scarlett put her hand on the kitty, she instantly purred. They didn't plan to adopt a cat that day, but they could not get Muffy off their mind after they left.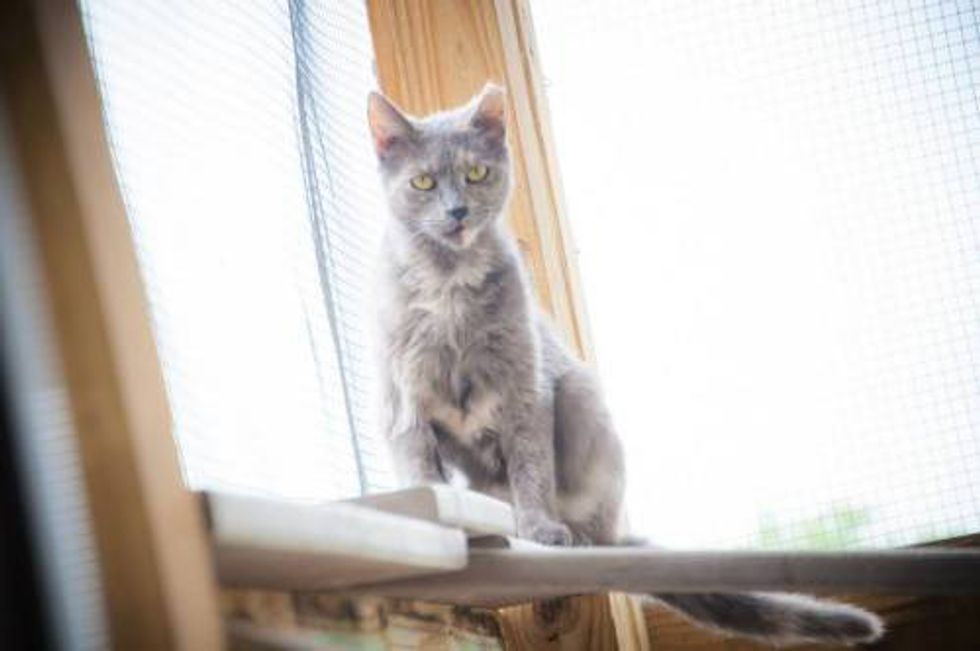 Supplied by Scarlett Wable
A few months later, they returned to the shelter for another delivery. "During that visit, I immediately looked for Muffy. She was still there. I picked her up and loved on her," Scarlett told Love Meow.
Scarlett told her family her struggle of allowing this aging cat to remain in the shelter for the remainder of her days, so on July 8th, 2017, Scarlett and her son Alex visited the shelter for their beloved Muffy.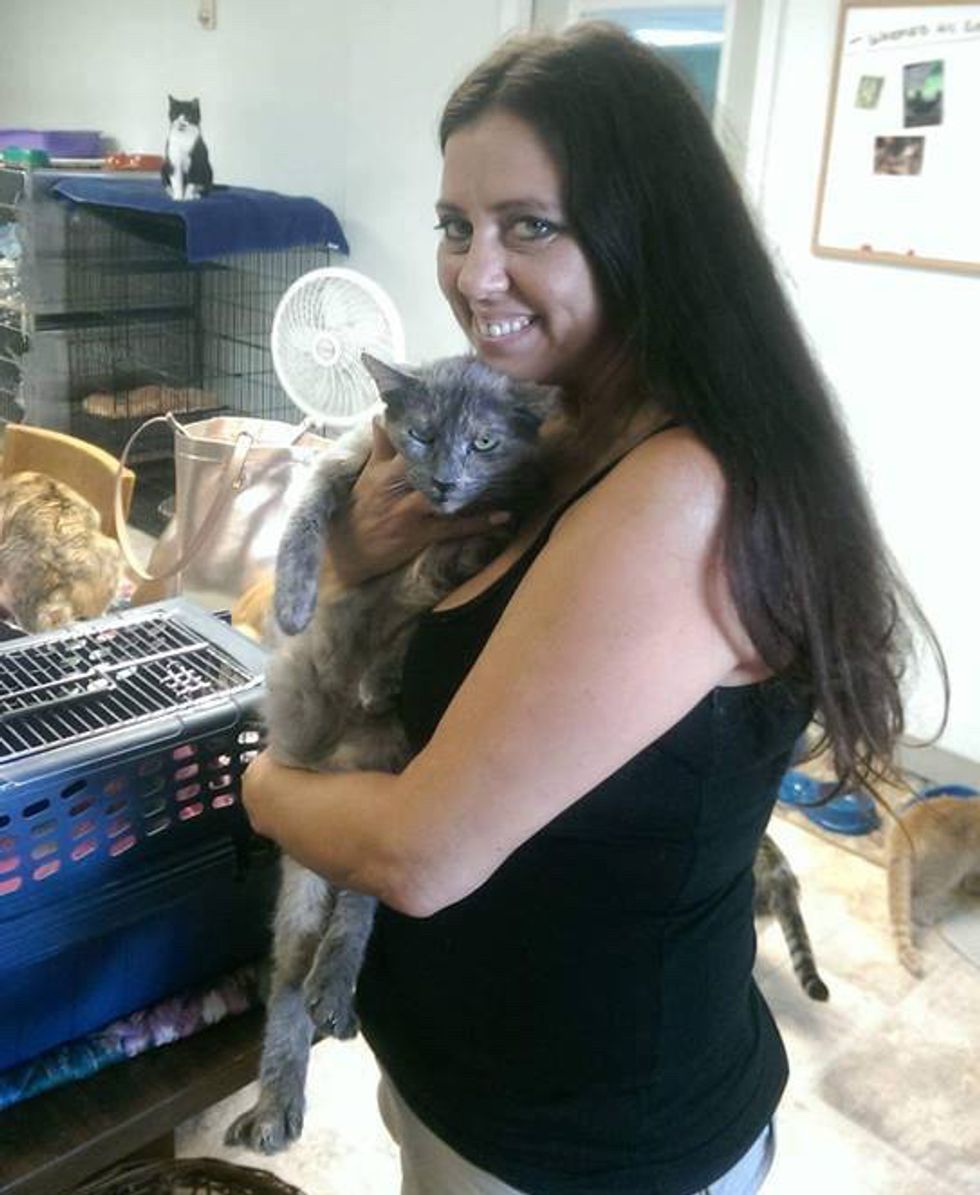 Supplied by Scarlett Wable
"I spotted her on top of a cage. Muffy stretched, reached out her paw as if to say, 'I've been waiting for you,'" Scarlett told Love Meow.
After many years, Muffy finally found the family she'd been waiting for. Staff Ashley and Pam said their goodbyes with tears of joy. "When I reminded Pam I had yet to pay for her, she told me the fees had been covered! They were so excited for Muffy!"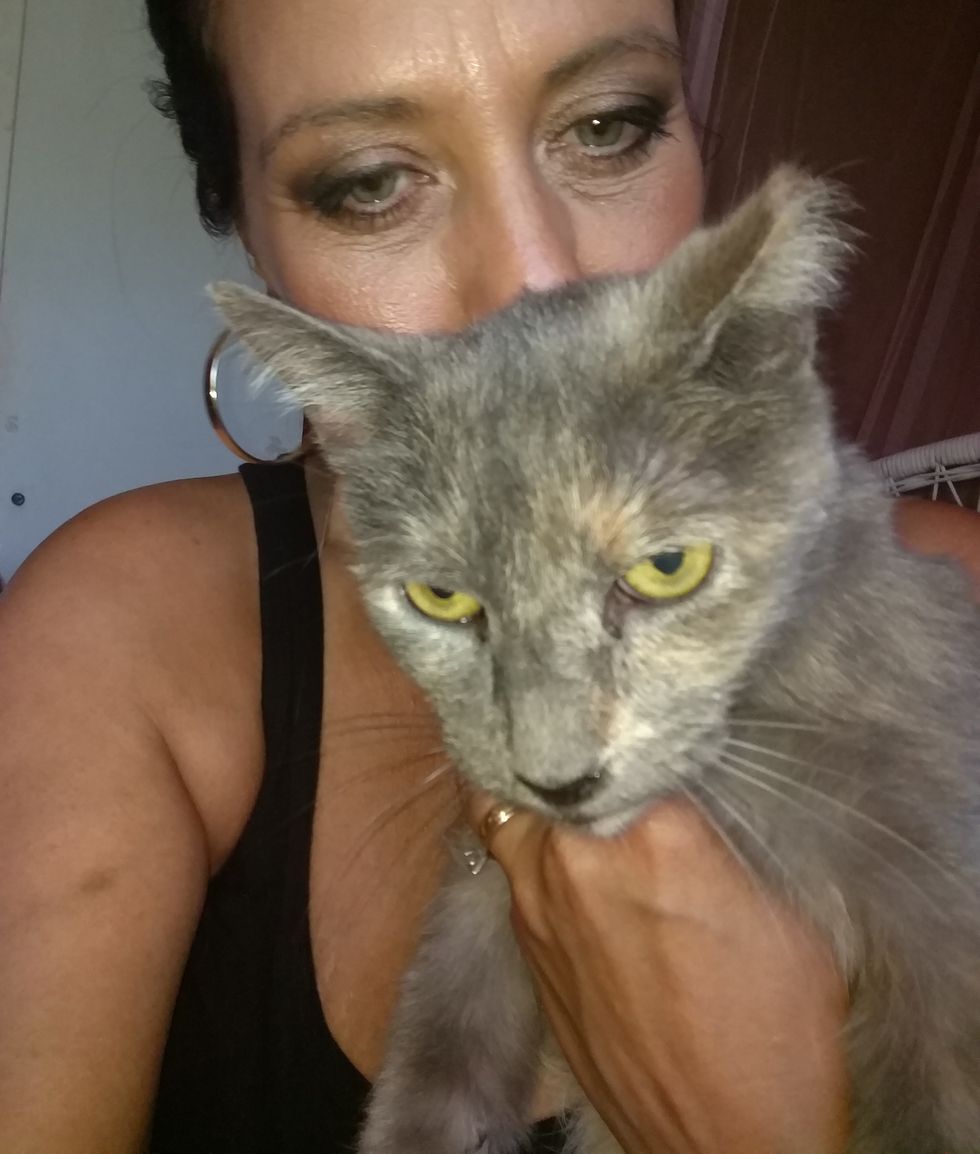 Supplied by Scarlett Wable
After Muffy arrived in her new home, she immediately emerged from the carrier, rolled on the bed, purring.
"I took her to my bedroom where my 9 month-old puppy, Khaleesi and I were lying down for the night. She immediately stood her ground, refusing to run, popped Khalessi on the nose and jumped upon the bed, claiming her spot next to me for the night. Her human had been selected. She did permit Khalessi to sleep near her!"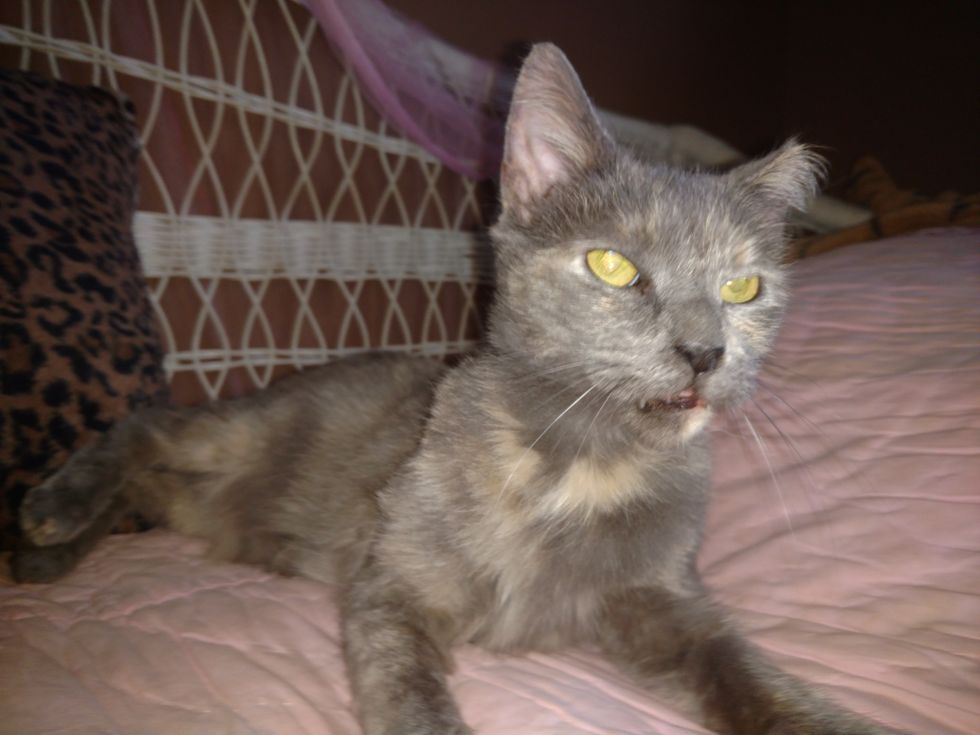 Supplied by Scarlett Wable
"The next morning she ventured out to the kitchen with me. She is a professional in meeting new cats. She jumped up to eat next to our nearly 17 pound Maine Coon and began eating his food. He was fine with this and gladly accepted his new friend," Scarlett told Love Meow.
"She loves playing with a pink mousey covered in catnip, scratching up my daybed cover, sleeping on a huge pile of pillows, running like she is on fire through the house, sleeping comfortably near the air-conditioning vent on the back of the couch and long, leisurely strolls across my bed each night as I scratch her back and neck."
Muffy is so purring aloud at her forever home. She's so happy to live out her golden years with her very own family.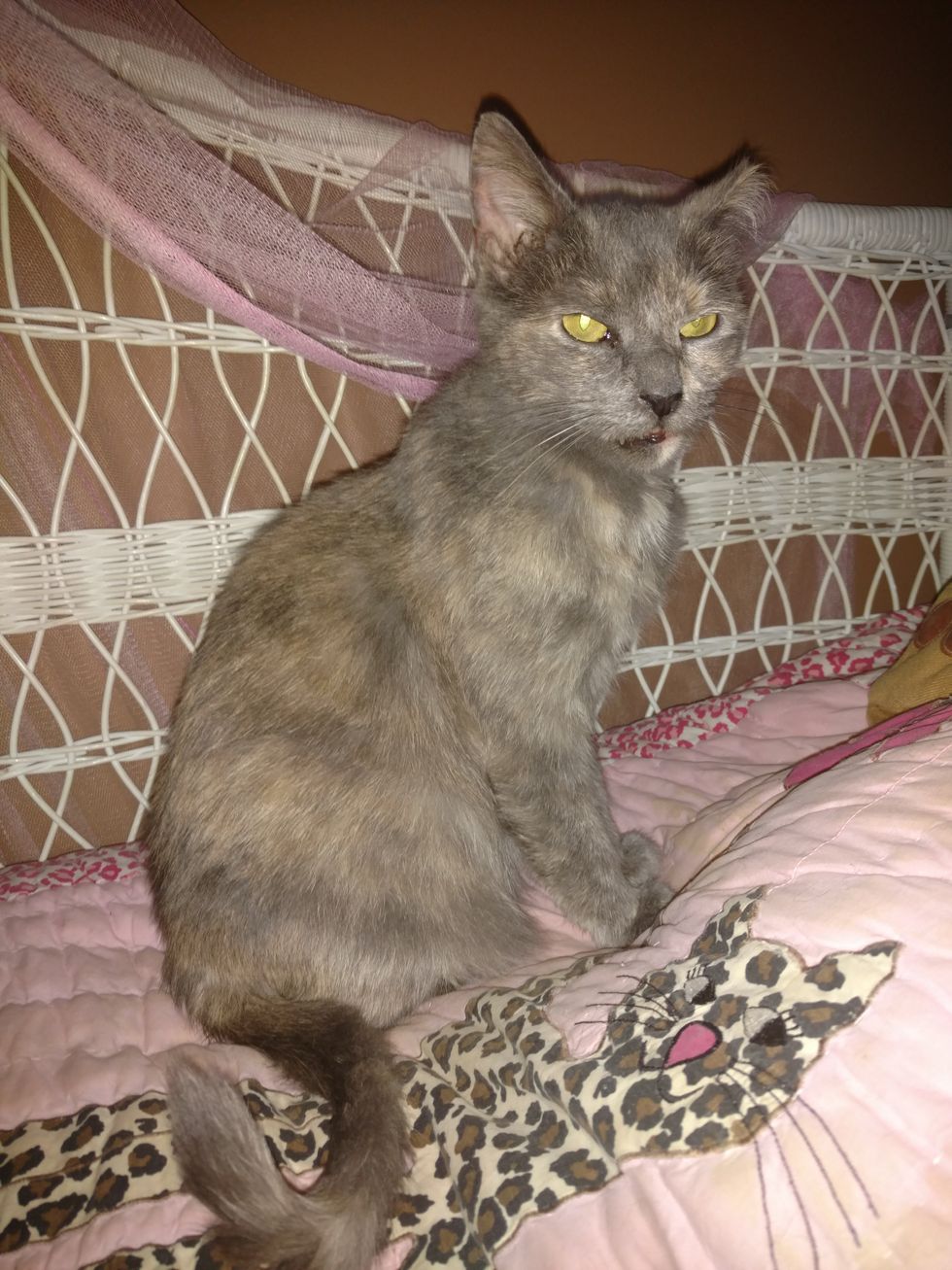 Supplied by Scarlett Wable
Share this story with your friends. If you would like to support their rescue efforts, click here to see how you can help. Follow Fayette Friends of Animals on Facebook.
Related story: 16-Year-Old Cat Lost His only Home, Tells His New Family How Happy He is to be Loved Again