A very skinny stray cat was found trying to feed her nine hungry kittens on the streets even though she didn't have food for herself.
Meet Prairie the mama and her nine babies.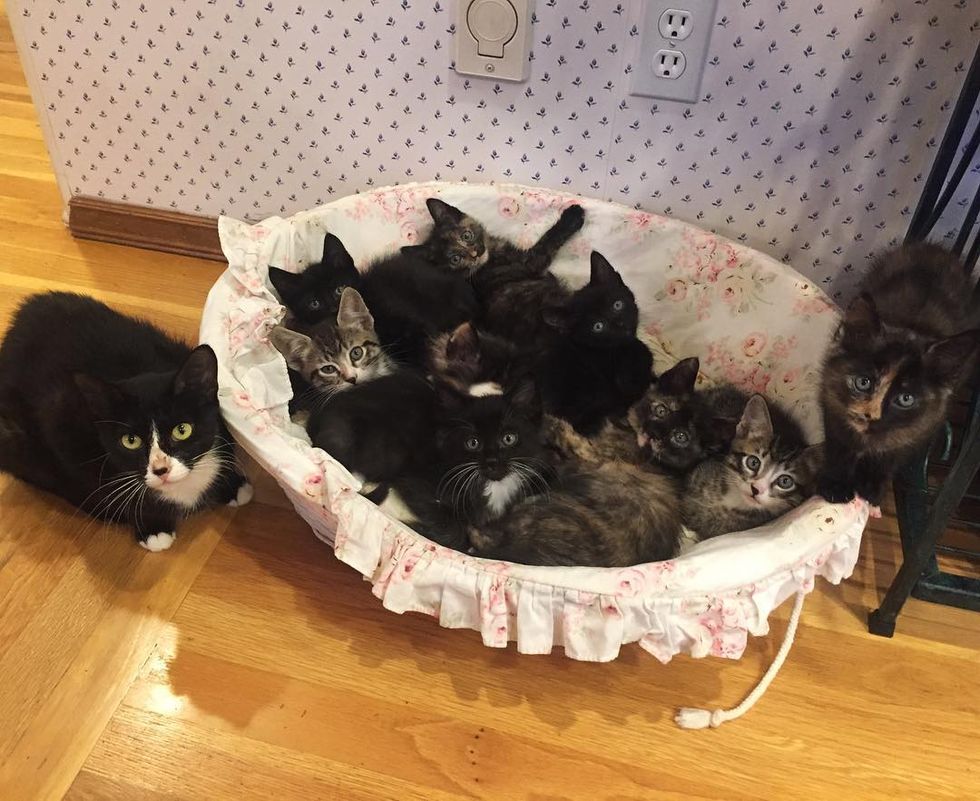 Courtesy: Ashley @youngestoldcatlady
"Prairie was found with her 9 kittens who were 6 weeks old. She was so malnourished from trying to feed her kittens while not being fed herself," Ashely of @youngestoldcatlady told Love Meow.
They were rescued off the streets in California. Progressive Animal Welfare Society (PAWS, in Lynnwood, Washington) took them in from the shelter that found them so the furry family could have a foster home. "PAWS often takes transfers from California and Texas from over crowded shelters where the animals would otherwise be put down, there is just not enough space."
A few of her kittens were skin and bones and Prairie could barely get up due to exhaustion.
"PAWS wanted to keep Prairie and her 9 babies together, so they called me because they knew I was the most likely foster parent they knew that would be willing to take such a large group, all 10 of them! Of course I said yes."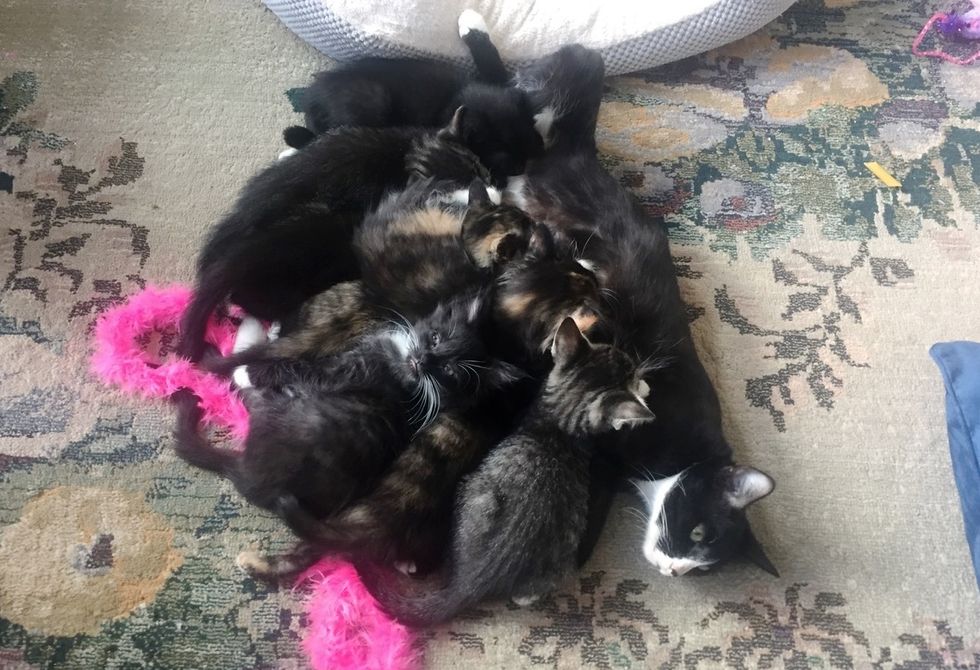 Courtesy: Ashley @youngestoldcatlady
"When they first arrived at my home, they were filthy. They were sick from being on the streets, only getting the small amount of nutrition their mom could get them," Ashley told Love Meow.
Ashely and her family gave every one of them a warm bath and provided heating pads for the kittens and their mama.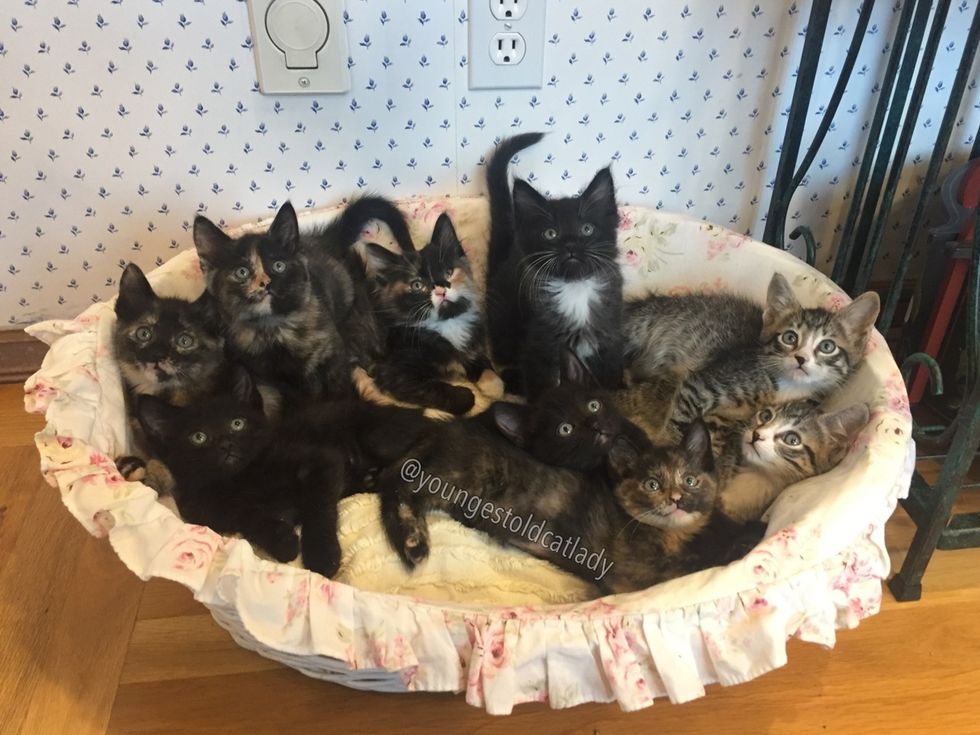 Priscilla, Oreo, Meowedyth, Wendy, Peter Pan, Olivia, Daisy, Oliver and Olly. Courtesy: Ashley @youngestoldcatlady
Within a few minutes, the furry family of 10 went from tired and hungry to happy and playful.

"They were so happy to run and play in the foster room while mom spent the next few days sleeping and getting her energy back."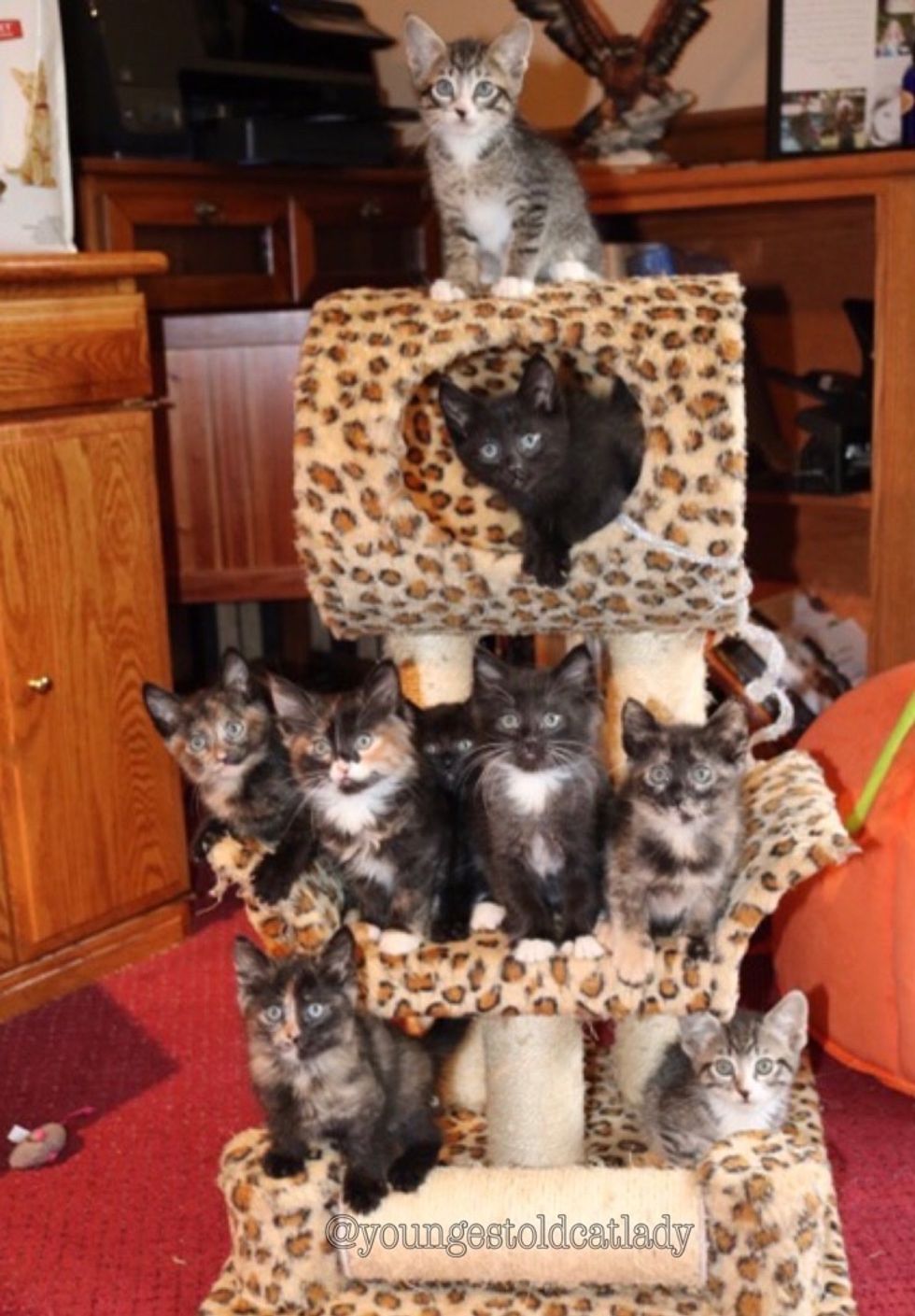 Courtesy: Ashley @youngestoldcatlady
"Mama Prairie was so used to having to scavenge for food, she continued to do it at our house even though they were being fed so much," Ashley told Love Meow.
The sweet mama would jump on the counter and grab anything she could find and carry it to the kitten pen. "She would start talking up a storm till they came to get it."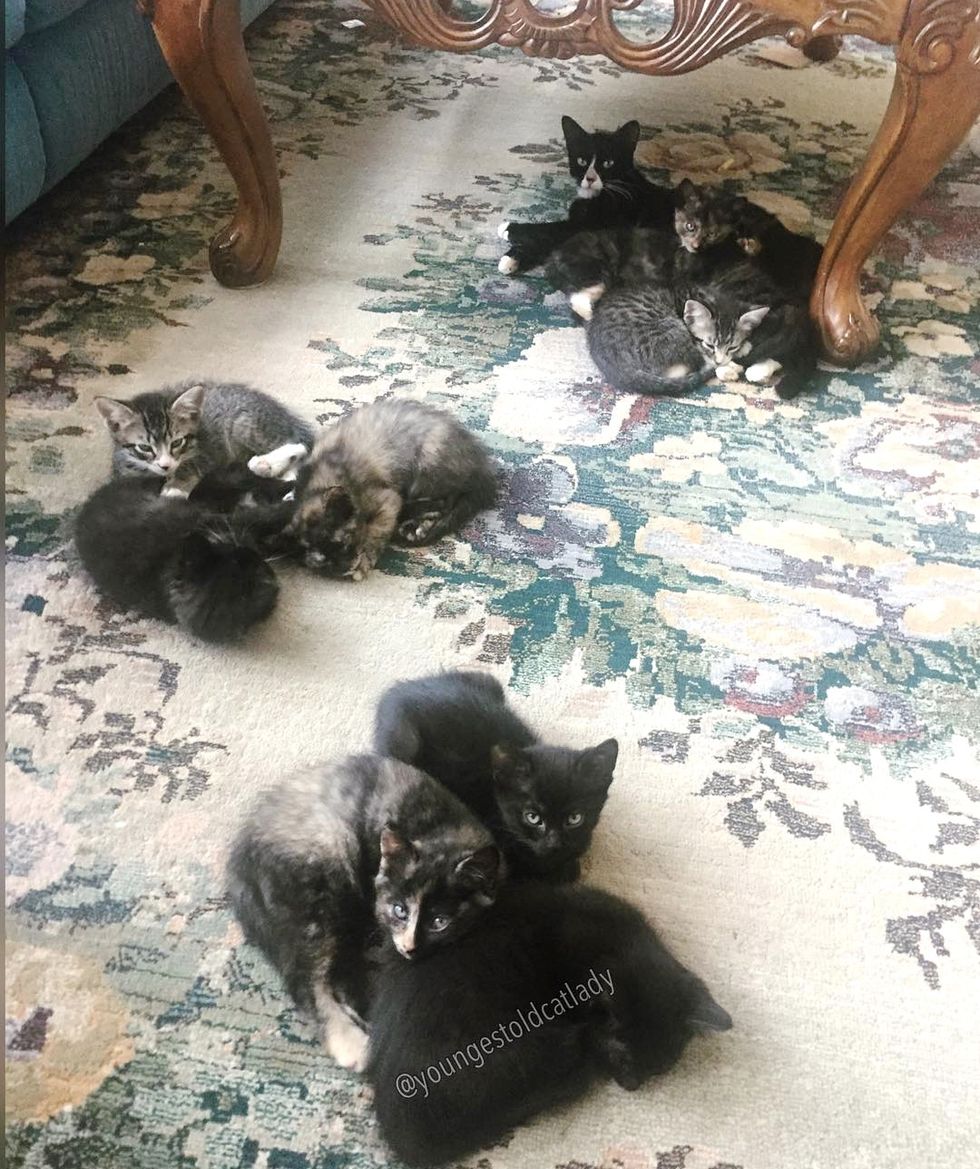 Courtesy: Ashley @youngestoldcatlady
Prairie was so grateful to have her foster family to help her look after her babies. The loving mama finally got the rest and food that she needed.
"To get them and mommy back to healthy weights they were all getting canned food at least 3 to 4 times a day, as much as they could eat, plus dry food all the time."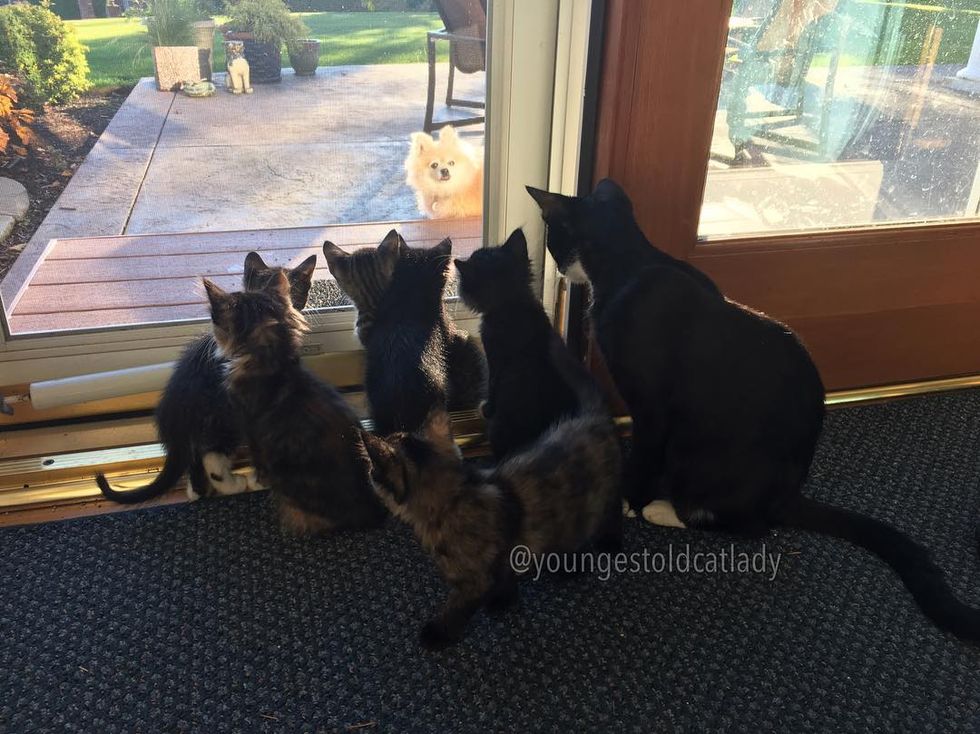 Courtesy: Ashley @youngestoldcatlady
PAWS found the adorable family of 10 their forever loving homes including mama Prairie.
"Prairie will never have to live on the streets again," Ashely told Love Meow.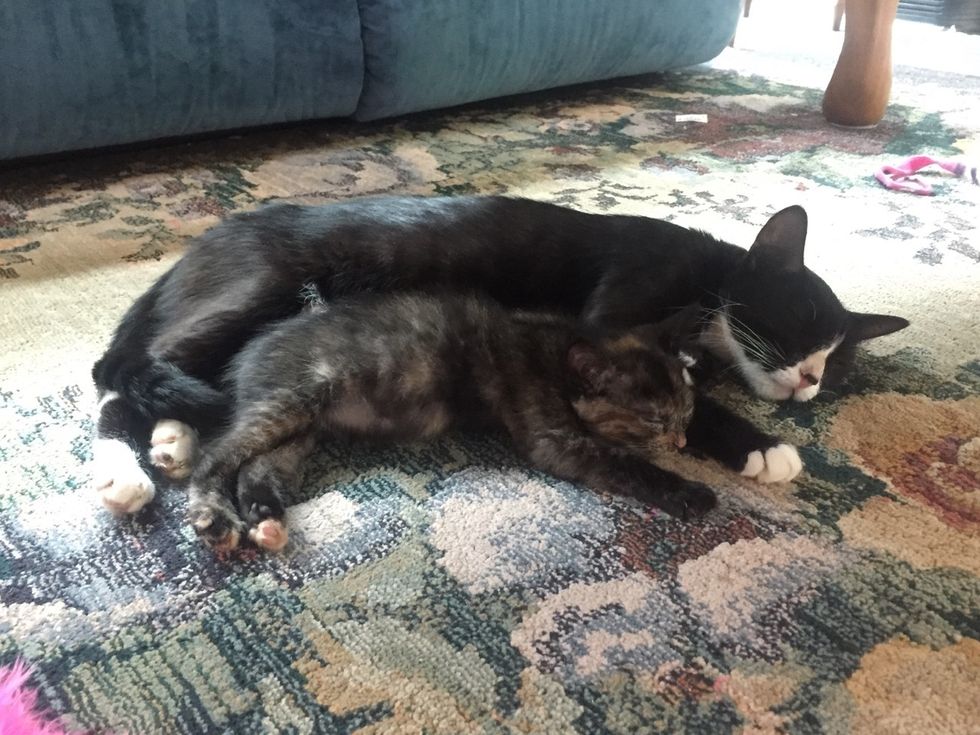 Courtesy: Ashley @youngestoldcatlady
Morning rush hour at the foster home:
Share this story with your friends. If you would like to support their rescue efforts, click here to see how you can help. Follow Ashley's foster kitties @youngestoldcatlady. Follow PAWS on Facebook and Instagram.

Related story: Man Rescues Stray Cat Mama and Her Newborn Kittens