A young soldier left the battlefield with traumatic brain injuries and a broken soul. Right before he was about to give up on life, a stray cat walked up to him, placed his paws on his leg...it saved his life.
Meet Scout!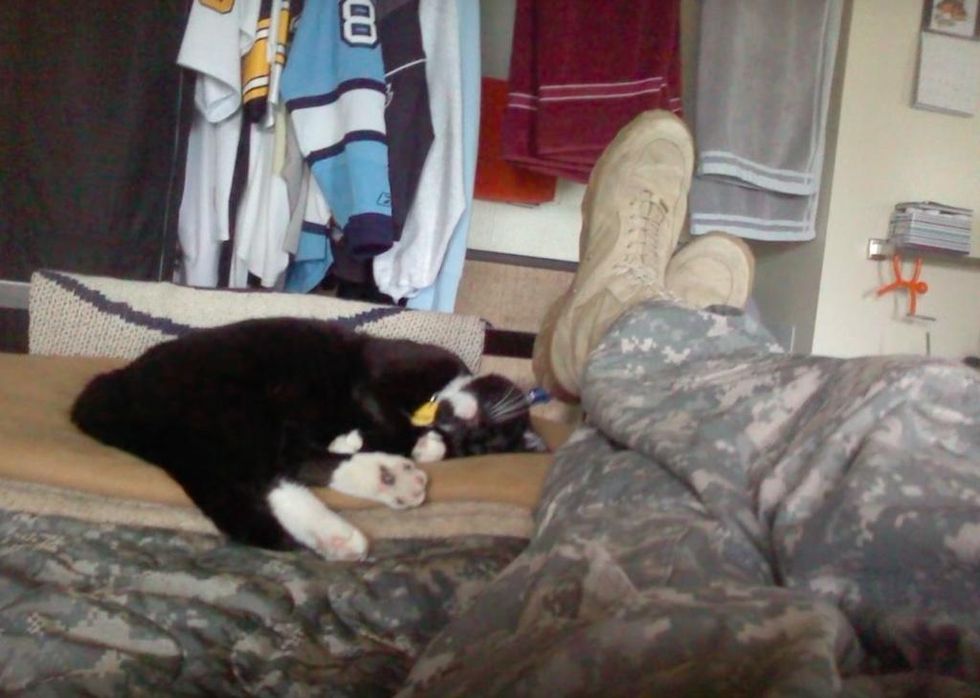 Mutual Rescue/YouTube
Josh Marino was in a very dark place after he returned from the battle zone. He was suffering from severe injuries and developed Post Traumatic Stress Disorder. Every day he was living with an invisible wound that was eating him up to the point where he lost the ability to focus and function normally with day to day things.

One night, while he was outside smoking his "last" cigarette in the rain and decided to end it all, he heard a little meow. A tiny black and white kitten suddenly appeared from the bushes and walked right up to him.
"He just walked up and started rubbing up against my leg and let me pet him," Josh told Mutual Rescue. "I broke down crying, burst into tears. Maybe he knew there was something I couldn't quite handle."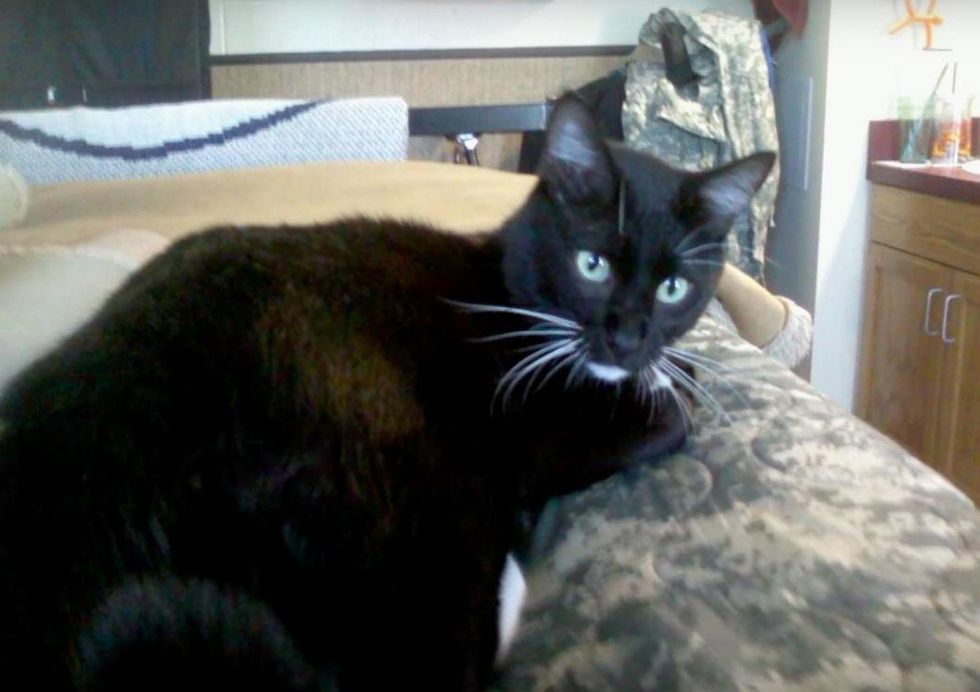 Mutual Rescue/YouTube
"I stopped thinking about all my problems and I started thinking about all his problems."
Every day Josh went outside to feed the kitten who would then settle comfortably in his lap for a long nap. After a little while, whenever Josh called him, the tuxedo cat came running. The kitty gave Josh something to look forward to every day.
"He didn't see anything wrong with me. He didn't see any flaws or imperfections. It felt safe."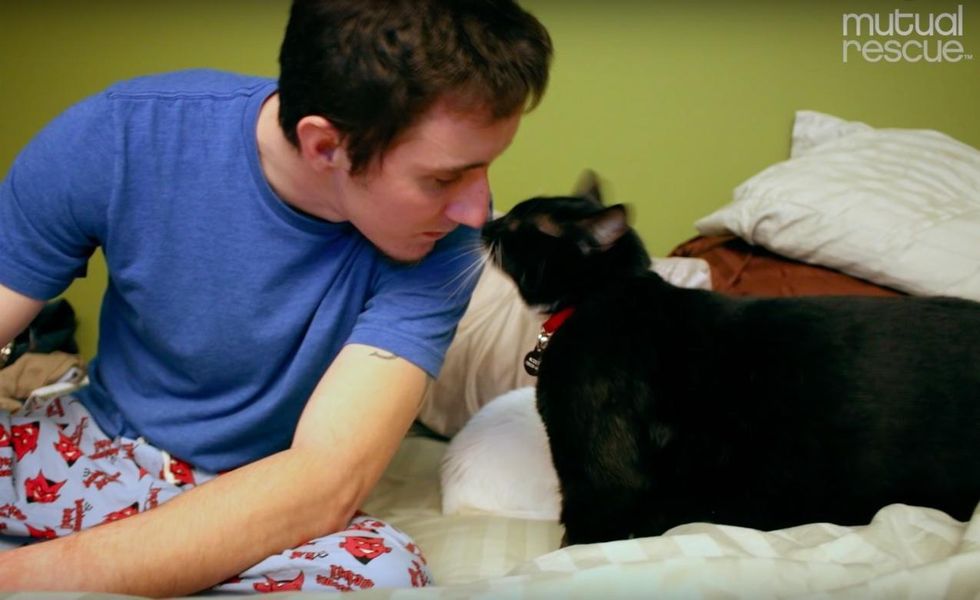 Mutual Rescue/YouTube
One day he got back from work but Scout was nowhere to be found. He was devastated. "(Scout) had a serious effect on me. He helped me realize that I could actually not just care for somebody else but other people could care for me."
A few months later, he and his girlfriend, Becky, went to an adoption event at Fort Riley Stray Animal Shelter during the Memorial Day weekend. As they were walking through crates of cats, a tiny paw struck him.
"All of a sudden a little black and white paw shoots out from a crate and starts smacking me in my left arm," he said. "I looked inside, it is the same little black and white cat. I opened up that cage, and I pulled him out, and I held him tight."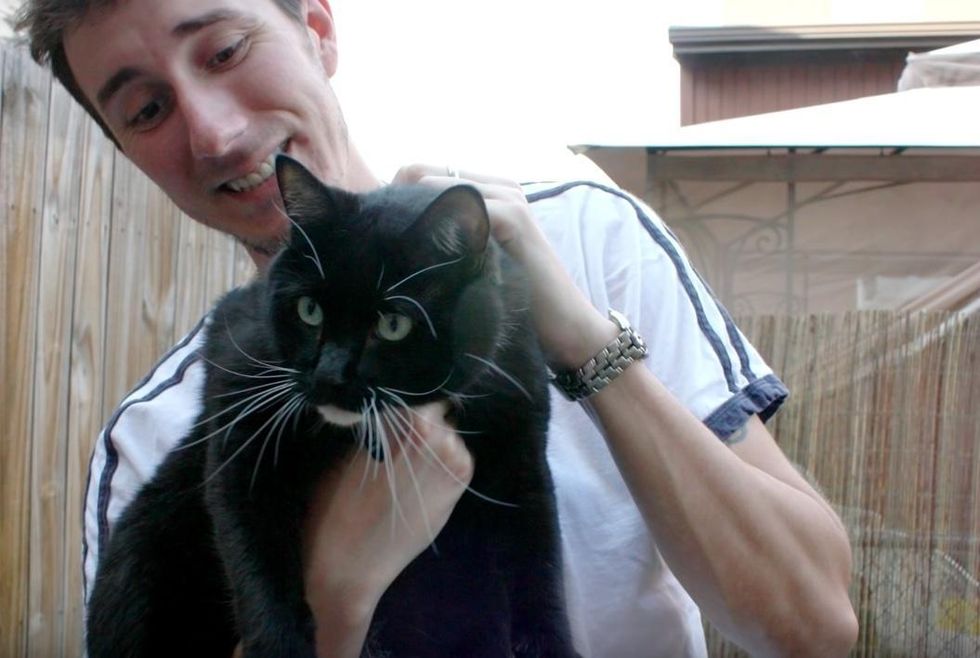 Mutual Rescue/YouTube
That day, Scout moved into his forever home with the human that he saved. The little tuxedo boy became his closest companion and his little angel.
Watch the full story in this video:
"Even before he was my cat, before he even knew me that well, Scout saved my life. He put me on a different path. He gave me the confidence to try to come back from all the adversity that I was feeling," Josh told Mutual Rescue.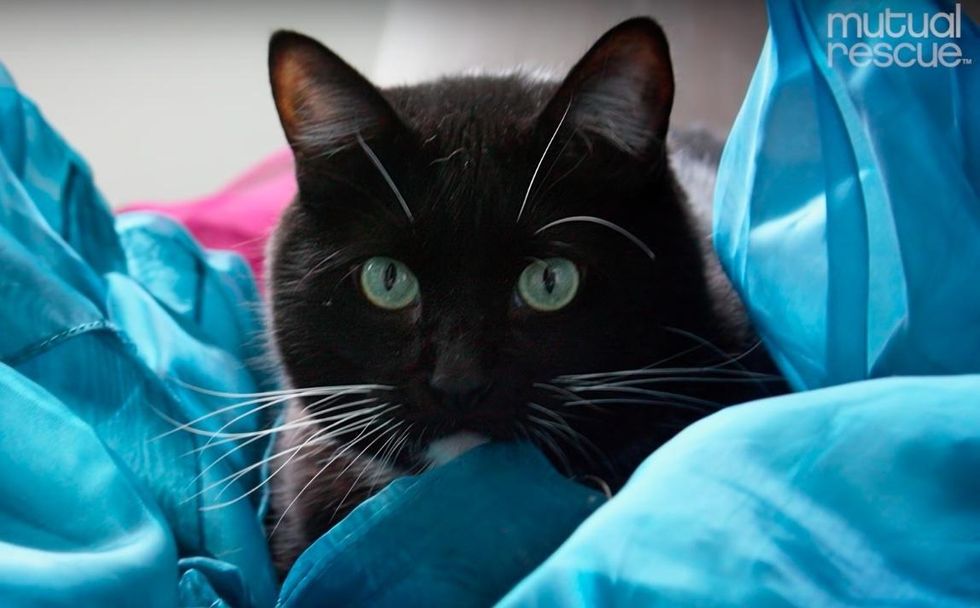 Mutual Rescue/YouTube
Scout walked into his human's life when they needed each other.
"That little kitten helped me realize that I wasn't just a sack of damaged goods. Scout was my battle buddy. He saved me. All I did was the paperwork."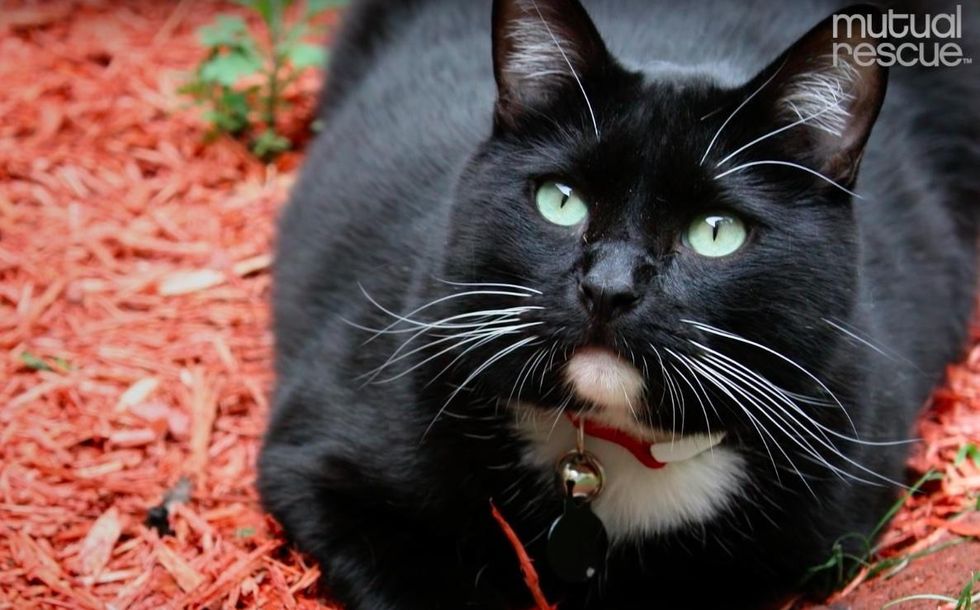 Mutual Rescue/YouTube
Share this story with your friends. Follow Mutual Rescue on Facebook.
Related story: Feral Cat Saved by Kind Woman and Felt Loved for the First Time