A tiny tortie kitten came to a bouldering gym in Okinawa, Japan and made it her home. As she grew, her climbing ability quickly surpassed her human friends.
Meet Lalah the climbing kitty!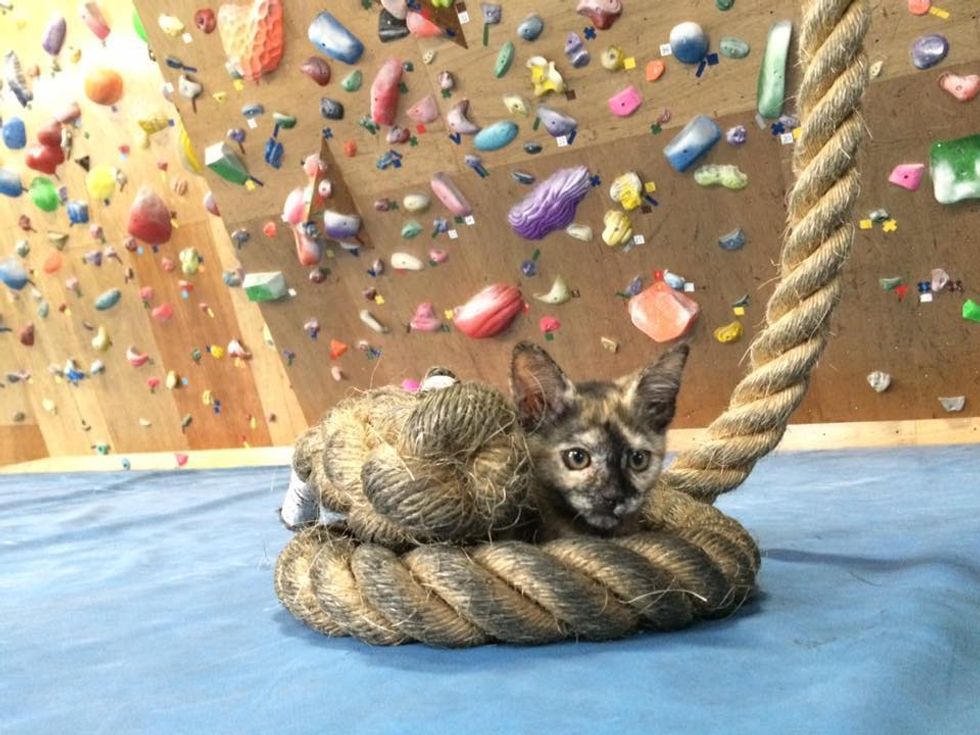 Photo: bouldering gym BOULBAKA
Lalah came to the bouldering gym BOULBAKA when she was about two months old. She quickly discovered her love for climbing.

When she was tiny, after watching others climb to the top, she tried to jump and grab the holds, but was not able to reach them. However, the little determined kitty did not give up.
"She must have been eager for climbing up to the top before she became proper size to reach to the next hold (colored rocks) while watching people climbing everyday," bouldering gym BOULBAKA said.
Lalah became the fixture of the gym. She is very observant and likes to watch people boulder as if she's studying their techniques and trying to perfect her own skills.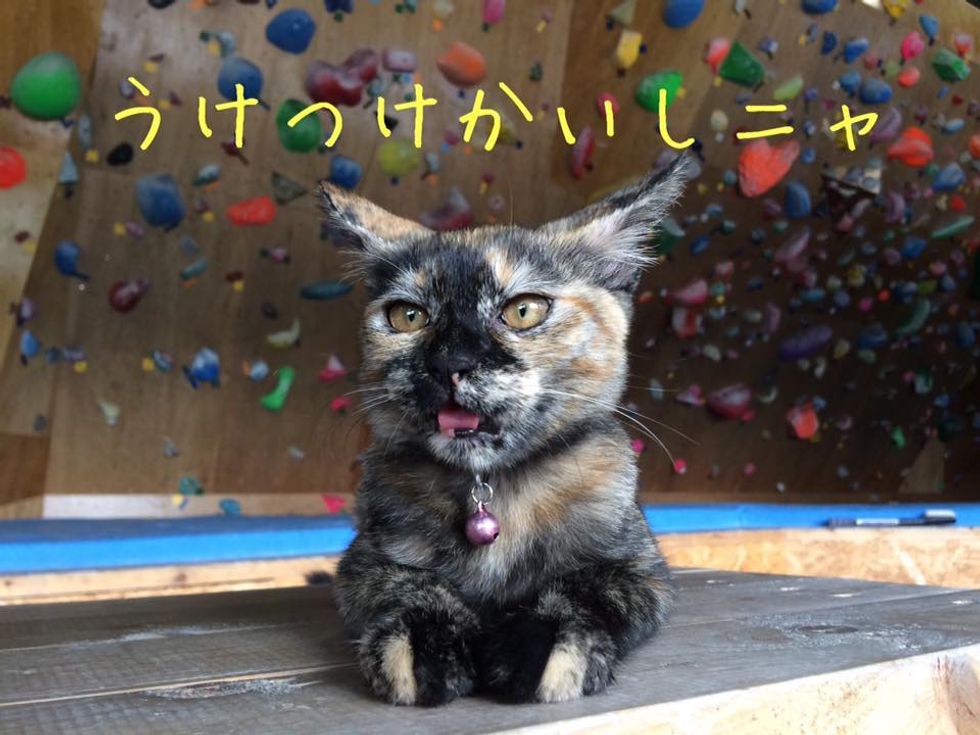 Photo: bouldering gym BOULBAKA
At a young age, she always had the inclination to climb to the top of anything.
If there's a ladder in the gym, she has to get to the top.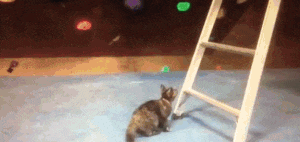 Photo: bouldering gym BOULBAKA
She roams around the gym, managing their daily operation while welcoming climbers with open paws.

Lalah checking on the holds and aiming for her next goal.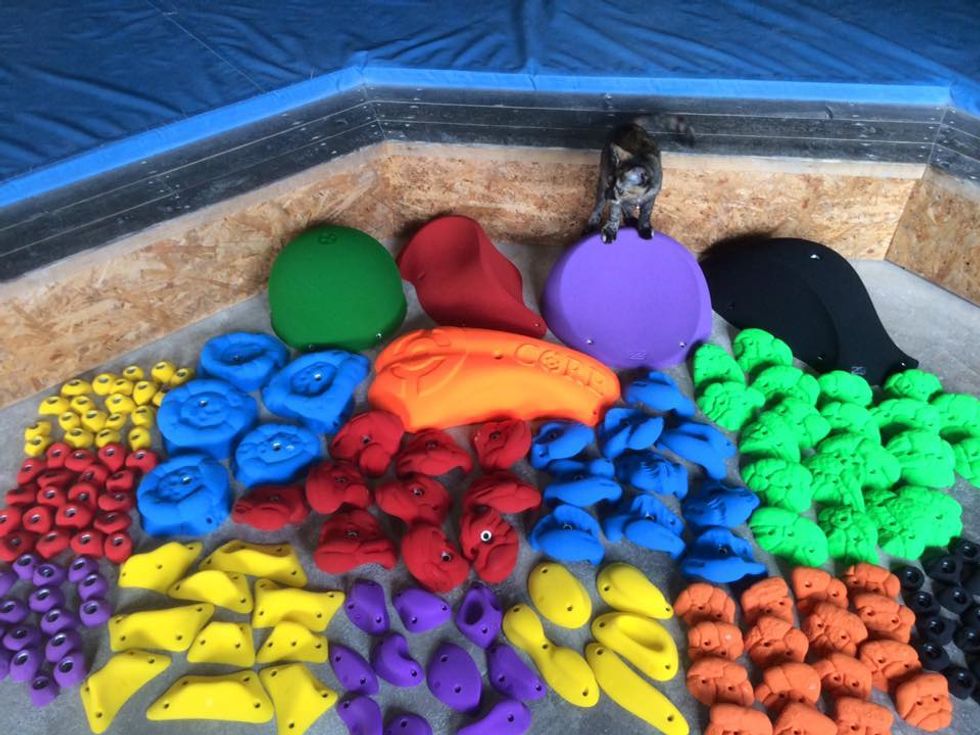 Photo: bouldering gym BOULBAKA
Over the past few weeks, the smart little feline grew big and strong enough to climb to the top as she skillfully maneuvered the wall. She's quite a natural.
When she's not climbing, she naps for hours before her next route.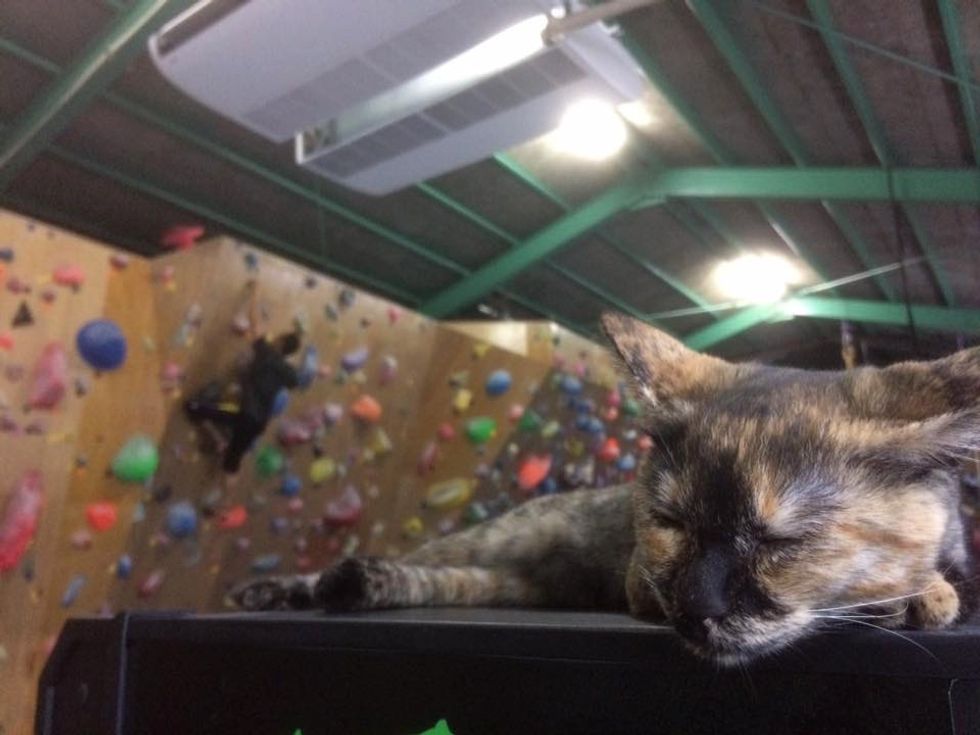 Photo: bouldering gym BOULBAKA
"We never trained her. She just accomplished her desire with no help. She must be happy and proud. We are also very happy and proud of her challenge and achievement!"
Watch the kitty climb to the top in this video:
Share this story with your friends. Follow Lalah the cat on Facebook.

Related story: Tortie Cat Falls into the Heart of Her Rescuer and Follows Her on Different Adventures