An 11-year-old cat with special needs has the magnificence of the Lion King. His name is Simba.
A few days ago, he received a letter from someone who addressed herself as the "Allergic Admirer."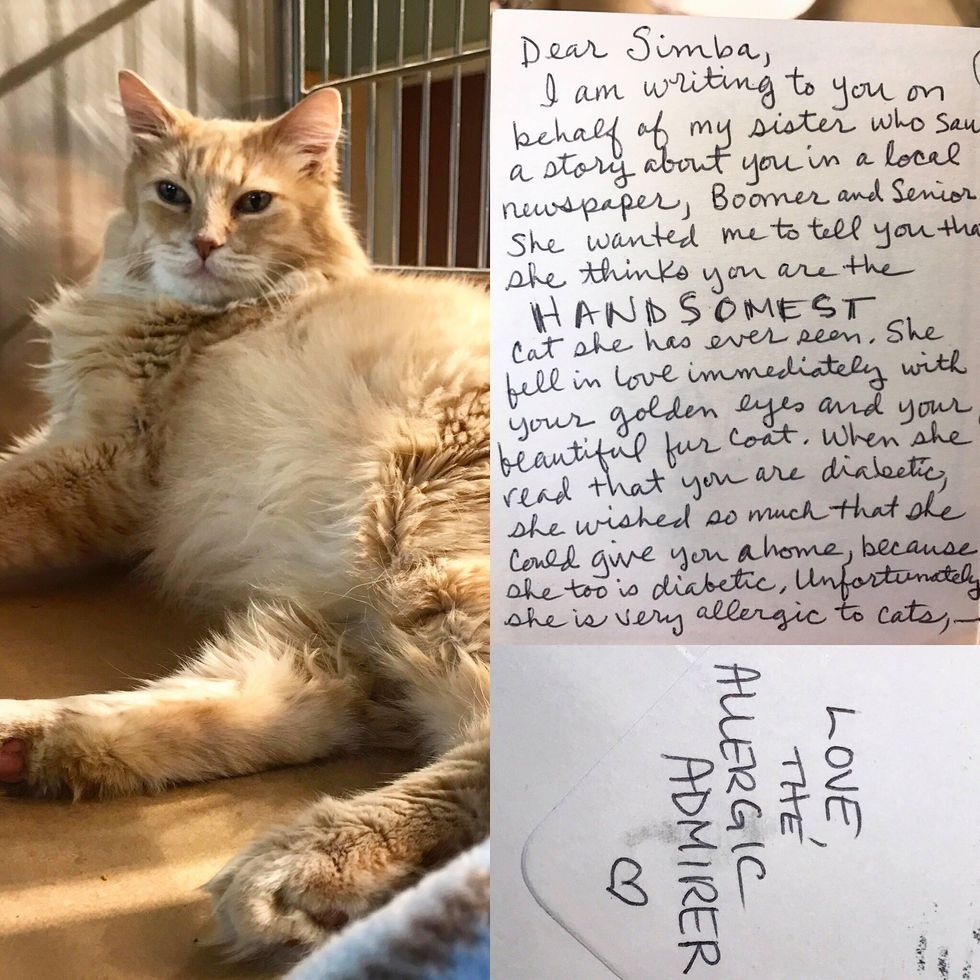 Courtesy: Oregon Humane Society
When Simba first came to Oregon Humane Society (in Portland, Oregon), he was diagnosed with diabetes and serious neuropathy in all four paws which affected his mobility, making it difficult for him to walk. They began treating his condition with a special diet and twice daily insulin injections. Nothing could stop Simba from being a sweet feline. He quickly stole the hearts of everyone at the shelter and those who had come across him.
"Simba has many admirers among OHS staff and volunteers. He is a very sweet, mellow boy," Cara O'Neil, Web and New Media Manager at Oregon Humane Society, told Love Meow.
"Cats with diabetic neuropathy like Simba can improve dramatically once they're in a home environment and encouraged to move around more."
Last week, the handsome mini-lion got fan mail from a secret admirer...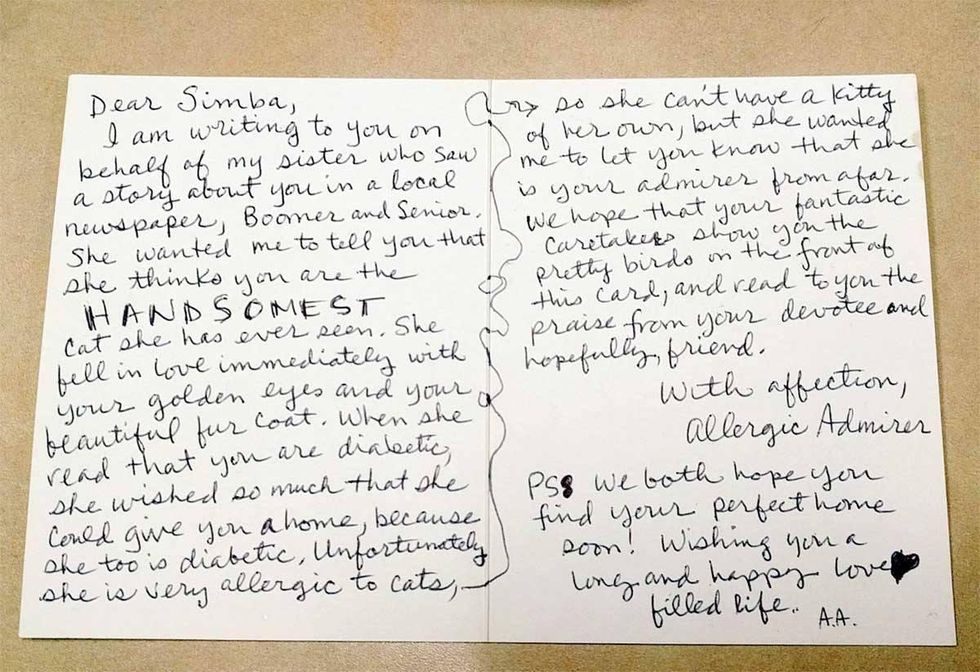 Courtesy: Oregon Humane Society
"Dear Simba,
I am writing to you on behalf of my sister who saw a story about you in a local newspaper, she wanted me to tell you that she thinks you are the HANDSOMEST cat she has ever seen. She fell in love immediately with your golden eyes and your beautiful fur coat.
When she read you are diabetic, she wished so much that she could give you a home because she too is diabetic. Unfortunately she is very allergic to cats, so she can't have a kitty of her own, but she wanted me to let you know that she is your admirer from afar.
We hope that your fantastic caretakers show you the front of this card, and read to you the praise from your devotee and hopefully, friend.
With Affection, Allergic Admirer
P.S. We both hope you find your perfect home soon! Wishing you a long and happy love-filled life. A.A."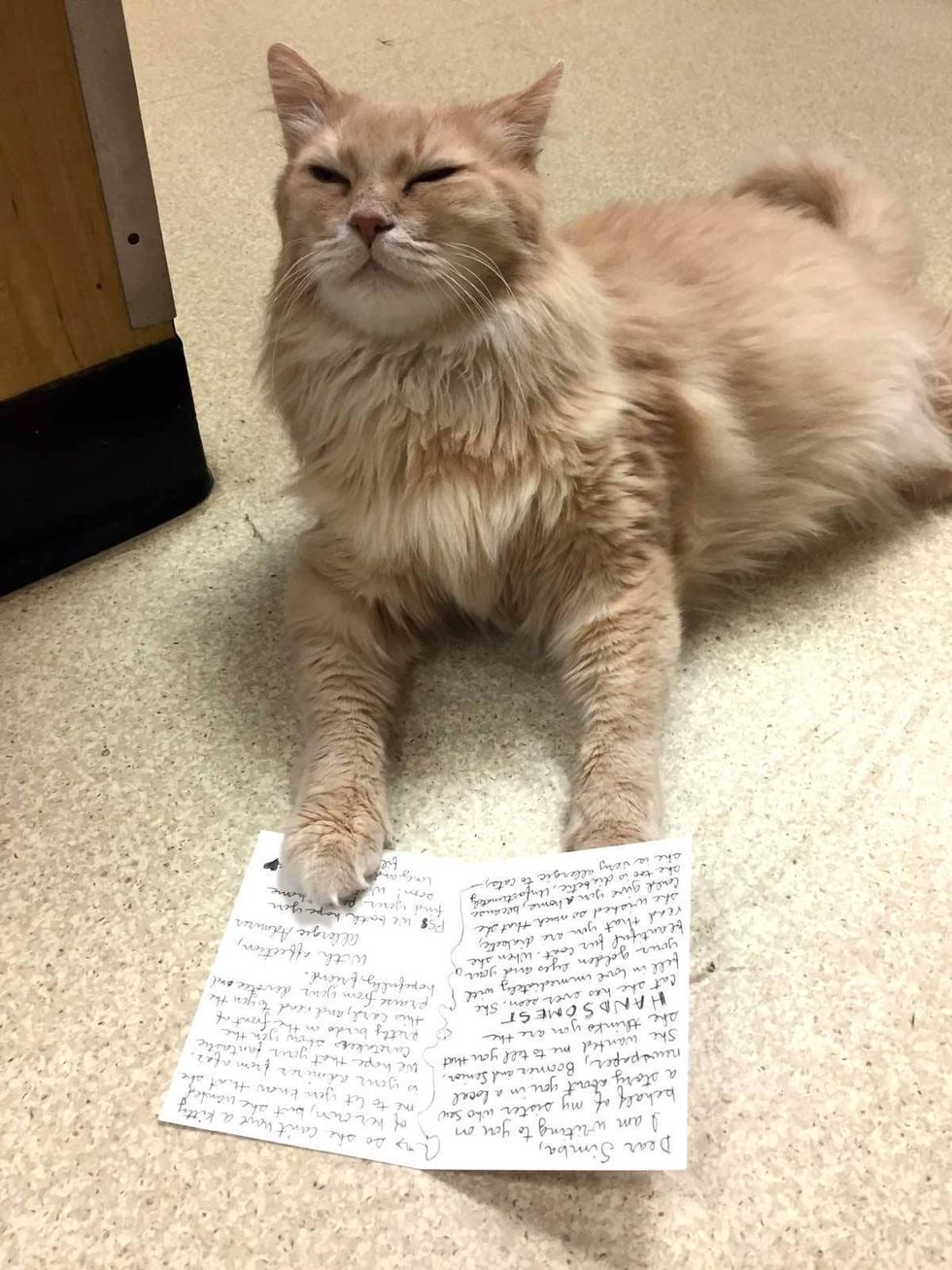 Courtesy: Oregon Humane Society
The dignified gentleman approved the letter with a contented smile after the shelter staff read it to him.
"Simba is doing well here and receiving excellent care from our veterinary staff, but would benefit greatly from being in a home where he has a loving person to spend time with him and encourage him to move around and exercise," Cara told Love Meow.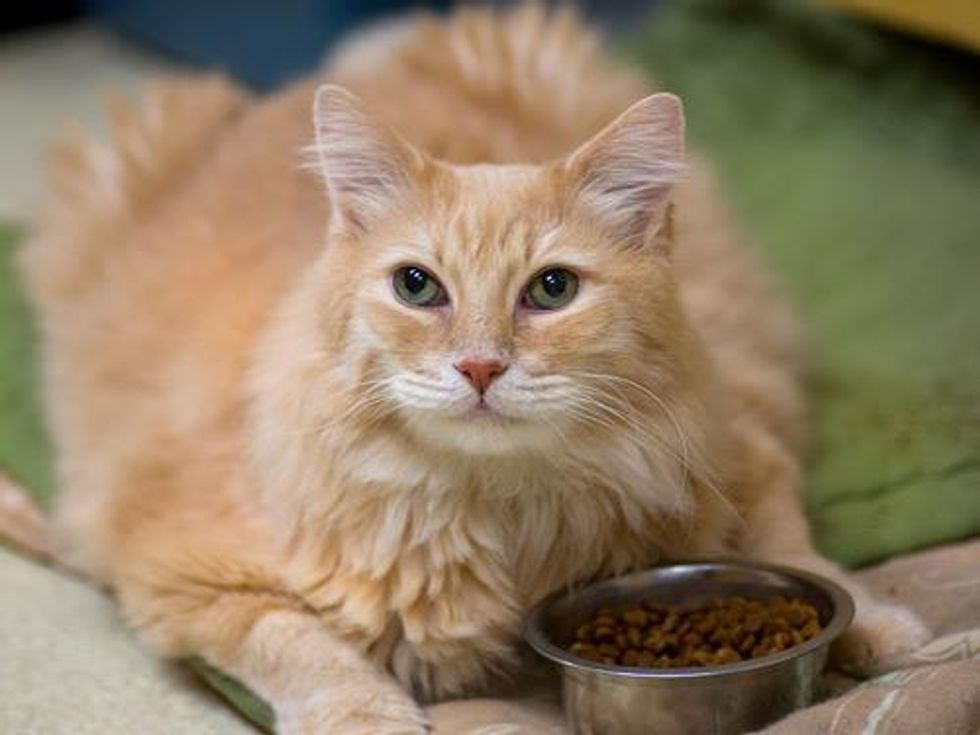 Courtesy: Oregon Humane Society
"I fostered a cat with very similar symptoms to Simba and within just a few weeks, this cat (named KC) was walking, running and even climbing the cat tree and jumping onto the couch."
They are confident that Simba will improve with lots of love and a forever home.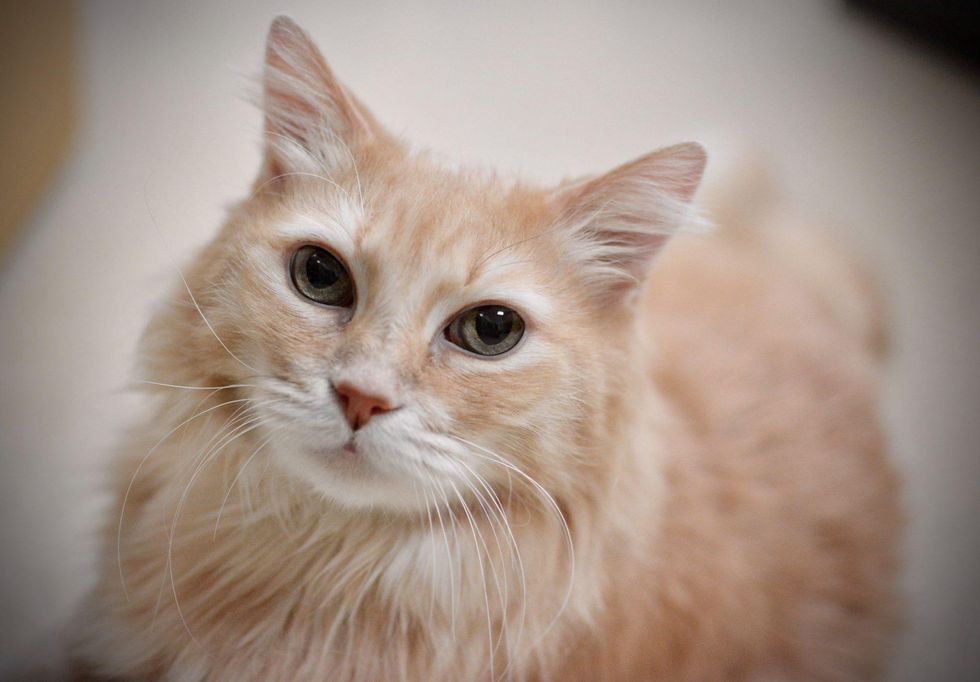 Courtesy: Oregon Humane Society
"Cats can also go into diabetic remission, meaning they no longer require insulin shots. Diabetic cats do tend to stay longer at OHS, perhaps because they do require a regular schedule and a little more healthcare than some of our other eligible felines."
Simba loves getting attention from his human friends. He is waiting for the right person to take him home and love him forever.
His Allergic Admirer hopes her letter will help Simba find a good home that he so deserves.
Share this story with your friends. If you are interested in adopting Simba, click here for more info.
In addition to Simba, OHS has several other adult cats with special needs--Beau (diabetic), Charles (diabetic), Pixel (blind)--awaiting homes right now, click here to meet them. Follow Simba's updates on Oregon Humane Society's Facebook page.
Related story: Couple Mourning Their Cat Find a Note from a Stranger Whose Life was Touched by Their Cat