A 15-year-old ginger cat loves nothing more than to be held, all the time! He will meow and meow until you pick him up and hold him snugly in your arms.
Meet Dougie! He's a senior cat but a kitten at heart!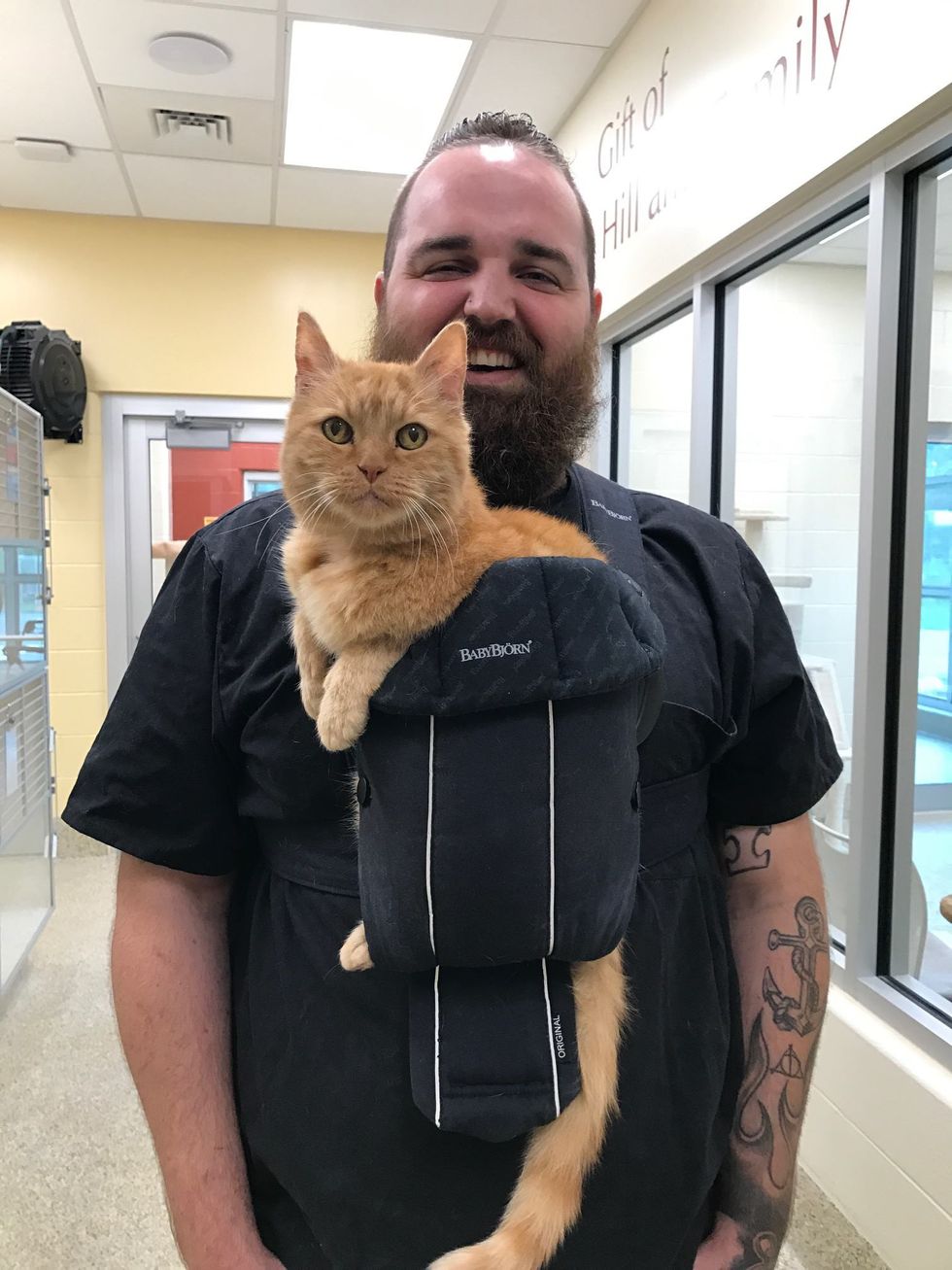 Animal Refuge League of Greater Portland
The senior cat came to Animal Refuge League of Greater Portland, a rescue group in Westbrook, Maine, for a second chance at life. Soon they discovered his larger-than-life personality and his love for good conversation with everyone.
"He is incredibly social and always wants to be near people or other pets," Jeana Roth, director of community engagement of Animal Refuge League of Greater Portland, told Love Meow.
Dougie demands cuddles 24/7 and wouldn't take no for an answer. "When he's not being held, his meow can be heard from galaxies far away."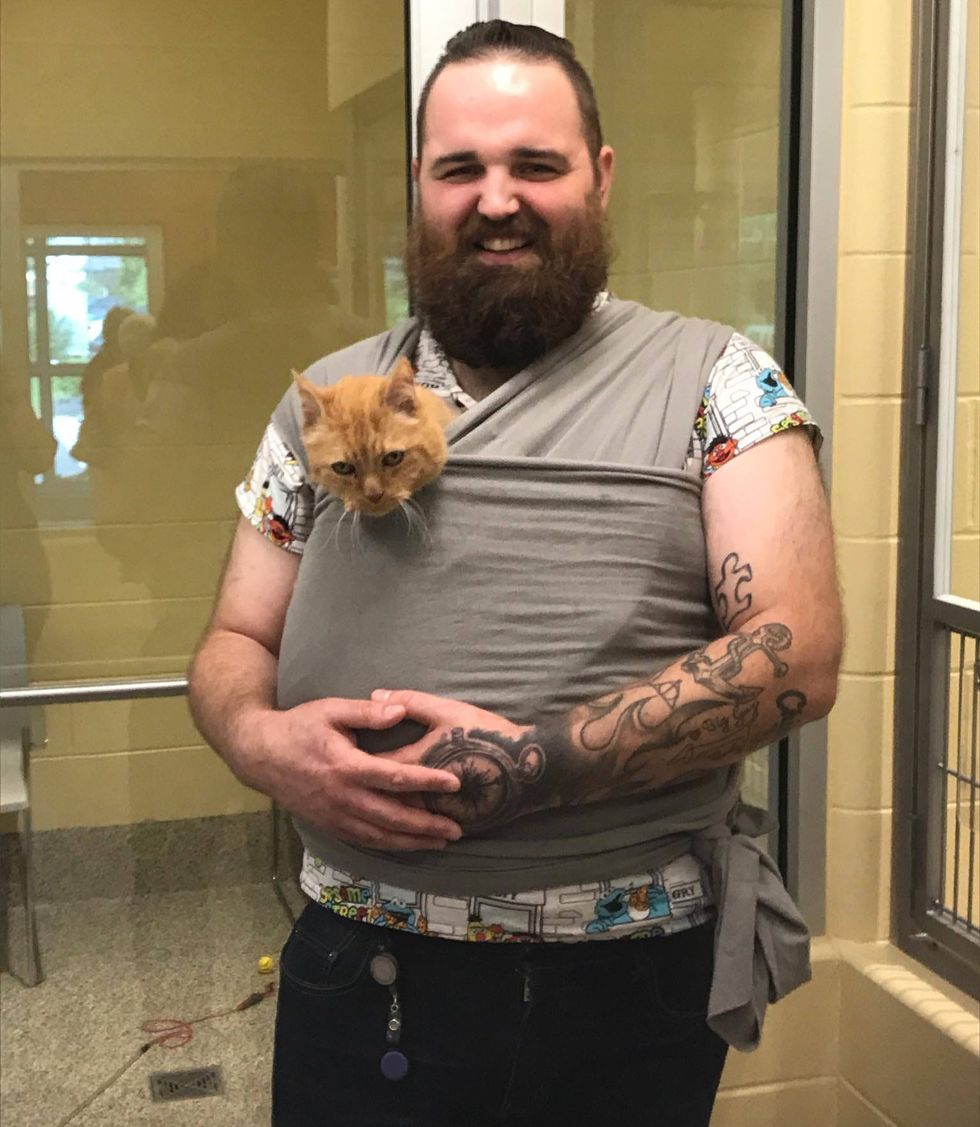 Animal Refuge League of Greater Portland
Shelter staff were happy to oblige to his demands, but they needed to figure out a way to get things done while carrying a purring kitty.
Robert Weimer and his team came up with a creative idea to use a baby Bjorn to hold Dougie so they could free their hands to do their job more effectively. "Dougie enjoyed it immediately."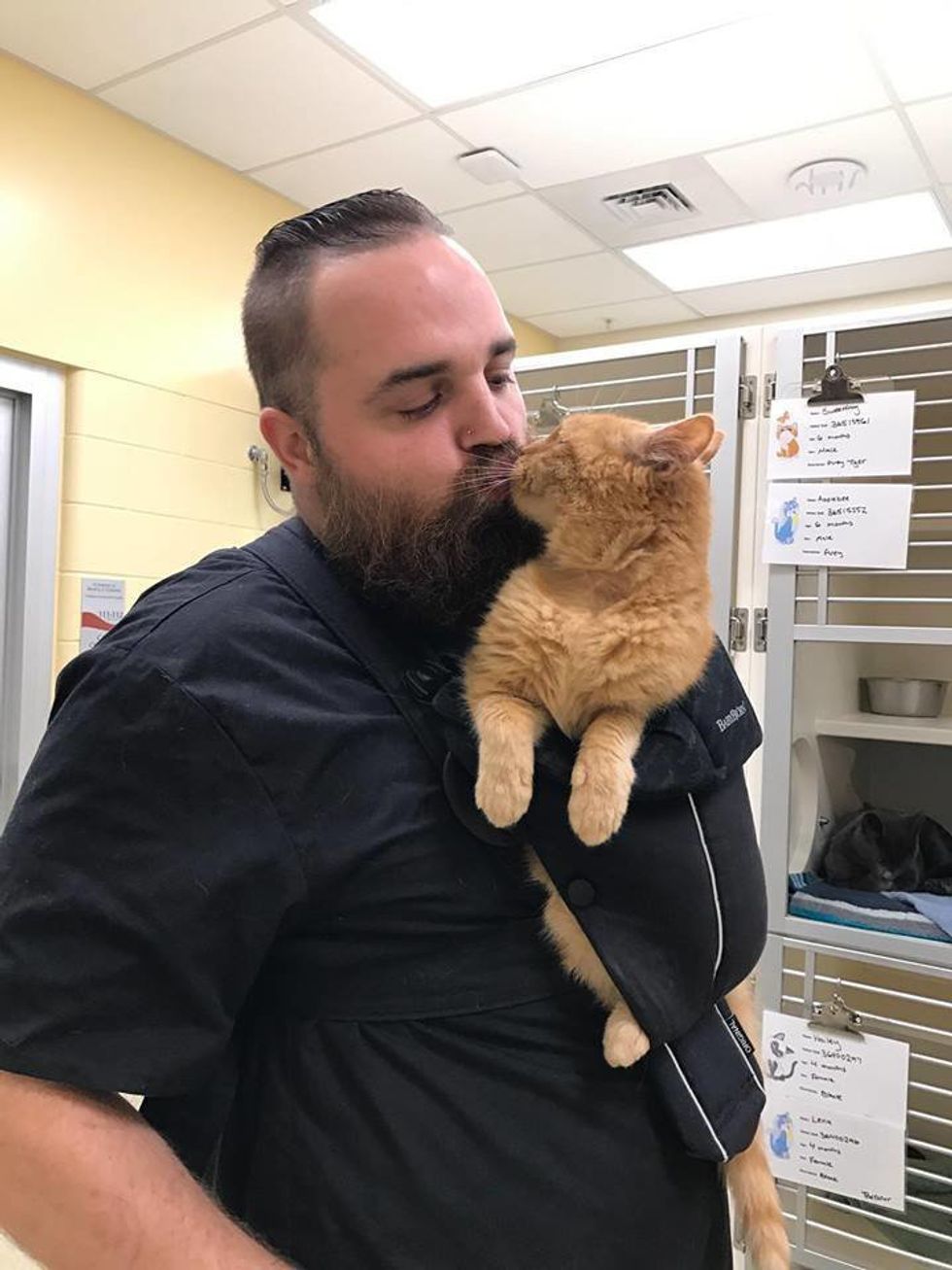 Animal Refuge League of Greater Portland
"The baby carrier gave us the ability to keep Dougie satisfied with constant affection and give Robert some freedom to help visitors and adopters," Roth told Love Meow.
This little charmer quickly won many people's hearts.
Ash Perkins found Dougie on the shelter's website last week and knew she had to meet him. When she saw the adorable ginger boy in his comfy baby Bjorn, she was in love.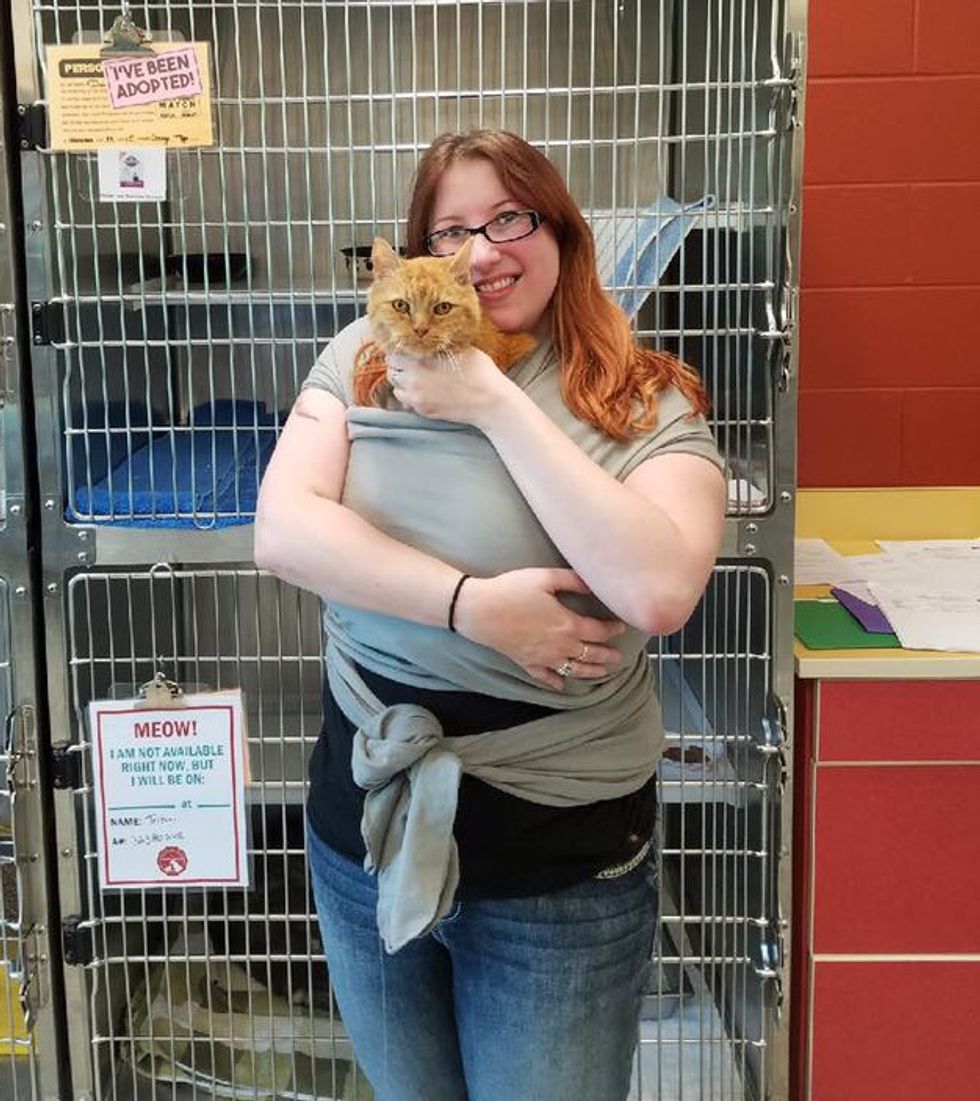 Animal Refuge League of Greater Portland
"He snuggled and purred, gave me a couple kisses. I knew he had to come home with me," Perkins told Love Meow.
"I came back the next day to bring him home and the rest was history! Now I'm just managing his meds and food, and giving him lots of snuggles! He has another kitty here Jax, who he's already befriending! He's adjusting so well!"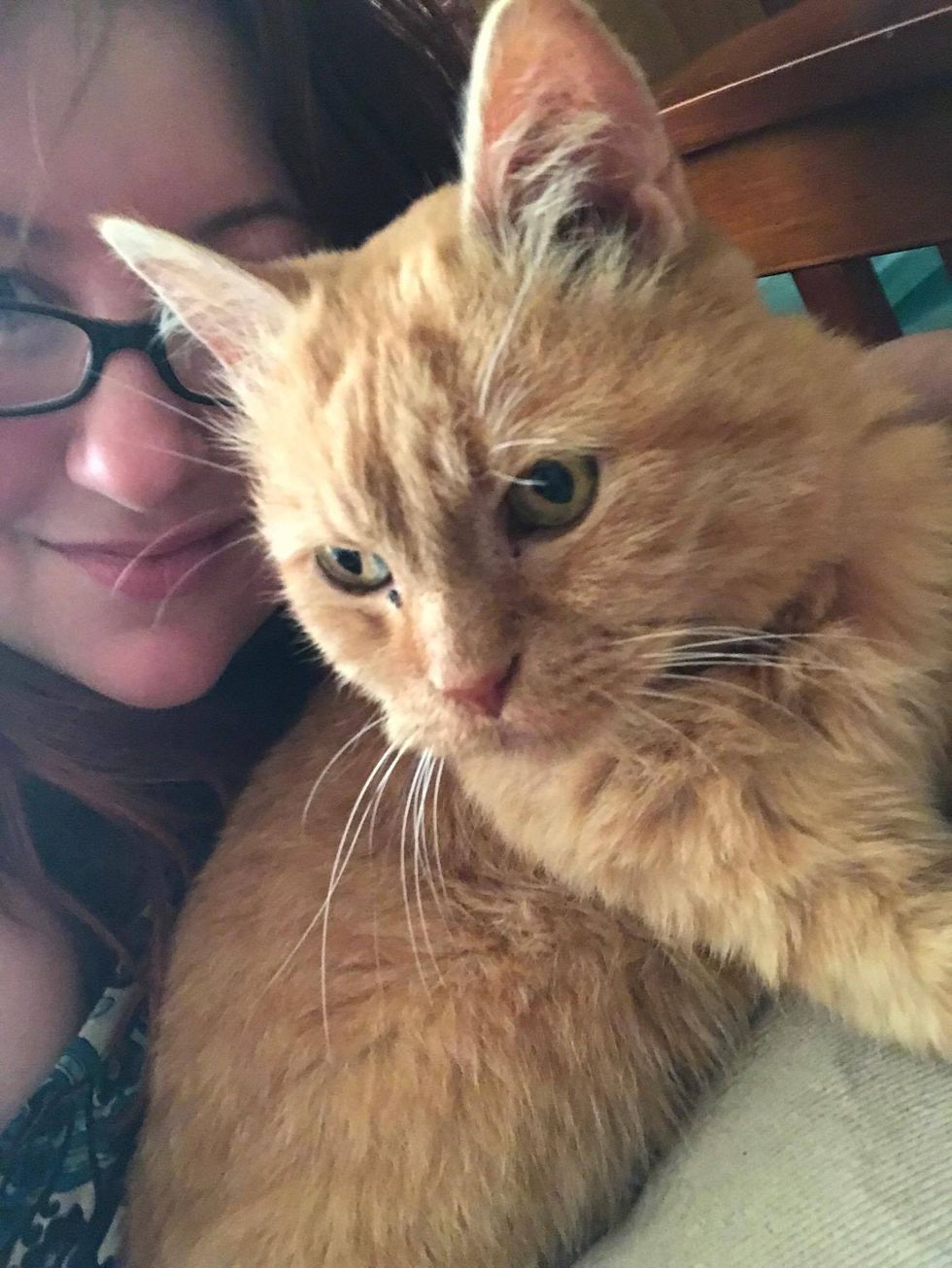 Snuggling with mom!Ash Perkins
Dougie is filling his new home with so much love, meows and purrs.

"Senior cats have just as much love to give as kittens and younger cats, and need us so much. Dougie has IBS and has meds daily, but honestly it is no problem to manage. I found out that Dougie had been at the shelter for months and he needed a home and a human to call his own, and a bed to sleep in each night. I feel lucky to be his cat mom now!
"He kept licking my nose last night when I was trying to get to sleep - it was so sweet. He's an amazing little guy!"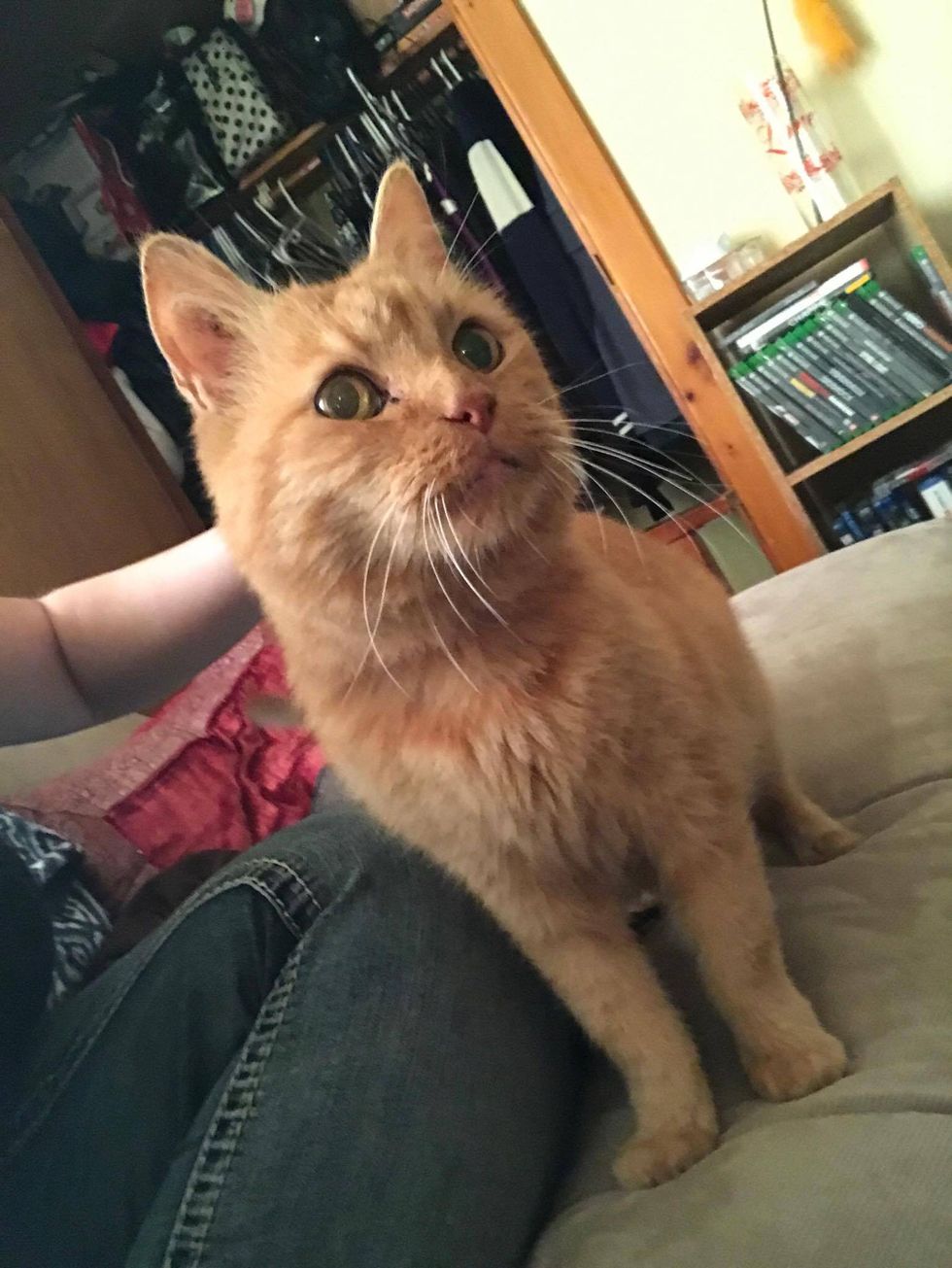 Ash Perkins
Share this story with your friends! Follow Animal Refuge League of Greater Portland on Facebook. If you would like to support their rescue efforts, click here to see how you can help.
Related story: 15-year-old Scraggly Shelter Cat Found Humans He'd Been Waiting for All His Life