A cat from Manitoulin Island, Ontario saved a neighbor who was trapped by his garage door. The cat was inside her home when it happened.
Meet Ivy the cat!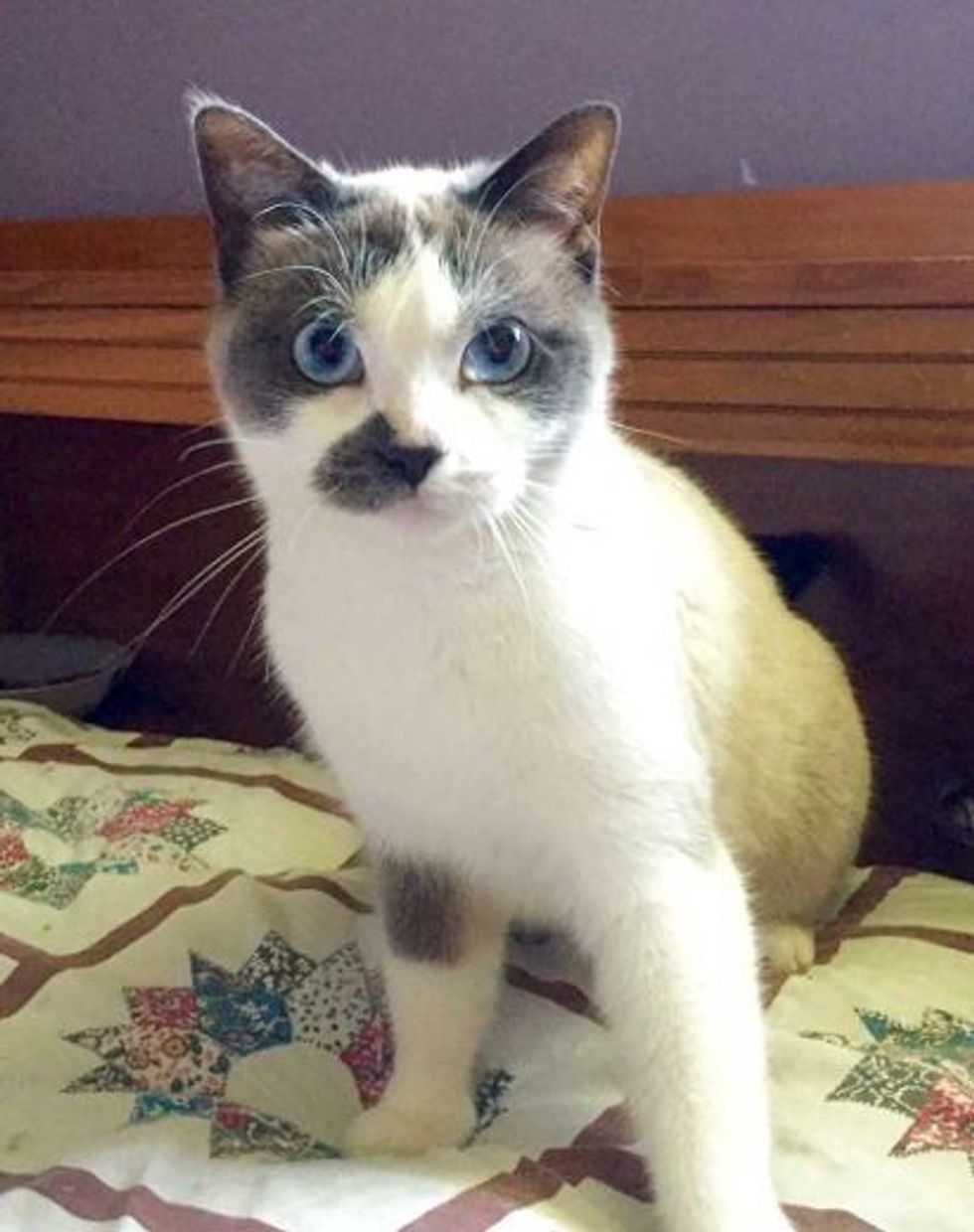 Mary Johnston
The hero of the story is a two-year old kitty who lives with her 72 year-old owner, Mary Johnston in a small town of Tehkummah. She has always been a calm and docile cat.
One day out of the blue, Ivy became quite antsy, pacing back and forth between the window and the couch as if she was very concerned about something.
"Ivy will usually lay on the couch next to my chair when I'm reading," Mary told CBC. That day the kitty's unusual behavior caught Mary's attention.
The feline became so frustrated that she jumped into Mary's lap trying to get her attention--something that she doesn't normally do.
"I heard what I thought was a cat in distress, that deep growl sort of noise they make." She went outside and followed the sound to her neighbor Eric Russell's barn. Soon she discovered that the sound didn't come from a cat. It was her neighbor Eric who was stuck up in the air where his arm was trapped by garage door.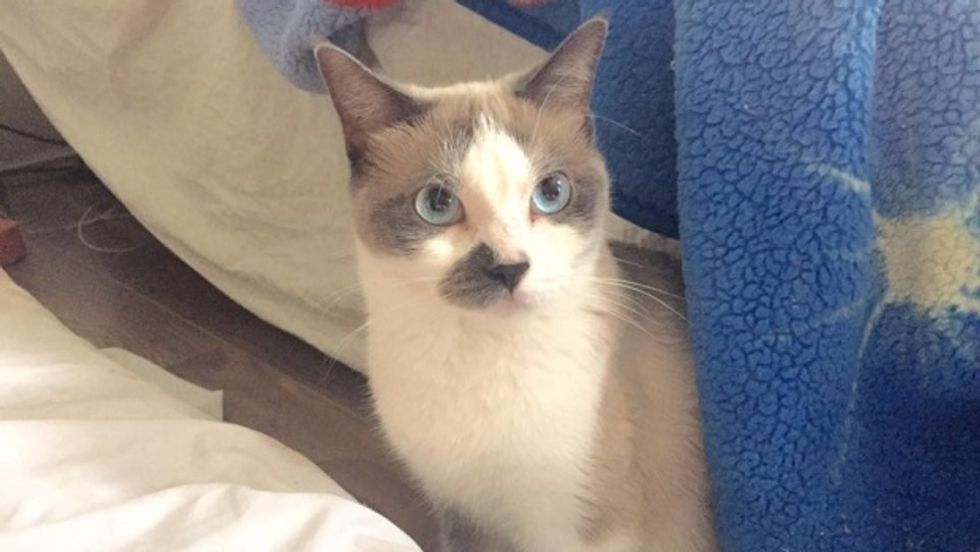 Mary Johnston
"He's been fixing his garage door and the spring let go, caught his arm, and he couldn't get out of it."
She immediately sought help. They were able to get Eric to the hospital to get his arm treated. "He had quite a bit of damage to his arm and nerves."
The doctors said if he had gotten out any later, he could have lost his arm. Little Ivy the cat saved the day!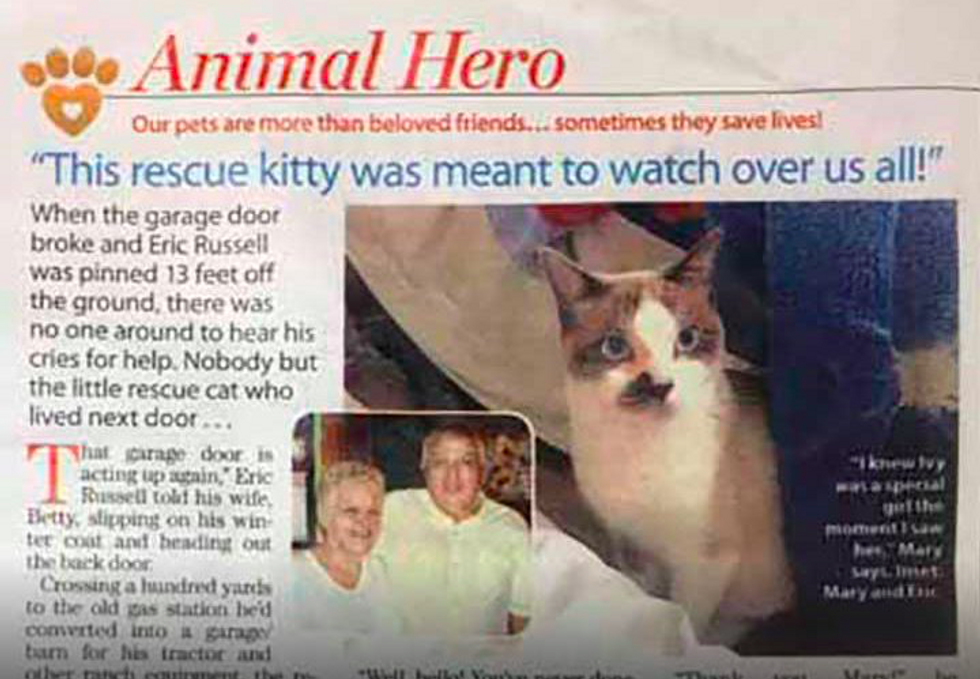 Ivy hailed a hero in the Woman's World magazine
"I think she heard these sounds of distress and it bothered her. So she figured I should do something about it," Mary said to CBC.

"(Eric) was very thankful that Ivy had heard him and got my attention to him. He bought her a gift certificate from the pet store," Mary said. "At Christmas time, Eric bought Ivy a basket of goodies and toys and he came to talk to her."
Turns out, Ivy is a rescue cat from a local shelter. Maybe it was a way for her to return the favor.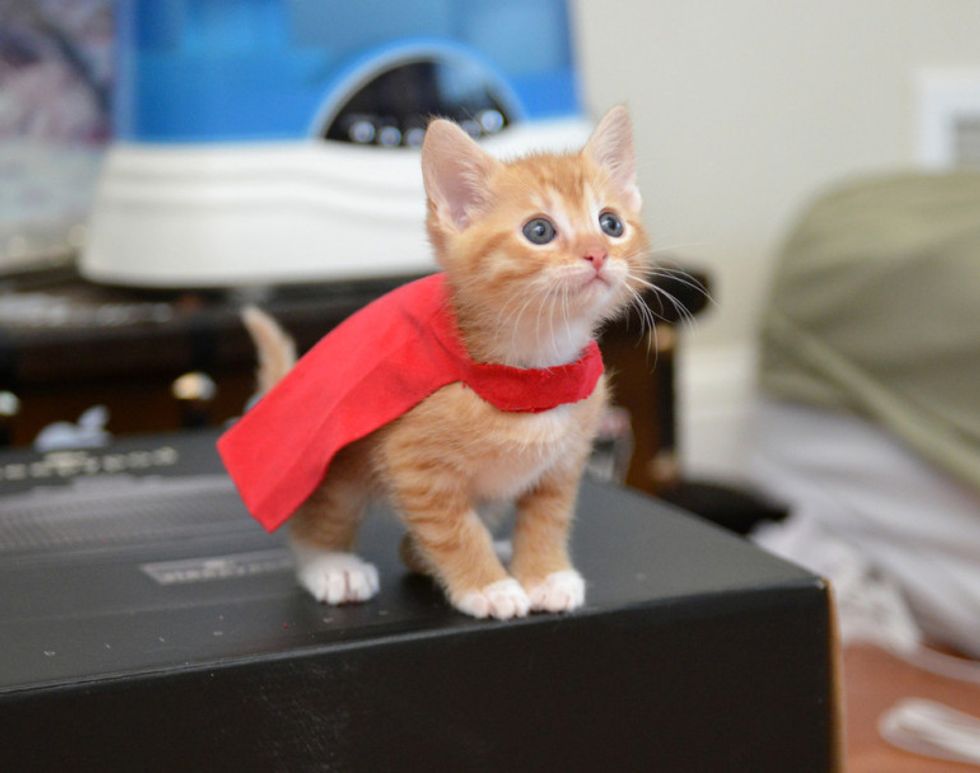 Super kitty comes to rescue mankind!Jack the kitty adopted from Saving Grace Rescue, Photo by Josh Norem at The Furrtographer
Share this story with your friends. (h/t: CBC)
Related story: Heroic Man Rescues Kitten Stranded in Flood Waters