A feral cat was rescued along with her two kittens from a rough neighborhood.
She was dirty and very scared, but when an orphaned kitten needed a mom, she didn't hesitate and took him in with open arms.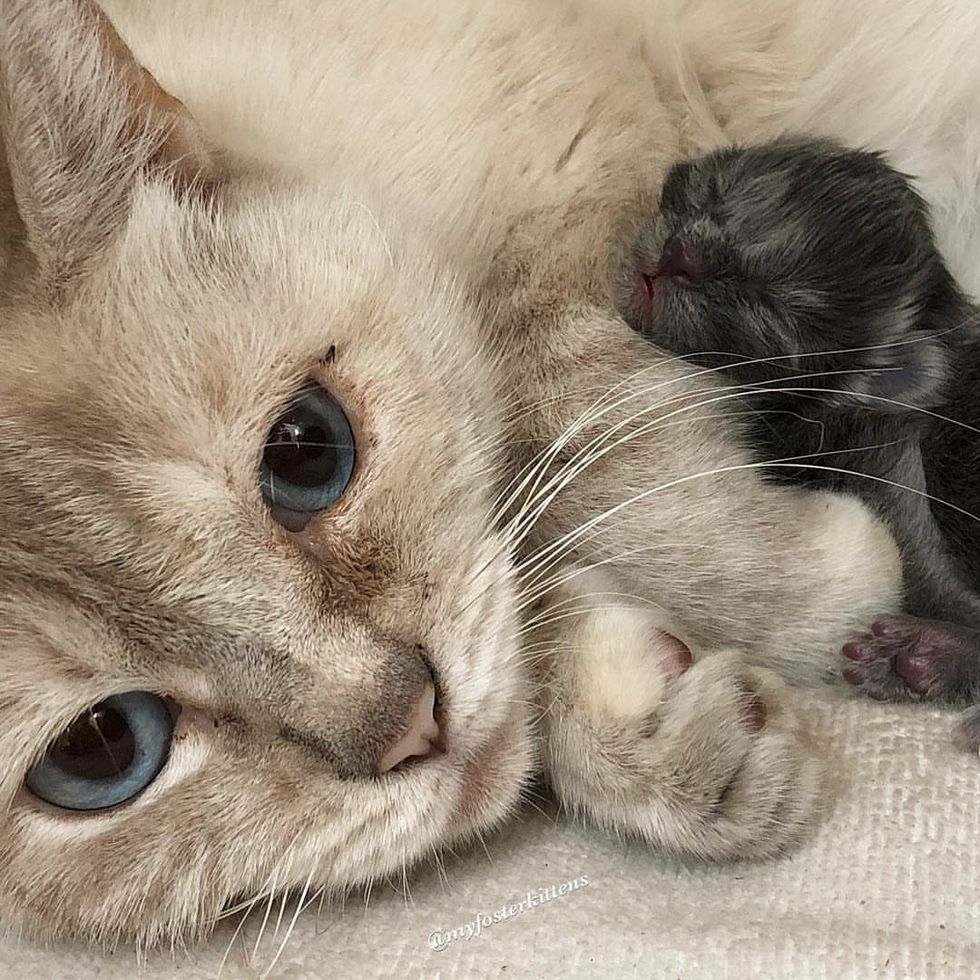 Nikki Martinez @myfosterkittens
A few weeks ago, Nikki Martinez, a rescuer/foster based in Las Vegas, brought home a cat mother along with her two kittens that had been rescued during a TNR (trap-neuter-return) project.
The cat mom didn't want anyone near her and was under tremendous stress. Nikki gave her a comfortable and quiet place to stay to help her relax so she could continue nursing her kittens.
The mama named Lindy was very feral and would hide and refuse to eat until there was no one around. "She was pretty dirty from living on the streets for who knows how long," Nikki shared with Love Meow.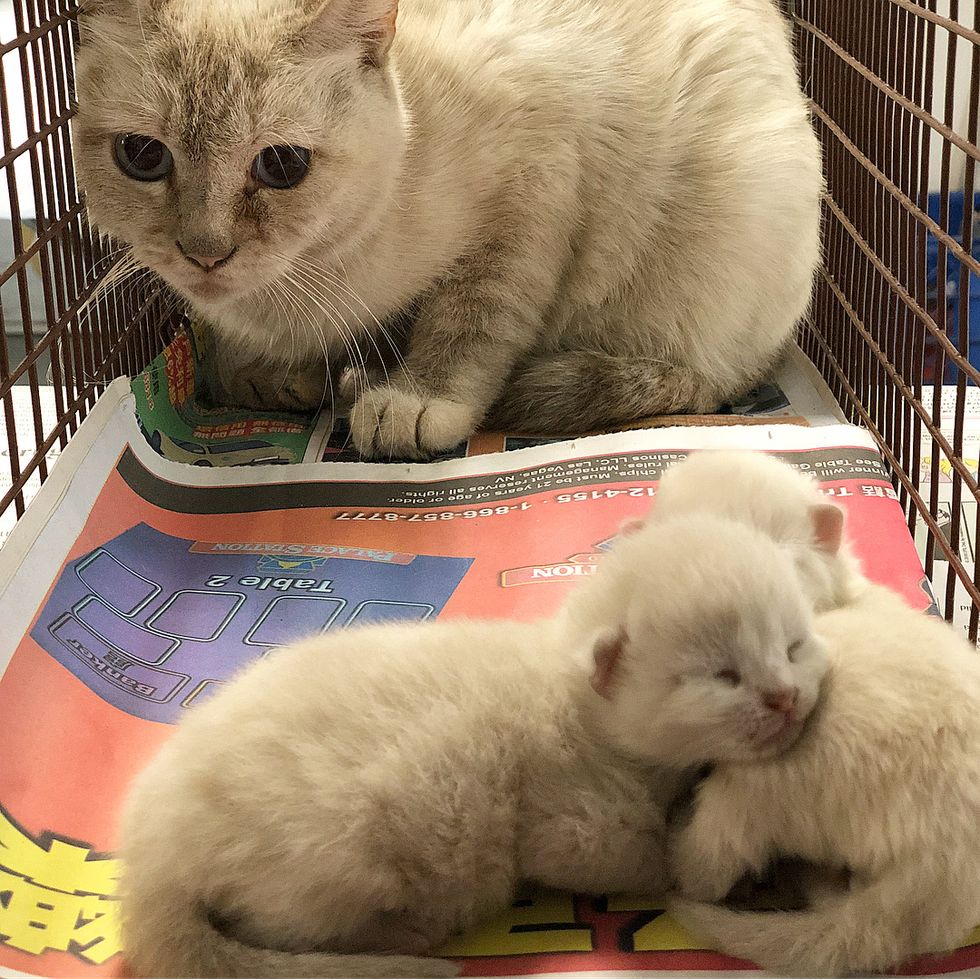 Nikki Martinez @myfosterkittens
Around the same time, a trapper from a different location rescued another cat mom who had given birth to two kittens. One didn't make it and the surviving baby was rejected by his mom.

"Since the baby appeared healthy and was screaming because he was starving, we decided to see if Lindy would take him in," Nikki told Love Meow. "She took him immediately and started caring for him like he was her own."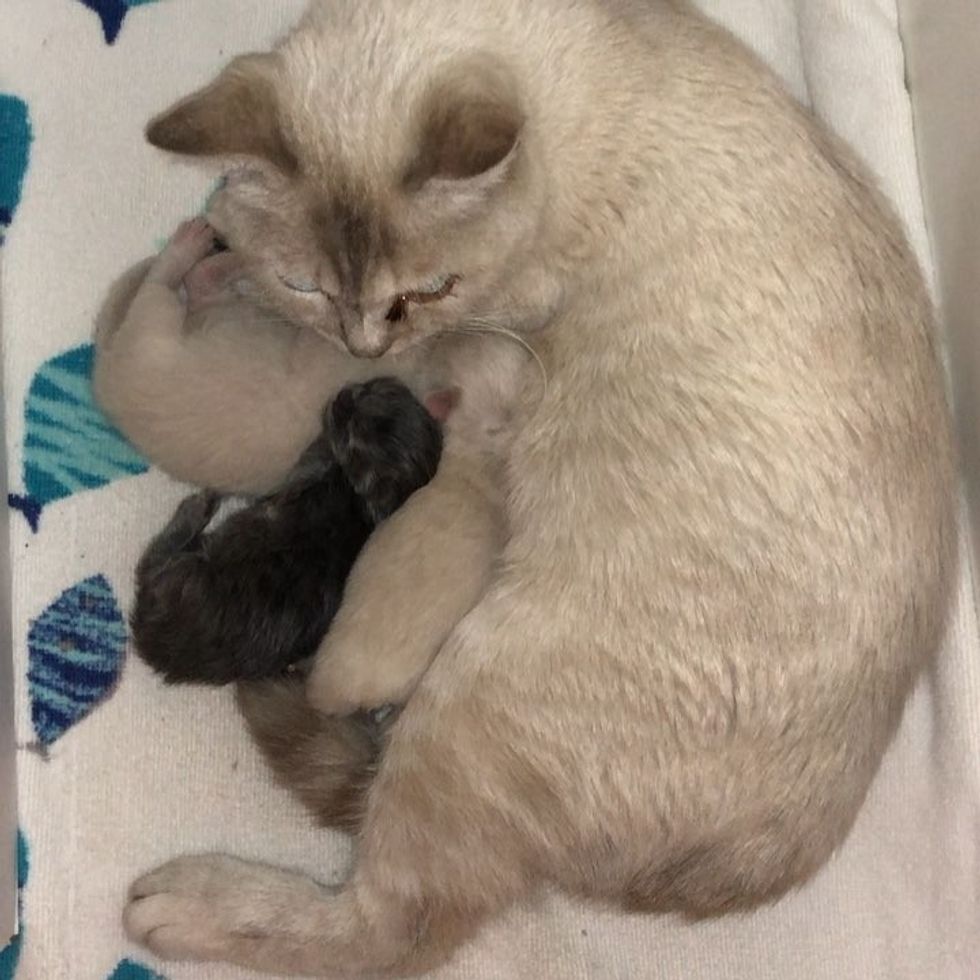 Nikki Martinez @myfosterkittens
The grey kitten whom they named Scrappy was so happy to feel the warmth and love of a mother that he perked up right away. He started nursing alongside his new siblings while Lindy gave him a bath.

"Scrappy loves having a mama and siblings since he was abandoned by his own mother. I find him in the middle of his brothers, often with his arm around them."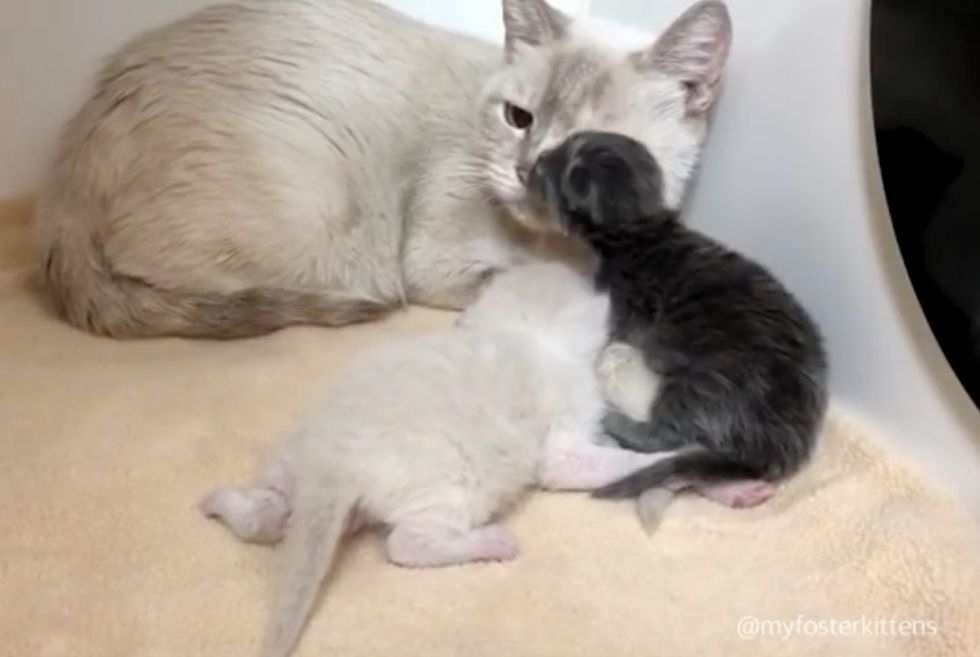 Nikki Martinez @myfosterkittens
Mama Lindy has relaxed quite a bit since Scrappy joined her little family. Though she still wants nothing to do with people, she finds comfort in her three tiny fur babies.

"She has an important job to do in raising these kittens and she's doing amazing," Nikki added.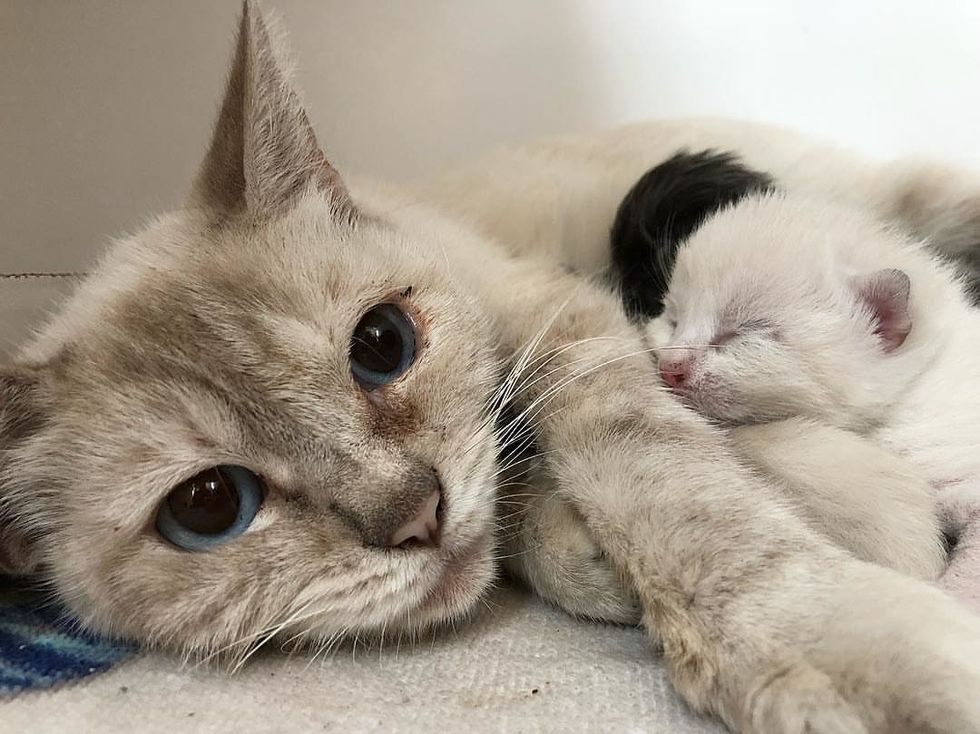 Nikki Martinez @myfosterkittens
At two weeks old, the kittens' eyes began to open and they started to crawl. Lindy became more comfortable in her foster home and even allowed Nikki to help her with her babies.
"They are chubby and happy. Mama Lindy takes excellent care of them," Nikki said.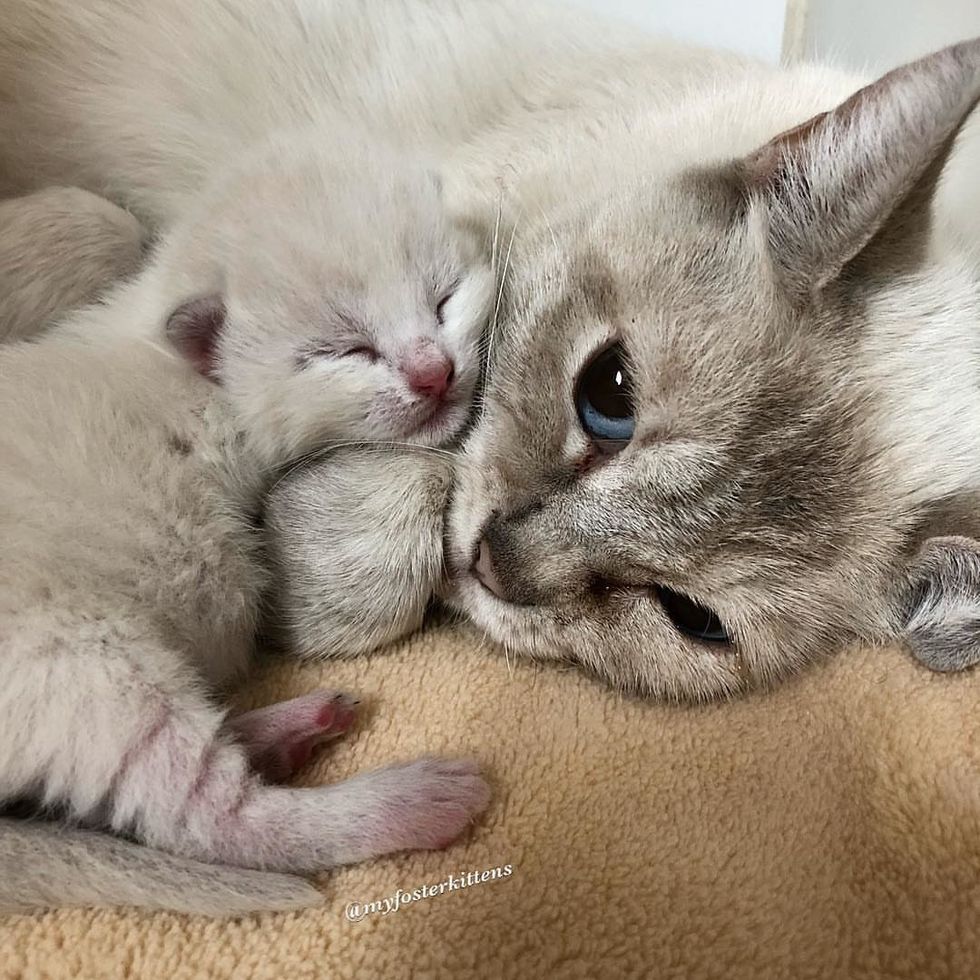 Nikki Martinez @myfosterkittens
Once the kittens start weaning, Lindy will be spayed, vaccinated and microchipped. "I will find her the perfect home to relocate her to when the time comes…. she deserves it and I will make it happen," Nikki said.
Watch their foster journey in this cute video:
The three kittens, Skeeter, Pudgy, and Scrappy, are flourishing in foster care. When they are old enough, they will be neutered and adopted out to good homes.
Skeeter showing off his cute toe beans!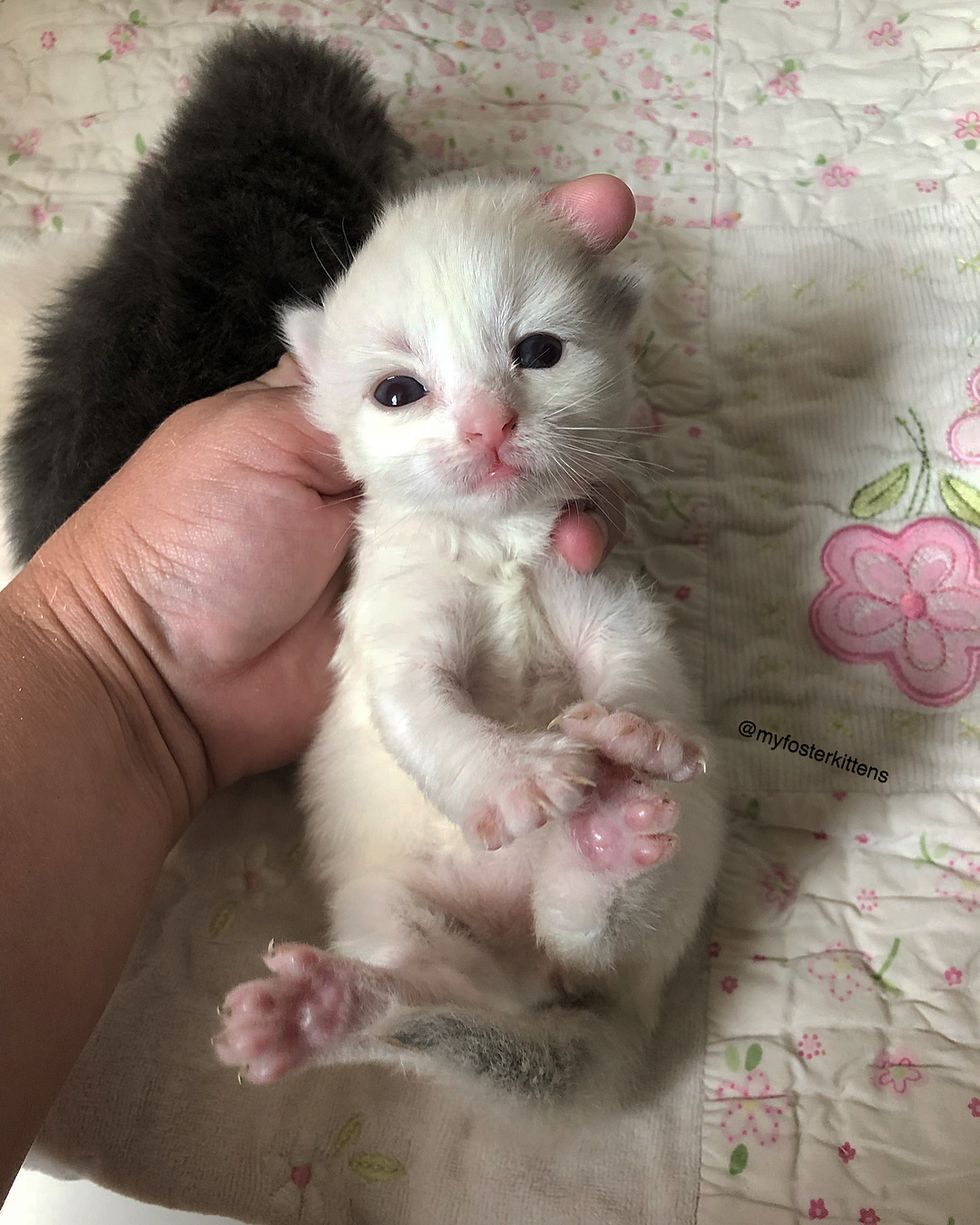 Nikki Martinez @myfosterkittens
Lindy took in the little orphan and raised him as her own. She found solace in her kittens, and Scrappy found a mom he needed to thrive.

Look at him now!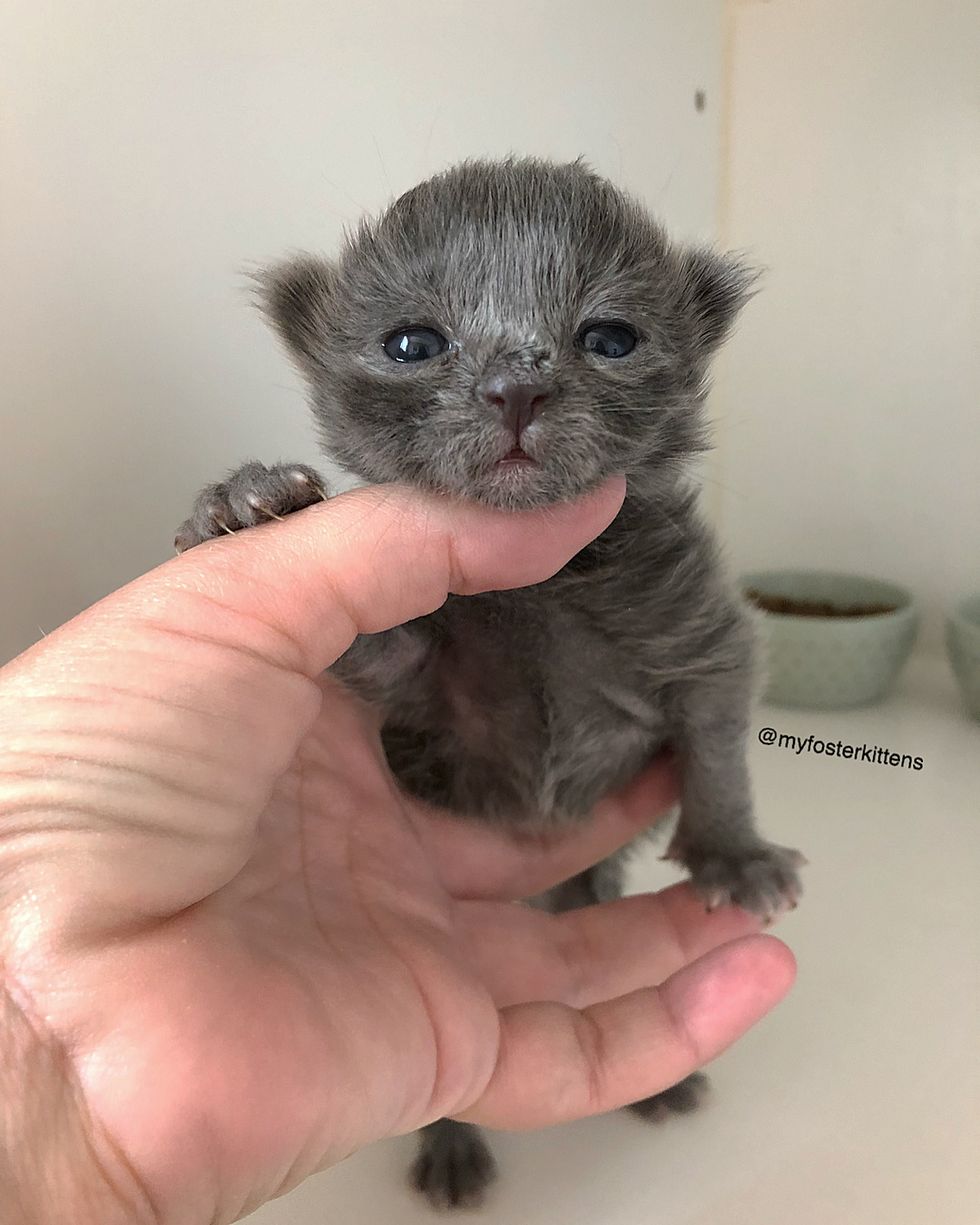 Nikki Martinez @myfosterkittens
Share this story with your friends. Follow updates on this beautiful feline family on Facebook and Instagram @myfosterkittens.
Related story: Cat Hears Orphaned Kittens' Cries, Comes Running and Becomes Their New Mom