A beautiful ginger cat provided comfort to mourners at St. Sampson's Parish Church cemetery in Guernsey for over 20 years.
Meet Barney the Cemetery Cat.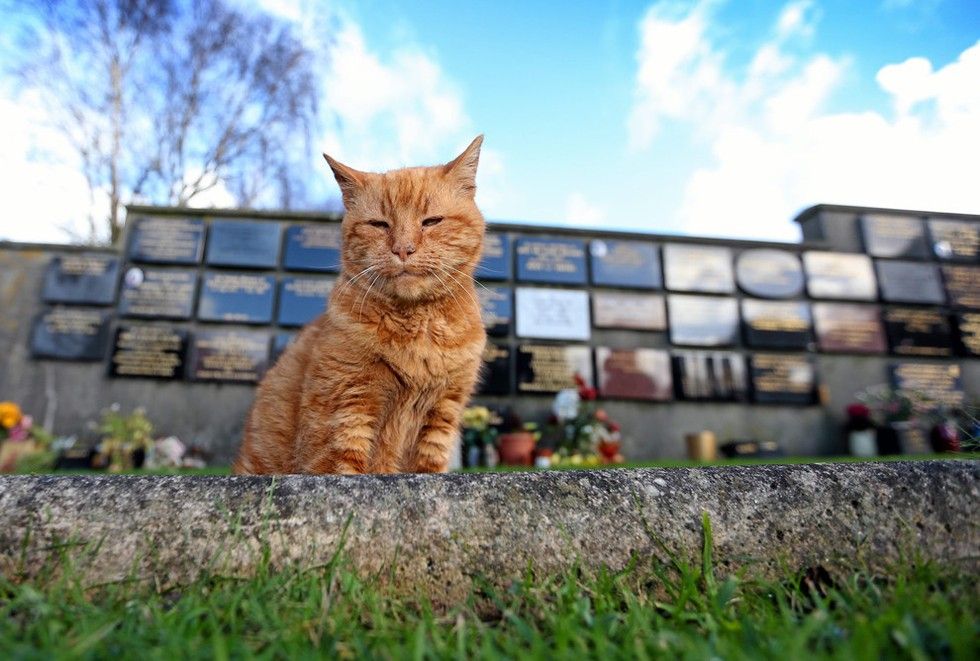 Picture: Real Fix
Over the past 2 decades, Barney had comforted countless families and helped so many through their grieving. He was there for them as they laid their loved ones to rest.

Sadly, Barney passed away of old age early this year as he gave one last family some much-needed comfort.
"I started working at the cemetery in 1995 and Barney was born in 1996. His owners lived in the house right next door and they were there for three or four years but then they moved a mile away," Alan Curzon told BuzzFeed News.
"They took Barney with them as you do, but he kept disappearing and coming back to the cemetery and eventually we made a home for him there."
Barney was a sweetheart and loved everyone who came through the cemetery.

"He would wait with me at the gate when we did burials and he would make himself known to the newcomers and he gave a lot of comfort to people. He would rub against their legs as they placed flowers on the graves," Curzon said.
After Barney passed, many people whose hearts had been touched by this special feline, paid tribute to him.

"(It) was a pleasure to have looked after you for your last days," Anna C wrote on Guernsey Press' Facebook page. "You brought so much comfort to so many people over the years doing your patrol around the cemetery, till you all meet again at rainbow bridge."
"Remember that lovely sunny afternoon, I laid down on the grass in the cemetery and we cuddled up together for 2 hours, I needed a friend that day and there you were my angel," Debbie wrote.
"Loved Barney always purring away when I go down to visit my brothers Resting place and when I've been down and can't see Barney I would lay flowers by Paul's headstone and this little head purring away would look around the edge of his headstone from seemingly nowhere, Barney was always in the right place at the right time 20 of the 25 years I've been going down," Tim wrote.
"(I) used to always look for him when visiting my mum's grave. It was a comfort. Rest in peace Barney," Angela G. wrote.
"You were a true pleasure to care for over the years - all our family loved you so very much and we will always be so grateful of the comfort you gave us at what can be a difficult place - you brought sunshine to us all and we will love you forever till we meet again," Kelly O. wrote. "Enjoy rainbow bridge sweetheart. You were where you wanted to spend your days and you were loved by so many people."
"He had heat pads and hot water bottles. He was a very spoilt and very loved cat and he is going to be really sadly missed," Curzon said.

"I've seen him climb on a headstone and rub up against people during burials and help them through a very sad time." The beautiful ginger boy was laid to rest in a special place. A plaque and bench was placed in the cemetery in tribute to this adorable furry friend.
Barney was an angel to everyone's heart.
He seemed to know when people needed that comfort.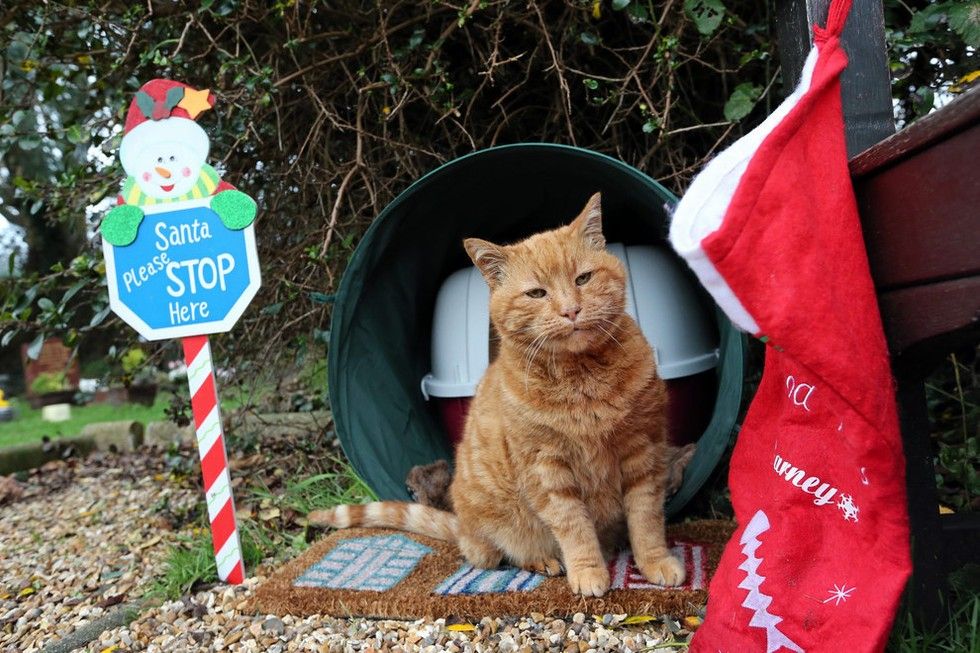 Picture: Real Fix
RIP Barney. You were a comfort to so many.
Share this story.
Related story: Cat Comes to University Every Day So She Can Rescue Students