Nearly two months ago, two little kittens were found in a yard without a mother. They had been left behind at the property, and all they had was each other.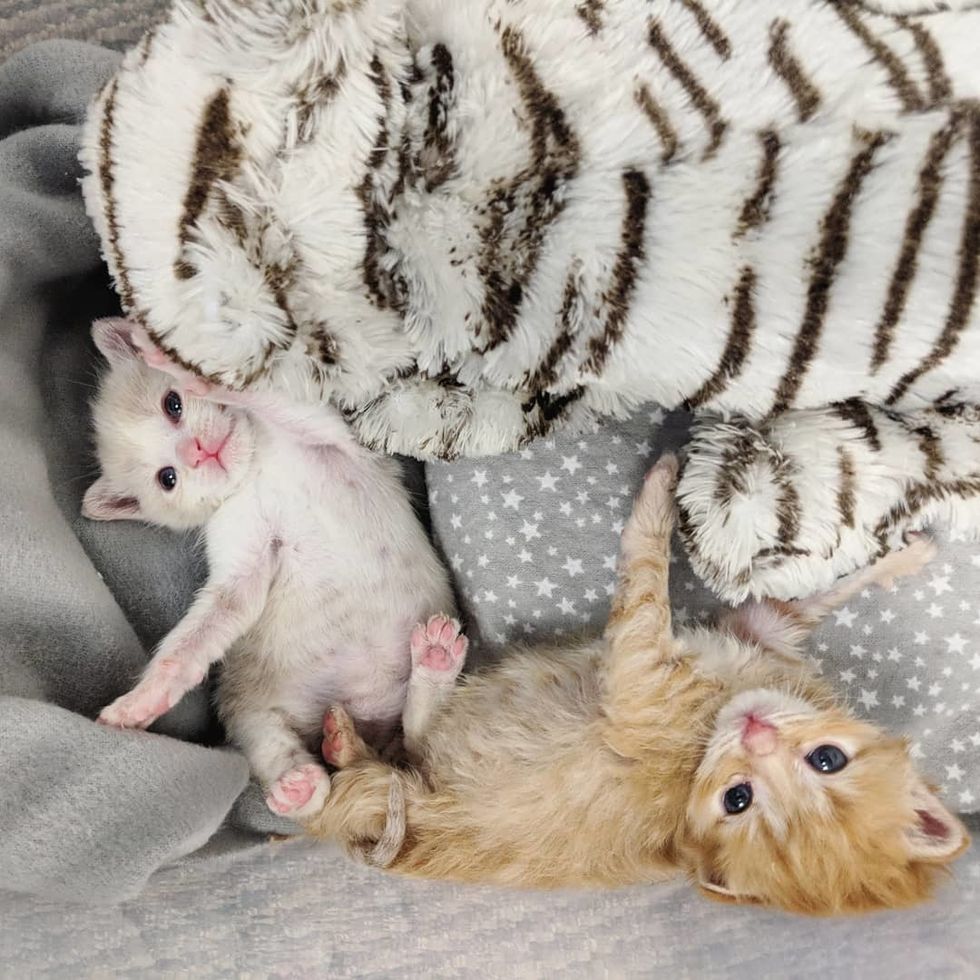 Shauna @ixluvxcats
The home owner found the kittens and took them to a shelter in Philadelphia (ACCT Philly). The brother and sister duo was so young that they would need to be bottle fed around the clock. Shauna, a long-time foster, stepped up to help.

Shauna came to the shelter and met the kittens in their foster department. "I remember them being so small and vulnerable looking, but as soon as I touched them, they screamed! That's how bottle babies let you know that they're hungry," she told Love Meow.
The kittens were about two weeks old. They were dirty and underweight. "It took a few days to get them on track eating from the bottle, but pretty soon they were gaining weight regularly and really thriving."
When they finally had their bellies filled, they started purring.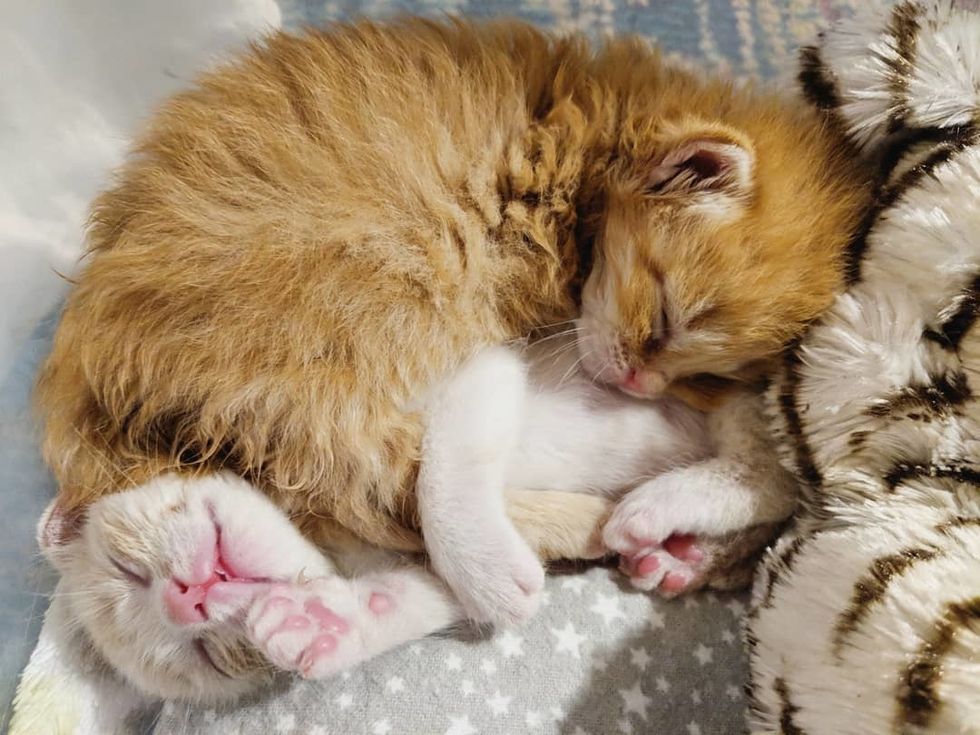 Shauna @ixluvxcats
"Little Gouda is a gorgeous female buff orange tabby. She has a lot to say… Cheddar is a little orange male fluff ball with an intense stare."
In just one day, Cheddar and Gouda had each put on a whopping 20 grams. They were thriving in each other's presence, and always snuggled up together with their tiny legs wrapped around each other.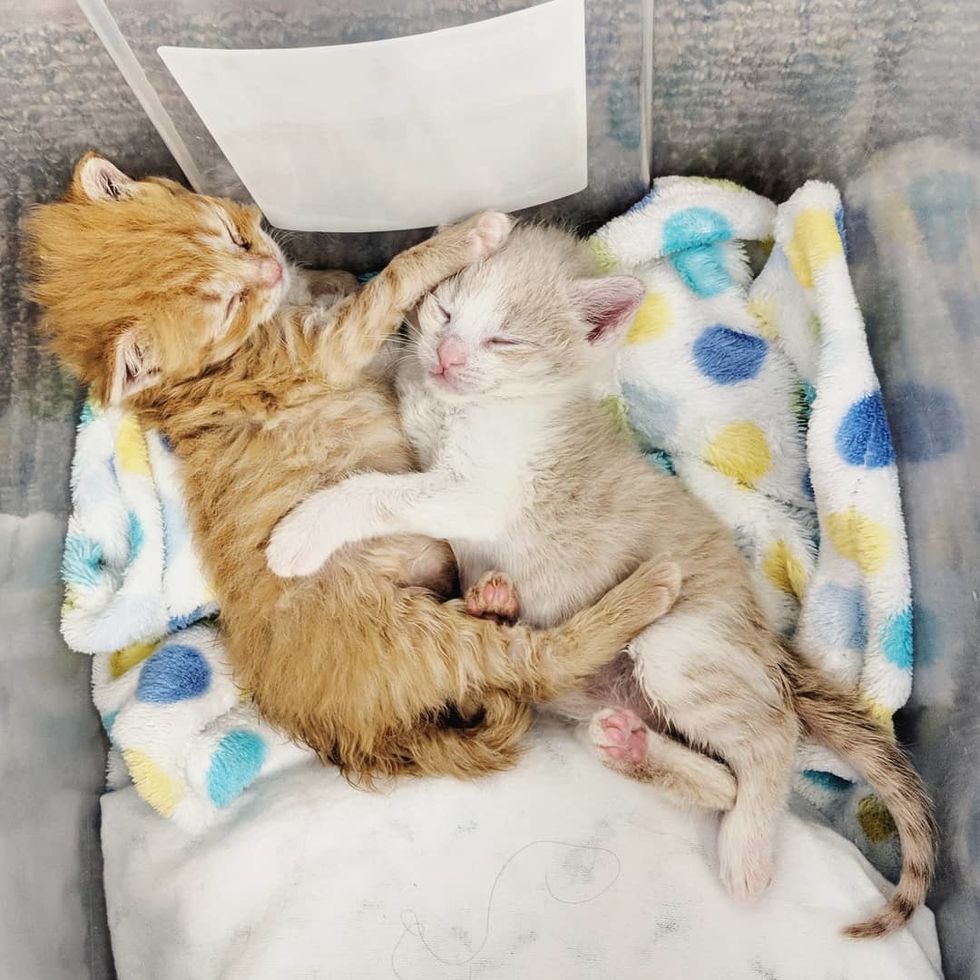 Shauna @ixluvxcats
During the first three weeks, the kittens had to be fed every couple of hours. "They came to my office with me every day while they were bottle raised and always had each other to hang out with," Shauna said.
The two siblings constantly filled the room with their purrs and squeaks.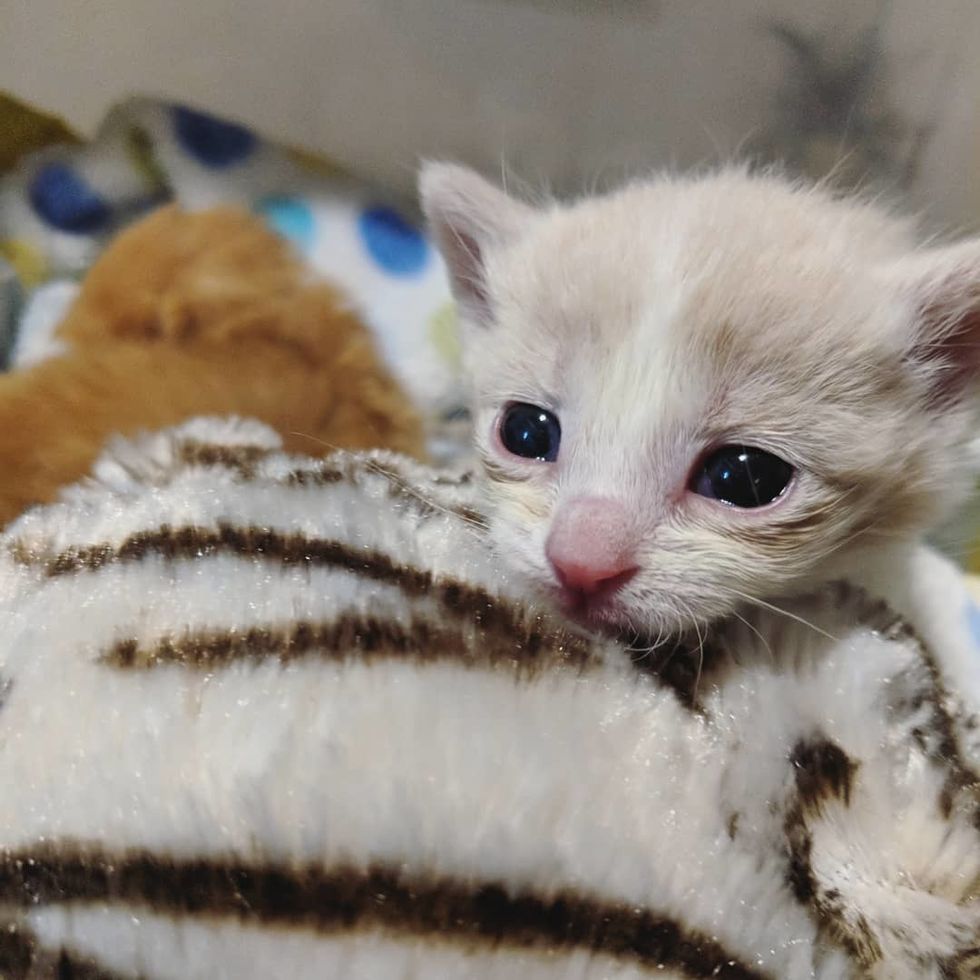 Shauna @ixluvxcats
Cheddar is the shyer and tinier of the two.
He clings to his sister, Gouda, who is more outgoing and brave.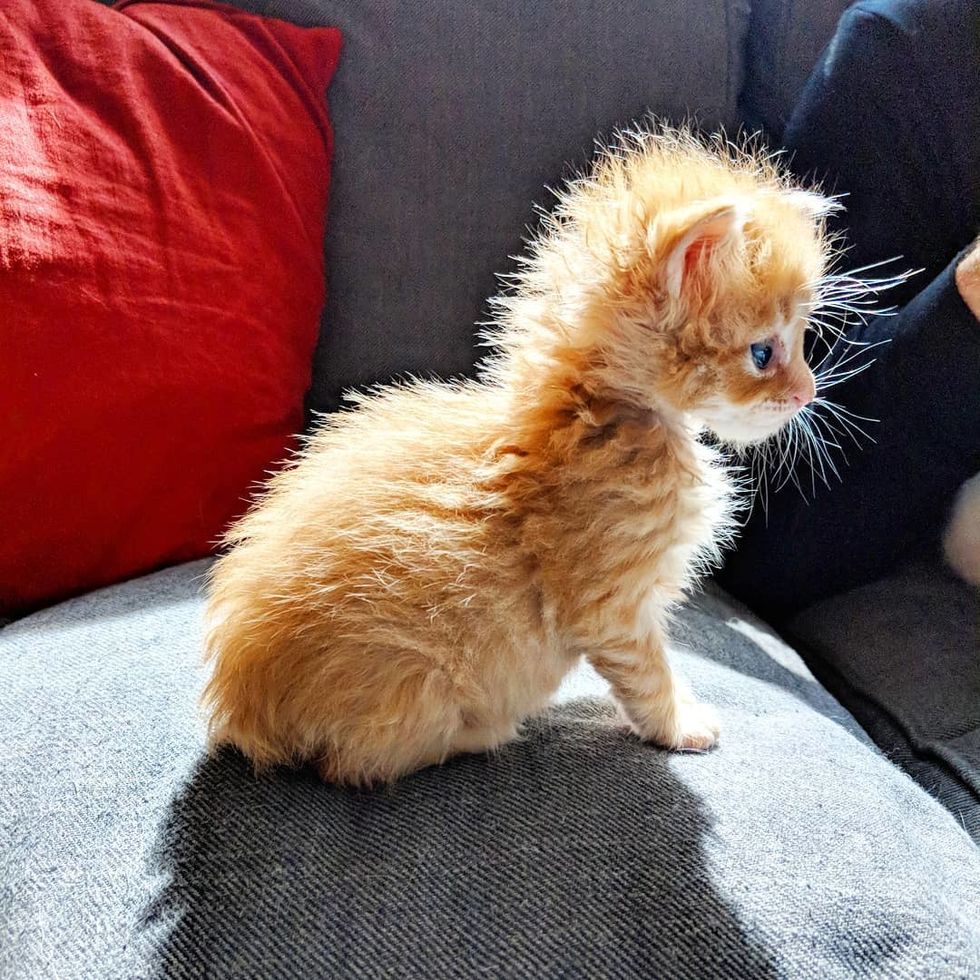 Shauna @ixluvxcats
"They are so bonded and do everything together - play, eat and sleep side by side," Shauna added.

Gouda has always been Cheddar's source of comfort. "They really balanced each other out while they were growing up."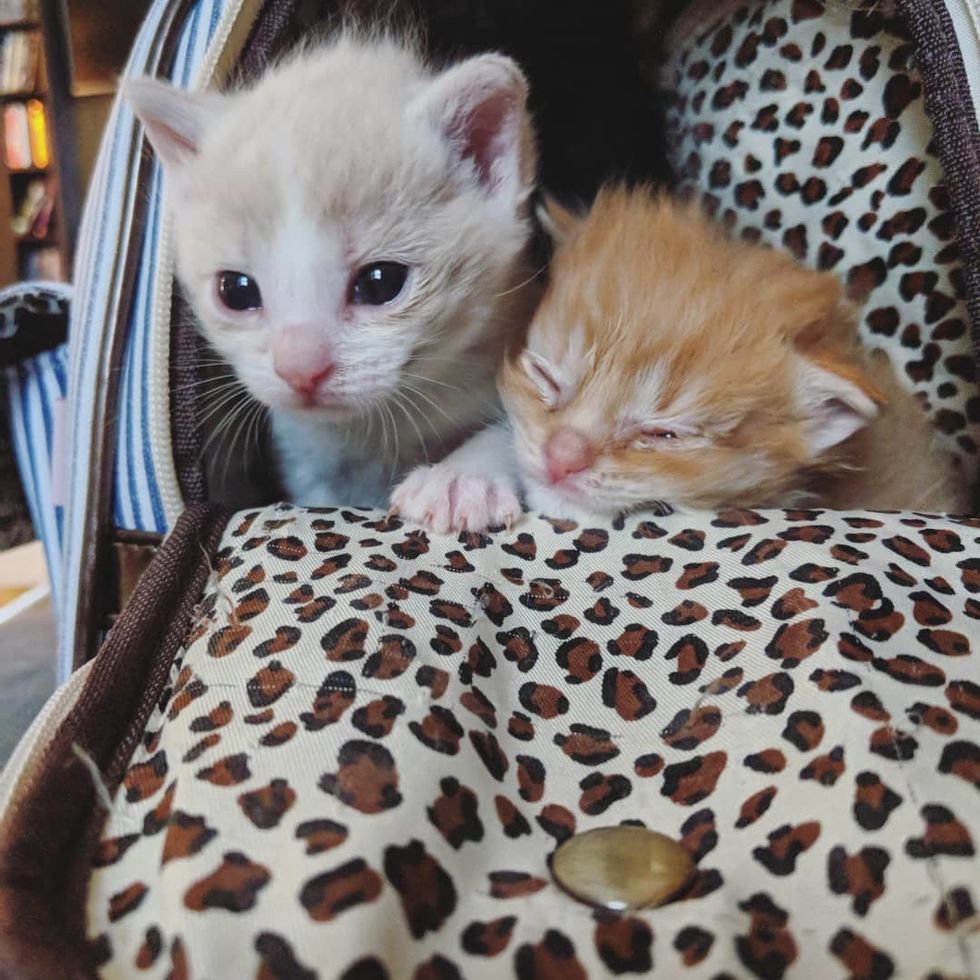 Shauna @ixluvxcats
Gouda guarding her brother during nap time.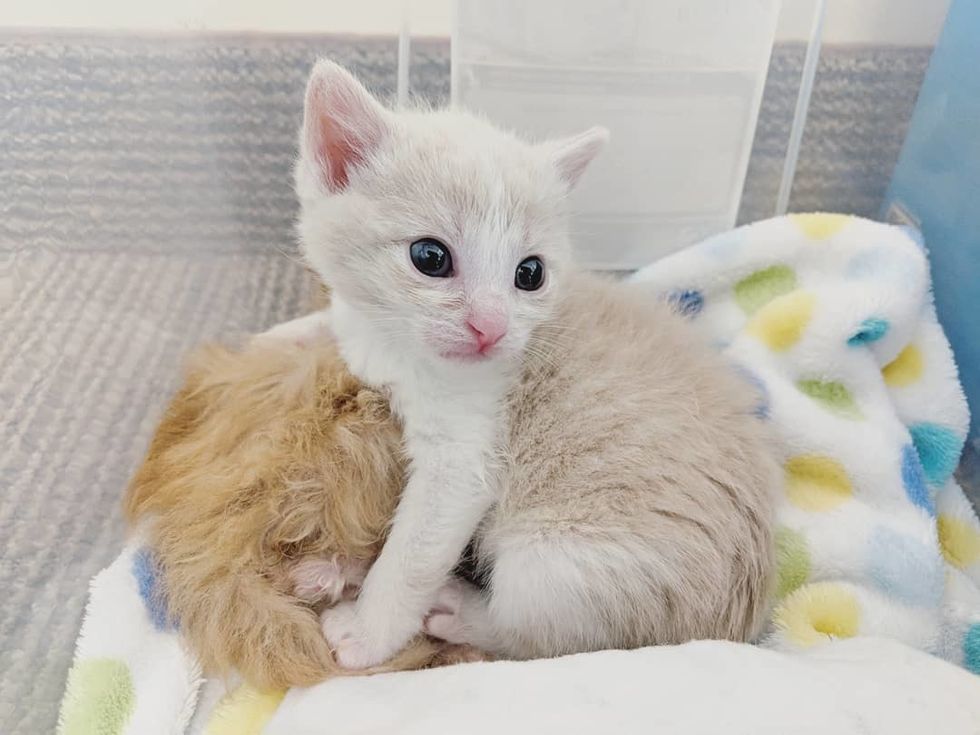 Shauna @ixluvxcats
"They both purr all the time and love to be held. Cheddar loves to get right in people's faces, and he gently hugs with both his paws and gives nuzzles! They are very loving with people."

After an AM feeding, both kittens snuggled up to their foster dad's beard for a nap.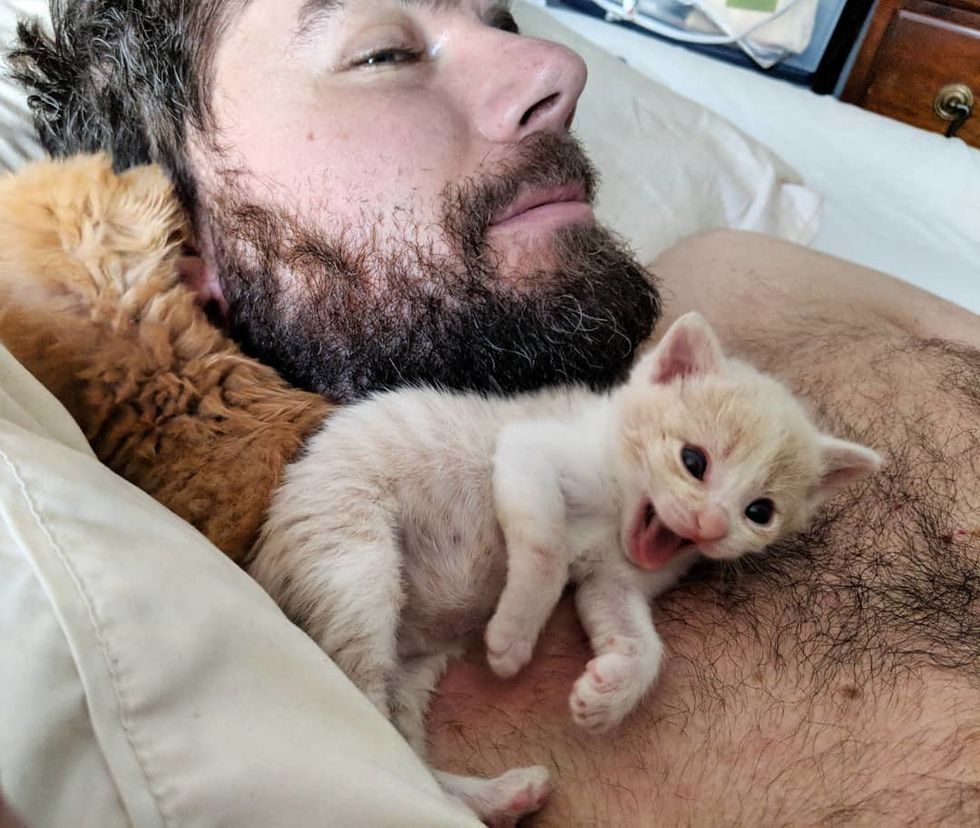 Shauna @ixluvxcats
Relaxing and soaking up the sun on a weekend with their foster dad.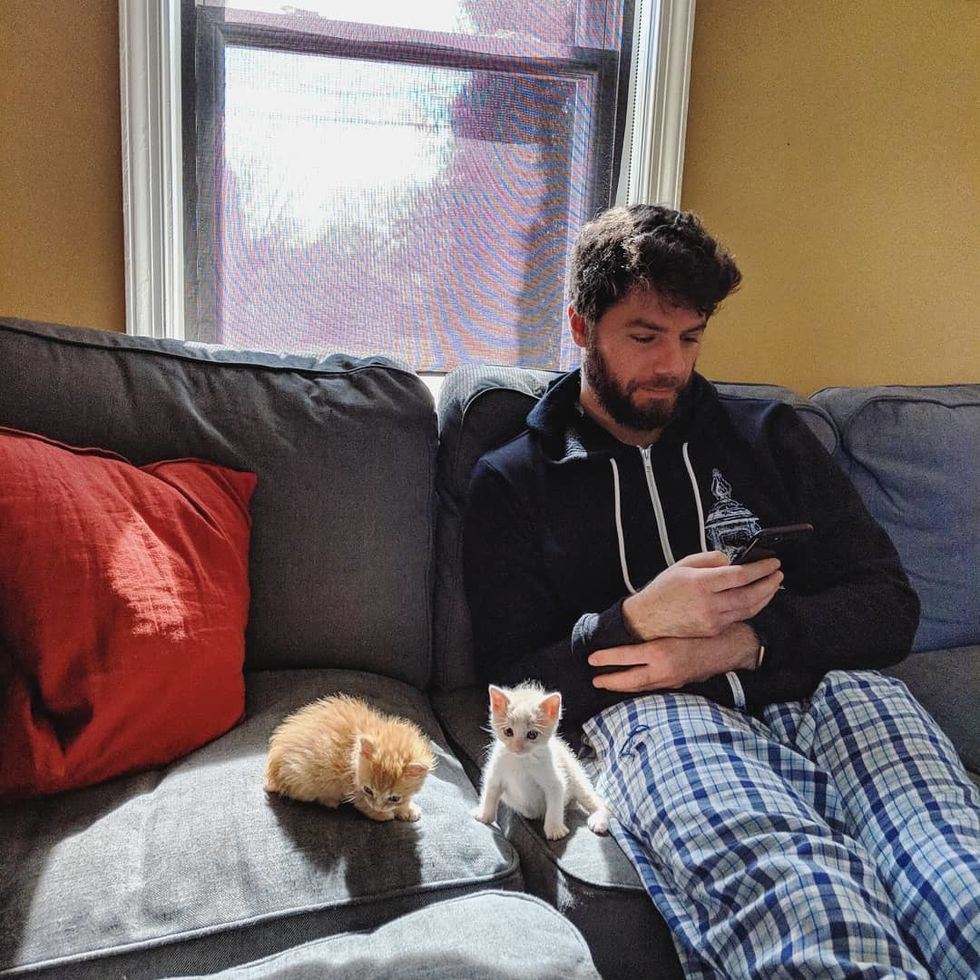 Shauna @ixluvxcats
After a big meal, Gouda's belly was very satisfied. Cheddar was right beside her, purring up a storm.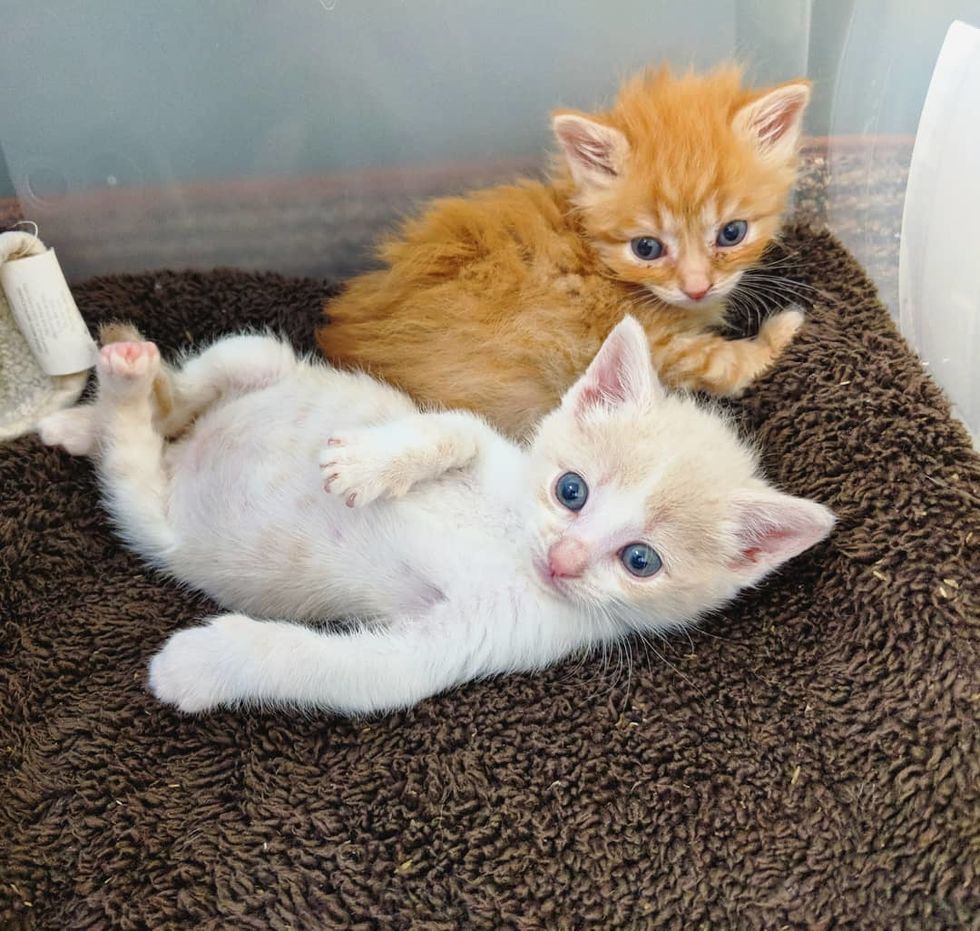 Shauna @ixluvxcats
Cheddar is the shyer one. He likes to observe and watch his sister create all sorts of antics and joins her in the mischief making.
He has a talent to stare into his people's eyes and steal their hearts.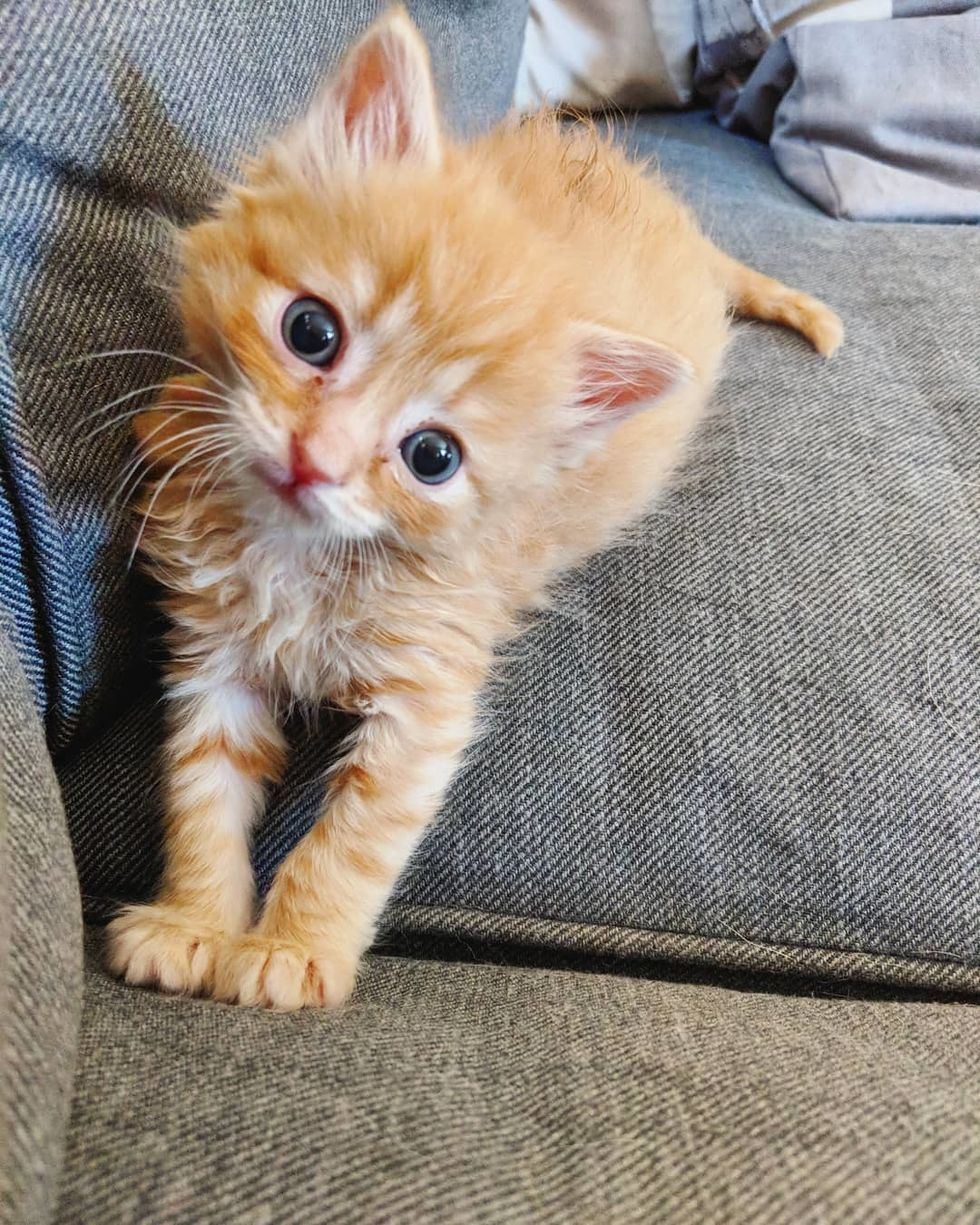 Shauna @ixluvxcats
The two snugglebugs loved spending cuddle time with their foster parents.
Who needs cat beds when the kitties have got humans to sleep on?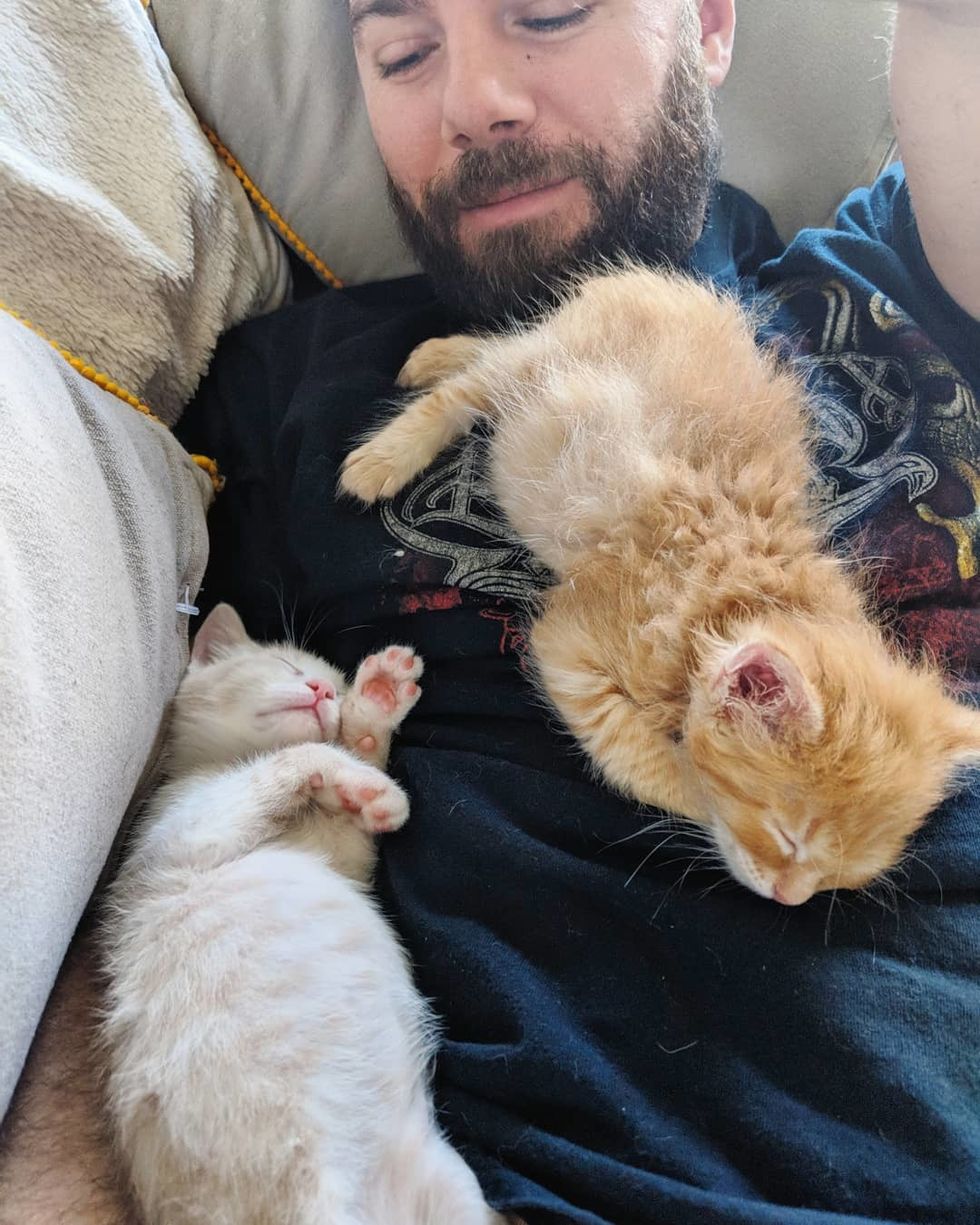 Shauna @ixluvxcats
"Sunday morning playtime quickly became Sunday morning nap time."
There was never a shortage of cuddles in the house with these sweet snugglebugs around.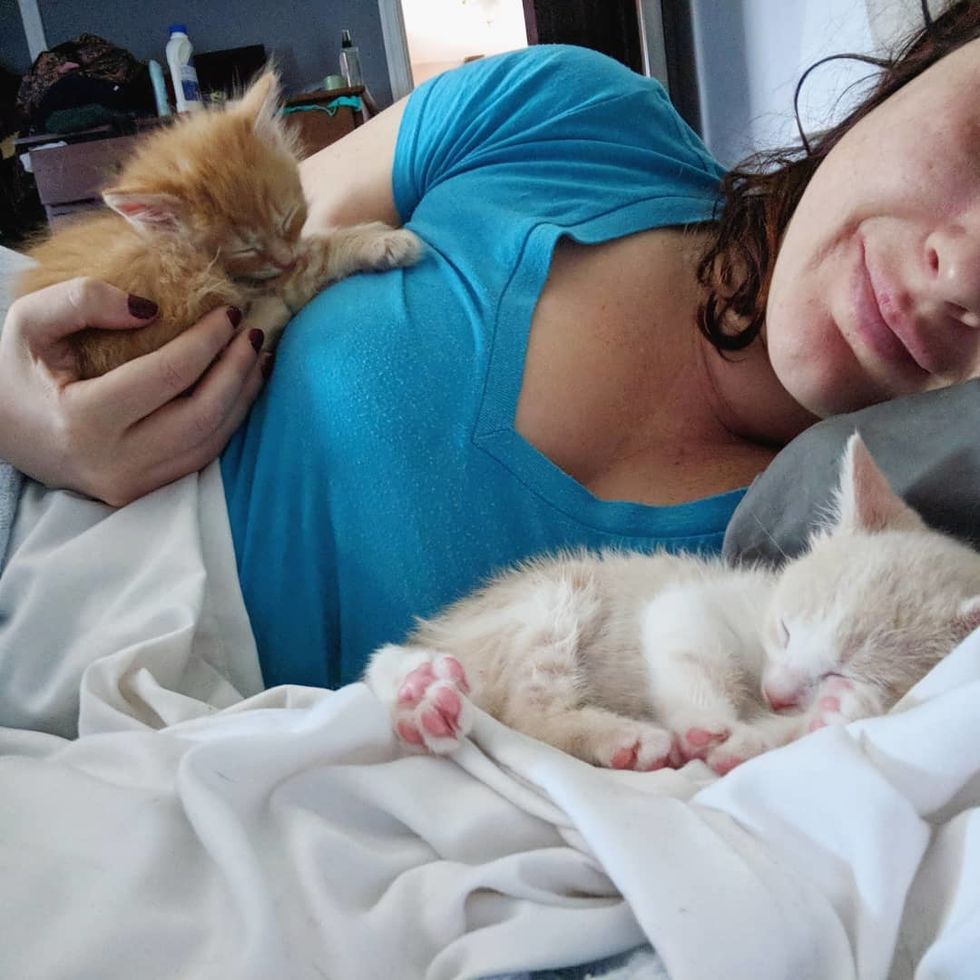 Shauna @ixluvxcats
"A gentleman and a lady."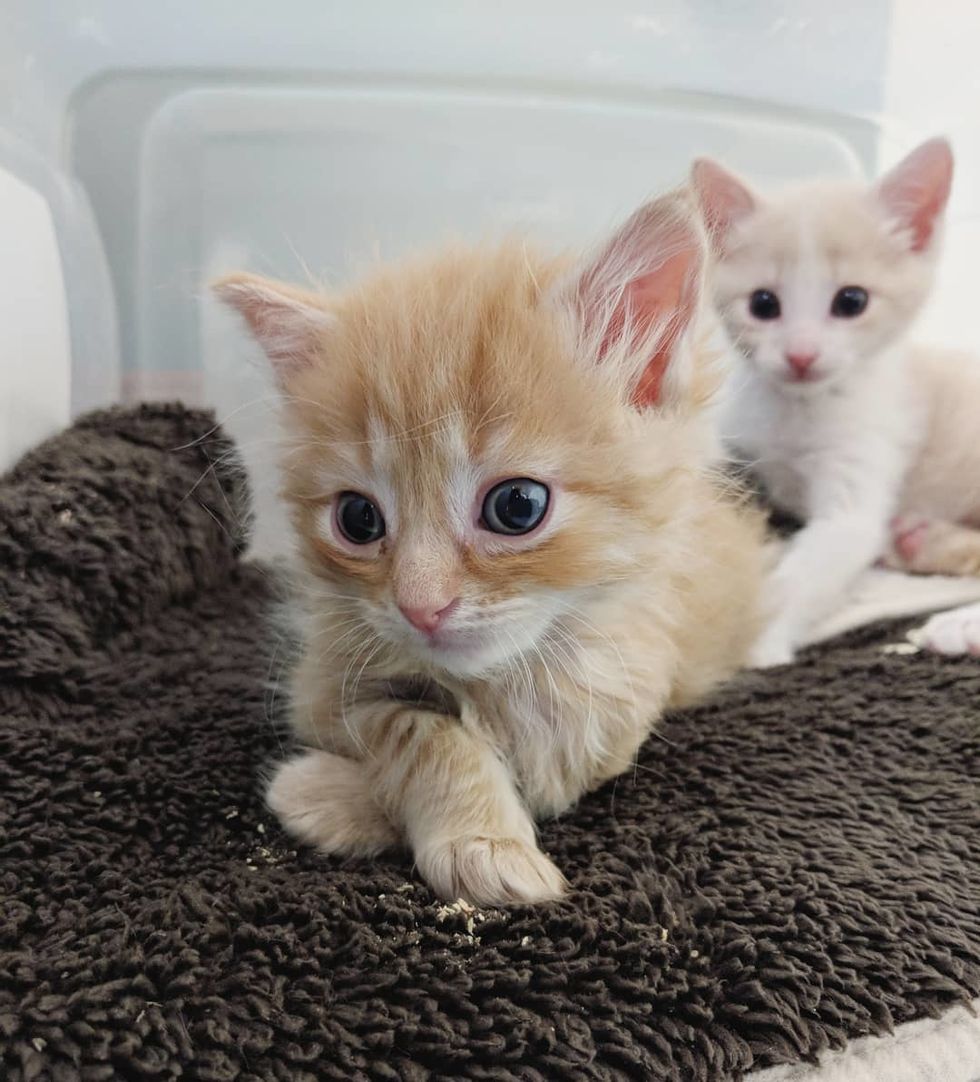 Shauna @ixluvxcats
From the very beginning, Gouda and Cheddar were inseparable. They kept each other going before they were rescued and never left each other's side throughout their foster journey.
Gouda the braver of the two wrapped around her brother before they drifted off for a nap.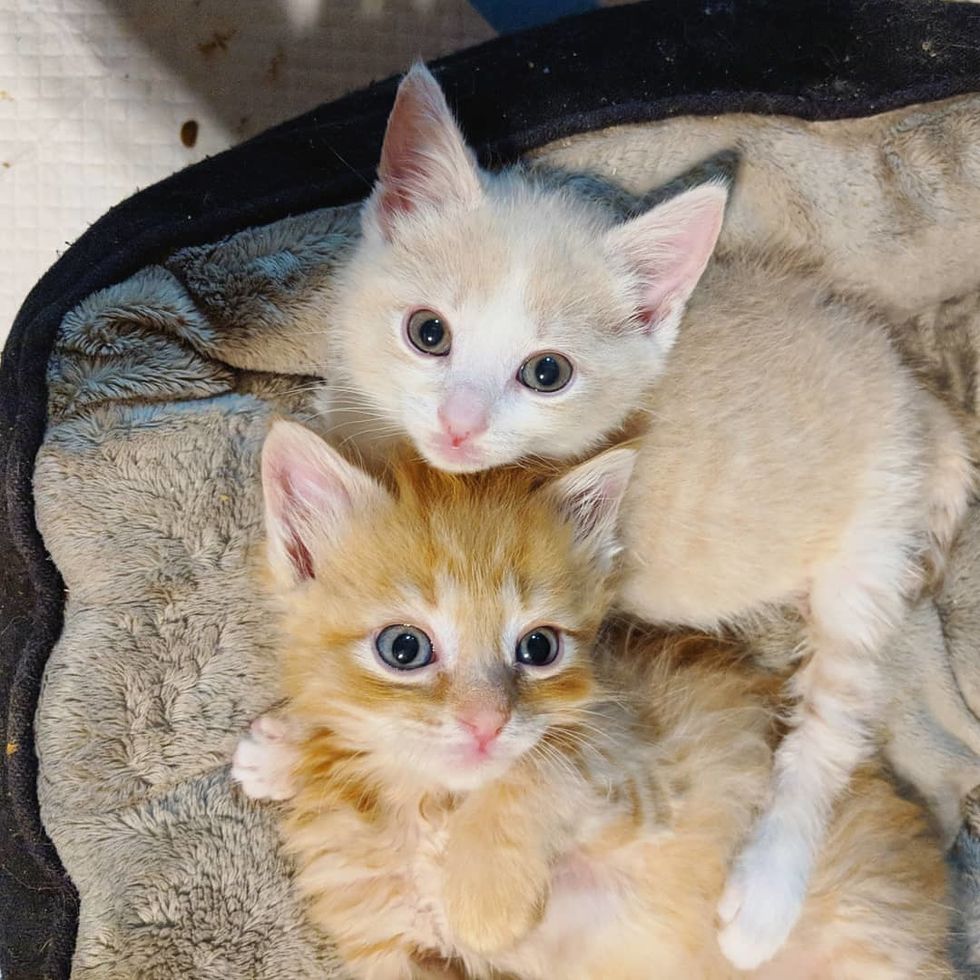 Shauna @ixluvxcats
Today, the two feline siblings had their dream come true.
"They were welcomed at their new home by a room full of toys and one very excited family," Shauna said.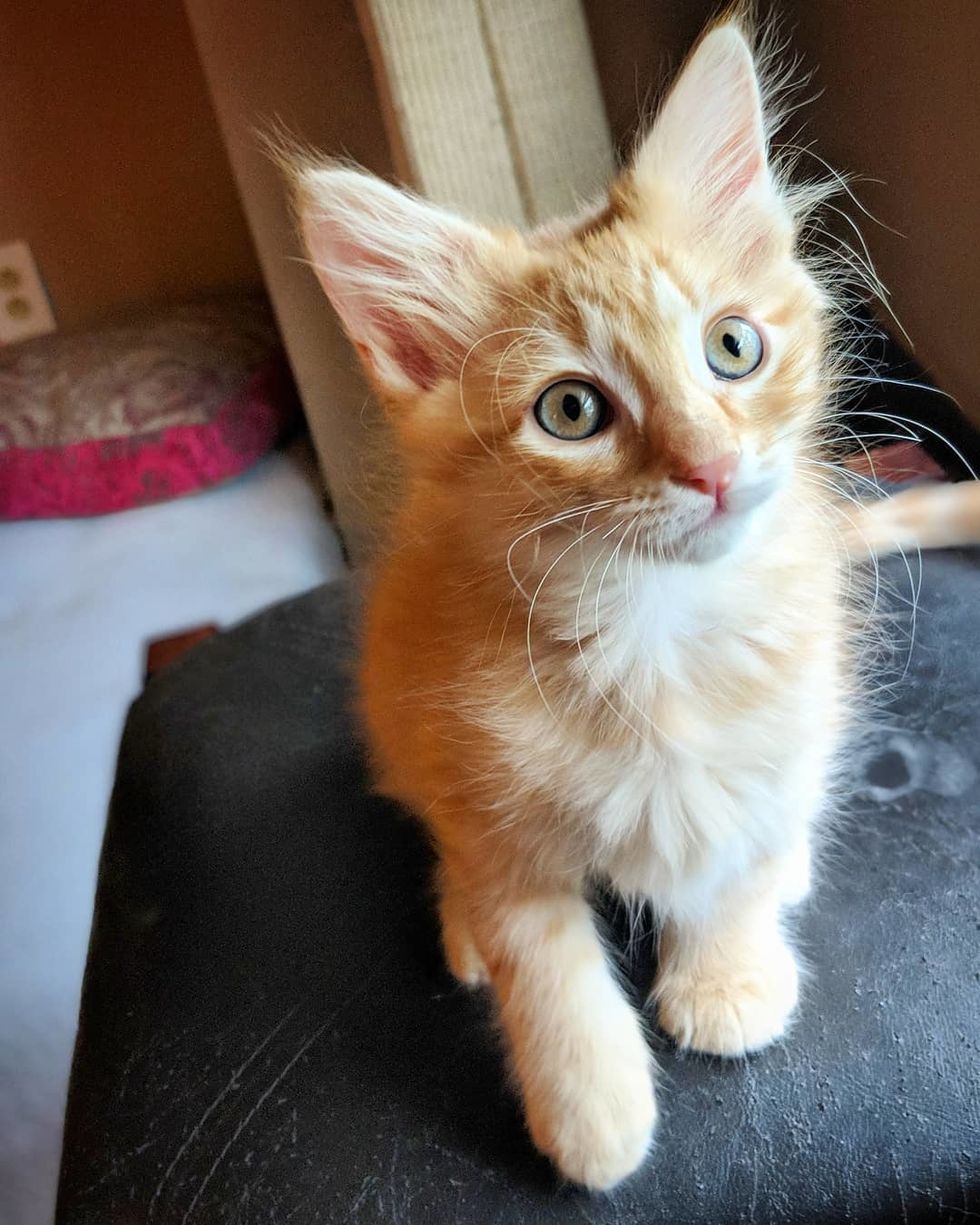 Shauna @ixluvxcats
"It's an amazing and rewarding experience to raise something so small and delicate, watch them grow stronger each day and then see them off to a happy life once they are big enough," Shauna added.

"They're going to make great life-long companions for each other and for their new family!"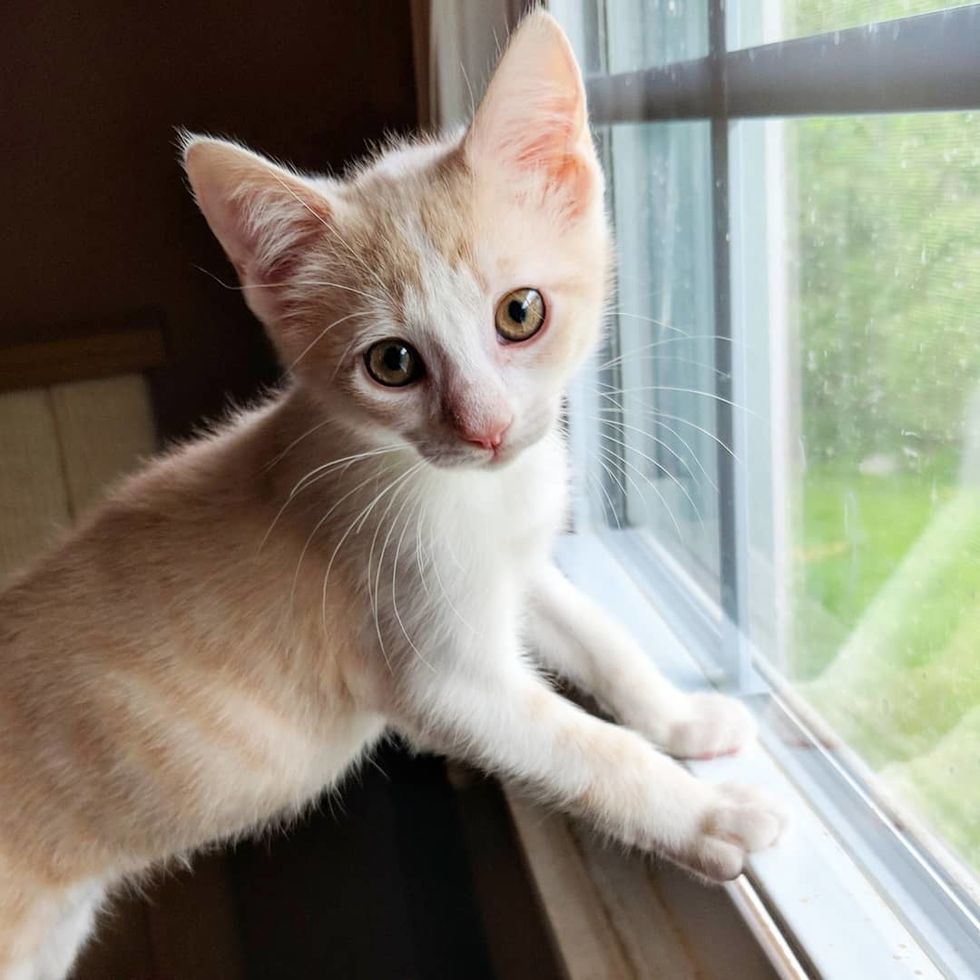 Shauna @ixluvxcats
Playing at two weeks old.
A couple of weeks later, they took over their foster parents' bed.
Share this story with your friends. Follow Shauna's foster kitties on Instagram @ixluvxcats.
Related story: Kittens Found Wrapped Around Their Trembling Sister, Keeping Her Safe