Two months ago, Hannah Shaw, founder of Kitten Lady, received a phone call from an animal control officer about a baby kitten in need of help. A man walked into a pet supply store with the kitten in a tissue box. He handed it over to the staff and quickly ran out.
When Hannah got the kitten and held her in her hands, she immediately started meowing. Her eyes were still closed and she was covered in dirt and fleas. They named her Hank, short for Hanky.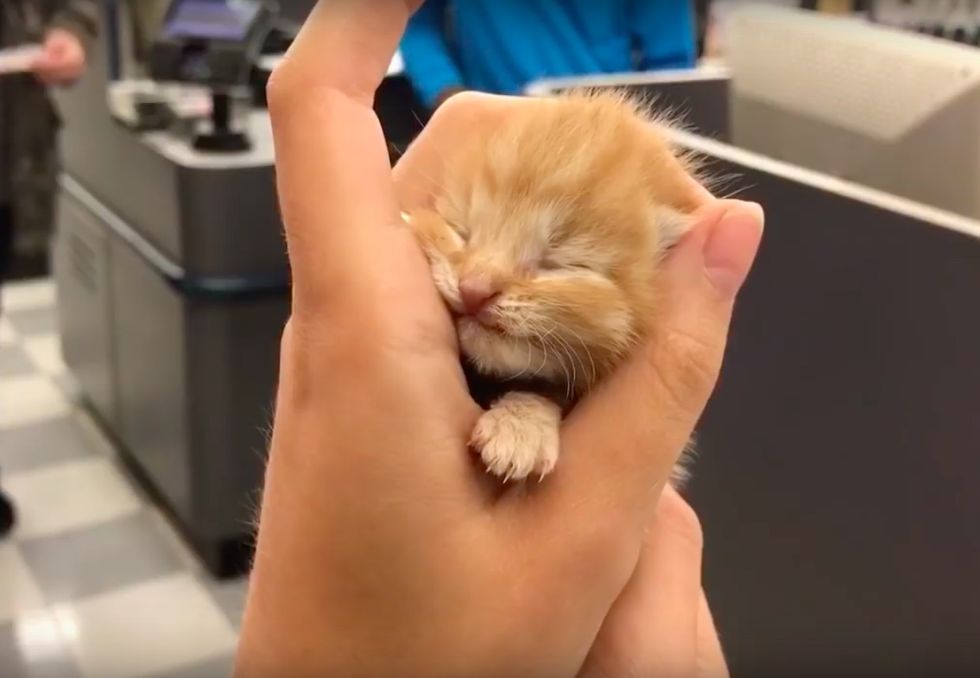 Hannah Shaw @kittenxlady
The little ginger weighed a mere 80 grams and was around four days old. Hannah wrapped her up with a soft blanket and placed her on a heat disk to keep her warm before the round-the-clock feeding began.

They used a syringe instead of a bottle because of how small she was. As soon as she smelled the food, she latched on and went to town eating. Little Hank was hungry and dehydrated. She was so glad to finally have food in her belly that she purred and waved her tiny paws in the air.
Hannah combed off all the flea dirt and removed the remaining fleas by giving the kitten a gentle bath. That night, Hank fell asleep in her foster mom's arms, purring up a storm.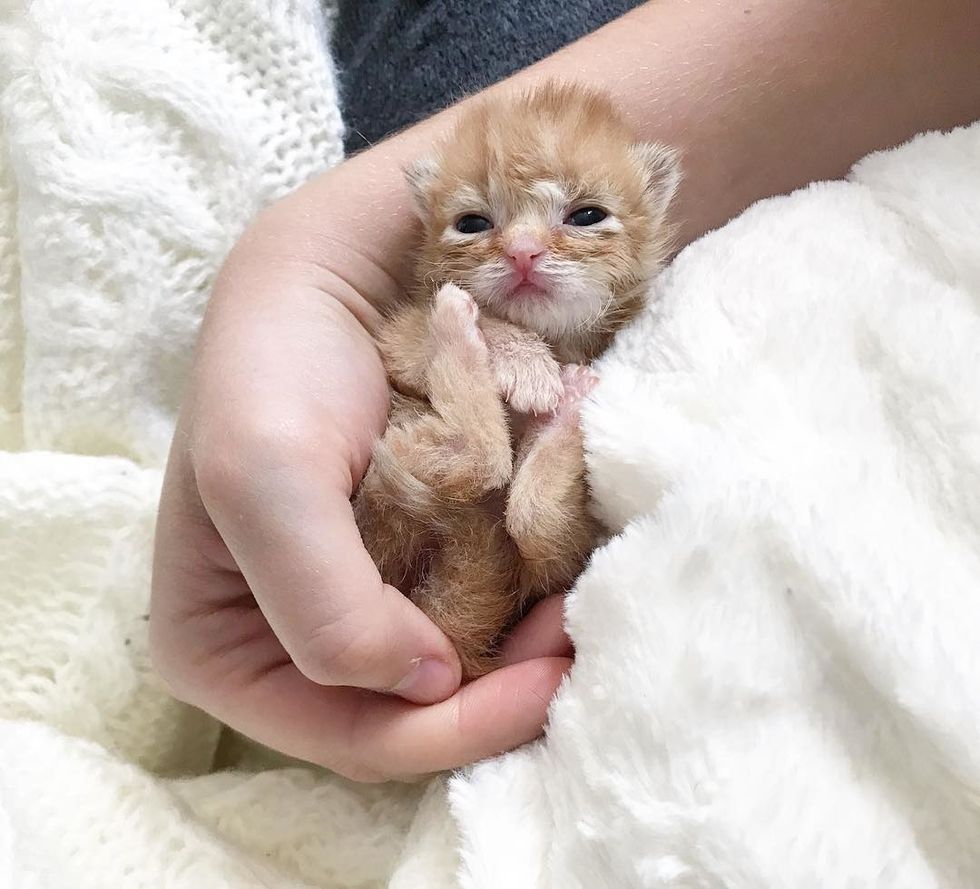 Hannah Shaw @kittenxlady
Over the next few days, Hank continued to put on weight.
Hannah treated her eye infection with antibiotics. A week later, her eyes were clear and she doubled her weight.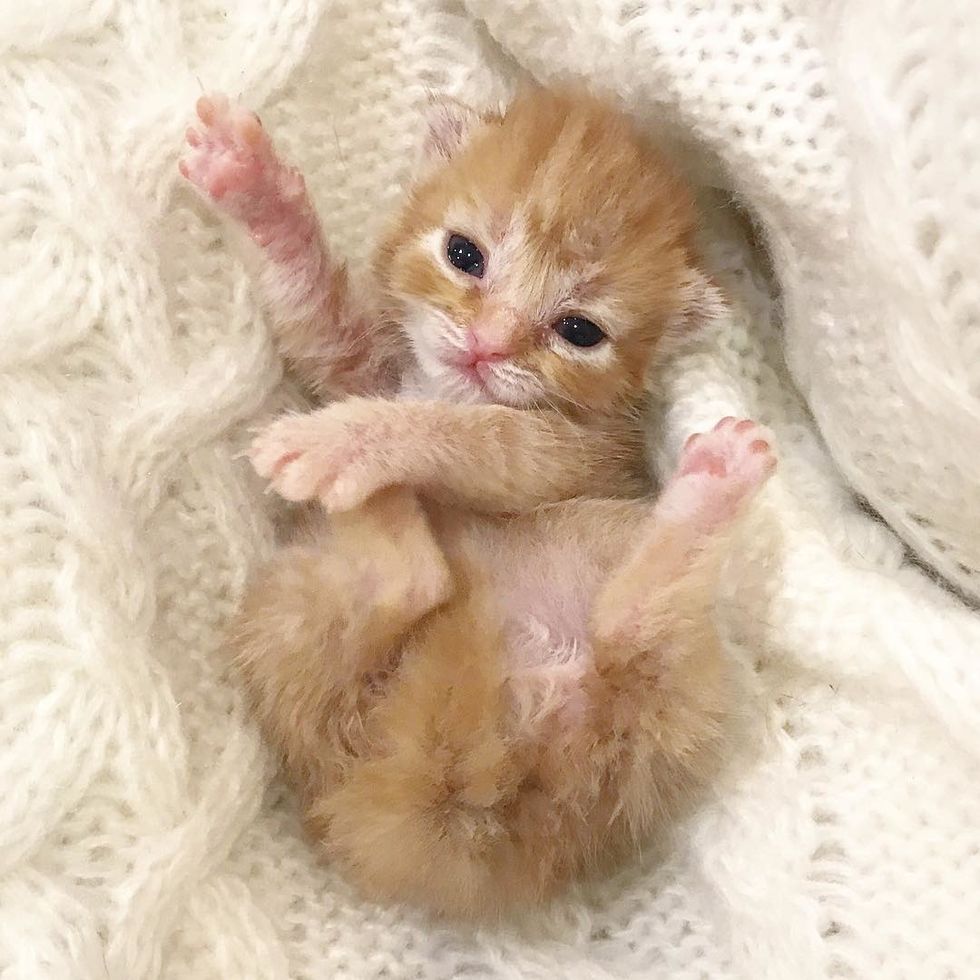 At three weeks old, Hank made her first steps. As soon as she learned how to walk, she followed her foster mom everywhere around the house.

Hank practices walking!

As her bottle feeding continued, the little ginger gal became more independent and her personality was shining through.

"Hank upgraded to a playpen, and somehow it makes her look even tinier."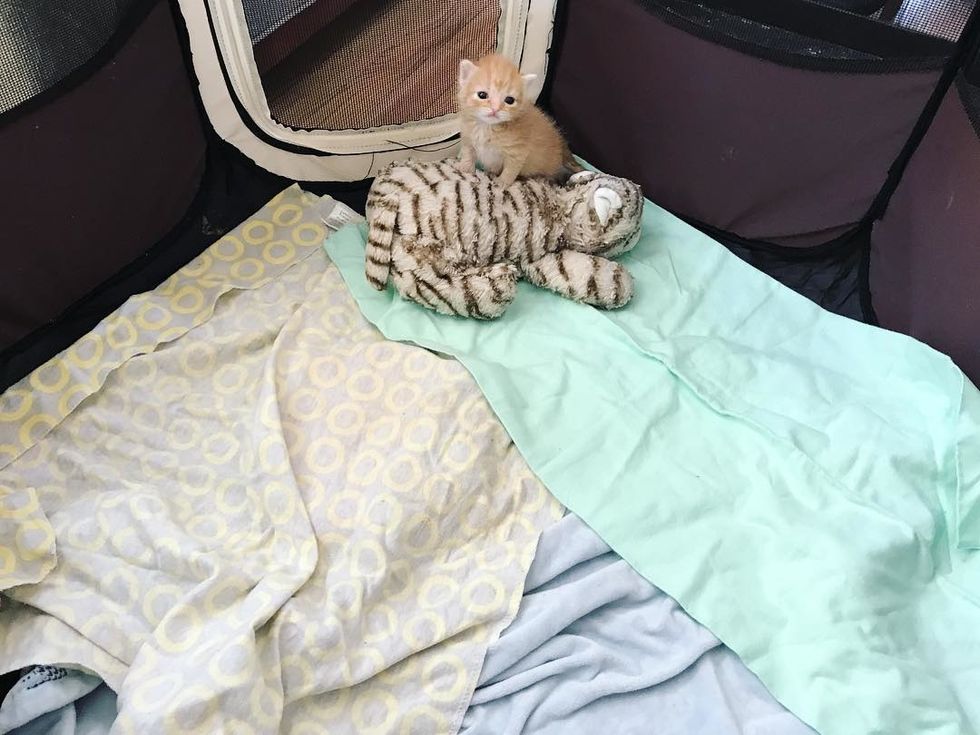 Hannah Shaw @kittenxlady
A month later, things took a difficult turn for little Hank. She suddenly became ill and was taken into intensive care.

"She tested positive for panleukopenia, and if you're familiar with that virus, you know it's often lethal," Hannah shared with Love Meow.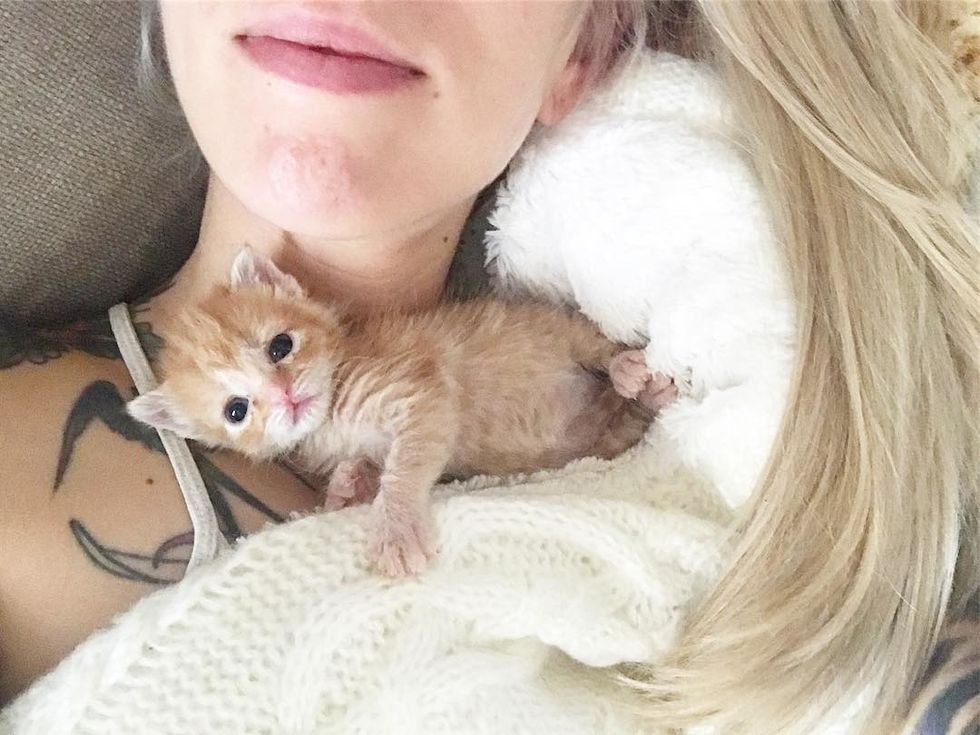 Hannah Shaw @kittenxlady
Hannah had one goal in mind that was to save Hank.

She stayed by Hank 24/7 with nursing care. Over the next few days, she worked day and night with little to no sleep, working to get the kitten back from the brink. While at the vet's, Dr. Brown of Nova Cat Clinic was surprised by the progress the kitten had already made.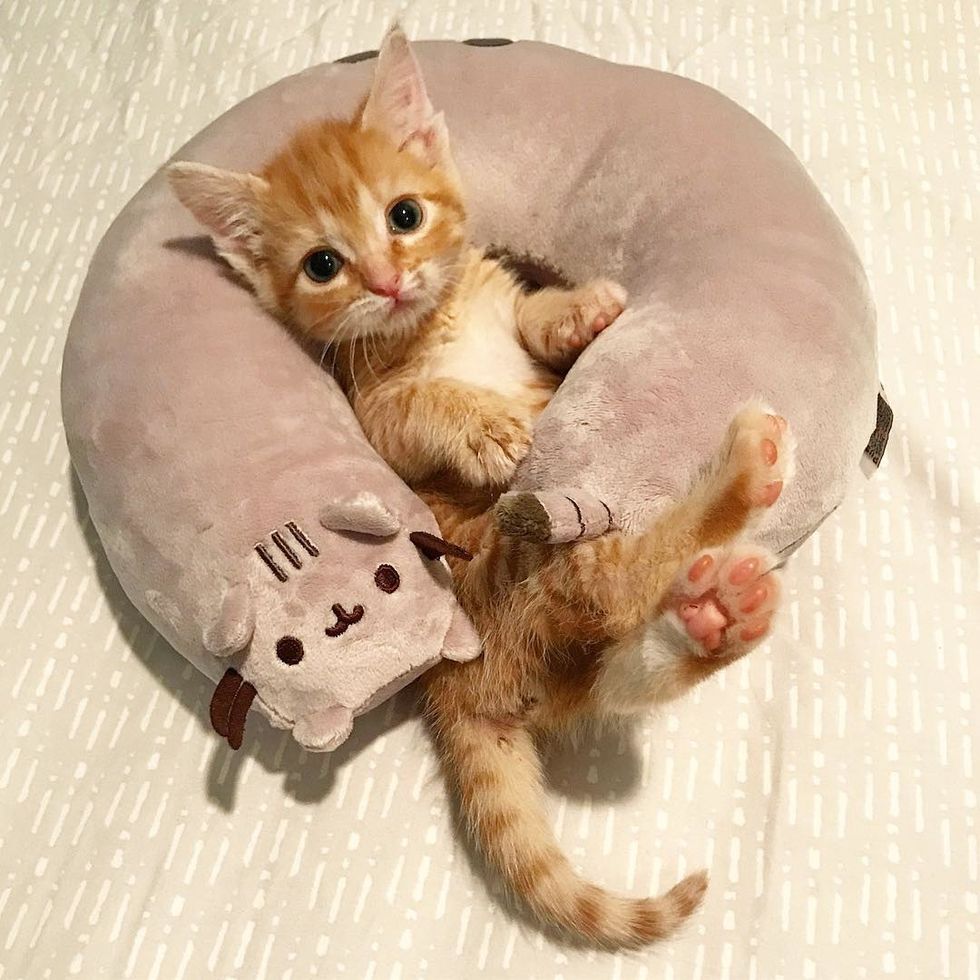 Hannah Shaw @kittenxlady
The treatment was working and little gal was fighting hard to get better. Five days later, she bounced back with a lot of new energy and healthy weight gain.

Hank beat the odds and defeated panleukopenia. "She survived one of the worst viruses a kitten can have. I am beyond proud of this little fighter," Hannah said.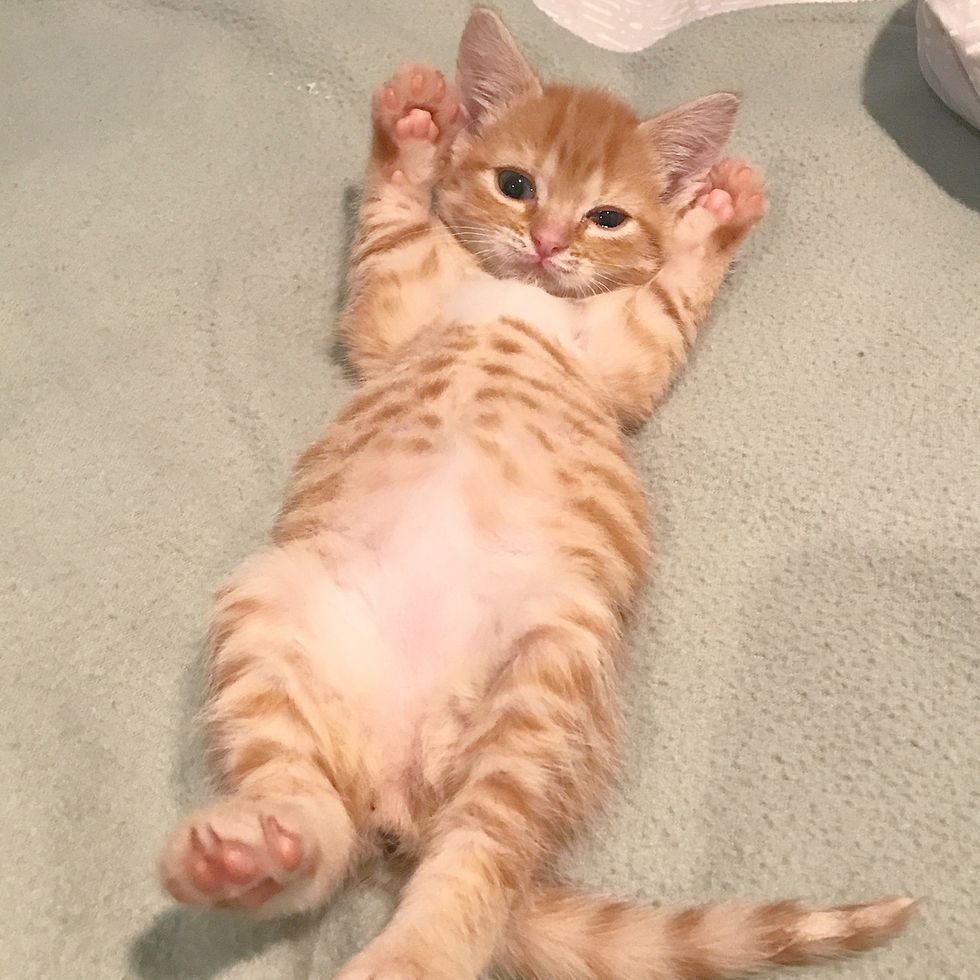 Hannah Shaw @kittenxlady
Three weeks later, Hank was ready for her next chapter in life with another rescue kitten.

When Hank and Kodi met, the two kittens just hit it off. Soon they were seen snuggling with each other all the time. They became inseparable.
Hoping to get them adopted together, Hannah began looking for a perfect home for the duo.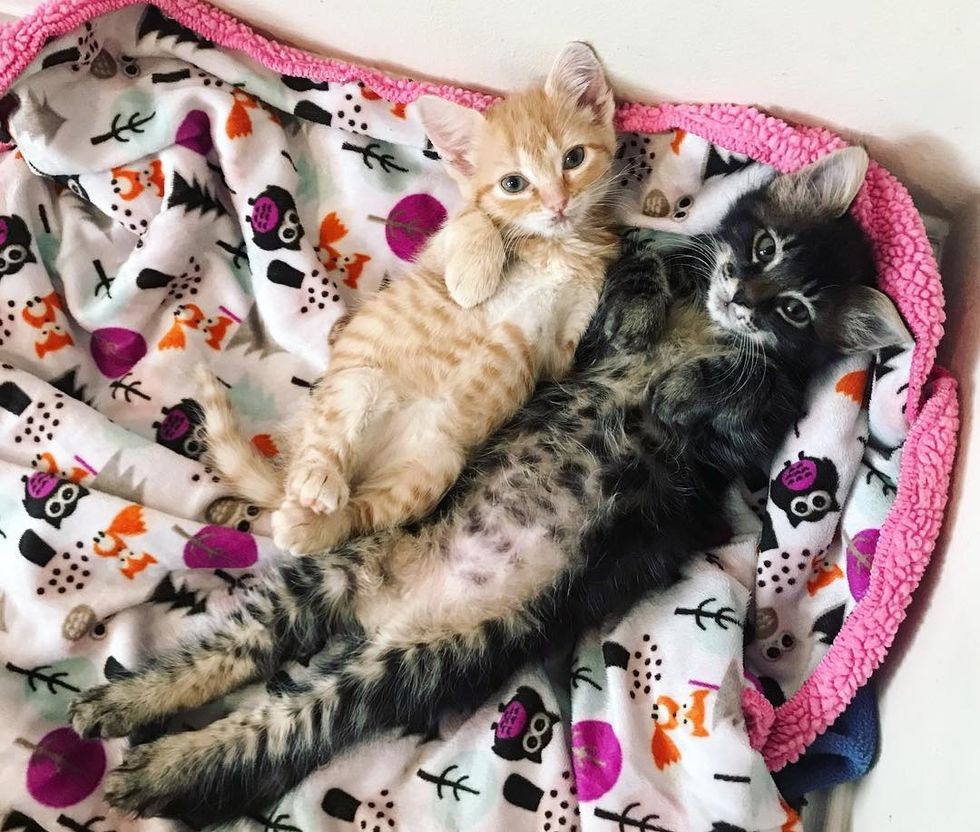 Hannah Shaw @kittenxlady
Yesterday the two best friends moved into their new home. After some play time with Hank and Kodiak, Hannah said her goodbyes.
She is so excited and happy for their new adventures with their forever family.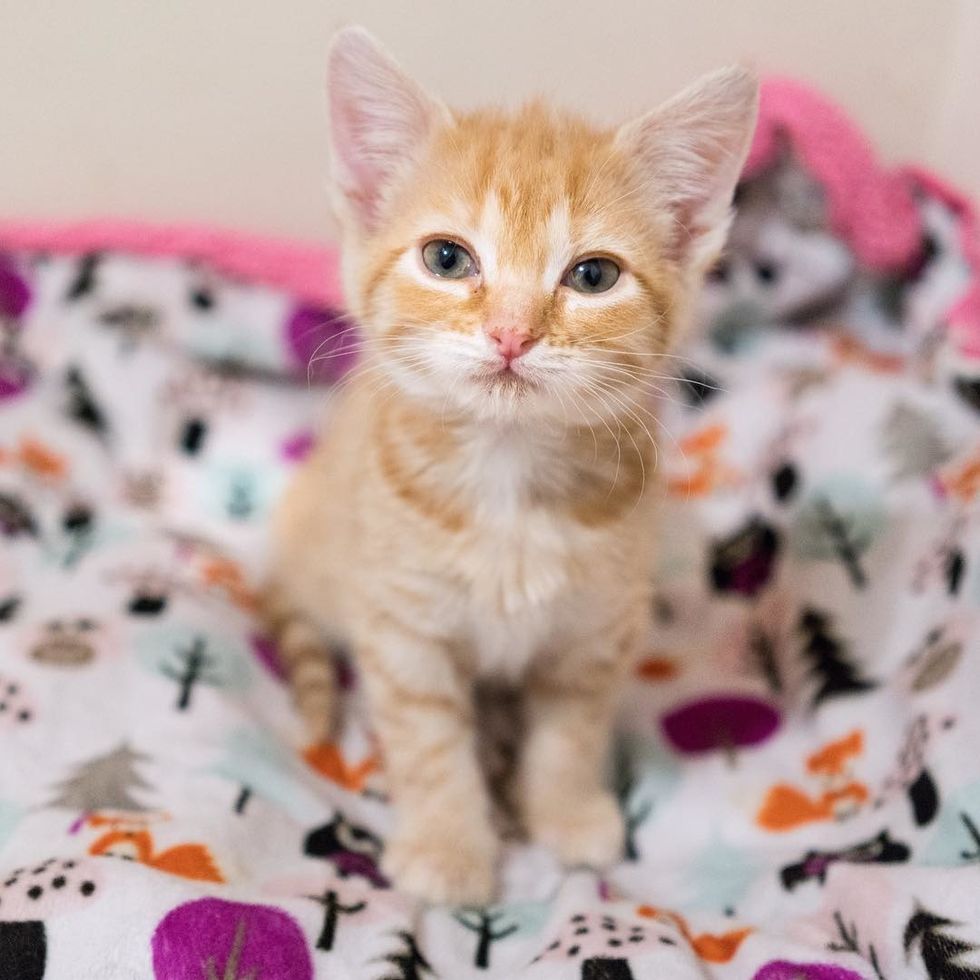 Hannah Shaw @kittenxlady
Follow Hank and Kodiak on Instagram. Follow Kitten Lady on Facebook and Instagram. If you would like to support their rescue efforts, click here to see how you can help.
Tiny Hank:
Cuddle time with foster dad:
Hank and her best friend Kodi :)
Share this story with your friends.
Related story: Orphaned Kitten Left in Alley Finds Grandma Cat to Love in These Beautiful Photos