A tiny kitten who was the only survivor of her litter, found a surrogate dad to love on.
It saved her life.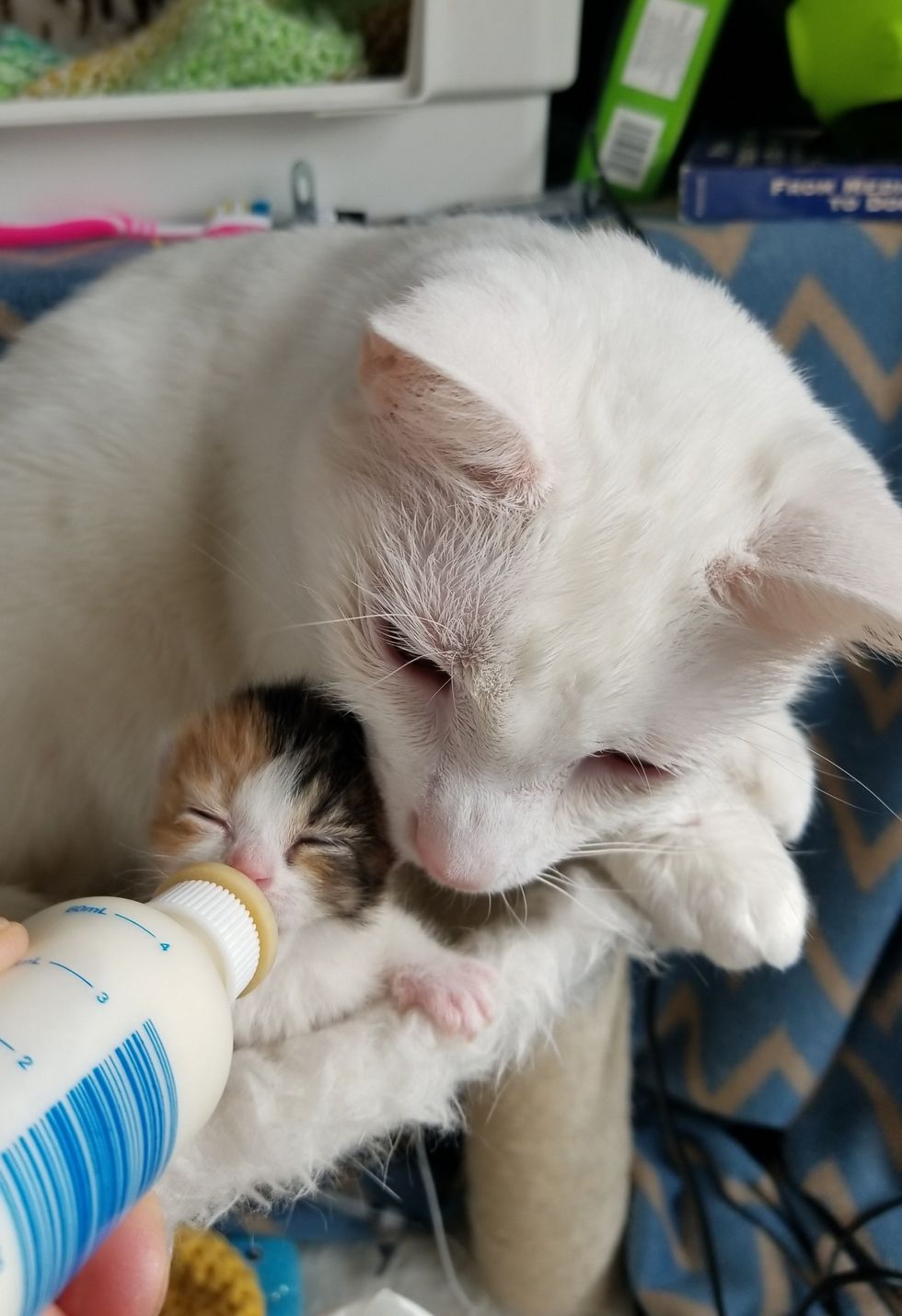 Ellen Carozza LVT
A week ago, Nova Cat Clinic received a little one-day-old kitten who was in need of critical care. The calico was the sole survivor of her litter when they were born.
Volunteers from Animal Welfare League of Arlington worked around the clock to save her, but it became evident that she needed more help.
"She came to me on February 5th as they know I specialize in caring for the critical neonate," Ellen Carozza, a Feline Licensed Veterinary Technician at Nova Cat, told Love Meow.
"After we took her in, our vets examined her, placed her on an antibiotic. She was underweight and needed to be tube fed."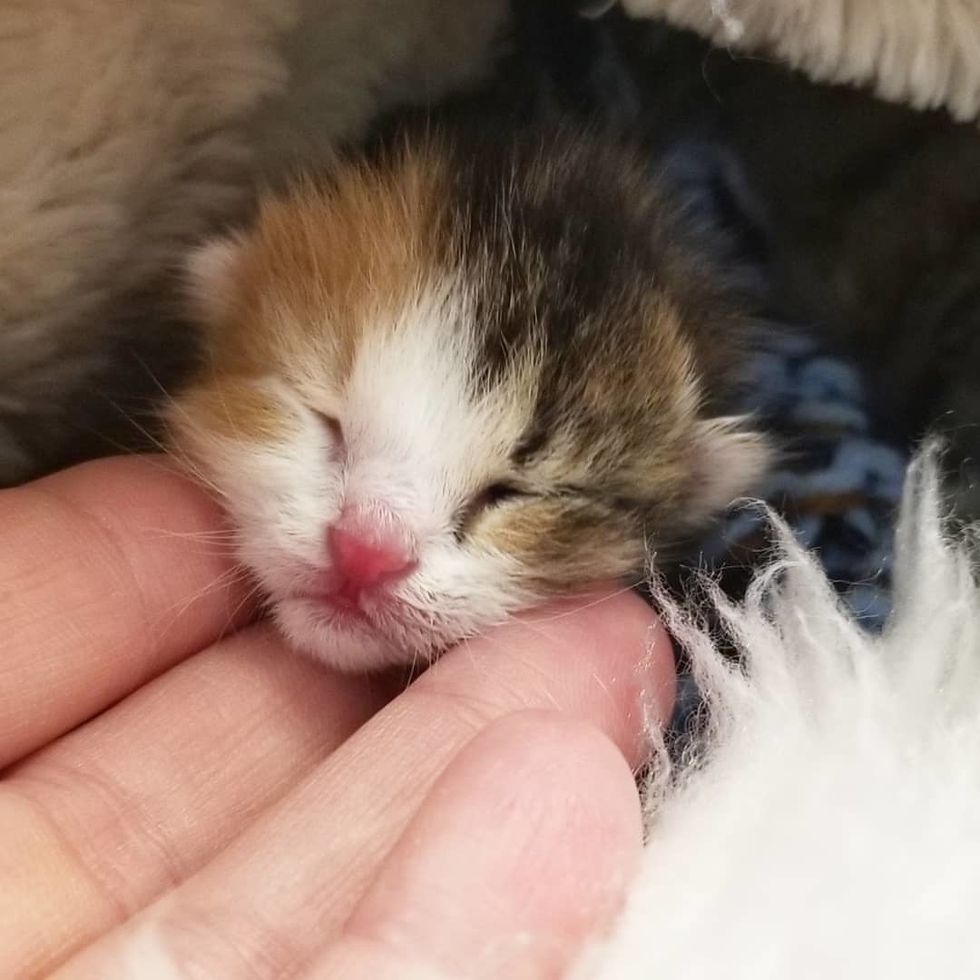 Ellen Carozza LVT
As a singleton, she is constantly looking for warmth and anything that mimics a cat mother's heartbeat.
Despite weighing just 71 grams, she had the heart of a warrior and refused to give up. She was so eager to be loved and cuddled, and Ellen knew just the right buddy to introduce her to.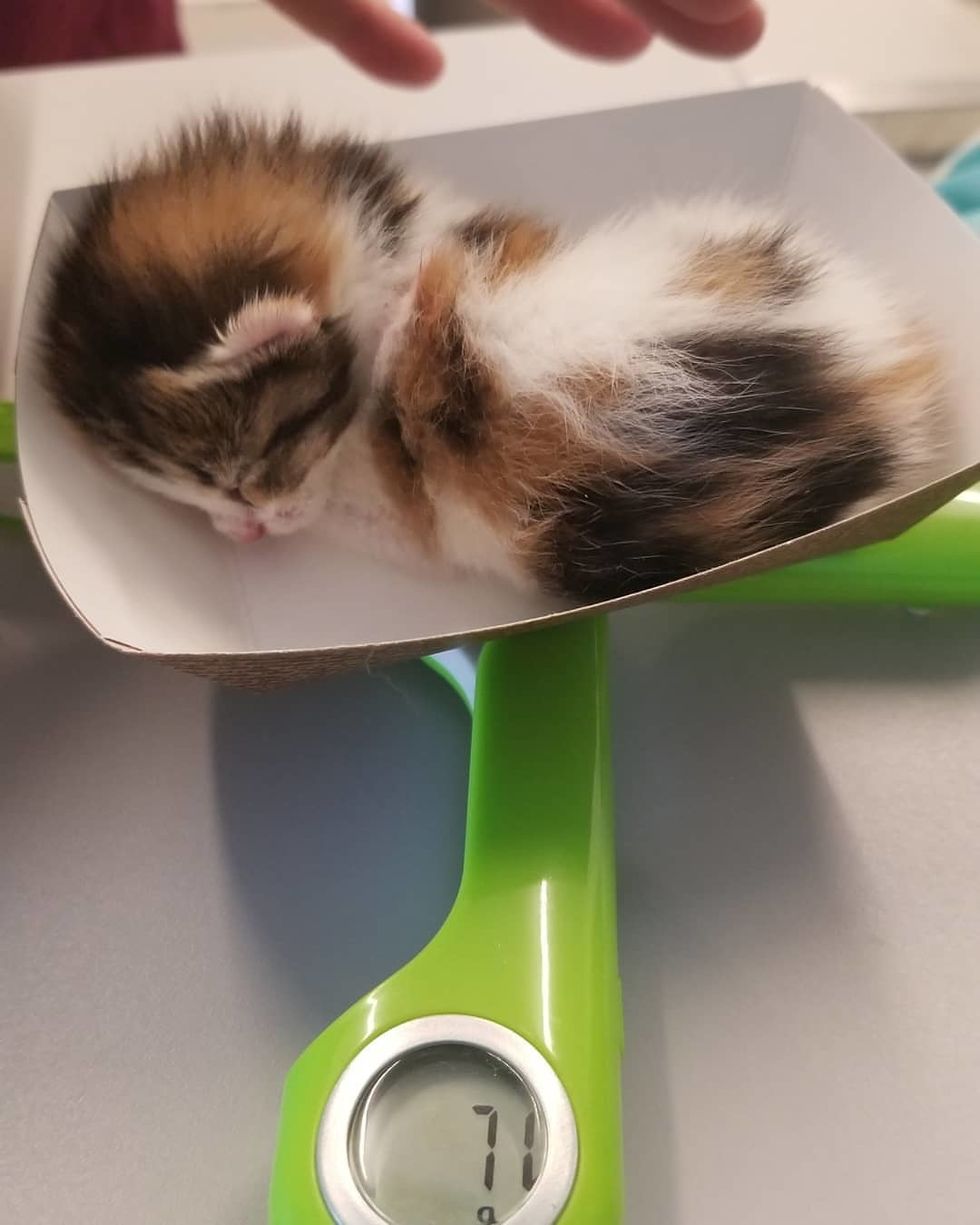 Ellen Carozza LVT
Ellen has a resident cat named Benny, who is the king of the house and surrogate dad to many of the rescued kittens that she has brought home.
Benny has a heart of gold. Whenever he sees a kitten in need, he will immediately take to them and start caring like a mother would.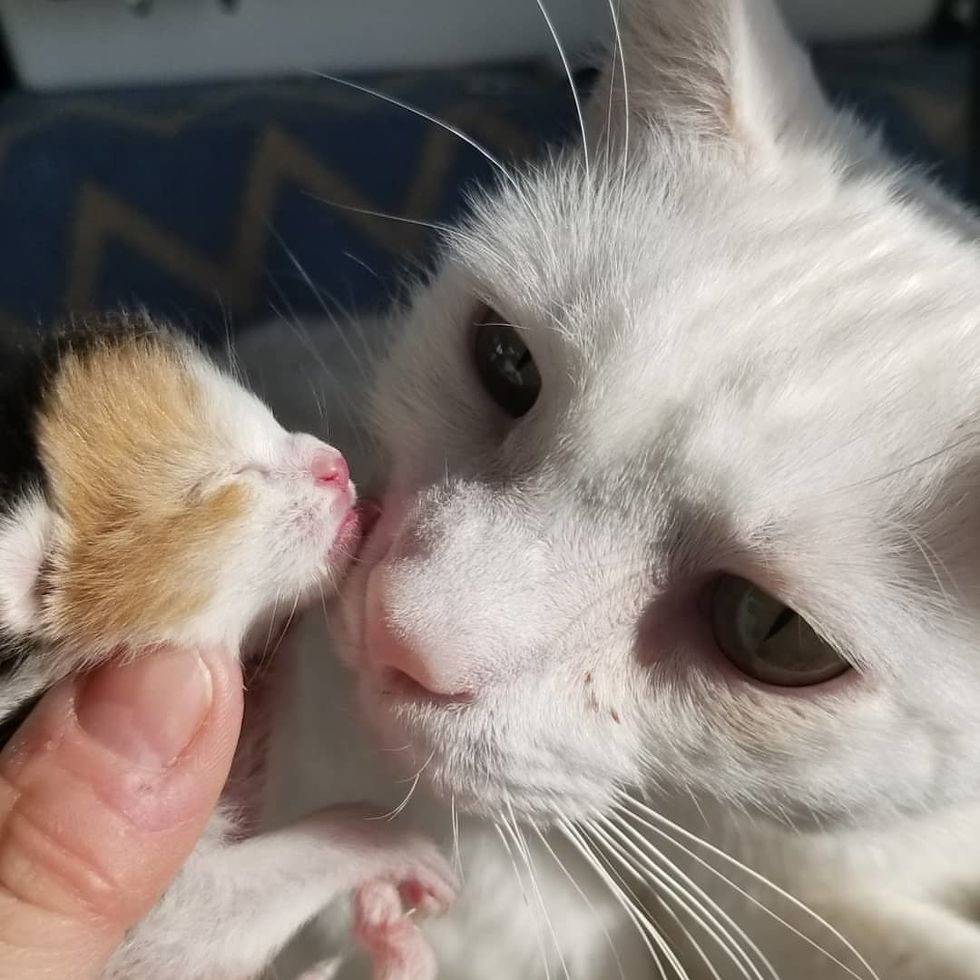 Ellen Carozza LVT
The calico whom they named Adora Belle, is no exception to Benny's love.
As soon as he spotted the kitten, he got right to work. "We gave Adora a bath first and then allowed Benny to dote on her, which he did immediately."
(Scroll down for video)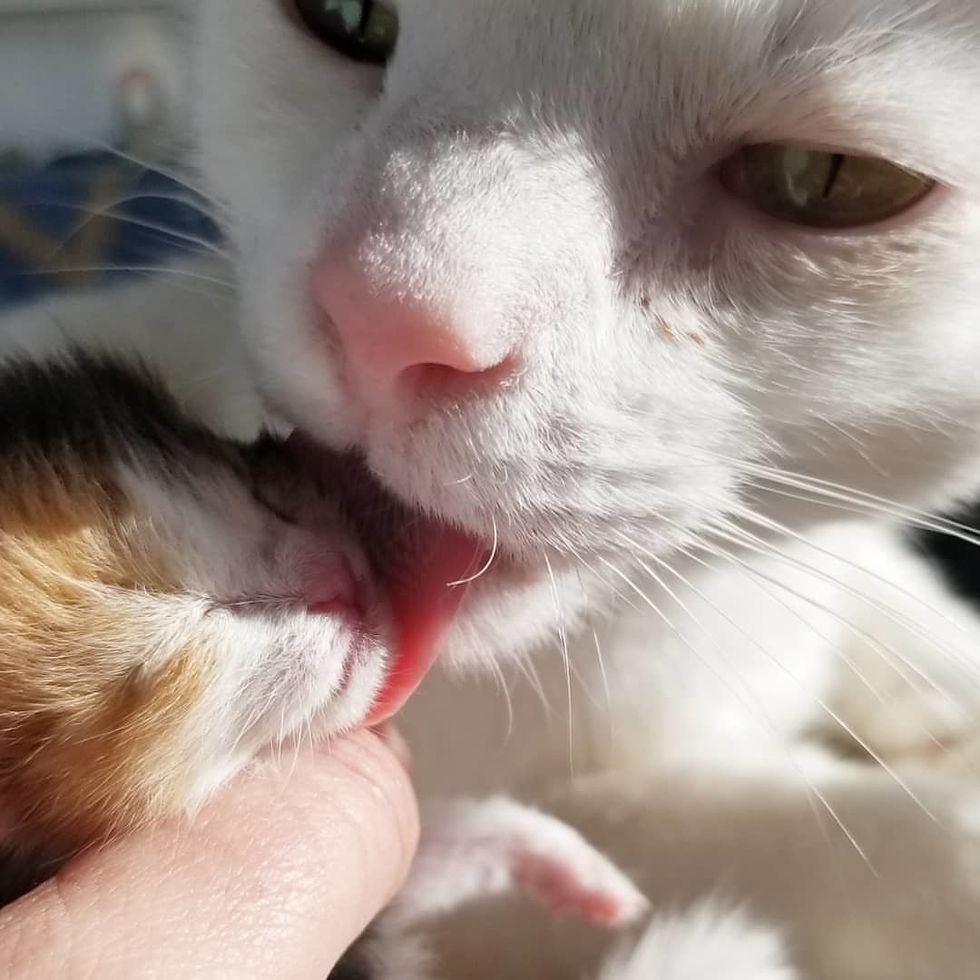 Benny nurtured her with a bath followed by a cuddle session. Ellen Carozza LVT
The kitten is placed in an incubator to help regulate her body temperature, but nothing can stop Benny from doing what he loves.
He sleeps next to the incubator and keeps the kitten company throughout the night.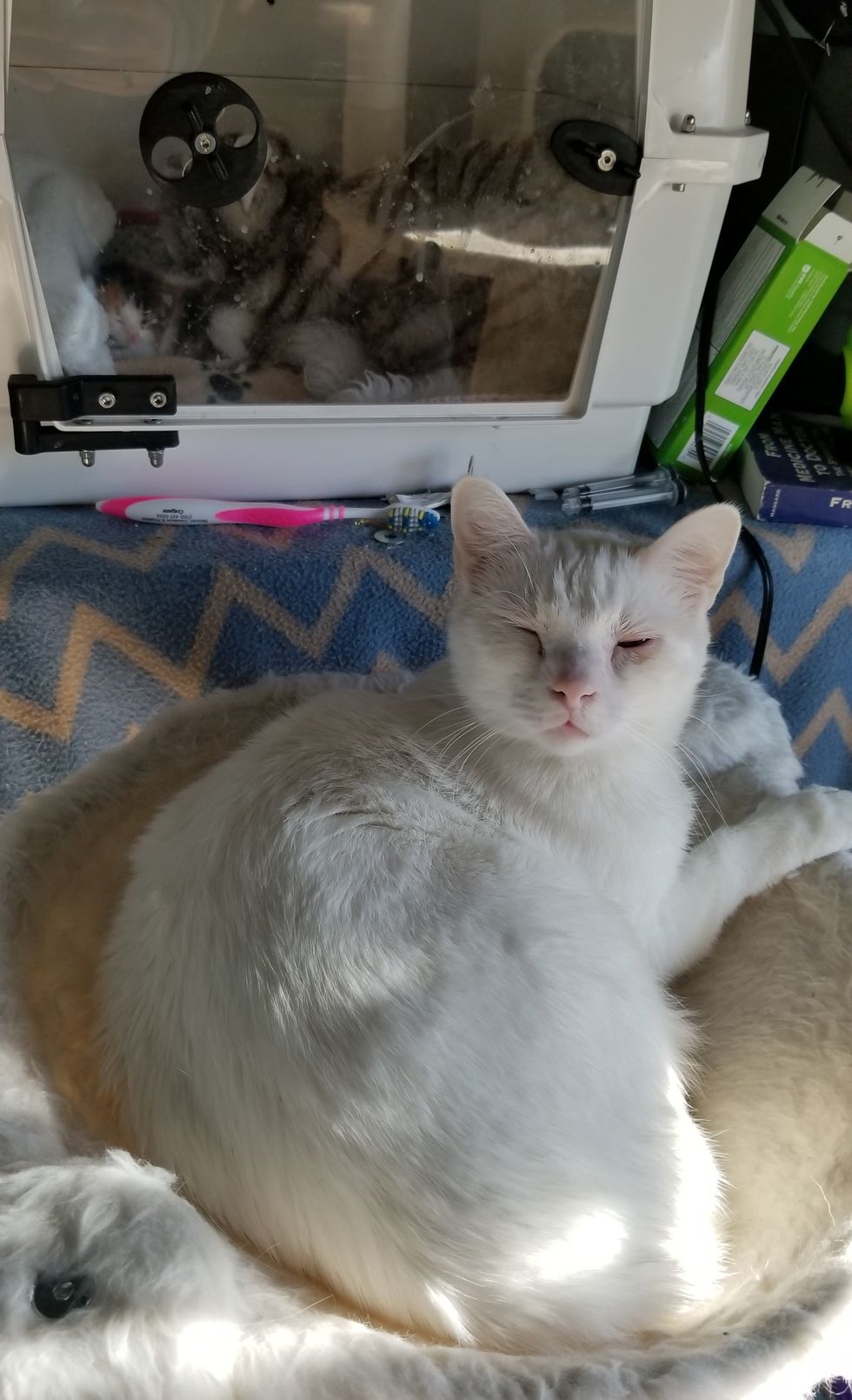 Ellen Carozza LVT
"When I came home, he saw me approaching our home incubator with the kitten travel bag and immediately sat up and knew I had a baby for him," Ellen told Love Meow.
"Benny has to help her be fed under his watchful eye and loves to groom her."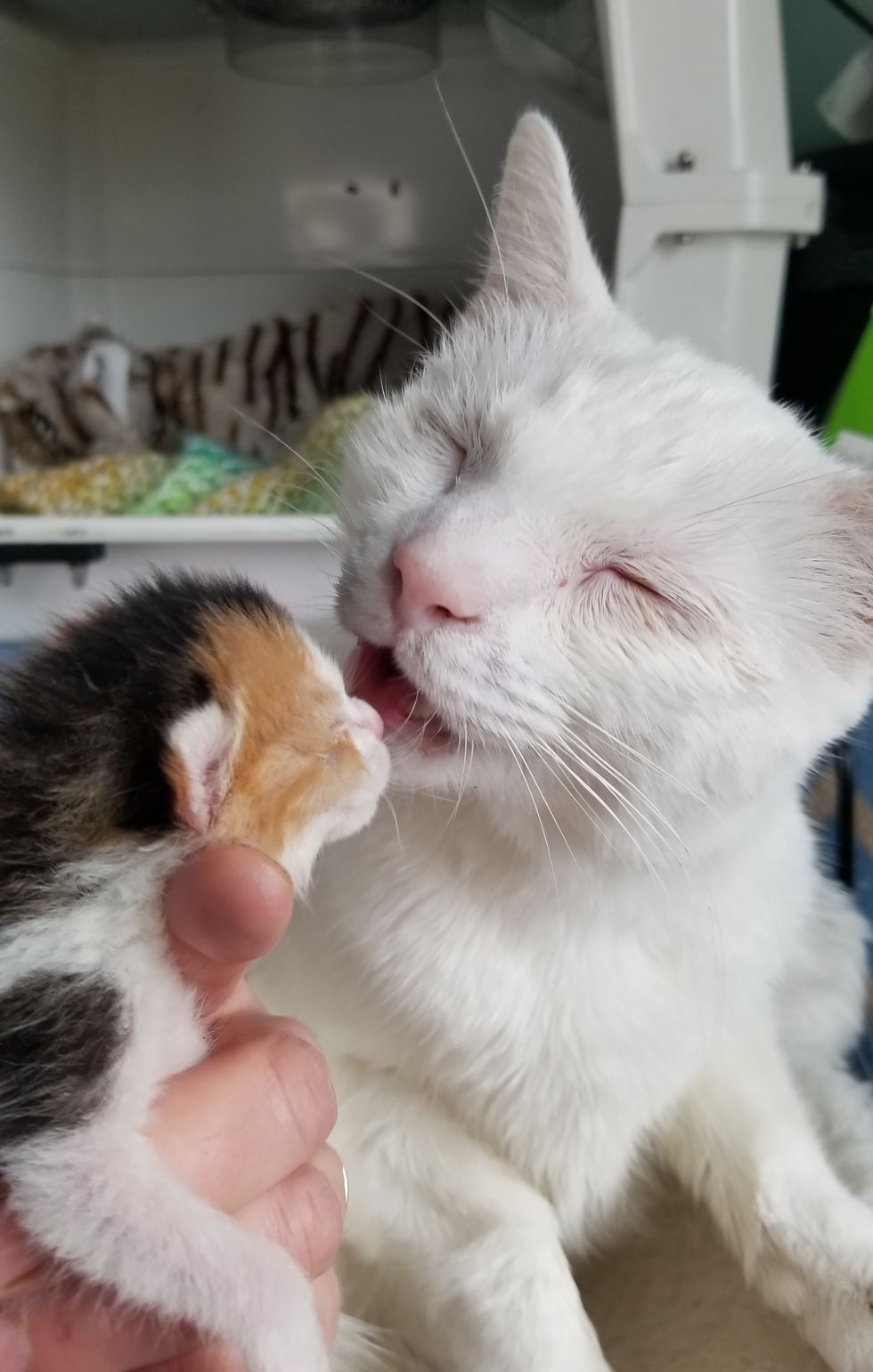 The Chris Griffey Memorial Feline Foundation at Nova Cat gives rescued kittens like Adora the care that they need to survive and thrive.

With help from the veterinary team and unconditional love from Benny, the kitten is growing and getting stronger every day.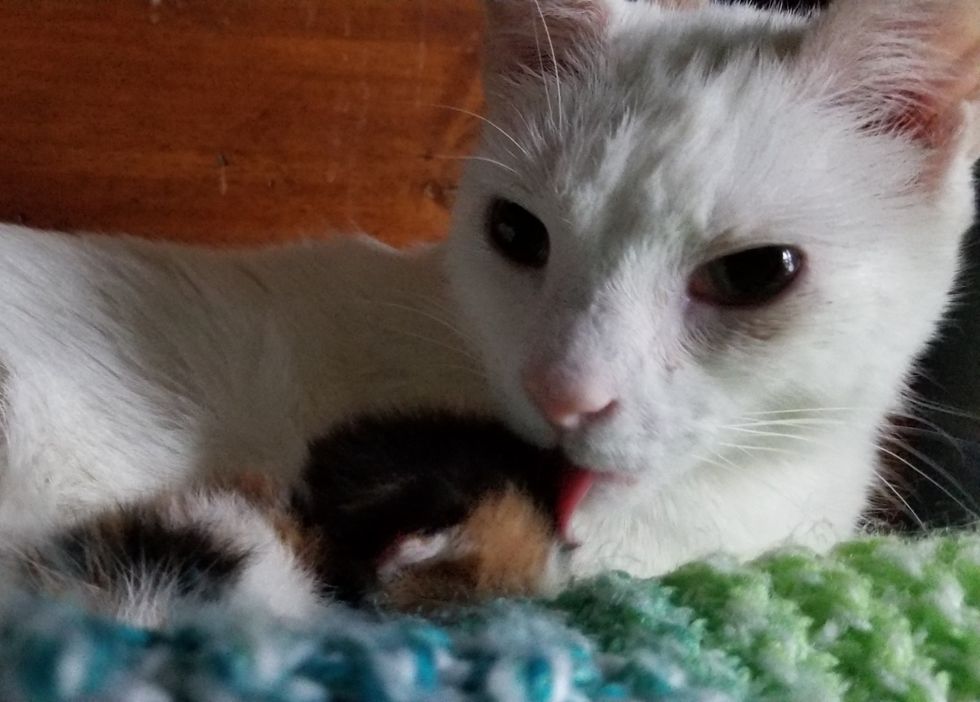 Ellen Carozza LVT
In just a week, little Adora has doubled her weight and tripled her strength.

"Her eyes opened early and loves to be groomed by Benny and her toothbrush when she isn't with him."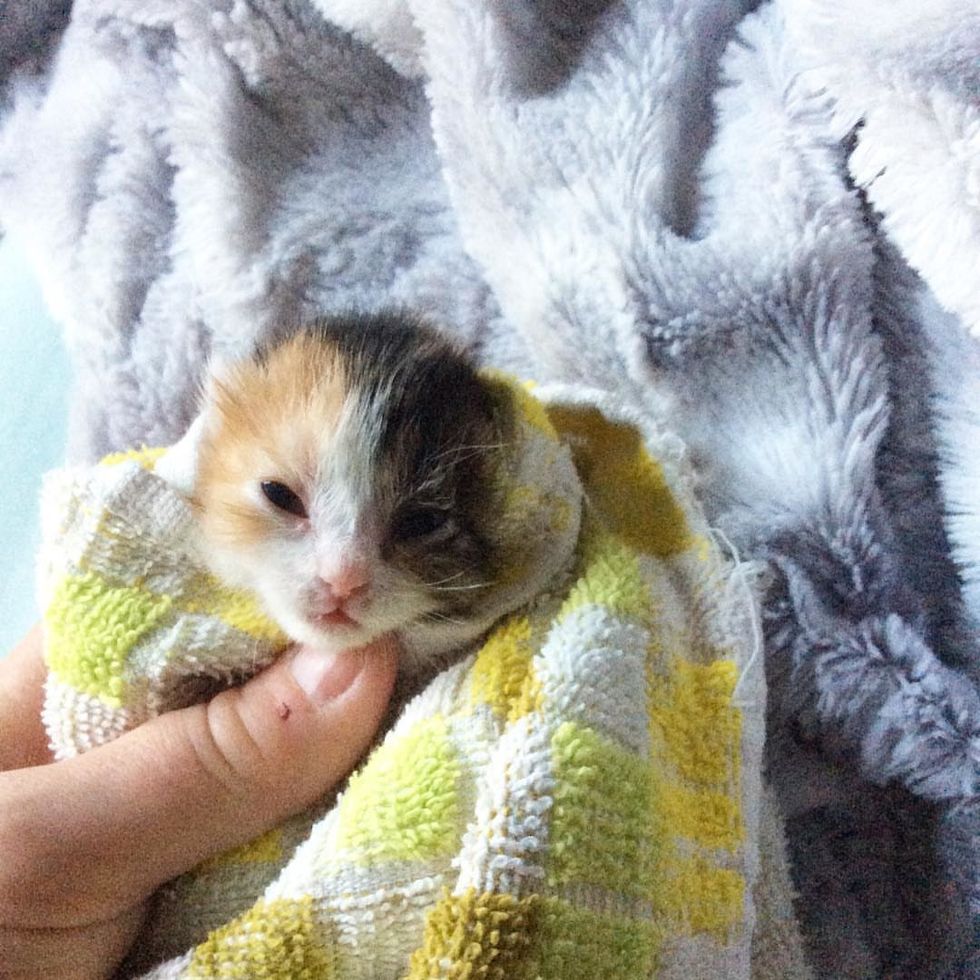 Ellen Carozza LVT
Despite a rough start to life, little Adora is doing well and has a great future ahead of her.
Benny takes every chance he can to dote on his kitten and let her know that she's loved.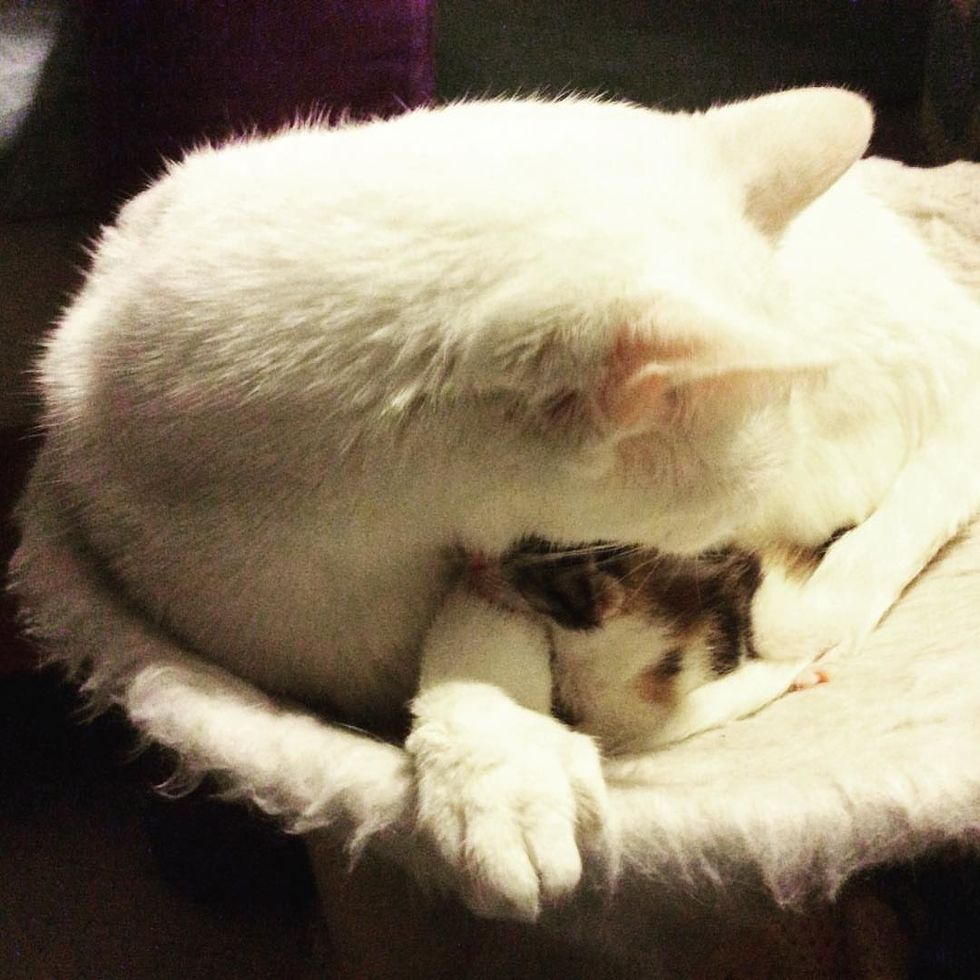 Ellen Carozza LVT
Follow updates on Adora and Benny on Facebook and Instagram. If you would like to support their rescue efforts, click here to see how you can help.
Watch Adora and Benny in this cute video:
Cat becomes dad to rescued kittenyoutu.be
Share this story with your friends.
Related story: Grandpa Comes to Shelter to Brush Cats and Kittens and Falls Asleep with Them Every Day for 6 Months