Despite being one of the tiniest kittens, this little bundle of fur had a loud kitten roar and the heart of a warrior.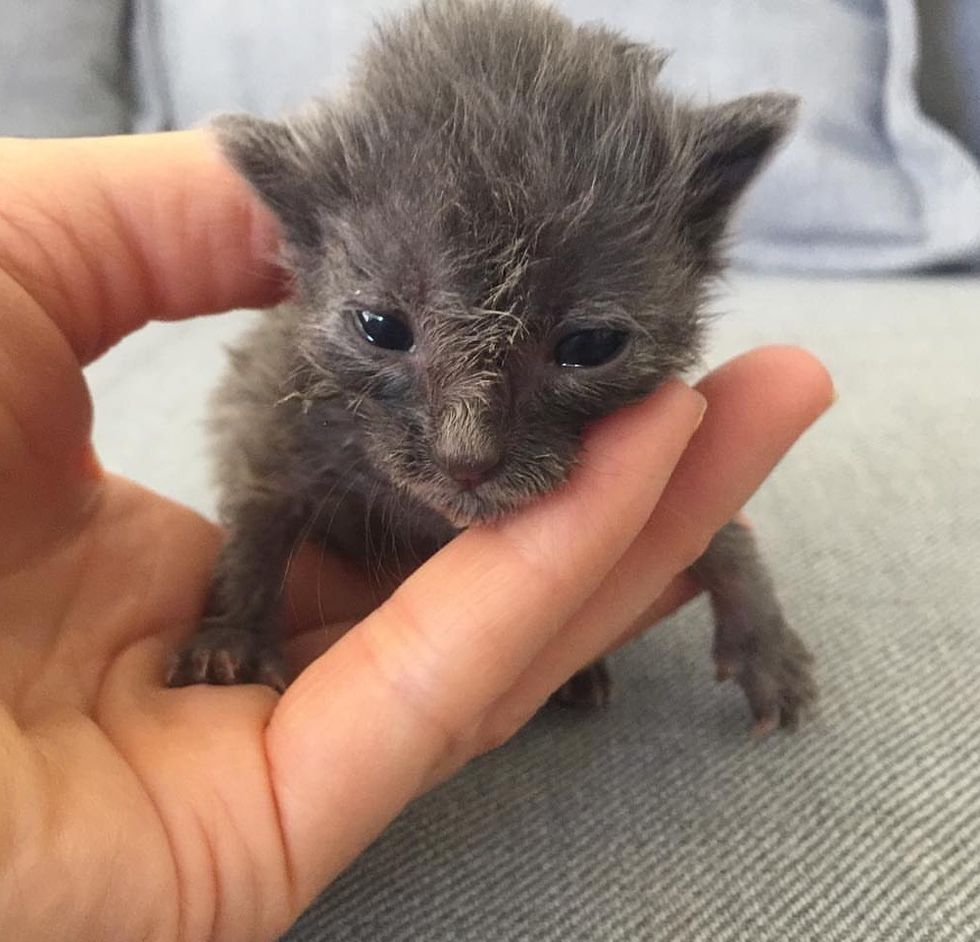 Alley Cat Rescue
Mouse the kitten was found wrapped in a dirty towel along with her brother, Rebel, in a cat colony of Los Angeles. At just one day old, she couldn't see or hear and weighed only three ounces.
Alley Cat Rescue took in the two orphaned kittens and immediately placed them in foster care. The feline siblings were covered in birthing fluids, which indicated that they had been abandoned or separated from their mother at birth.
Foster volunteers started them on a 2-hour feeding schedule with a syringe. They kept them warm and monitored their weight, intake and outtake, around the clock.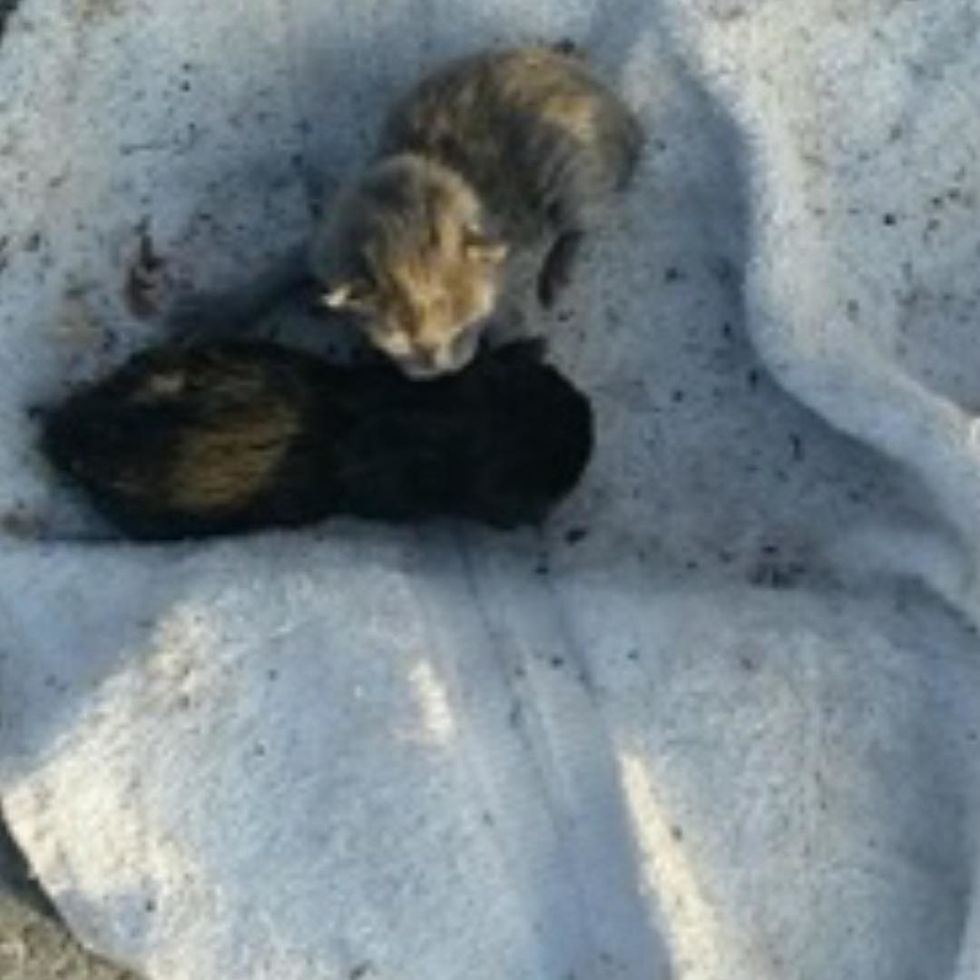 Alley Cat Rescue
"We were feeding around the clock and providing KMR, Nutri-Cal, immune boosting vitamins and probiotics," Alley Cat Rescue said.

Mouse was so tiny but had quite the kitten roar. She made sure that everyone would hear her when she was hungry or needed attention.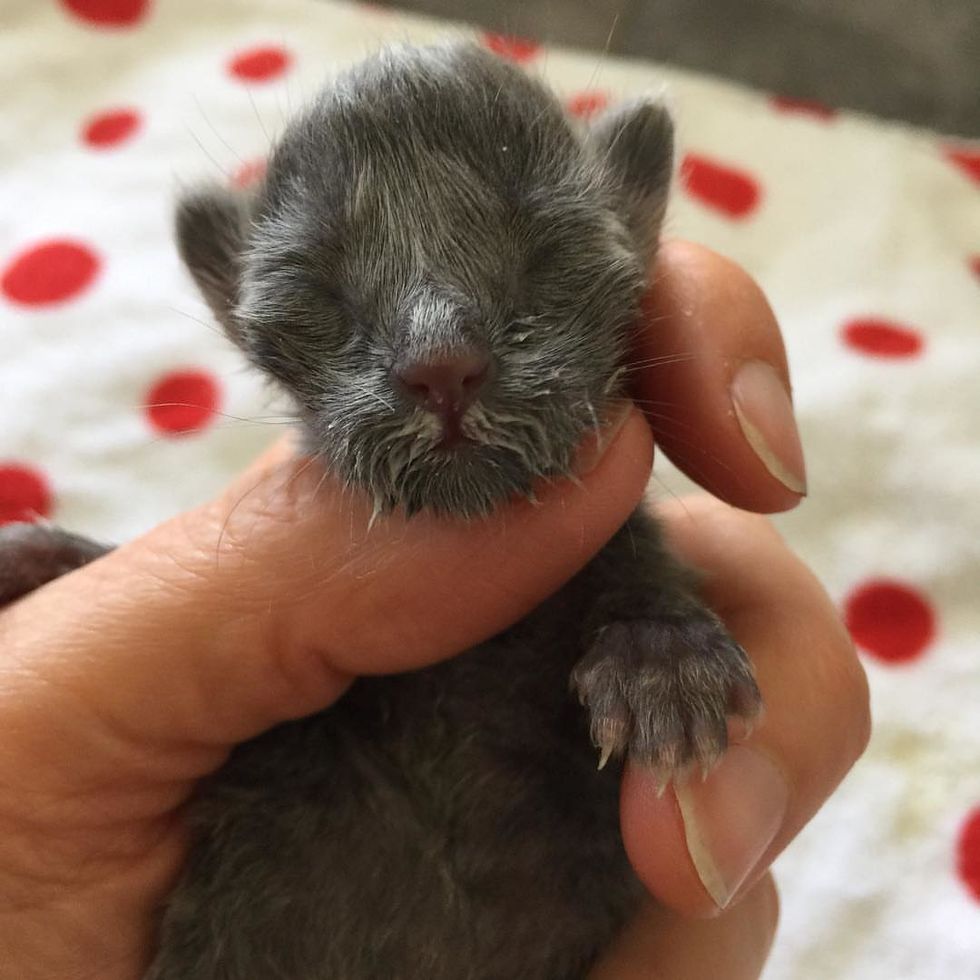 Alley Cat Rescue
In less than 10 days, the little grey baby girl almost doubled in weight.
Knowing that orphaned kittens could benefit remarkably from a surrogate cat mom, they introduced them to a mama they rescued from a feral colony.
"Del Rey was a young mom, while she had no milk left, she was willing to help love and cuddle the babies," the rescue said.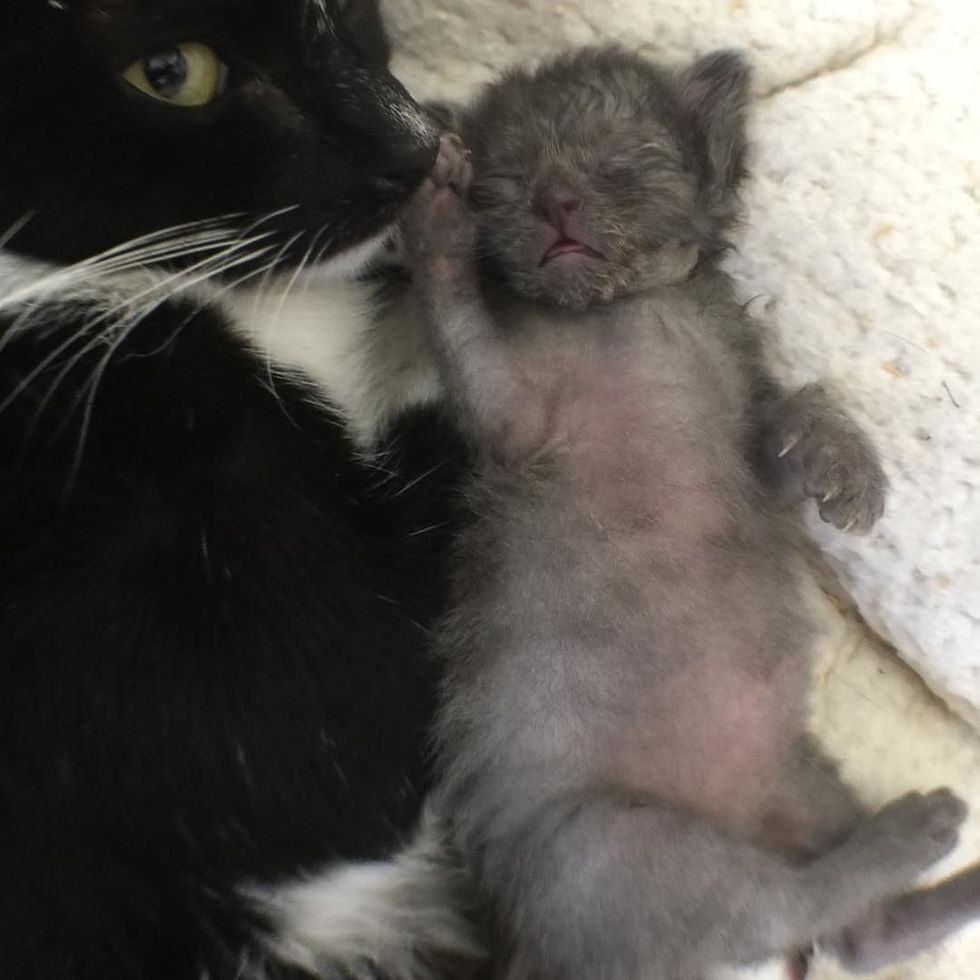 Alley Cat Rescue
Little Mouse improved quickly having a caring mother by her side. Del Rey kept her and her brother groomed and clean at all times.

"Mama cat and her own kittens had fully adopted the babies and they made the cutest kitten pile."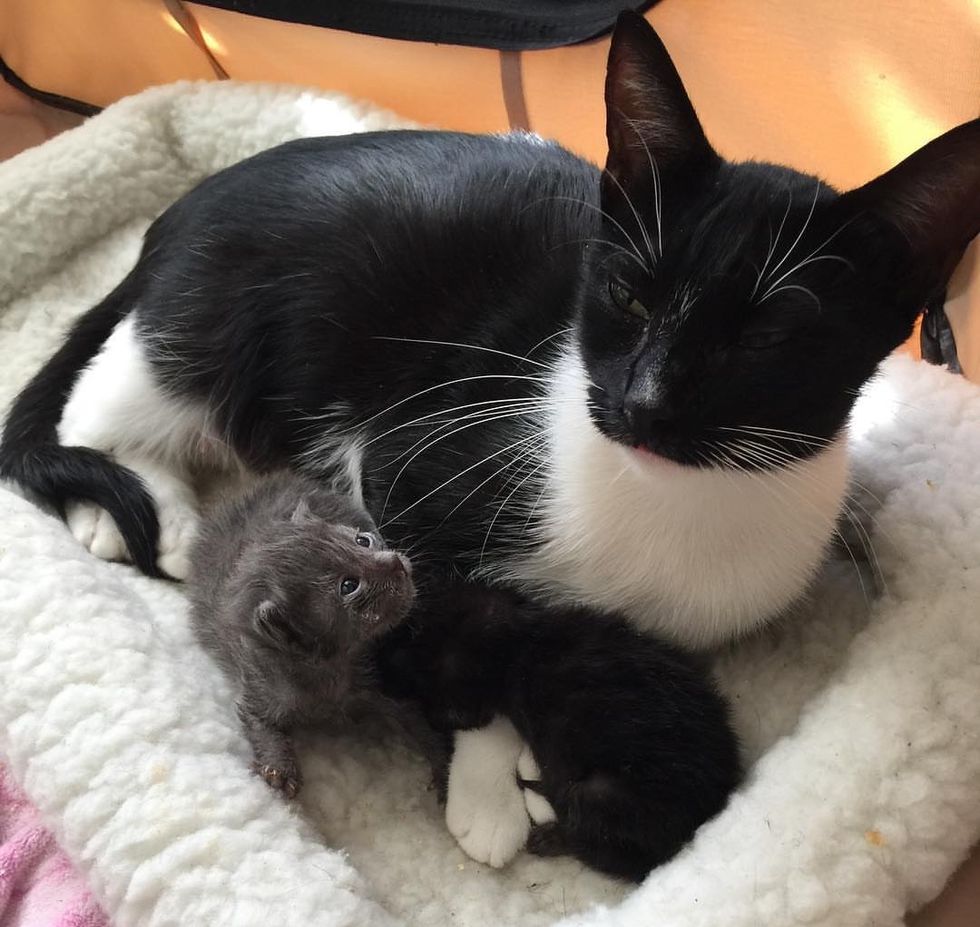 Alley Cat Rescue
A few days later, Mouse was big enough to move onto bottle feedings.
She absolutely loved her bottles as she could suckle up a lot more food. After every meal, she snuggled with her foster family and fell asleep in their arms.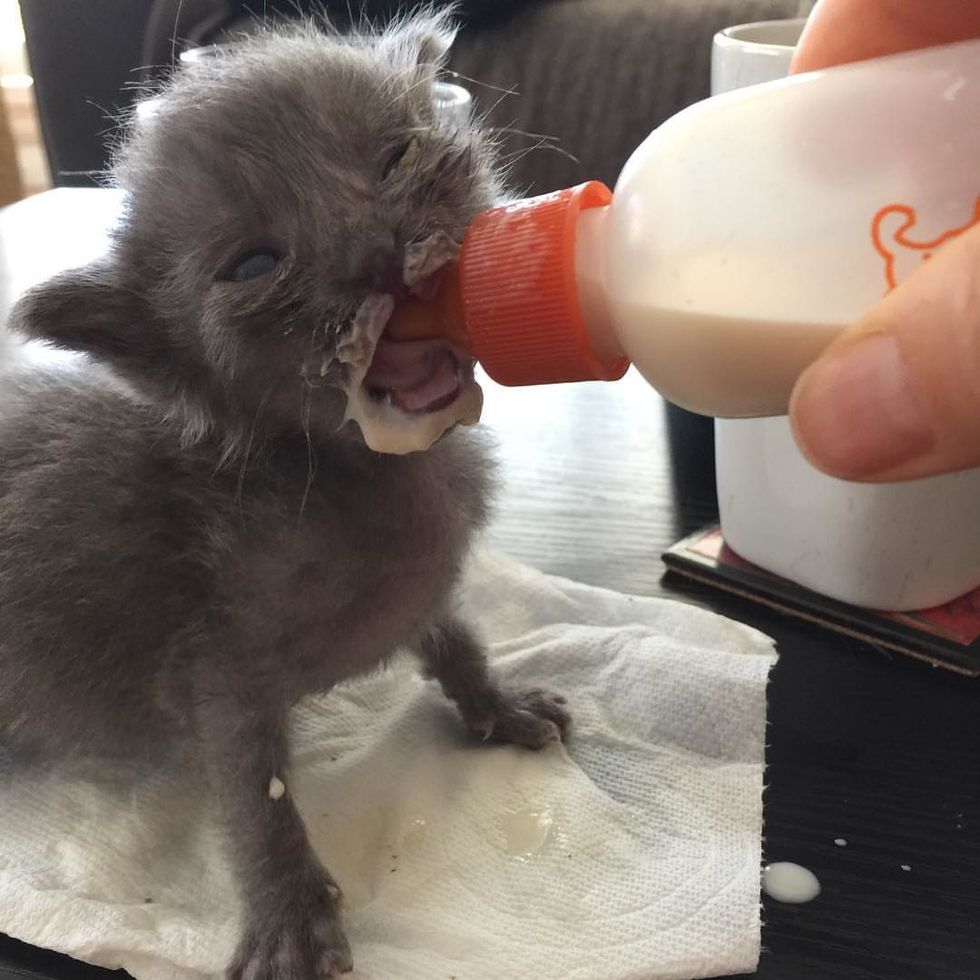 Alley Cat Rescue
Despite round-the-clock feedings, supplements and having two surrogate moms look after them 24/7, Rebel, sadly, didn't make it, and Mouse came down with an upper respiratory infection and parasites. "She was three weeks old and just over 1/2 pound."
Kittens orphaned at birth are susceptible to many infectious diseases due to their weak immune system and lack of antibodies from their mother's milk during the first 36-48 hours of their lives.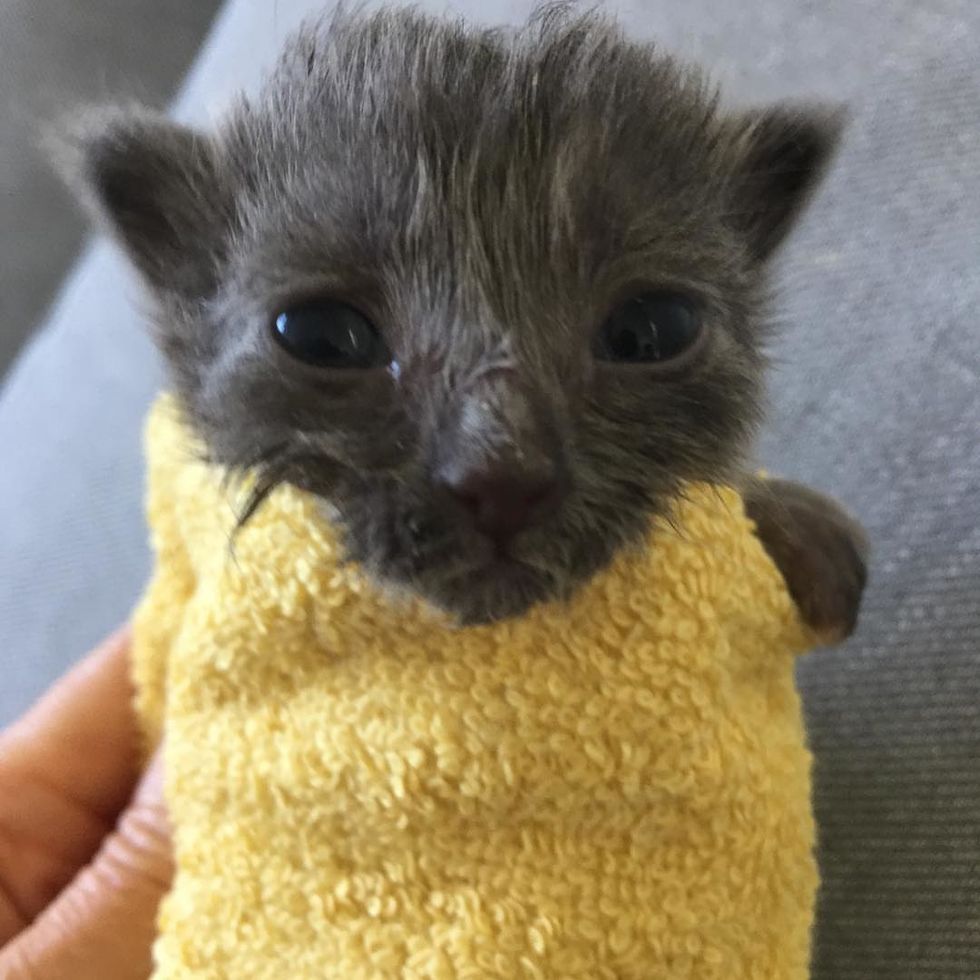 Alley Cat Rescue
Mouse fought hard, and despite being very sick, she would finish all the food, striving to boost strength and fight off her illnesses.
A couple of weeks later, she bounced back and even started to play with toys by mimicking older kittens.
"This made our heart burst to see this tiny orphan kitten fitting in so well with her adoptive family. She loved to hang with her brothers only to run to us when it was time for bottle feeding."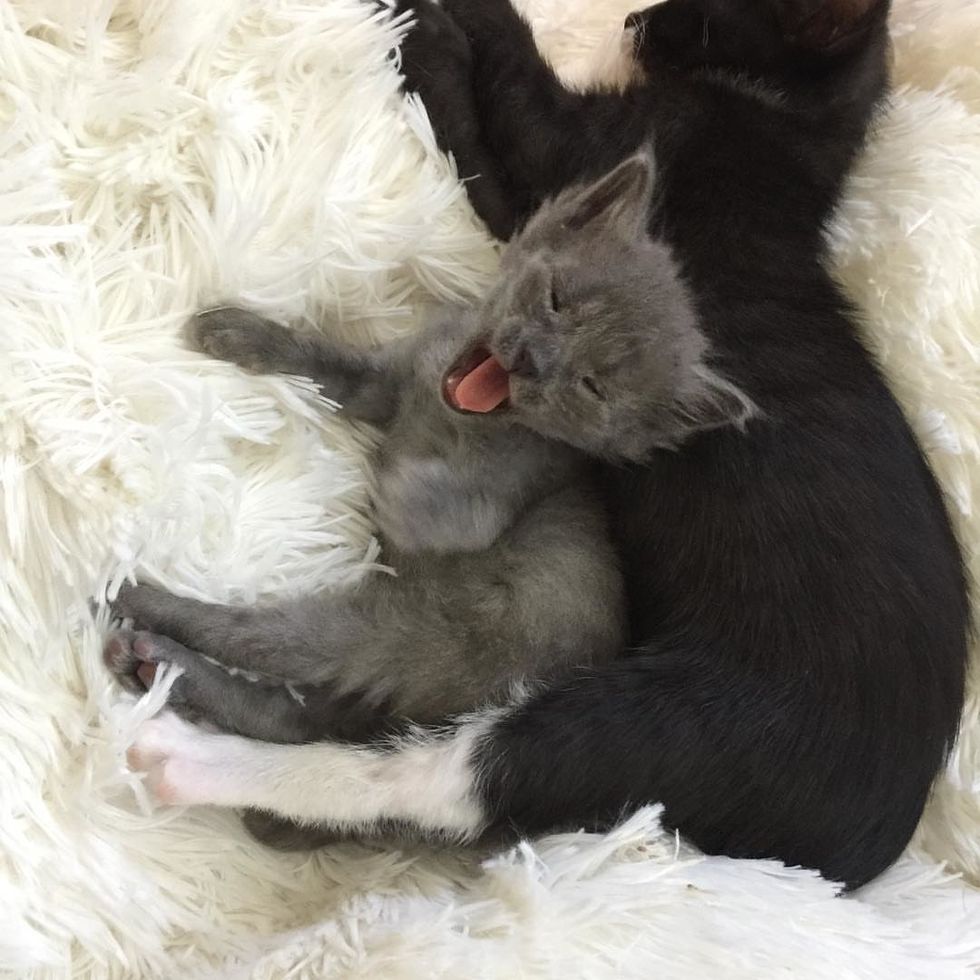 Alley Cat Rescue
Watch Mouse's journey in this video:
Kitten's journey to forever homeyoutu.be
"Each kitten/cat challenges us to step outside our comfort zone and provide whatever care they need," the rescue said.

As she grew bigger, her personality flourished and she became fluffier than ever.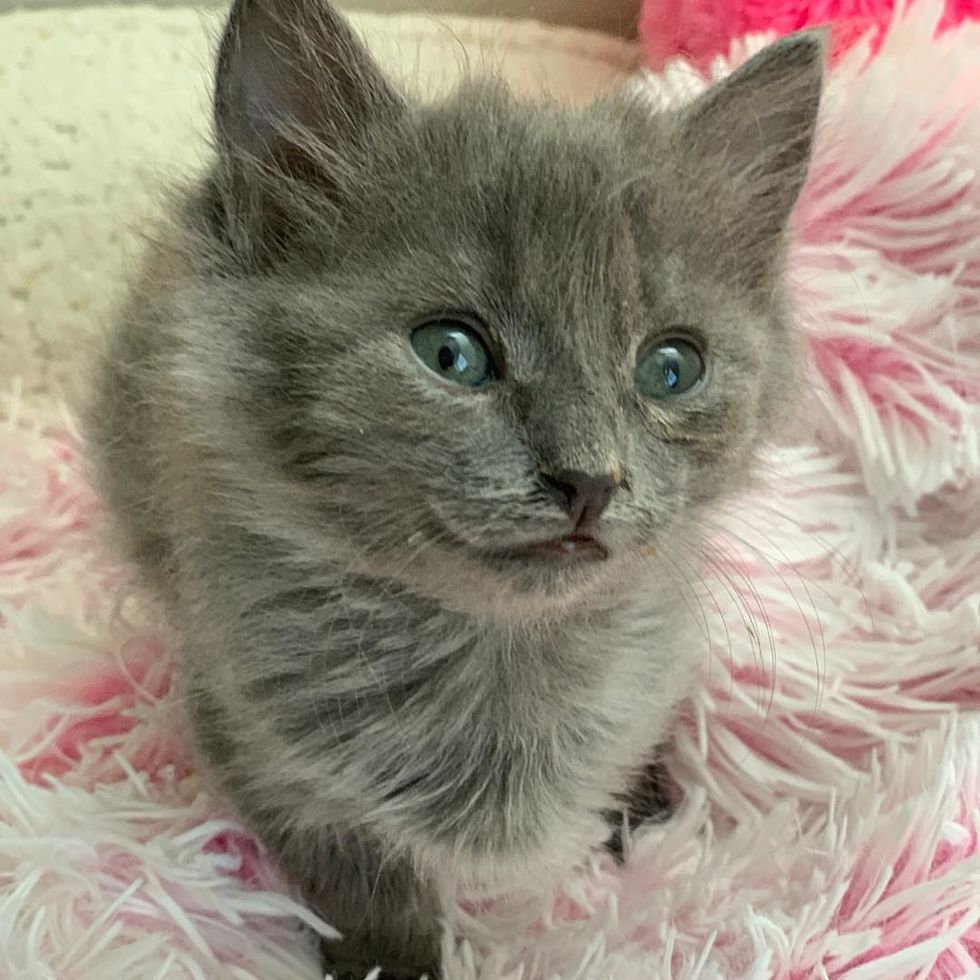 Alley Cat Rescue
"Mouse came to us as a brand new neonatal kitten the day after she was born. Watching her grow, gain weight has been delightful. Helping her through some challenges has been scary," Alley Cat Rescue said.
"It definitely is a range of emotions but we would do it all over again in a heartbeat."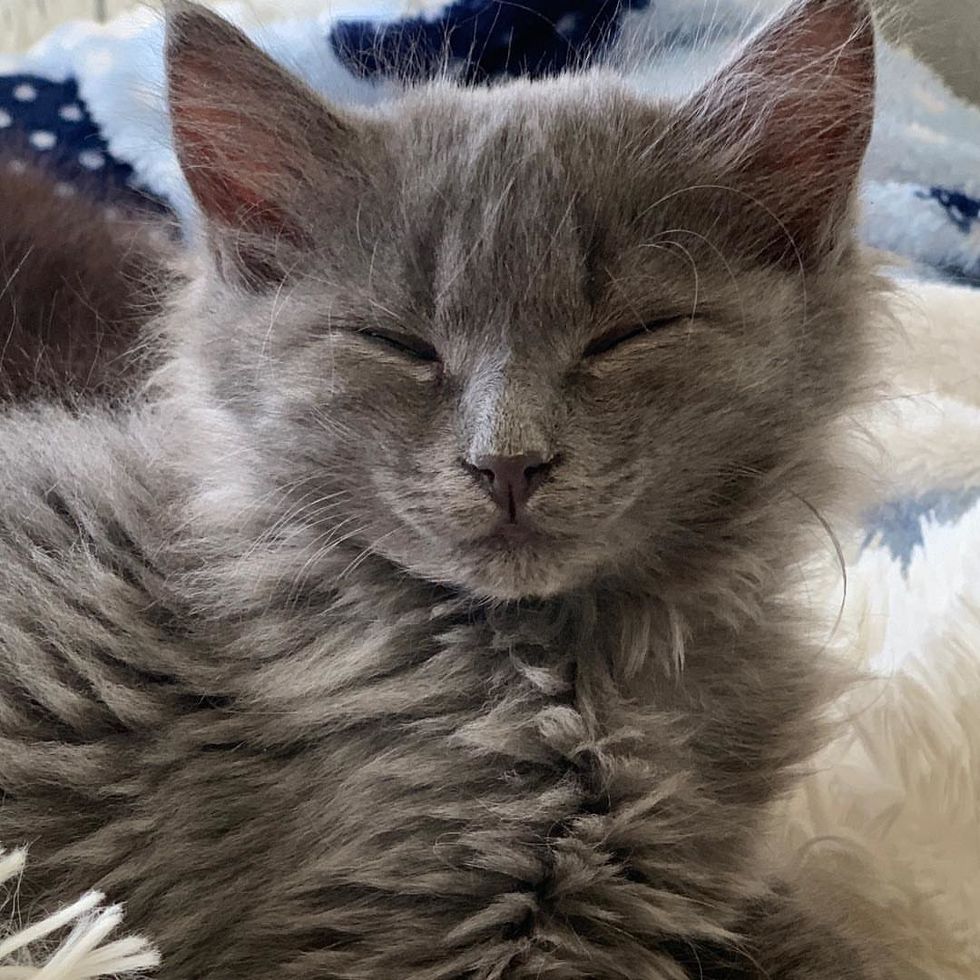 Alley Cat Rescue
"It also makes us more determined to step up TNR (trap-neuter-return). All our shelters are continuing to run at capacity and it is so vital to stop kittens being born outside.
"And it's important to provide the adults community cats with vet care, spay/neuter so that they can lead healthy lives too."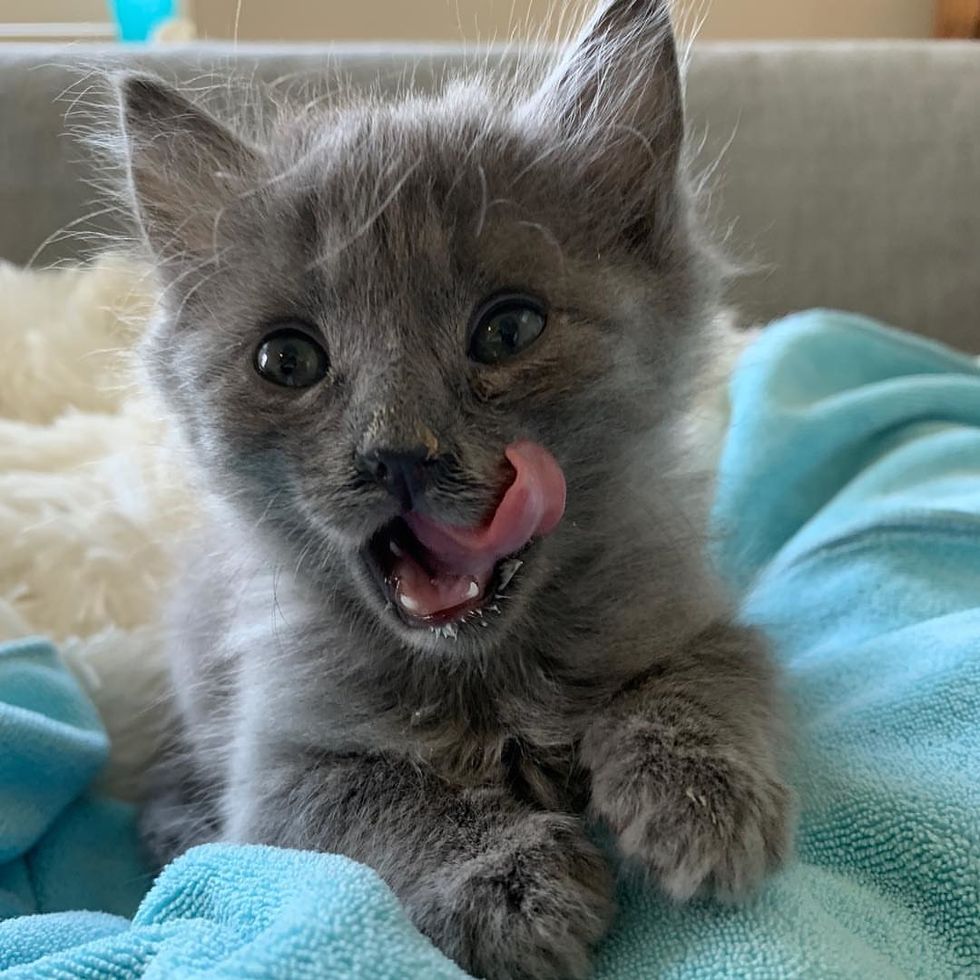 Alley Cat Rescue
"She was one of the smallest orphan kittens we have raised in a while. Her floof in her ears kept us guessing as to her eventual length of coat, and boy, did she blossom," Alley Cat Rescue added.

"It really is such a privilege caring for these babies. We love them like they are our own."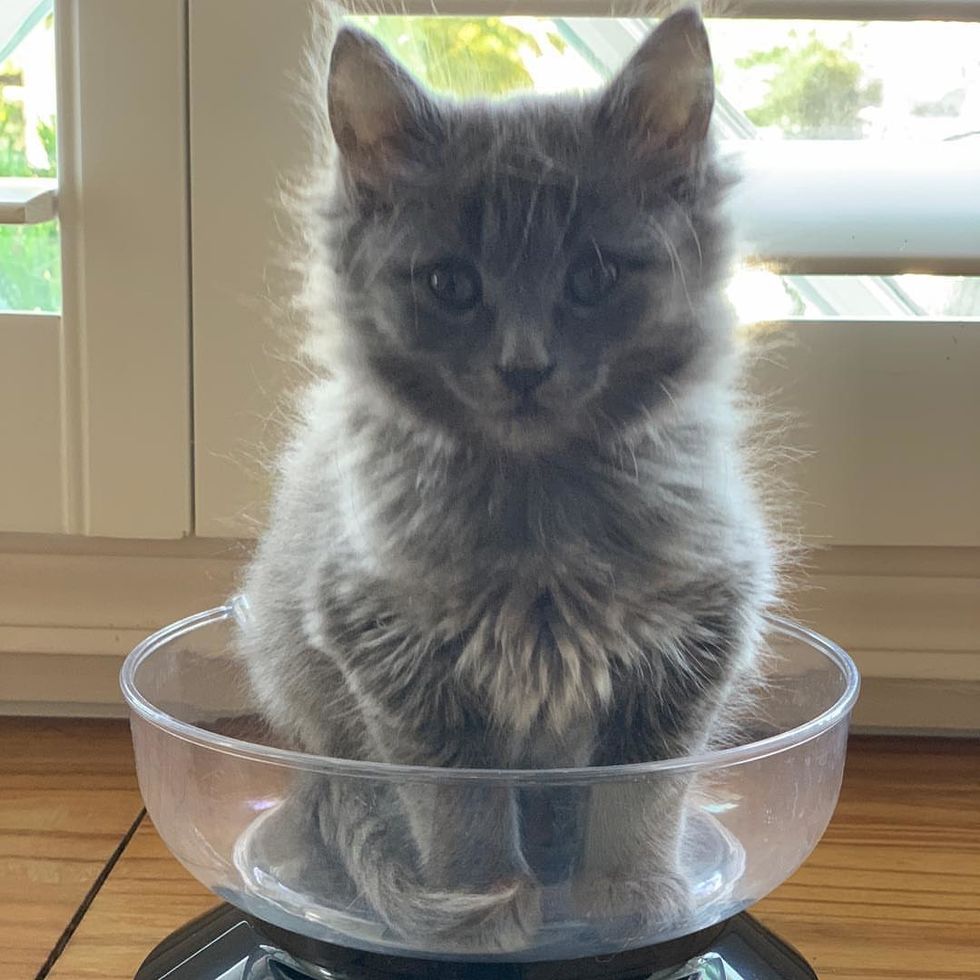 Alley Cat Rescue
Mouse has come a long way since the day she was rescued as a palm-sized kitten. She's grown into a sweet little girl with a wonderful, calm disposition.
This winter, she will spend the holidays in a place she calls her own. "She is in a lovely home where she gets a lot of love and has the best kitty friend too."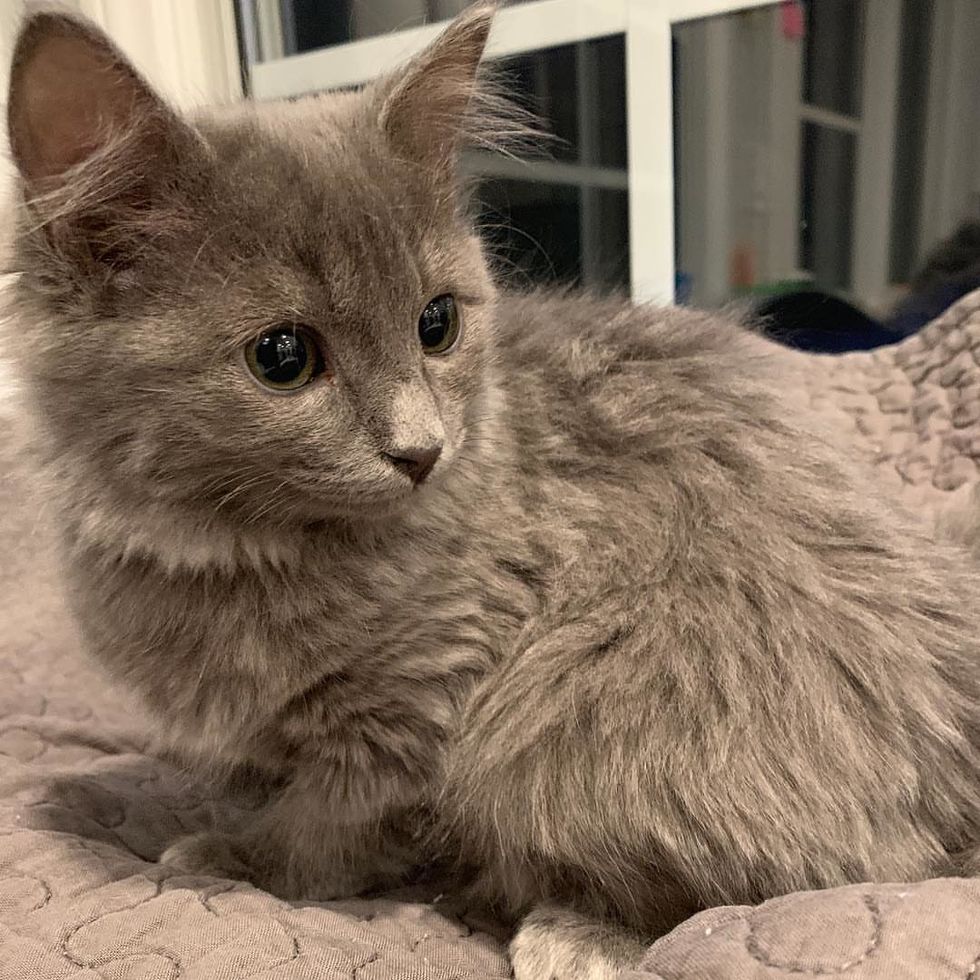 Alley Cat Rescue
Share this story with your friends. Follow Alley Cat Rescue on Facebook and Instagram. If you would like to support their rescue efforts, click here to see how you can help.
Related story: Kitten Found Outside in the Cold, Jumps into His Rescuer's Arms for Warmth