A woman saw a kitten shivering in the cold outside her work. As she approached the kitty, he jumped right into her arms for warmth.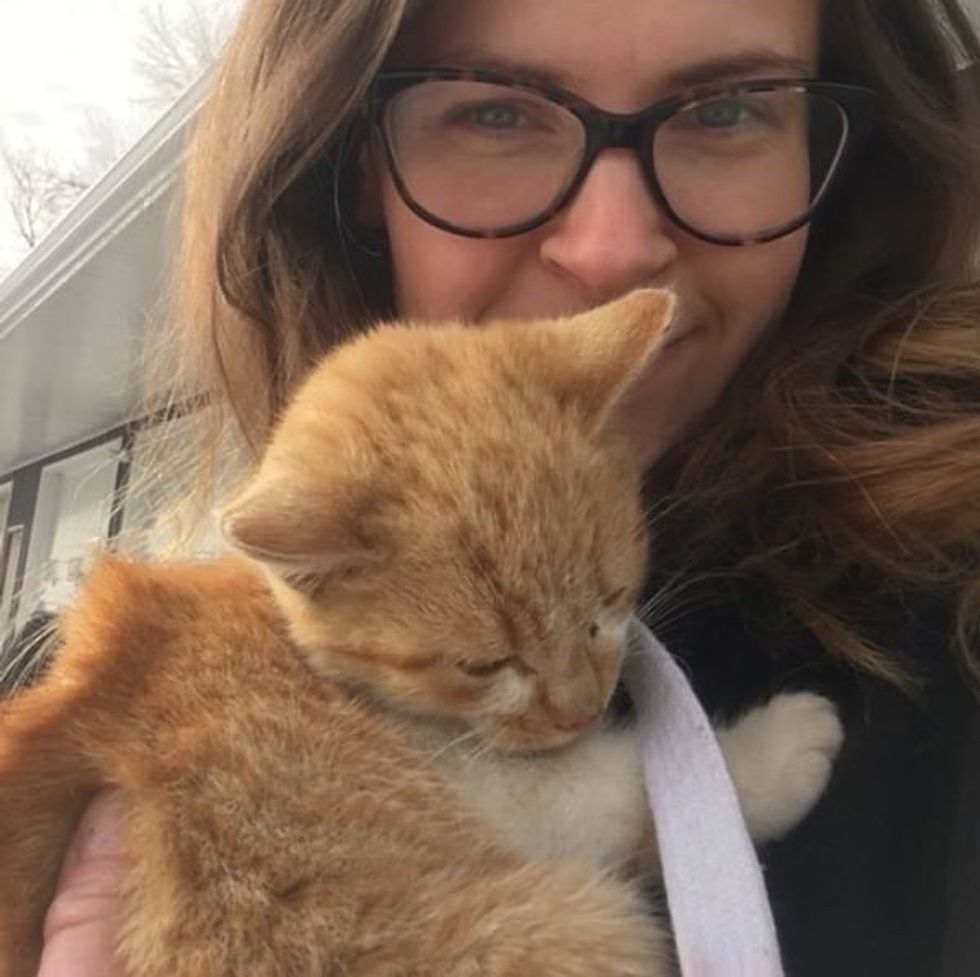 Caitlin Gillan
Caitlin Gillan from Ontario, Canada was at work when she spotted the little orange and white kitten outside. "I work at a Powersports store in the country and there are quite a few feral cats in the area," Caitlin told Love Meow.

She had seen kittens before but every time she tried to approach them, they would quickly disperse, and she could never get close. After a few particularly freezing cold nights, this little kitten showed up, sitting outside the doors, shivering and meowing.
"I looked at him through the windows and he would look at me crying. On my break, I went to check on him, full well expecting him to run away."
But the kitten didn't run. He walked up to Caitlin and leapt right into her arms. She was surprised and overjoyed.
"I cradled him and he instantly started purring loudly."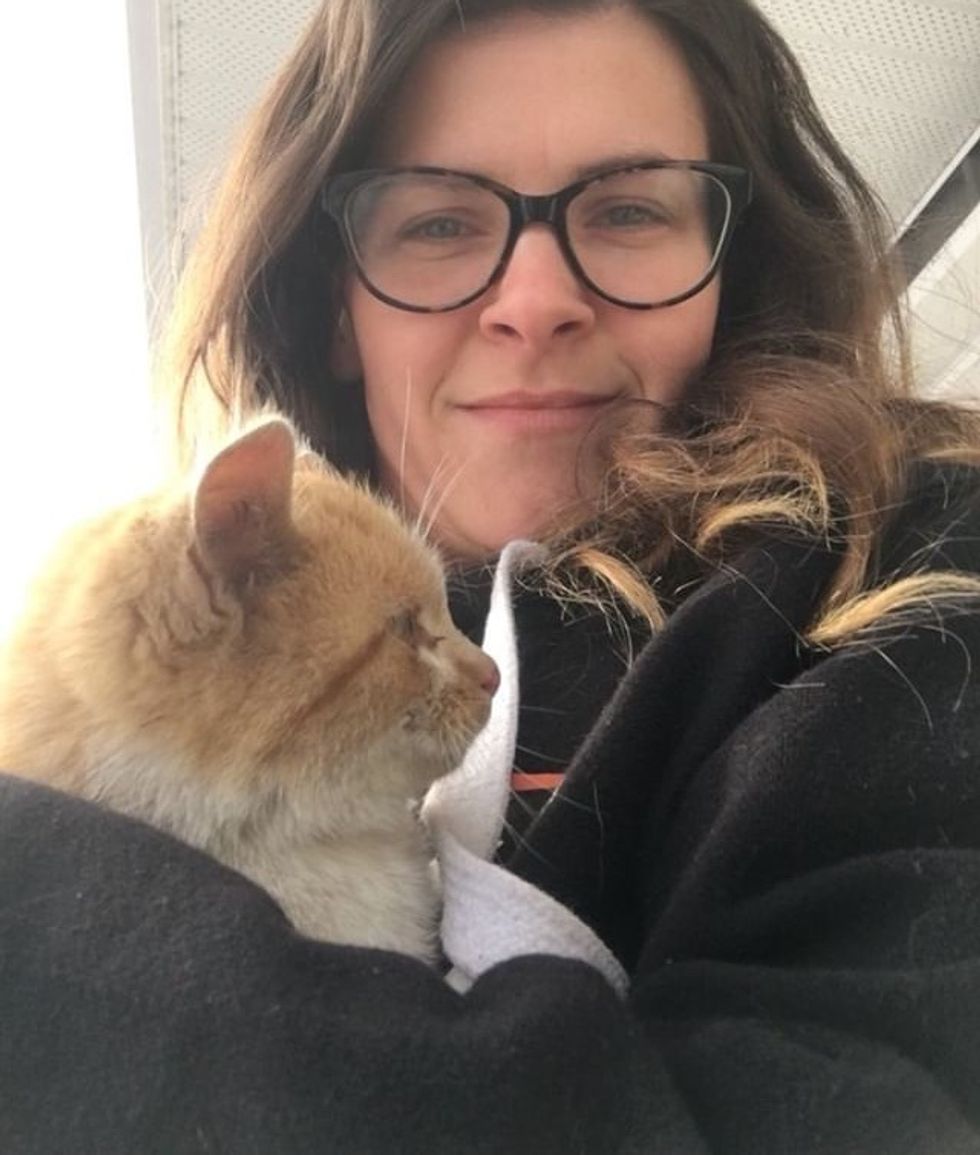 Caitlin Gillan
The kitty was happy to be helped and couldn't wait to be somewhere warm. "I guess, he had enough of the cold. I brought him in my car and he sat on my shoulder," Caitlin said.
No one claimed the kitten, so he went home with Caitlin. "I brought him in the house and he headed straight for the dog food and began to devour it. I brought him over to the cat food and water, and he has made himself quite at home."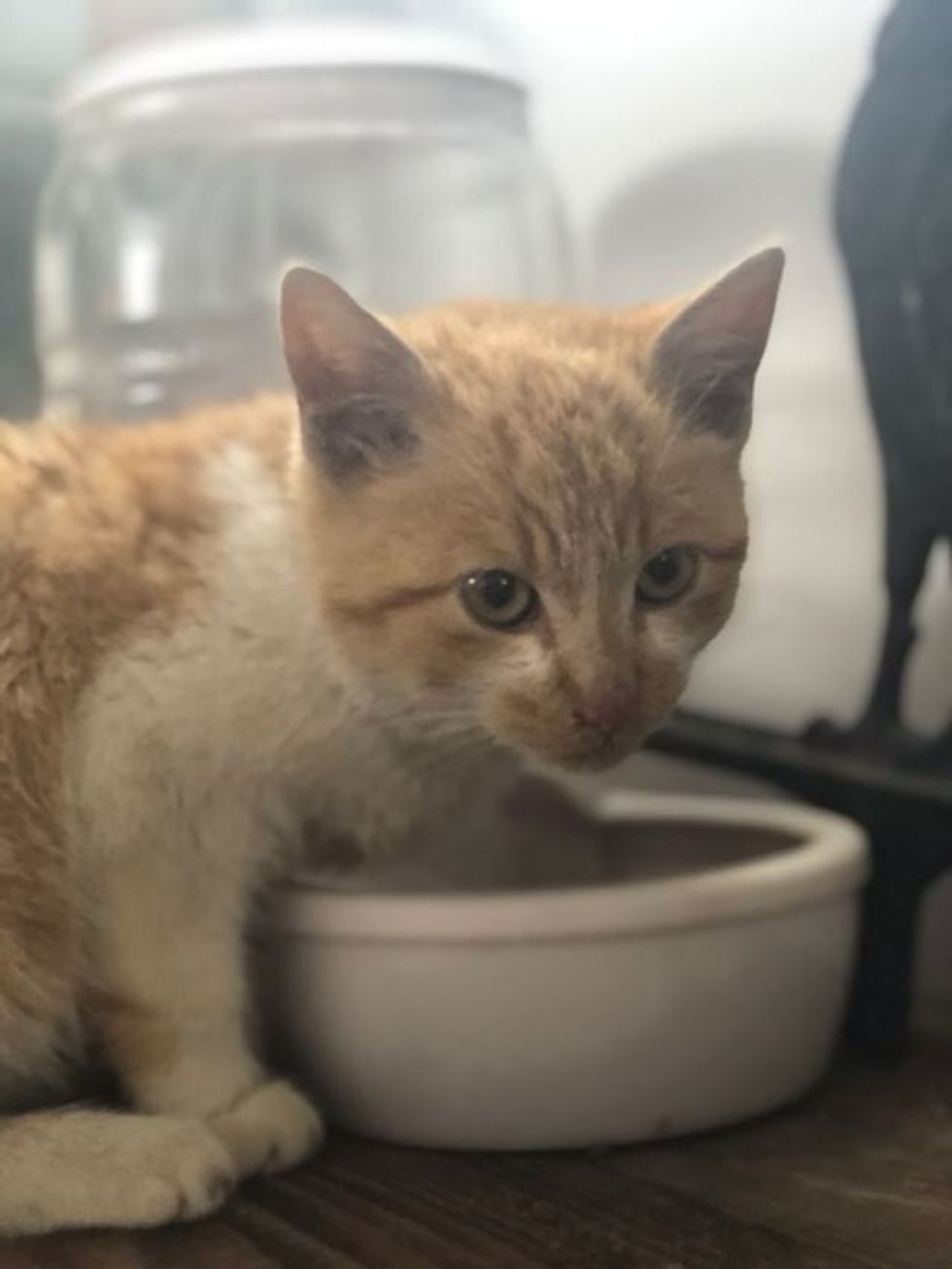 Caitlin Gillan
The kitty was so hungry and ate to his heart's content. Once he cleaned up his bowl, he sought cuddles from his humans. Caitlin thought they would foster him until they could find him a good home, but that idea didn't last.

"He has bonded so well with us that we have decided to keep him. His name is Tonks, and he is very playful and cuddly," Caitlin told Love Meow.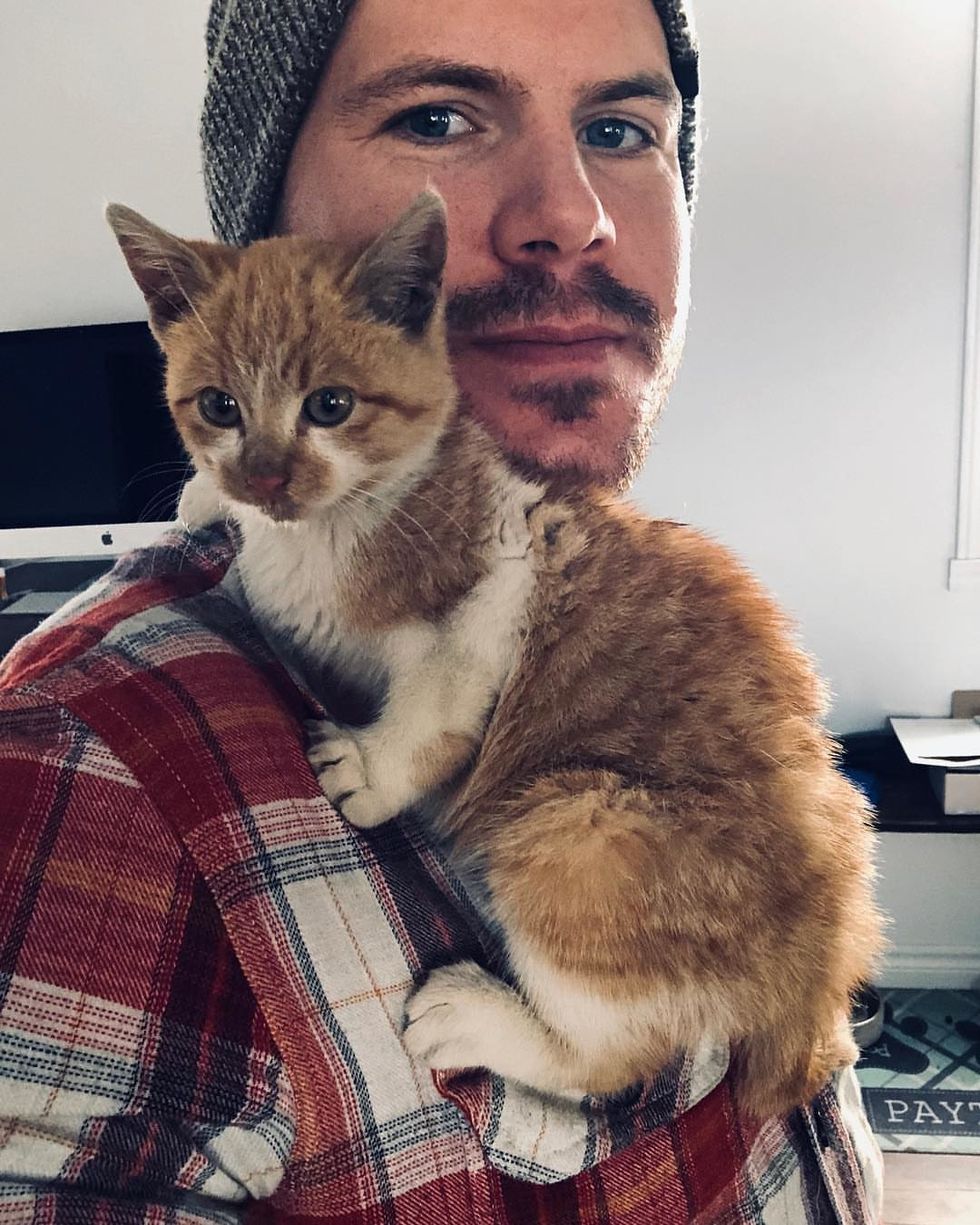 Caitlin Gillan
Tonks follows his humans around the house and loves to perch on their shoulders and be carried around. He's the happiest when he is cuddled.

"He is food obsessed. Poor little guy must have been starving and didn't know where he would get his next meal. It doesn't matter what you're eating, he wants it and will do anything to get it."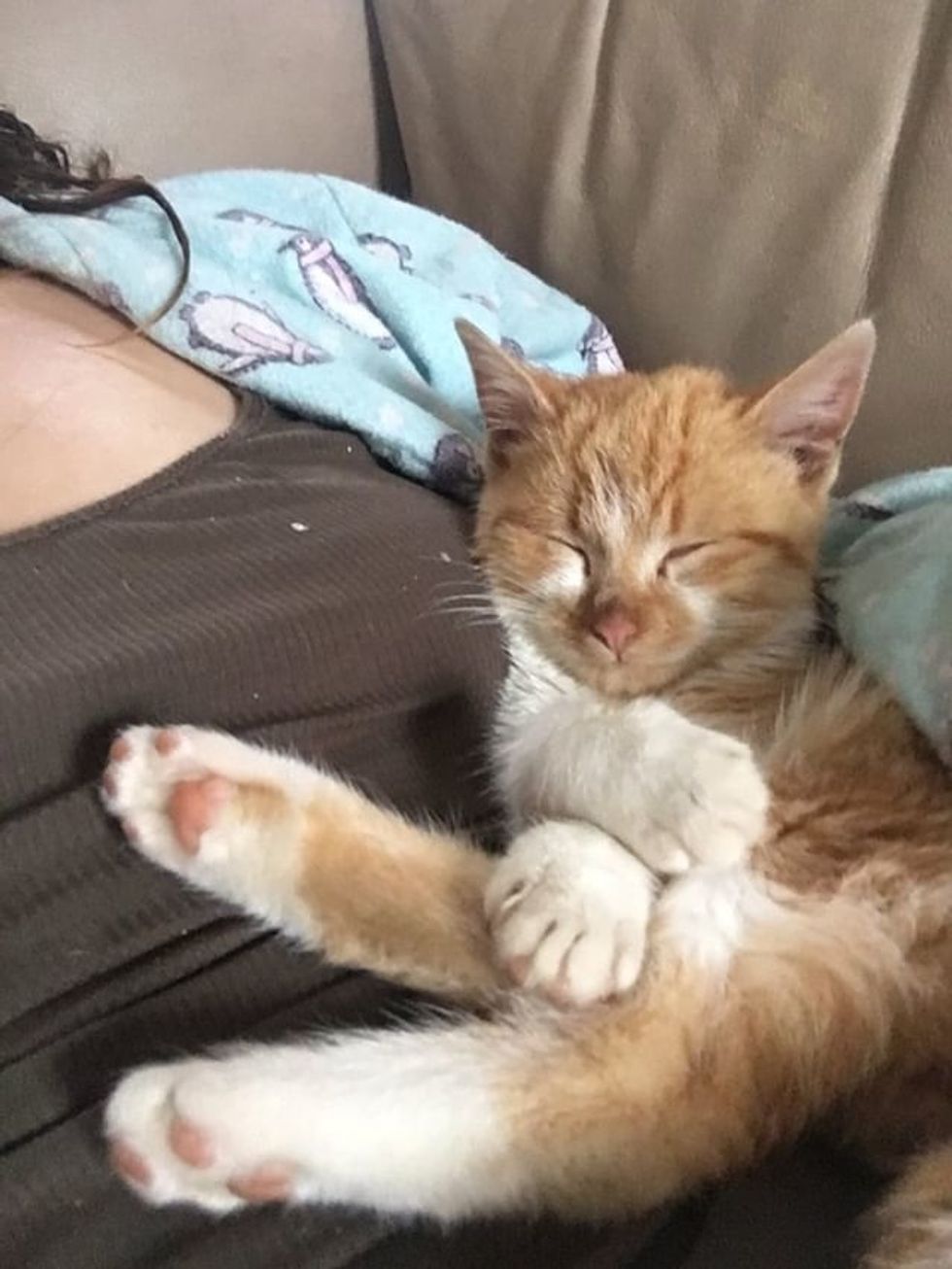 Caitlin Gillan
It may take some time for him to realize that he no longer needs to fight for food, but the sweet kitty knows he is finally in a warm home with people that love him to bits.

Their other cat, Reese, isn't so sure about the new addition to the family, but Tonks doesn't let anything stop him from trying to play and cuddle with his friend.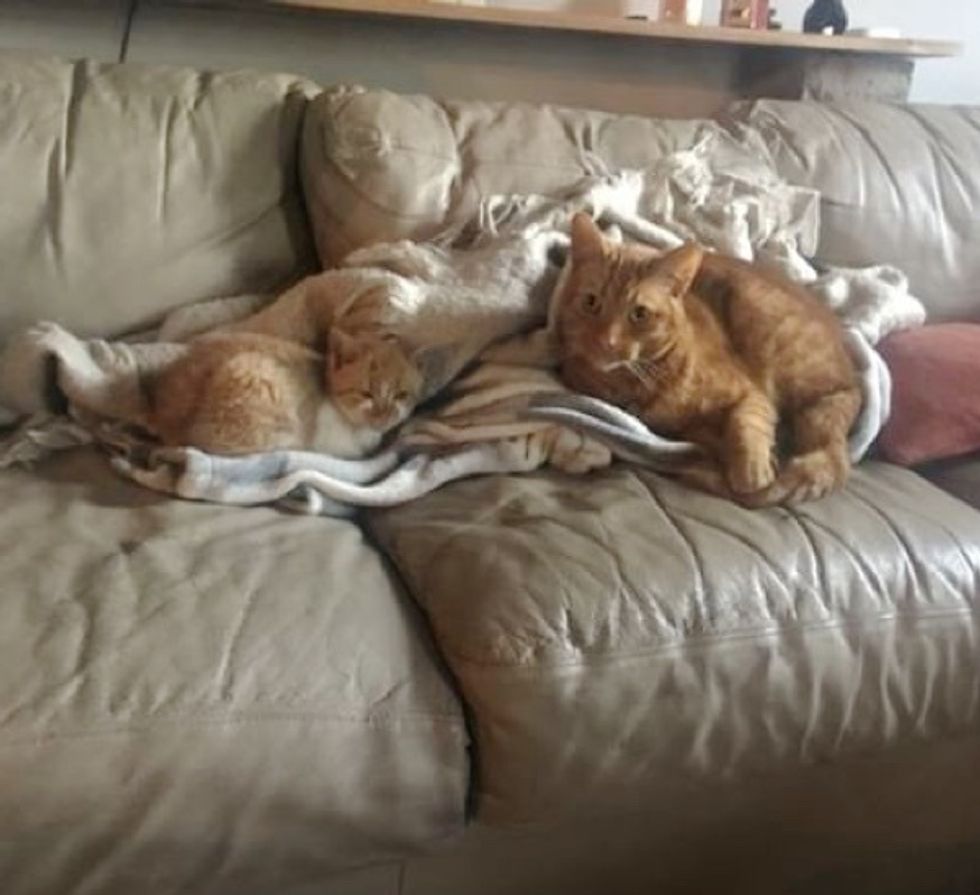 Caitlin Gillan
Their rescued puppy Payton adores her feline brother and is more than happy to be his full-time snuggle buddy.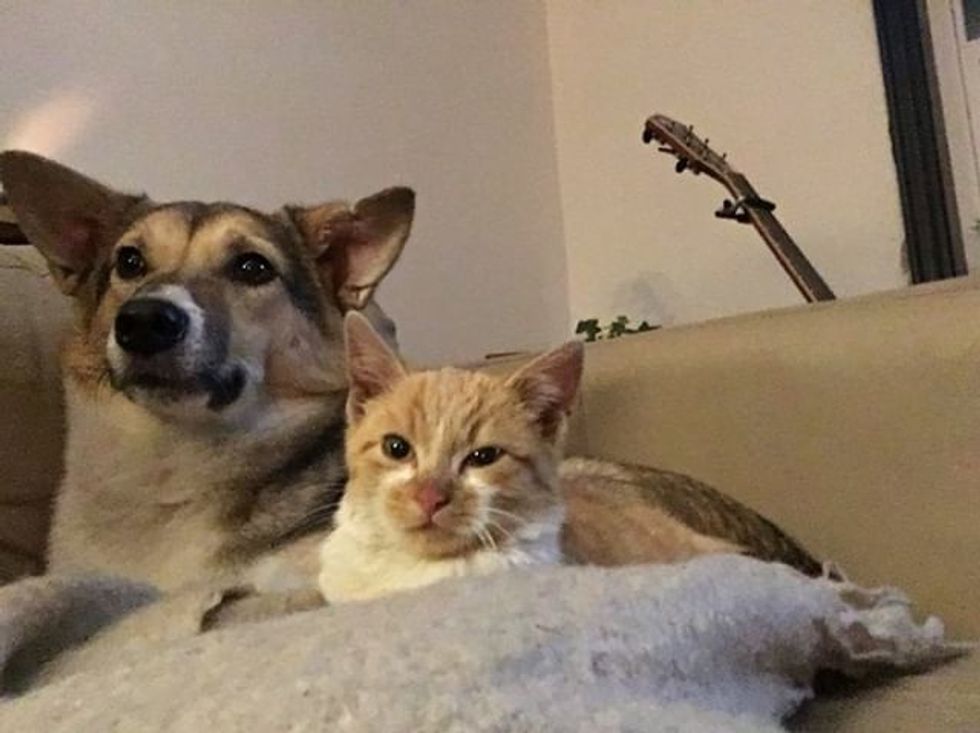 Caitlin Gillan
After months living on the streets, Tonks now has a warm home, plenty of good food and never lacks a cuddle.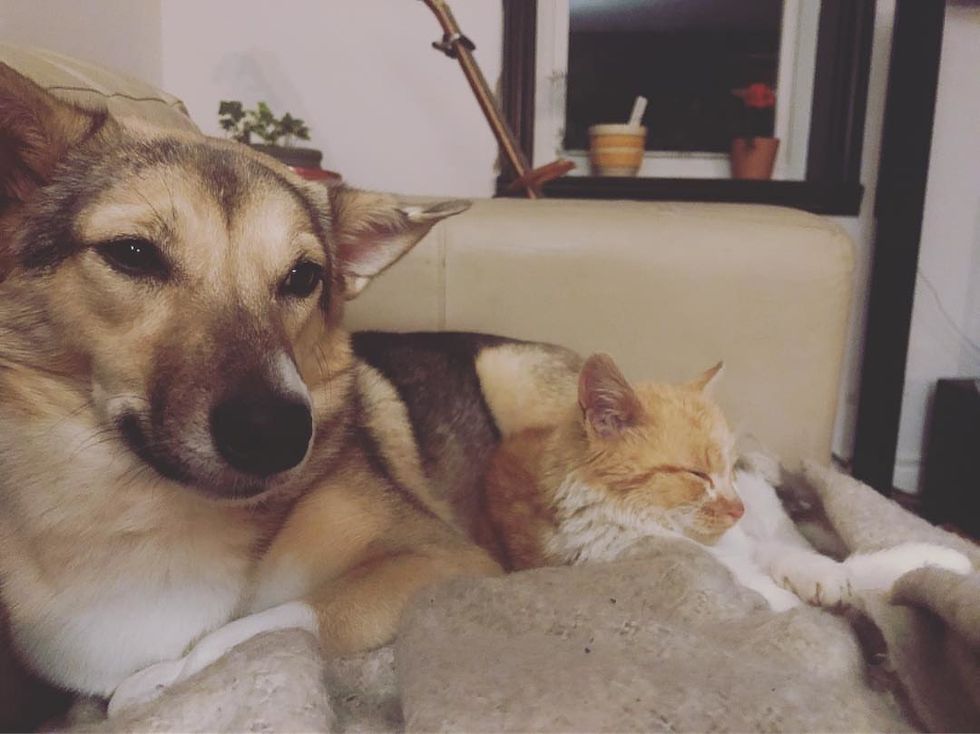 Caitlin Gillan
He loves his forever family!
Kitten found outside in the cold now has a forever homeyoutu.be
Share this story with your friends.

Related story: Kitten Found Cold on the Street Hours After Birth, Gets a Chance She Needed to Thrive