A kitten who was found alone outside, began to thrive when an orange cat took her under his wing.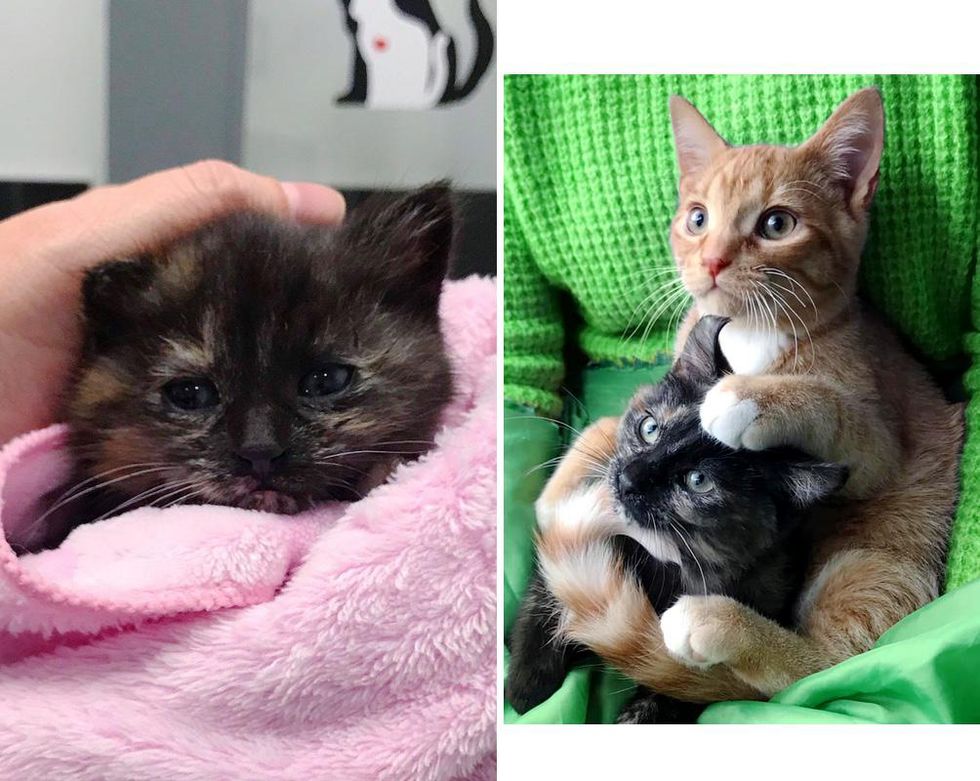 Chatons Orphelins Montréal
A tortoiseshell kitten was spotted wandering the streets without a mom or siblings. She was brought to a shelter in Montreal, Canada and in need of rescue. The tortie was just skin and bones, crying nonstop for attention.

Shelter volunteers reached out to local rescues and hoped to find the kitten a foster home that she deserved. As soon as Chatons Orphelins Montréal agreed to take her, they arranged transport and safely brought her to the rescue.
The pint-sized kitten named Ellie had a lot of growing to do. She was picked up by a foster volunteer, so she could start working on gaining weight in the comfort of a loving home.
The tortie was eager for company and would cry every time she was by herself.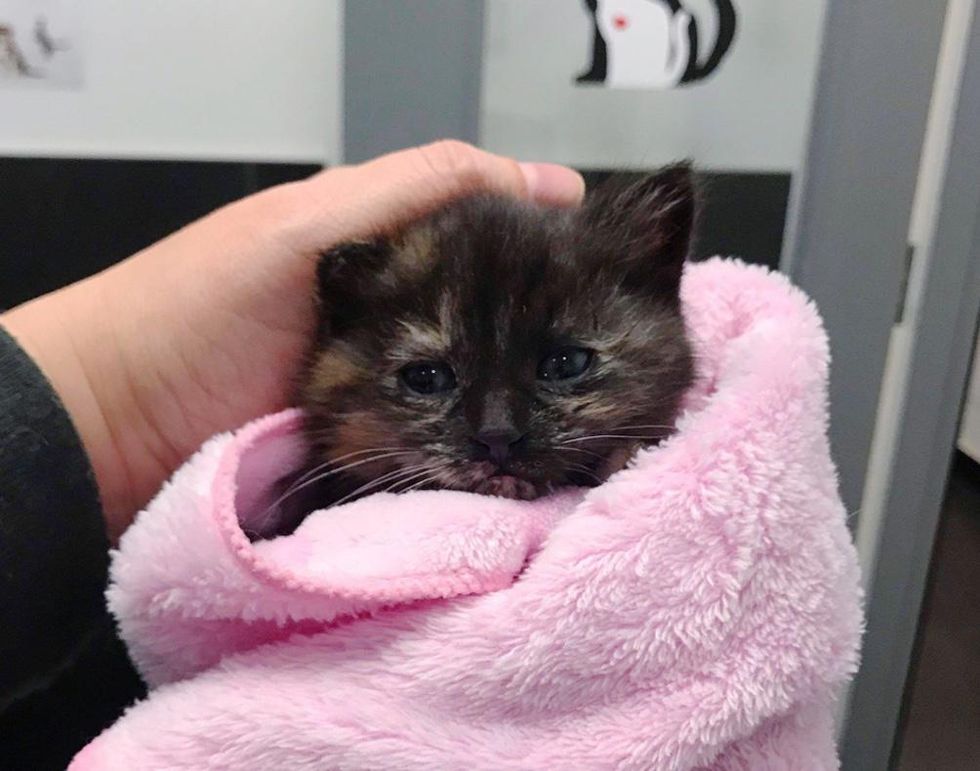 Chatons Orphelins Montréal
"She was very small and fragile and was closely monitored by her foster family. They made sure that she put on weight every day, and provided supplemental feedings around the clock," Chatons Orphelins Montréal shared with Love Meow.

As Ellie continued to make strides, her tortittude started to emerge. She was adamant about having a companion at all times, as if she never wanted to be alone again. With antibiotics, nutritious food and plenty of TLC, the kitten made a full recovery.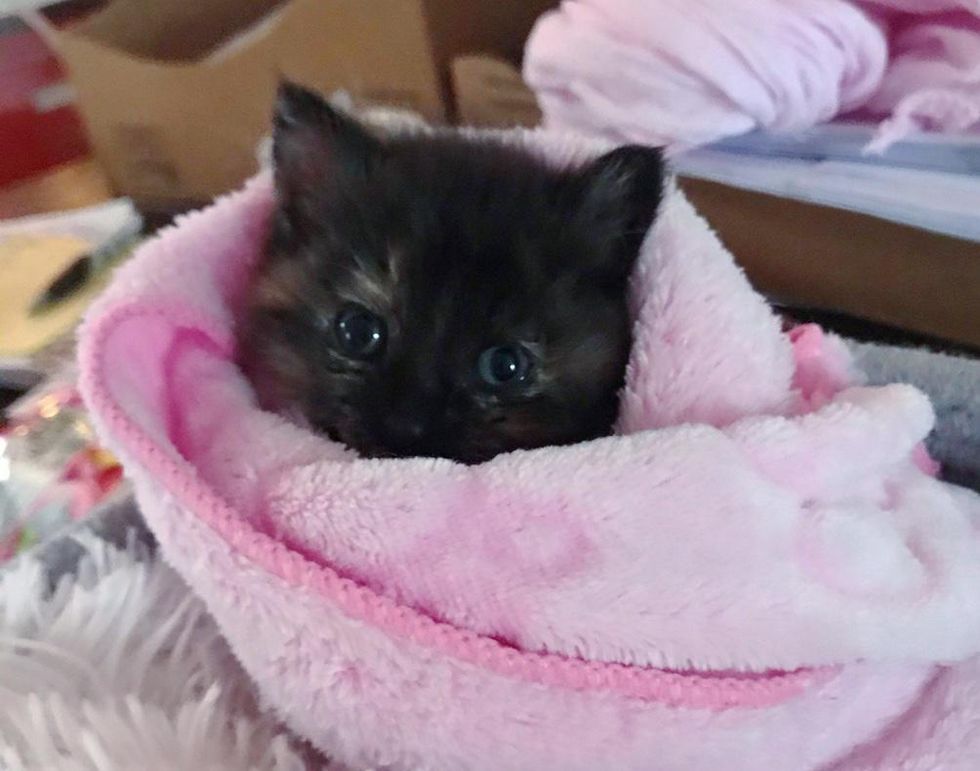 Chatons Orphelins Montréal
"She became lively and curious and had strength to walk around and explore," the rescue said. "She is a little purr machine and likes to put her paws on us when we work. She will groom her humans and doesn't want to be left out."

Ellie was persistent in having a constant buddy and wouldn't take no for an answer. The rescue thought they might just have the perfect solution for her.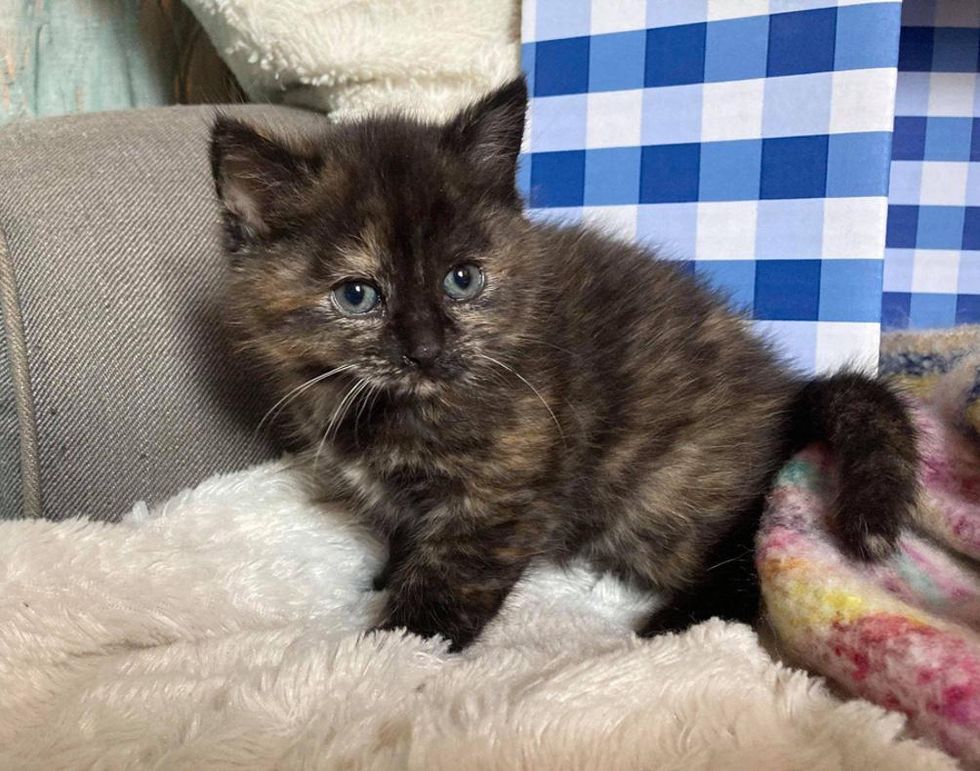 Chatons Orphelins Montréal
A couple of weeks prior to Ellie's arrival, a kitten named Maui was brought to the rescue along with his sister. Maui was in poor shape and very tiny for his age. His growth had been stunted due to health issues, and he needed intensive care to help get him back on his paws.

His sister grew big and strong, and eventually was adopted with another kitten that she had grown close to. Meanwhile, Maui still had some healing and catching up to do.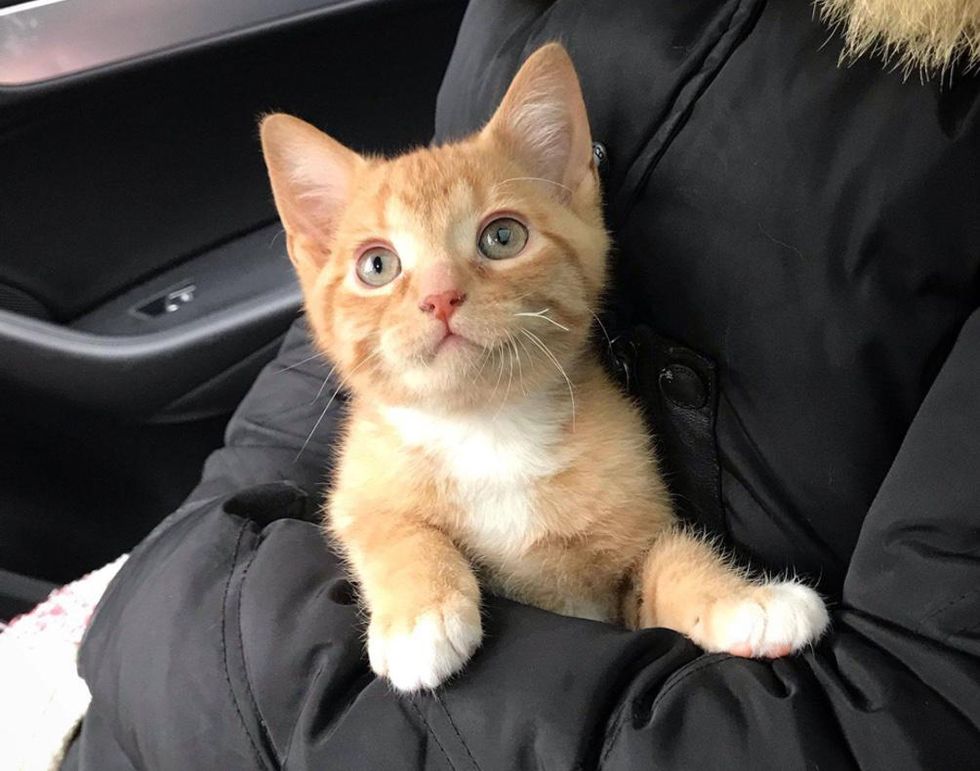 Chatons Orphelins Montréal
Despite being 1.5 months older, Maui was about the same size as Ellie. The rescue decided to pair them up so they would have a friend to play and snuggle with.

It was love at first sight when the two kittens crossed paths. After a meet-and-greet through their noses, they quickly hit it off and started playing together as if they had always been friends.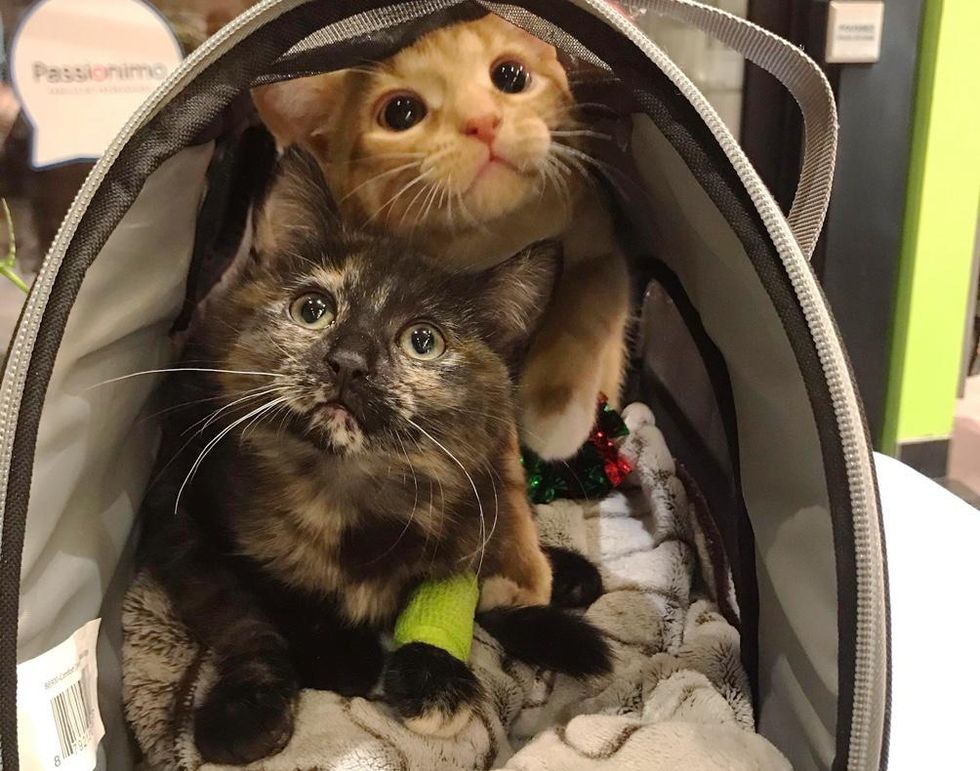 Chatons Orphelins Montréal
"They are not from the same litter, but behave like brother and sister," the rescue shared with Love Meow. "Maui and Ellie are so sweet and affectionate. They love to seek attention from their humans, and give each other hugs."

Maui the orange tabby has healed up nicely, and taken the tortie girl under his wing. When they are not scampering around the house, they are most likely cuddled up to each other, like two peas in a pod.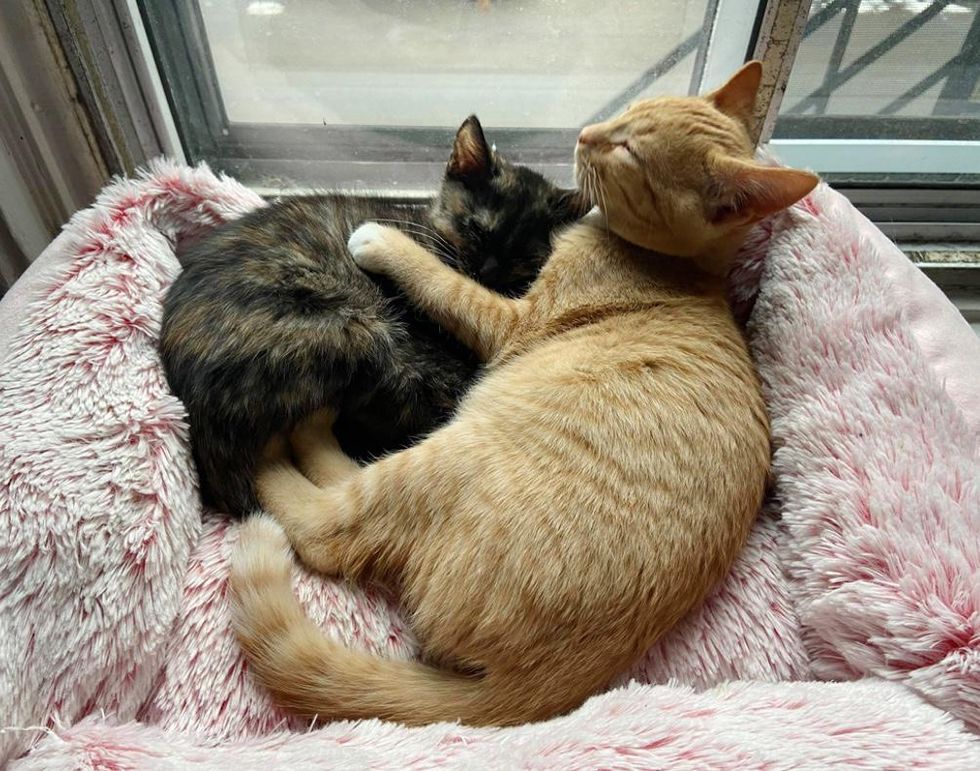 "They cuddle all the time and do everything together. When one of them goes to take a nap, the other will follow suit, and they will start grooming and cuddling with each other."

Maui adores his little sister and showers her with love and snuggles. Ellie looks up to him and enjoys being wrapped in his big paws.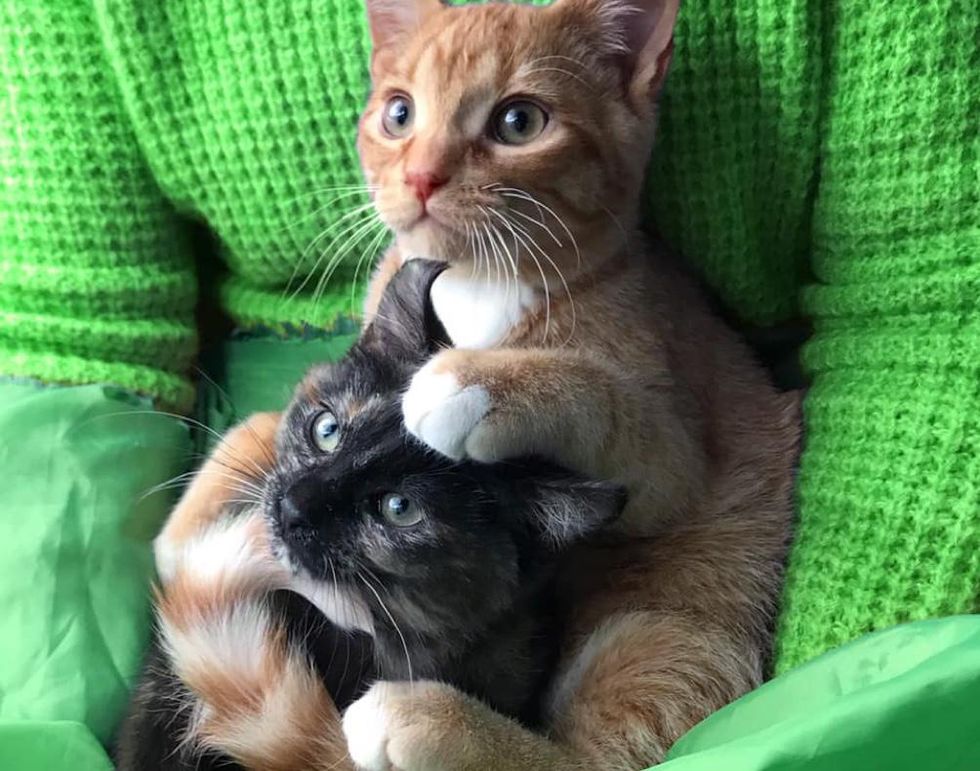 Chatons Orphelins Montréal
The two have developed a strong bond and can't be separated.
"They are looking for a special family that will take them home together and cherish them forever," the rescue added.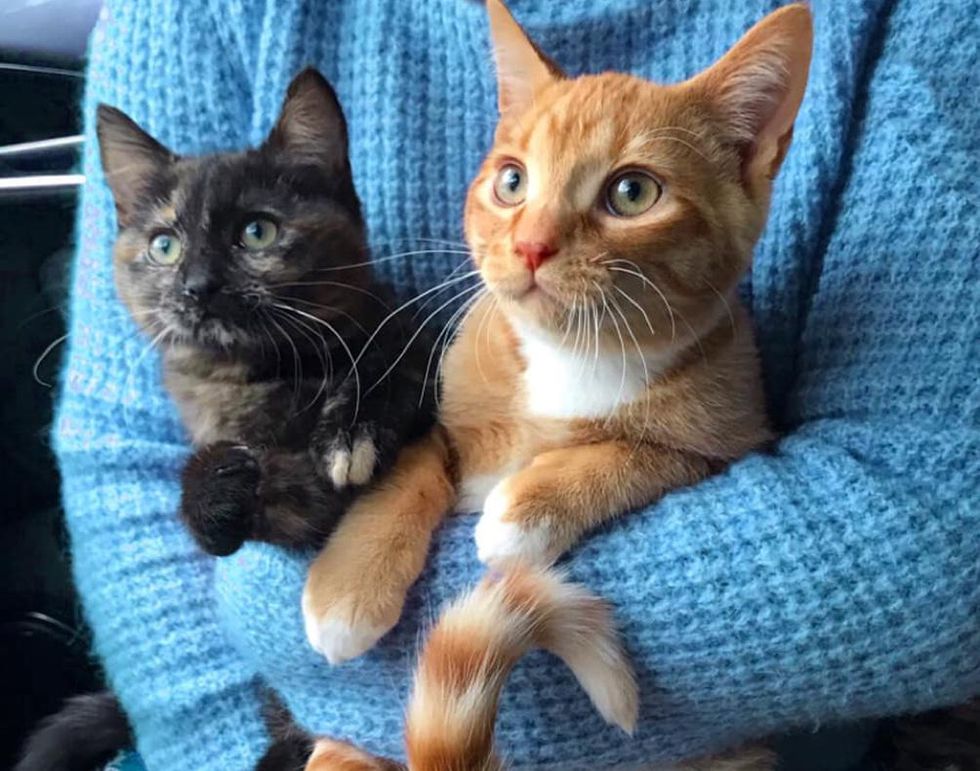 Chatons Orphelins Montréal
Ellie doesn't feel lonely any more with her big brother who keeps her on her toes and loves her to bits.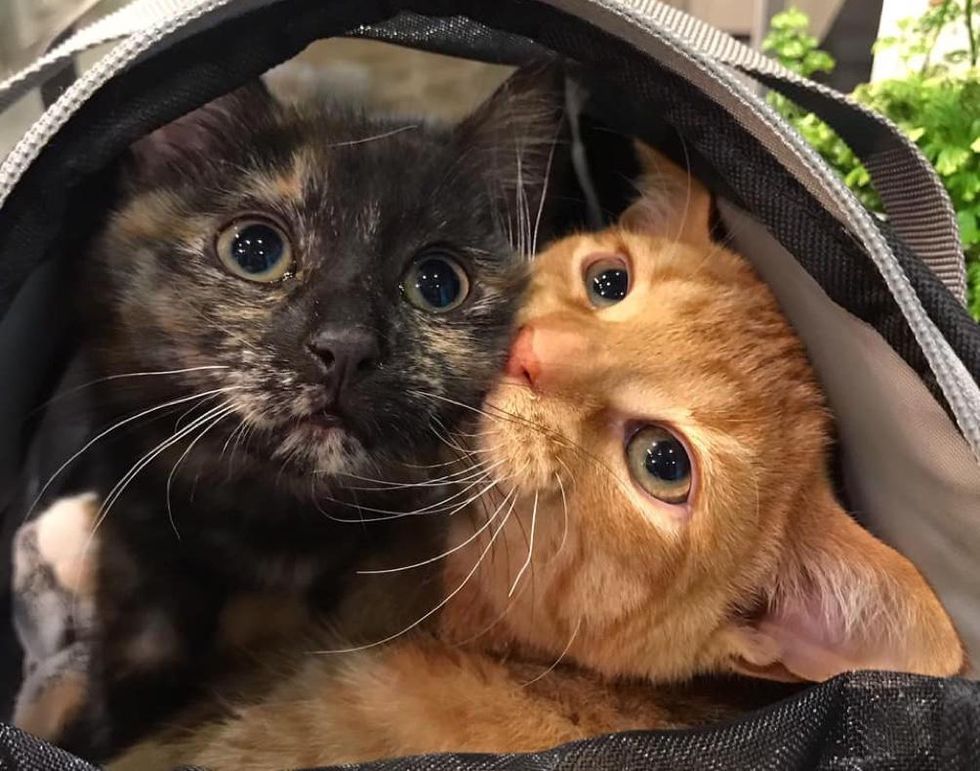 Chatons Orphelins Montréal
Share this story with your friends. Follow Chatons Orphelins Montréal on Facebook.
Related story: Kitten Sneaks Out of Her Room to Befriend New Kitten in Foster Home