A pair of bonded kittens insisted on staying together after being rescued.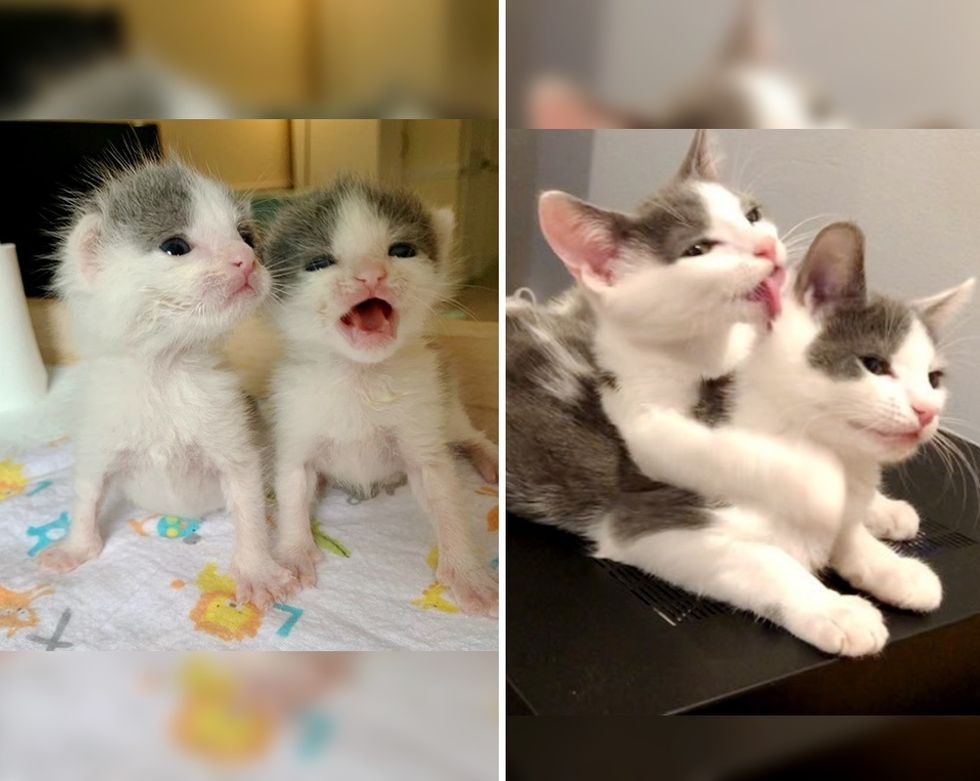 Earlier this summer, a litter of kittens was brought to the Animal Welfare League of Arlington in Arlington, Virginia for a chance at a better life. Volunteers at their Kitten College program worked tirelessly around the clock to care for them.

Two smaller litter mates were in need of extra attention. Lauren Strycula, a foster volunteer of the rescue, stepped in to help and brought them home.
The little bundles of fur huddled up, keeping each other comforted for the first few days. They were so tiny and fragile and had a few health issues to battle. Jace, the little brother, had a rough start and took a while to figure out how to eat from a bottle. Jackie, the sister, would wriggle up to his side to keep him company.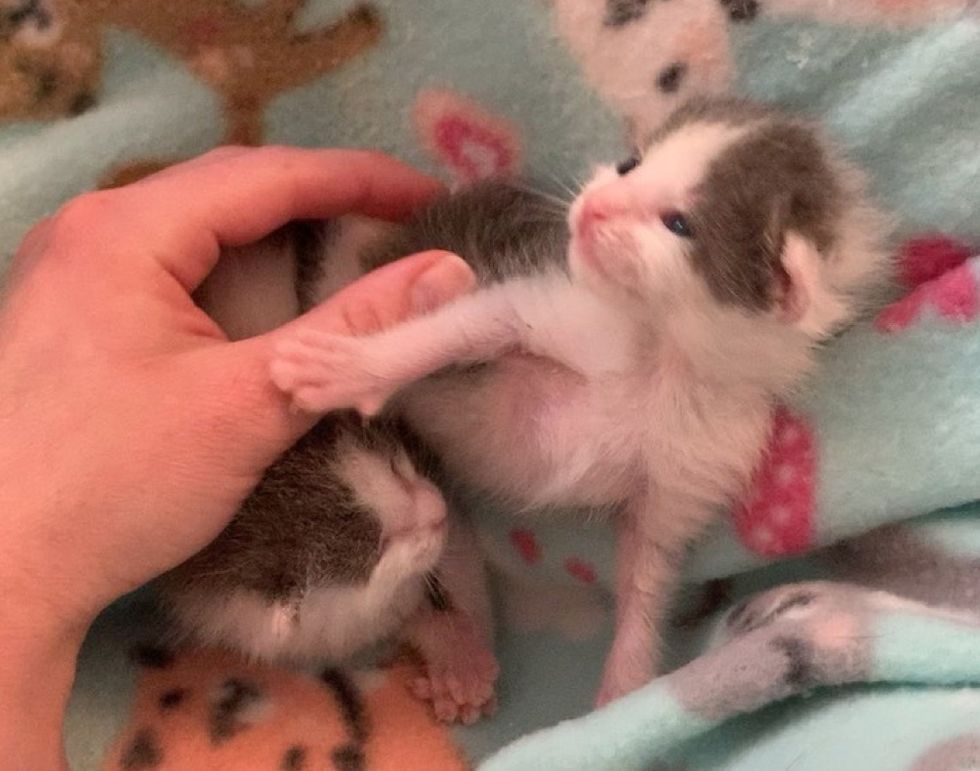 Lauren @our_fostering_tails
With meds and painstaking care, the twins began to perk up, seek affection and make significant weight gains. When Jace started wiggling his ears while he gobbled down the food, it made all the hard work and sleepless nights worthwhile.
Jackie mirrored his energy and became more motivated than ever to eat and play. They kept each other's spirit up and continued to make strides.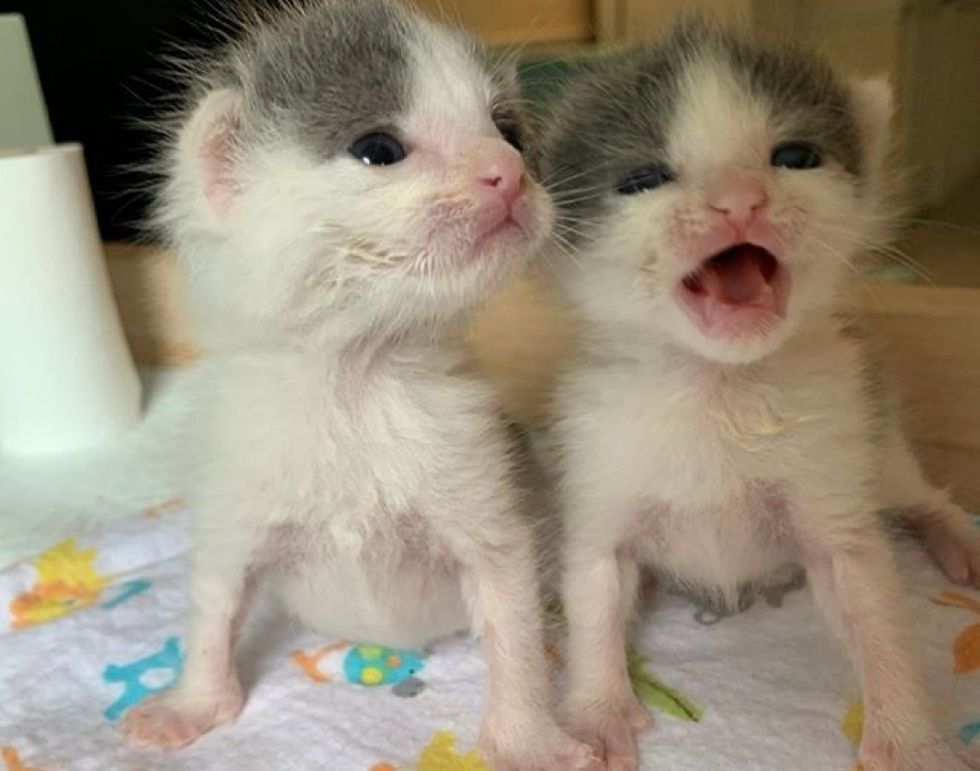 Lauren @our_fostering_tails
Over the next few weeks, the pair really blossomed. They took their first steps outside their nest, figured out the litter box, and learned to eat from a dish together, side by side.

Despite looking nearly identical, the kittens have distinct personalities. Jace is the mischief-maker and Jackie is the mellow sister. Together, they make a dynamic duo.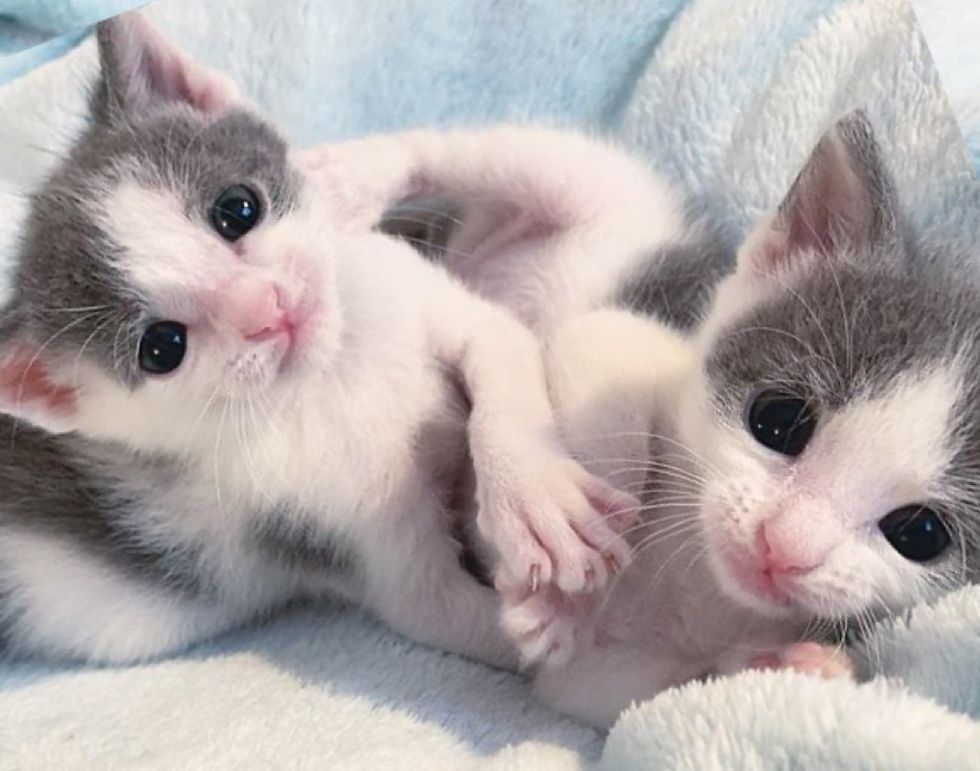 Lauren @our_fostering_tails
When they were big enough to spread their wings and fly, Lauren knew they needed a family that would open their heart to both of them.

Alexandra and Bryan were looking for a new addition to join their family when they came across the Animal Welfare League of Arlington. They saw Jace and Jackie on Instagram and were instantly smitten. They reached out to the rescue and turned out to be the perfect match for the kittens.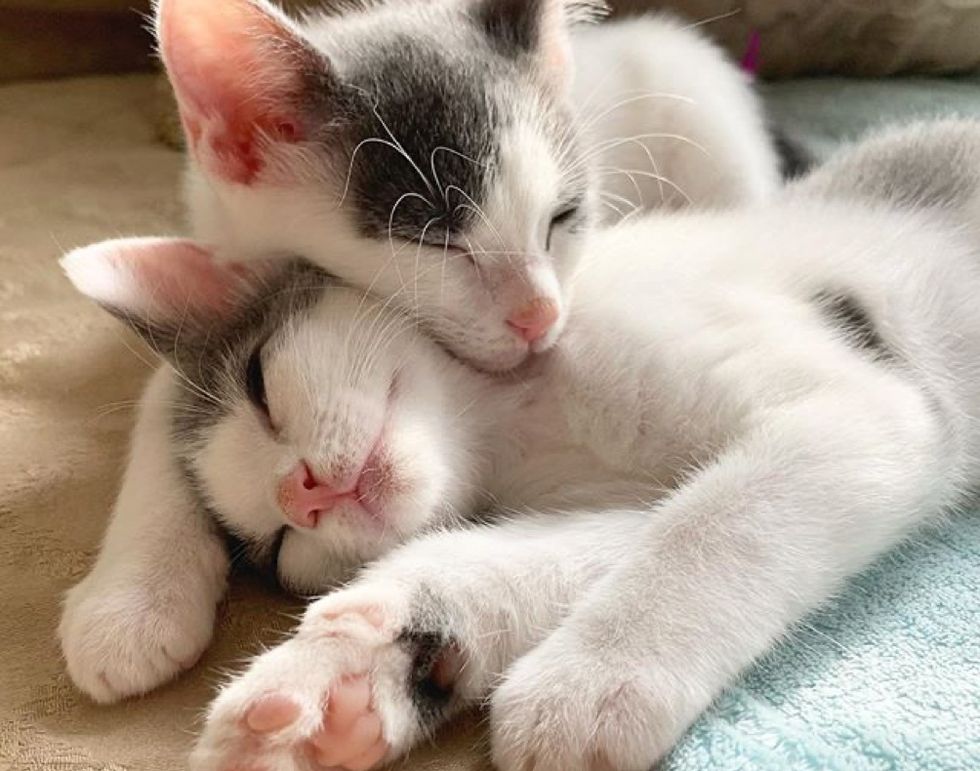 Lauren @our_fostering_tails
"I will always remember the kittens' contagious joy for life, their immediate trust towards anyone they ever met, their silly and infectious personalities, and their sweet love for each other," Lauren wrote. "My part in the twins' story may be ending but their happily ever after starts now."

Watch the kittens' journey in this cute video:
Kitten Best Friendswww.youtube.com
The kittens quickly settled into their new abode. They came out of their carrier and began to explore every nook and cranny, together.

"Slowly but surely we exposed them to the rest of the house. Within a few hours of coming home, they were bouncing off the walls and full of energy," Alexandra told Love Meow.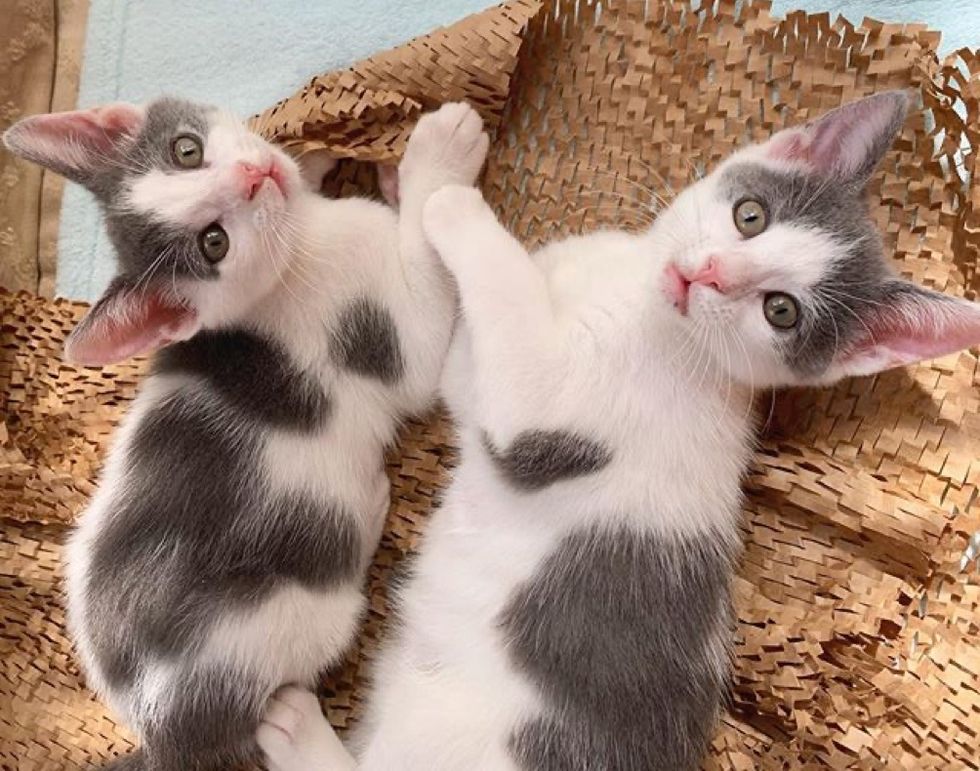 Lauren @our_fostering_tails
"Around midnight that night, Dad found some cat music engineered to help cats calm down. The next thing we knew, they had jumped into bed with us and snuggled right up to us!"

The kittens, now renamed Whiskey (brother) and Pippa (sister), spent their first night switching between mom and dad. "The following morning Whiskey snuggled on Dad's shoulder and fell asleep with his face buried in his beard!"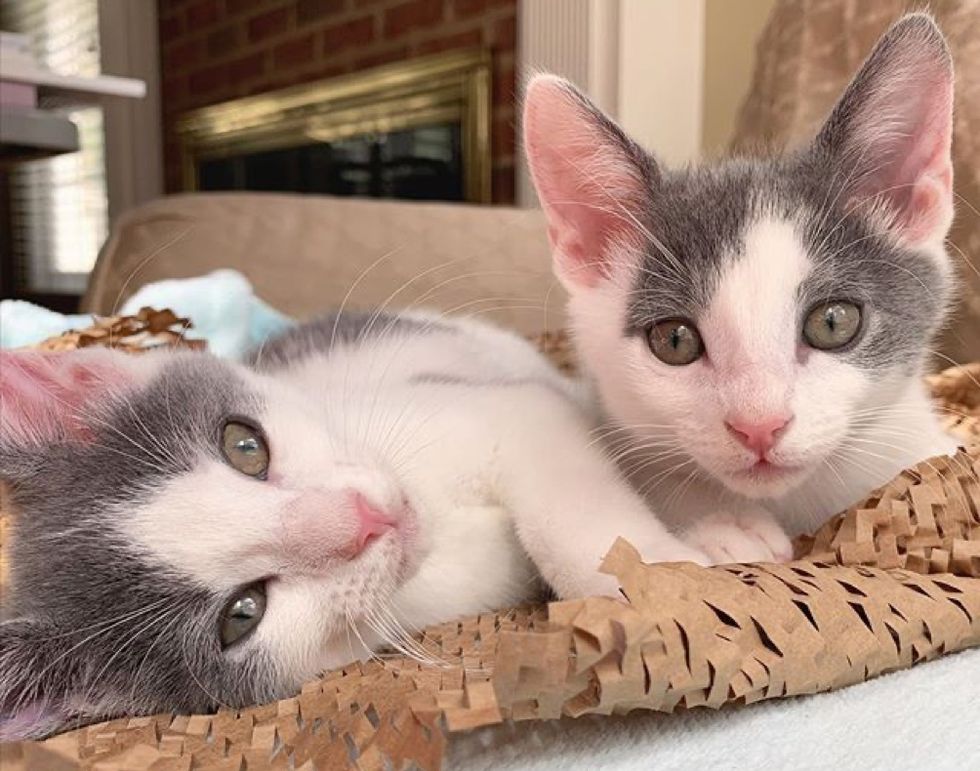 Lauren @our_fostering_tails
The adorable brother and sister share an incredible bond. They are always within eyeshot of each other and will not do anything without their partner in crime.

"They play together nonstop. They cry for each other when they lose track of each other," Alexandra shared with Love Meow.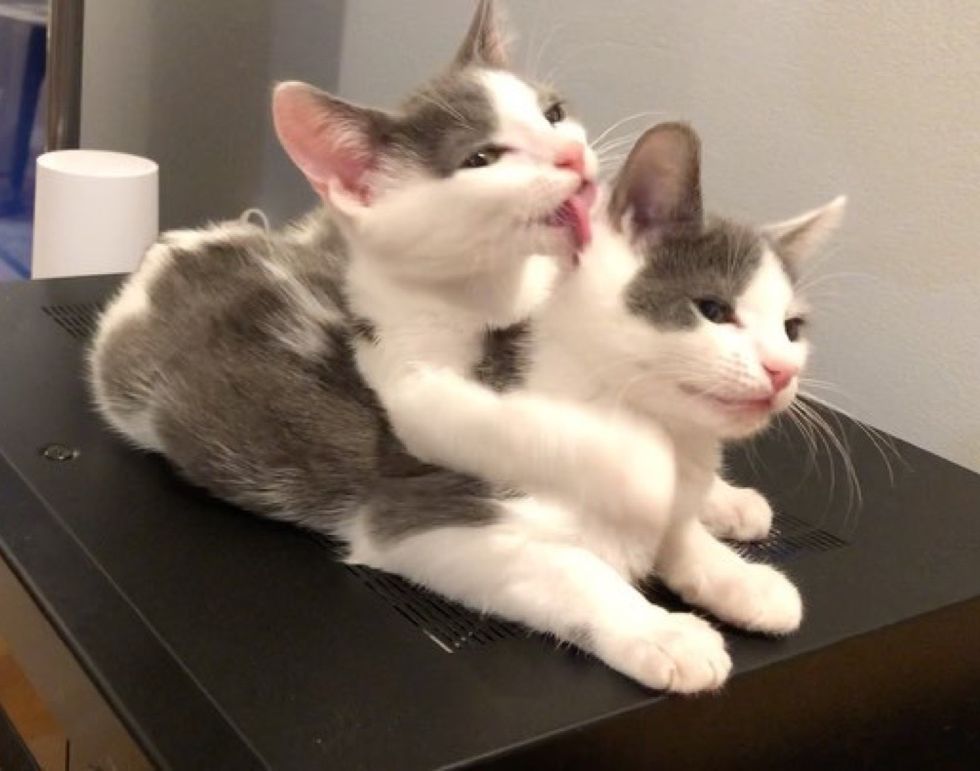 Alexandra and Bryan @whiskeyandpippa
"They sleep together and eat together. They've even used the litter box together side by side. They love their toys, and they love to rough house."

The two best friends enjoy scampering around the house, running at full speed and jumping up and down the furniture. They rub off on each other, living their best twin life.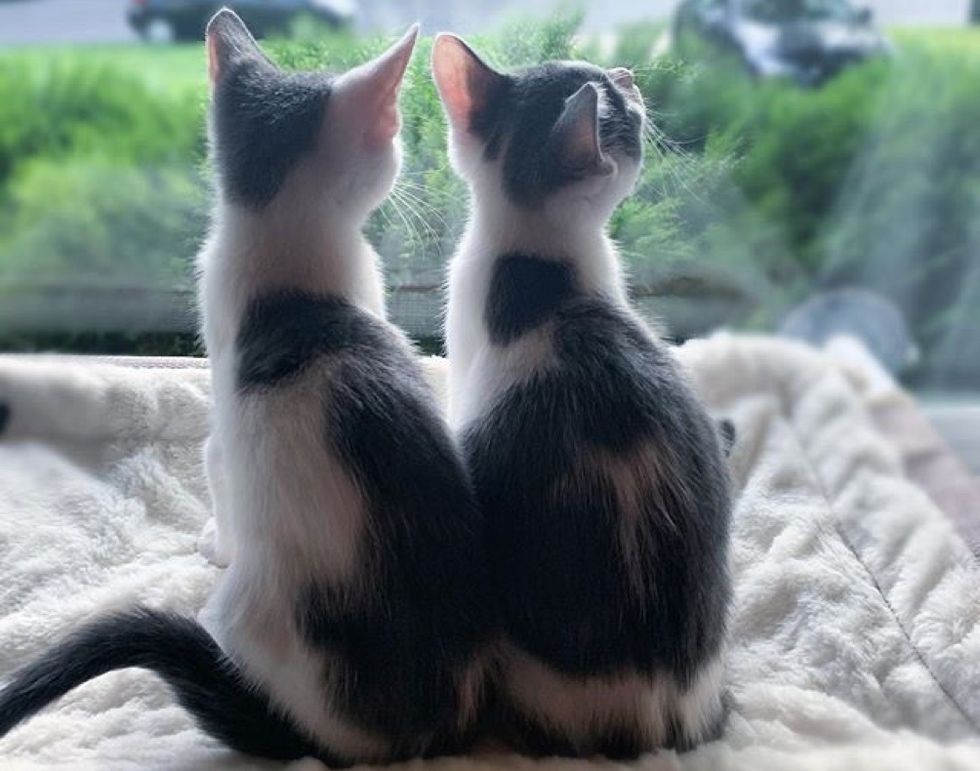 Alexandra and Bryan @whiskeyandpippa
"They love laying in their window hammock during the day watching people walk by with dogs - the birds are especially intriguing. When they aren't running wild, they're quick to jump up on our laps and snuggle up to us with the loudest purrs," Alexandra said.

The two besties are not shy of making demands and asking for attention. If a warm lap is not immediately available, they'll tap their humans' legs or arms, and won't take no for an answer.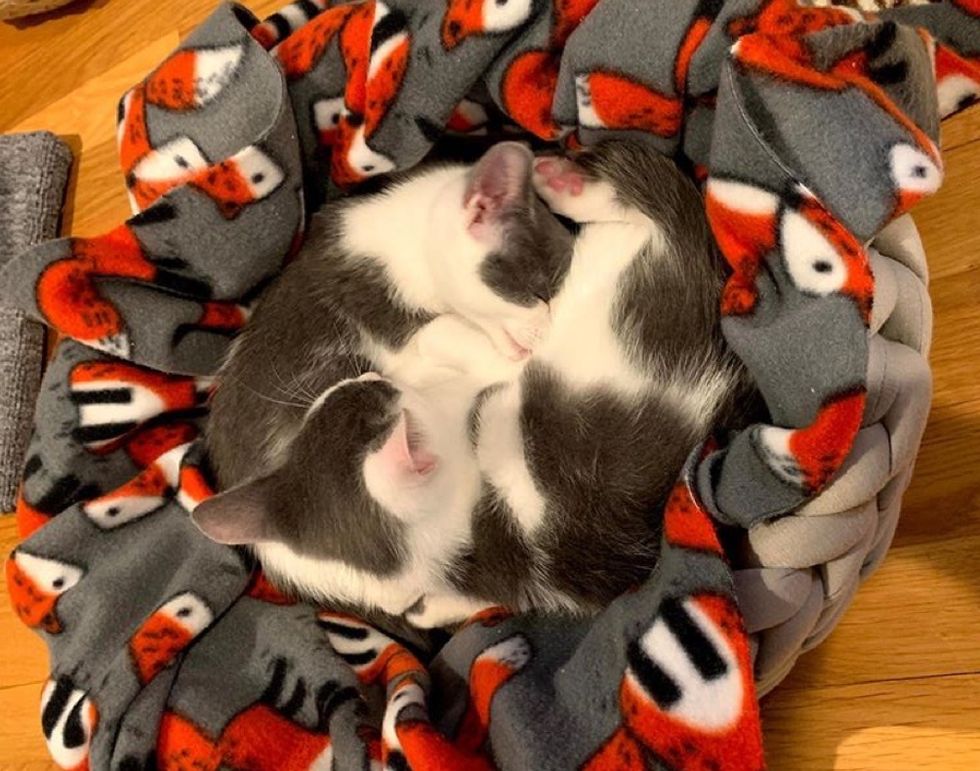 Alexandra and Bryan @whiskeyandpippa
"Their love for each other is truly the sweetest thing. We are so happy we were able to keep them together, and hope others thinking of adoption see their story and consider adopting in pairs."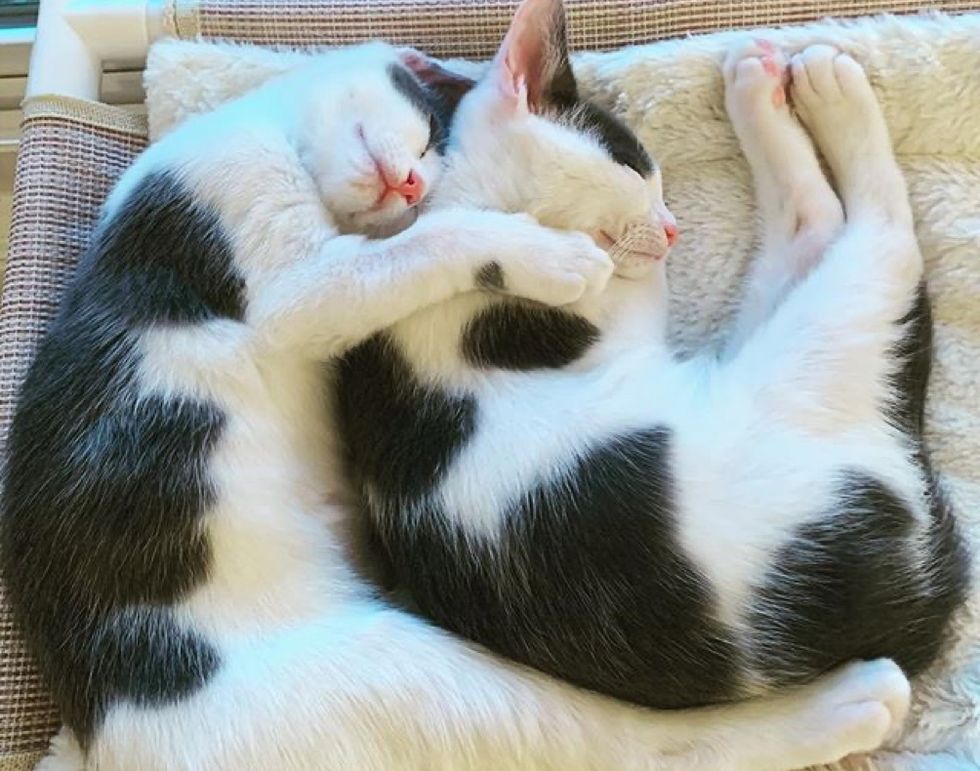 Alexandra and Bryan @whiskeyandpippa
Share this story with your friends. Follow Whiskey and Pippa on Instagram. Follow Lauren's foster kitties on Instagram.
Related story: Kitten with Unusual Coat is Taken in By Cat Family After Being Found on Sidewalk