Five kittens who were found as orphans, turned out to be the sweetest lap cats with so much to give.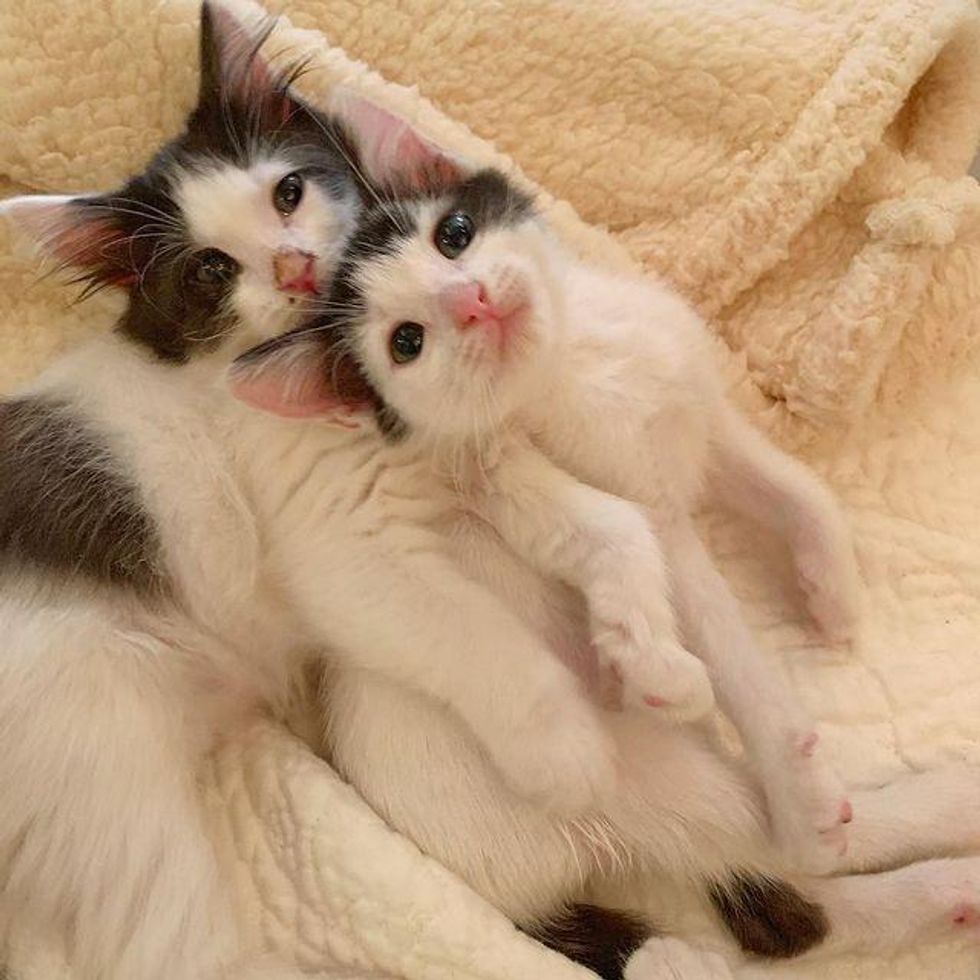 Molly @nycfosterkittens
Earlier this year, a litter of five kittens were brought to Meow Parlour, a cat cafe and an animal rescue in New York City, for a chance at a better life. Christina Ha, one of the founders of Meow Parlour, took them on and started bottle feeding them around the clock.

The kittens thrived in foster care. Once they were weaned, they were transferred to Molly, a volunteer of the rescue, for socialization. "I'm a teacher. Since we had so much time on Zoom throughout the past year, my 5th grade students had a window into my world of fostering and got very involved in the process," Molly told Love Meow.
The students offered to help name the kittens, and they took the task very seriously. After many conversations, the five were lovingly called Kanta, Mei, Totoro, Satsuki and Kiki, after characters from a Japanese animation film studio.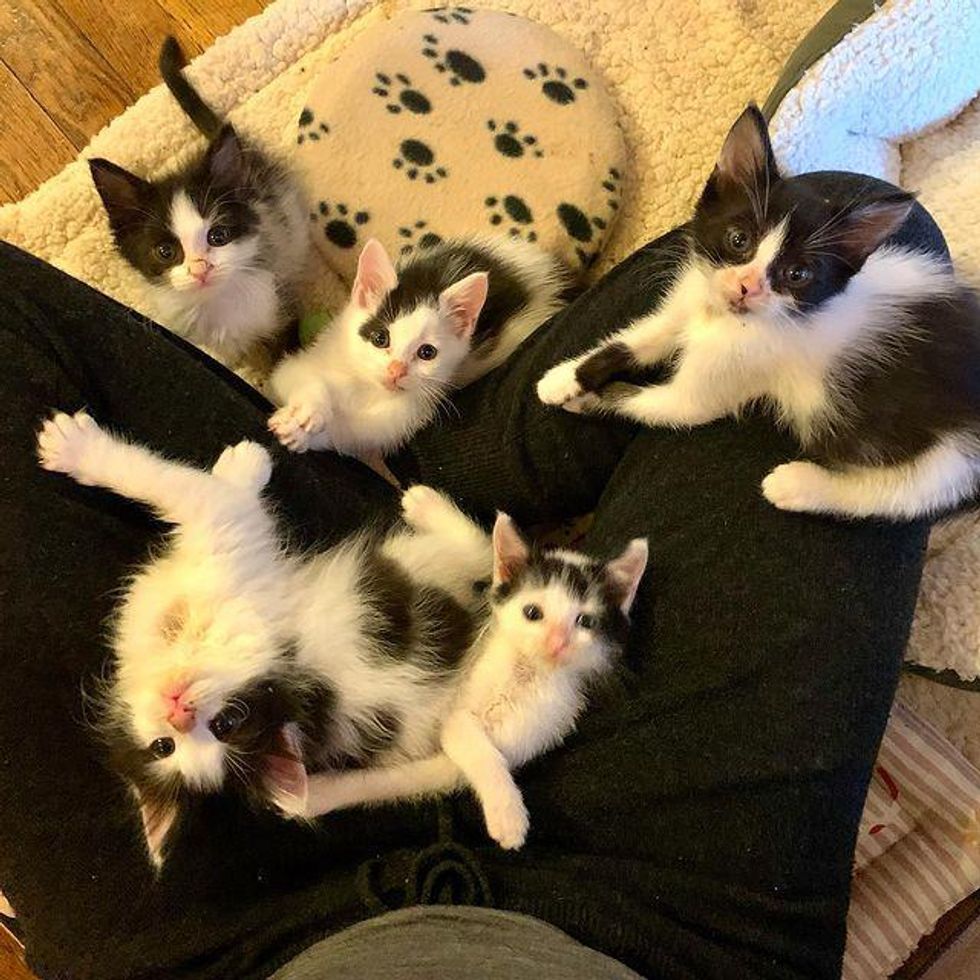 Molly @nycfosterkittens
As soon as the kittens discovered Molly's lap, they collectively decided to swarm onto it. Molly realized that whenever she sat down on the floor, she would soon be covered in purring kittens.

"These kittens were so sweet and loved humans so much. When I got home from school, I'd sit down on the floor and all five would soon be curled up in my lap — which got pretty hilarious when they got bigger," Molly shared with Love Meow.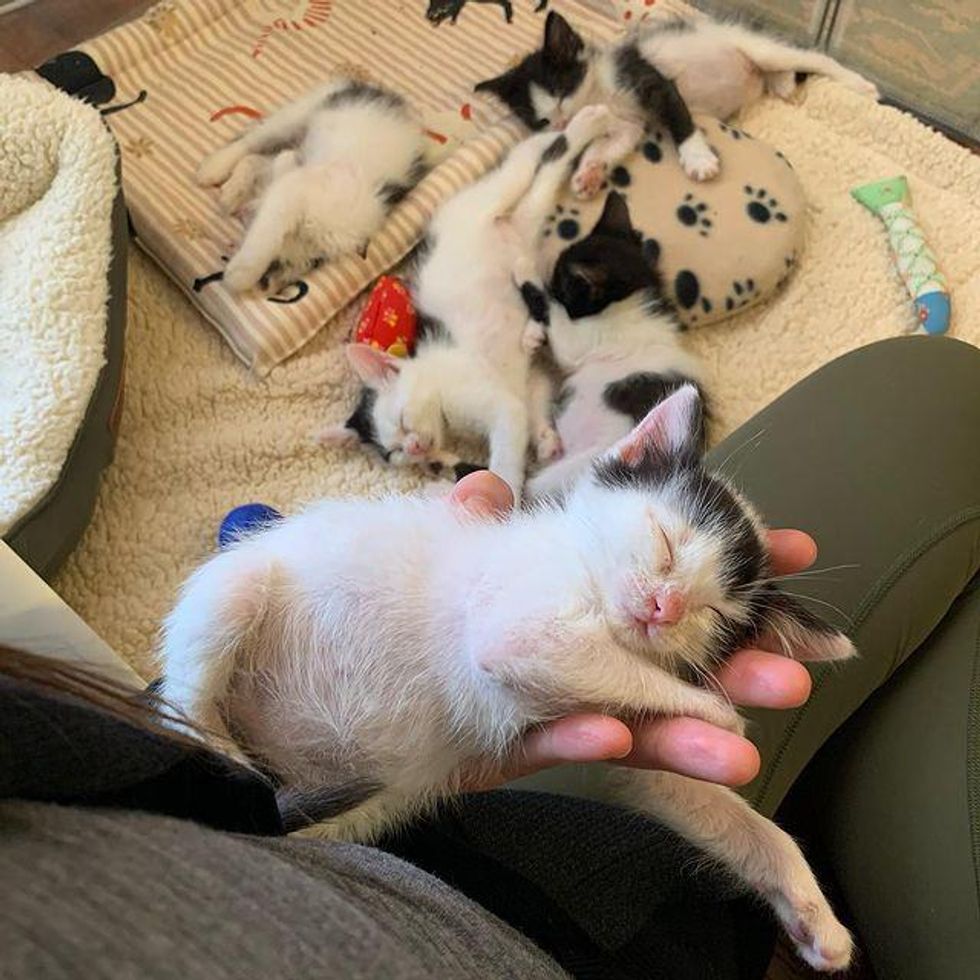 Mei was the runt of the litterMolly @nycfosterkittens
It quickly became routine where the kittens would gather around anticipating their next lap session.

They would unapologetically drape their liquid-like bodies over Molly's legs or wrap their arms around them. These adorably tenacious kittens turned into the sweetest lap cats and cuddle-bugs.
Molly @nycfosterkittens
Whenever Molly's lap wasn't up for grabs, the kittens would take over the big bed and fill their room with thunderous purrs. As soon as Molly picked up a broom to clean the room, the kittens came running as a clowder to offer some "help."

After "assisting" their human with chores, the five would happily crawl onto Molly's lap for a much-needed snuggle-fest. They enjoyed lounging together with their favorite person between play times.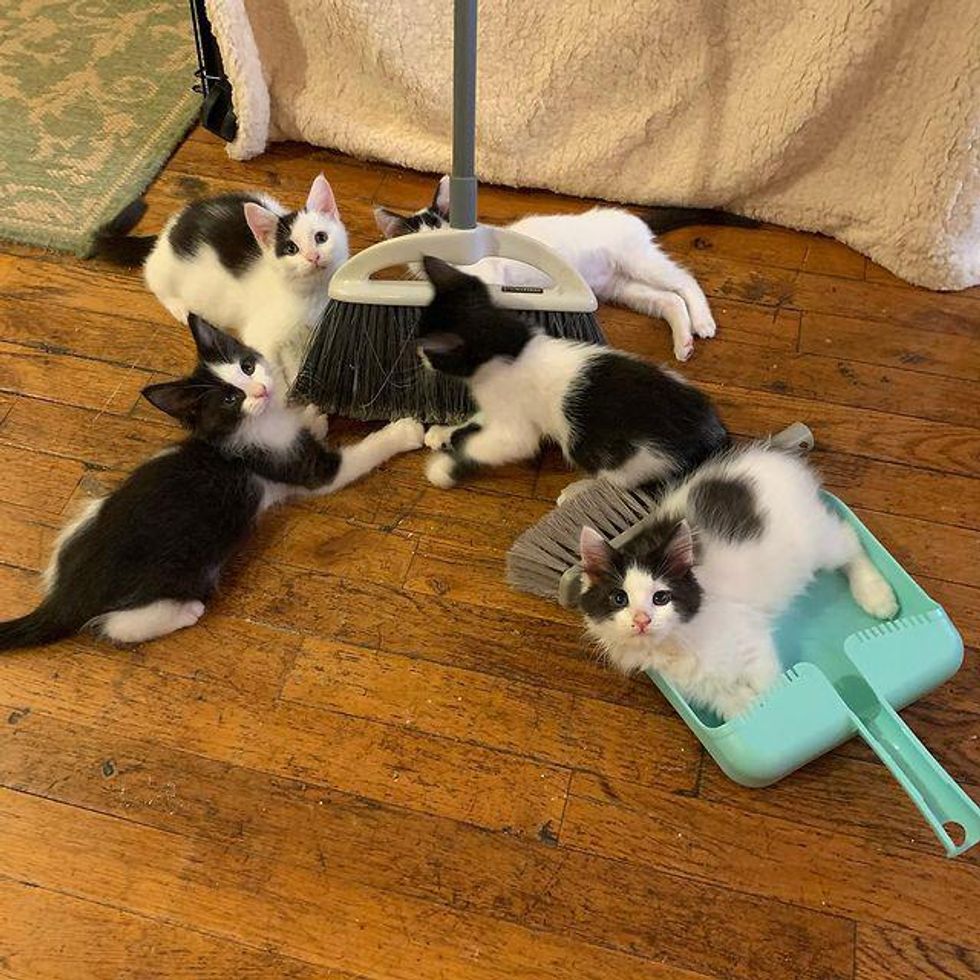 The kittens tried to offer a helping pawMolly @nycfosterkittens
"Kiki can often be found sitting in a dignified, gentlemanly position. He is happiest near his human," Molly wrote.
"Mei has always been the smallest, so for a while, she was singularly dedicated to eating and sleeping in order to hit two pounds! Now that she has, she's very playful and roly-poly with her siblings."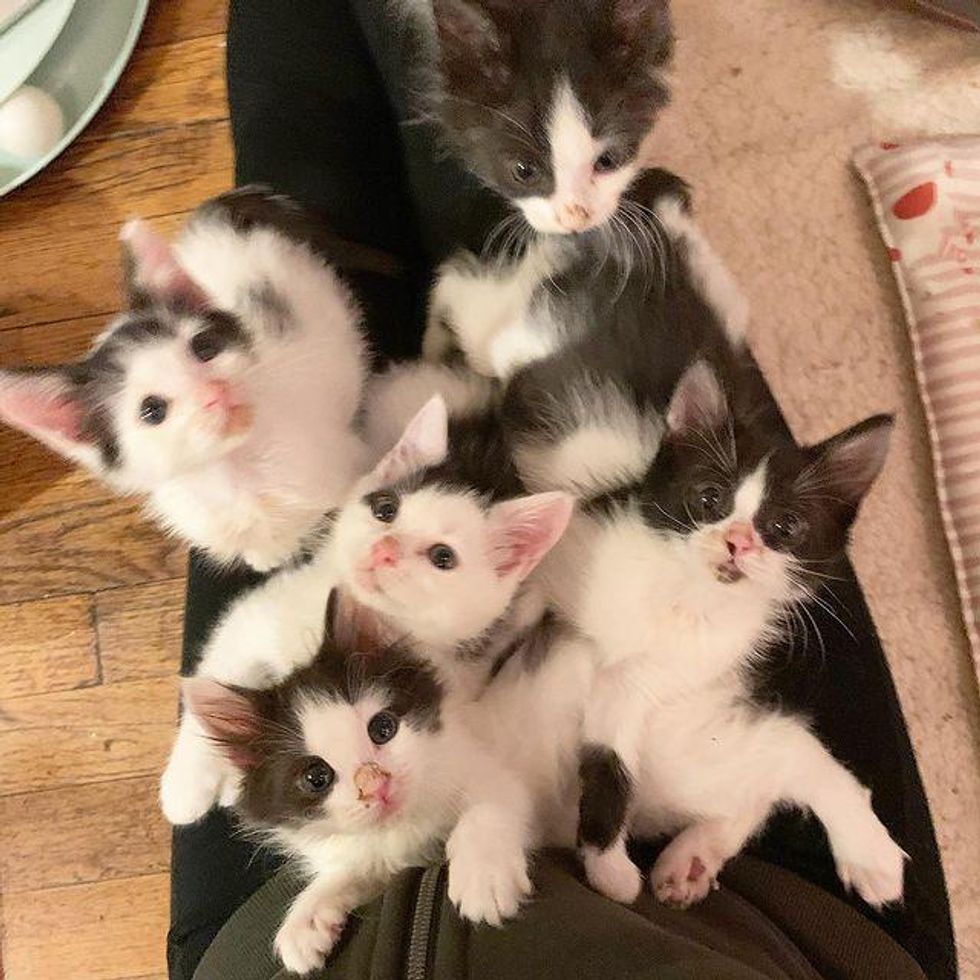 Molly @nycfosterkittens
"Satsuki is a total lover and will wedge herself into any position in order to cuddle up with her human. She sleeps on her back and purrs as you rub her soft belly.
"Kanta is almost always casually leaning on his human, or his second love, shoes. Totoro is a confident explorer, and nuzzles her wet nose into your hand for face rubs."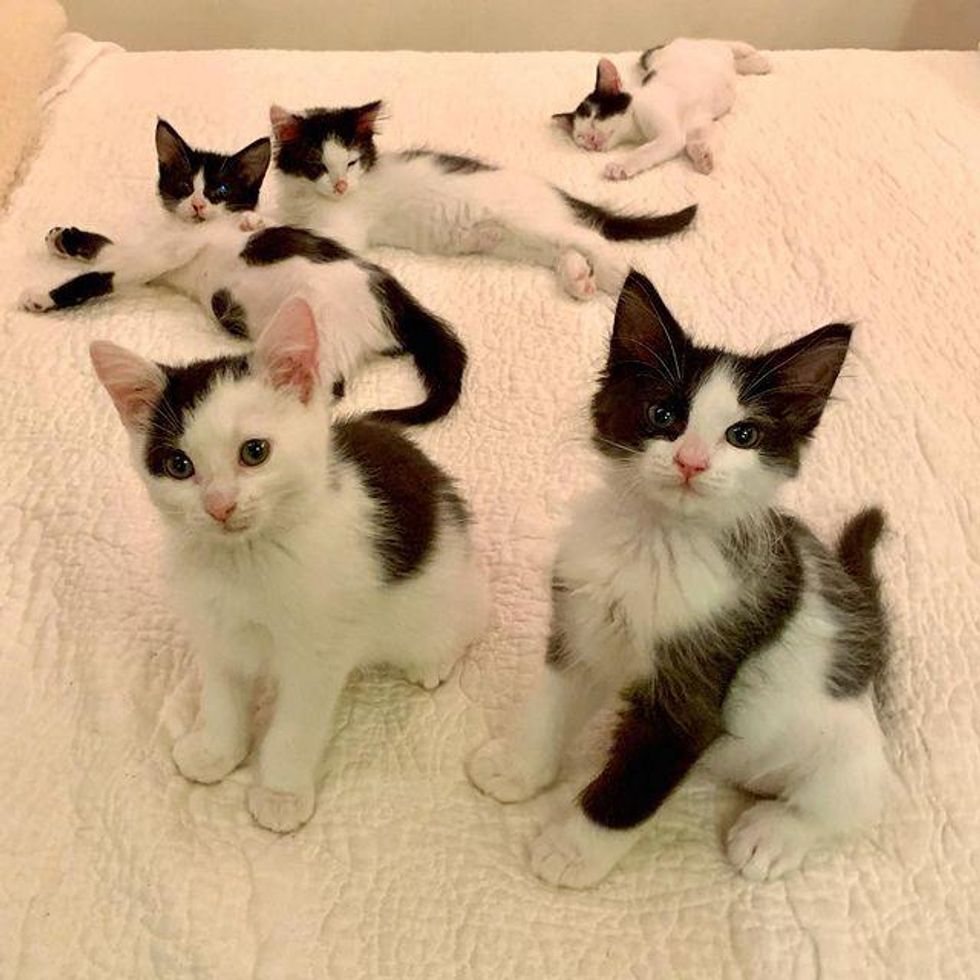 They took over the big bedMolly @nycfosterkittens
When the litter of five were big enough for adoption, Molly hoped to get them into good homes where they would always have a buddy to roughhouse and snuggle with.

It didn't take long for Satsuki and Mei to find their dream home together. "While all five kittens love each other, these two definitely share a special bond. I'm so glad they will always have each other," Molly shared with Love Meow.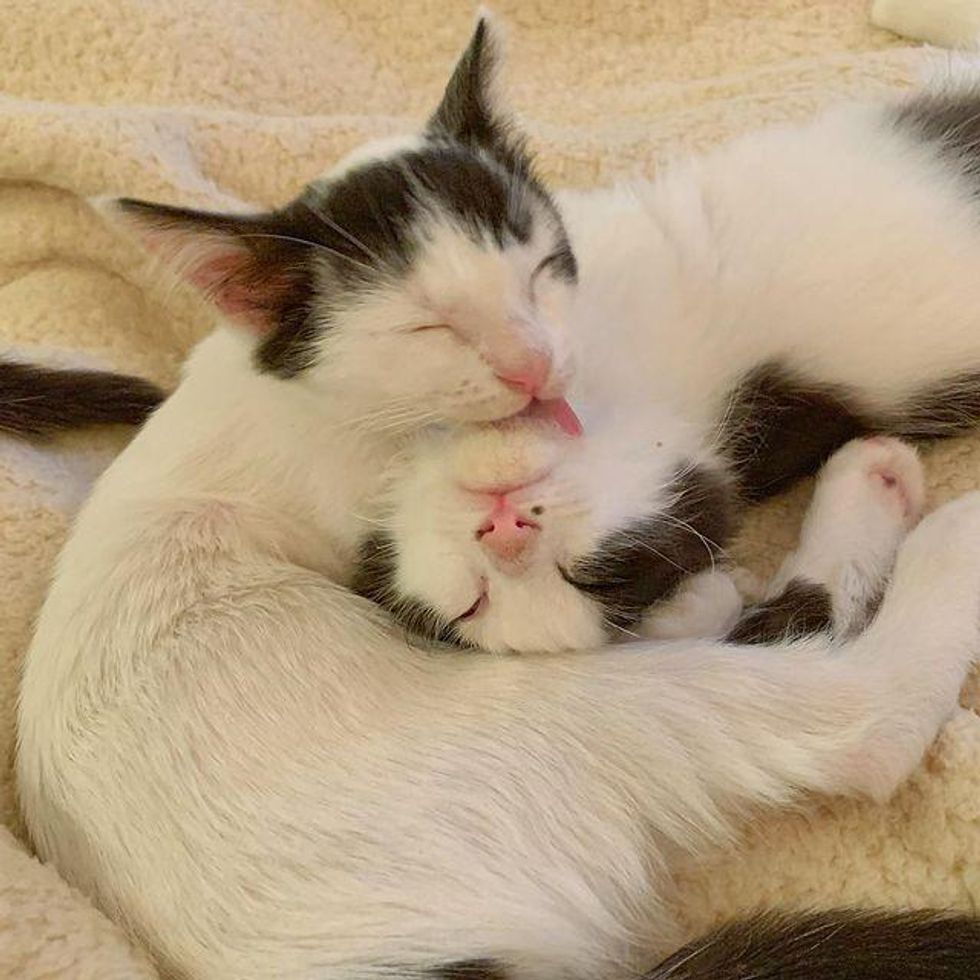 Mei and SatsukiMolly @nycfosterkittens
Kiki and Kanta will be playmates and cuddle buddies for the rest of their lives as they were adopted as a pair. Totoro landed the perfect family with a feline sister, Ziggy, who is also a black and white cat.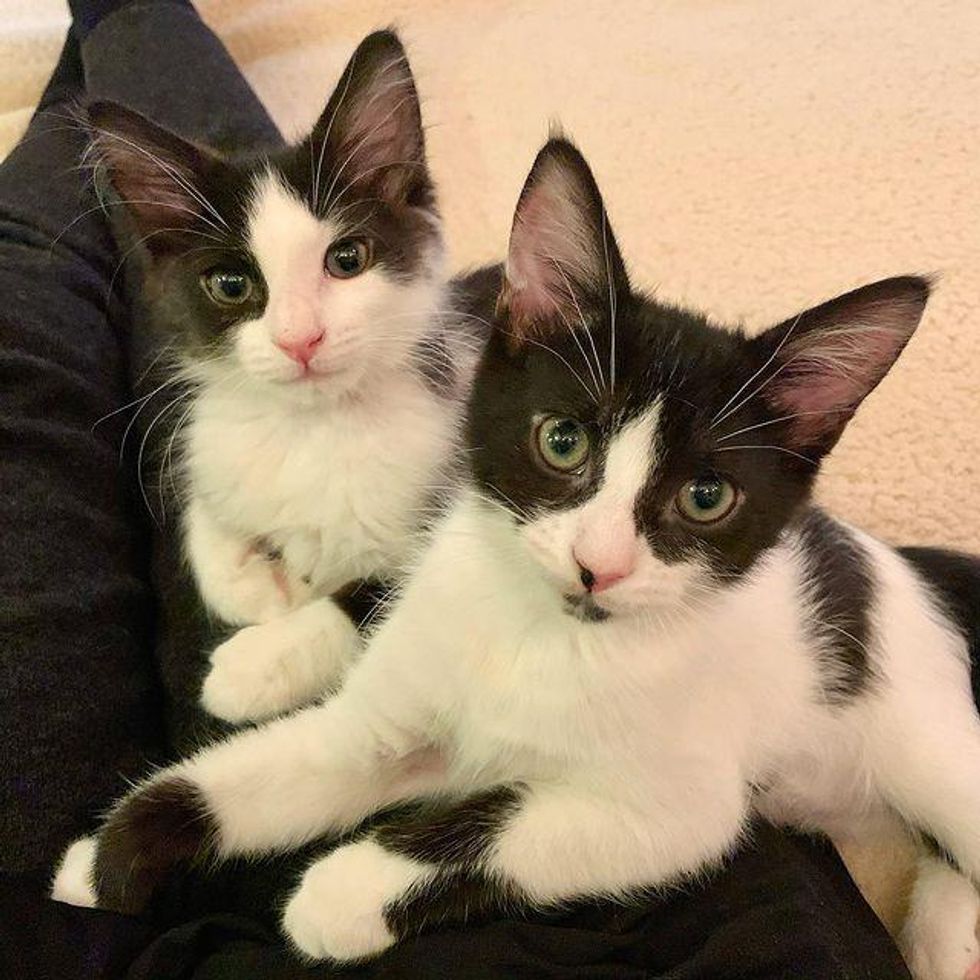 Kiki and KantaMolly @nycfosterkittens
The five little orphans have blossomed into beautiful young cats with so much to give. They love their lives as spoiled indoor kitties and enjoy their happily ever after with their forever humans and feline siblings.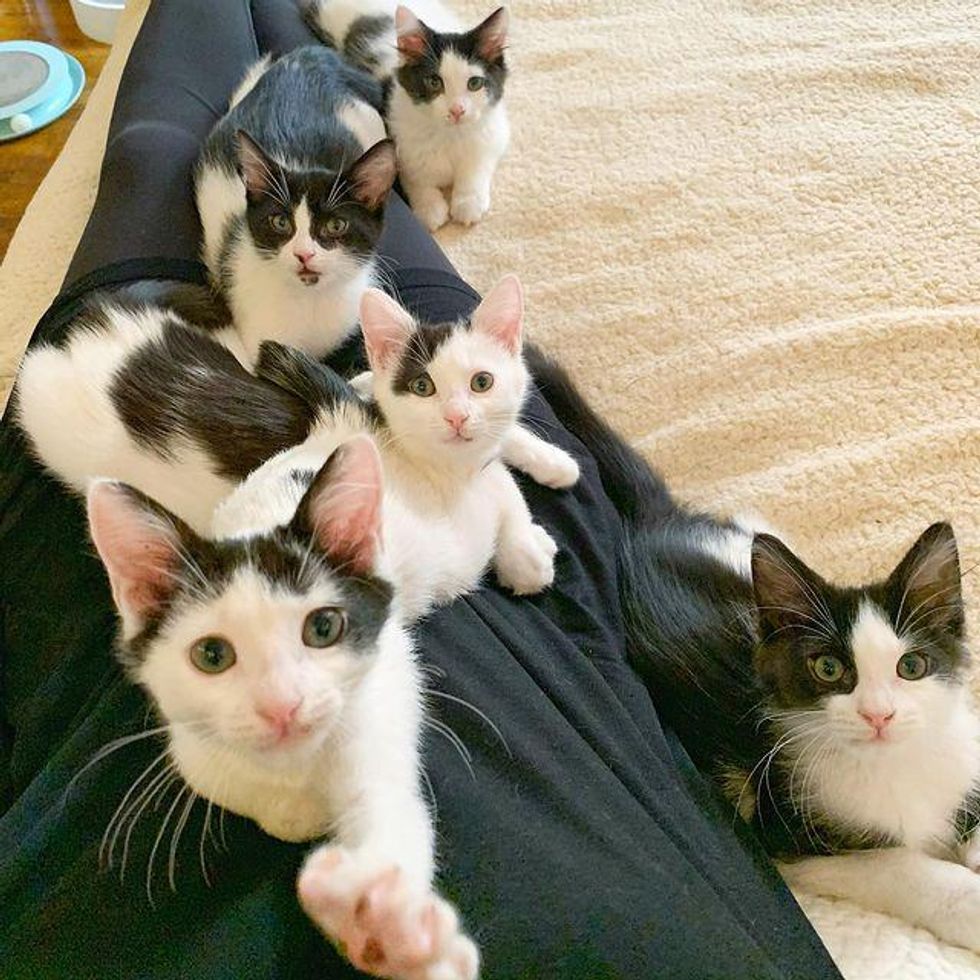 Molly @nycfosterkittens
Share this story with your friends. Follow Molly's foster kitties on Instagram @nycfosterkittens.
Related story: Orphan Kitten Sneaks into a Nest of Small Kittens and Insists on Being Part of Their Family