A couple rescued a cat covered in petrol from underneath a car. "Now every time we walk the dogs she goes with us and acts as though she's protecting us from everything."
Meet Petrol the cat!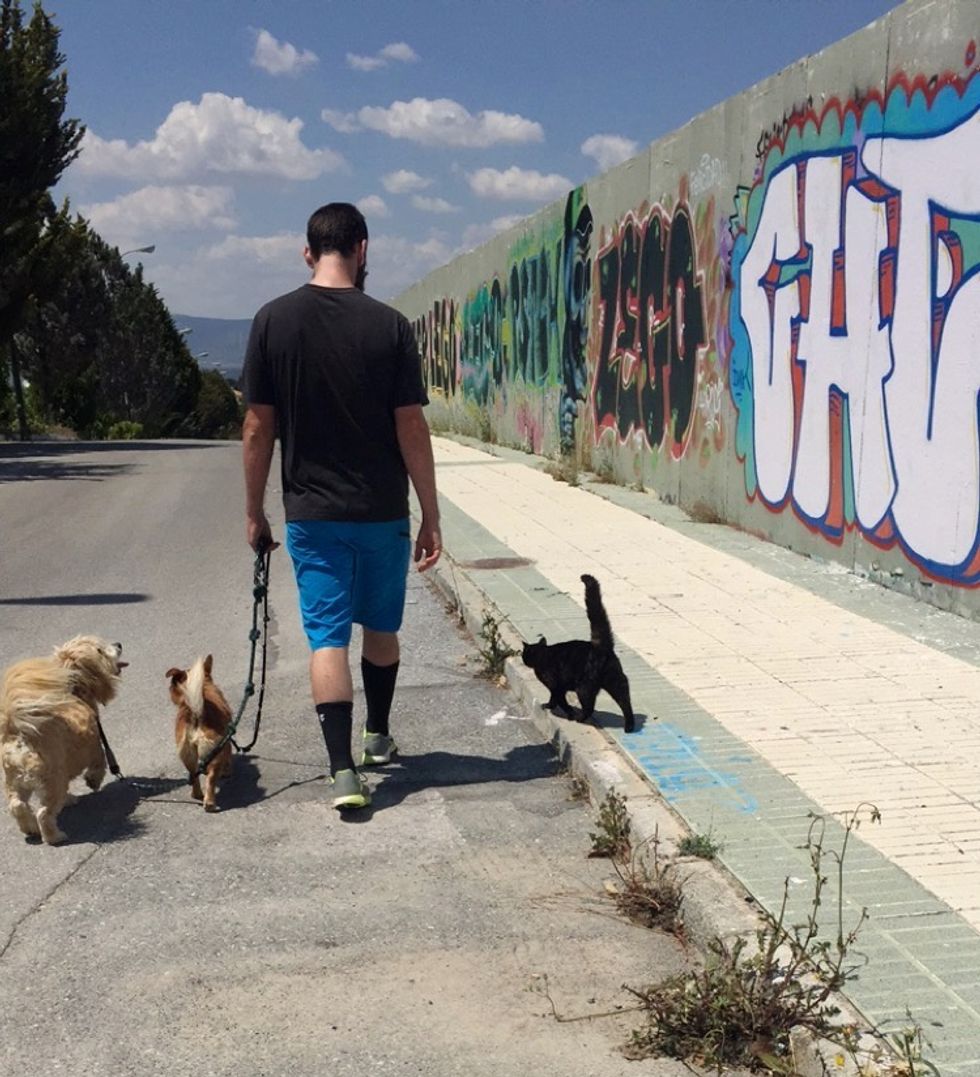 Courtesy: Ryan and Chynna
"My girlfriend and I were going along for a walk one evening when we heard some meowing. We thought it was an adult cat somewhere, but then we realized that it was coming from inside the car (or under it)," Ryan (from reddit) told Love Meow.
"We realized that there was a little cat underneath the car, so we tried to entice her out with some food. Finally, after just a few minutes, she ran straight into my girlfriend's arms, covered in gasoline and grease! She was purring. She was so happy."
They took her home, washed her, and Petrol has been a part of their family ever since.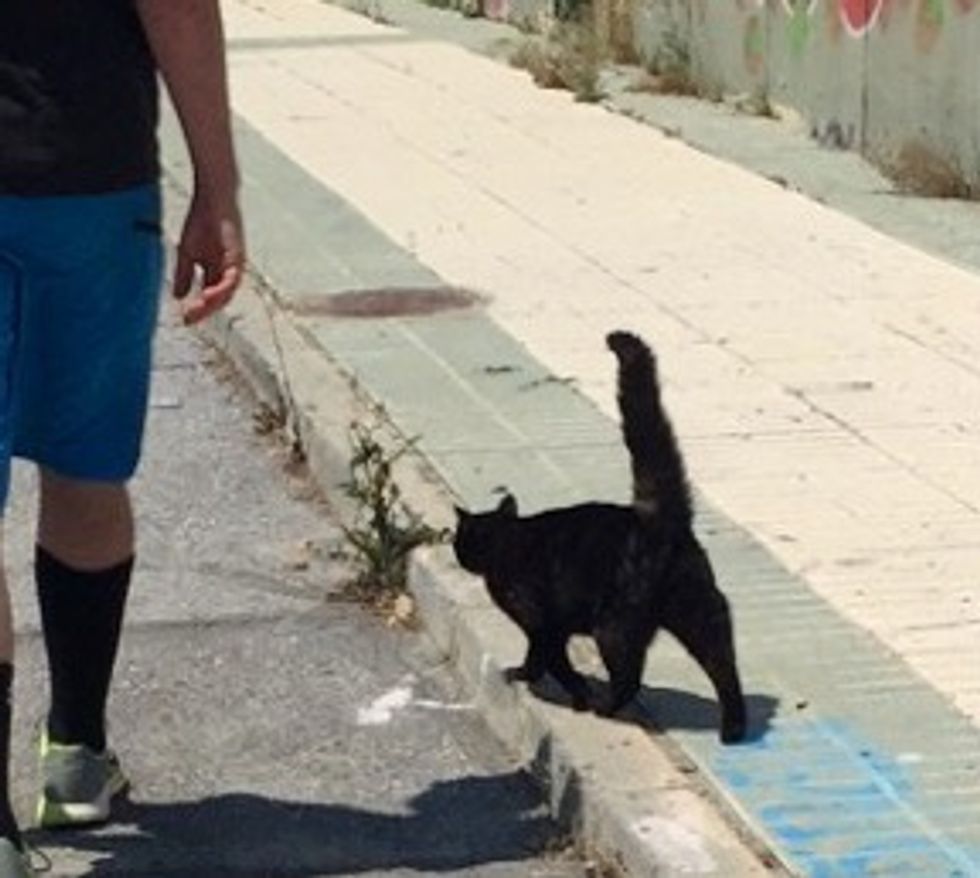 Courtesy: Ryan and Chynna
Soon Petrol took on the role as their furry bodyguard every time they went for a walk.
"She feel as though she is protecting us and warning us about what might be out there. She usually comes with us, but we walk the dogs three times a day, so when she doesn't make it with us she will greet us by standing on the neighbor's hedge and welcoming us home. She always walks back inside with us!" Ryan told Love Meow.

Courtesy: Ryan and Chynna
"She's a very friendly cat. Likes to cuddle with us in bed or on the couch, but also really likes to take over the whole bed if possible! She always warms right up to friends and family when we have them over," Ryan told Love Meow.

"We feel so grateful to have found her that day. She's definitely family and I can't believe she was just abandoned like that. My girlfriend loves all animals and whenever we go out she walks up to any dogs or cats that we see and pets them. We know we can't rescue all of them but we're glad we saved Petrol because now she has a great time hanging out with our other cats, playing with the dogs, and of course protecting us on our walks."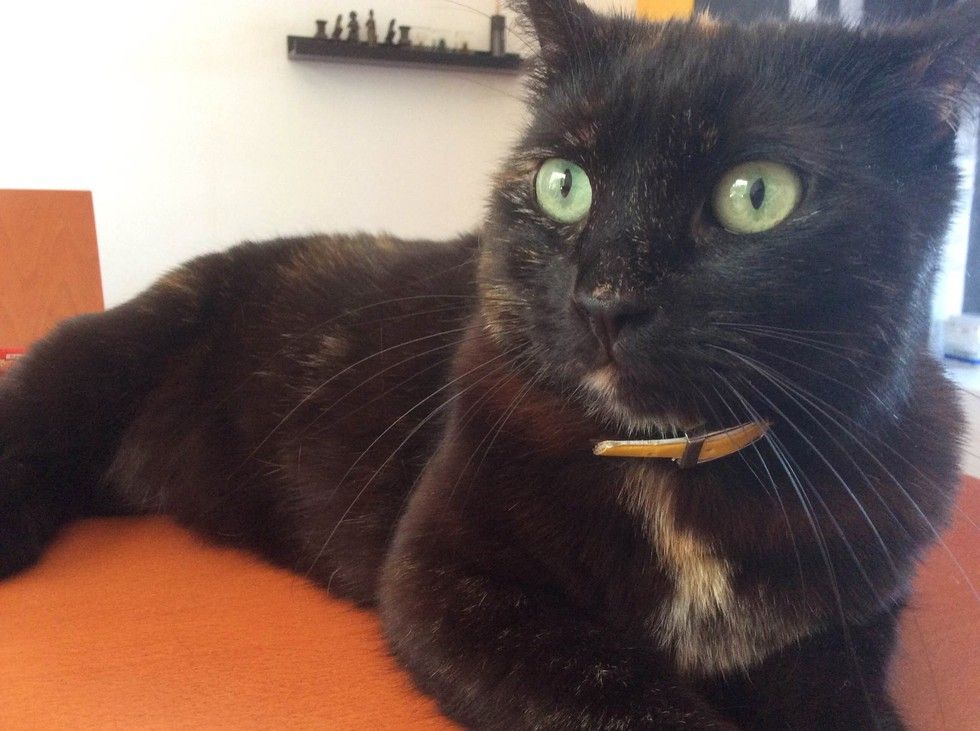 Courtesy: Ryan and Chynna
They rescued Petrol. Now she returns the favor by protecting them for life!
Share this story with your friends!