A cat who was only given one day to live, was saved by a woman in the nick of time. He was extremely fearful at the shelter but a loving home changed everything.
Meet Ollie!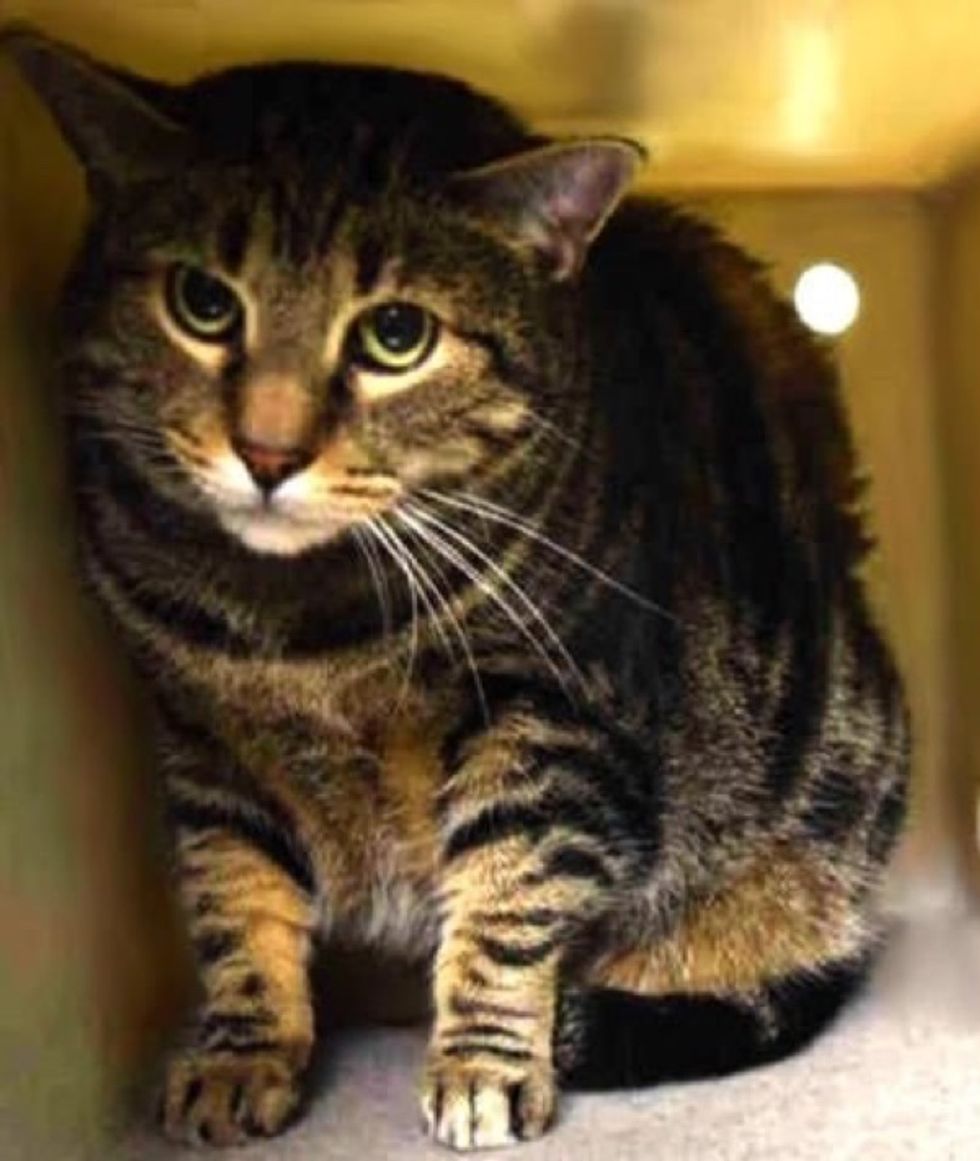 Supplied by Sharon
Ollie ended up at a high-kill shelter in New York City along with seven other cats from a hoarding situation. At six years old, the tabby cat was extremely timid, hiding in his box at the shelter most of the time.
Due to his age and his fearfulness, he was put on death row unless someone could come rescue him soon. As time was running out, a kind woman found him.
"I had been thinking about adopting a cat for a while when I saw his picture on the 'at risk' list (animals on the list would be euthanized at noon the next day if not adopted)," Sharon told Love Meow.
The post described the kitty as "fearful—attempts to flee when approached," and "flinches at touch."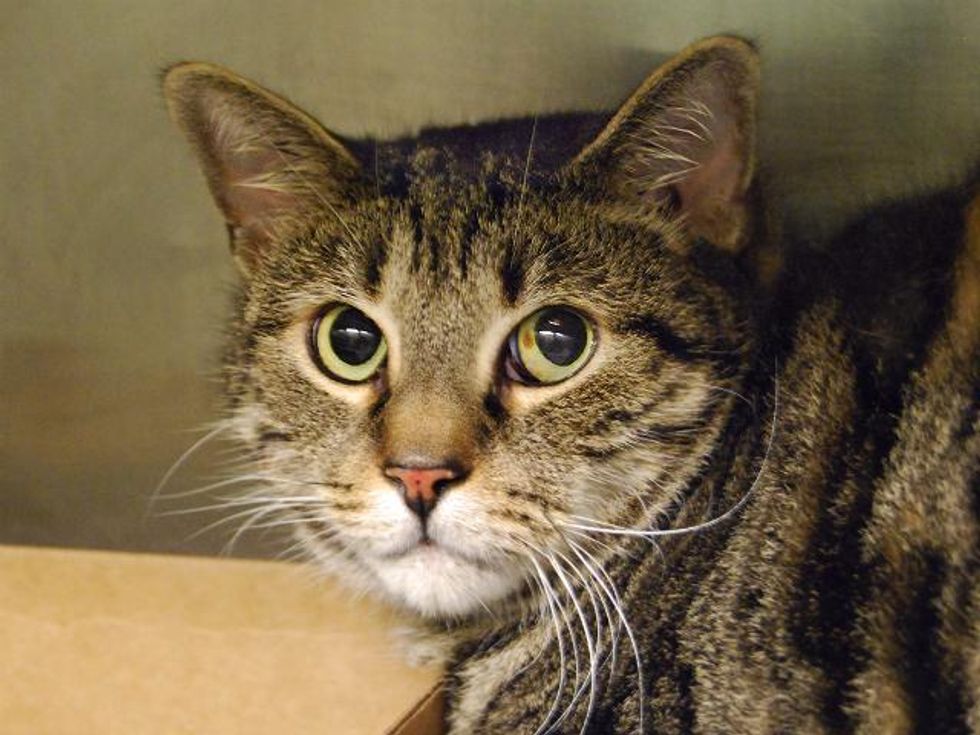 "I knew that behavior assessment likely meant nobody would adopt him in the next 24 hours, which meant he was almost certainly doomed. I saw something in his eyes that immediately made me 100% certain I could not leave him to die, scared and alone, at the shelter," Sharon told Love Meow.
"I don't think I had ever made a decision that quickly before - I 'reserved' him in the shelter computer system right away and went up to Harlem to pick him up the very next day."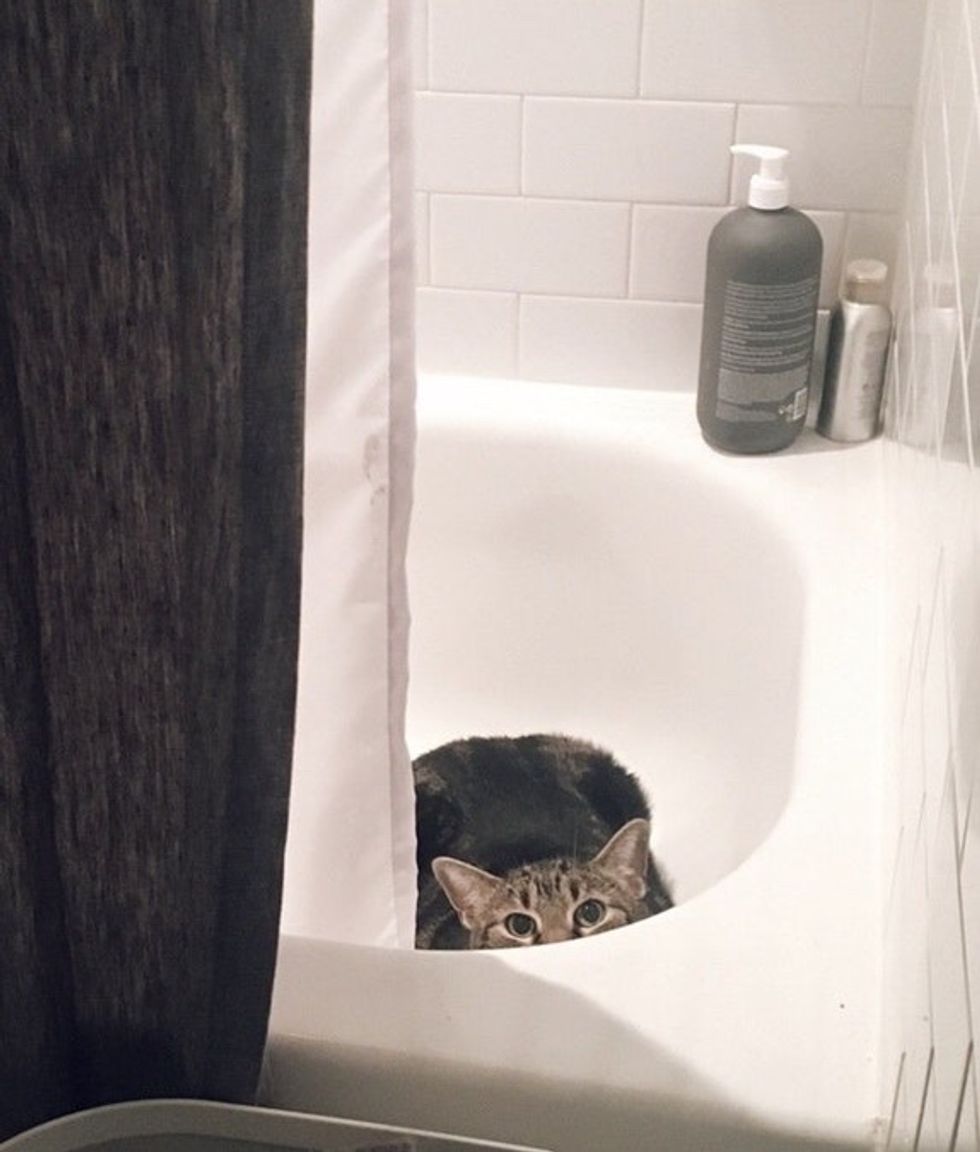 Supplied by Sharon
When she arrived at the shelter, she was told that the cat was "hostile" and "aggressive". They couldn't take him out of his carrier for them to meet.

The shelter reassured her that if things didn't work out, she could return him. But as soon as Sharon saw Ollie through the carrier, she knew right away that he was the one. "They brought him out in his cardboard carrier, and that was that!"
Sharon took Ollie on his freedom ride home! "During the cab ride I peered into the box through the air holes and all I could see was a pair of big wide eyes staring back at me," she told Love Meow.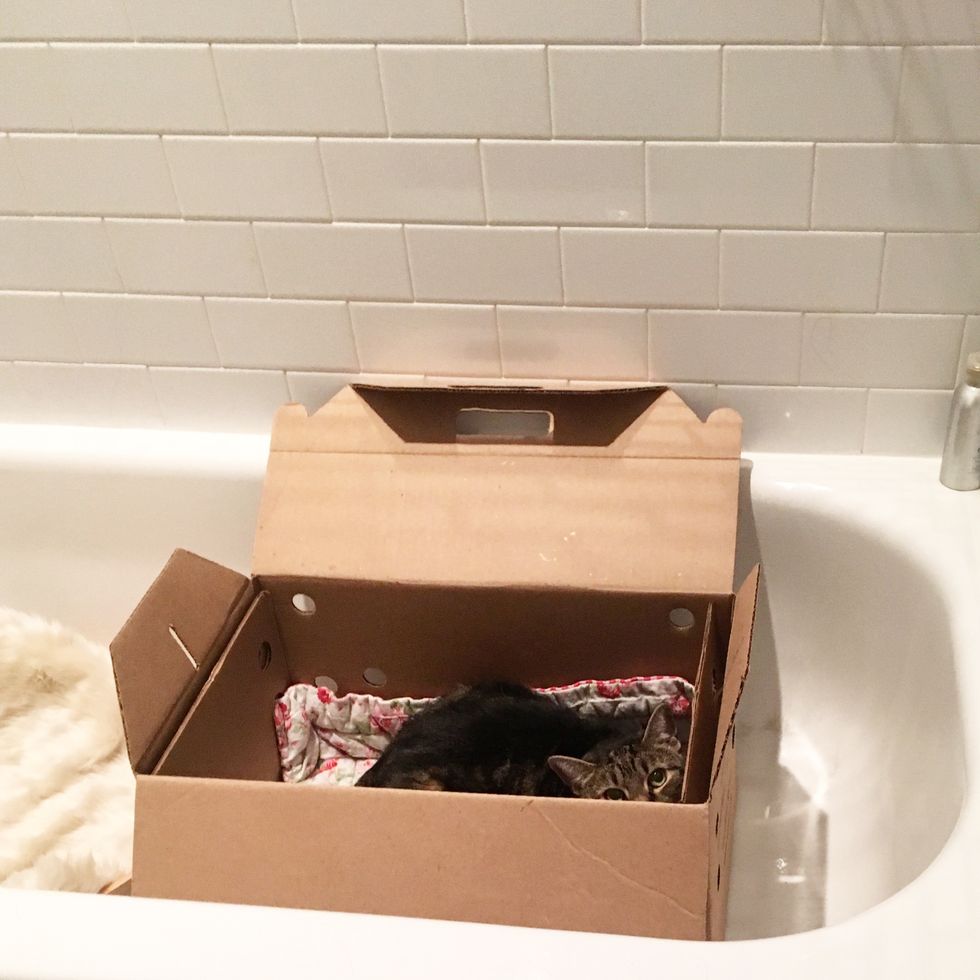 Supplied by Sharon
Sharon set up a little sanctuary for Ollie with a litter box, toys, a blanket, and plenty of food.

"Finally, I saw Ollie in person for the very first time. He was dirty and the fur along his back was all matted, but he didn't hiss at me at all, or display any signs of aggression. I left him alone for about 20 minutes so he could get his bearings in his new 'room'."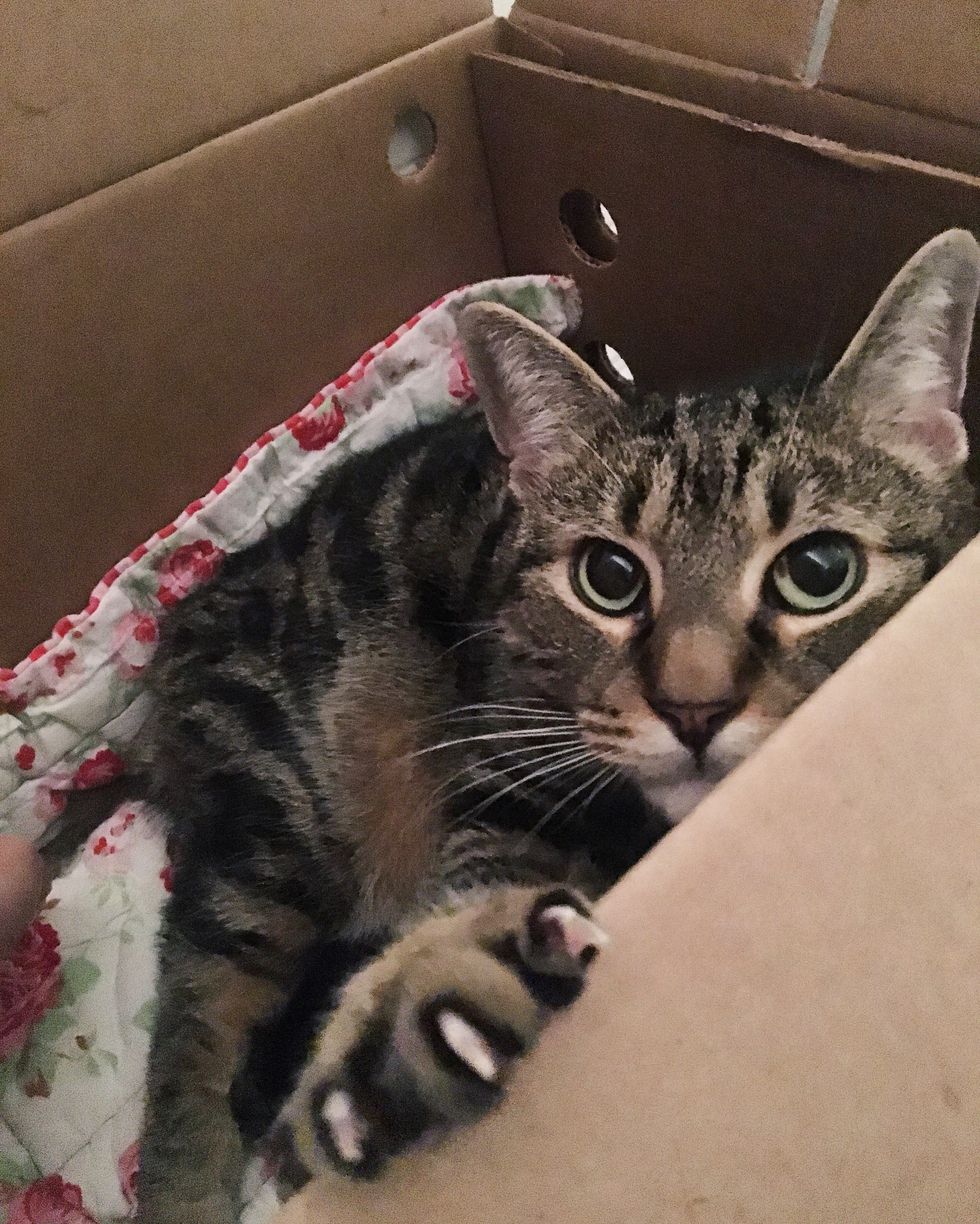 Supplied by Sharon
By the time she went back to check on him, Ollie had packed himself into a tight hiding spot underneath the cabinet and refused to come out.
"I brought a book and read out loud to him just to get him accustomed to my voice / presence. I did this for about three weeks - by day three he wasn't hiding anymore, and was comfortable hanging out in his cardboard box when I went to spend time with him," Sharon told Love Meow.
"I also managed to brush the mats out of his fur within a few days. Eventually he let me pet him, although he was still very uncertain about being touched. And even though he was very apprehensive, he never once growled or swiped at me. No bites either."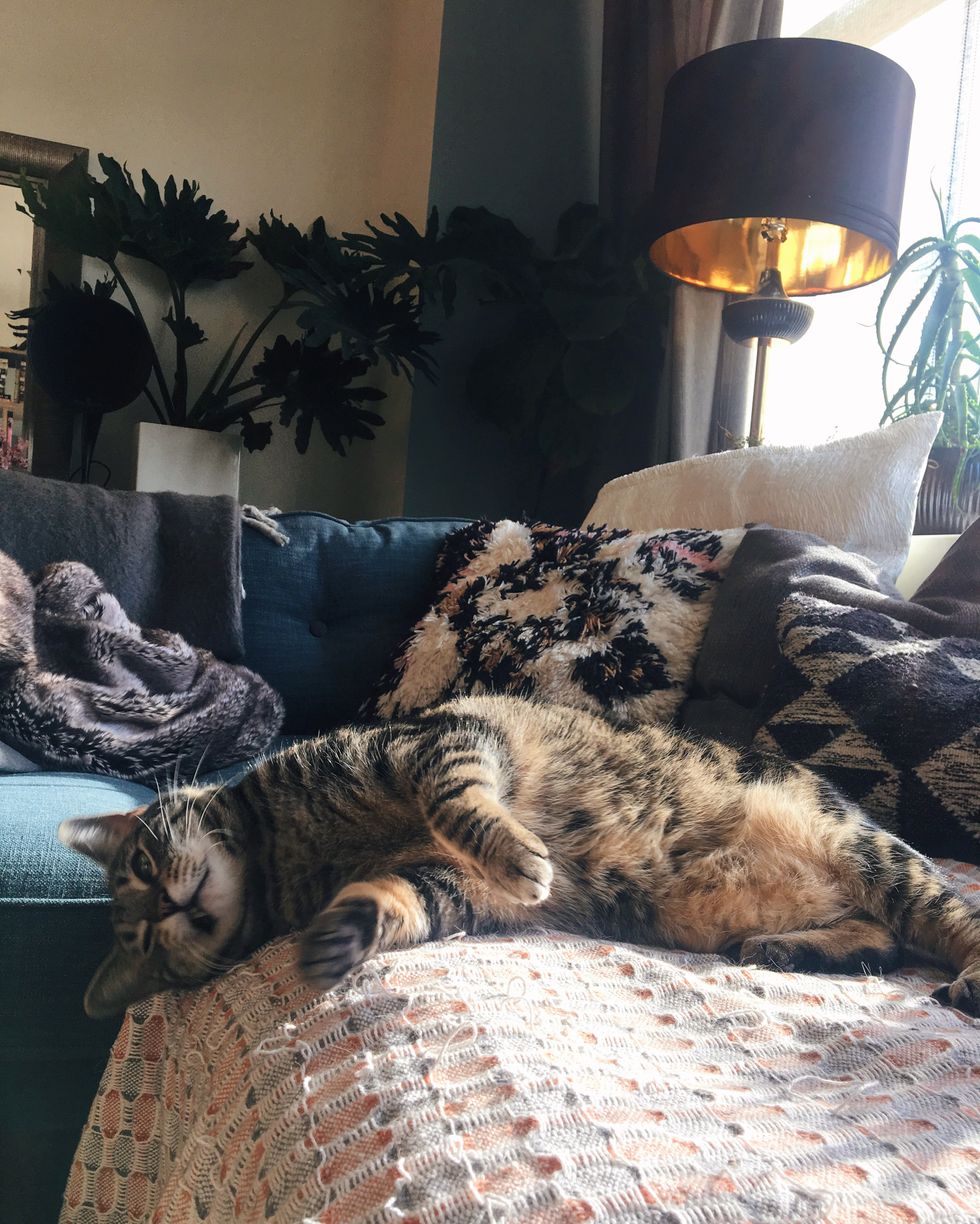 Supplied by Sharon
A few months later, the tabby boy came around and learned to love and trust. He discovered all the fun places to play and hang out at the apartment, and made it his home.
"He loves rolling around on the sofa, and he loves staring out my window at everything outside. He gives me headbutts every day when I come home from work, and he LOVES belly rubs."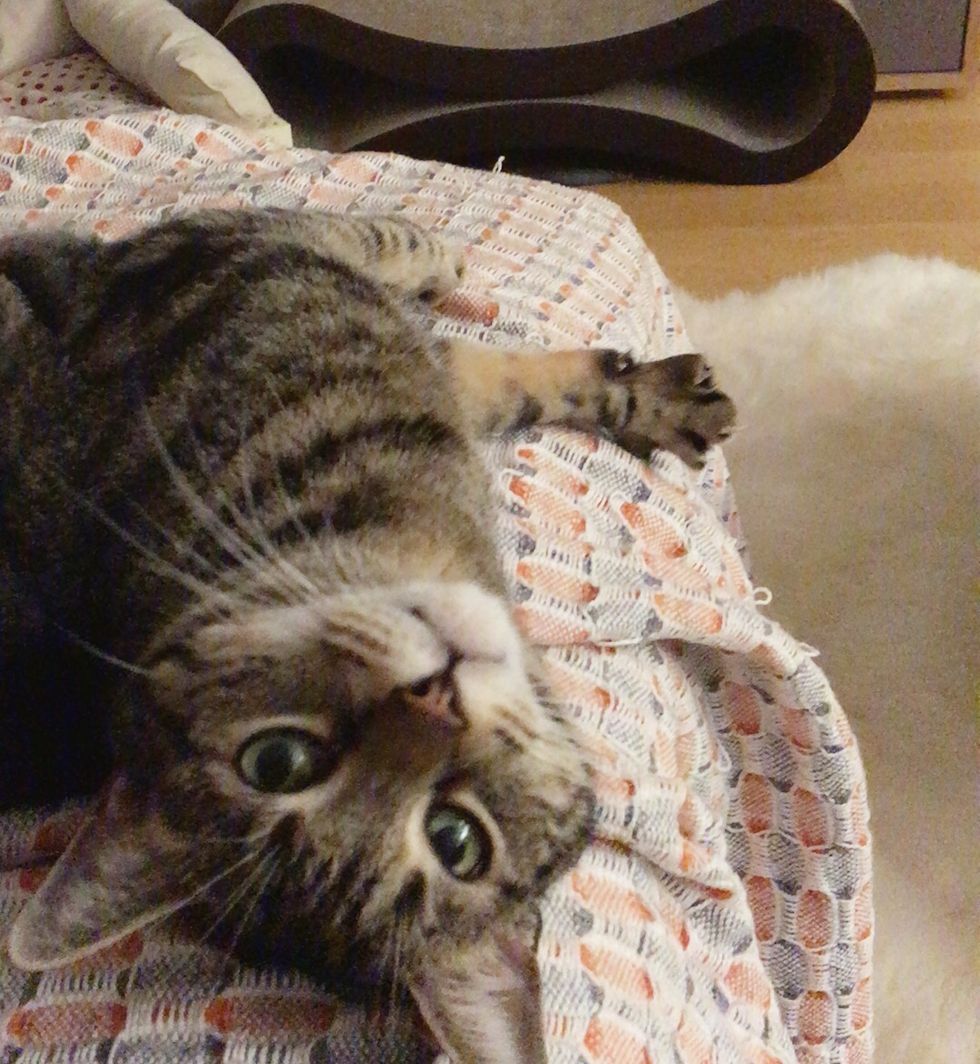 Supplied by Sharon
Ollie has come a long way!
"He is so so sweet. You can tell he really adores attention and pets, but at the same time he's still quite nervous and neurotic. It's funny, sometimes he'll come sit close to me and meow at me for attention, but when I try to sit closer he'll scoot a bit away."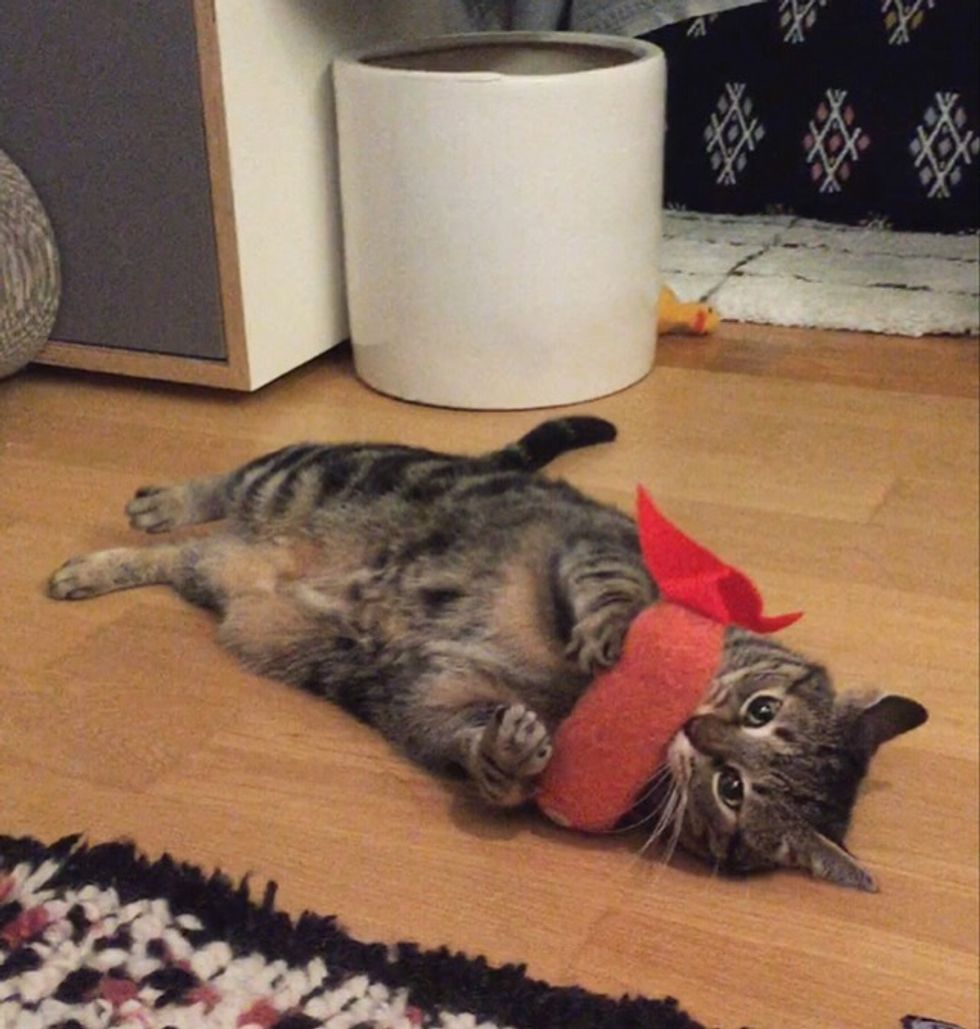 Supplied by Sharon
Ollie found a toy that he enjoys playing.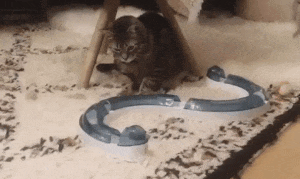 Supplied by Sharon
Though Ollie is still a bit skittish, Sharon is hopeful that he will get better as he continues to experience love and comfort.
Nine months ago Sharon took a chance on a very scaredy and fearful cat that others had given up on. With a second chance, now Ollie spends every day with his human mom, demanding belly rubs and giving her an endless supply of head snuggles.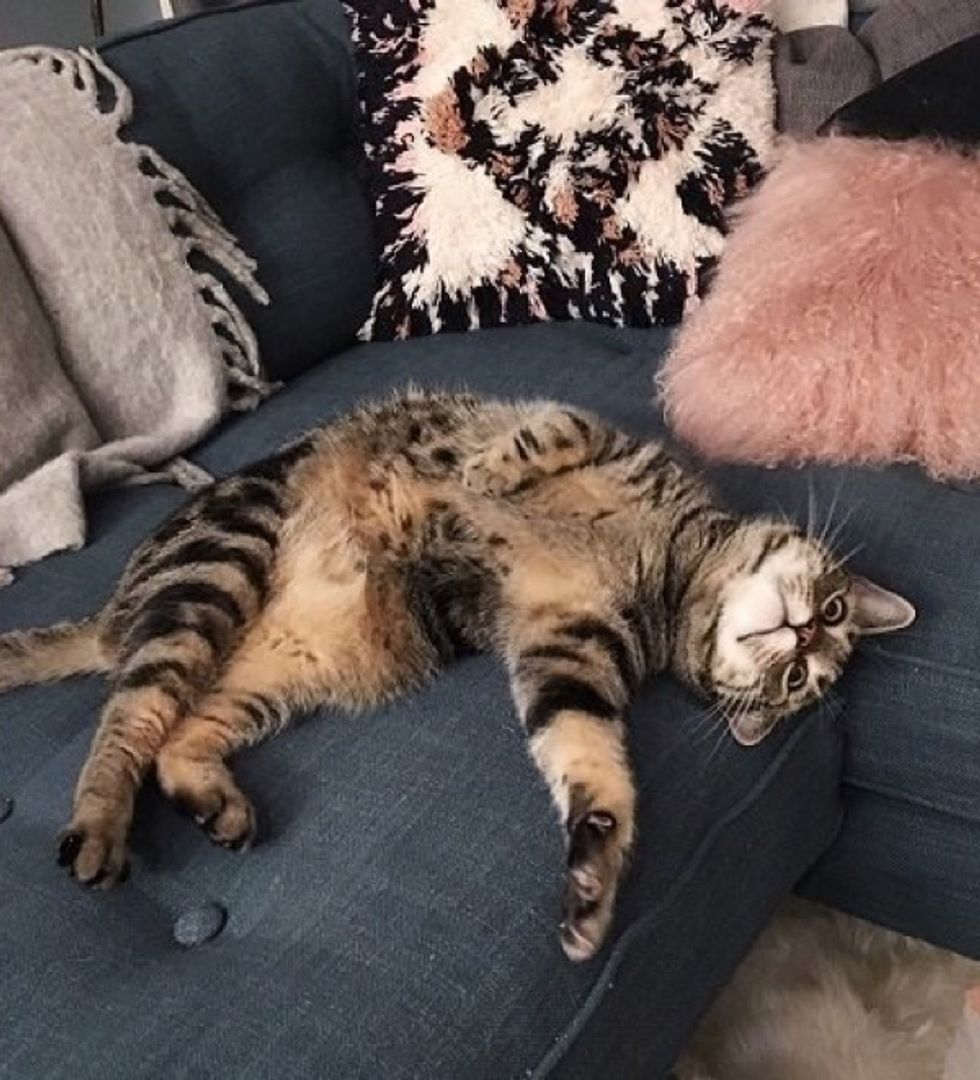 Supplied by Sharon
Share this story with your friends.
Related story: Woman Asks Shelter for Least Adoptable Cat and Finds 16 Year Old Ginger Hiding in Corner, 5 Hours After Adoption