A stucco worker saved four tiny kittens found in a bucket of their landscaping truck and later went back to get their mama cat, so they could be reunited in a safe place.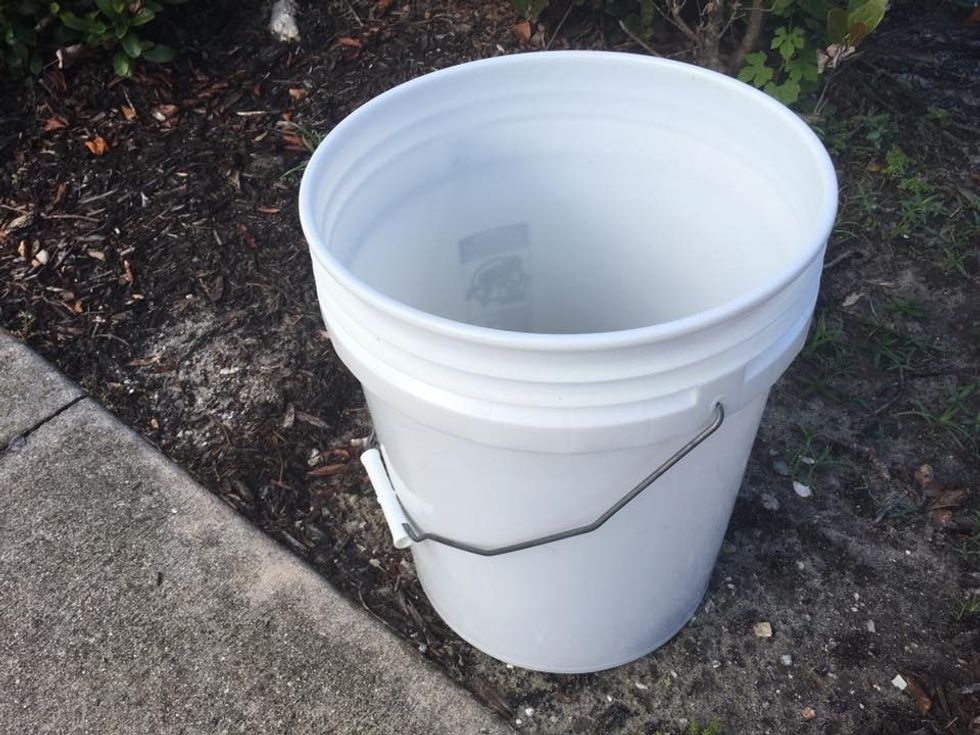 Courtesy: Naples Cat Alliance
These four babies showed up at a construction site in Naples, Florida. "The momma cat put the kittens in a 5-gallon bucket that was sitting on a scaffolding trailer in North Fort Myers," Megan Sorbara, the president of Naples Cat Alliance, shared with Love Meow.
Unbeknownst to the worker who drove the truck for 38 miles to Naples, the kittens traveled along on the open trailer, in the bucket. When they unloaded the trailer at the Naples job site, they were surprised by what they found.
"They knew the mama cat had given birth, but they didn't know where the kittens were, until they found them in the bucket," Dominick Russotold Love Meow.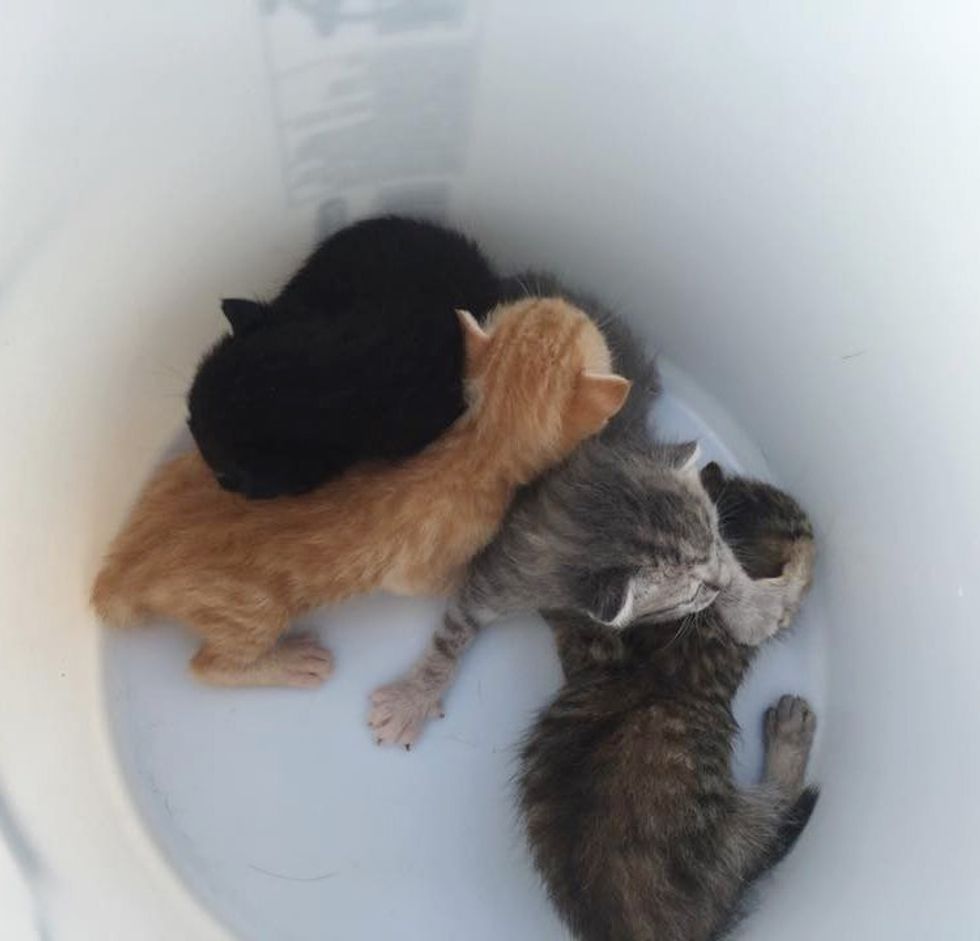 Courtesy: Naples Cat Alliance
Knowing how fragile the fur babies were at such a young age, they tried to find help for the tiny felines.
The kittens were brought to the Naples Cat Alliance, free-roaming, no-kill shelter. "They were doing well when we got them. It was clear that the momma was doing a good job taking care of them, and that they had not been away from her for long," Megan told Love Meow.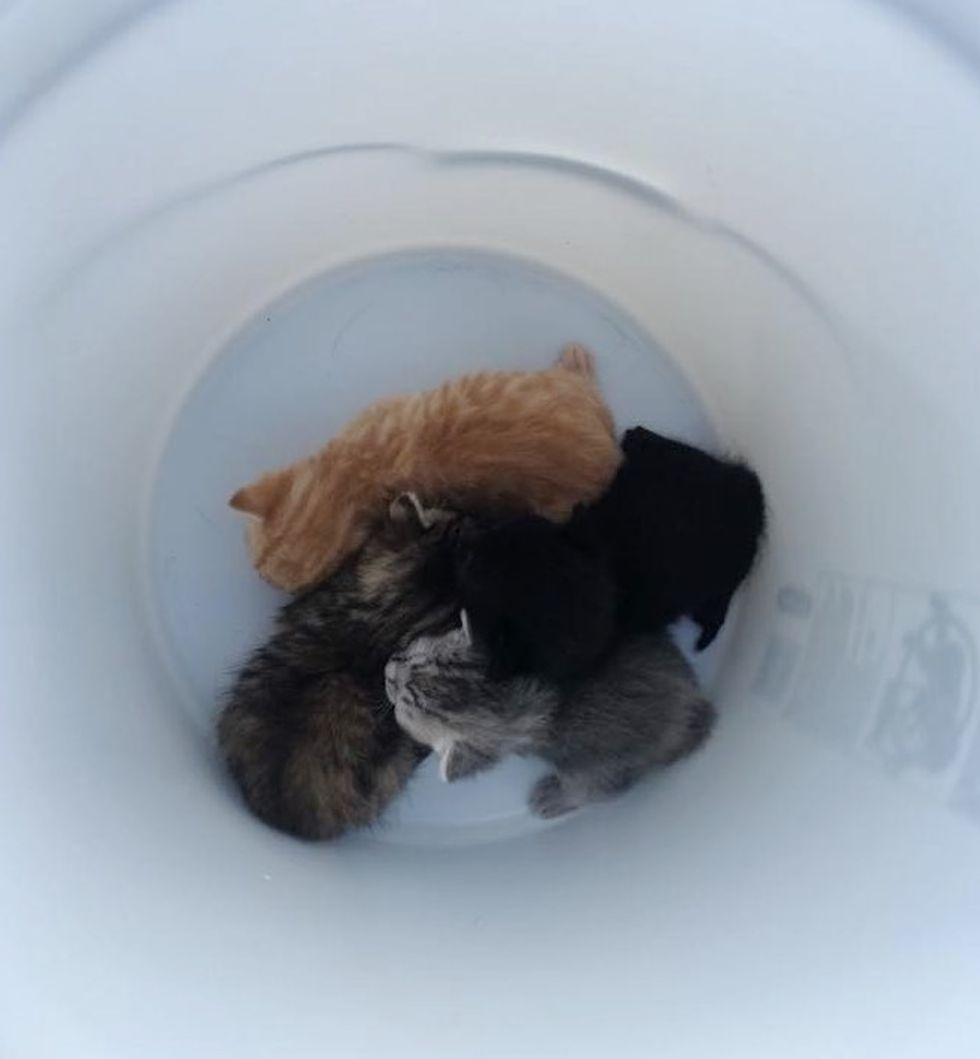 Courtesy: Naples Cat Alliance
Megan and the volunteers at Naples Cat Alliance knew right away that the kittens needed their mom, and it was crucial to reunite them. Saul, one of stucco workers knew the mother cat was friendly and assured them that he would find her.

Later that night, they received a call from Saul with great news - he got the mama cat in the carrier.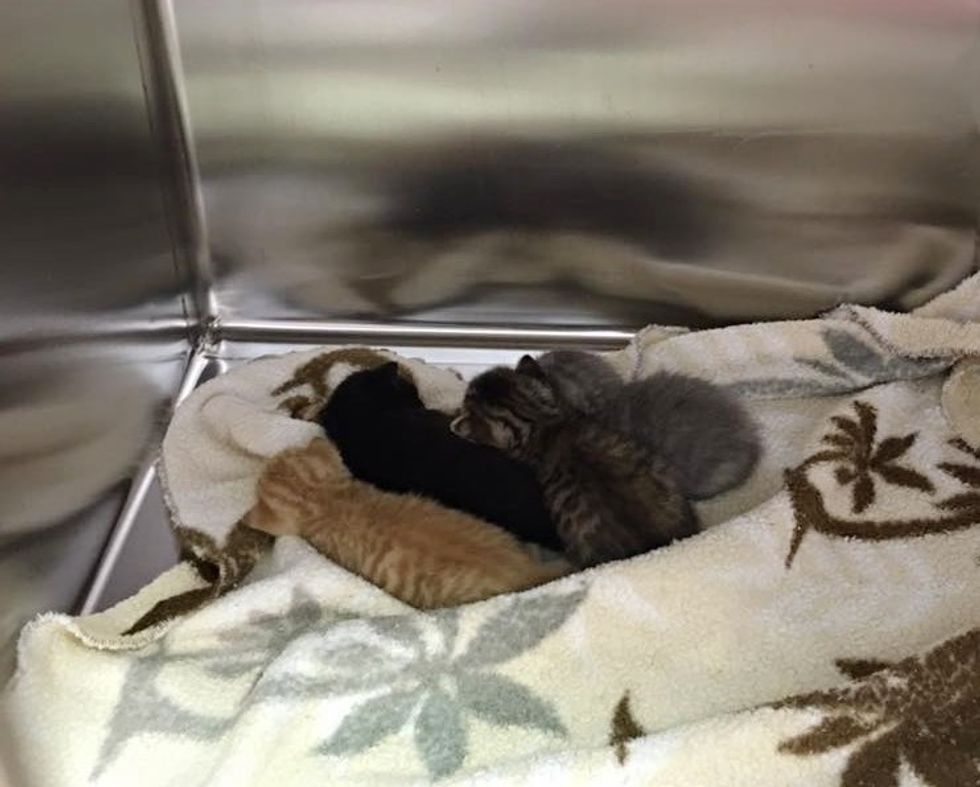 Four babies huddle up together in a safe and warm place. Courtesy: Naples Cat Alliance
"We didn't want to wait until the next day," Dominic told Love Meow. "We drove up that night to get her, after getting his call."
The kittens were snuggling in the blanket while waiting for their mama's return.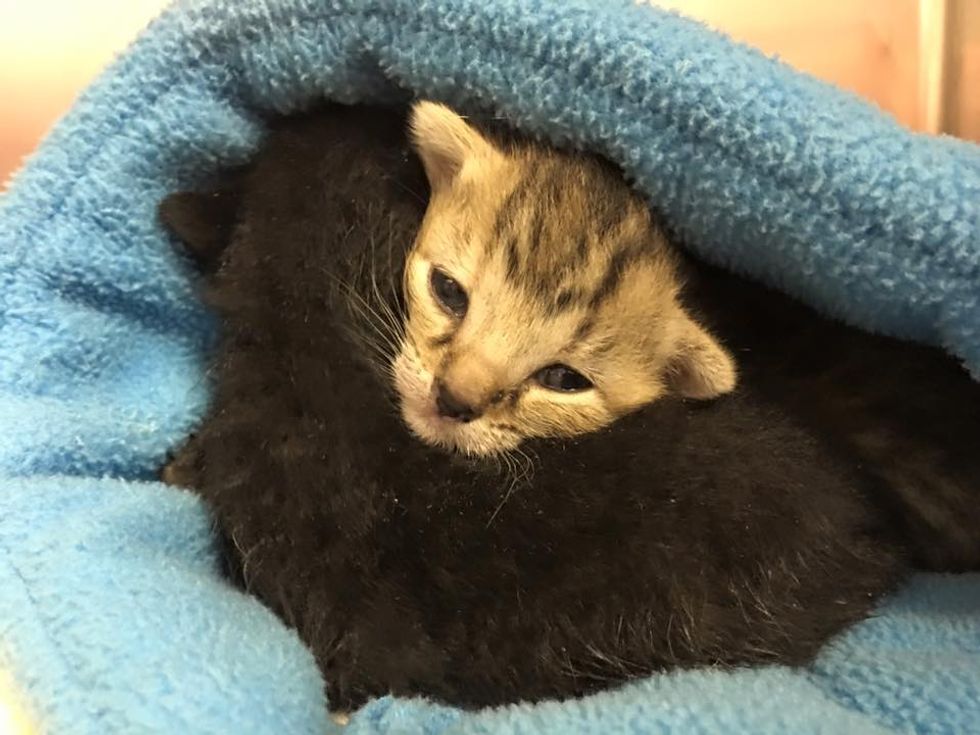 Courtesy: Naples Cat Alliance
"We brought the mom into the room where they were and the mom was meowing. As soon as the kittens heard her they started peeping and squealing," Megan told Love Meow.

The mama cat and her babies were reunited on Monday night at 11PM. One by one, she inspected her babies, before sitting next to them and nursing away.
Watch the reunion in this video:
"We were relieved that Saul in N Ft Myers put the right cat in the carrier," Megan said.
"Driving back to the shelter, we were thinking, 'What if this is the wrong cat?' We knew right away, from her reaction to seeing her kittens, that we had the right one."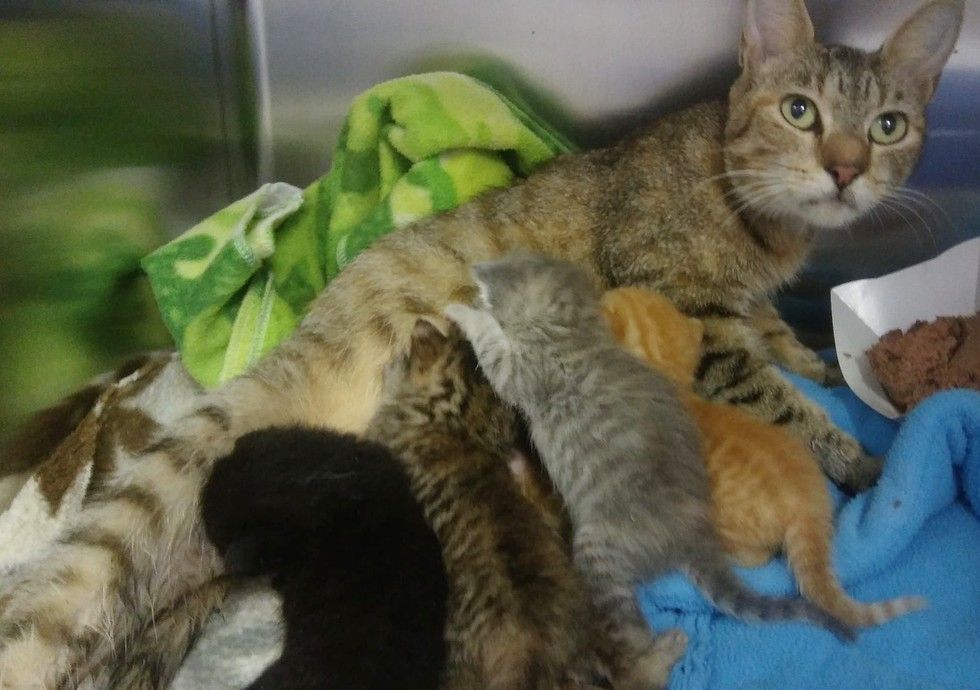 Courtesy: Naples Cat Alliance
The mama stayed with her precious babies all night, making up for the lost love.
"If we didn't get the momma cat, the kittens would have gone home with Megan for bottle feeding, every two hours," Dominic said.
The furry family haven't got names yet. The kittens will be put up for adoption when they are big enough, but the mama has stolen everyone's heart at Naples Cat Alliance.
"We're going to keep mama," Dominic said.
"They are so lucky to be alive and lucky that there are still people in this world that want to help," Megan said.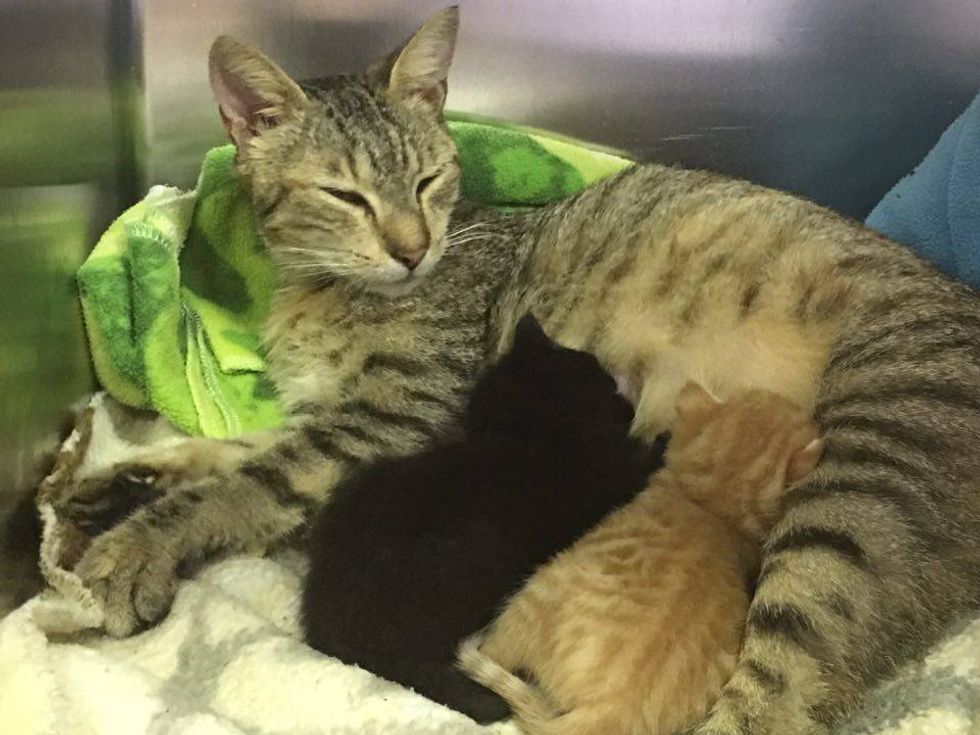 Courtesy: Naples Cat Alliance
Share this story with your friends. Naples Cat Alliance has taken in over 150 kittens this kitten season and it's not over yet! If you would like to help their rescue efforts, consider making a donation. Follow them on Facebook.

Related story: 5-year-old Boy Burst into Tears When He Found His Long Lost