A Canadian couple decided to share the most special day of their lives with 1,100 cats at a cat sanctuary in Parlier, California.
Dominic Husson and Louise Véronneau are both animal lovers, who met in Quebec, Montreal. After dating for about three years , they decided to tie the knot at the place they had fallen in love with - the Cat House on the Kings , a cage free, no-kill cat sanctuary.
"We are both animal lovers. She's a great person, and that's why I wanted to marry her," Husson told KSEE24 News .
Canadian couple weds at The Cat House on the Kings in Parlier. Video: https://t.co/Iq1yynuE6m https://t.co/UW7WhB0vVn

— Craig Kohlruss (@Craig Kohlruss) 1463526028.0
The couple share a strong passion for animals, especially cats. Véronneau had visited the sanctuary back in 2012 and was inspired by the rescue work Lynea Lattanzio , founder of the cat sanctuary , and her team did for the cats there. It was a dream come true for the couple to be able to share this special event with the feline friends they are so passionate about.
What happens when you invite 1,100 cats to your wedding? @cbs47 tonight! https://t.co/Q8zh4XiCHX

— Justin Sacher (@Justin Sacher) 1463512053.0
"Cat House on the Kings kitties follow Lynea and visitors everywhere. One white kitty even followed the bride as she walked from the Senior House down to the bench by the river where they were married," Harvie Schreiber of the Cat House of the Kings, told Love Meow.

"Lynea Lattanzio is like the Pied Piper for cats. They know her and she has a following of kitties wherever she is on the 12-acre property!"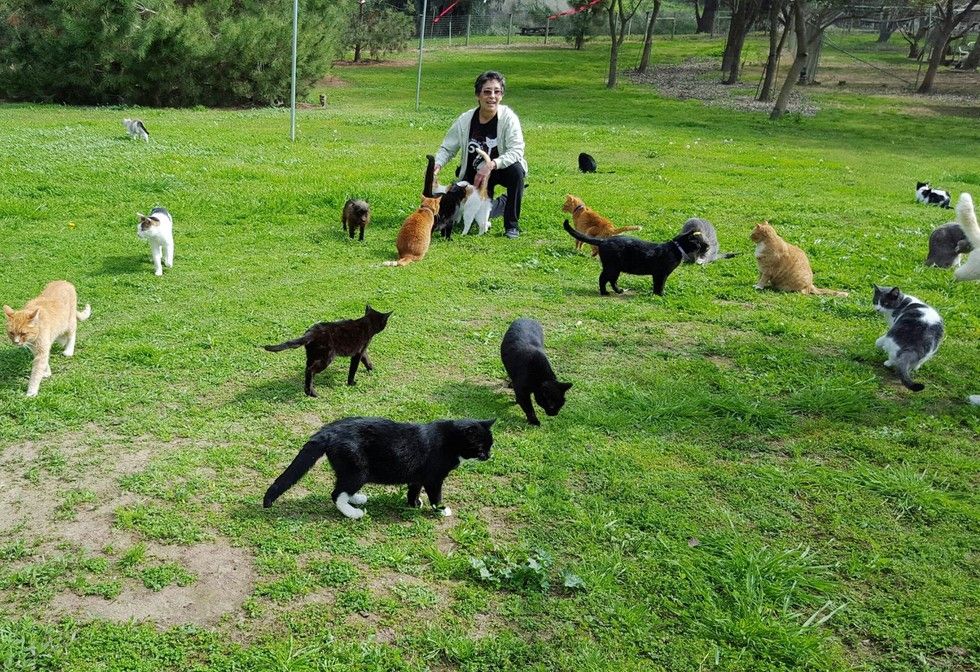 Courtesy: The Cat House on the Kings
"During the ceremony, the kitties either watched, or were busily rubbing up against legs for attention - Lynea's legs, the bride and groom's legs, their photographer's legs, the cameramen's legs, staff legs, etc! They always want to be part of what's going on. They are curious and nosy!" Schreiber told Love Meow.
ABOUT TO AIR! The wedding with 1,000+ cats on this 6:30 p.m. edition of @KSEE24 News. https://t.co/jcfYa6AELa

— Justin Sacher (@Justin Sacher) 1463535064.0
"Many people have music for their wedding. In this case, it was the peaceful sound of wind in the trees, the sound of water flowing down the Kings River, and the wonderful 'music' of kitty purrs!"
So much fun at a @cathouseotkings wedding! Here's a favorite moment from today. This guy was so sweet! @ksee24 now! https://t.co/mKyvE9pWRK

— Justin Sacher (@Justin Sacher) 1463535237.0
It was definitely a purr-fect wedding for one Canadian couple, here in the Valley https://t.co/yxgTD8jLpI https://t.co/UCDXTvS8aK

— KSEE24 News (@KSEE24 News) 1463538063.0
What a purrfect wedding! Share this story with your friends!