These community cats guard and protect a cemetery in Japan, and are always there to cheer up those who visit the cemetery in memory of a loved one.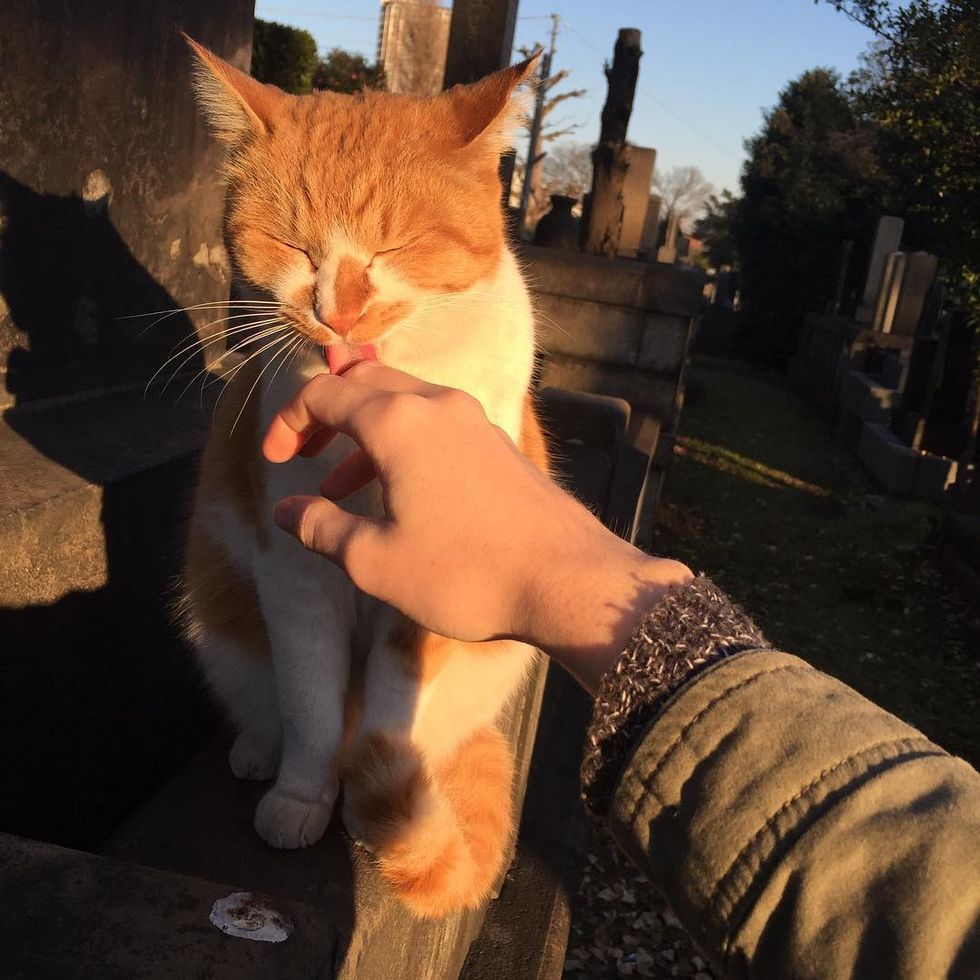 Photo: Marinou @marinounojinsei
Down in the quiet district of Tokyo, there is an old part of the city called Yanaka that is tranquil and resembles the Tokyo past, a juxtification to the bustling metropolis today.

A big reason for this serene culture may just be quite unexpected - cats and more cats.
A famous landmark in the old-fashioned neighborhood is the Yanaka Cemetery, run and protected by a clowder of community cats. The feline guardians are the most loyal workers there. They are not only friendly but extremely comforting to visitors.
"Yanaka Cemetery in Tokyo is home to dozens of friendly community cats," Hannah Shaw of Kitten Lady shares with Love Meow. "A beautiful example of cats and humans living in harmony."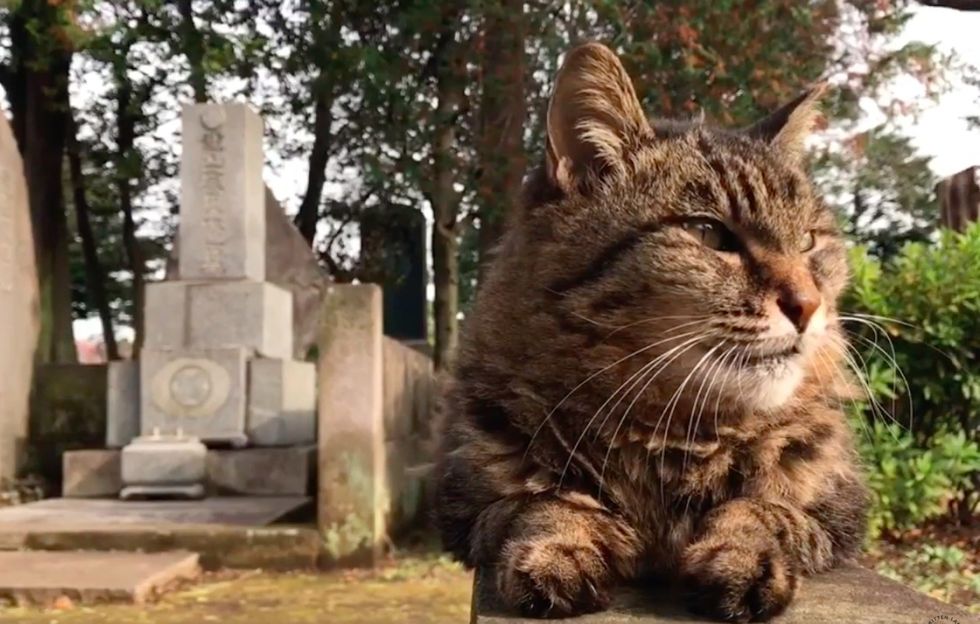 YouTube/Kitten Lady
It's easy to spot a couple furry friends lounging about on the graves, soaking up the sun. Some kitties like to take their daily stroll around the cemetery, patrolling and looking for human companions to send their love to.
They are bold and curious. If you stop at a monument, a fluffy friend may hop into your horizon and demand your attention. They'd be happy to show you around their turf in exchange for a few back scratches.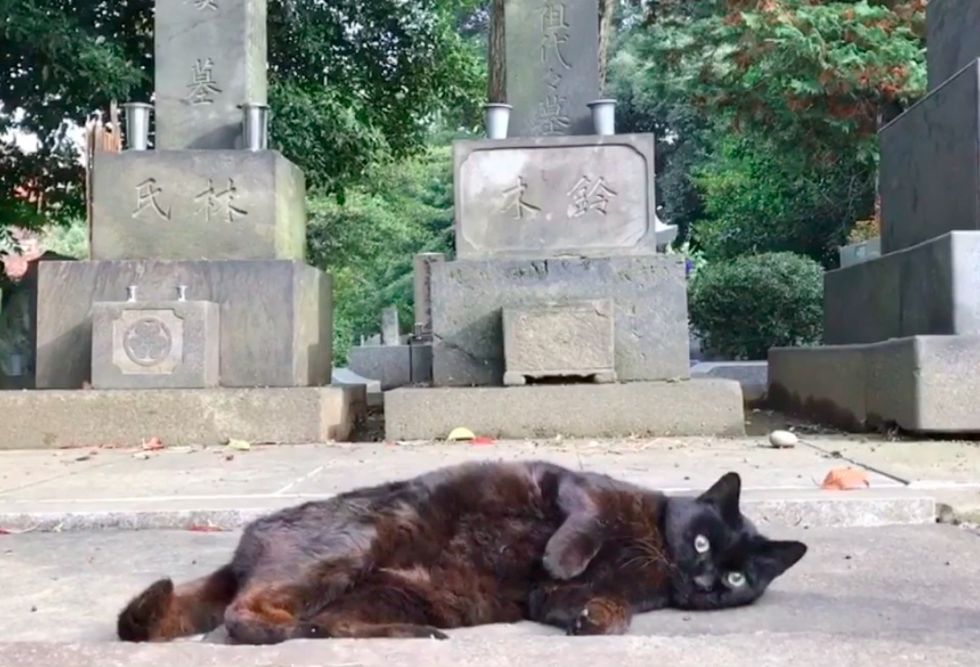 YouTube/Kitten Lady
These happy community cats are protected by the locals and are fed and cared for by an army of volunteers.
Local rescue groups set up a TNR (trap-neuter-return) program to help keep the feral population under control and give these beautiful kitties a quality life they so deserve.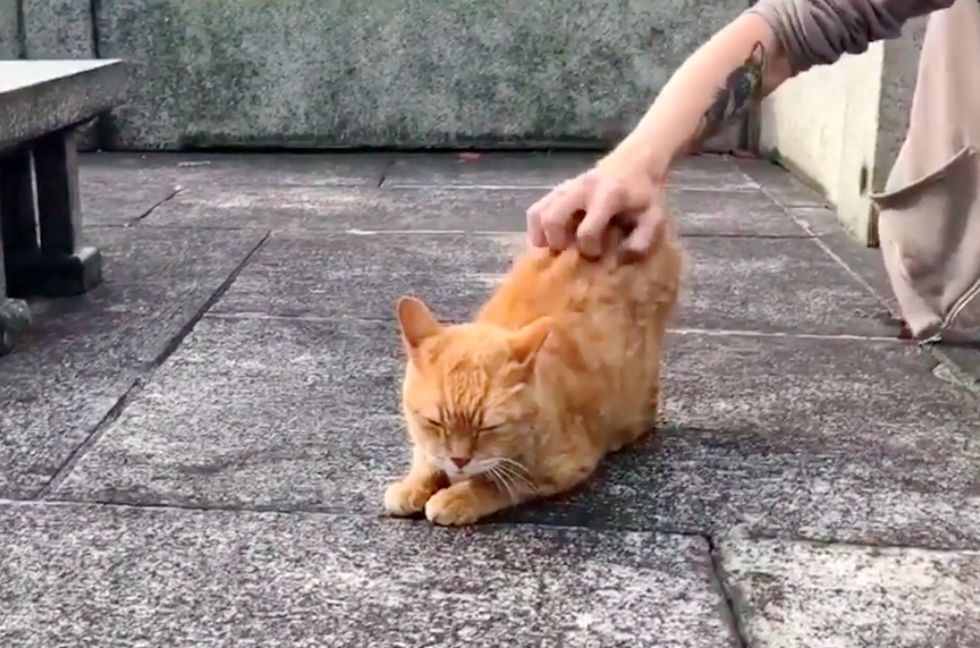 YouTube/Kitten Lady
A friendly ginger popped up to a visitor, asking for some chin scratches. His human friend gladly obliged. (@namolsao)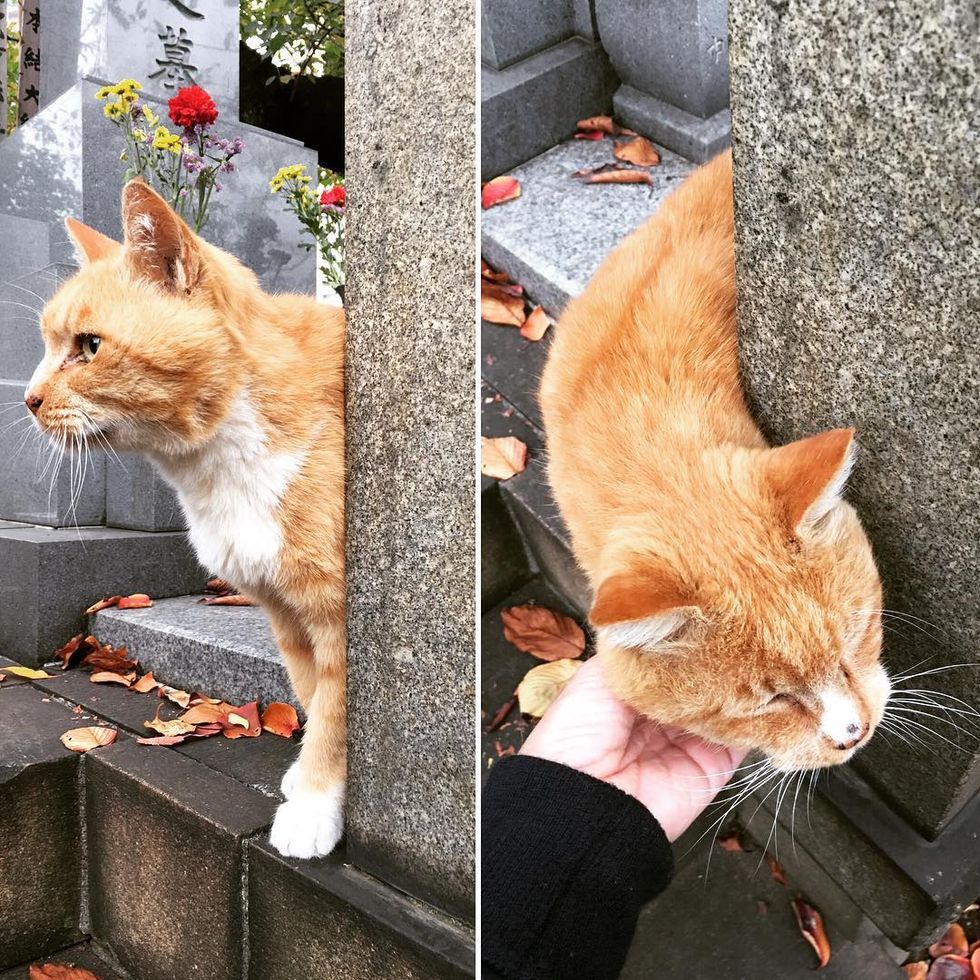 Photo: @namolsao
Every day caregivers come to feed, groom and minister to the cats. They are like family to them.
"I came upon a small older woman and a large orange cat," Louise Hung said via Catster.
"The woman nodded at me (I swear the cat did too), and proceeded to feed the orange cat, as well as inspect his feet. I moved off to give them some privacy, and from a distance, I watched the woman gently apply some ointment to the cat's paw. He crawled onto her lap after she was done, and they quietly enjoyed each other's company."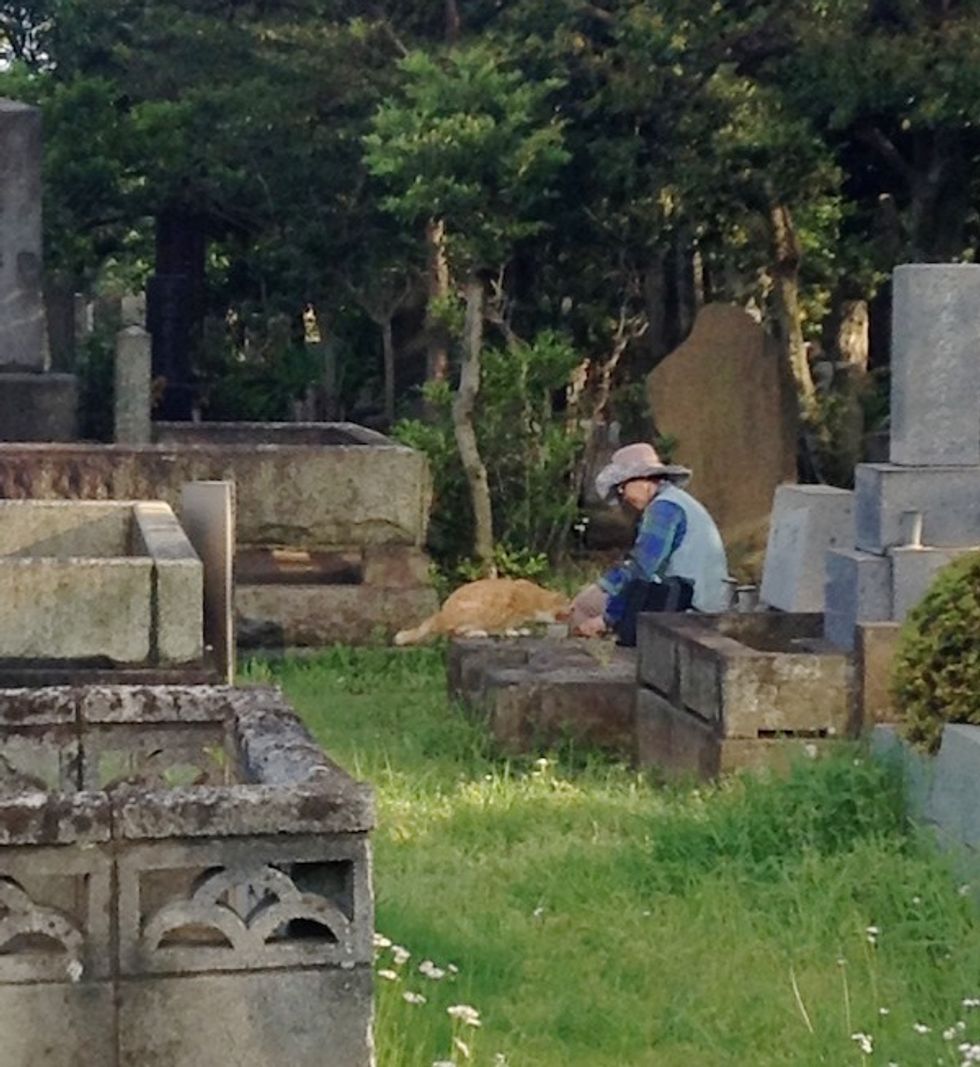 Louise Hung via Catster
Many residents visit the cemetery regularly to spend time with their beloved feline friends.
The kitties recognize them from afar. As soon as they hear their footsteps, they all come running, purring and meowing at their presence. One by one, the kitties get combed and loved by their human friends.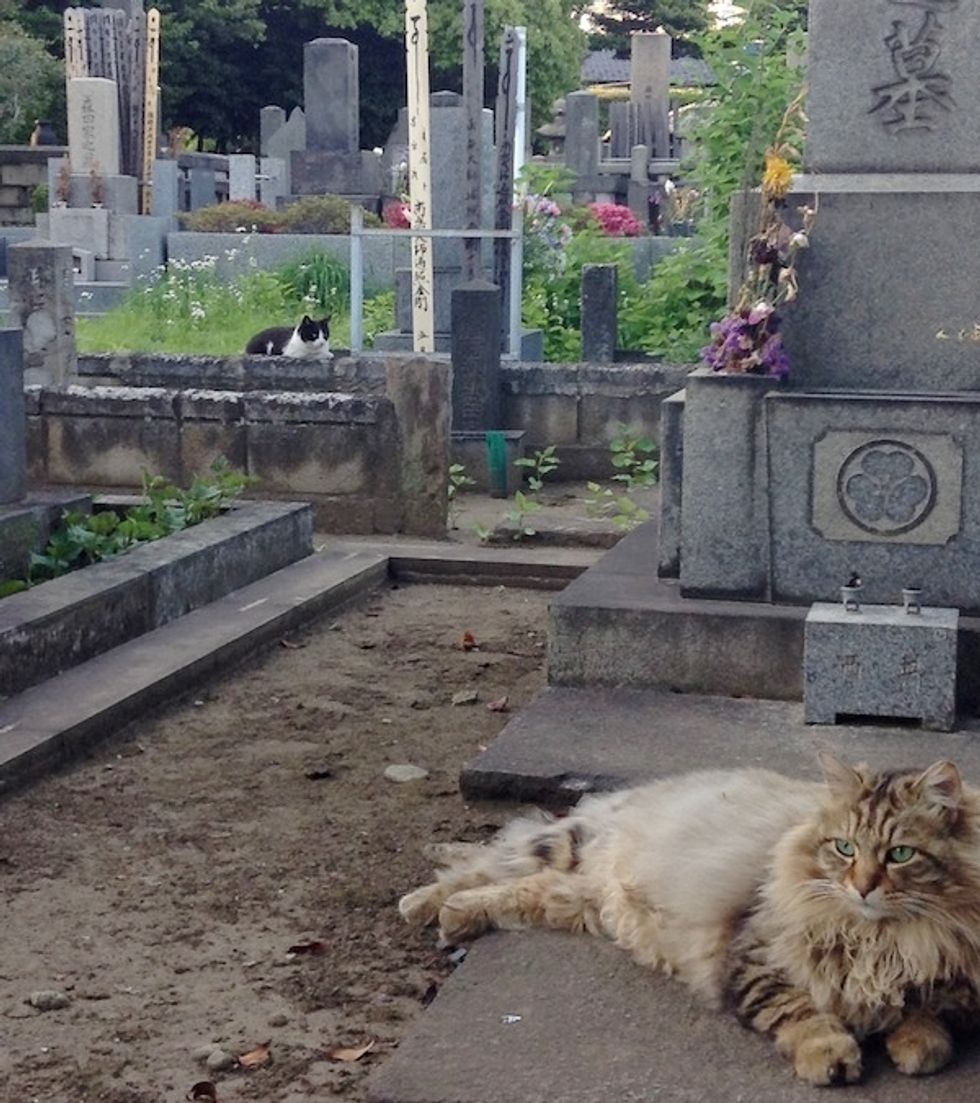 Louise Hung via Catster
This kitty has a lion mane that makes him look like the king! (@giyomu31)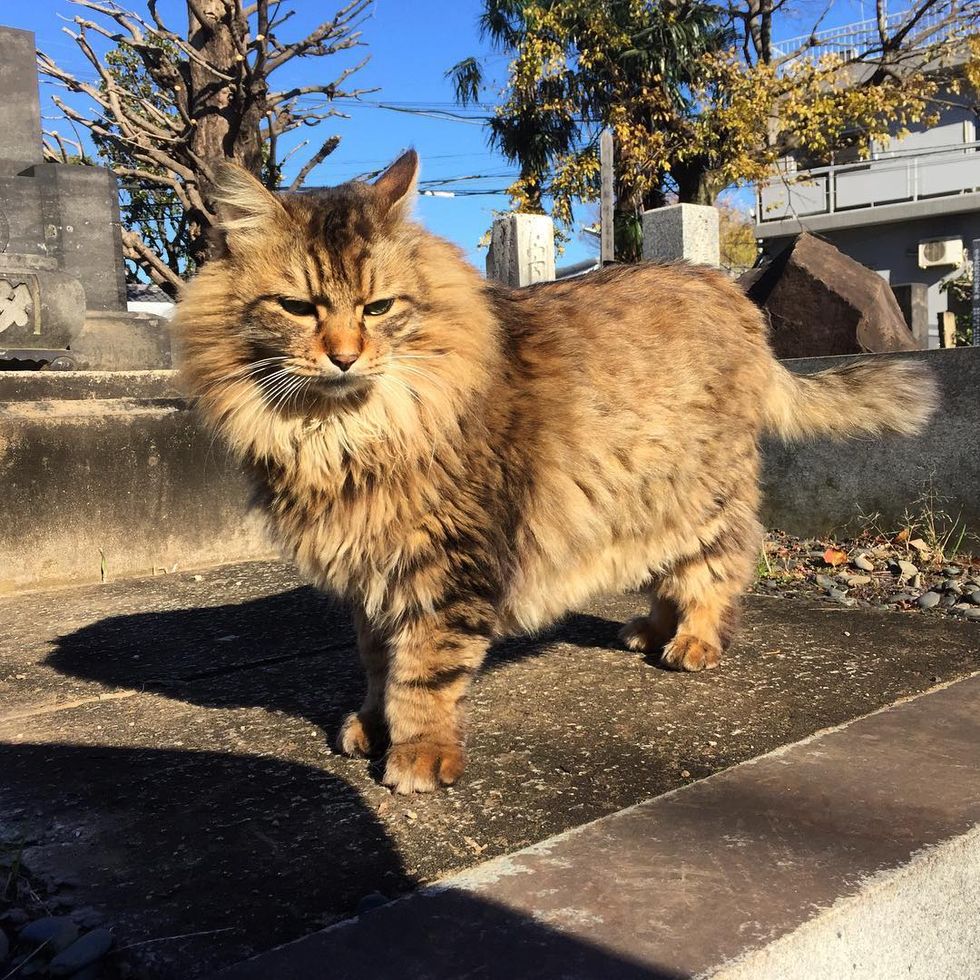 Photo: Guillaume Vieu @giyomu31
It's a peaceful place where cats and humans coexist in purrfect harmony.
Yanaka Cemetery in Tokyo has beaucoup cats and a playground right in the middle. So, heaven. http://t.co/dWjugcwXuZ

— Caitlin Doughty (@Caitlin Doughty) 1431790482.0
They have found their home at the cemetery and in return they provide comfort and love.
Watch this video:
Share this story with your friends. Follow Kitten Lady on Facebook and Instagram. (h/t: Louise Hung via Catster)
Related story: Iconic Laid-back Cat Immortalized with His Own Statue at His Favorite Spot