This 6-year old alley cat was found wandering in a neighborhood in Montreal, Canada.
He managed to survive the harsh winter on his own but the kitty fell sick and was in need of help.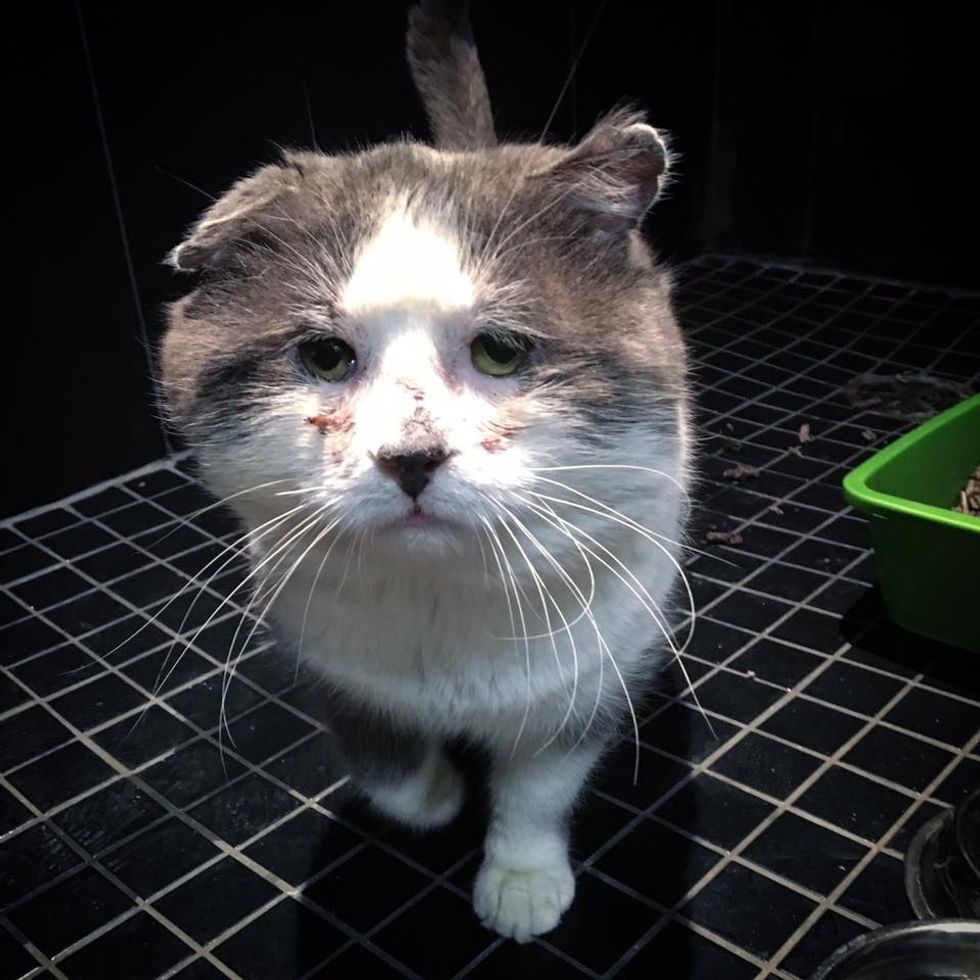 Chatons Orphelins Montréal
When he was caught and taken to Chatons Orphelins Montréal in late January, the kitty was in bad shape. "People from the neighborhood fed him but no one really cared for him. He was a big alley cat that everyone was used to seeing, and winter was hard," Celine Crom of Chatons Orphelins Montréal shared with Love Meow.

They named him Barney and immediately started getting him the medical attention he desperately needed.
"He smelled bad and had runny eyes. He had trouble breathing through his nose as it was completely clogged. He had parasites and ear mites, typical for a cat living as a stray."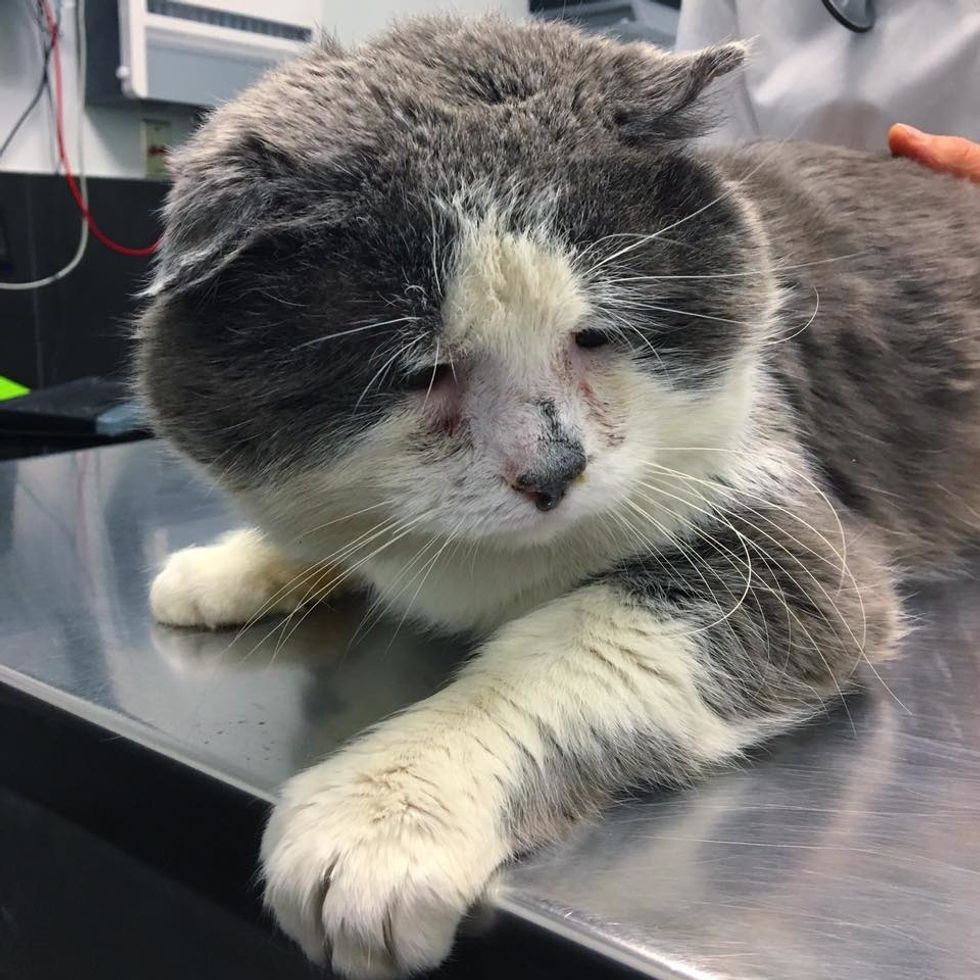 Chatons Orphelins Montréal
One of his ears was frozen and is now permanently folded. Barney is missing a few teeth and has many battle scars from probably fighting for survival in the wild. Despite his condition, the big boy was sweet to everyone that came to help him.
"This big teddy bear is very sweet and comes to us for some affection."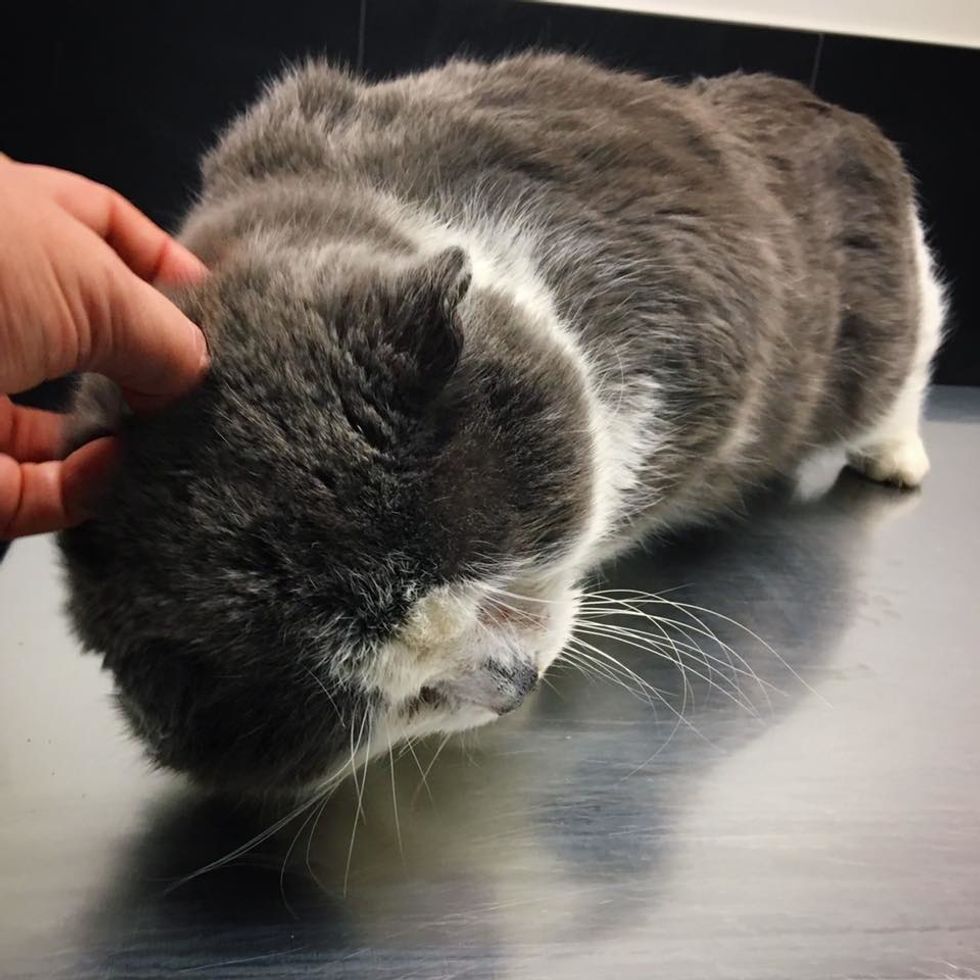 Chatons Orphelins Montréal
Barney was put on antibiotics at the clinic. Being FIV+, they kept him closely monitored as he was being treated. He meowed to the staff and volunteers when he saw them and never complained when he was getting treatment.
"He is beefy and muscular. He had to be the king of his neighborhood. Obviously, with those big cheeks (testosterone cheeks), he is not neutered."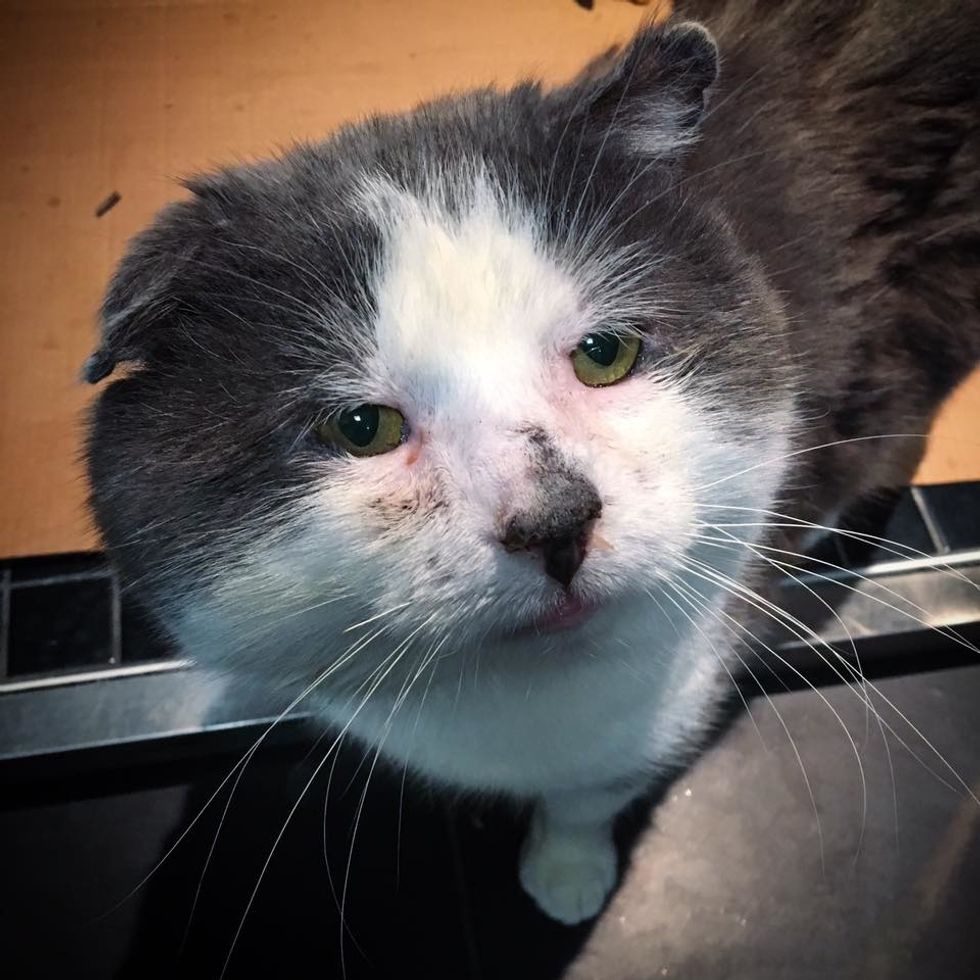 Chatons Orphelins Montréal
Barney's eyes have been healing so well. He will soon finish his antibiotics. They are waiting for him to be healthy before he can be neutered.
"When we visit him, he pushes his head on our hand to get cuddles," the rescue said. "He had a lot of damage when he first came in, and we gave him time to heal."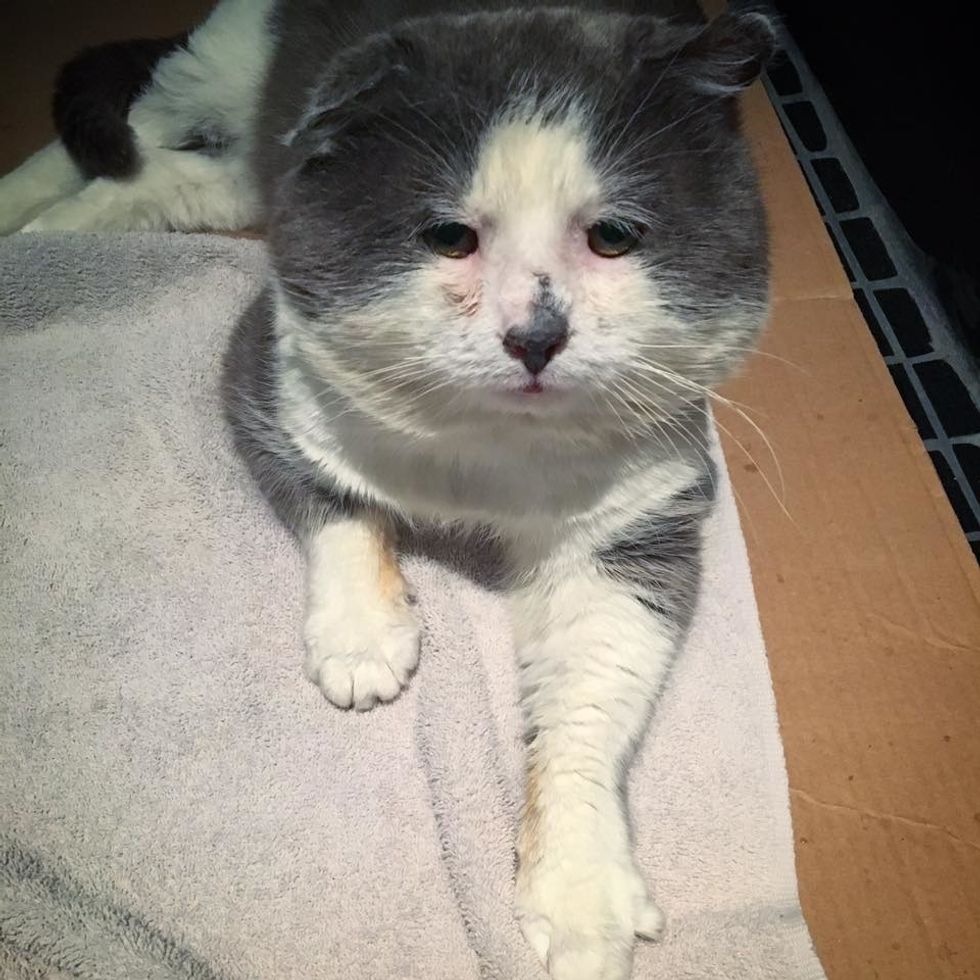 Chatons Orphelins Montréal
Barney's recovery may be slower due to being FIV+ but he is always eager to see his human friends and happy that they are helping him get better.

In less than two weeks, Barney's sad face is gone. Now, he's beaming with happiness.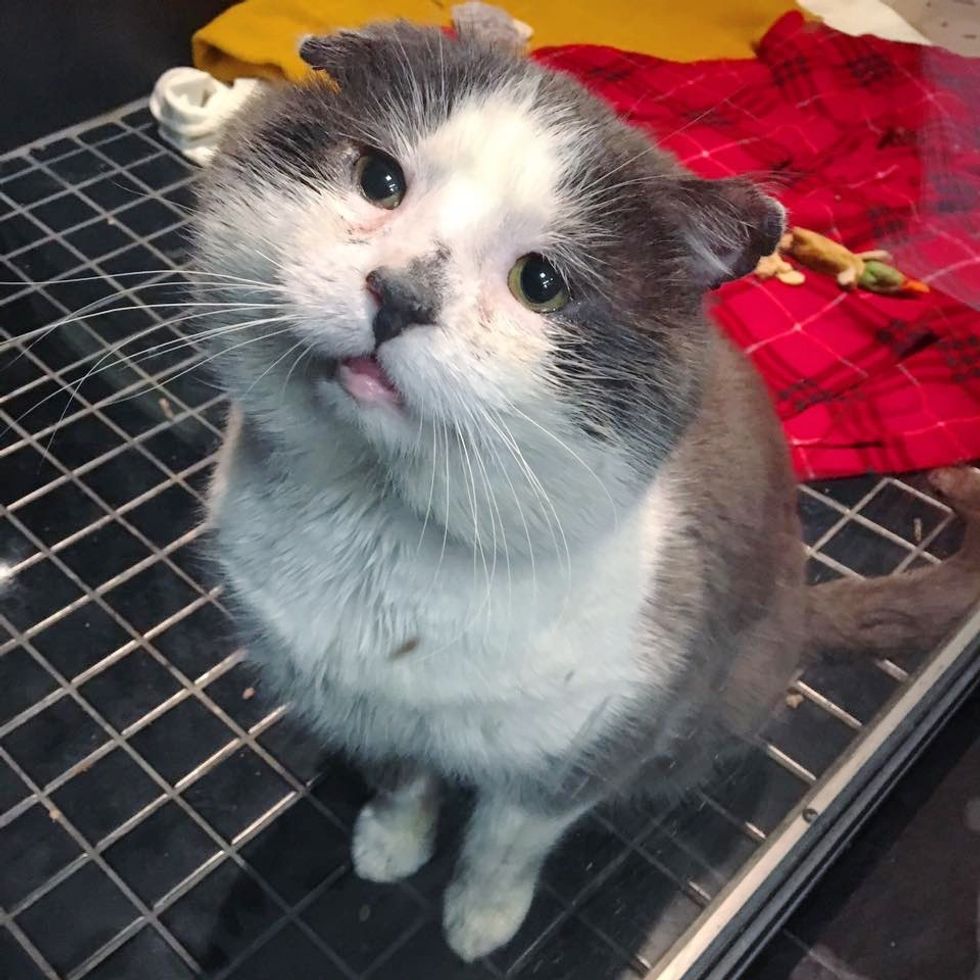 Chatons Orphelins Montréal
Share this story with your friends. Follow Barney and his updates at Chatons Orphelins Montréal on Facebook. If you would like to support their rescue efforts, click here to see how you can help.
Related story: Rescuer Saves Bobtail Kitten and Goes Back to Find Her Brother - Sweetest Reunion