A two-year-old cat, Shelby, was found abandoned right before she gave birth to a litter of kittens. A Good Samaritan noticed her and provided her food while she took care of her kittens.

When the kittens were older, they were trapped and taken to a local shelter. Purrfect Pals, a rescue group in Arlington, Washington, picked up the entire feline family from the shelter and got them into foster care right away.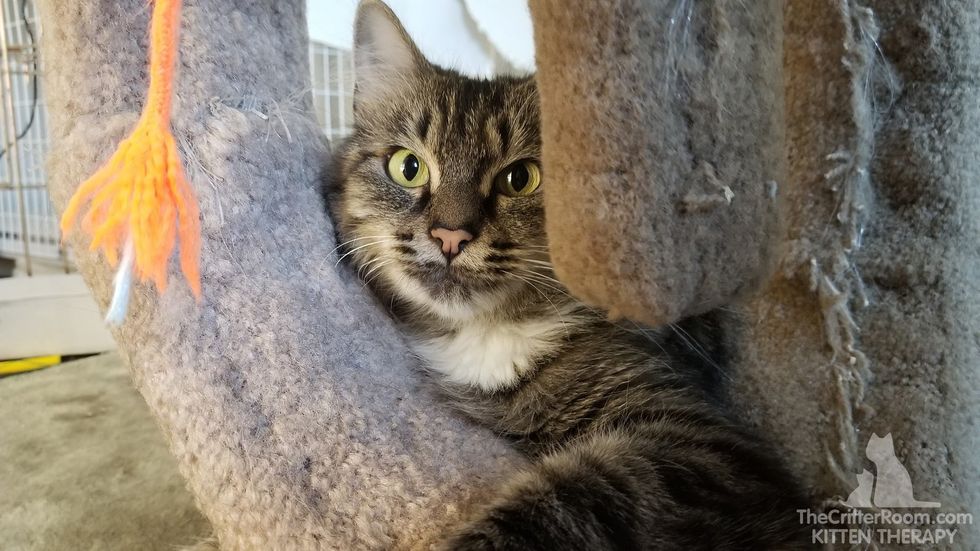 The Critter Room
While they were at the vet for Shelby's spay surgery, they were surprised to discover that she had another litter in her belly. John, an experienced foster dad (of The Critter Room), welcomed Mama Shelby into his care and had everything ready for her and her new babies.
Shelby gave birth to four kittens on August 25th, 2017 but only one kitten named Sparky made it through birth. The tiny fur baby was fighting hard to live. Despite their very best efforts, little Sparky crossed the rainbow bridge four days later in her mother's arms.
On the day of Sparky's passing, to everyone's surprise, Mama Shelby gave birth to a fifth kitten.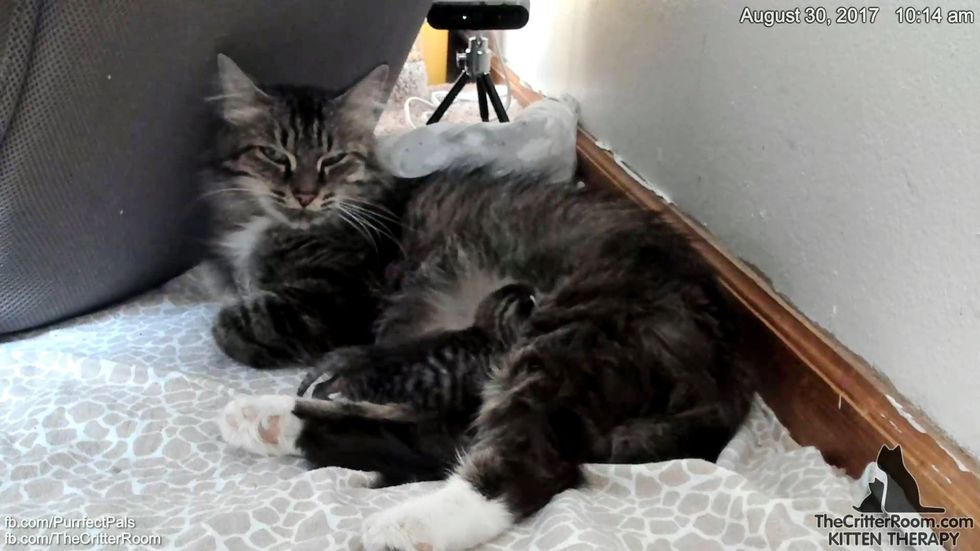 While they were on their way home from the vet on August 29, a tiny surprise kitten was born in the car. She was loud and ready to nurse.

Her name is Lizzie, named after the Ford Model T.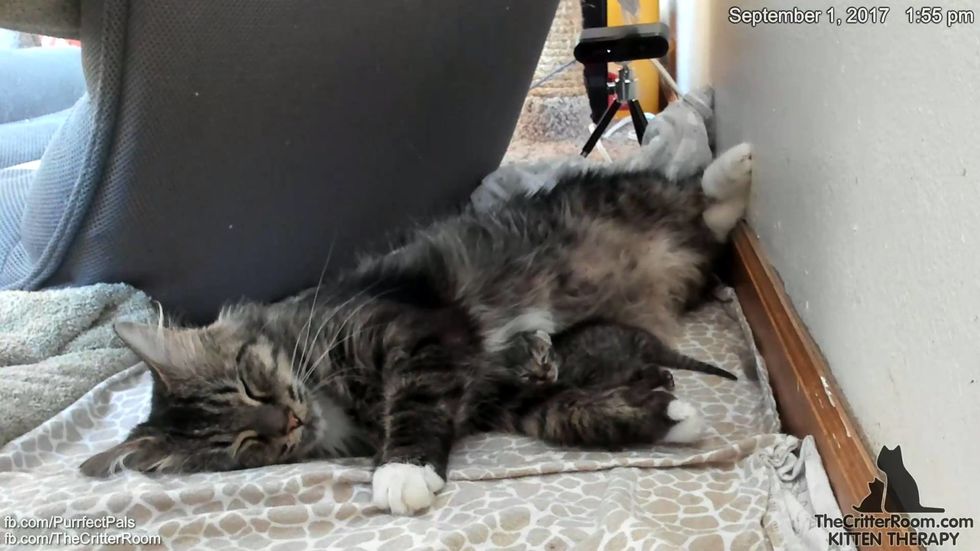 The Critter Room
"The kitten was loud. She was a strong nurser…. Lizzie was a total surprise being born four days after Sparky."
Foster Dad John made sure that Mama Shelby was comfortable and Lizzie was able to nurse off her mom. After a few rough days, Mama and her singleton finally began to thrive.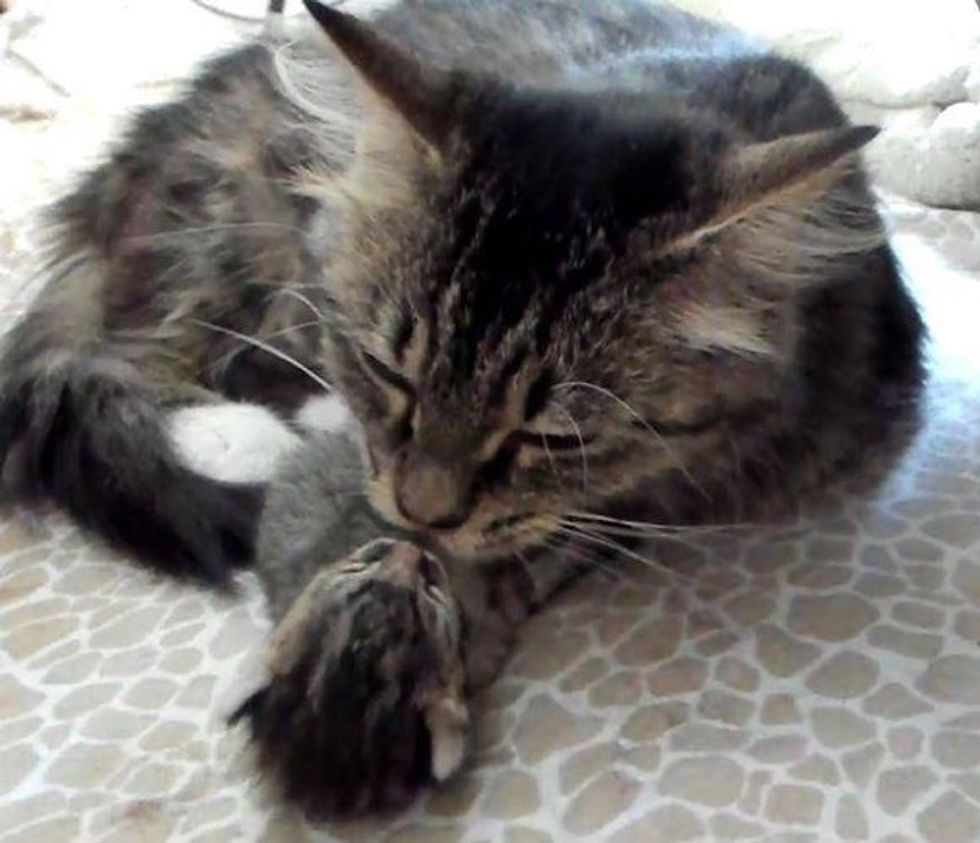 The Critter Room
Shelby had her baby cradled in her belly, nursing, cleaning and watching over her every step of the way.
Lizzie being there gave her the comfort she needed and something to look forward to every day.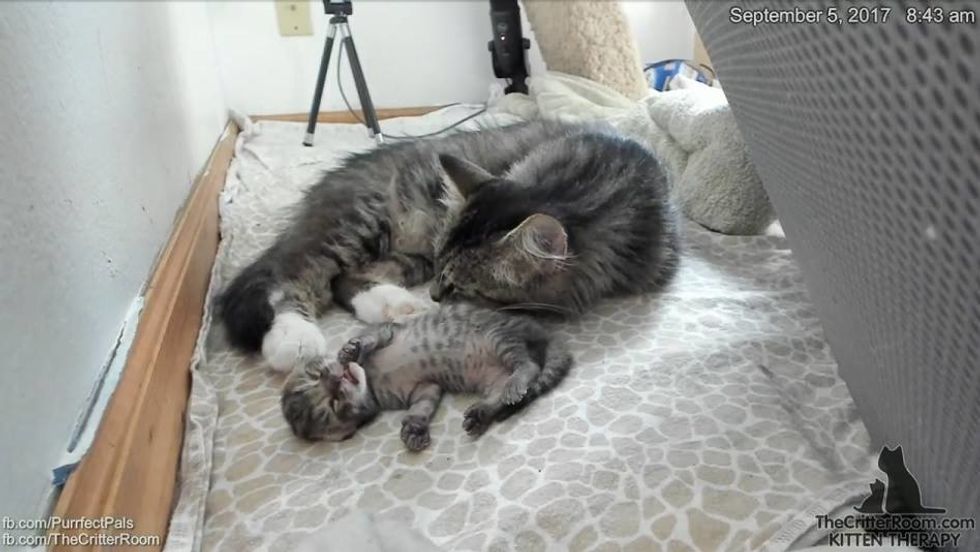 The Critter Room
Cuddles and more cuddles!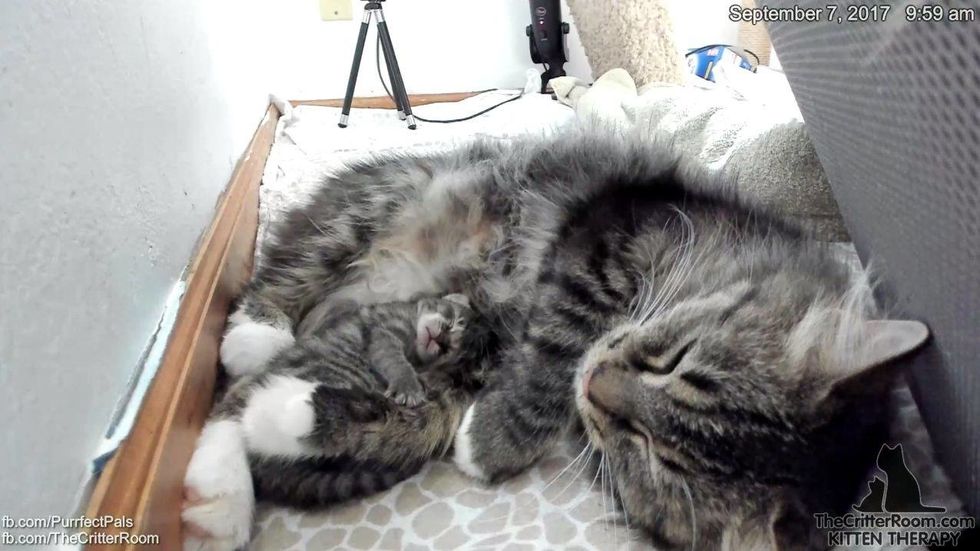 The Critter Room
At 15 days old, Lizzie was eating and gaining weight like a champ. She was a little small for her age according to Foster Dad John, but "her gains may be smaller but they're steady."
Her tiny legs were getting stronger, and when Mama Shelby called out to her, Lizzie would make a beeline to her momma and immediately went to town nursing.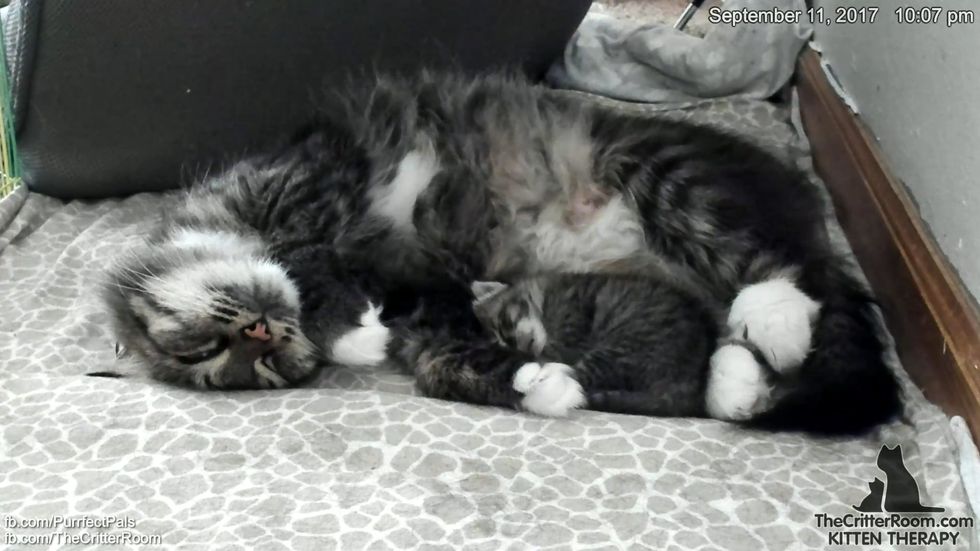 The Critter Room
Over the weeks that followed, Lizzie's personality began to shine.
She would climb everything she could lay her paws on and play with her mama and volunteers nonstop during her waking hours.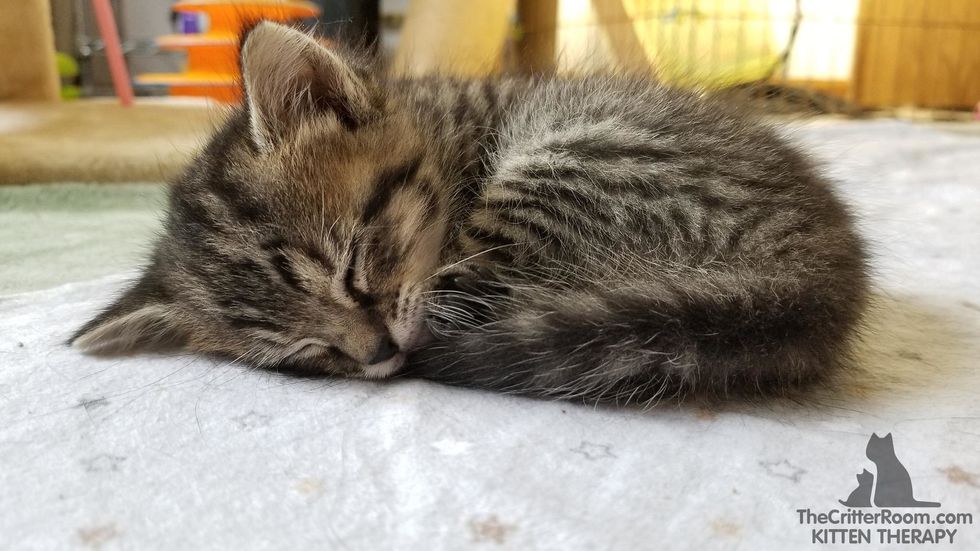 The Critter Room
Shelby maybe a mother, but she plays like a kitten and absolutely loves attention from her human friends.
Nap time means snuggle time!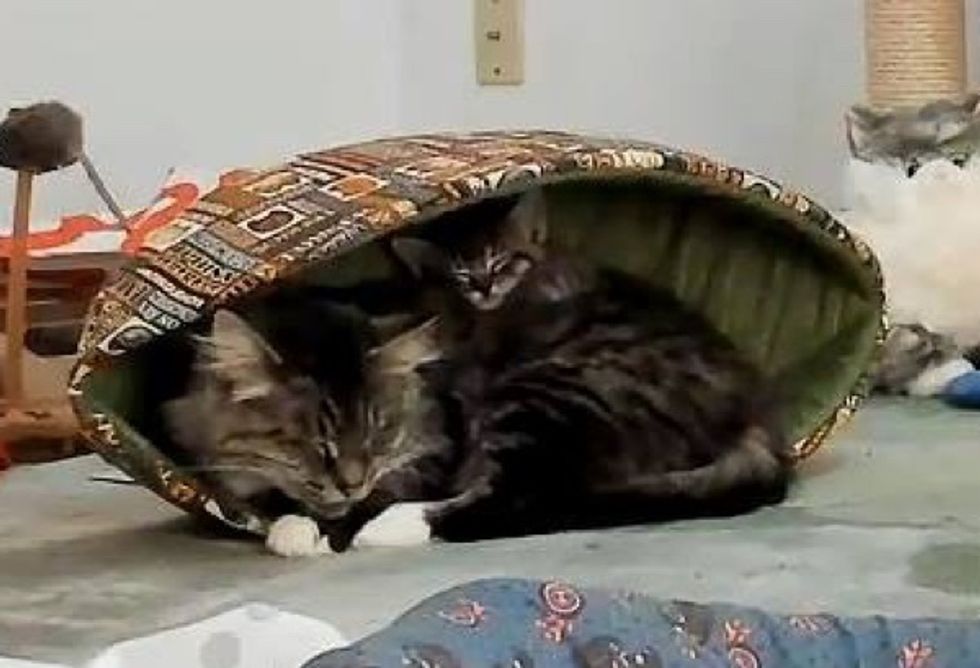 The Critter Room
When it was time for adoption, they knew that they wanted to find Shelby and Lizzie a home together as they had always been there for each other.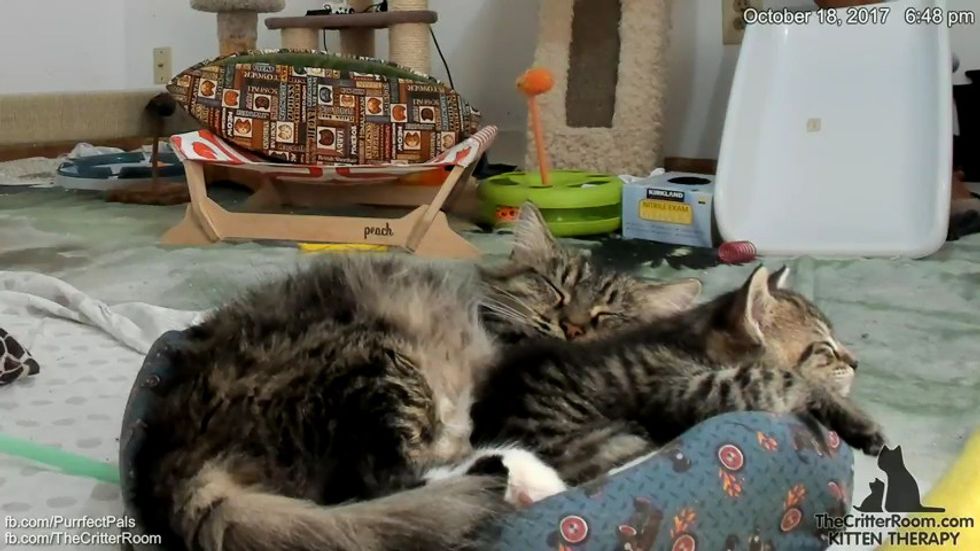 The Critter Room
On November 17, Lizzie and Shelby graduated from their foster home and were ready to embark on a new journey in life.
The Mama and daughter duo was adopted together to their forever home where they had two other feline friends to play and snuggle with.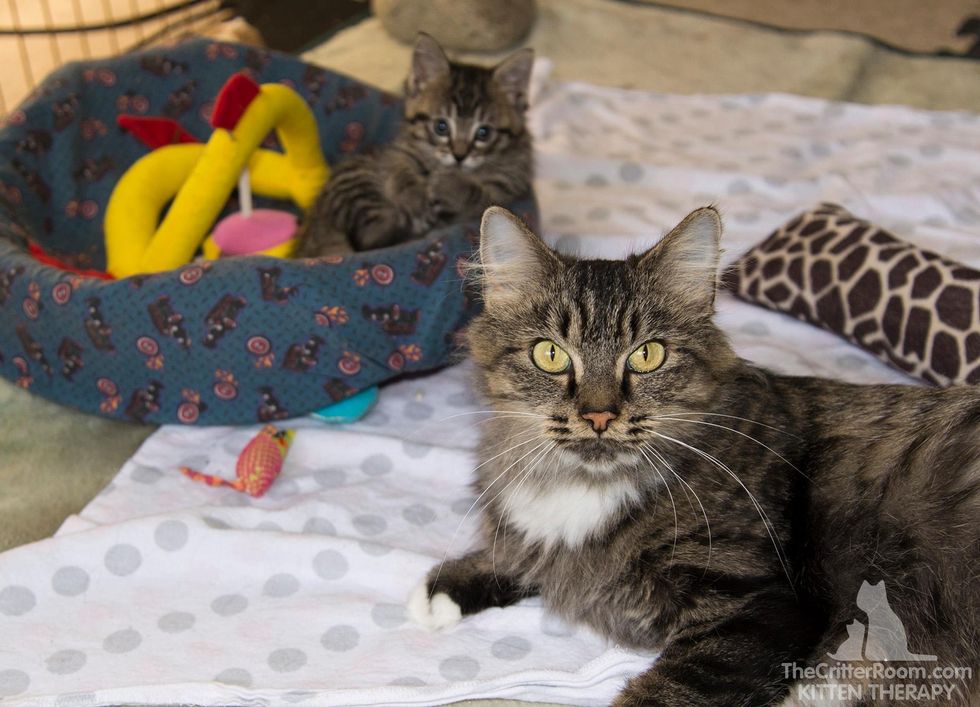 The Critter Room
Shelby and Lizzie at their new home!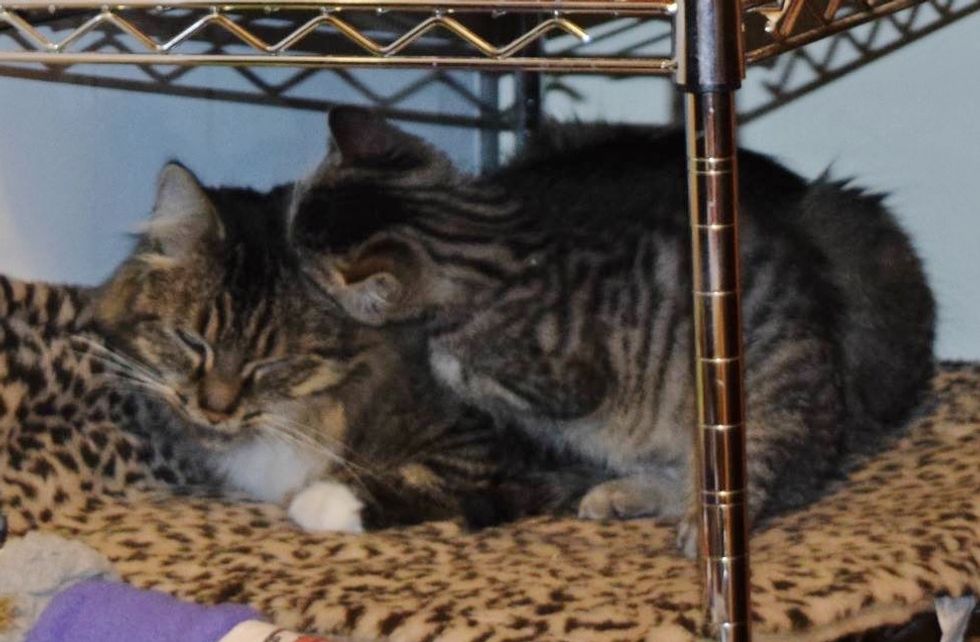 Hurricanes and Hot Rods
Lizzie sharing dinner with her two new sisters.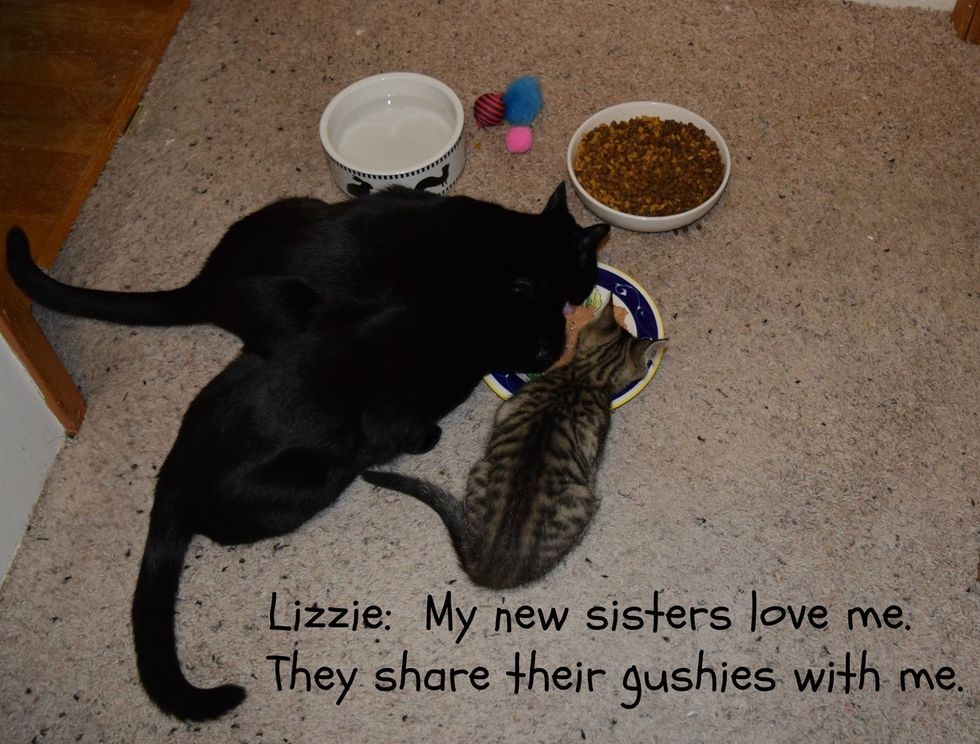 Hurricanes and Hot Rods
Mama Shelby and her miracle kitty Lizzie are having the time of their life at their forever home.
Happy and loved!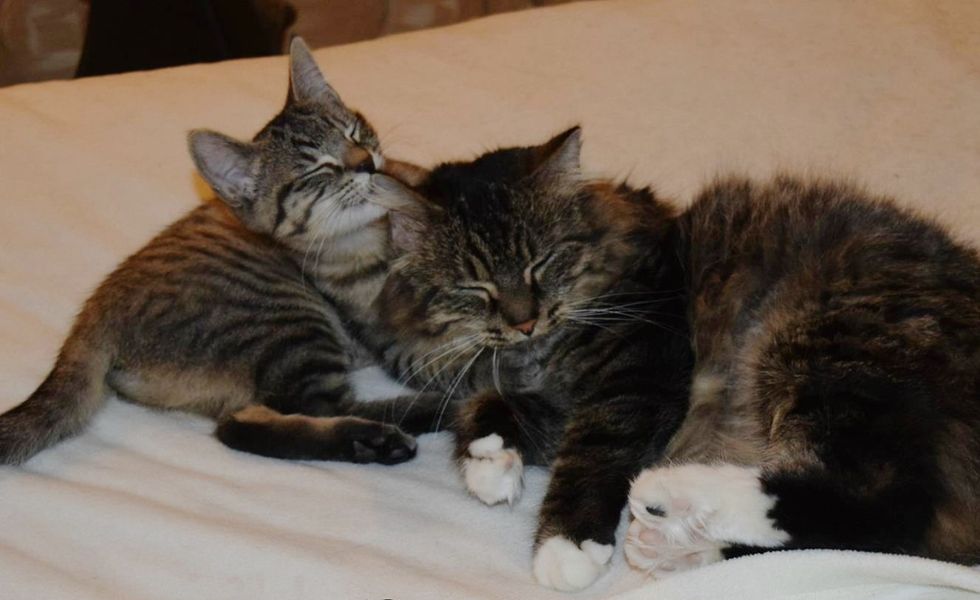 Hurricanes and Hot Rods
Share this story with your friends. Follow Shelby and Lizzie's adventures on Facebook. Follow Foster Dad John's foster kitties on Facebook.
Cuddle time:
If you would like to support their rescue efforts, click here to see how you can help. Follow Purrfect Pals on Facebook.

Related story: Rescue Cat Mom Hears Orphaned Kittens Cry, She Runs to Them