A tiny kitten who survived against the odds, found love in an unlikely "Mr. Mom". He looked after this motherless kitten and helped turn his life around.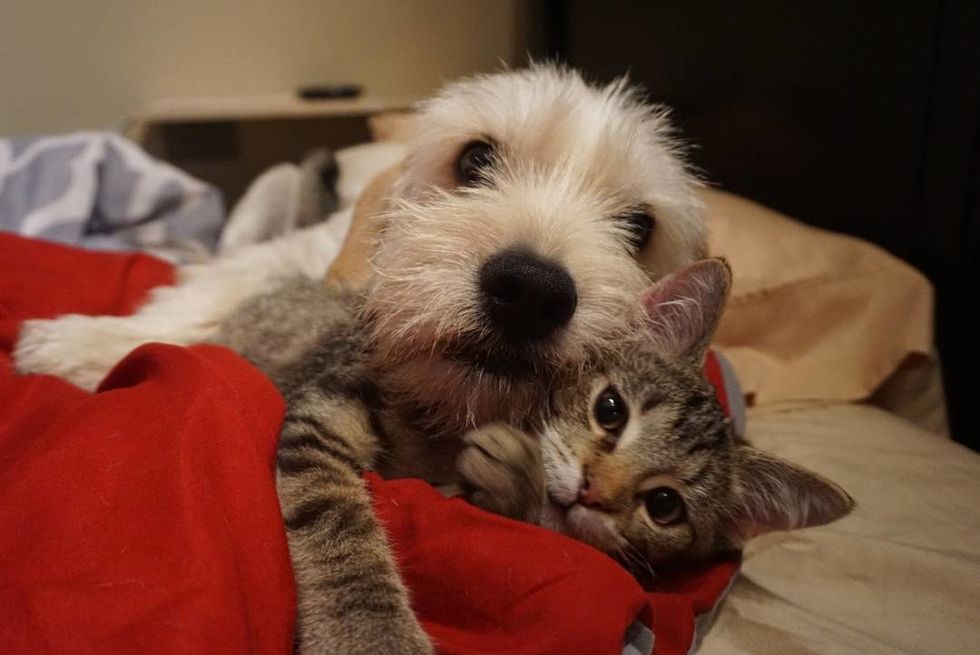 Meet Kramer the cat and Winston the dog!McKenzie Springer @kramer_the_kitten
One and a half years ago, Valley Cats, Cat and Kitten Rescue, a rescue group in Neenah, Wisconsin, took in a heavily pregnant cat in desperate need of help. "She had to go in for an emergency C-section days later and had eight kittens," McKenzie Springer, a volunteer of Valley Cats, told Love Meow.

One of the kittens along with the mother cat crossed the rainbow bridge. The remaining seven kittens fought hard to live. One of them was born special with congenital neurological issues but he stood out in the litter as the kitten with the most fight.
McKenzie happened to be visiting the kittens' foster family one day and met the bottle babies for the first time.
Valley Cats, Cat and Kitten Rescue
"When I went into the foster room, he stuck out like a sore thumb. He was playing and wrestling with his brothers and sisters, but continuously fell and tumbled around. He lost his balance when he was even just walking," McKenzie told Love Meow.
But nothing bothered the little tabby boy as he stood up after every fall and kept on playing like any other kitten. "He had the most adorable face and he was the sweetest and happiest kitten in the room. He brought me to tears, not because I felt bad for him, but because he showed such an uplifting spirit against such adversity."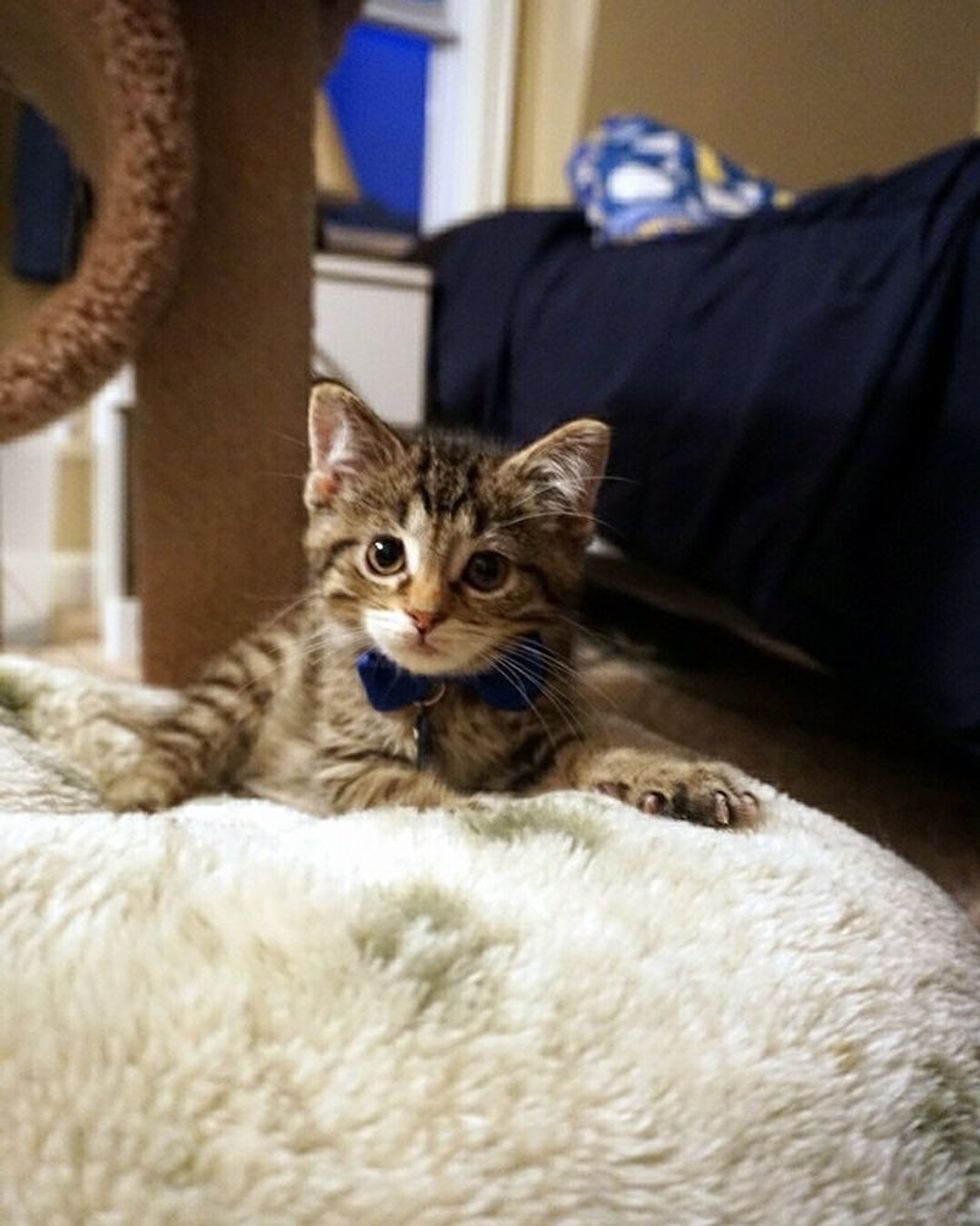 McKenzie Springer @kramer_the_kitten
After many vet visits at different clinics, they discovered that the nerves from his mid back to his tail were pinched, giving him the wobbly gait. He also had some depth perception issues, but they expected these to get better with time.

At the time they weren't sure how long he would live, but that didn't stop McKenzie from wanting to adopt this special kitty. The little kitten had her at his first tumble.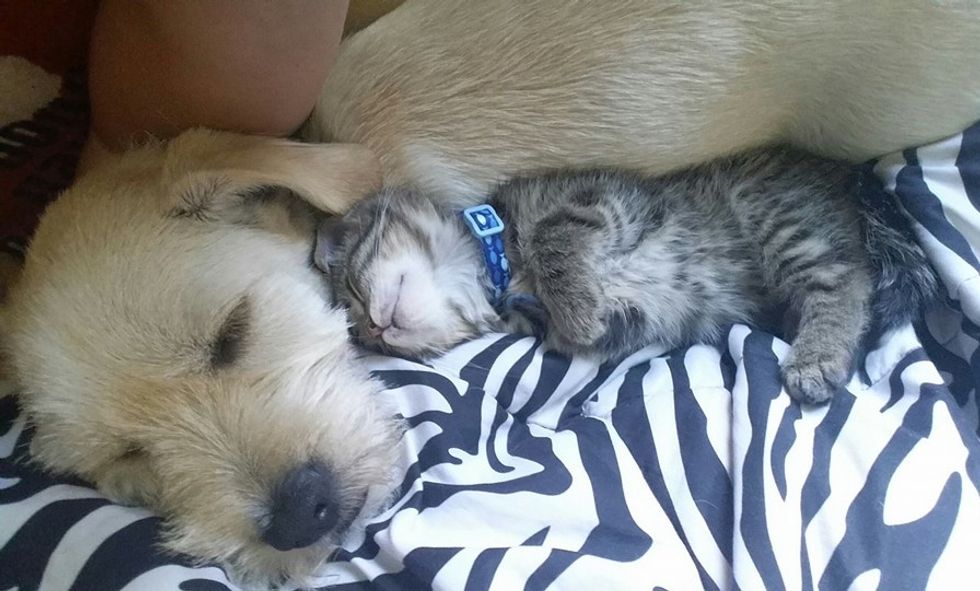 McKenzie Springer @kramer_the_kitten
She named him Kramer after the character from Seinfeld. McKenzie had two other cats and two dogs when Kramer made his debut at his new home. Winston the dog, also a rescue, came right up to him and the two instantly bonded.
"It's like Winston knew that Kramer didn't have a mom and needed someone to guide him in certain situations. I say Winston became Kramer's 'Mr. Mom'," McKenzie told Love Meow.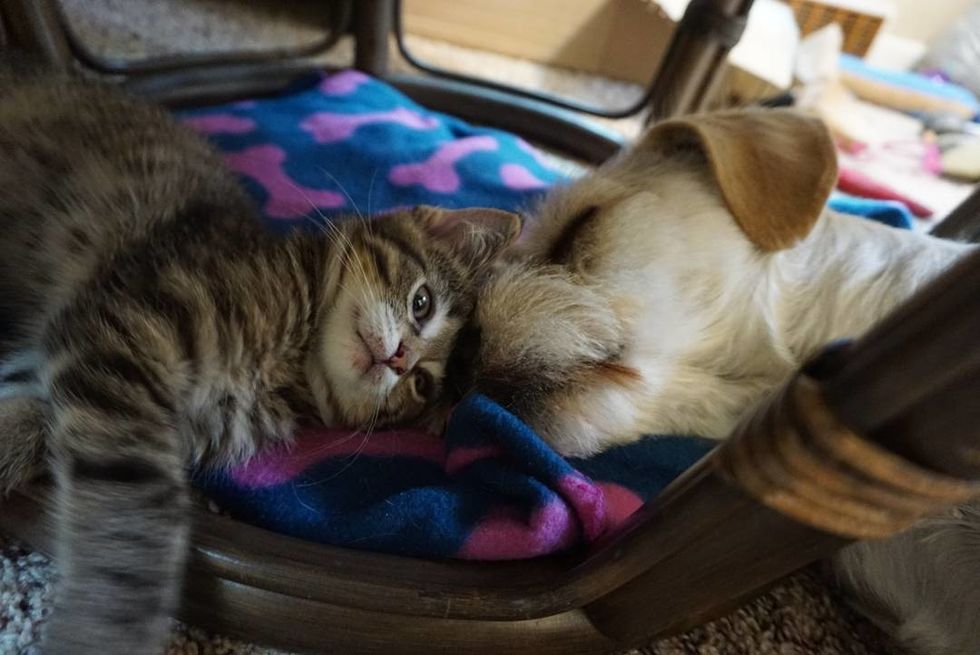 McKenzie Springer @kramer_the_kitten
It was love at first sight.
Winston took over in a motherly role. He cleaned his face after every meal and kept him tidy. Kramer adored Mr. Mom and rubbed his face all over him whenever he got a chance.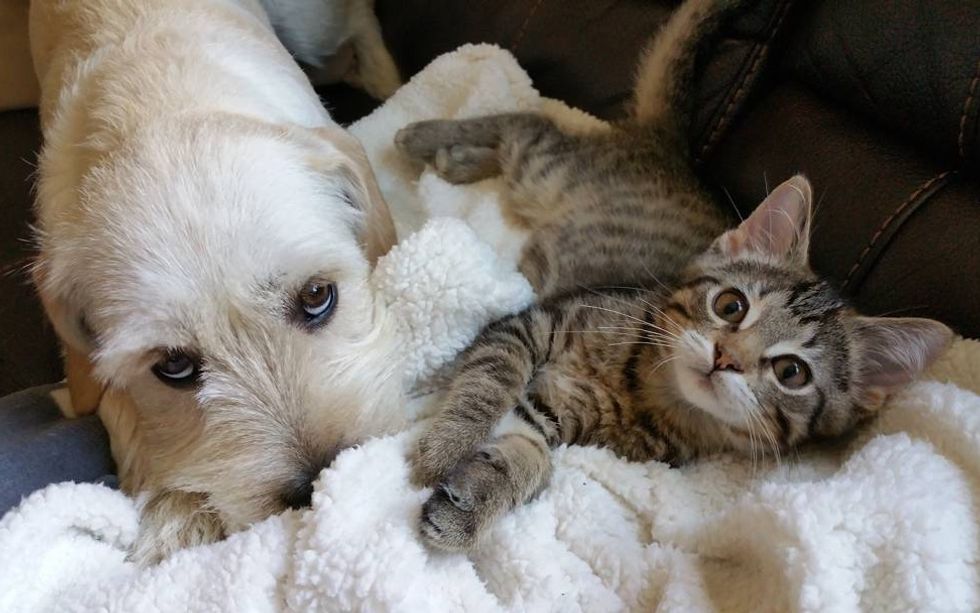 McKenzie Springer @kramer_the_kitten
Winston never left his side, watching over his feline baby every step of the way.

"Any noise Kramer would make, Winston would run to see what was wrong. Anytime Kramer got out of the litterbox, Winston was there to make sure he was all clean."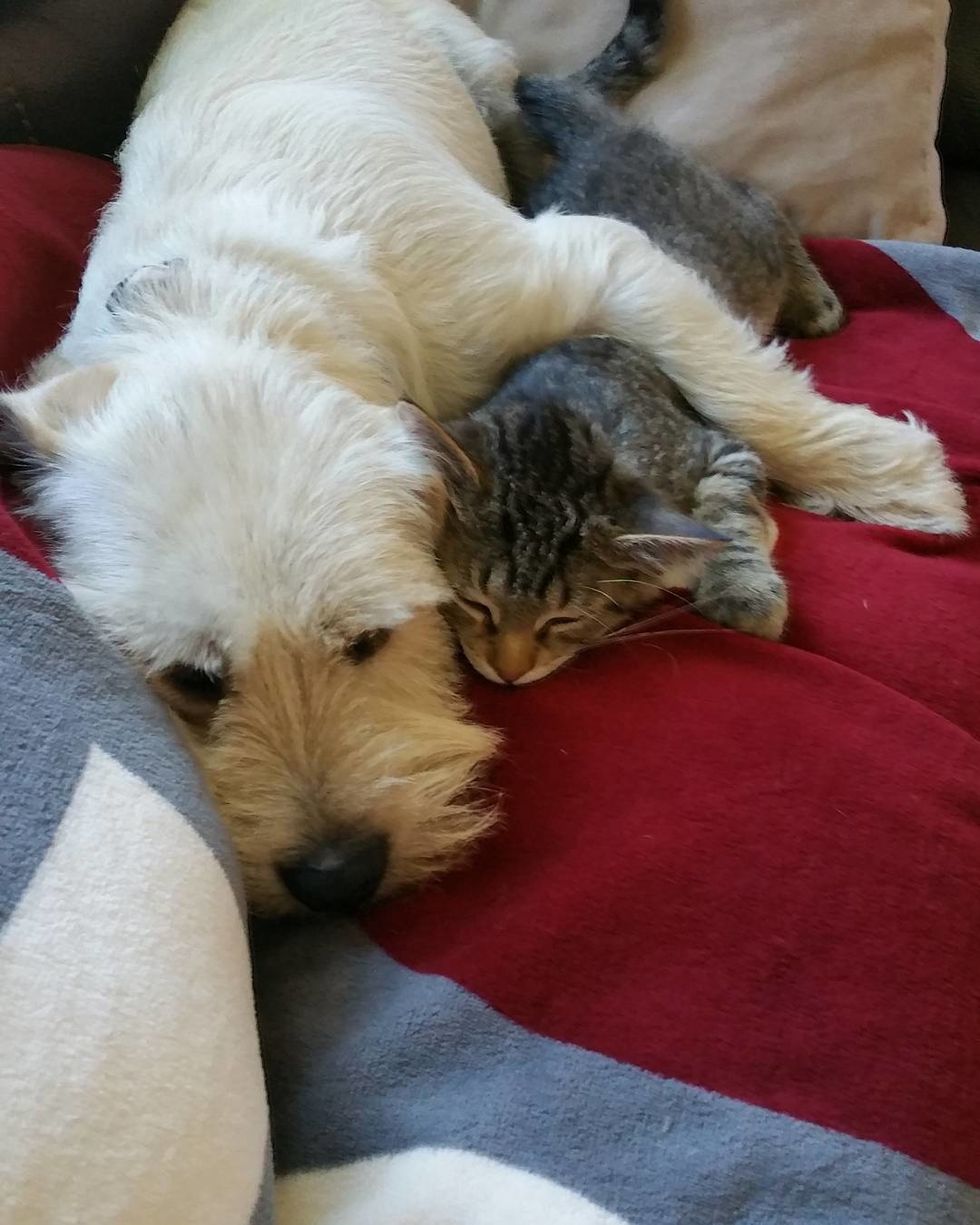 McKenzie Springer @kramer_the_kitten
The protective Canine showered Kramer with cuddles and love.
"Being a bottle baby, Kramer still tries to nurse on everything, even though he doesn't really know what he's doing. That 'everything' often times includes Winston, and Winston just lets it happen."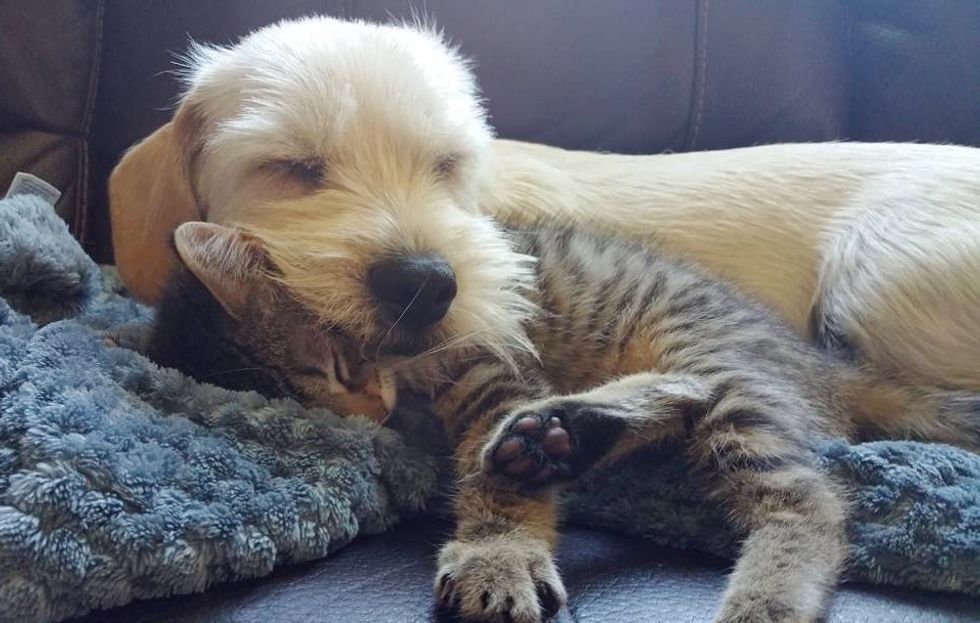 Louie the cat also lent a paw on raising the littlest member of the family.
Cuddling in a snuggle sandwich.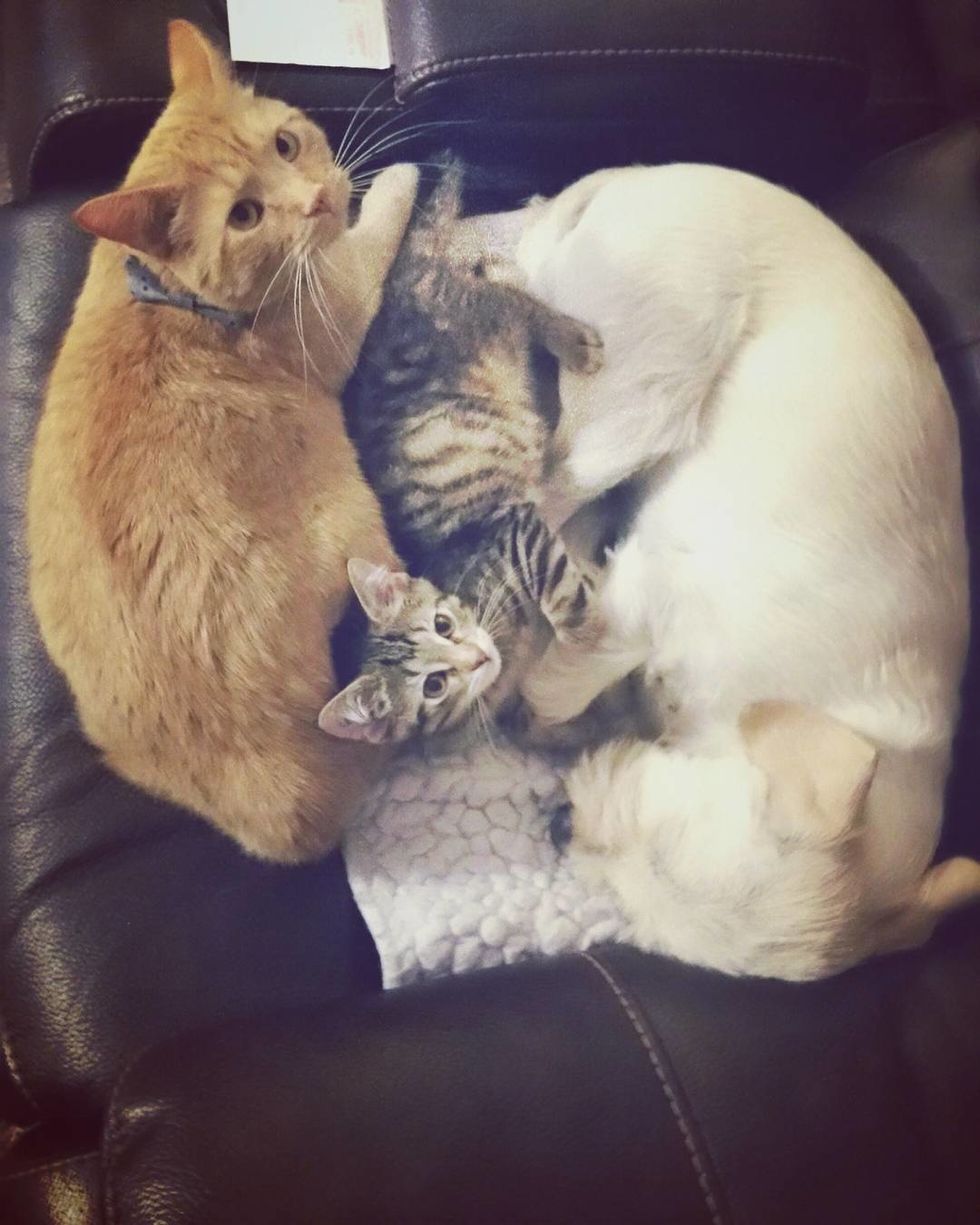 McKenzie Springer @kramer_the_kitten
Months later, Kramer's walk got better and he grew a lot in size and mischief. But some things never change.
"Winston still is very protective of Kramer and they are the best of friends. They wrestle and snuggle all of the time," McKenzie told Love Meow.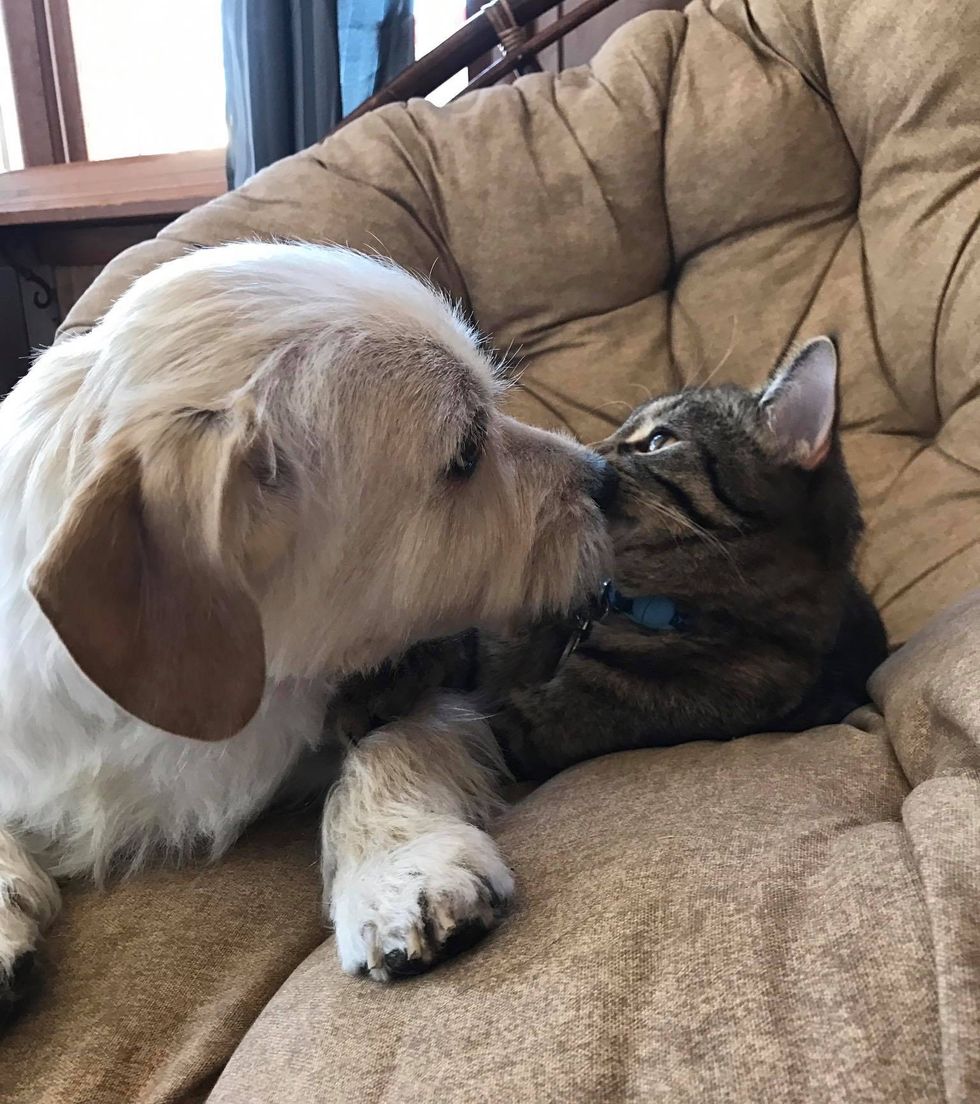 McKenzie Springer @kramer_the_kitten
Over a year ago, they weren't sure if Kramer would make it past six months, but the little guy has since beat the odds and reached many, many milestones.
"He has his sassy moments like any cat, but he is the happiest cat I have ever met. He has faced so much adversity, but he's so happy to just be here and be Kramer. And that's what i love most about him."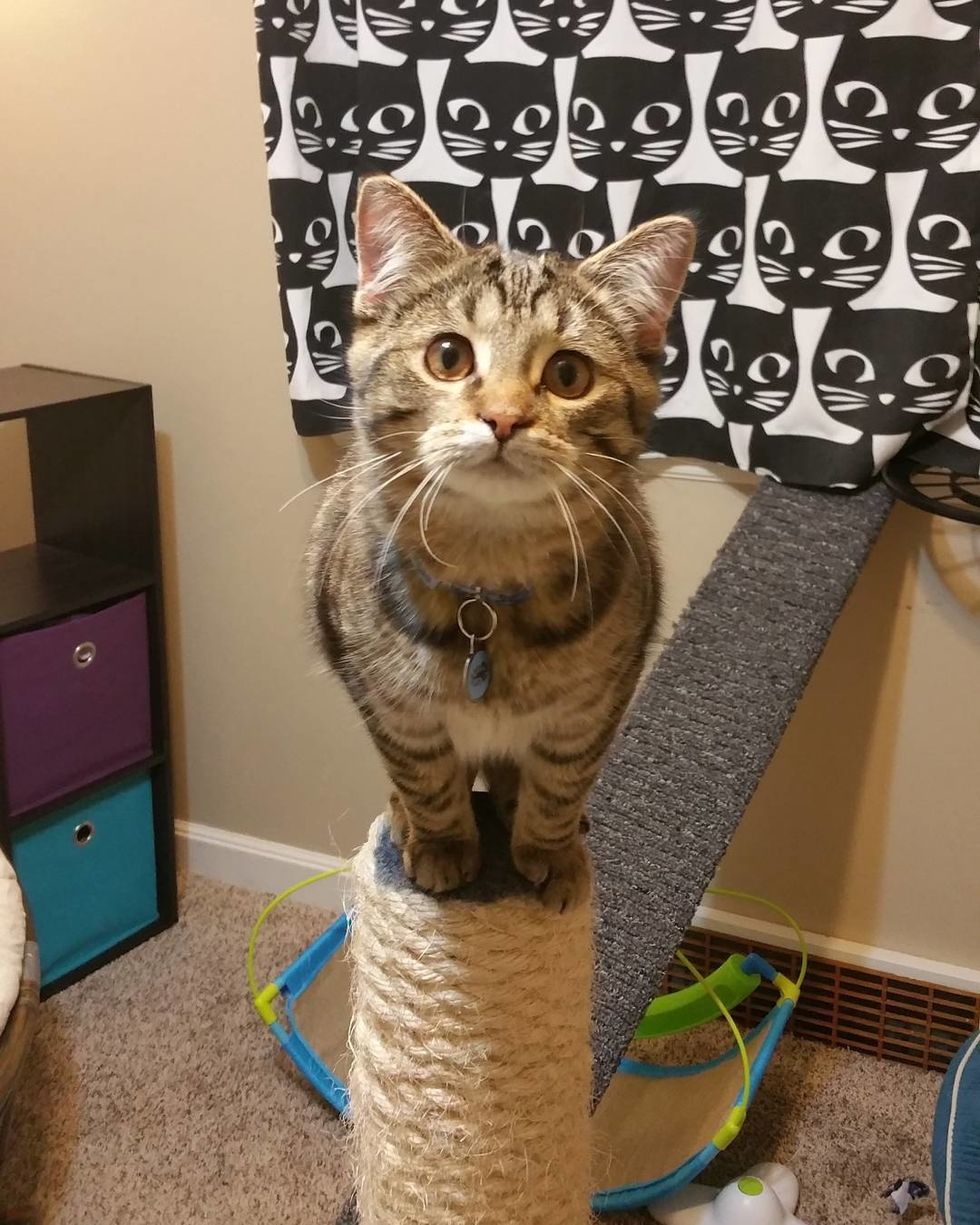 McKenzie Springer @kramer_the_kitten
His best buddy, Winston, was there for him every step of the way.
Kramer leaned on Mr. Mom every night when he was little. Now he has become Winston's favorite pillow to nap on.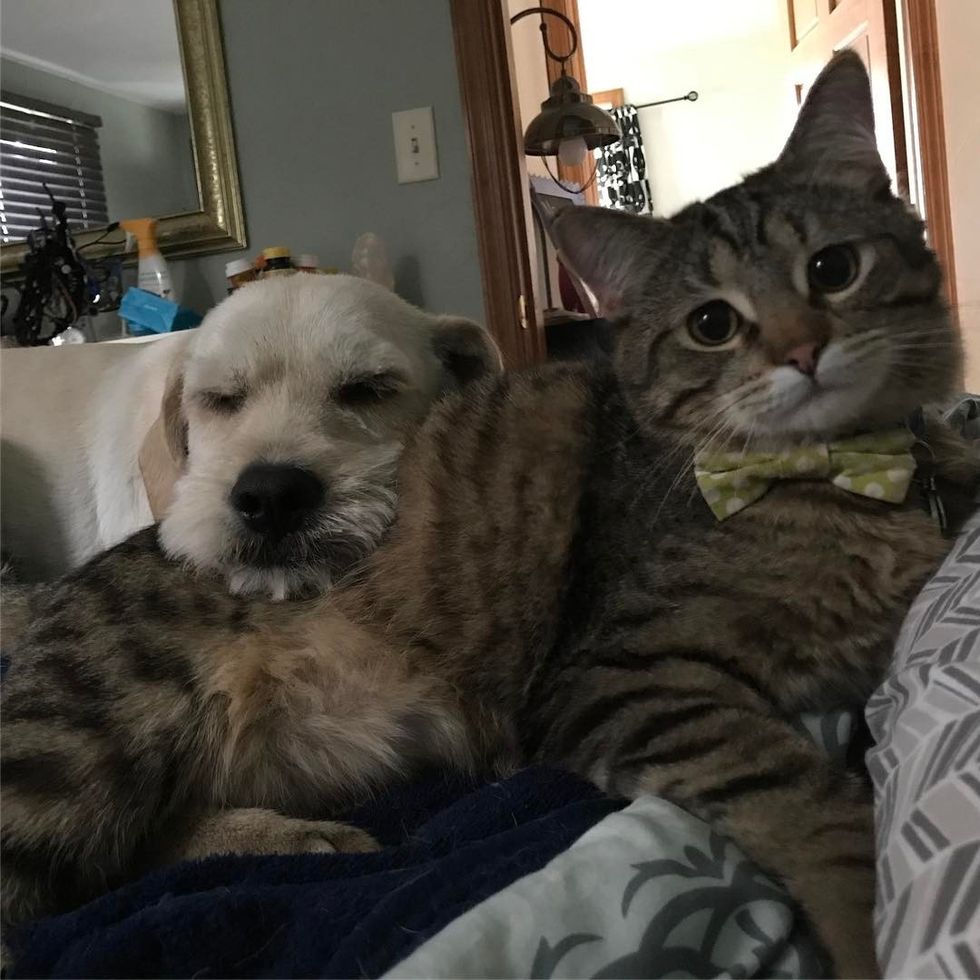 McKenzie Springer @kramer_the_kitten
Adorable!
Share this story with your friends. Follow Kramer, Winston and their furiends on Facebook and Instagram. If you would like to support their rescue efforts, click here to see how you can help.

Related story: Cat Nurtures Dozens of Orphaned Kittens and Becomes Their Surrogate Dad