They took in a rescue cat, hoping to fix her broken leg, but little did they know the kitty came with a tiny miracle.
Meet Pippi the cat.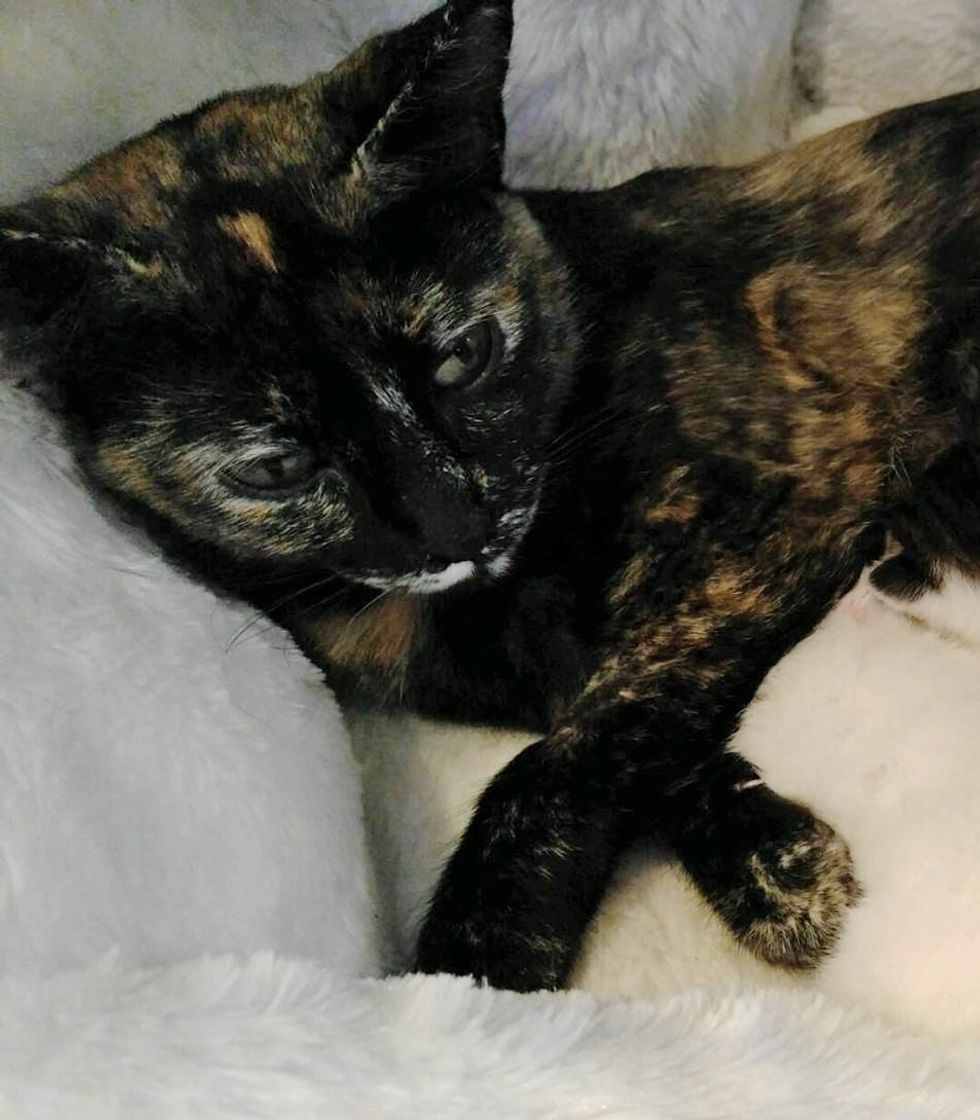 Courtesy: CATS Cradle Shelter
"Pippi was transported from another rescue with injuries consistent with being hit by a car back in August," CATS Cradle Shelter shares with Love Meow.
When the tortie cat arrived in the shelter, they immediately took her to the vet for x-rays to see if they could repair her broken leg.
She was just skin and bones, but as an unspayed cat found outdoors, they were concerned that she might be pregnant. After examinations, the vet came back with good news and bad news.
"The good news is she is not pregnant (because she would not be able to deliver her babies), and the leg can be either repaired or amputated, the bad news, her hip is severely fractured," the vet told CATS Cradle Shelter.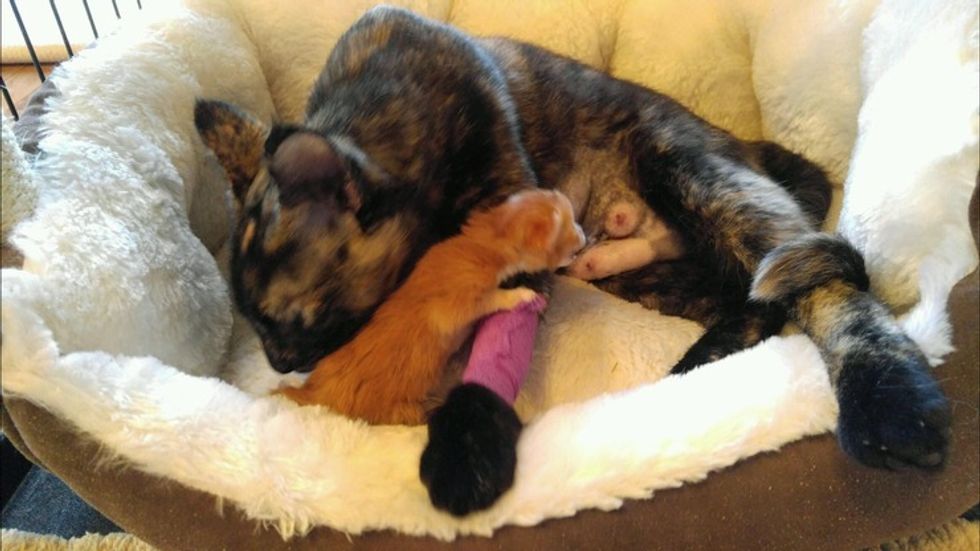 Courtesy: CATS Cradle Shelter
After consulting the surgeon and knowing that her hip was already healing, they decided to repair her leg and give Pippi the time she needed to recover before the spay operation. Pippi was a champ after the surgery, and went to foster care for a couple of months to heal and recover.
During her post op re-check, everything looked good, but no one expected the shock they were about to experience 60 days after Pippi arrived in the shelter.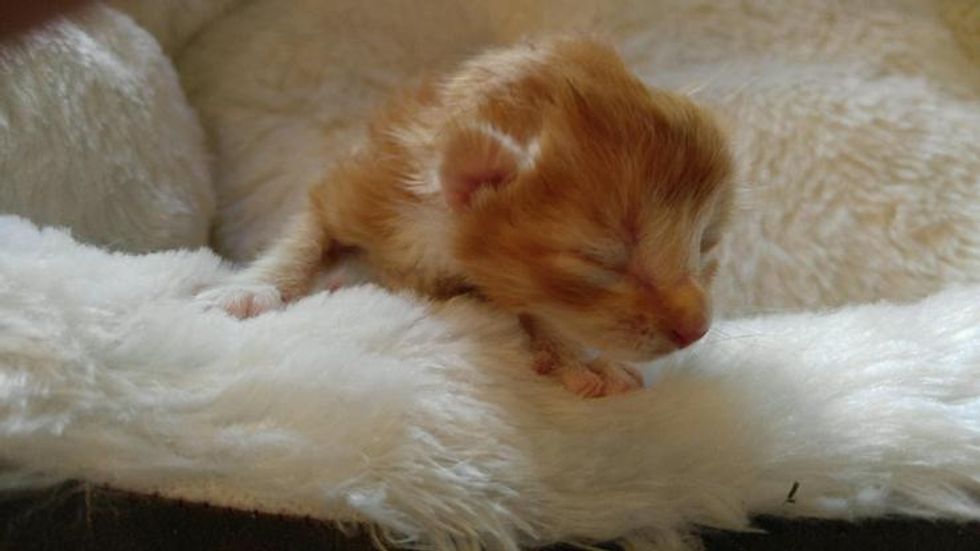 Courtesy: CATS Cradle Shelter
"You can imagine my shock and surprise when she suddenly ended up in the emergency room, and they found a full term, live kitten inside," the shelter said.
Pippi had one tiny kitten in her belly all along, and the fact that she was so skinny made it difficult for the vet to detect her pregnancy.
Courtesy: CATS Cradle Shelter
"After an Emergency C-section and kitten resuscitation, Pippi and her kitten are now home resting comfortably."

How the kitten survived the trauma of the accident, X-Rays, and surgery is a wonder
The story does not end there. Pippi is destined to be a mom to many.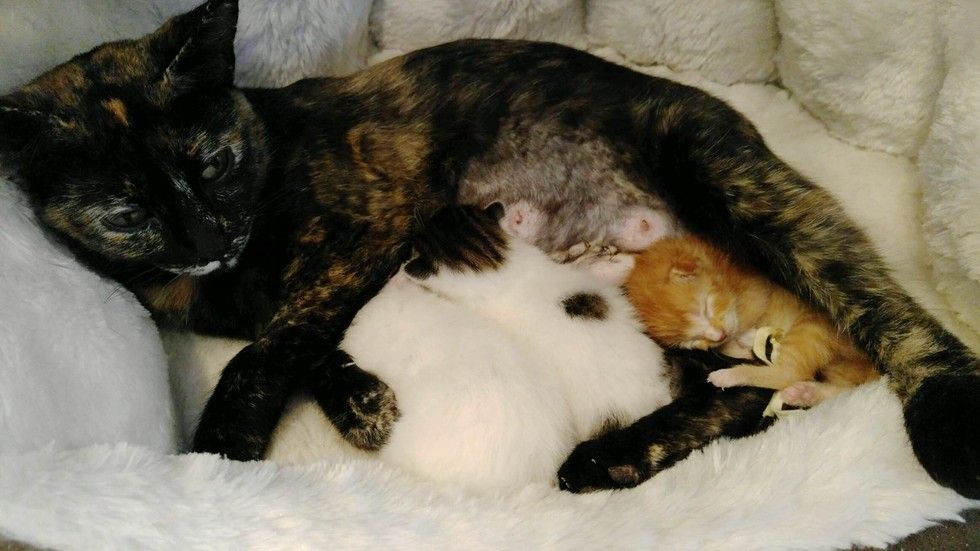 Courtesy: CATS Cradle Shelter
Several days later CATS Cradle Shelter took in two orphaned kittens that were just three days older than Pippi's singleton. They were in desperate need of motherly love.

With approval from the vet, the shelter staff introduced the two orphaned babies to mama Pippi. It was love at first sight.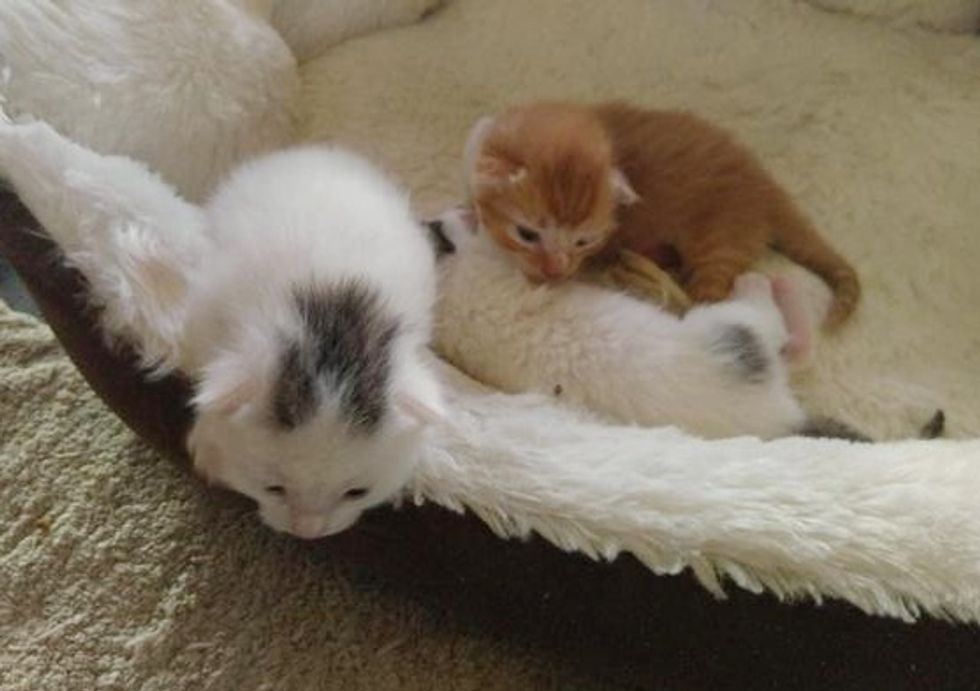 Courtesy: CATS Cradle Shelter
"Pippi took them under her paw immediately and they are one happy little family," CATS Cradle Shelter said.

It was a miracle that Pippi's baby survived against all odds, and now she's being the surrogate mom to two helpless kittens, giving them unconditional love and care to help them thrive - a miracle in itself.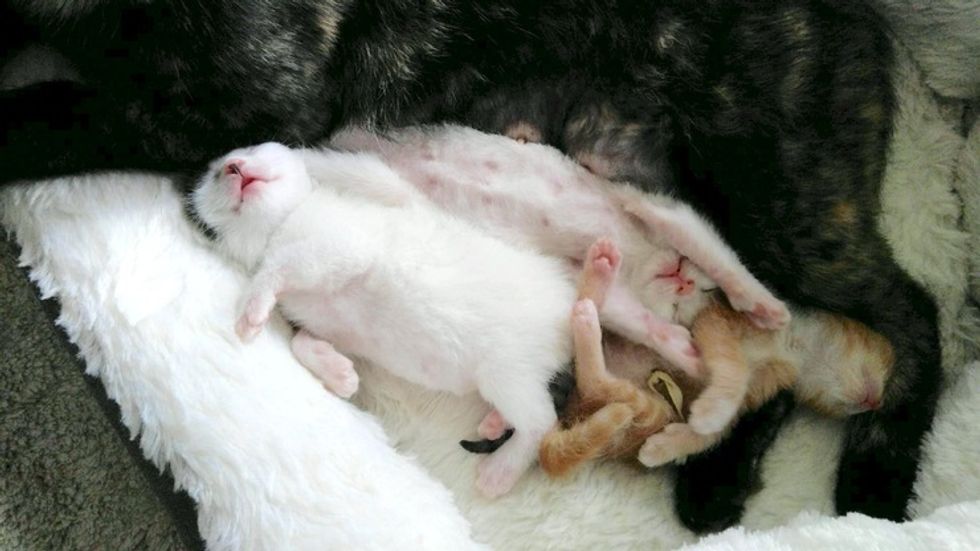 Courtesy: CATS Cradle Shelter
Share this story with your friends. If you would like to support their rescue efforts, click here to see how you can help. Follow CATS Cradle Shelter on Facebook.
Related story: Cat Mama Left Preemie Baby Behind but Came Back with Two Little Surprises