A little ginger kitten cuddled up to his rescuer after he was saved from the busy traffic on the Golden Gate Bridge.
Meet Bridges!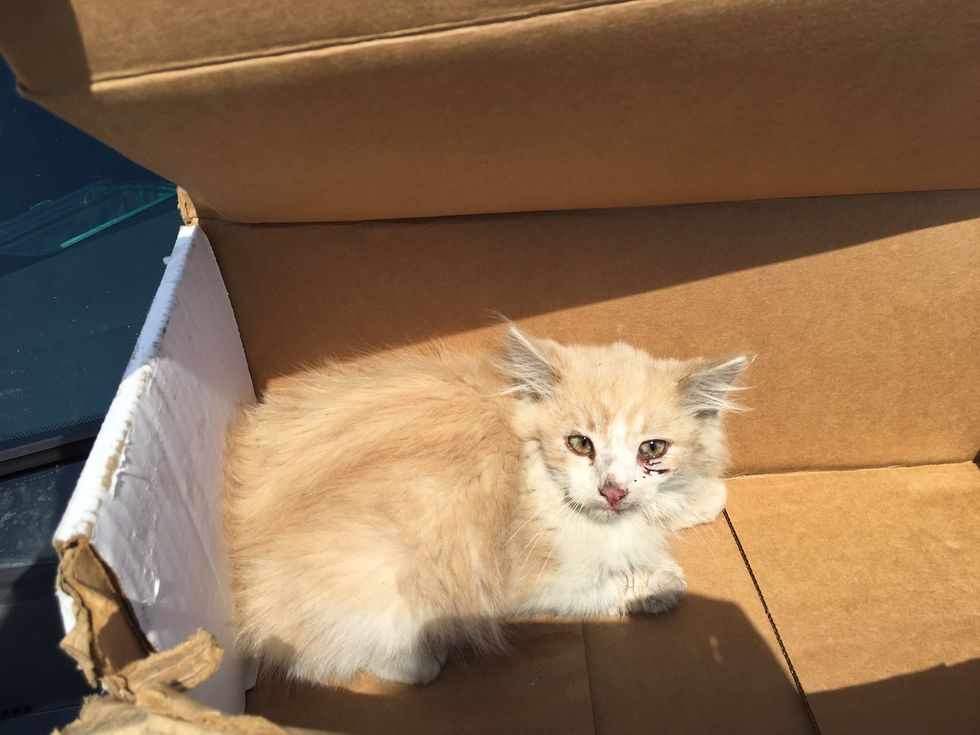 CHP - Marin
On June 24 around 2:50PM, a driver spotted a small kitten in the middle of the Golden Gate Bridge and immediately contacted CHP - Golden Gate Division for help.

Within minutes, officers arrived and started searching for the little feline. "The location that he was found leads us to believe that he was either dumped from a vehicle or that he had possibly crawled up under a vehicle and fell out after the vehicle was in motion," Officer Andrew Barclay of CHP - Marin told Love Meow.
At first officers passed across the bridge trying to locate the kitten but couldn't find his whereabouts. Not willing to give up, they looped around and gave the bridge another pass.
"As they approached the south tower on the bridge they noticed a little furry head popping out from inside of the movable median barrier that separates the northbound and southbound lanes."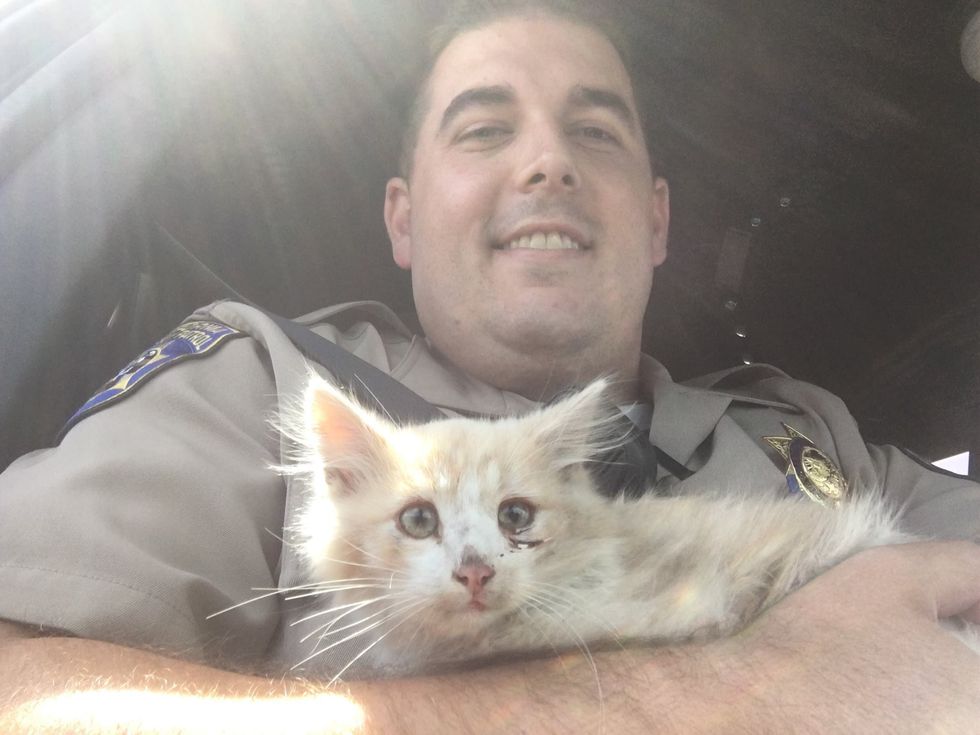 Bridges clings to his rescuer Officer Matt Smith after being saved.CHP - Marin
To ensure safety, officers blocked the lane of traffic, got off the car and rushed to the kitten's rescue. The tiny feline was cowering in the hiding spot until officers quickly freed him and put him in their safe arms.
Once they transported the kitten off the bridge, Officer Matt Smith made a few phone calls to see where they could bring the kitten to get the help he needed. "Officer Smith decided to transport him to VCA - Madera Pet Hospital (in Corte Madera, California), very near our office."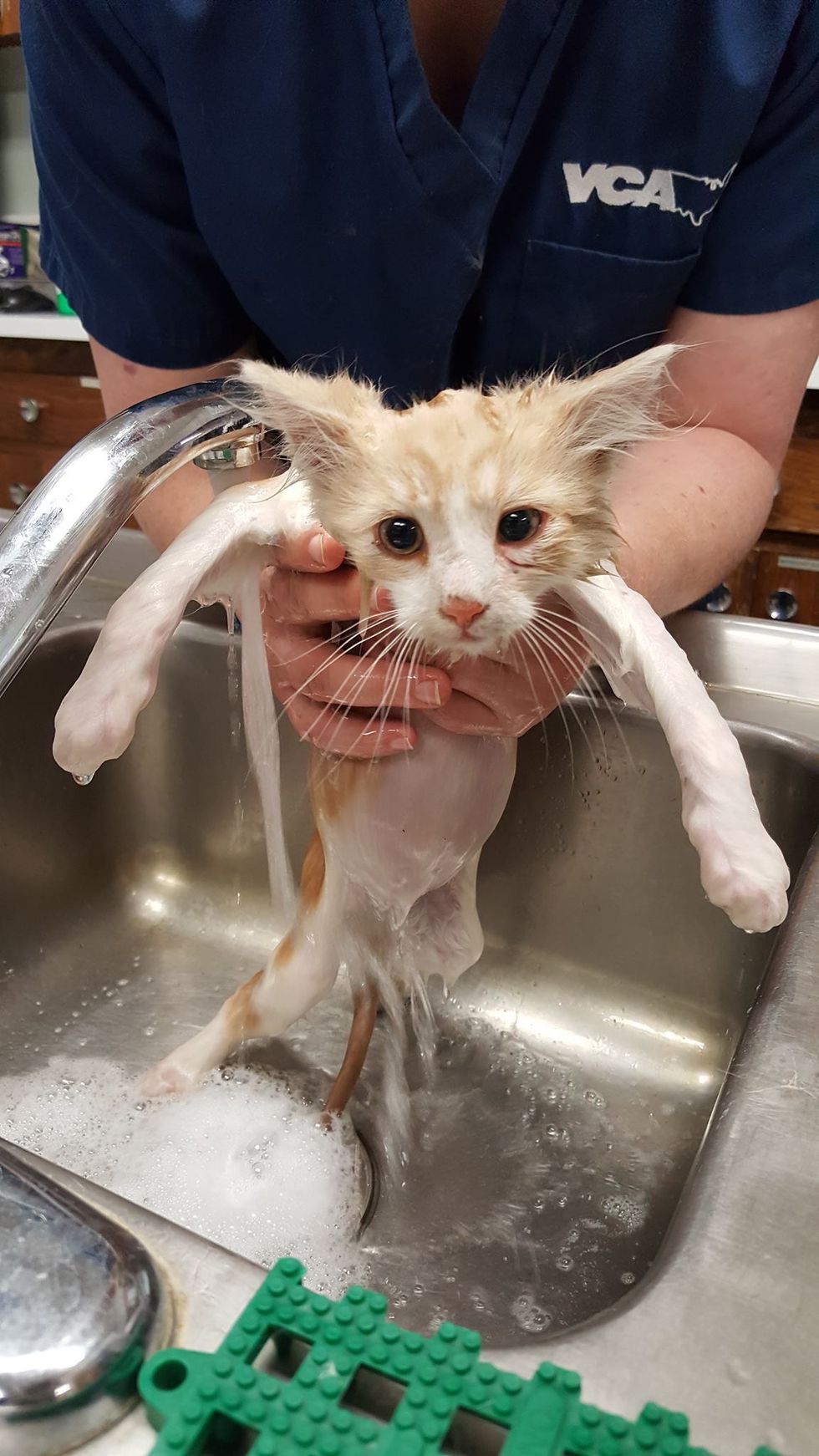 VCA - Madera Pet Hospital
The VCA staff gladly took in the kitten and gave the little guy the medical attention he needed. After a much-needed bath, they brought him back to Officer Smith along with a goodie bag of various supplies, medicine and a comfortable cat carrier.
"Officer Smith was shocked when they refused any payment for their services... We are so grateful for such a caring group of people who truly care about the well being of an animal in need of some TLC," CHP - Marin said.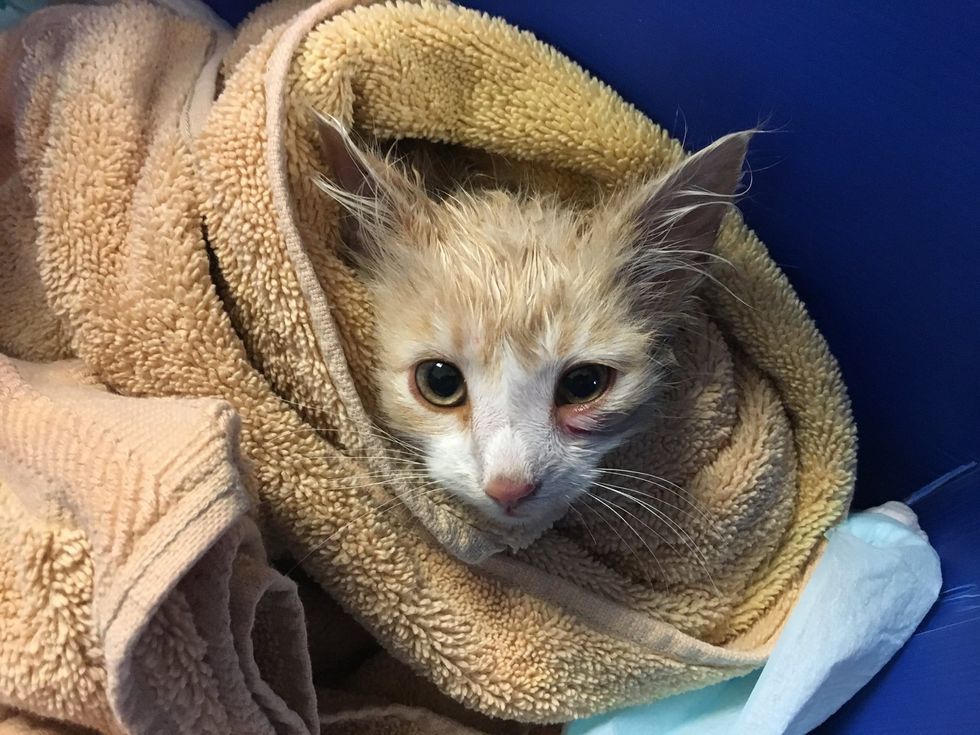 CHP - Marin
Since they couldn't find a microchip, Officer Smith offered to foster the little guy and nurse him back to health.
"Bridges is enjoying his new home and is being well tended to. He was definitely in need of some serious TLC and the Smith family is making sure he gets it. We still haven't heard from anyone who might have lost a cat, and we have checked all of our call logs and verified no one called stating they lost their pet.

"The most important thing now is that he is being pampered by a caring family who only wants the best for him."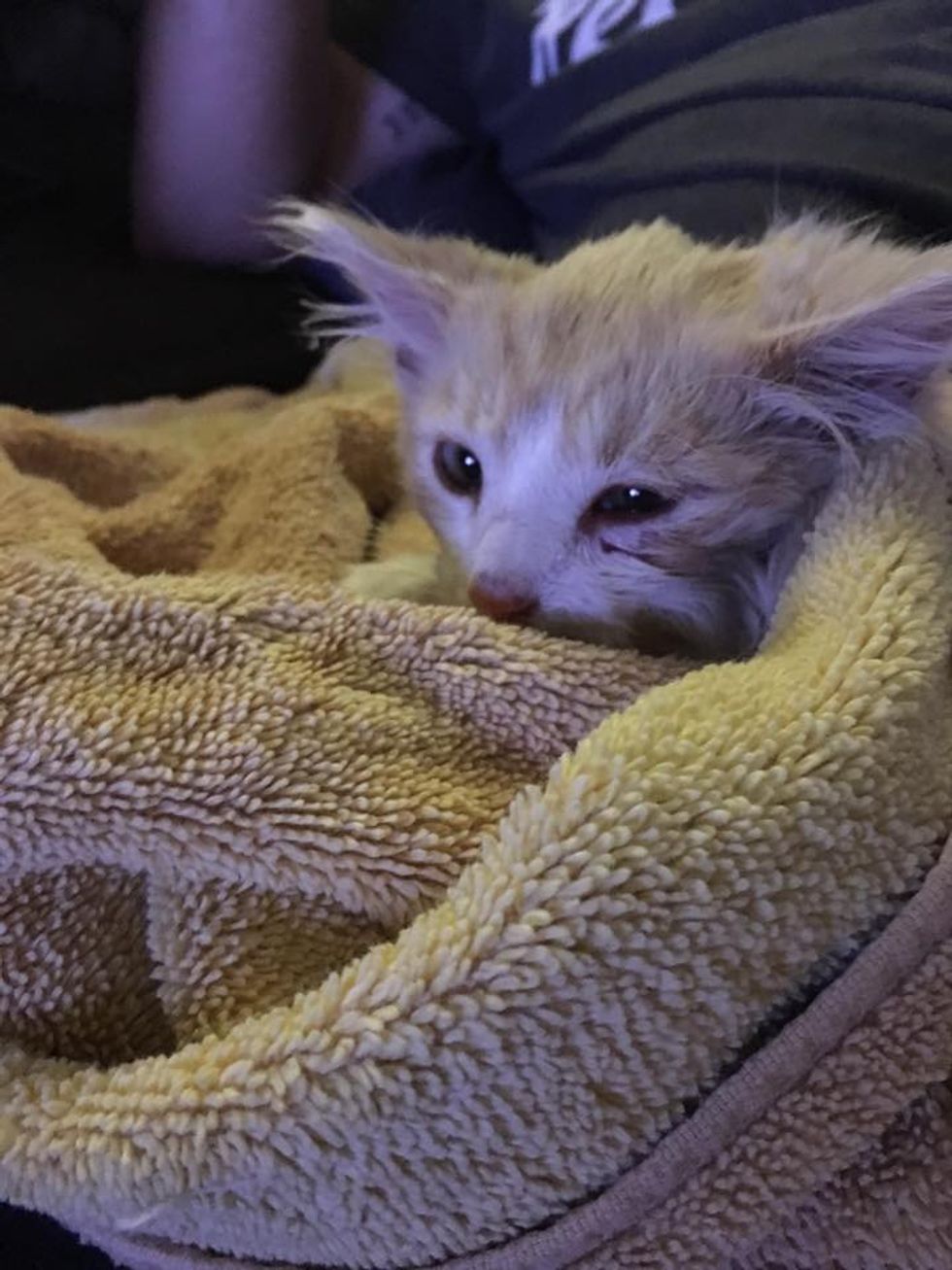 Bridges is now cuddling with his foster dad, feeling much better and happier. CHP - Marin
Updates:
"Bridges is doing well, considering his situation! As you can imagine, the poor little guy went through a really tough ordeal," Amanda Smith, Bridges' human mom, told Love Meow.
"He's currently on antibiotics twice a day and needs ointment applied regularly to the cut under his eye, so we are just dedicating our efforts to taking care of him and slowly helping him adjust to daily life. In the meantime, he is certainly enjoying all the comforts of home, that's for sure! He loves cuddling and could spend all night curled up in my husband's lap."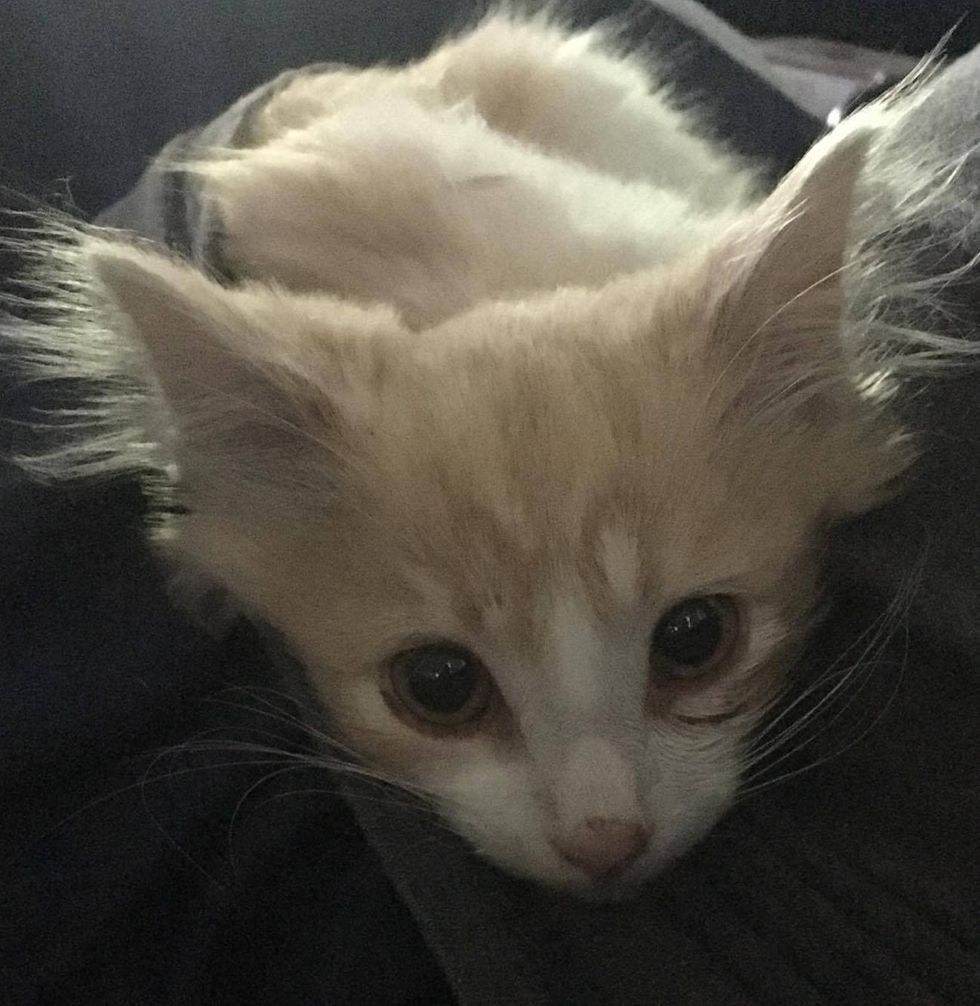 Amanda Smith
Share this story with your friends.

Related story: Deputy Saves Drowning Kitten Clinging to Oysters Under Bridge