Three months ago, Marti from Las Vegas was out on a walk with her dogs when one of her canines approached a bush. She followed and discovered three newborn kittens with their umbilical cords still attached. They were cold to the touch.
After looking for the mama cat but to no avail, she brought the kittens home as they desperately needed food and warmth.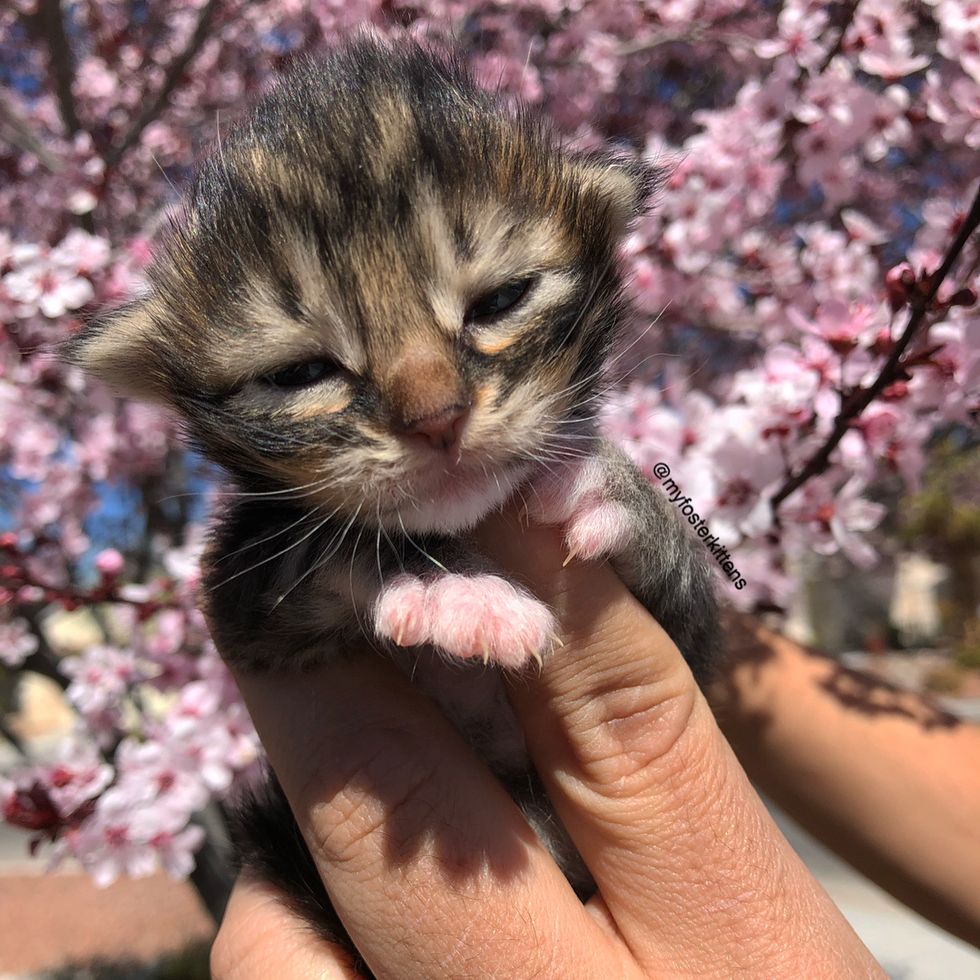 Bagel, the runt, at 2 weeks oldNikki Martinez @myfosterkittens
Marti fed the kittens throughout that night and took them to work with her the next day. Nikki Martinez, an avid animal rescuer/foster based in Las Vegas, offered to help. "It was freezing that night and when she found them they were ice cold and stiff," Nikki told Love Meow. "They had not had their mother's milk which has essential antibodies. They had a lot against them."

Nikki picked up the kittens and made a request for rescuers to come TNR (trap-neuter-return) as they were many strays living in the area.
Bagel, the runt of the litter, was struggling. She refused to eat and was quickly fading. Nikki and her husband (an ER Nurse) switched to tube feeding and took turns to care for her around the clock.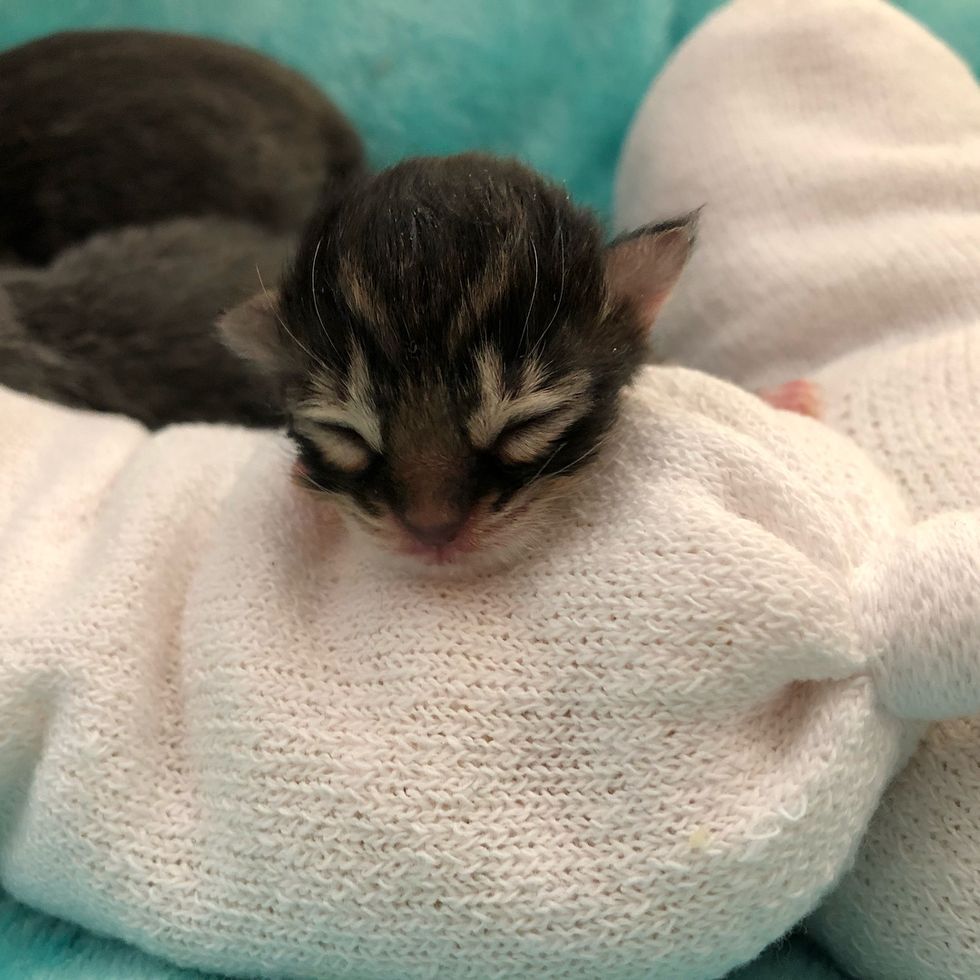 3-day-old baby Bagel at just 3.2 ounces (90 grams)Nikki Martinez @myfosterkittens
They didn't know if the kitten would make it but they were doing everything they could to help her survive. After many sleepless nights, the tiny fighter bounced back and regained her appetite.

"I had happy tears rolling down my cheeks. Bagel gained the weight she lost, and she was eating without a feeding tube," Nikki said.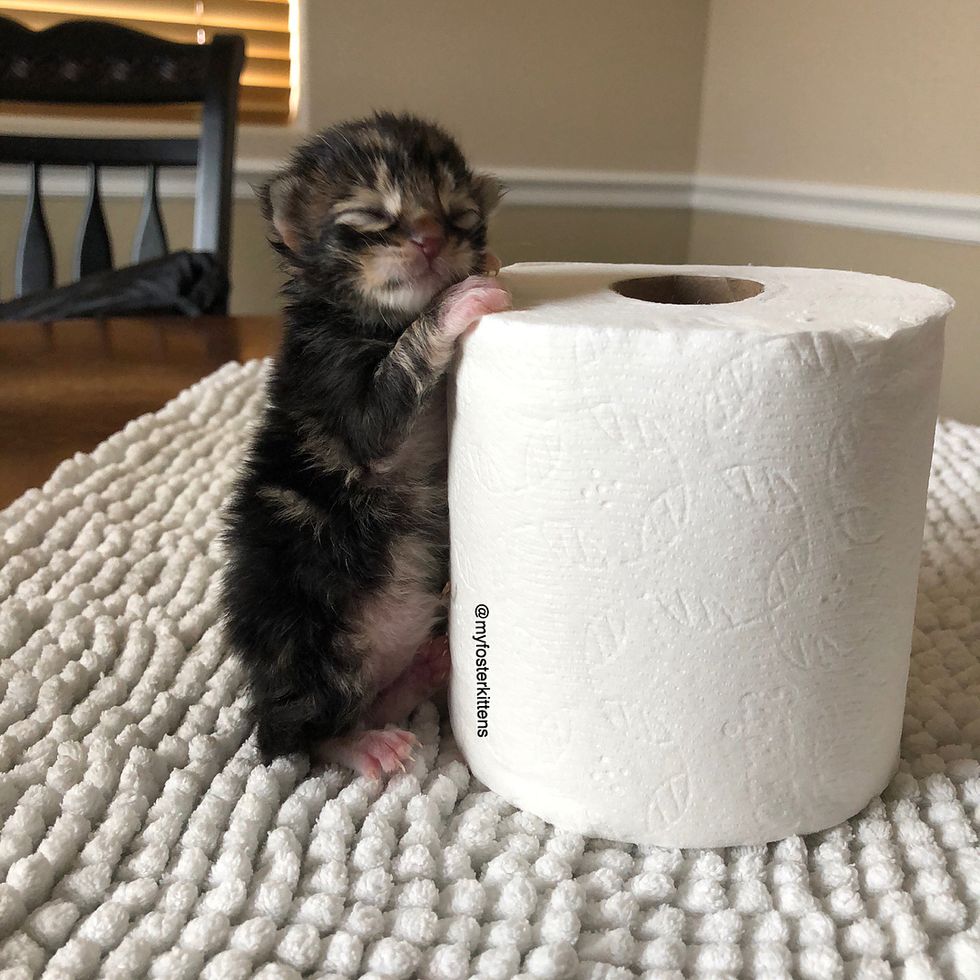 Nikki Martinez @myfosterkittens
"Listening to her gulp down her food is music to my ears."
(Scroll down for video)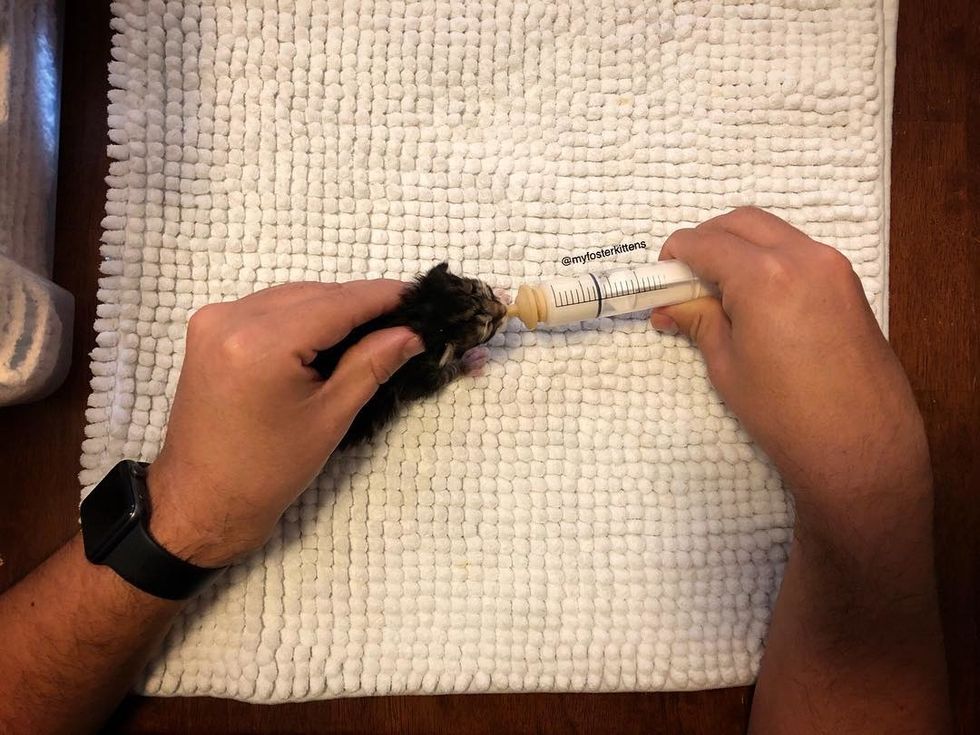 Nikki Martinez @myfosterkittens
Bagel and her siblings, Pancake and Spud, loved sleeping on their warm rice sock bed. "After being found frozen stiff at just hours old, I think they liked being extra warm."

Slowly but surely, Bagel began to pack on weight and build up strength in her tiny legs. When she discovered her paws, she rolled on her back and was fascinated by those teeny mittens.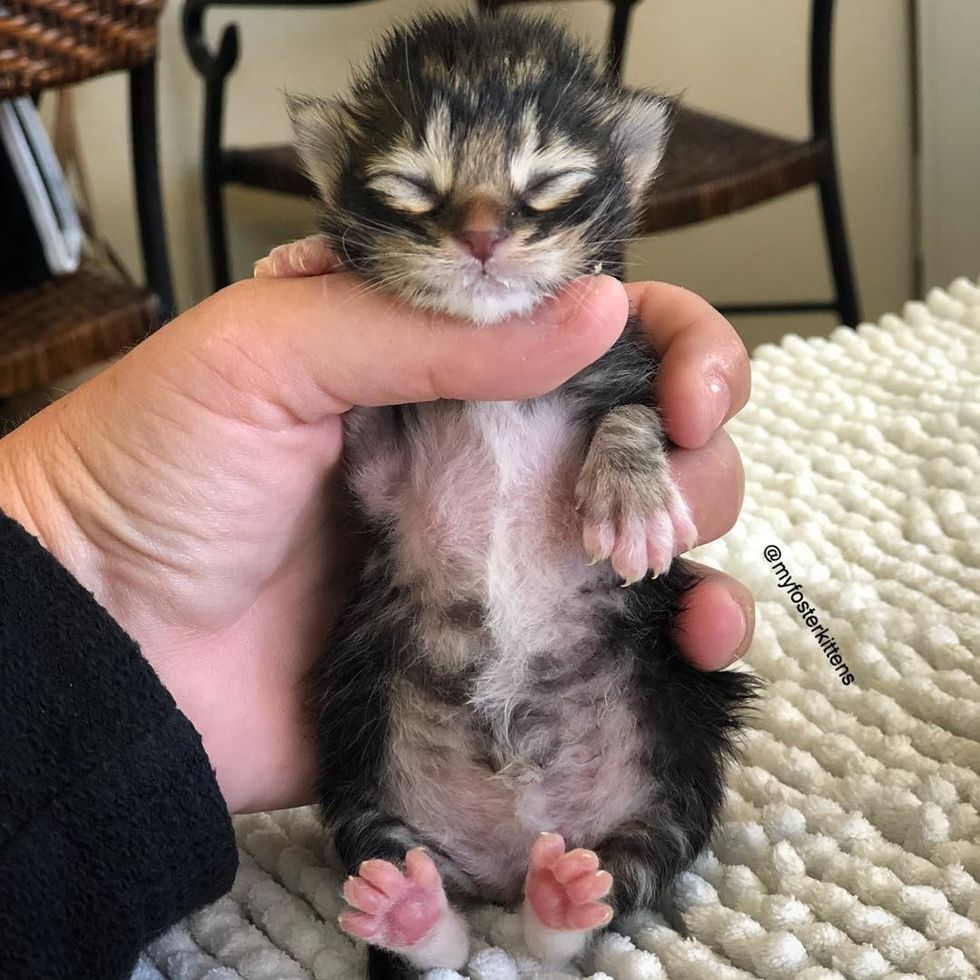 Nikki Martinez @myfosterkittens
"Since (we got the kittens), trappers have been out in that area. Several cats have been trapped and neutered, but their mother was never found," Nikki said.

The kittens might not have had a feline mom to ever care for them, but Nikki made sure that Bagel and her siblings would never be short on love again.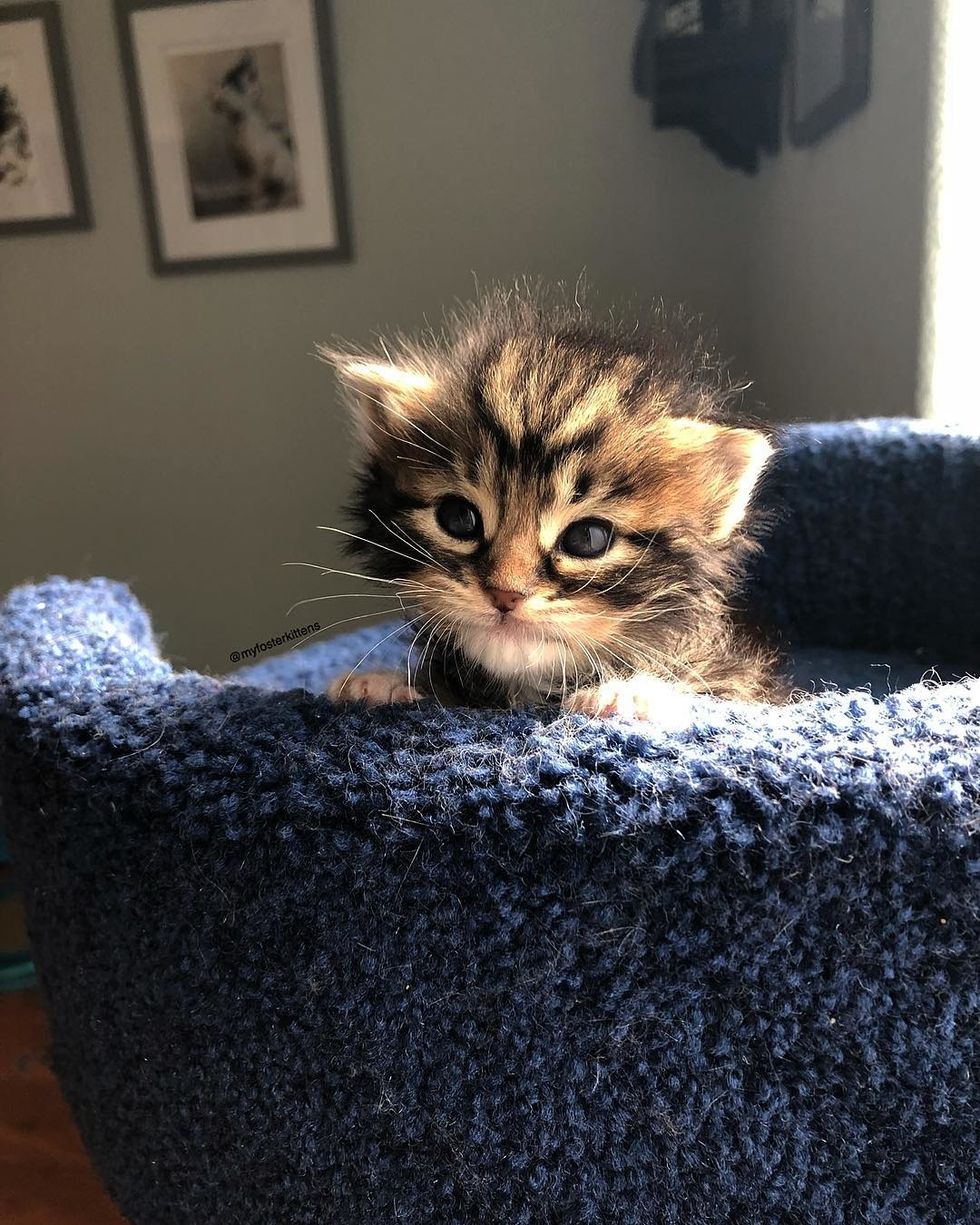 Nikki Martinez @myfosterkittens
"I can't help but think of the countless millions that will be born outside this year that won't have the same fate. If there are strays in your neighborhood or at your place of employment, you can call your local shelter or rescue and ask to borrow a trap, (and then) bring them into a local neuter clinic," Nikki added.

Bagel was thriving in foster care.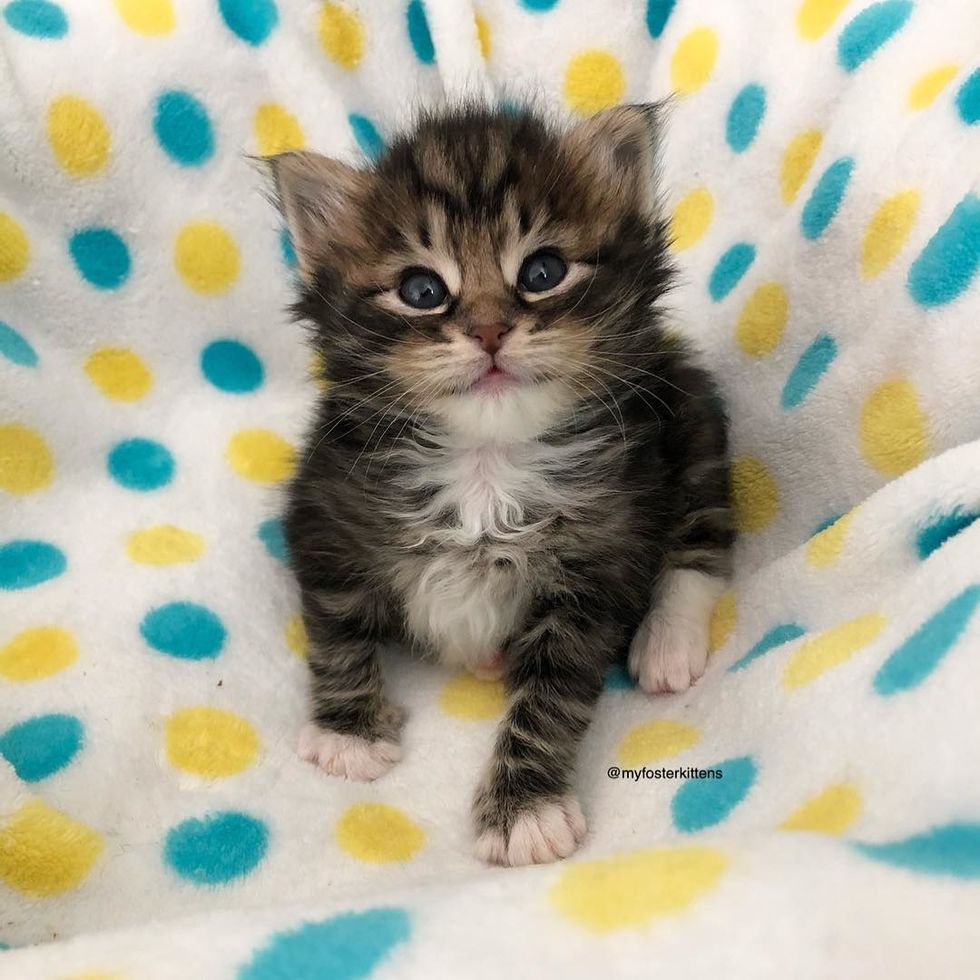 Nikki Martinez @myfosterkittens
The little heart-melter graduated from bottle feeding and moved onto eating big kitty food with help from her foster parents.
She chowed down on the food all by herself and licked her lips with satisfaction after every meal.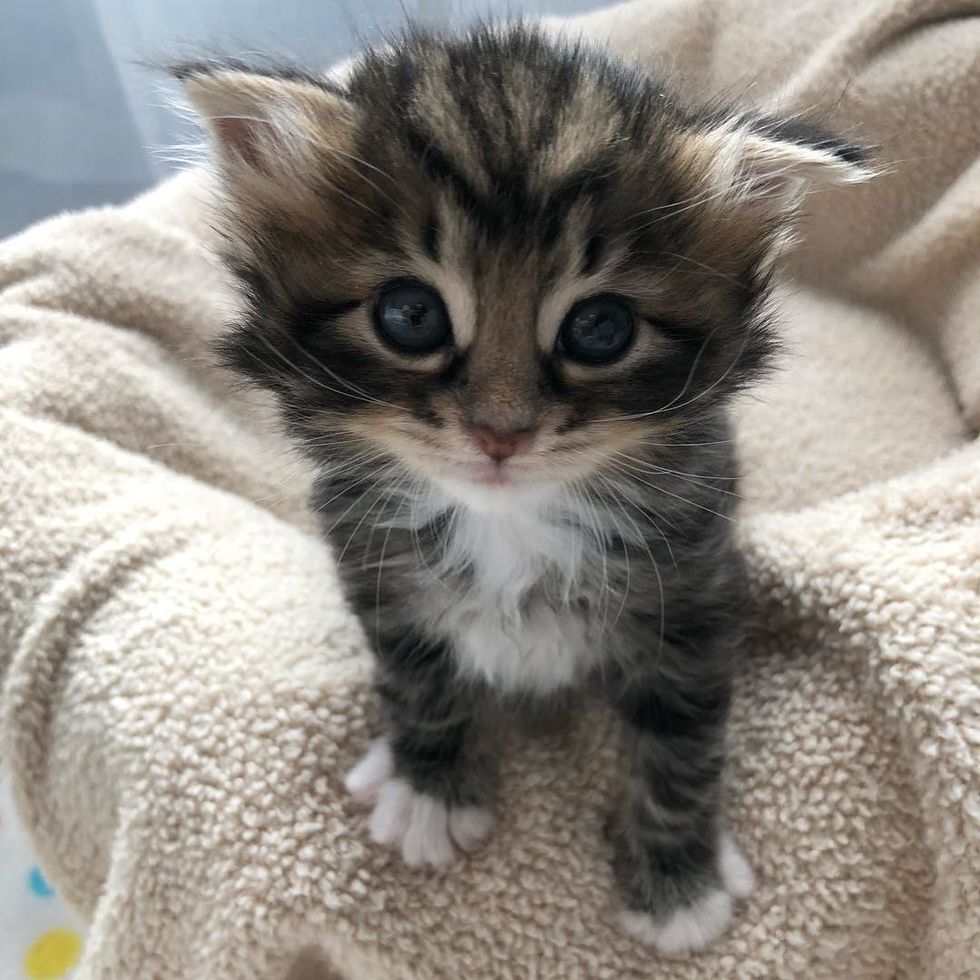 @fosterkittensvegas
As she grew bigger, her personality began to shine through.
Despite being the runt of the litter, she was the bravest and the most adventurous little bundle of fluff.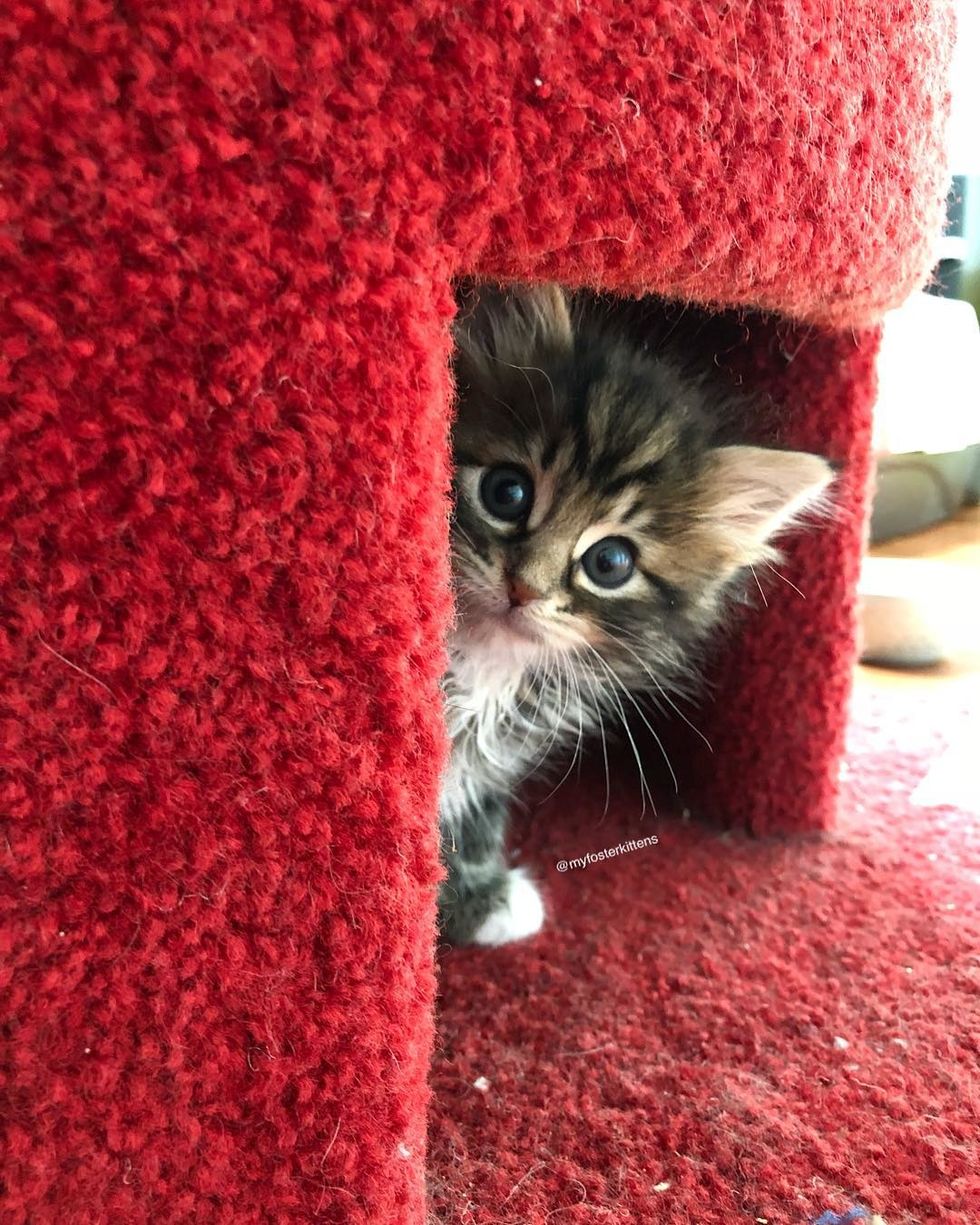 Nikki Martinez @myfosterkittens
Bagel soaking up the sun rays.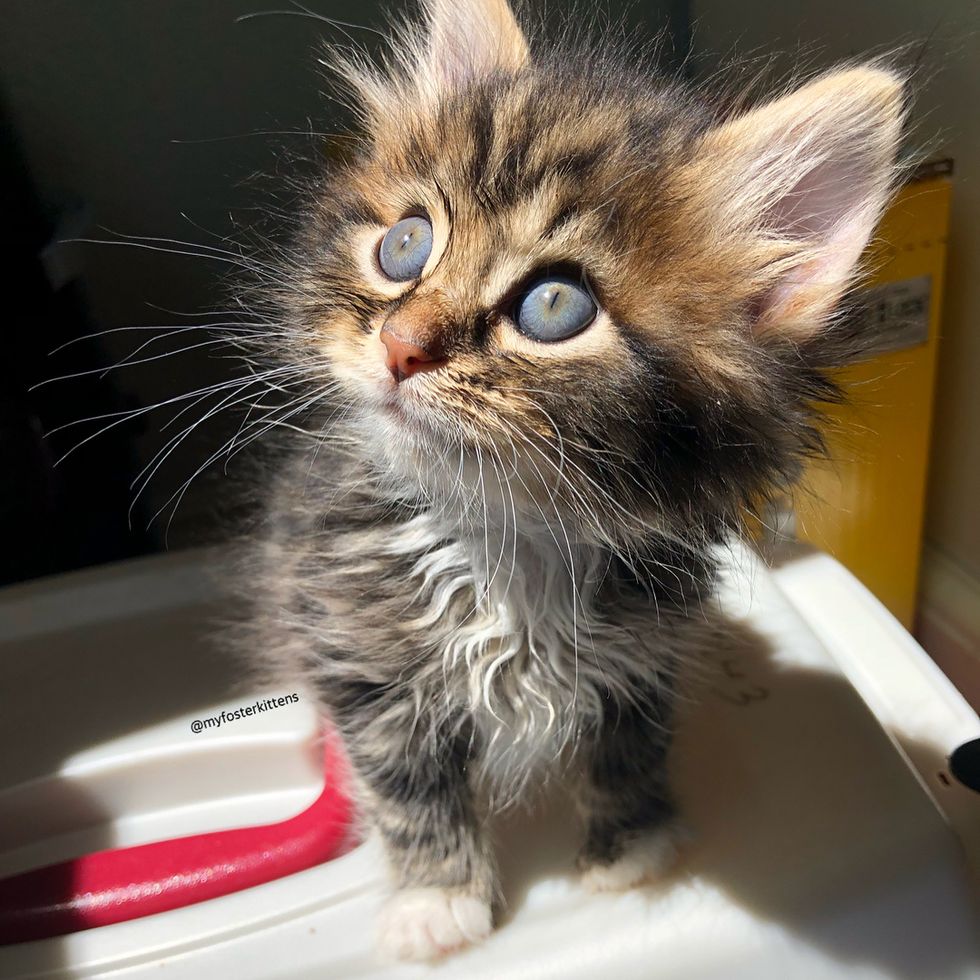 Nikki Martinez @myfosterkittens
Celebrating their one-pound milestone!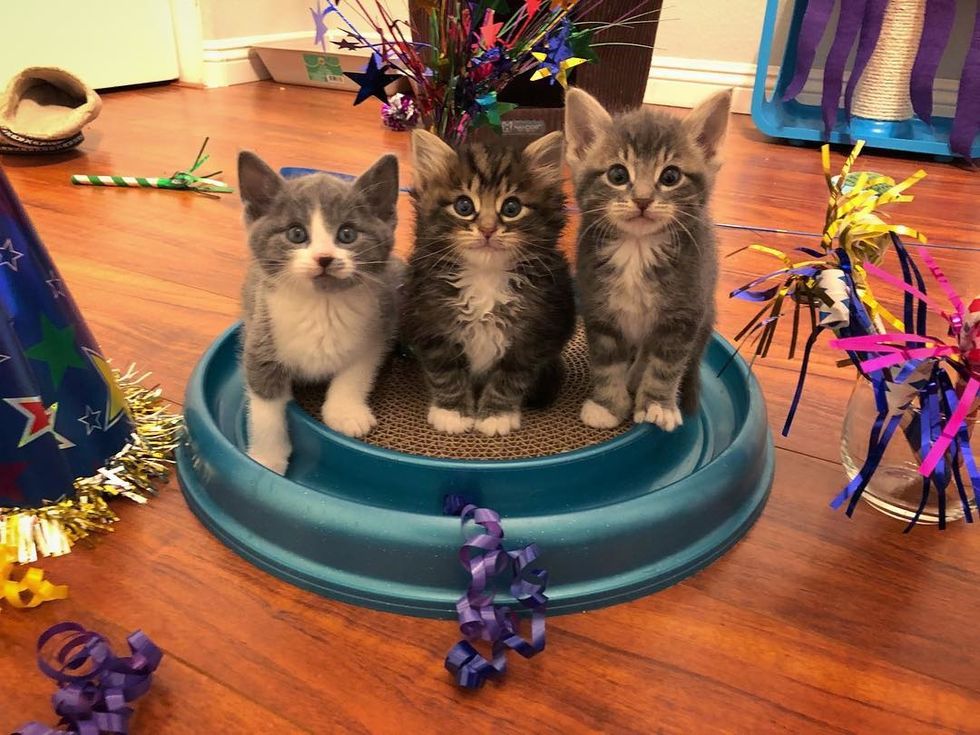 Nikki Martinez @myfosterkittens
A few weeks ago, the sweet tabby girl found her forever human and her dream came true. (Pancake and Spud were also adopted!)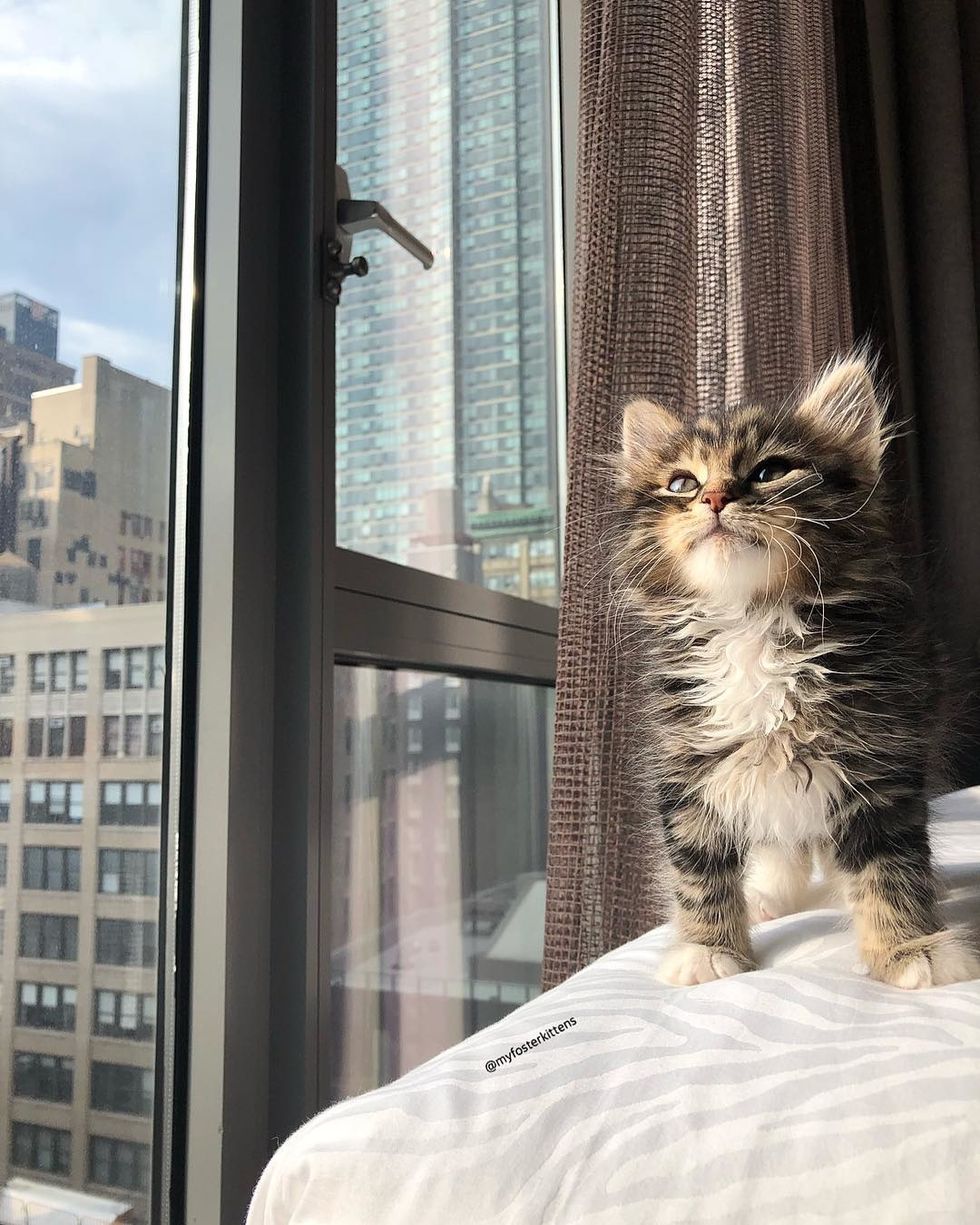 Nikki Martinez @myfosterkittens
She was adopted into a loving family with several feline siblings to play and snuggle with.

Oliver took to the little kitten and they became instant friends.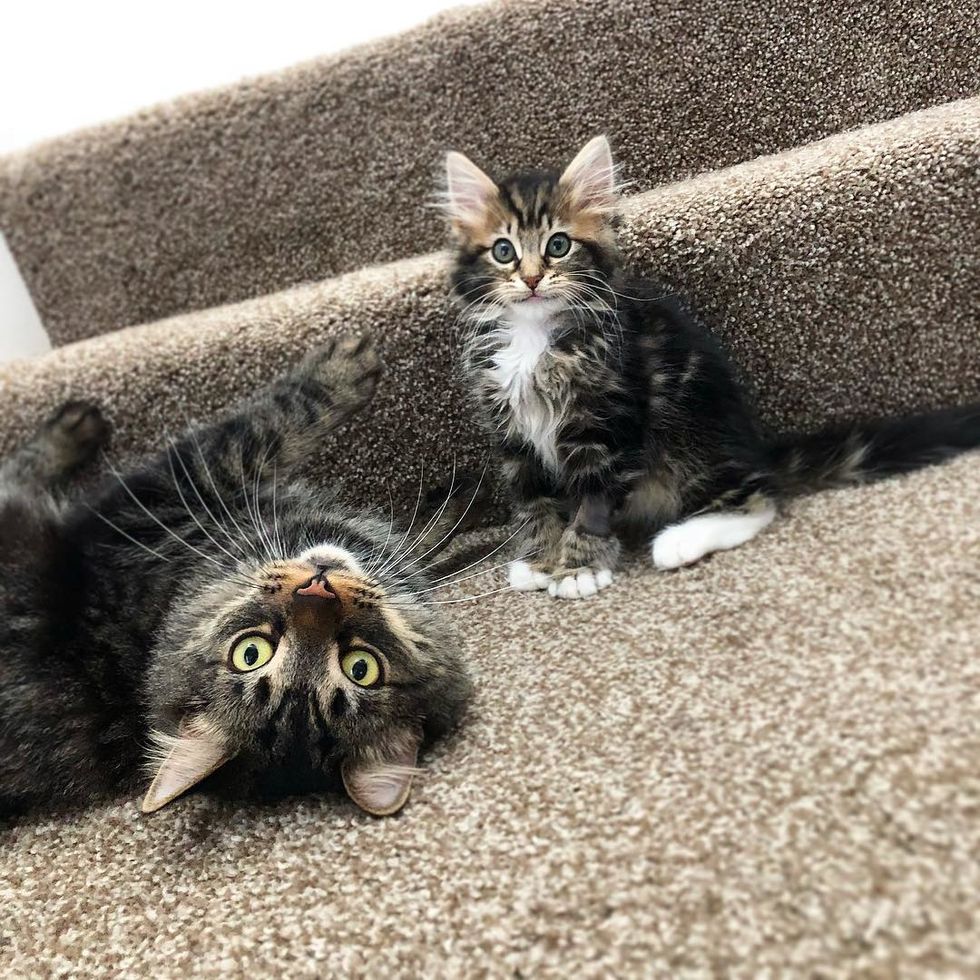 House of Tabbies @houseoftabbies
The miracle kitty reached two pounds at 11 weeks old.
She's still tiny but oh so mighty.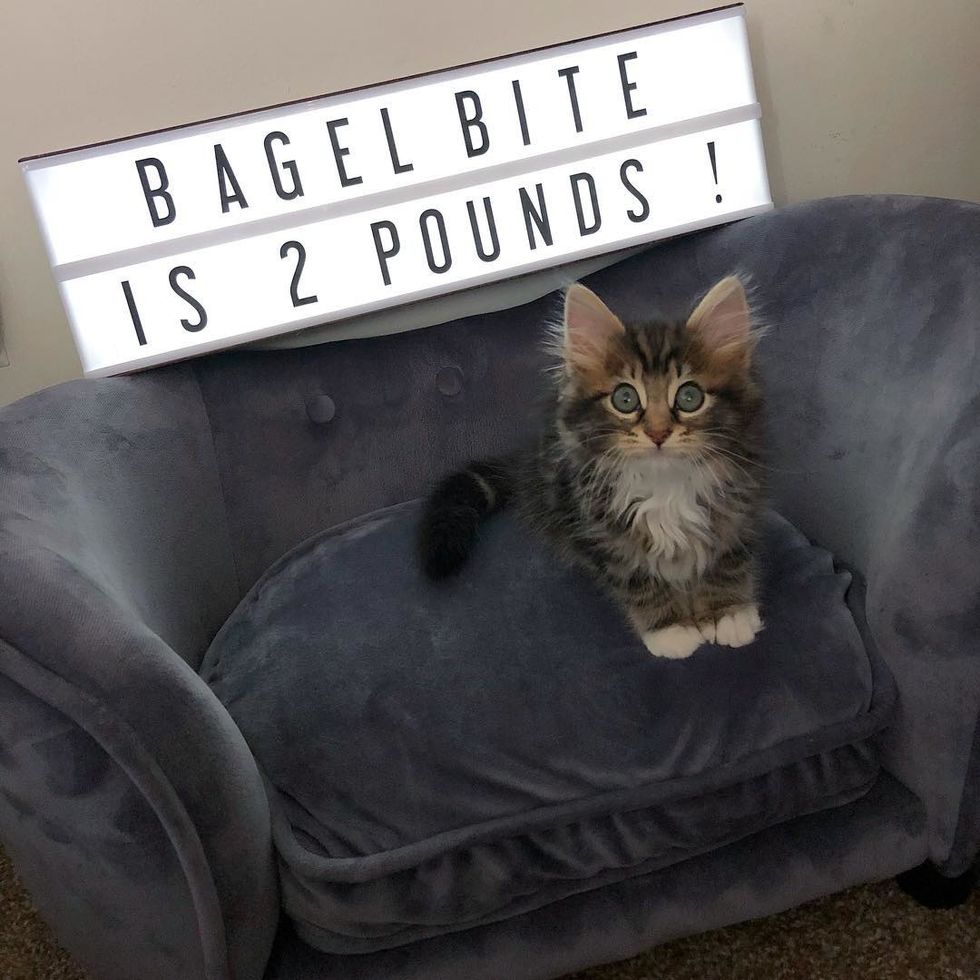 House of Tabbies @houseoftabbies
"She is loving life in her amazing forever home!"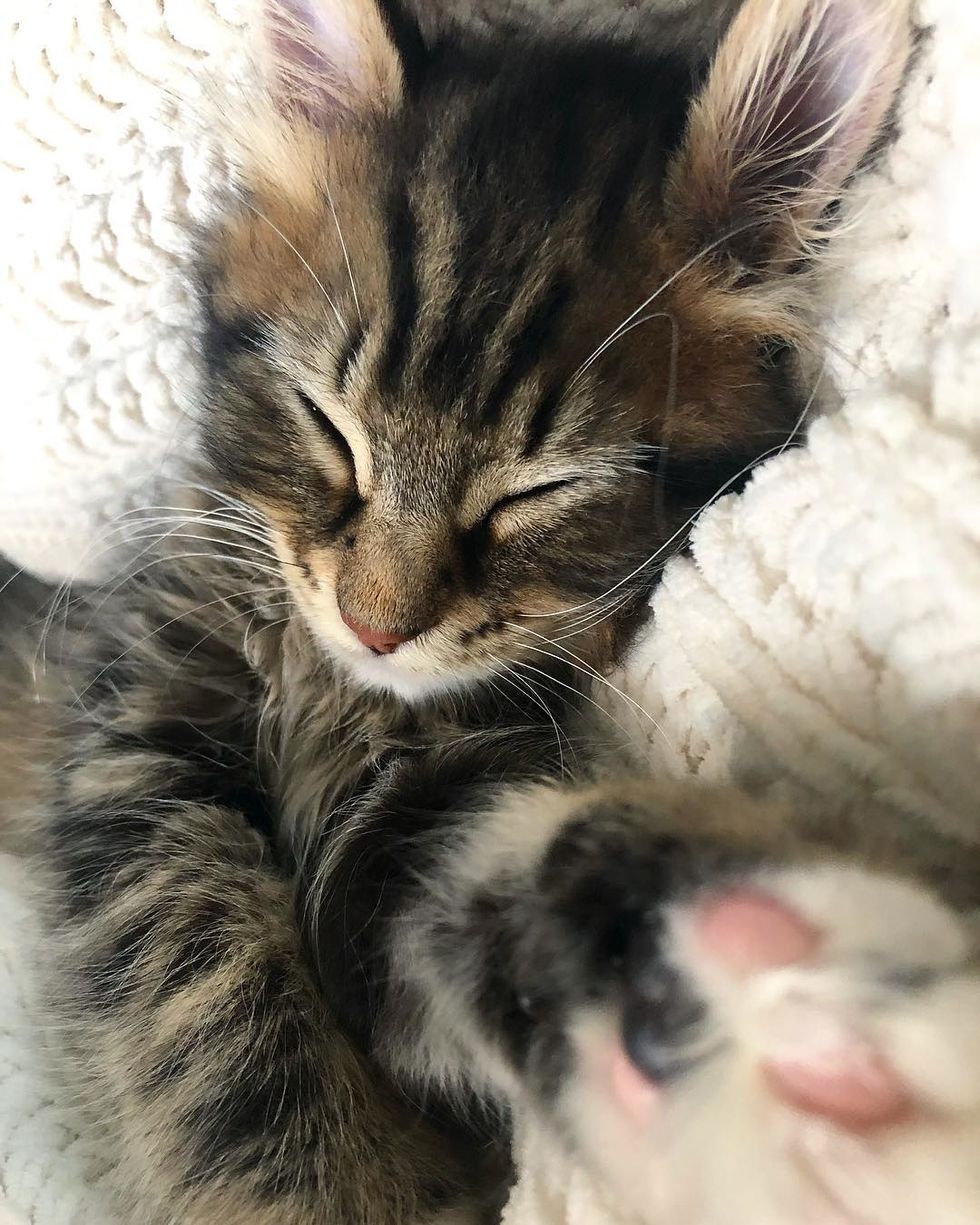 House of Tabbies @houseoftabbies
Updates:
Bagel all grown up now!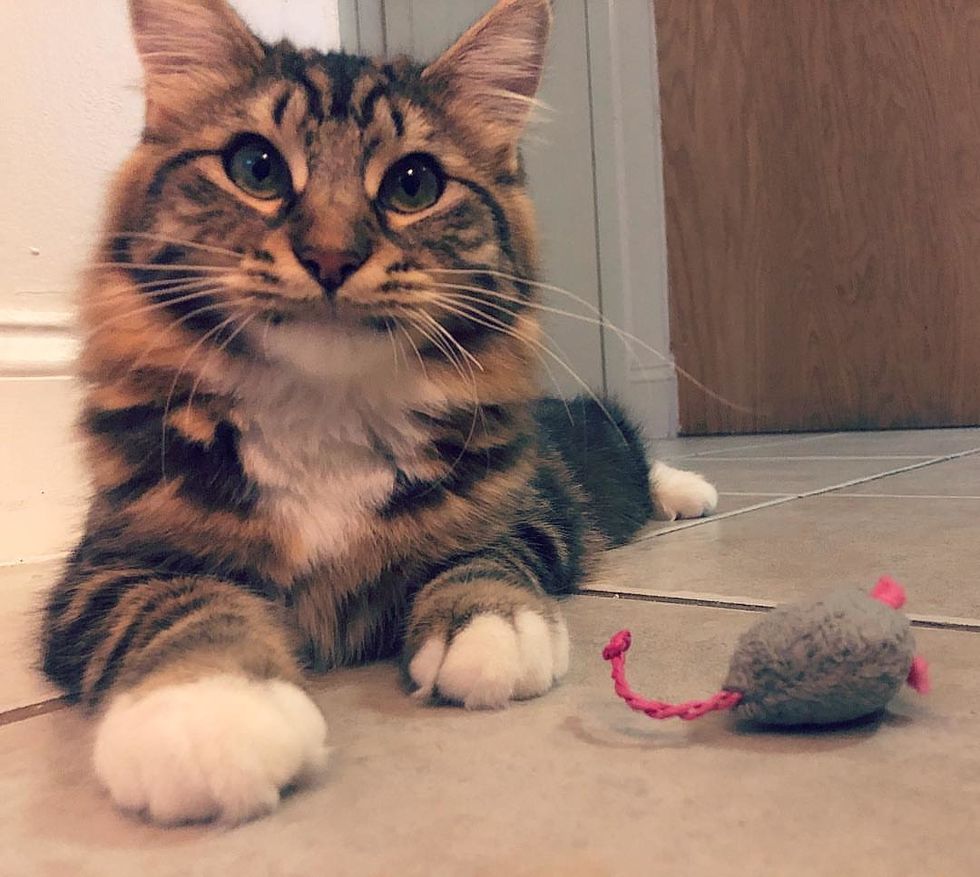 House of Tabbies @houseoftabbies
Follow Bagel's adventures on Instagram. Follow Nikki Martinez's rescue/foster kittens on Instagram @myfosterkittens.

Watch Bagel's rescue journey in this video:
Share this story with your friends.

Related story: 10-year-old Boy Calms Crying Abandoned Kitten and Finds Her a New Cat Mom