A kitten who was the "spiciest" in his litter, turned out to be quite the teddy bear.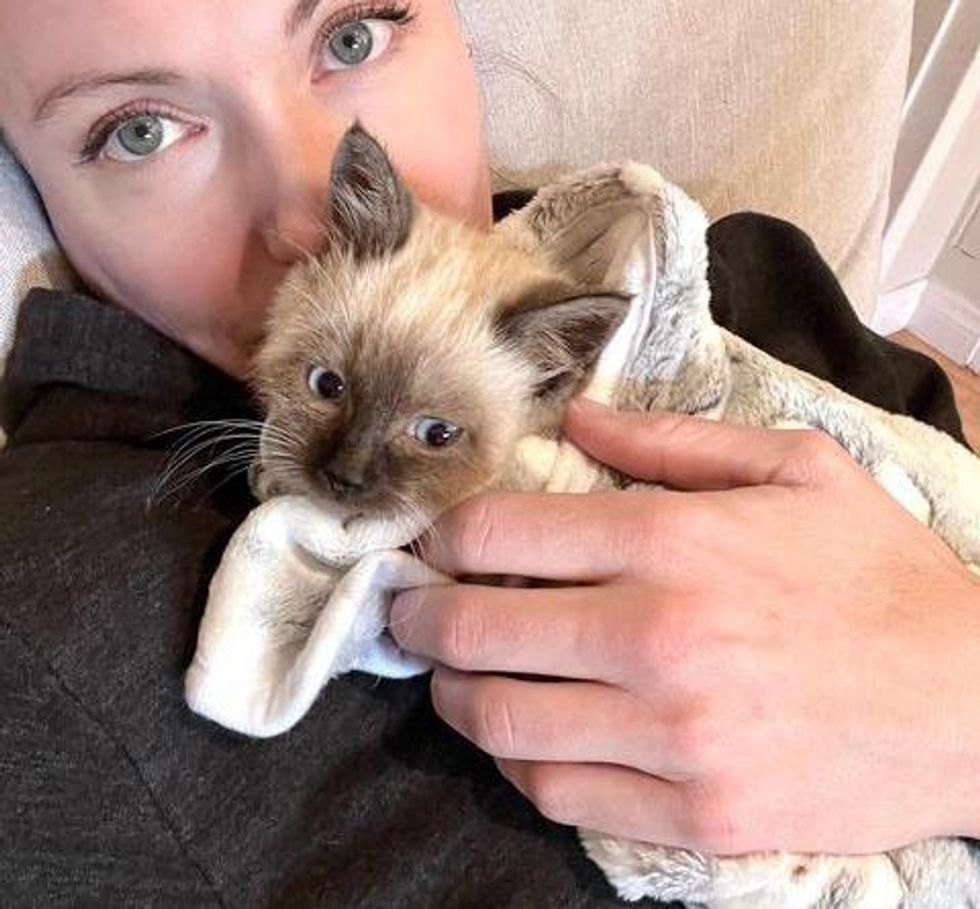 Wasabi the kittenJamie @thekittensfoster
Late last month, three kittens were brought to the Orange County Animal Shelter in need of rescue. The trio were very timid around people, cowering fearfully in a corner.
Baby Kitten Rescue (BKR), a rescue group in Los Angeles that saves critical care kittens and at-risk kittens, offered their help. "The kittens were extremely terrified, unsocial, hissy and spitty. It was clear they either had no previous human interaction or if they did, it was not positive," Jamie, a foster volunteer of the BKR, told Love Meow.
"I knew that underneath their rough exterior were just scared little babies wanting to feel safe, cared for and loved."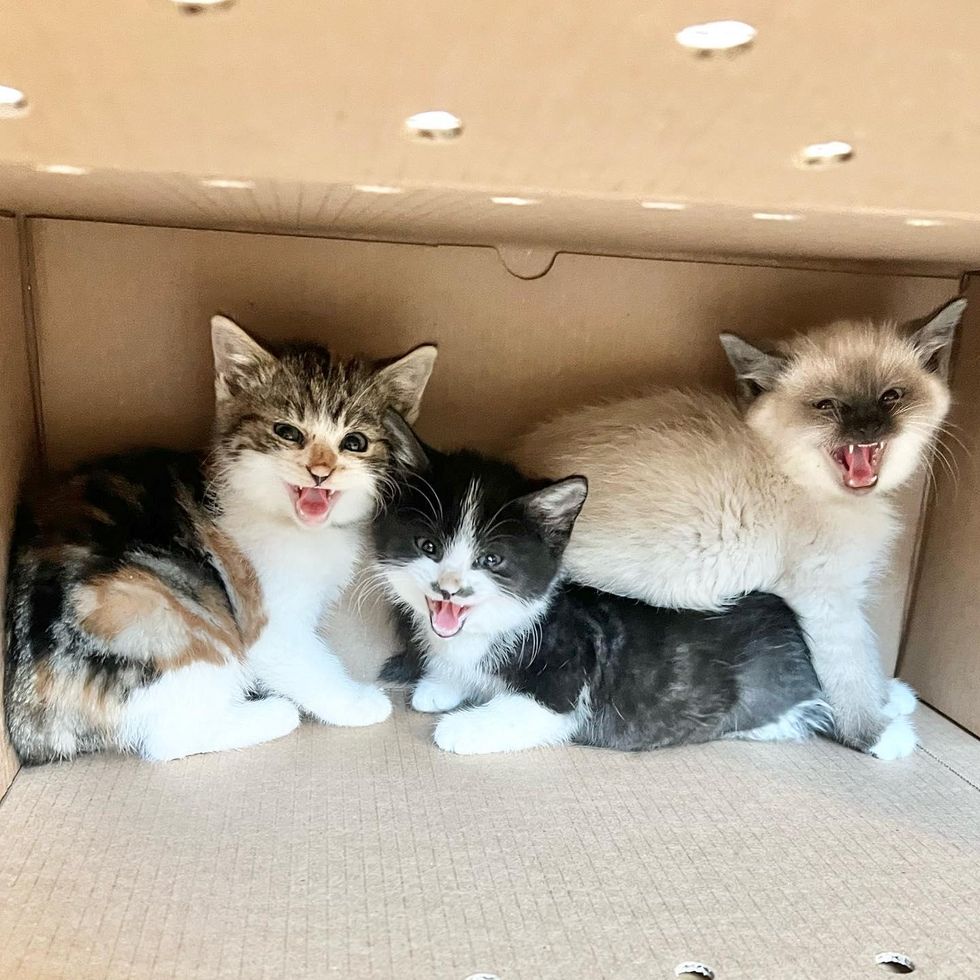 Three timid kittens (Ginger, Pepper, Wasabi) were rescued from the shelterJamie @thekittensfoster
The kittens were aptly named after spices—Wasabi (seal point), Ginger (torbie), and Pepper (tuxedo). They were estimated to be six weeks old. From the beginning, they stayed as a cohesive clowder, keeping each other comforted.
The only brother, Wasabi, harnessed the most sass despite his tiny stature. "Wasabi was the spiciest. It was like he took it upon himself to be the protector of the group. He was also the king of the side eye," Jamie shared with Love Meow.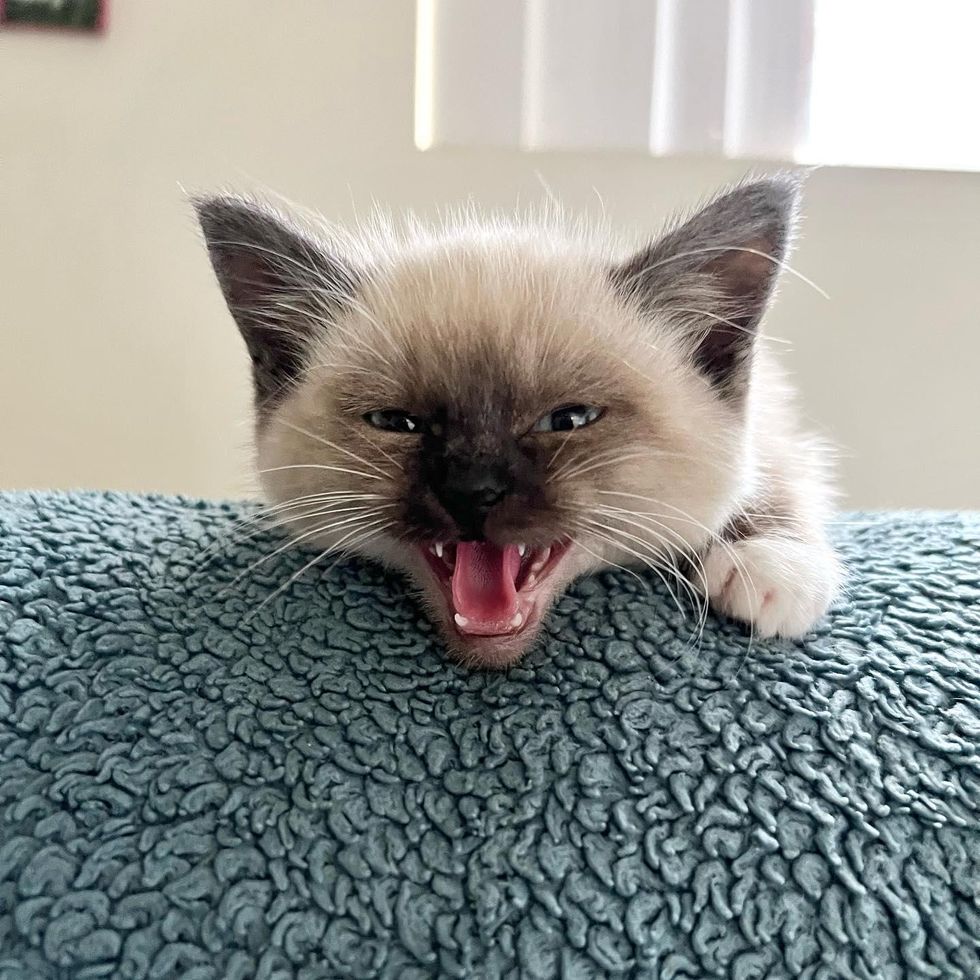 Wasabi was the spiciest kitten in his litterJamie @thekittensfoster
When socialization commenced, Wasabi and his siblings received their daily cuddle sessions and plenty of treats as rewards. "I wrapped Wasabi up in a purrito, cleaned his eyes, administered some eye meds, and rewarded him with some chicken baby food."
In just a few days, Wasabi made the biggest strides and no longer tried to bite the hand that feeds him. "While he was still the spiciest of the three kittens, he would fall asleep almost immediately if I swaddled him in a baby blanket."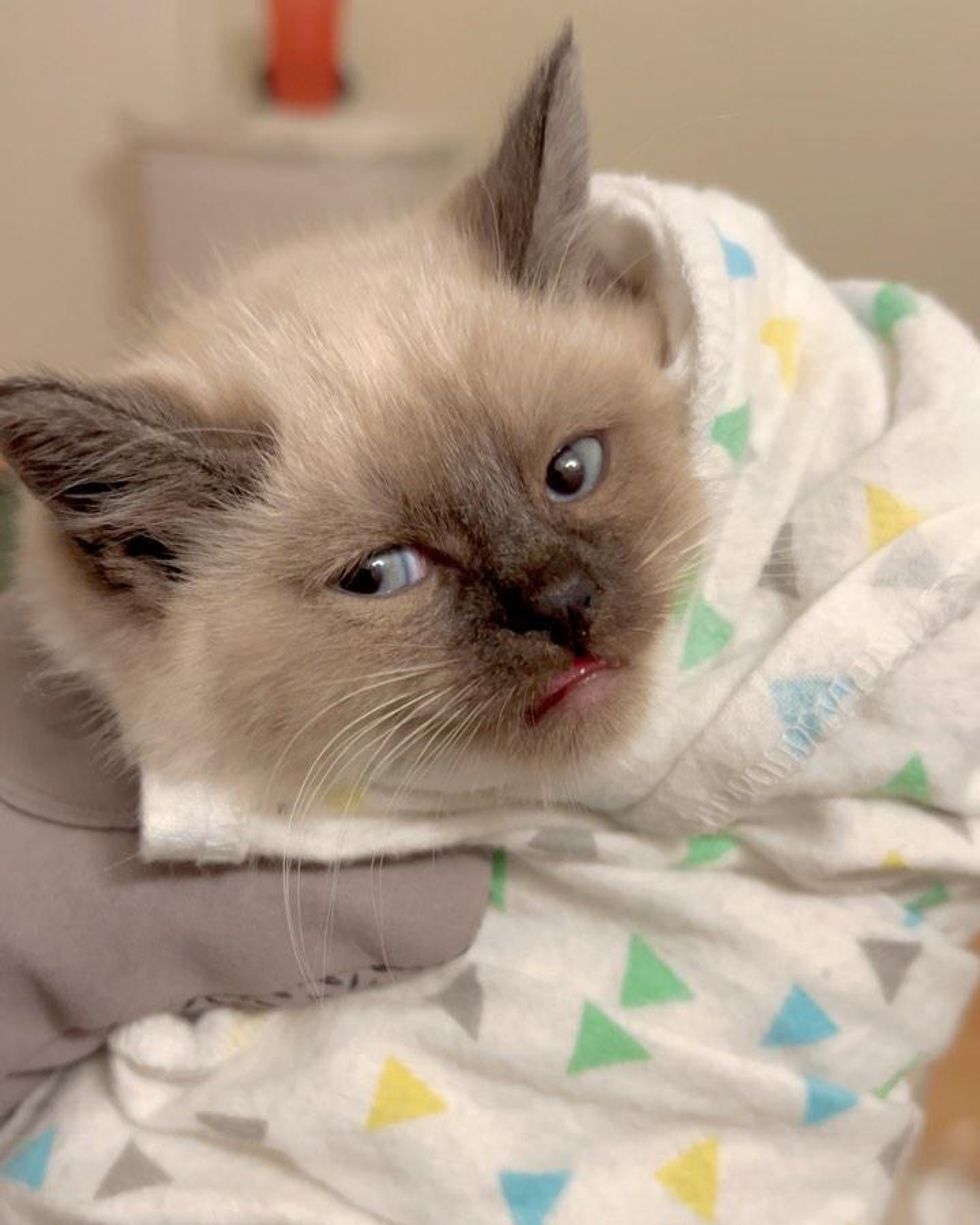 Jamie @thekittensfoster
Slowly but surely, the kittens started to gain trust for their people. Their demeanors became calmer and the fear in their eyes began to fade.
"After two weeks of socializing, they started purring when I would pet them. It took a lot of time and patience leading up to this moment. I think holding them and feeding them treats is what signaled to them they were safe," Jamie told Love Meow.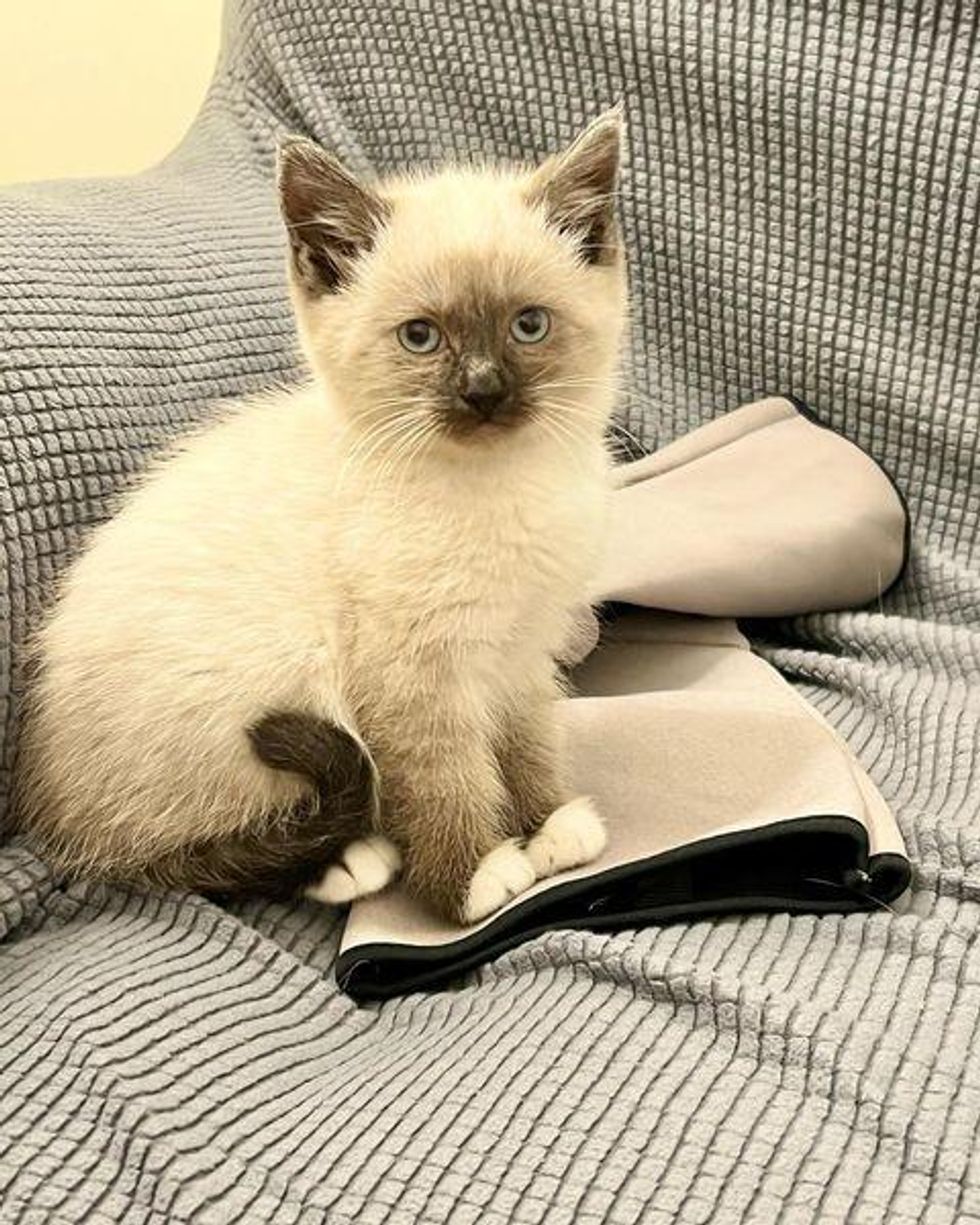 Jamie @thekittensfoster
With countless hours and tremendous patience, the kittens went from hissing for their lives to tolerating hugs and kisses to mustering enough courage to seek pets and attention from their humans.
Watch Wasabi and his siblings in this cute video:
Spicy kittenswww.youtube.com
"They have made such a big transformation from where they were."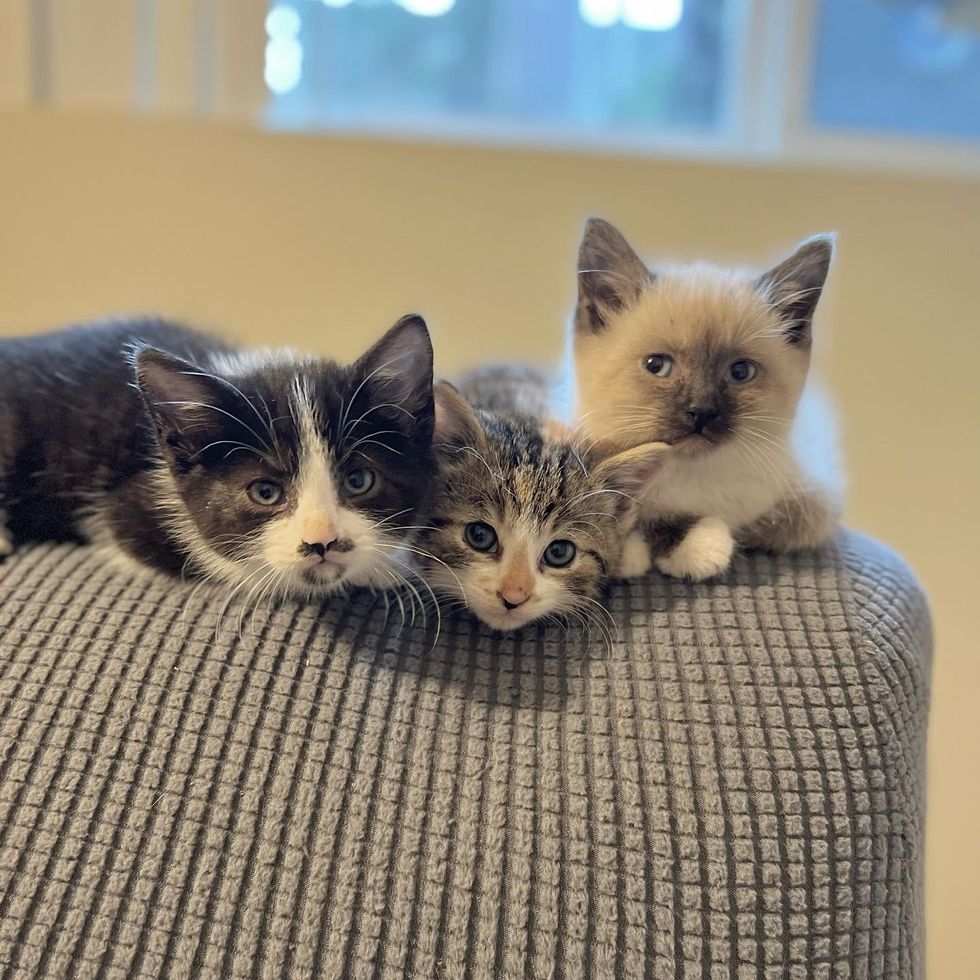 Jamie @thekittensfoster
Wasabi, being the most feisty of the three, has made a complete 180. "There was a point in time when I wasn't sure if Wasabi would ever stop hissing at me and not be scared of me," Jamie wrote.
Now, he enjoys hanging out with his foster mom on her lap while he purrs up a storm.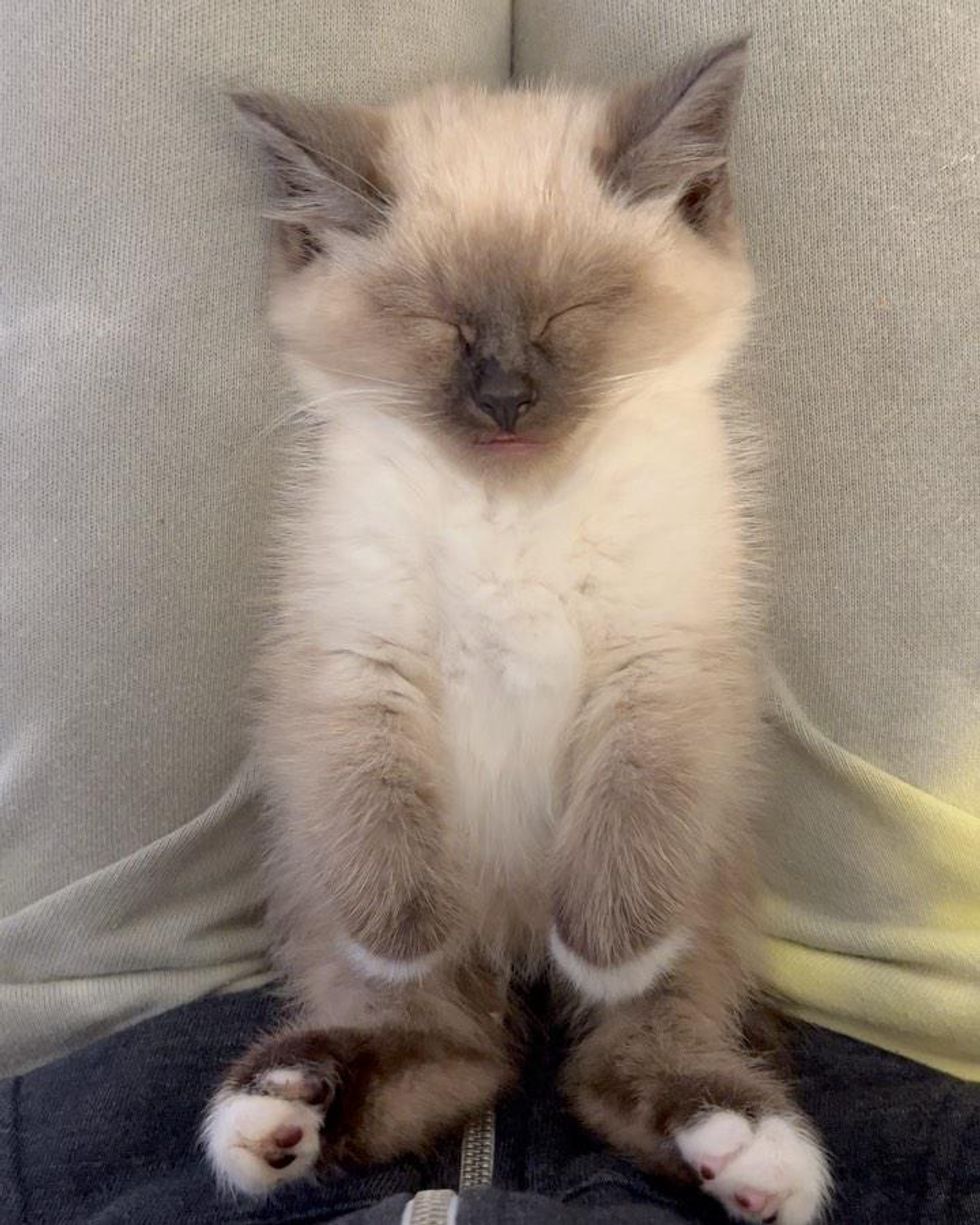 Wasabi turned into a teddy bear when he realized he was lovedJamie @thekittensfoster
"I'm proud of this little dude. He overcame some big fears. He's not only social, but a total lover. He purrs and seems to really love human affection.
"The best way to socialize kittens is with food and play. They must have consistent, positive interactions with humans over a long period of time to build trust and safety."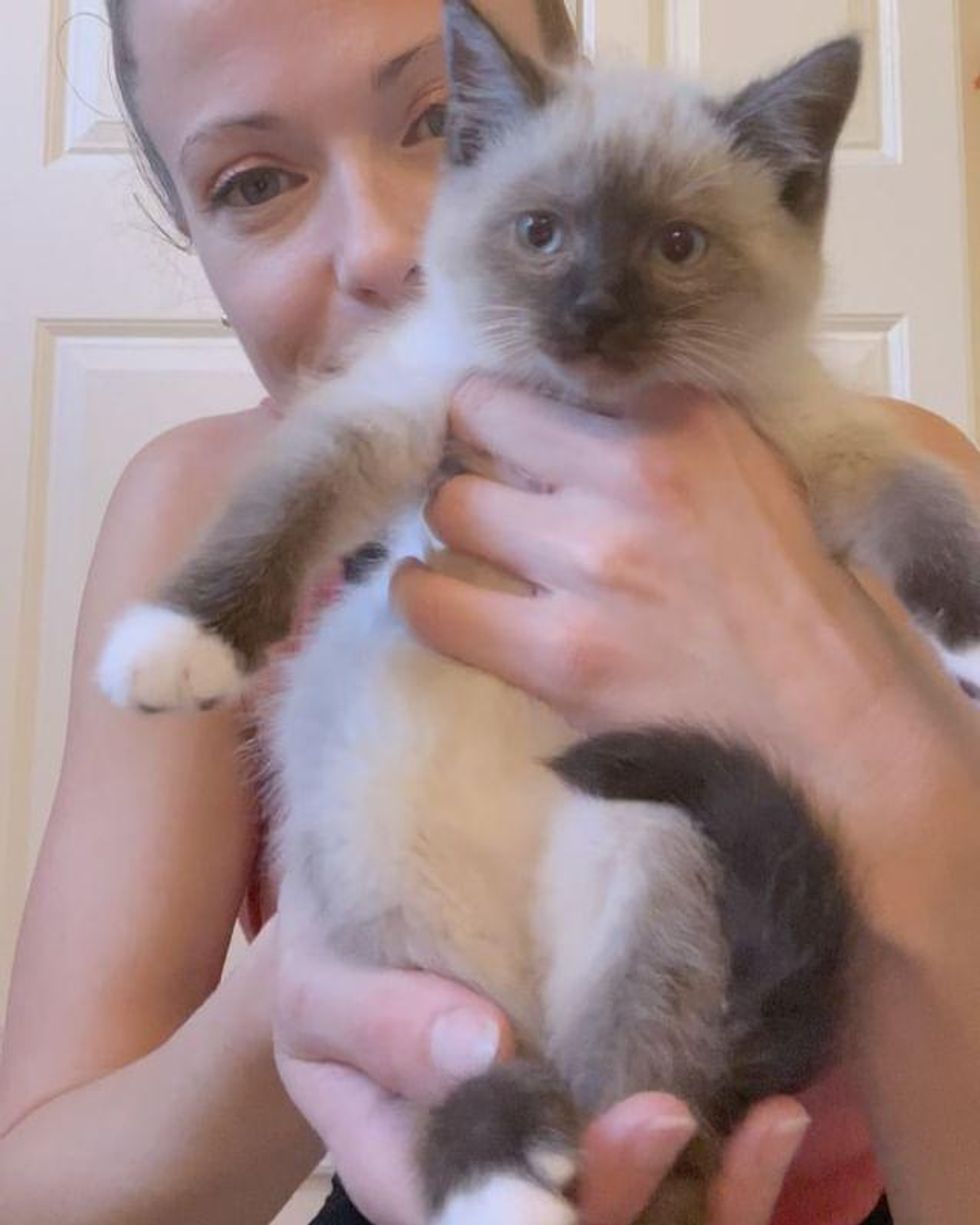 Jamie @thekittensfoster
The trio have come a long way and are now ready for their next chapter in life.
Wasabi and Ginger share an inseparable bond and will be adopted to their forever home together tomorrow. Their sister Pepper has also been pre-adopted and will spend her happily-ever-after with a loving family of her own.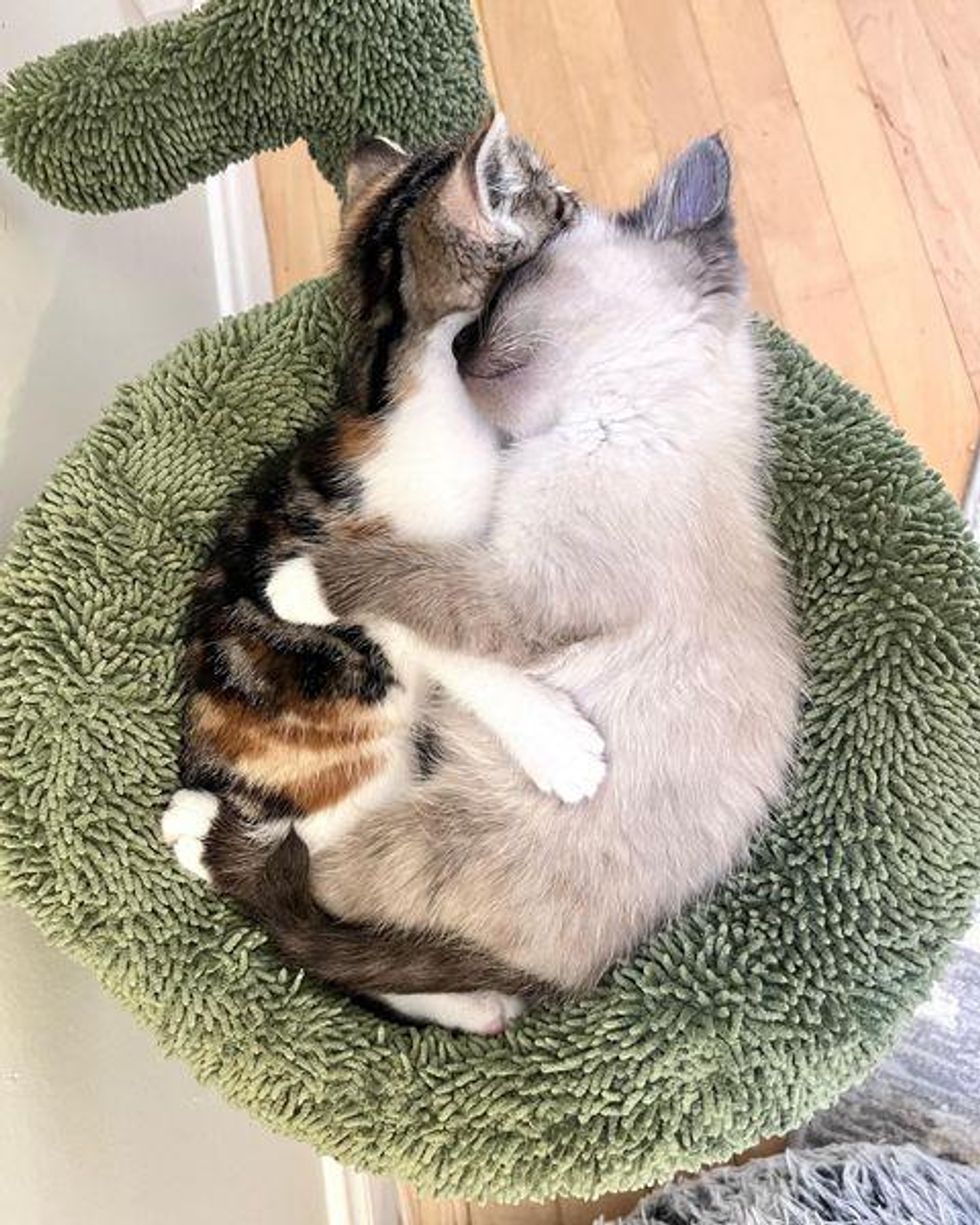 Ginger and Wasabi best of friendsJamie @thekittensfoster
"They went from hissing, spitting, swatting and hiding to purring, playing and even climbing on me," Jamie shared.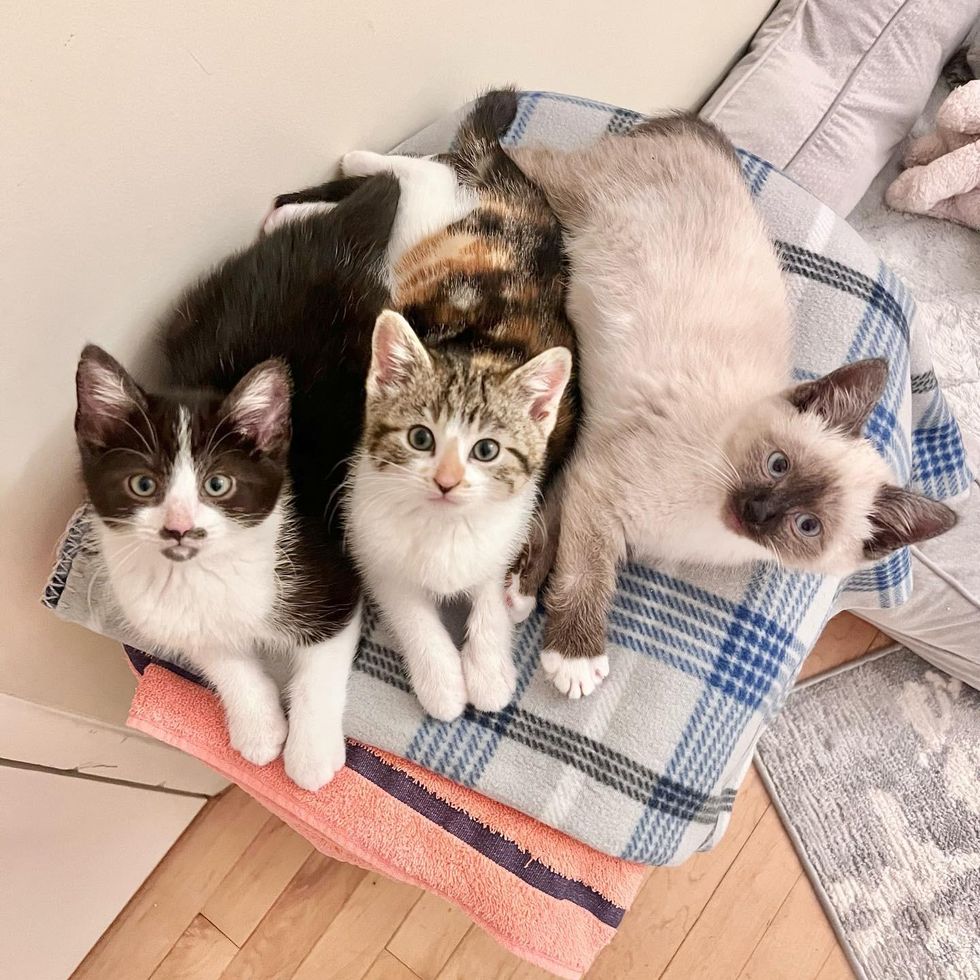 Jamie @thekittensfoster
"I find that the spiciest ones are just the most scared, and they usually make the biggest turn around. I'm seeing that with Wasabi."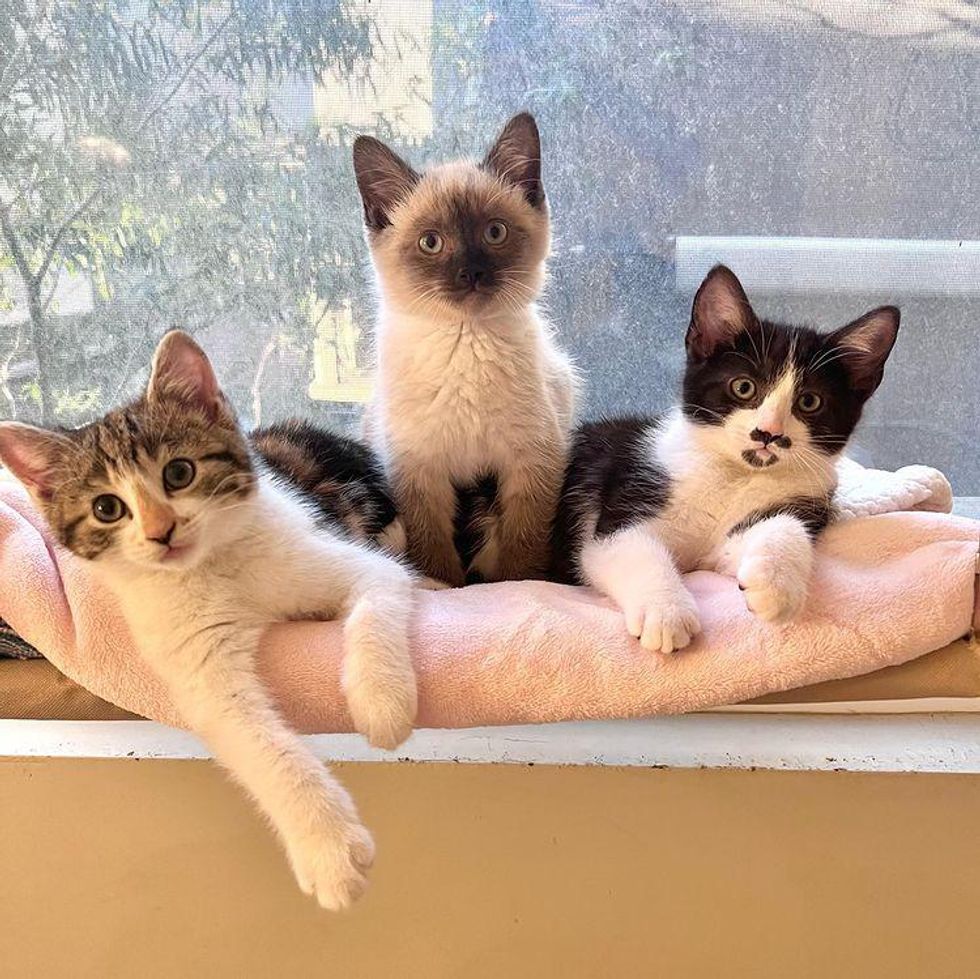 Look at them nowJamie @thekittensfoster
Share this story with your friends. Follow updates on the trio and Jamie's foster kittens on Instagram @thekittensfoster. Follow Baby Kitten Rescue on Facebook and Instagram.
Related story: Kitten with Strong Will Transforms from Palm-sized Wonder to Sweetest Shoulder Cat