A good Samaritan spotted a very special kitty outside her home all by himself, trying his utmost to survive. His front feet are turned inwards and he walks on the sides of his arms.
Meet Scooter.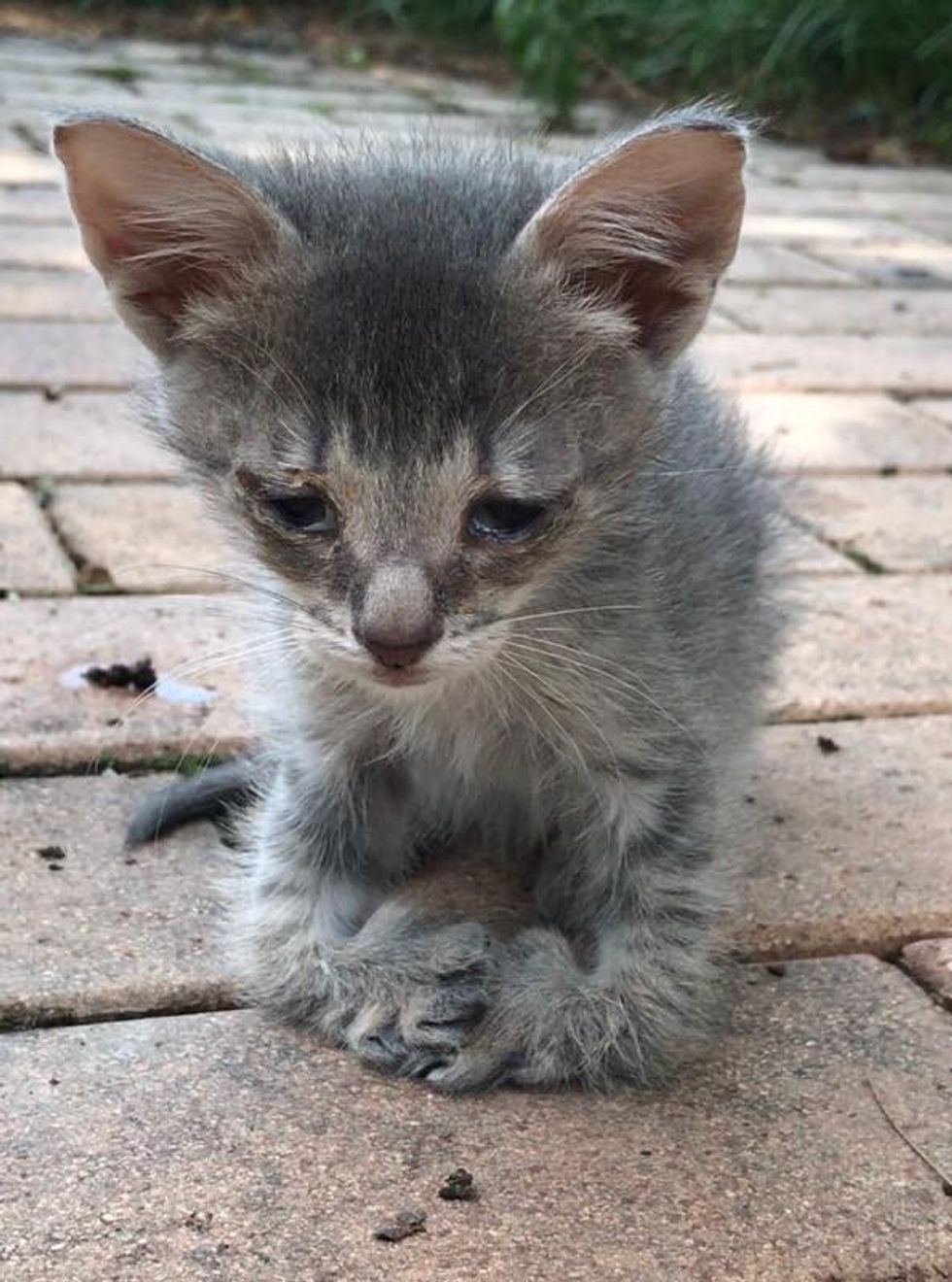 Here Kitty Kitty Rescue
Little Scooter wandered into someone's yard this June. When the homeowner found the tiny stray, she scooped him up and brought him inside her home to try to care for him, but later realized that the kitten needed more help than she was able to give.

She contacted Here Kitty Kitty Rescue (in Elkhart, Indiana), hoping they could get him the care he desperately needed. "We don't know how he survived outside for five weeks, but Scooter has an amazing will to live," Here Kitty Kitty Rescue shares with Love Meow.
Despite the deformities in his front feet and a severe eye infection, Scooter purred up a storm as soon as he was given a cuddle. He loved all the new toys and craved companionship from his human friends.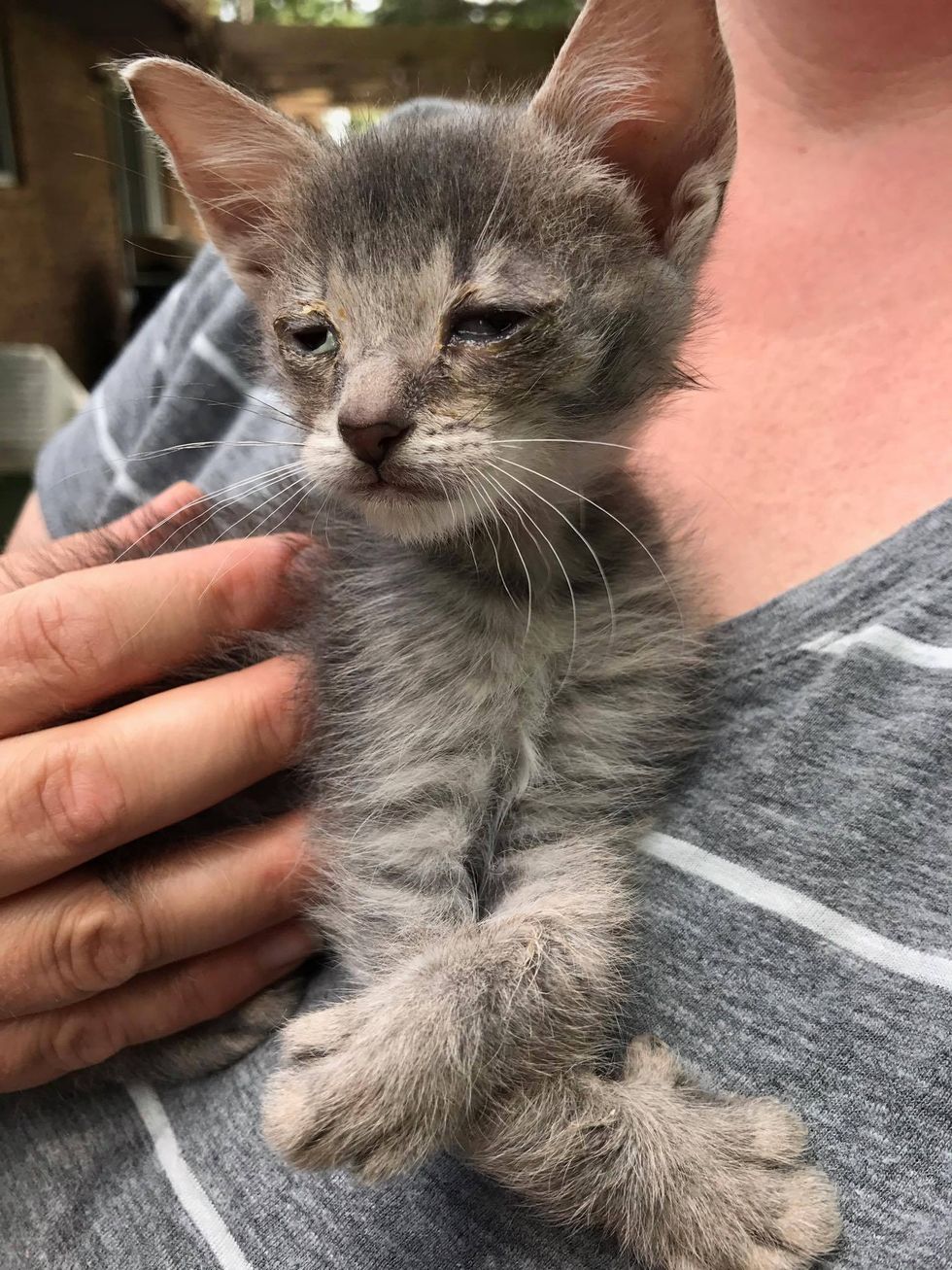 Here Kitty Kitty Rescue
"When we saw Scooter, we knew we couldn't turn him away," the rescue said.
Scooter was found in someone's yard all by himself.
After a long morning at the vet, Scooter got his blood drawn, x-rays taken, played with all the staff and then fell asleep comfortably in his rescuer's arms.
"It looks like Scooter was born with shortened or tightened ligaments/muscles on both his front feet. This is what caused his feet to turn in and make him walk funny," the rescue group added.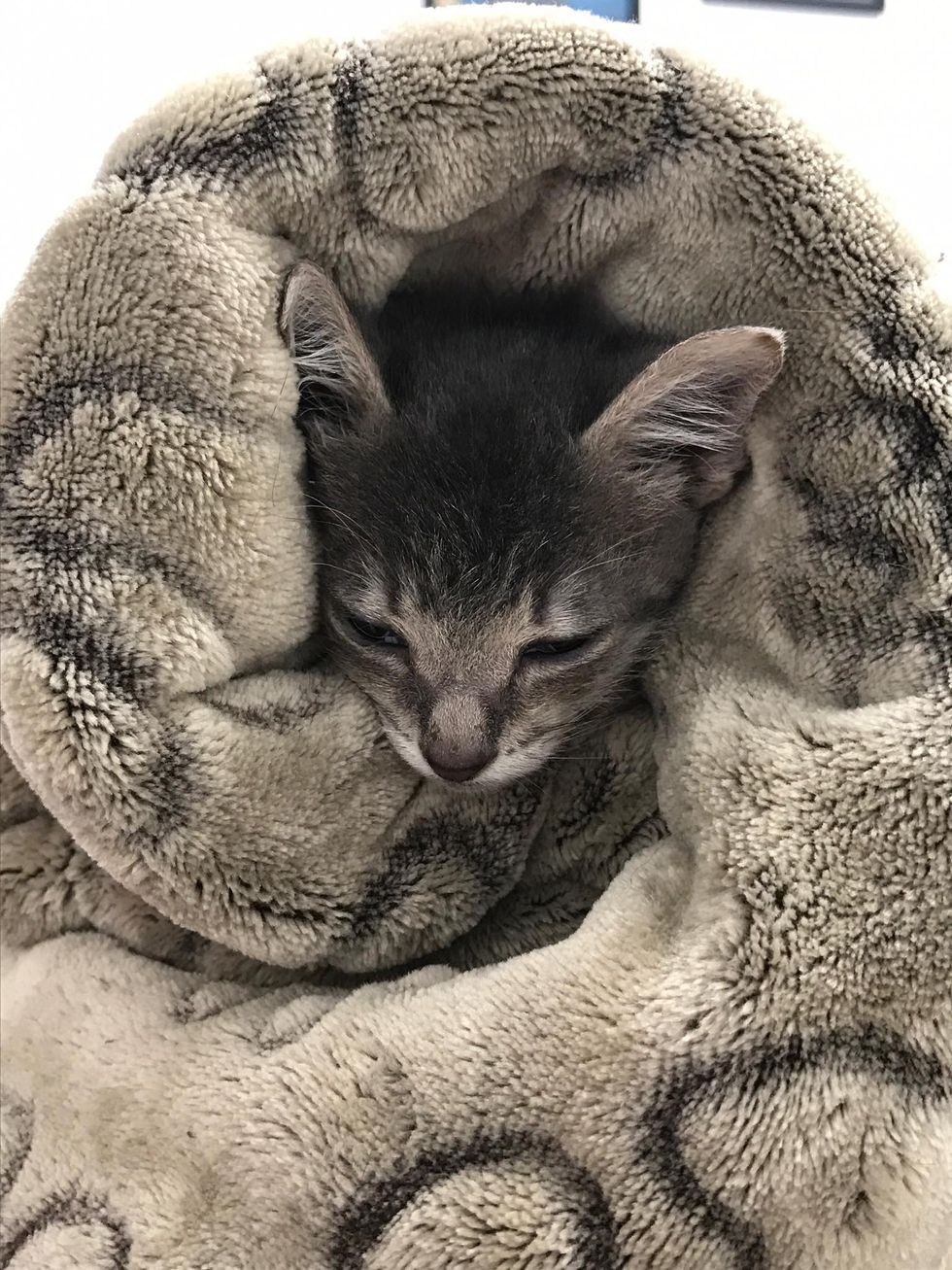 Here Kitty Kitty Rescue
Because his feet have been turned in for a long period of time, it has affected his bone growth. "The plan for now is to start physical therapy on his legs. He will need lots of stretching and manipulating the feet, trying to get them used to going in the proper position. The next step would be surgery at a speciality hospital, but not for awhile, since he is so small."
At 7 weeks, Scooter finally reached one pound! He is still very tiny for his age, but the little buddy absolutely loves life and his new foster family!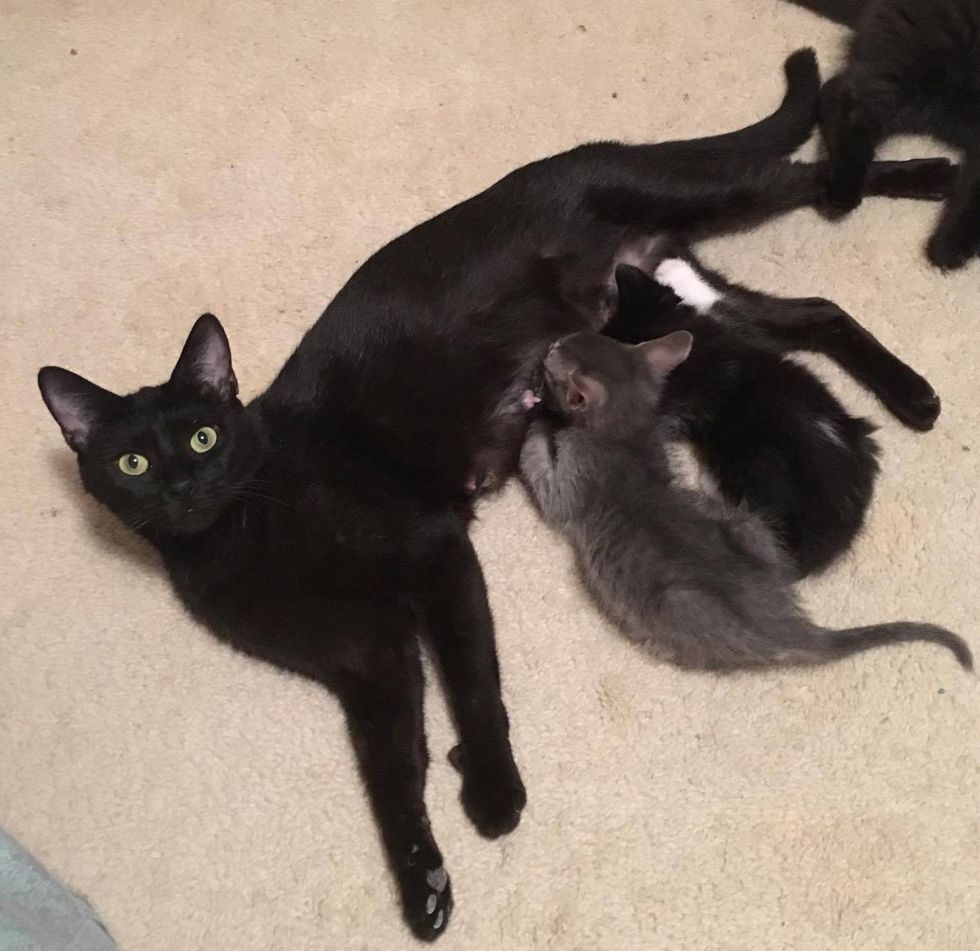 Here Kitty Kitty Rescue
"Scooter is doing great in his foster home. He has joined rescue momma Avery and her four babies," Here Kitty Kitty Rescue told Love Meow.
He is thriving with constant love from mama Avery and everyone at his foster home. His new siblings like to snuggle with him to keep him company so he never feels alone.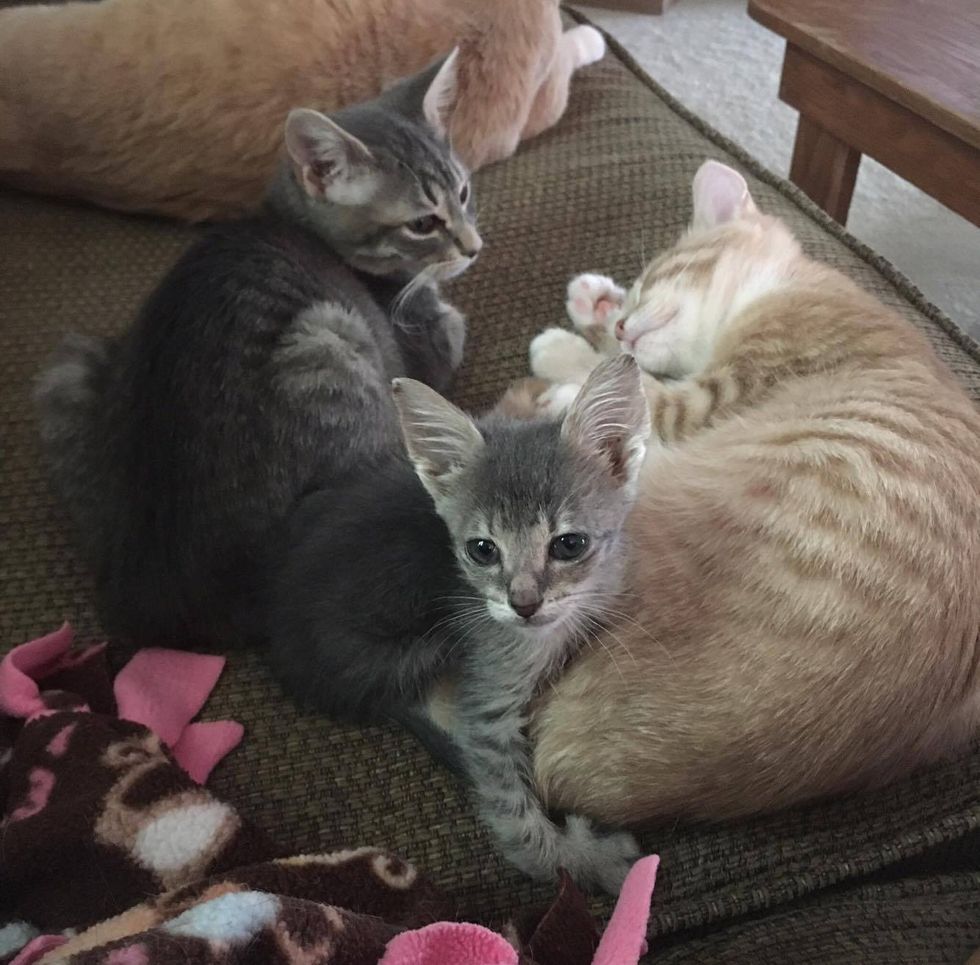 Here Kitty Kitty Rescue
"His cold is clearing up well with antibiotics and he is slowly gaining weight. Even though Avery's babies are four weeks younger than Scooter, they all weigh the same," the rescue told Love Meow.

Sweet Scooter may walk a bit differently, but nothing can stop him from loving life and being a happy kitty that he is! When he gets all excited playing with a toy, snuggles with his siblings for naps, or purrs aloud getting head scratches, Scooter knows he's loved!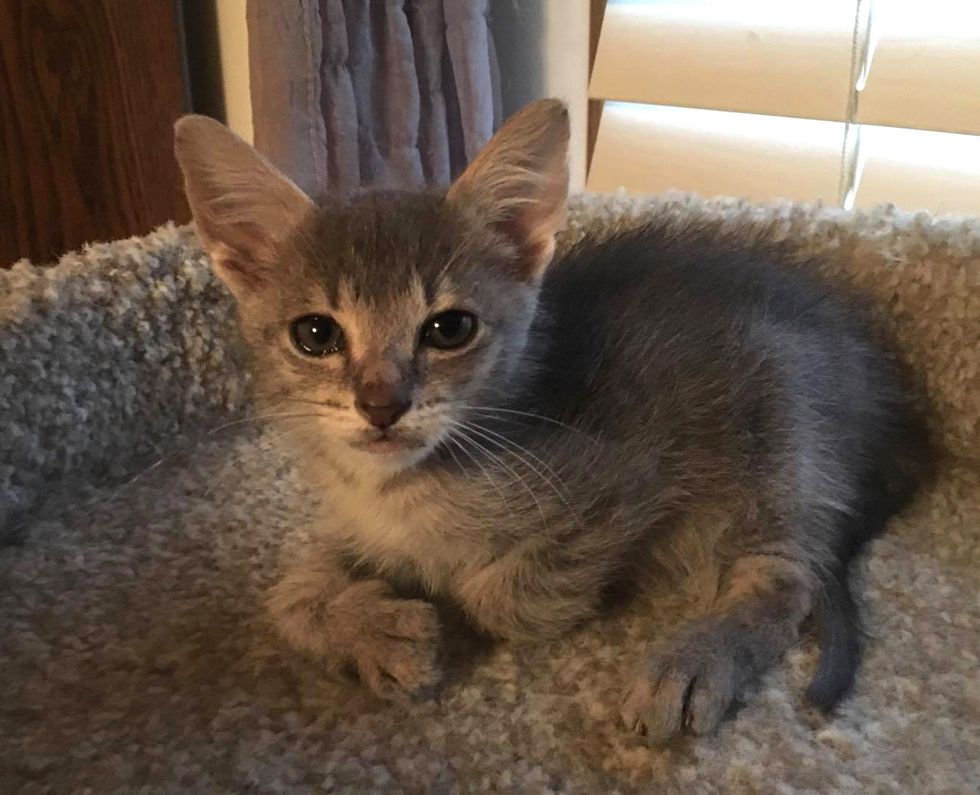 Here Kitty Kitty Rescue
Updates:
Scooter has recovered from his upper respiratory infection and is gaining weight and eating well on his own. He continues receiving physical therapy on his leg.
Scooter is a polydactyl and has big mittens.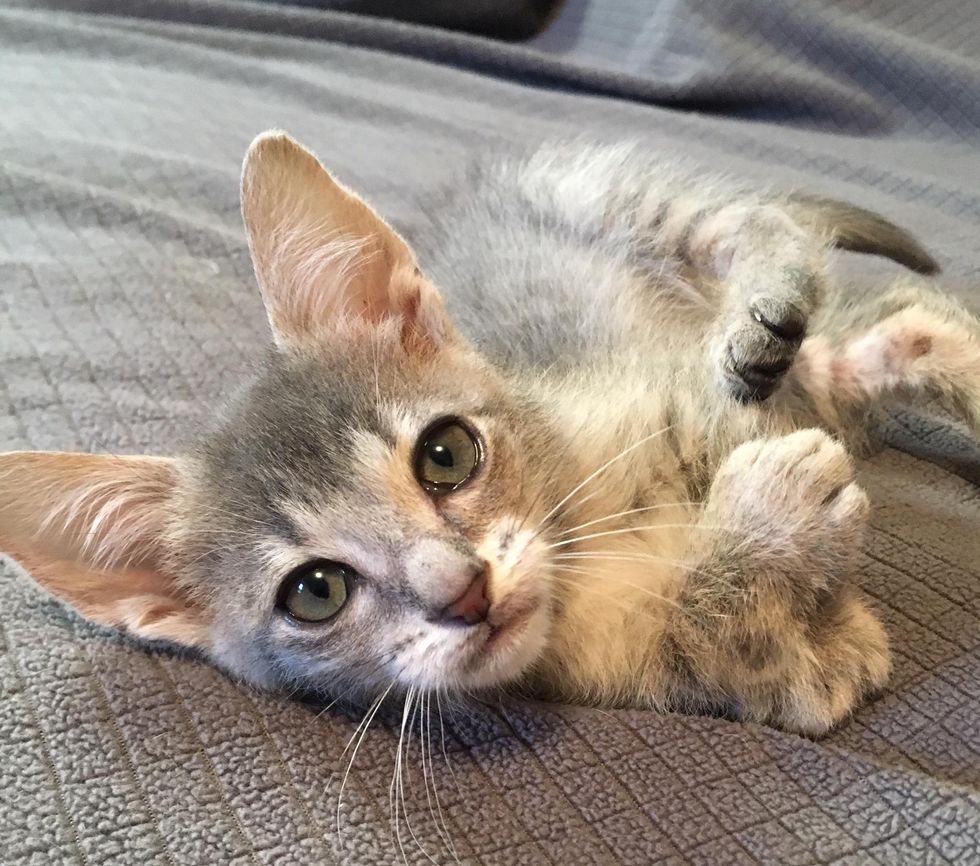 Here Kitty Kitty Rescue
Scooter has been adopted!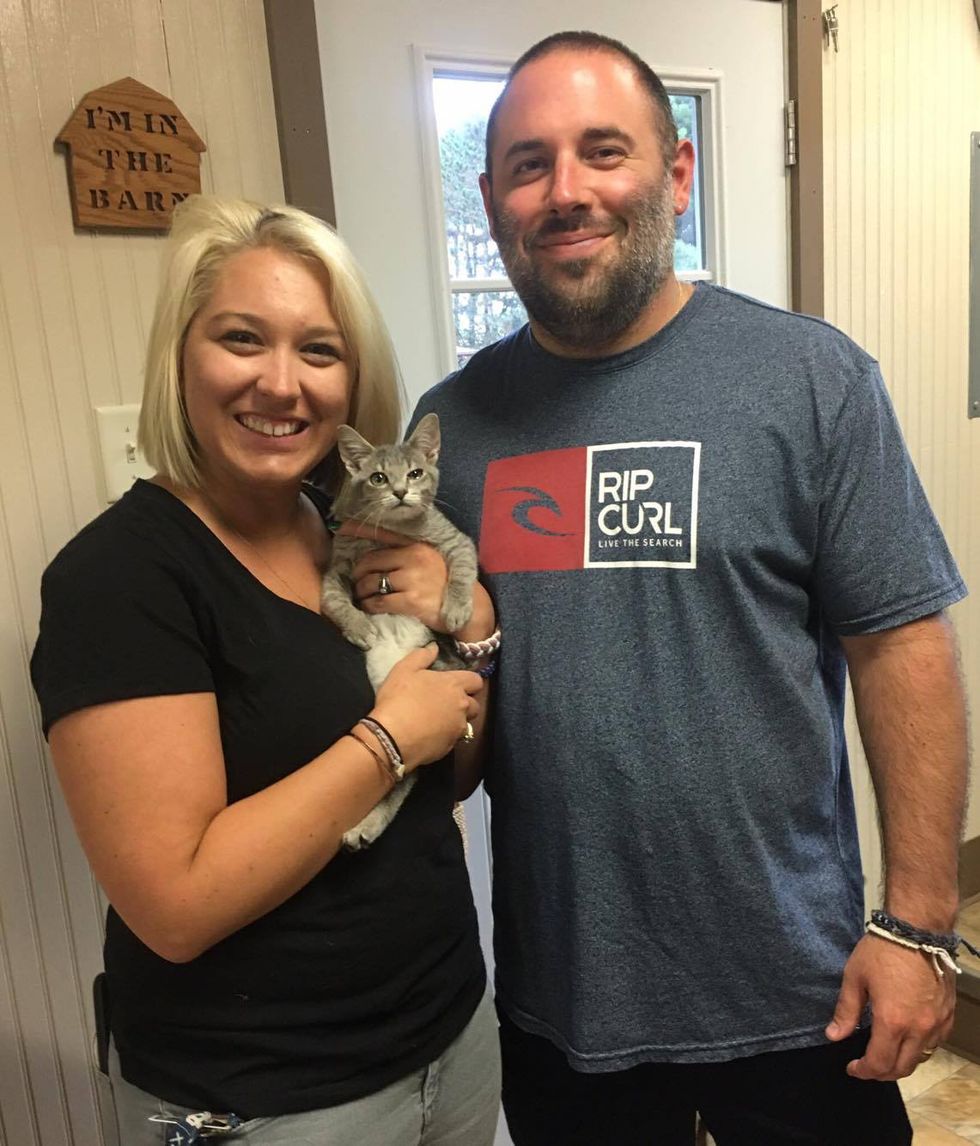 Here Kitty Kitty Rescue
He was taken in by a new feline sibling :).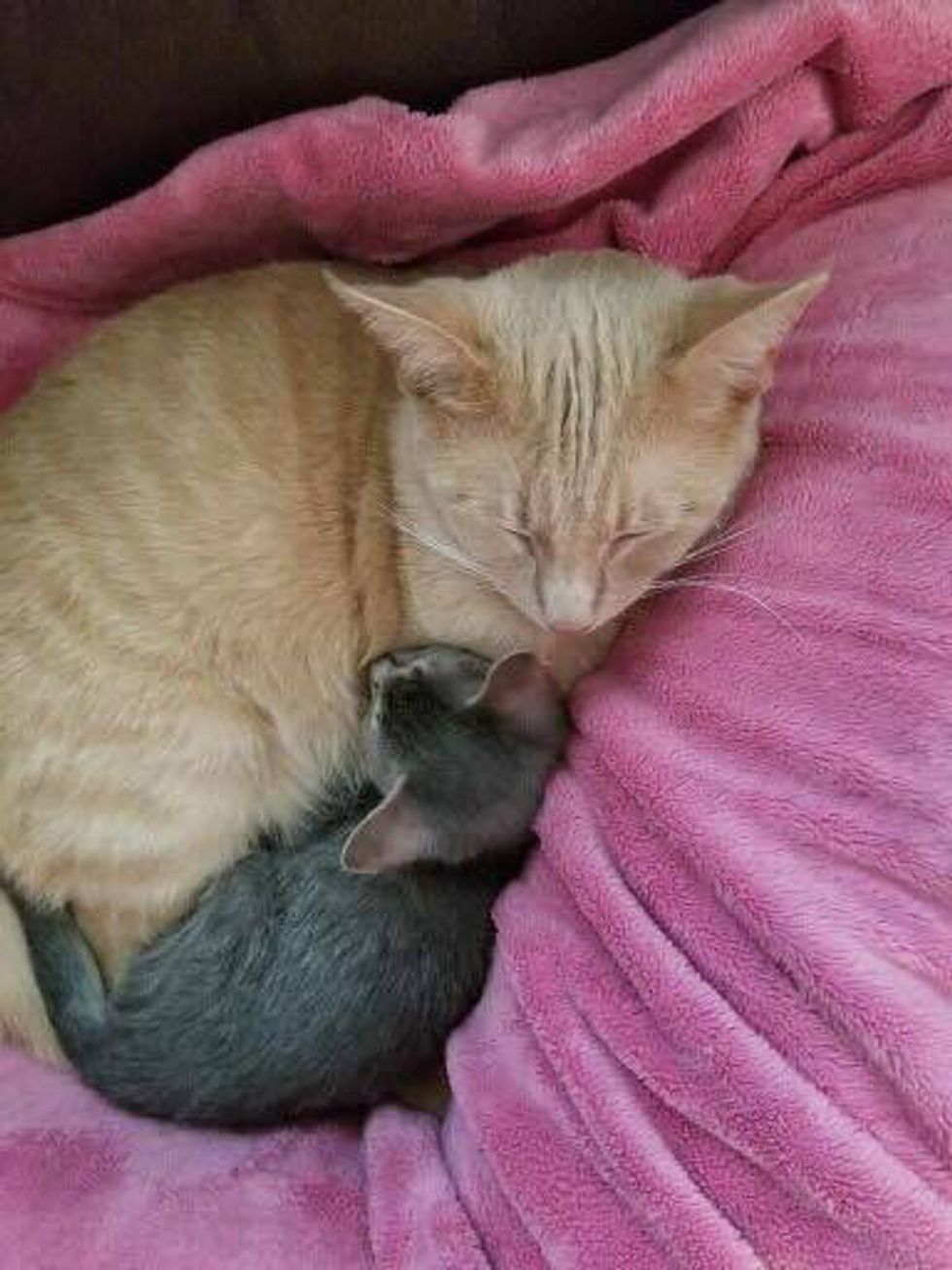 Here Kitty Kitty Rescue
Cuddly friends!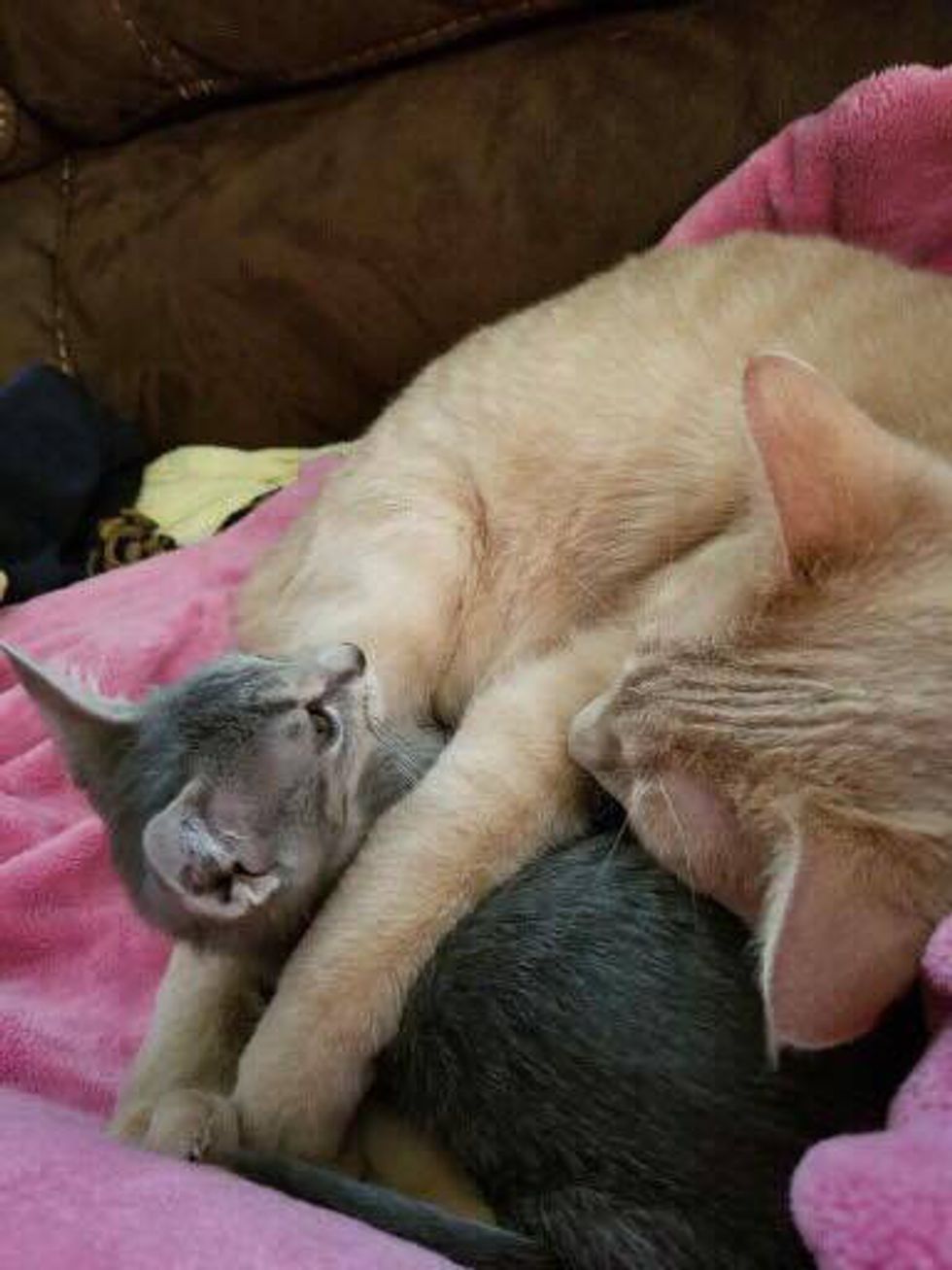 Here Kitty Kitty Rescue
Happy and loved!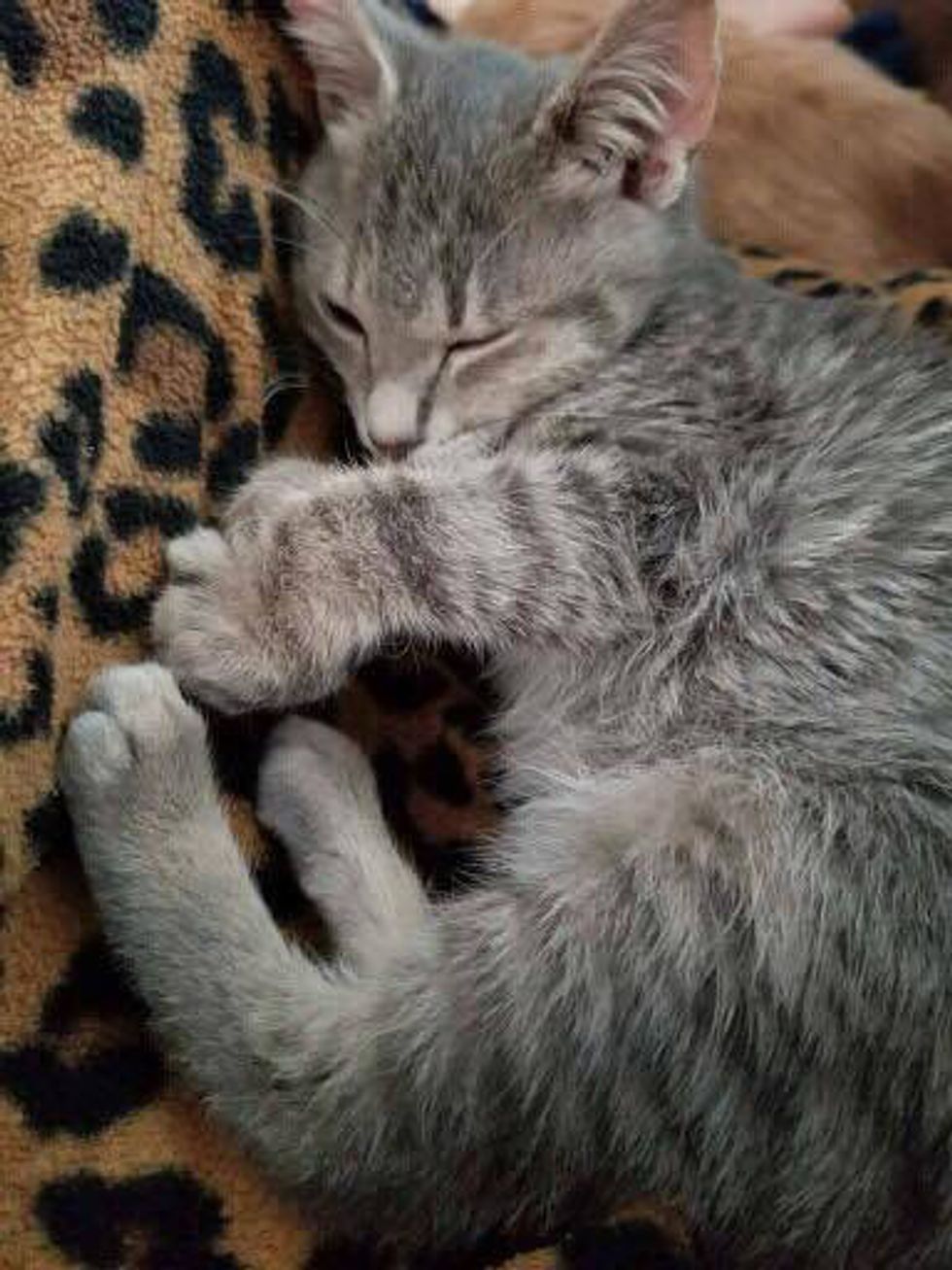 Here Kitty Kitty Rescue
Share this story with your friends. If you would like to support Scooter's medical expenses, click here to see how you can help. Follow his updates on Here Kitty Kitty Rescue's Facebook.

Related story: Cat Walks Up to Rescuers Like a Little Kangaroo and is so Happy to Get Help