Four sweet kittens came to a rescue for a chance at a better life. They stayed together and helped each other thrive.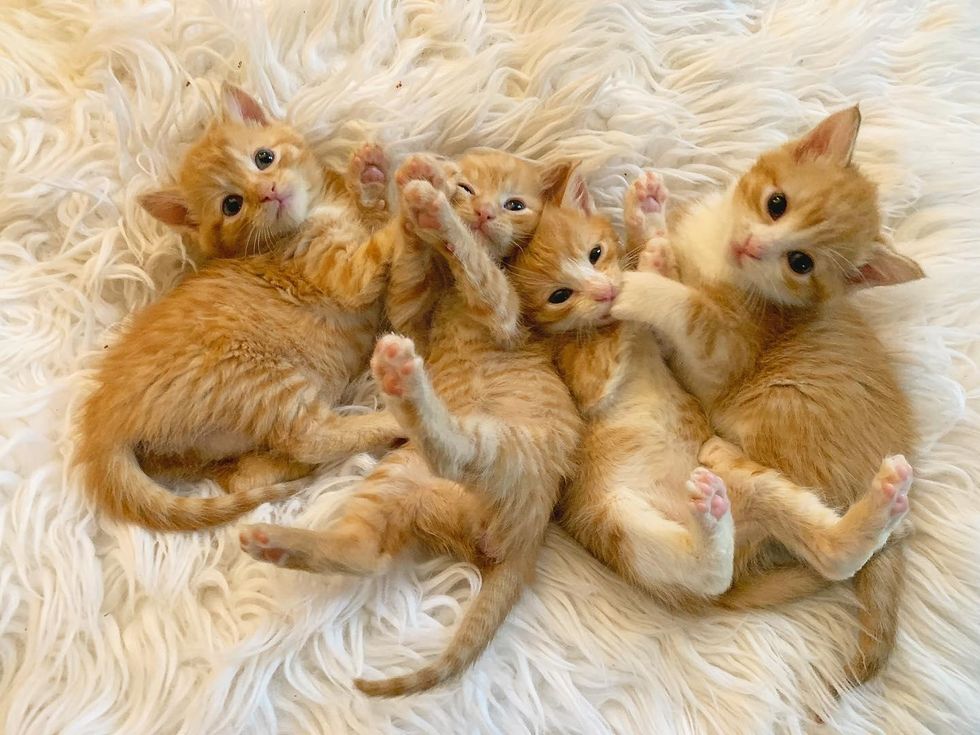 Murphy's Law Animal Rescue
When Sarah Kelly, founder of Murphy's Law Animal Rescue, was contacted about four orange kittens needing rescue, she sprang into action.

The kittens had a rough start in life, needed critical care and a home environment to help them recover. "They were brought to a county shelter and had upper respiratory infections and eye infections. They were in such bad shape - with the smallest one having pneumonia," Sarah shared with Love Meow.
Once they were safely transported to Murphy's Law Animal Rescue, Sarah and her team got right to work.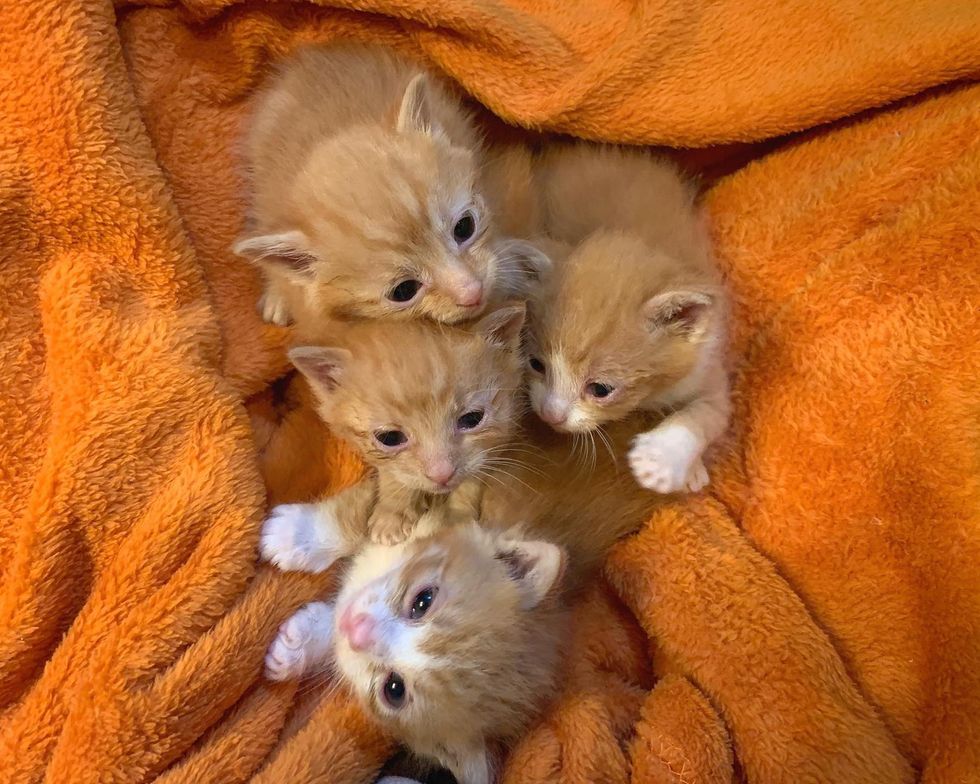 Four orange kittens recovering in foster careMurphy's Law Animal Rescue
"We immediately took them to the vet and were able to start them on meds right away," Sarah told Love Meow. "When we first got them they were so quiet and shell-shocked from being in the shelter and being so sick."

The kittens were around four weeks old. They were huddled together when they first arrived, keeping each other comforted as they began their healing process. It didn't take long for them to come out of their shells when they realized that they were safe.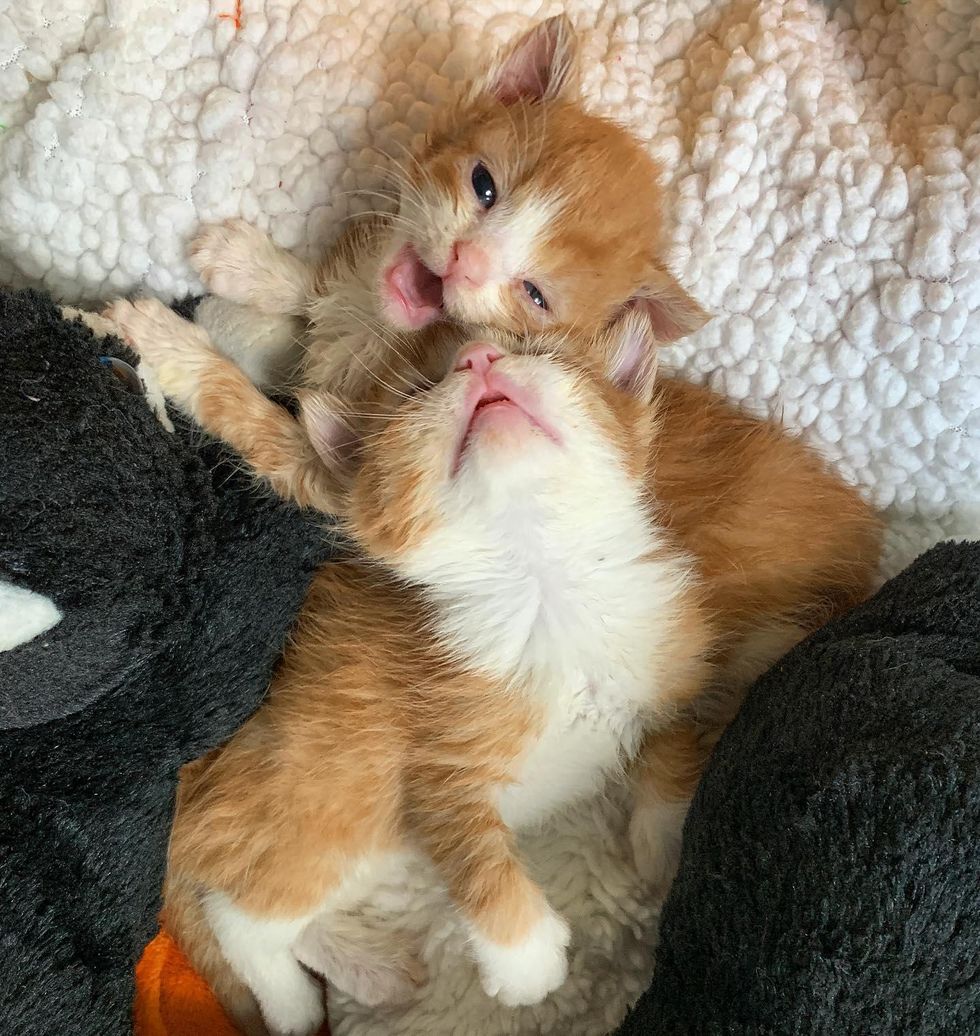 Murphy's Law Animal Rescue
When one of them mustered enough courage to explore, the rest followed suit. They became very comfortable with their new space that was covered in soft blankets, comfy beds and plenty of toys.

They learned that their people would bring them food and treats, and that it felt good to be petted and snuggled. "Now, they run to meet us at the door and love to wrestle and snuggle right in our laps," Sarah told Love Meow.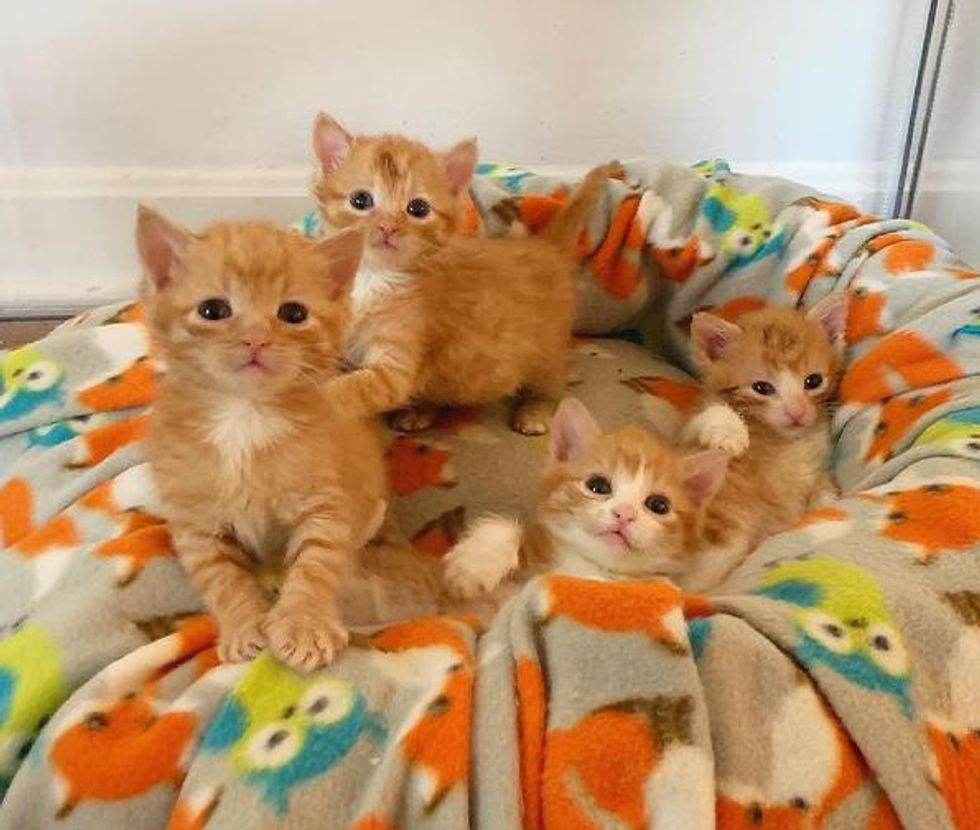 Murphy's Law Animal Rescue
The four orange kittens (Sunkist, Tangerine, Mandarin, and Clementine) were each other's biggest cheerleaders.
Mandarin (or Mandy) who was the runt of the litter, needed extra TLC as she had a longer road to recovery. Her siblings never left her side and showered her with purrs and snuggles.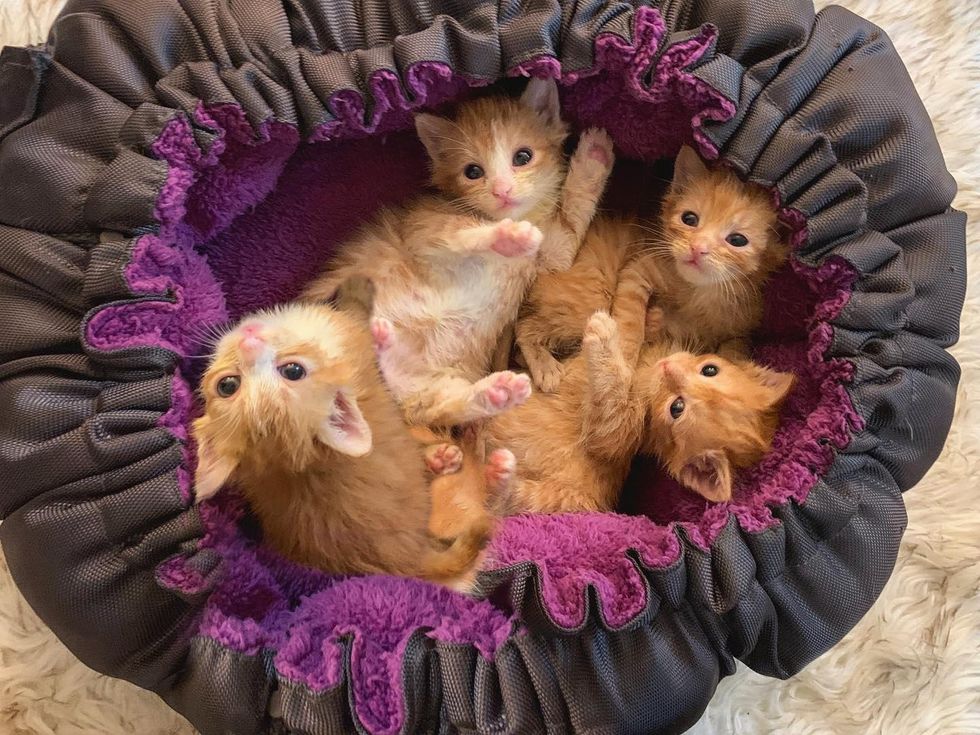 Murphy's Law Animal Rescue
"Mandy loves a good meow. She is the first to cry when we come in the room -- to either say 'hello' or demand a meal. We can't wait to watch her and her siblings grow up."

Tangerine (or Tan) is the only boy in the litter and the messiest eater. "They are such a fun, gentle, and sweet group. Keeping up with cleaning them is a full time gig in itself."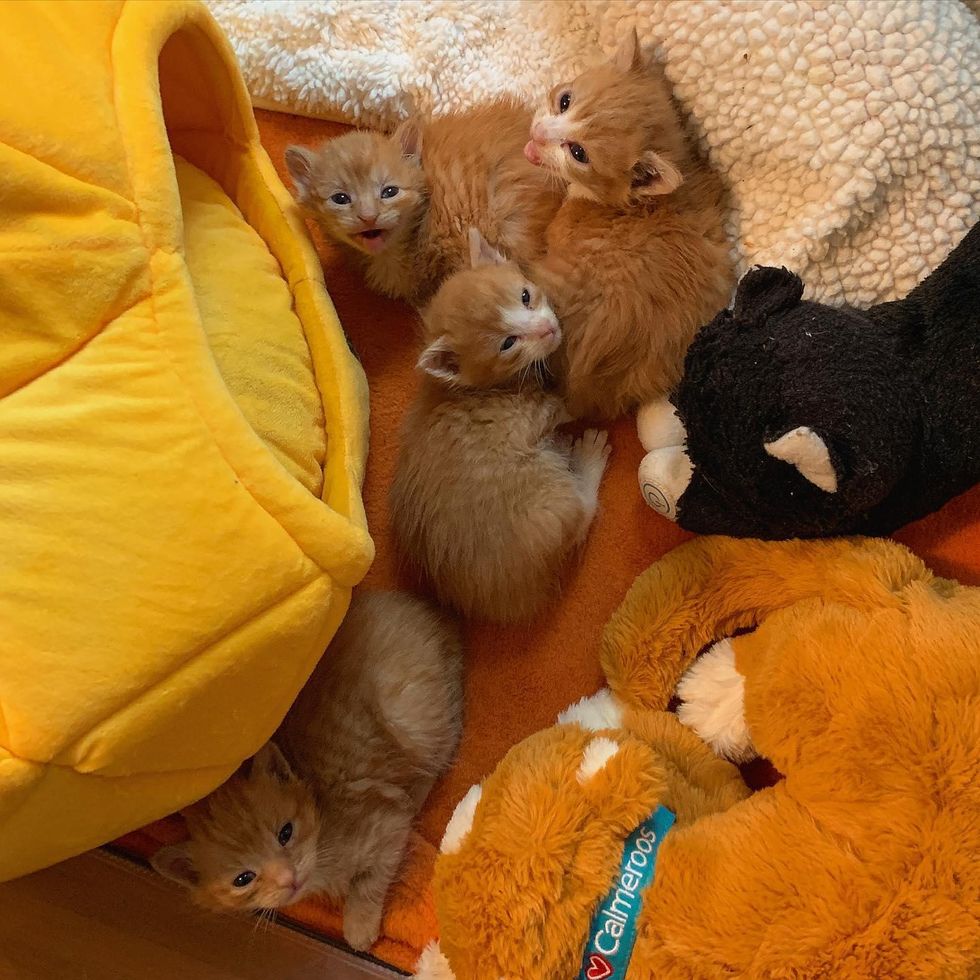 Mandy the chatterbox meows at her foster momMurphy's Law Animal Rescue
In just one week, the kittens made an incredible transformation — their eyes all cleared up and they were bigger and more energetic than ever.
"They are all doing so much better. They love each other — everyone is always snuggling or playing with one another."
The four of them have turned into full-fledged love-bugs and always have something to say.

"Mandy loves her bottle and demands that, Sunny loves her food and cries for that! Tan loves attention and will cry until he's scooped up and smooched, and Clem loves to play and cry for attention from her siblings."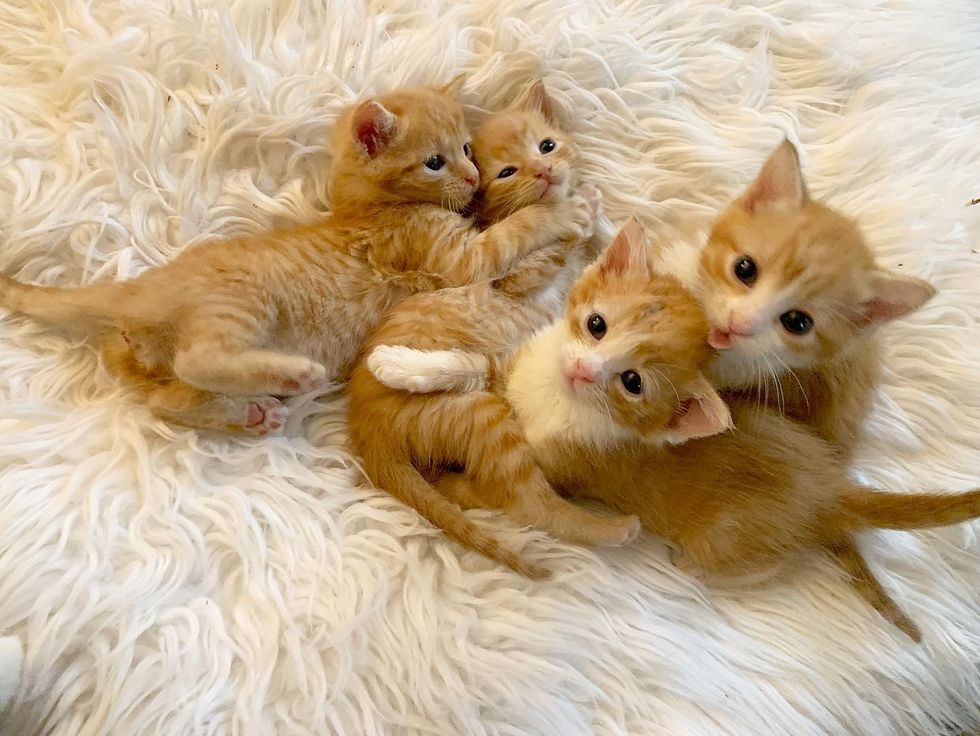 Murphy's Law Animal Rescue
When the orange kittens were medically clear, Sarah introduced them to another litter of four that had been in her care. They quickly hit it off as if they had always been friends.

"They are so nice with our other litter we are fostering. They have taken those four right under their wings," Sarah told Love Meow.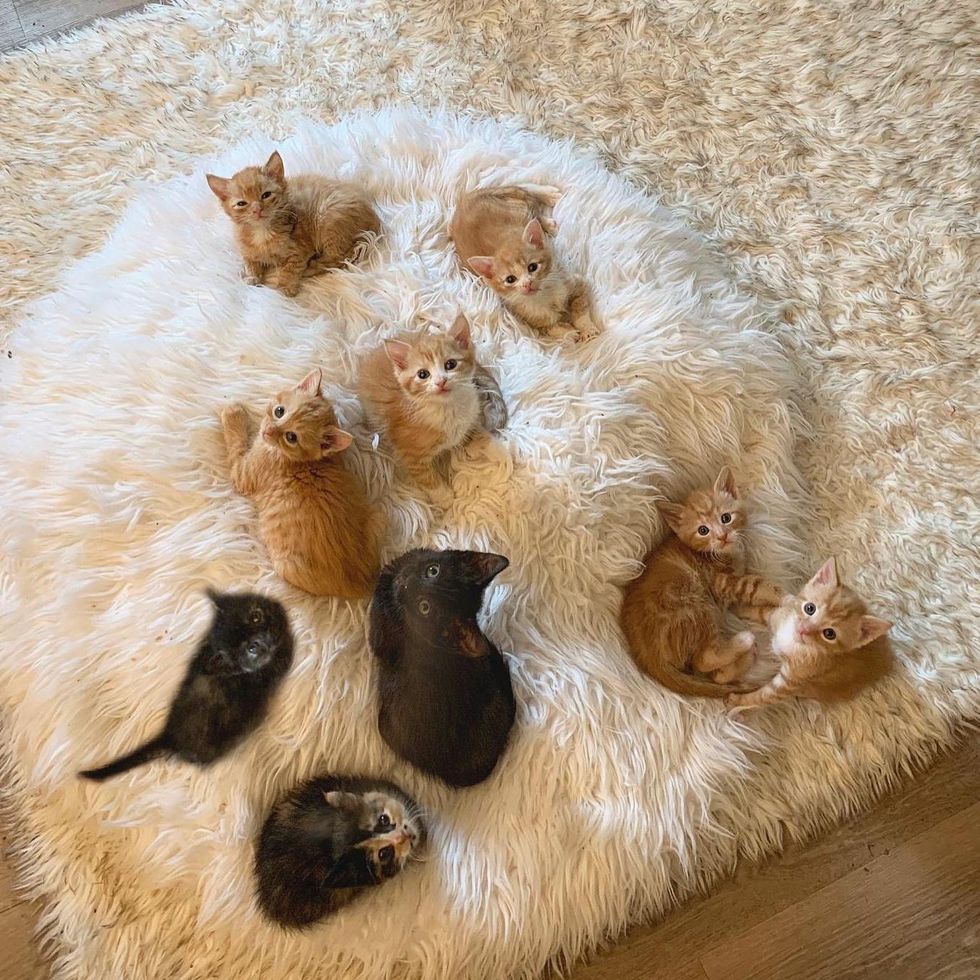 The four hang out with another litter of four and one older fosterMurphy's Law Animal Rescue
The orange kittens have blossomed into sweet, affectionate young cats. They do everything together and adore everyone that they come across, both human and furry kind. They make an adorable clowder, constantly filling their room with purrs and entertainment.

"They are tremendously sweet and have such loving personalities!"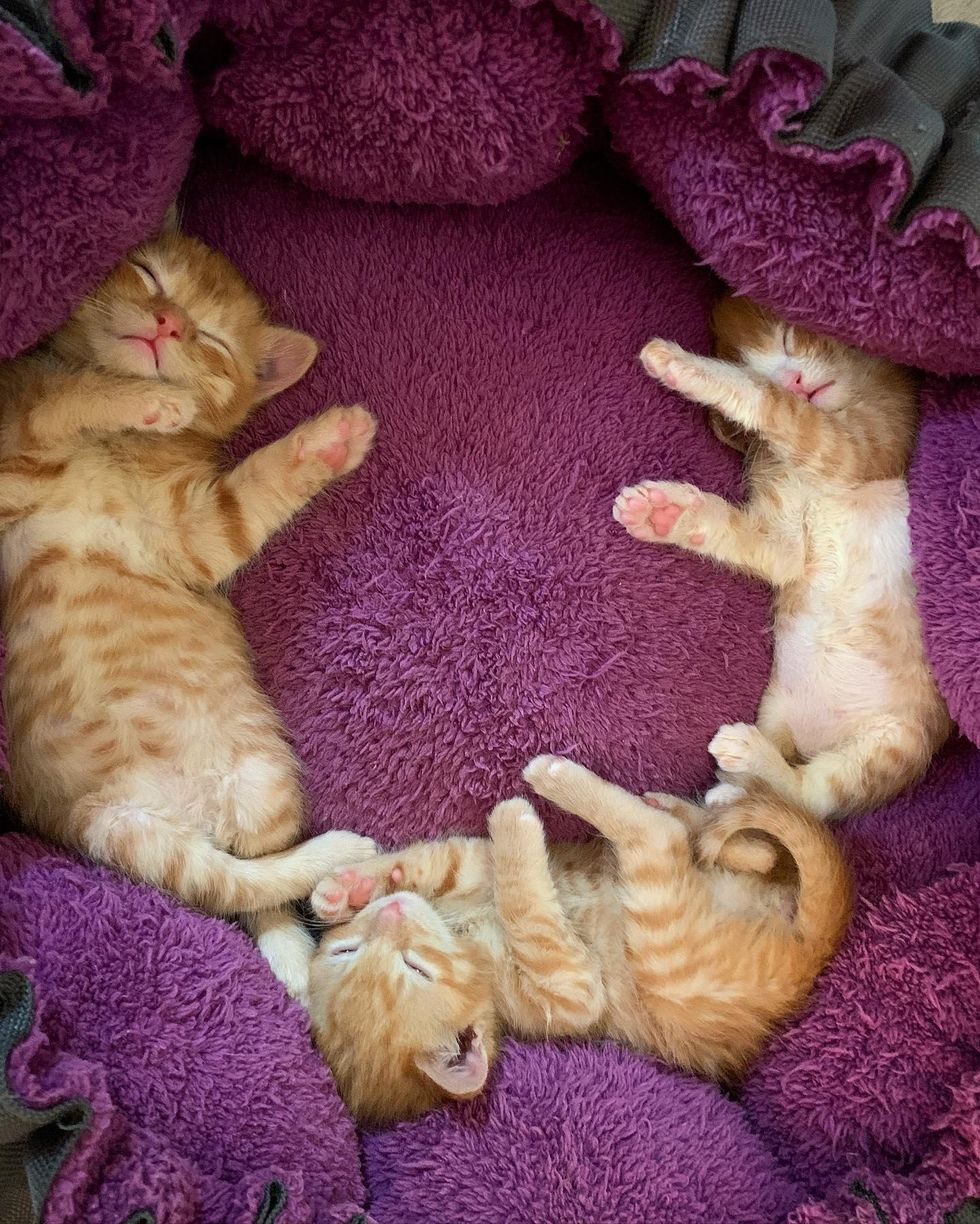 Murphy's Law Animal Rescue
Share this story with your friends. Follow updates on the kittens and Sarah's fosters on Instagram and Facebook. Follow Murphy's Law Animal Rescue on Instagram.
Related story: Kitten Found Outside in the Cold Just in Time, Transforms into Sweetest Purr Machine