A man tried to comfort his wife, who had a miscarriage, with no success, so he brought her a kitten with no mom.
Meet Callie the cat.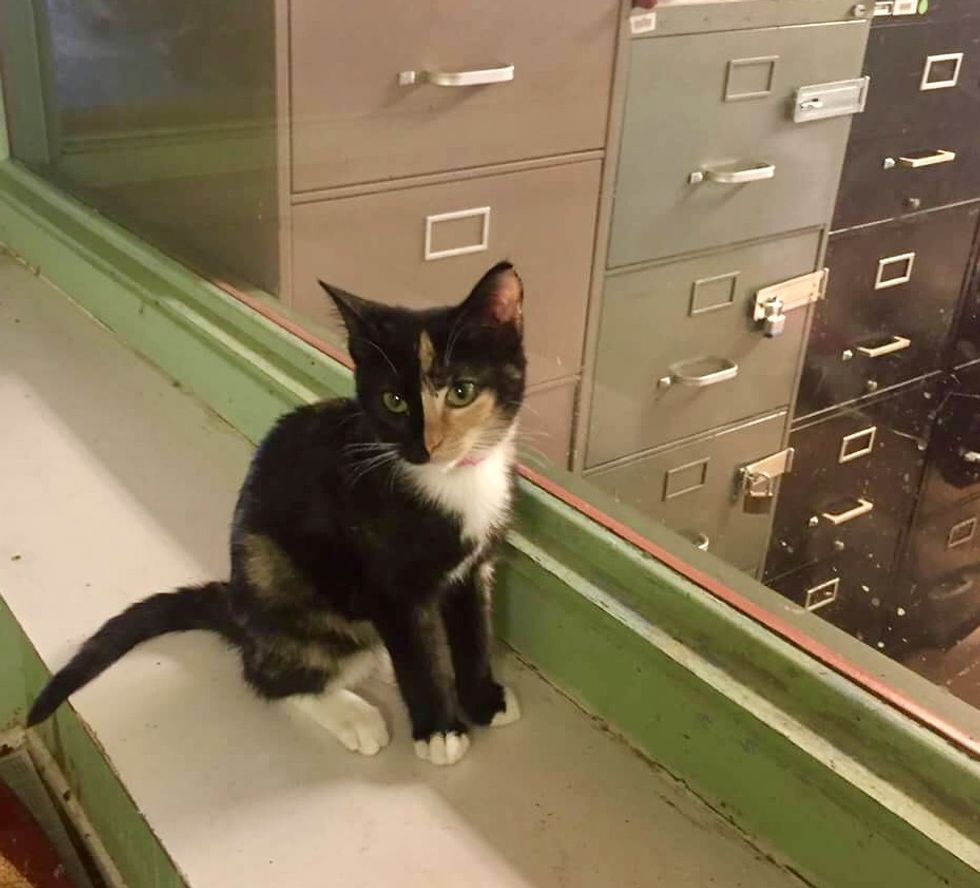 Photo: mraeronautic
"My wife recently had a miscarriage. After two months of trying to make her feel better with no success, I found a kitten with no mommy," imgur user mraeronautic said.
The man knew there might just be one thing that could cheer up his wife. He planned a trip to the shelter to find a little furry friend who needed a home.
The little calico, Callie, lost her cat mother at a young age. She was brought into a local shelter in another town to foster. "They bottle fed her until she could eat solid food."
The kitten missed her mom, but was happy that she got a second chance at life and a lot of help from the volunteers at the shelter.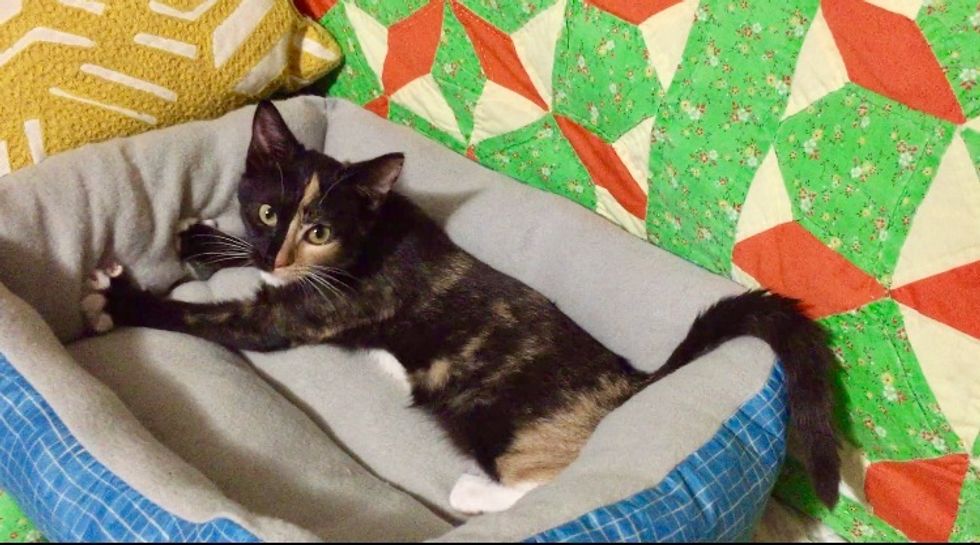 When it came time for little Callie to find a forever home, she met the guy.

"After getting to meet her it turned out that she is an absolute sweetheart. I had to take her home. Her face and her eyes just brought a calmness over me and I thought she might make my wife feel the same."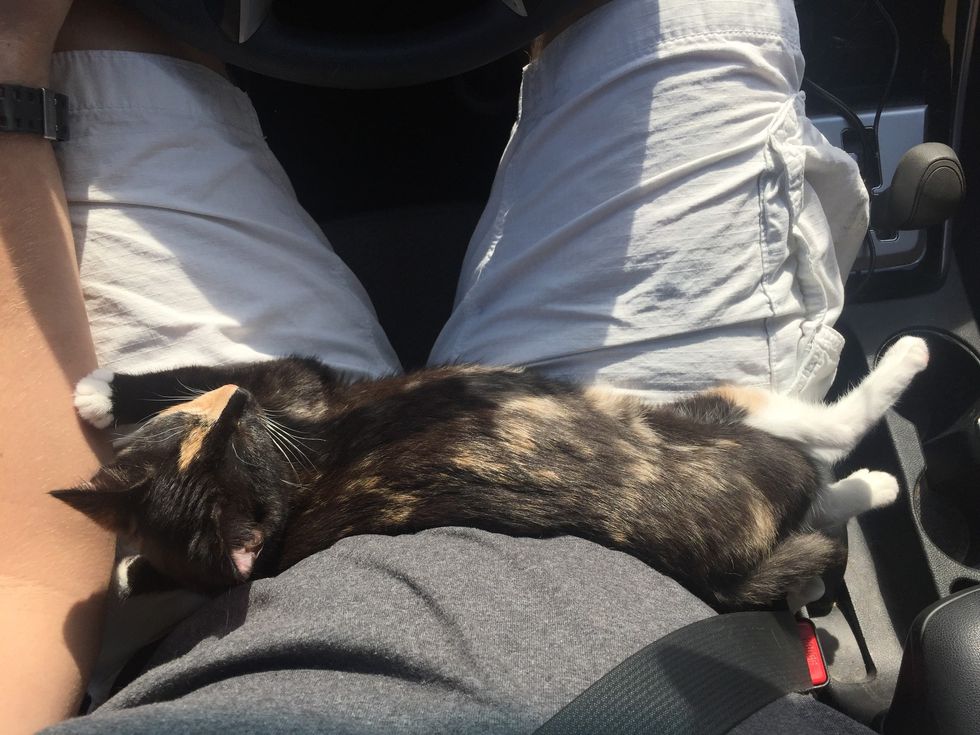 Photo: mraeronautic
The calico immediately cuddled up to her new adopter, and didn't want to be away from him.
"On the car ride home she was not happy riding in the carrier so I let her out. She rode like this for the hour and a half drive home," he said.

When the man brought the kitten to his wife, the little feline buddy gave her new mom the biggest smile she had had in months.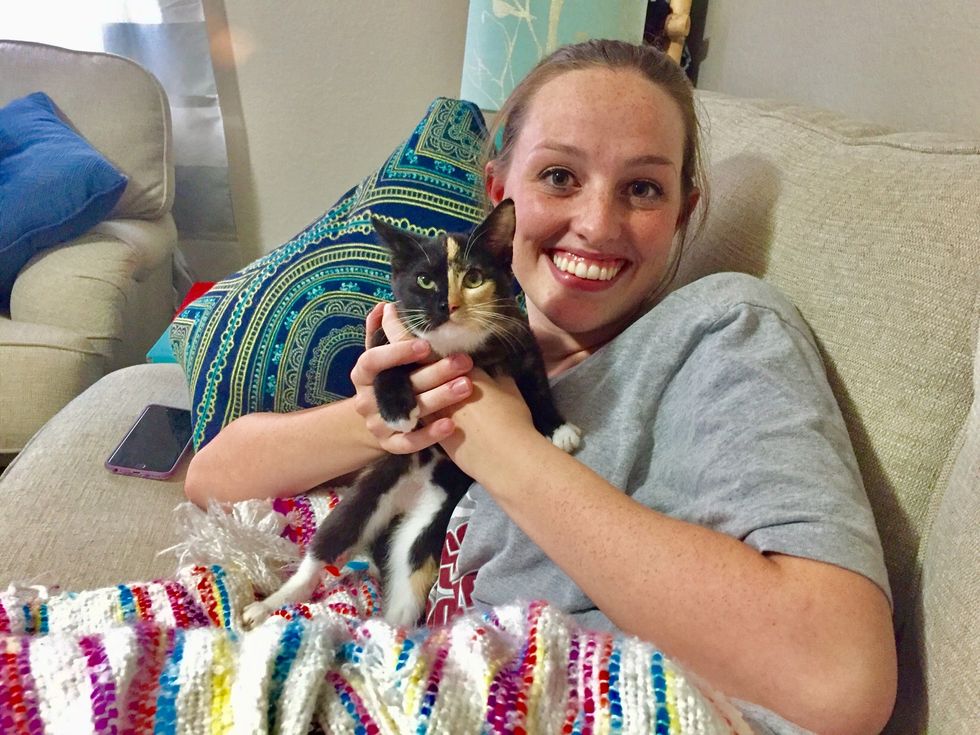 Photo: mraeronautic
"We have had her for 5 days now and I haven't seen my wife this happy in a long time," he said.
"She and Callie bonded immediately. Callie is constantly snuggled up to her momma and sleeps tucked up to her stomach at night."

Adorable little Callie!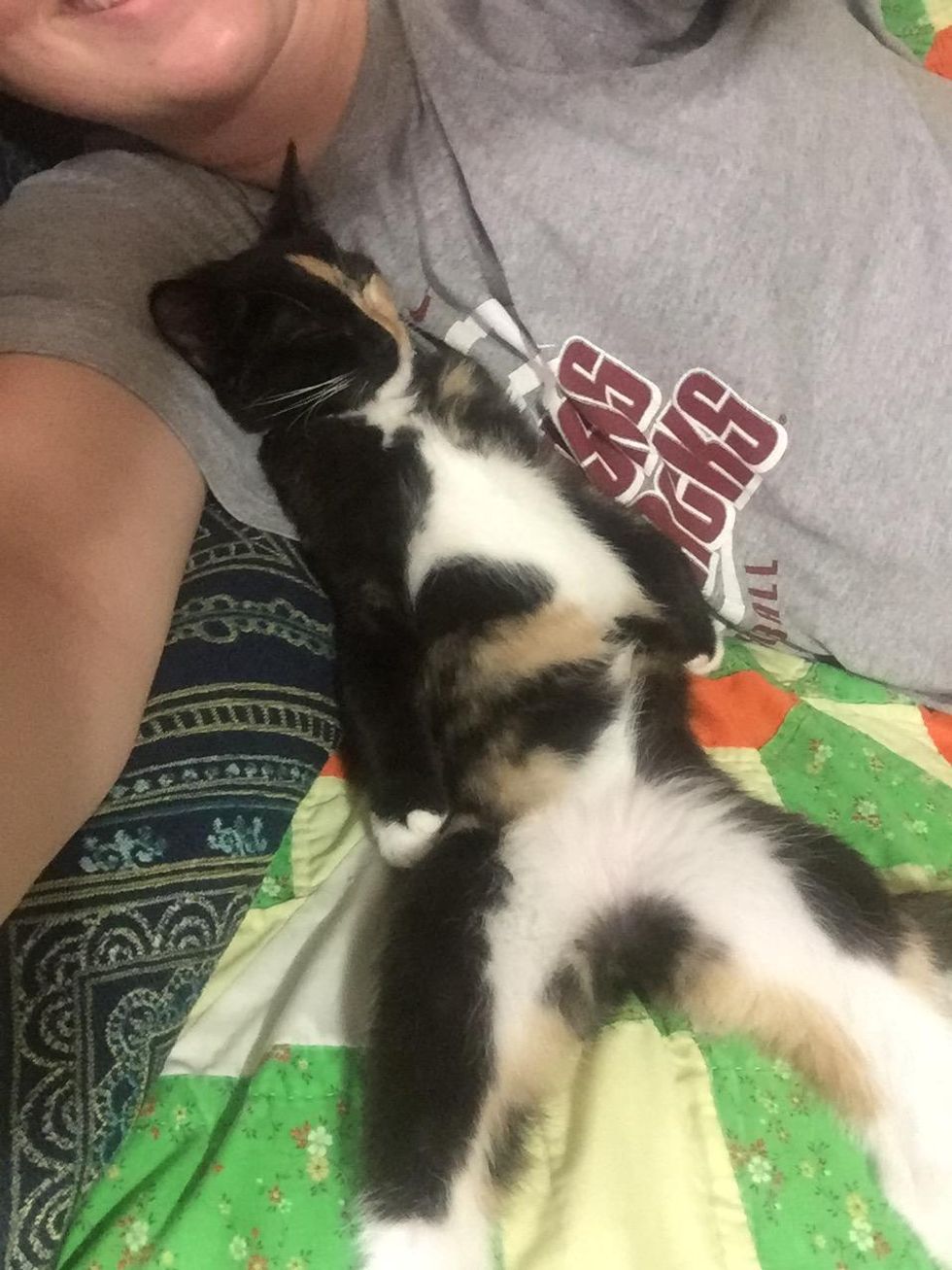 Photo: mraeronautic
She is loving her new home and all the attention she gets from her human parents.
The little kitty has brought a lot of joy and fun to the family. They love her as their own.
Callie loves to climb to the highest point in every room.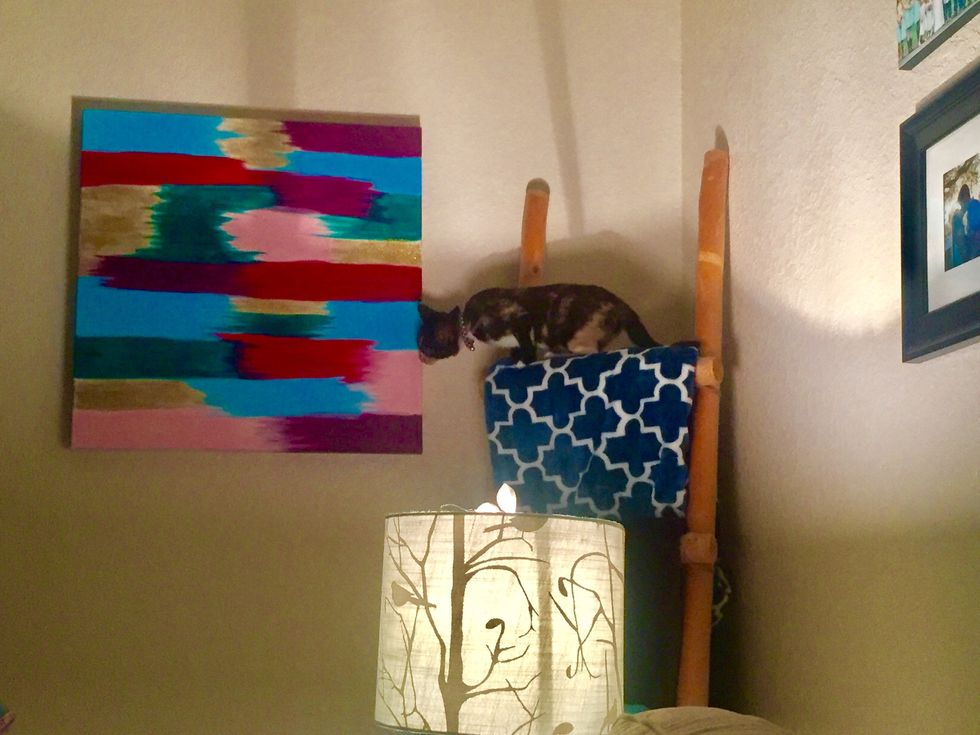 Photo: mraeronautic
Four days ago, the man got the happiest surprise from his wife...
When he was cleaning the litter box, his wife tapped him on the shoulder and brought him this...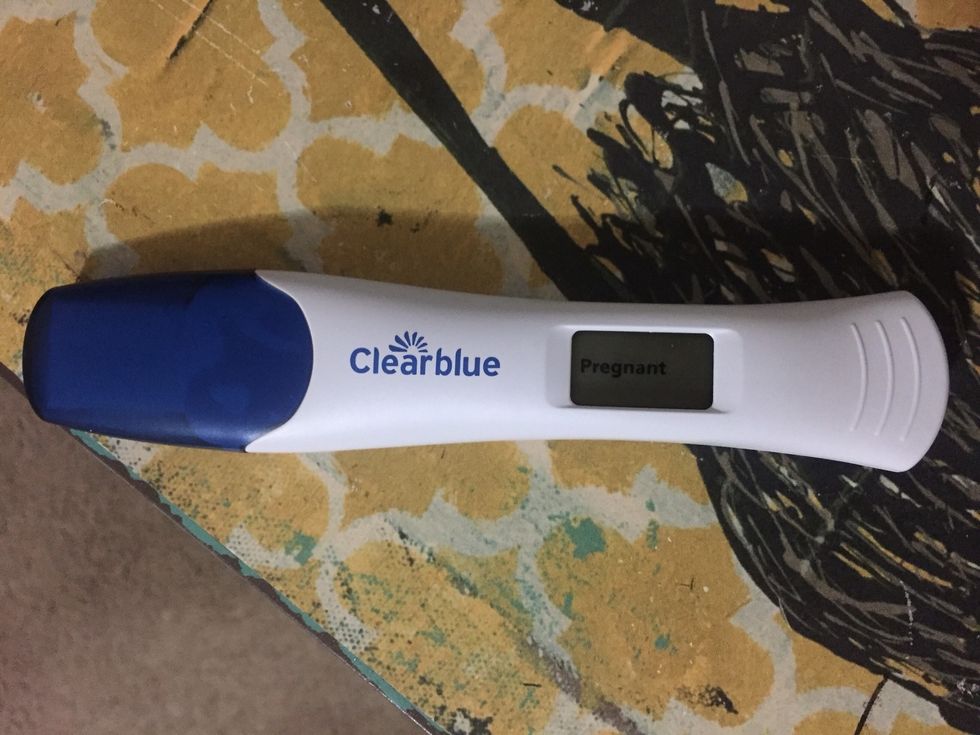 Photo: mraeronautic
"When I turned around, my wife had this pregnancy test and the biggest smile on her face. Little Callie is going to be a sister!
"I don't know what it is about this cat but I can just tell that with her, everything is going to be ok. Things are looking up!"
Little Callie may just be an angel in disguise :).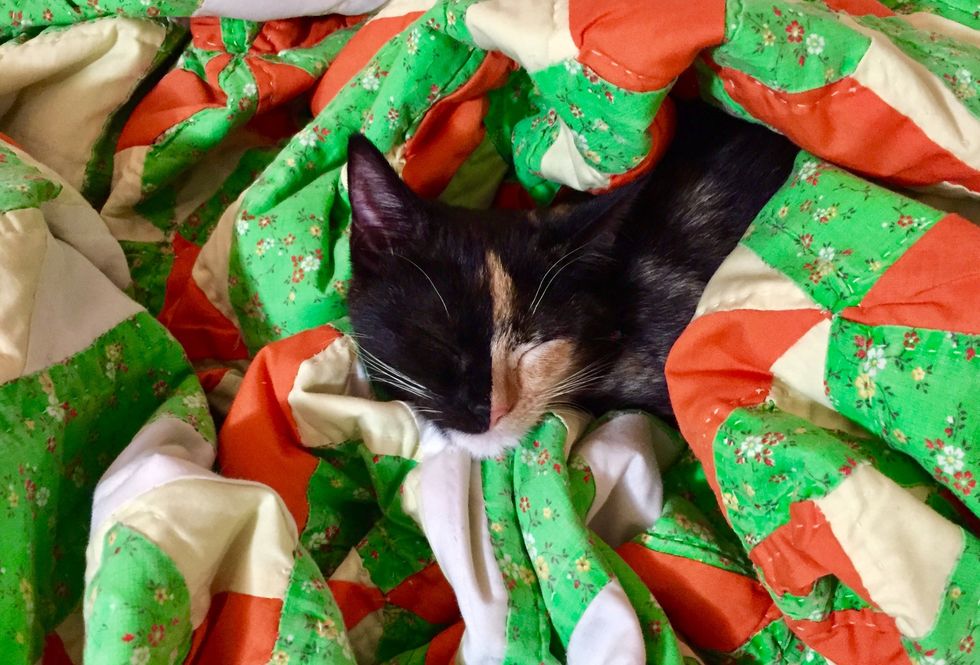 Photo: mraeronautic
Share this story with your friends. (more info: imgur)
Related story: Calico Cat Judges Her Human Everyday with Those Crazy Eyebrows