A 9-week-old kitten was deemed "too feral" and put on death row. A man from a local rescue group saved him just in time and quickly discovered what a lovebug the kitty truly is.
Meet Rudy!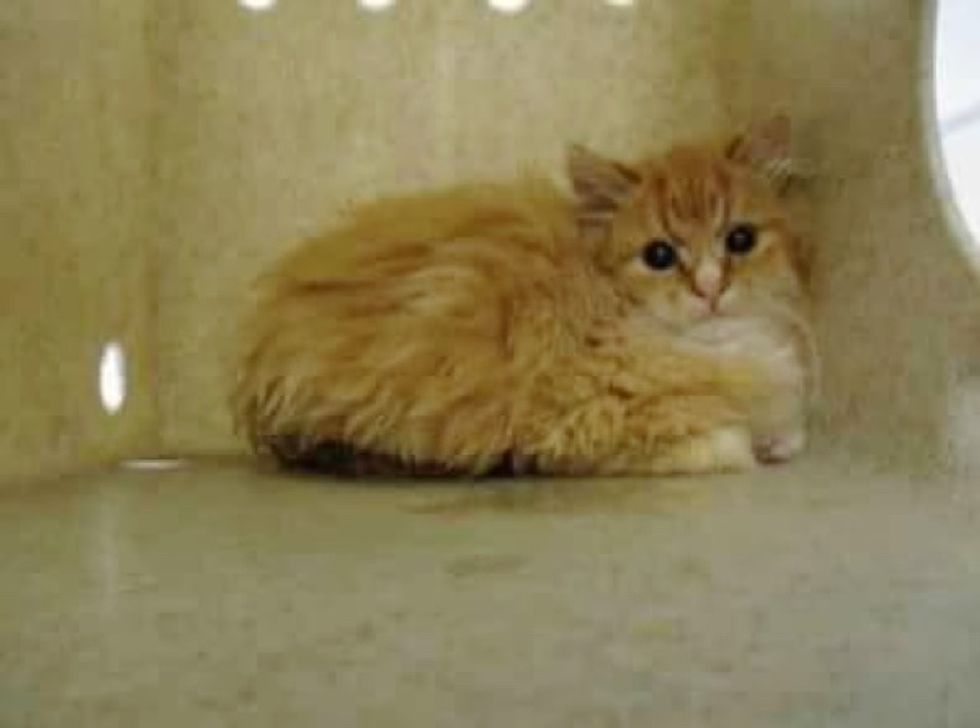 Friends for Life Rescue Network
A week ago, Friends for Life Rescue Network, a volunteer based rescue group in Southern California, learned about the plight of a ginger kitten who was deemed "unadoptable" for being too "feral".
Sam Peterson from the rescue, rushed to the shelter on his birthday to pull the kitten from the list. "He saved Rudy right before he was euthanized," Jacqueline DeAmor, co-founder of Friends for Life Rescue Network, told Love Meow.
The fearful kitten was cowering in the corner of his cage, trying to be invisible. Rudy was covered in fleas and dirt and was just skin and bones. "All those dark spots around his eyes were fleas," Kaitlyn hemphill, Sam's girlfriend, added.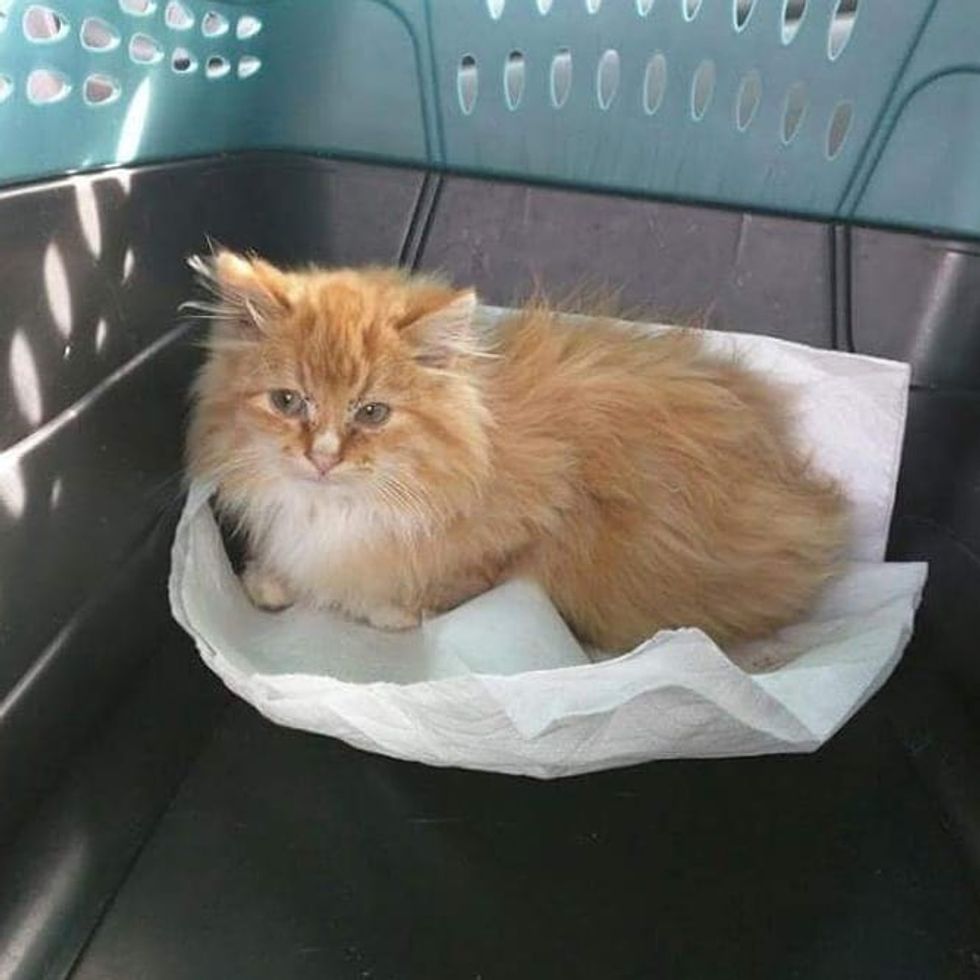 Friends for Life Rescue Network
Despite being very scared, Rudy never hissed at Sam when he took him out of the shelter and brought him to his ride to freedom. Within an hour, Ruby warmed up to his rescuer and started to purr. [Scroll down for videos]
"He can't stop purring to the point where he gets out of breath," Jacquline told Love Meow. "I told Sam 'You get a spicy purrito for your birthday' — a term we use in the rescue world when a kitten is feral and needs to be wrapped in a burrito."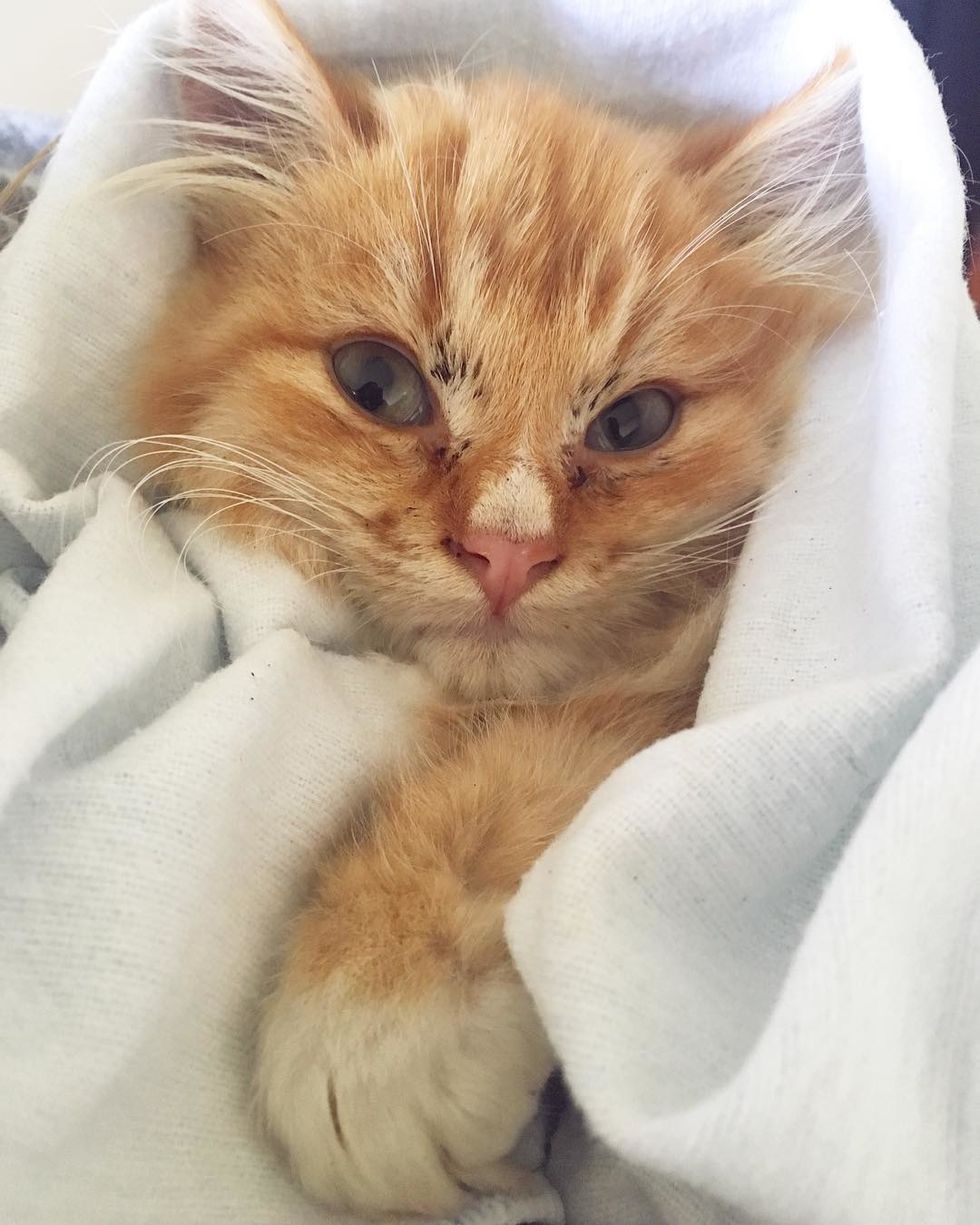 Friends for Life Rescue Network
And purrito it was. After washing off countless fleas, Rudy cuddled up to his humans, purring up a storm. For the first time in a while, the kitty felt safe and loved.
"I don't know how it's physically possible for such a tiny kitten body to produce so much constant intense purrs," Kaitlyn said.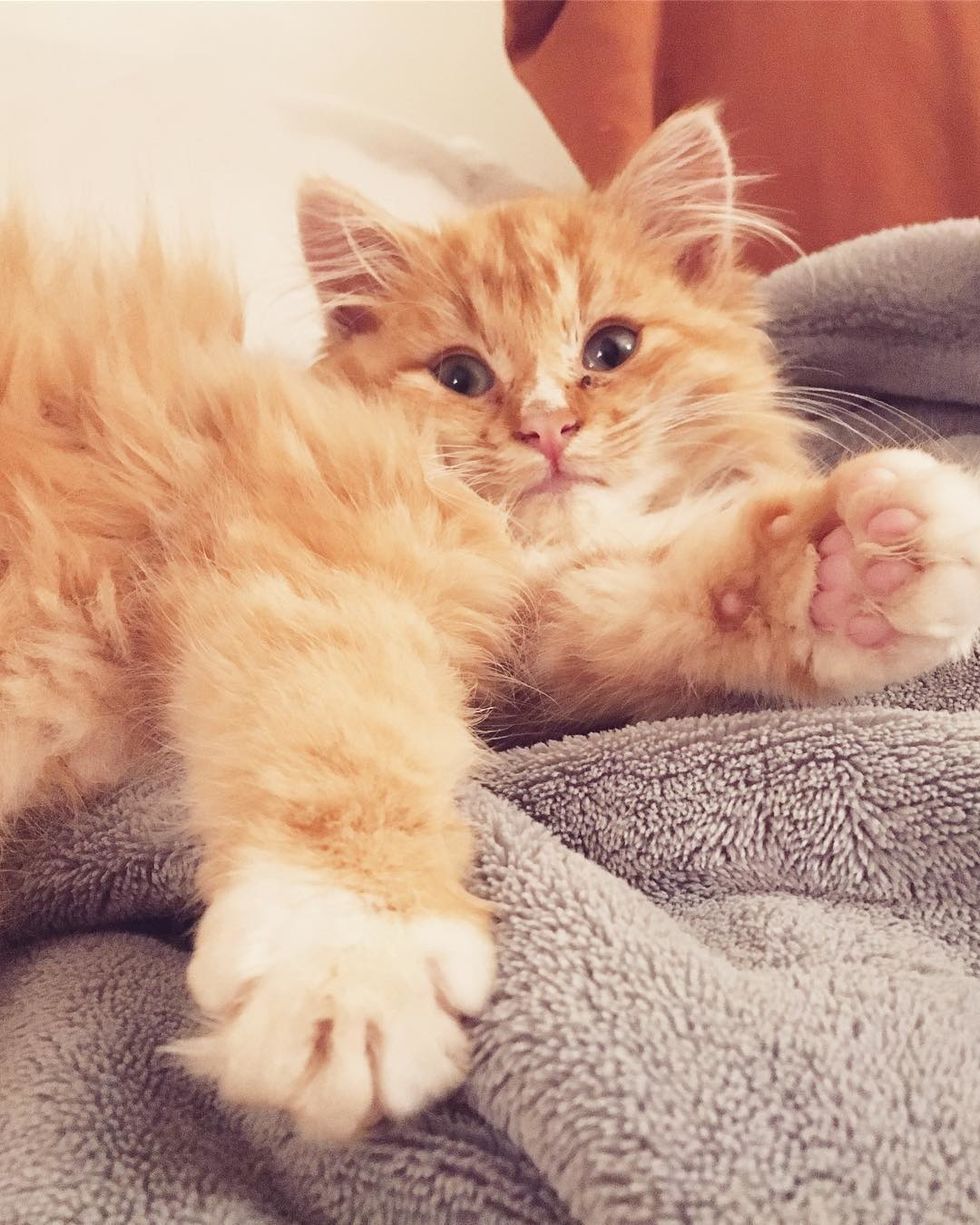 Friends for Life Rescue Network
Rudy has his purr motor on high at all times. He demands pets whenever he gets a chance.
The sweet ginger follows his humans everywhere they go and doesn't want to spend a second alone.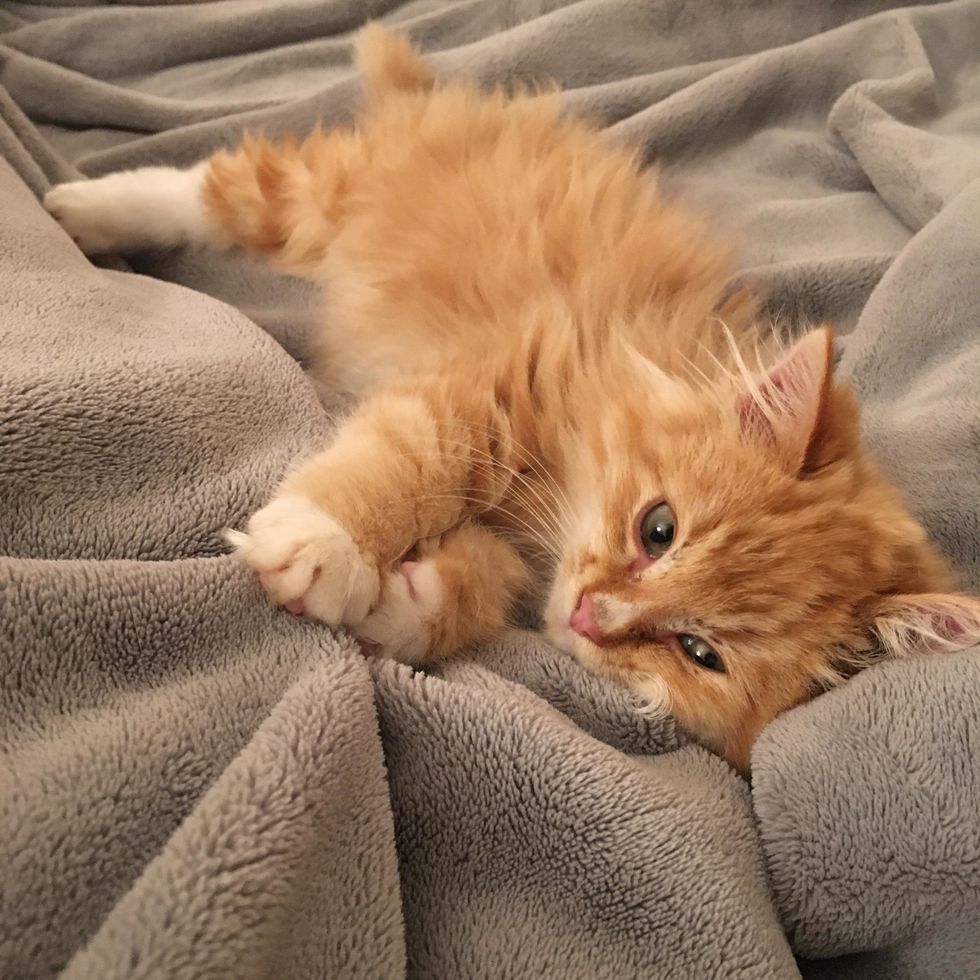 Friends for Life Rescue Network
"Who needs an alarm clock when I can count on Rudy to wake me up in the morning by curling up under my chin and purring loudly."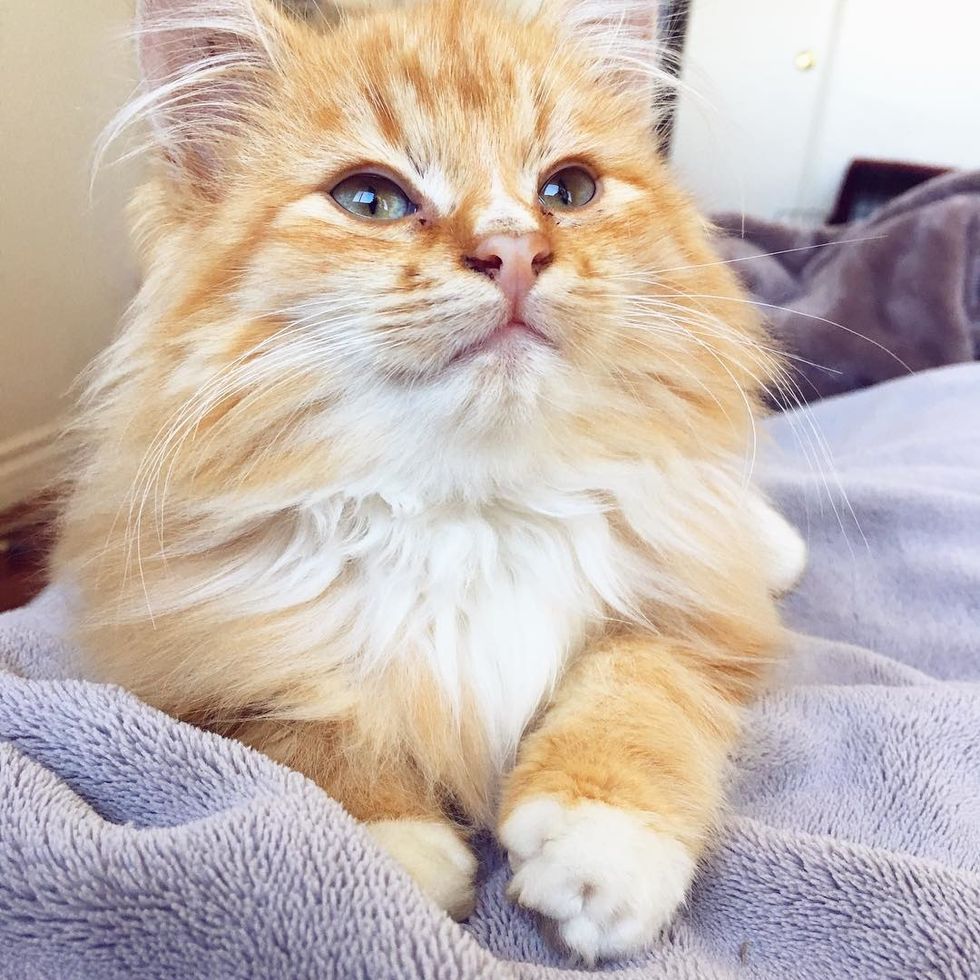 Friends for Life Rescue Network
Ruby was said to be "too feral", but what they got was a total lovebug with a turbo-powered purr motor.

"He's happy, content, curious, and wants snuggles 24/7. He does not stop purring. Take chances on the young feral babies."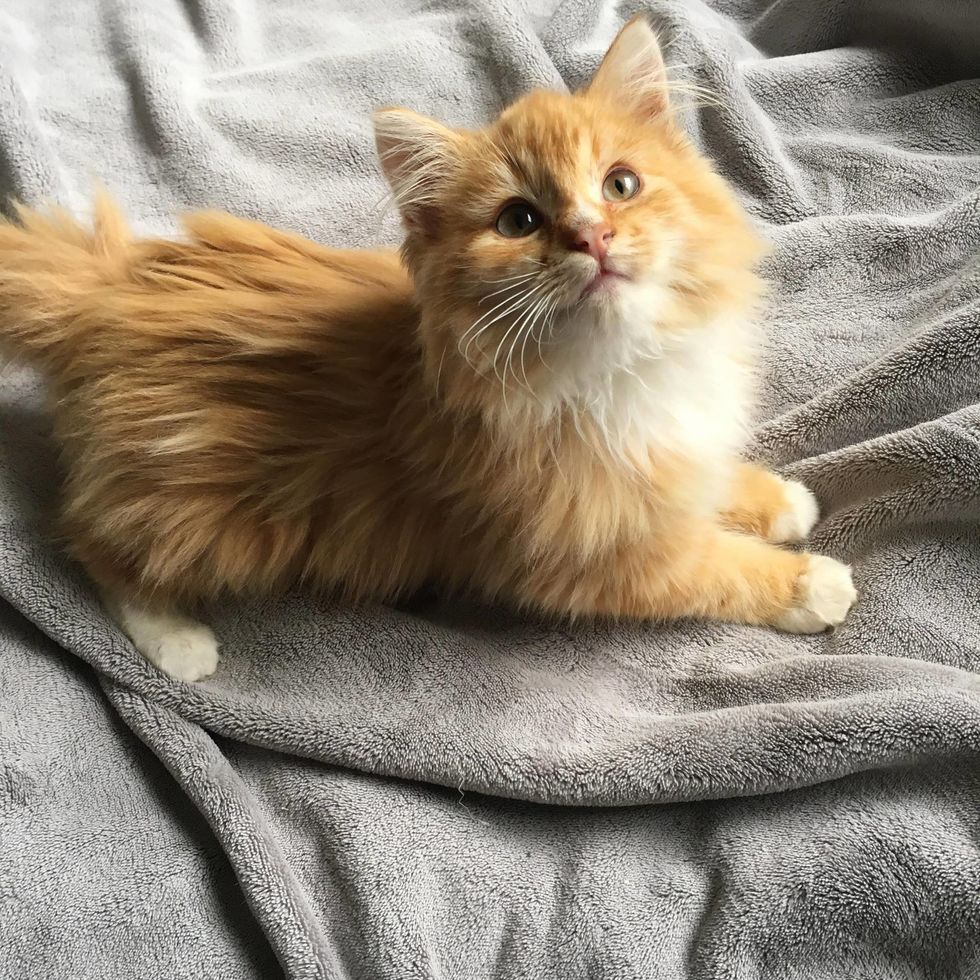 Friends for Life Rescue Network
Follow Rudy's updates on Instagram @sleepover_at_os. Follow Friends for Life Rescue Network on Facebook and Instagram.
Rudy the purr machine!
Happy little floof ball!
Share this story with your friends!
Related story: Feral Kitten With Sorrowful Eyes Steals Couple's Hearts and Learns to Love