A rescued ginger cat has bonded with an unusual friend who is over 10 times bigger--an orphaned rhino, but friendship knows no bounds.
Meet Mewie the cat and Nandi the orphaned rhino!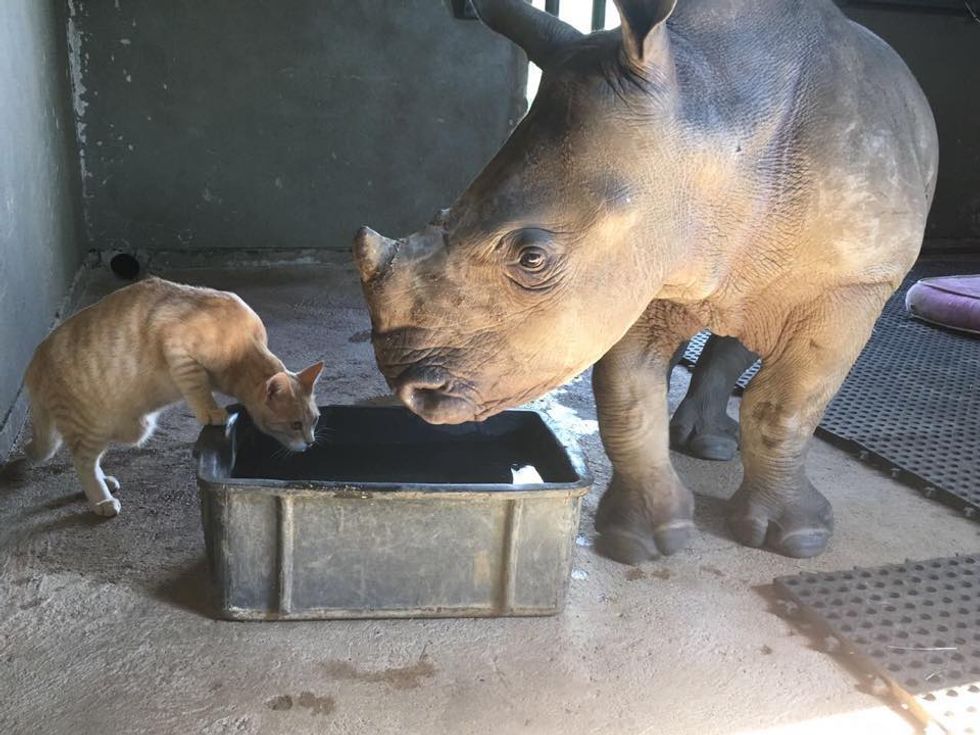 Courtesy: Jamie Traynor
Nandi and Mewie live at The Rhino Orphanage in Limpopo, South Africa. Jamie Traynor, a caretaker for the orphaned rhinos, rescued little Mewie from a township when he was a tiny kitten. She nursed him back to health and raised him into a fully grown ginger cat.
Nandi arrived at the orphanage when she was only two months old. "Nandi was orphaned after her Mother was tragically lost to poaching and was left wondering alone for a few days," Wild Heart Wildlife Foundation told Love Meow.
The little orphaned rhino was lonely and began to eat sand which caused damage to her tummy until she was saved and taken into the orphanage, which is supported by the Wild Heart Wildlife Foundation (WHWF).
Jamie became the primary caregiver for Nandi. "She has settled in very well and as part of her routine she goes for a walk twice a day," Jamie told Love Meow.
Whenever they are out for their daily exercises, Mewie tags along.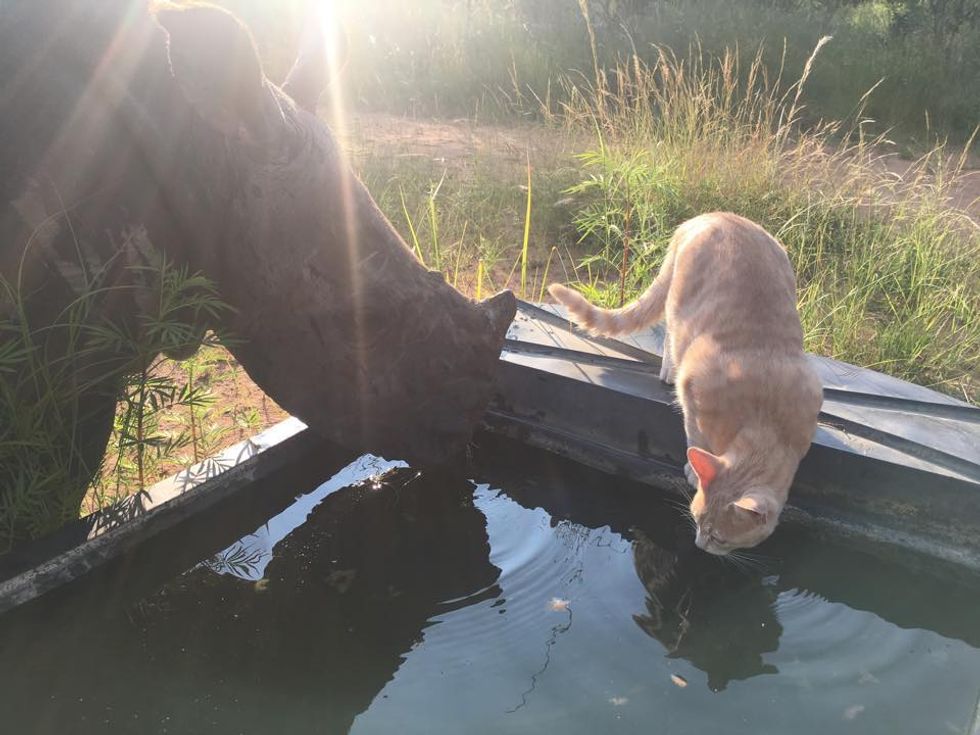 Courtesy: Jamie Traynor
"Mewie loves to follow me around the orphanage so whenever I'm with Nandi he comes with me. Their friendship began when we started sleeping in the room with Nandi," Jamie told Love Meow.

"Mewie did not want to be left out so he came and curled up on the bed with us."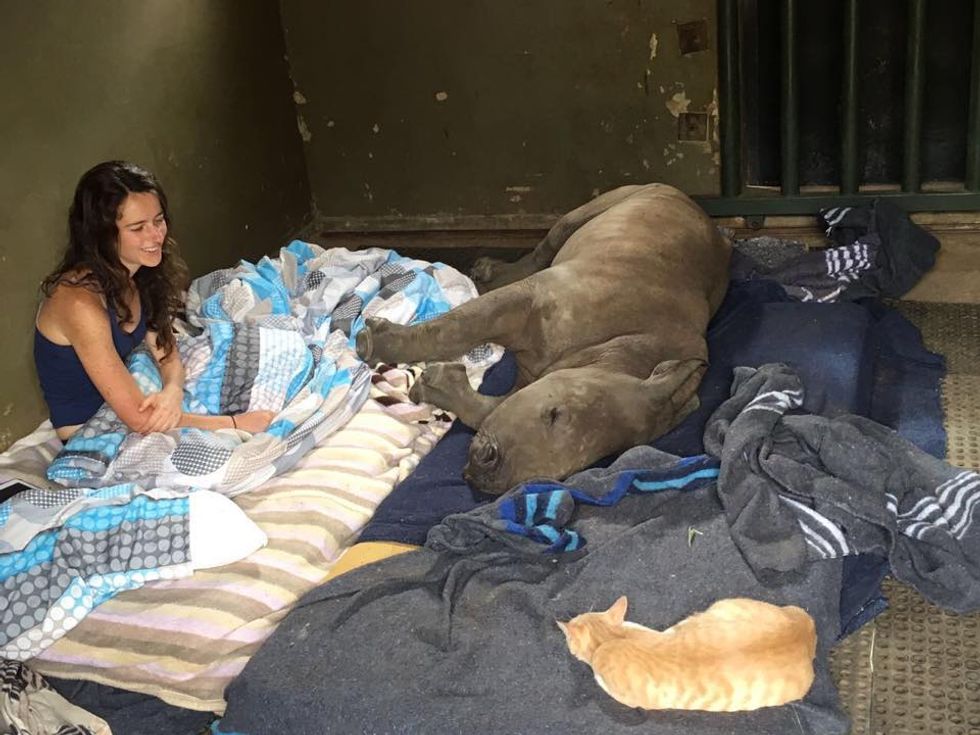 He's a very brave cat and has no fear of Nandi even though she is much bigger.
Jamie watched the two as they interacted in the room. Nandi was simply curious of the new animal and quickly grew very fond of him.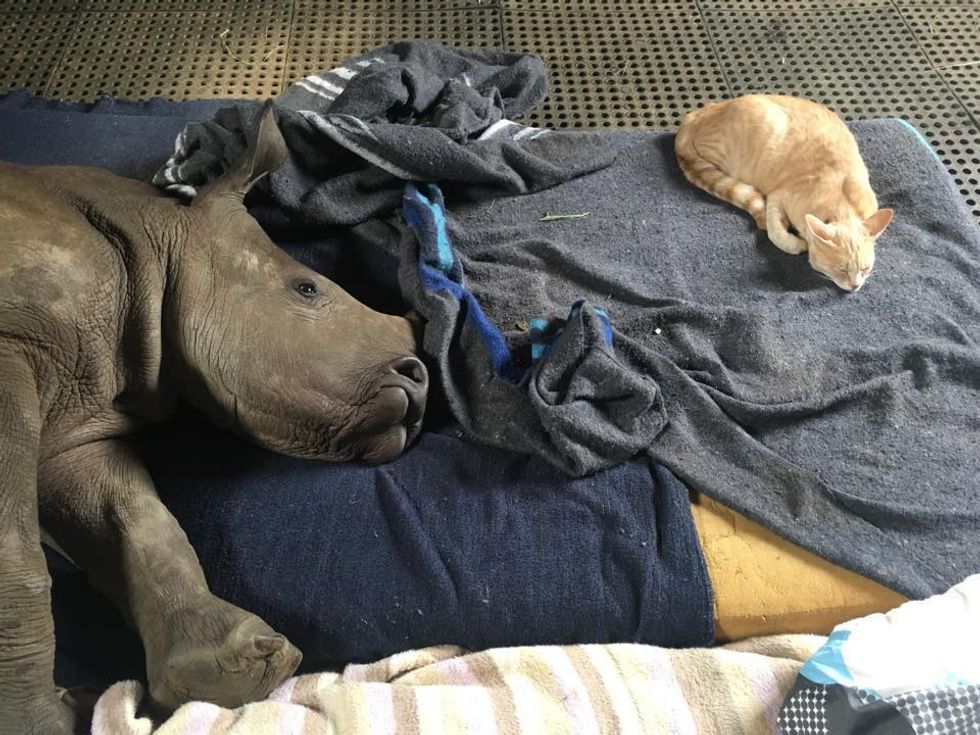 "The two of them love their afternoon walks and when one of them runs the other always follows," Jamie told Love Meow.

Mewie adores his big buddy and wouldn't let her wander off from him too far.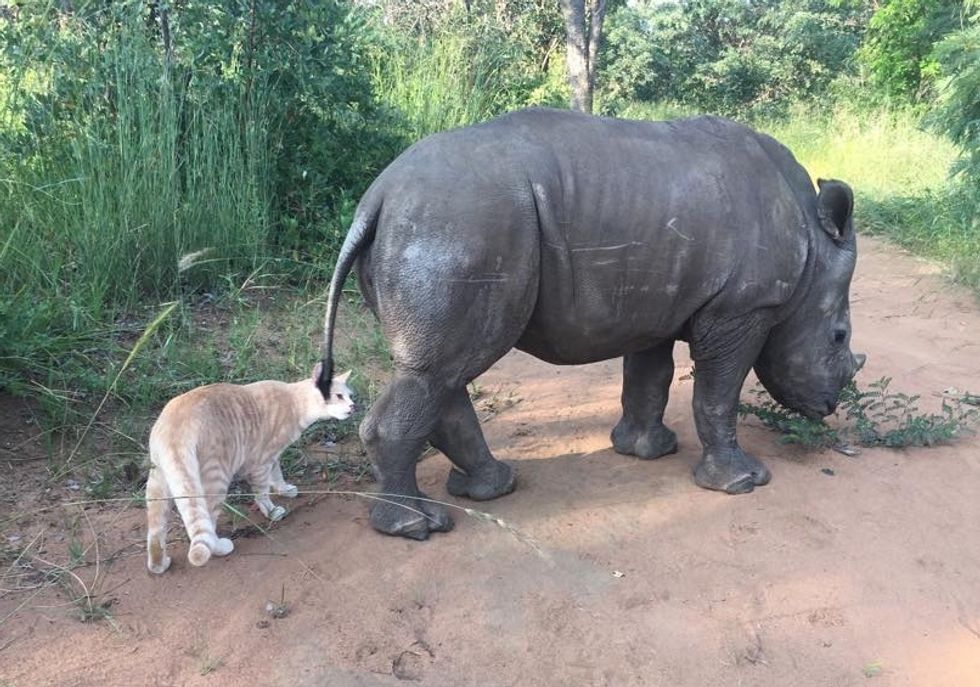 Courtesy: Jamie Traynor
Nandi thinks Mewie is the brother she never had.
Though one purrs and the other snorts and squeaks, they seem to understand each other despite their differences.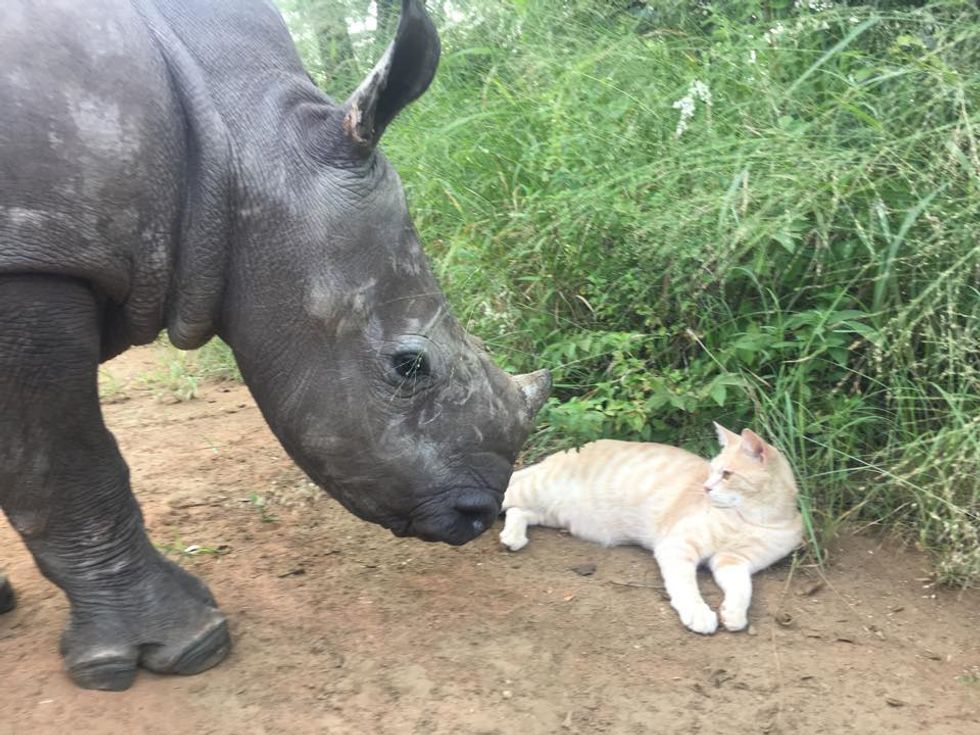 "We go for very long walks so that Nandi can get a chance to graze and get some exercise but most of the time Mewie gets tired and then I end up having to carry him back," Jamie told Love Meow.

Mewie wants to be there for his buddy no matter how long the walk may be, so Jamie carries him when he needs a break.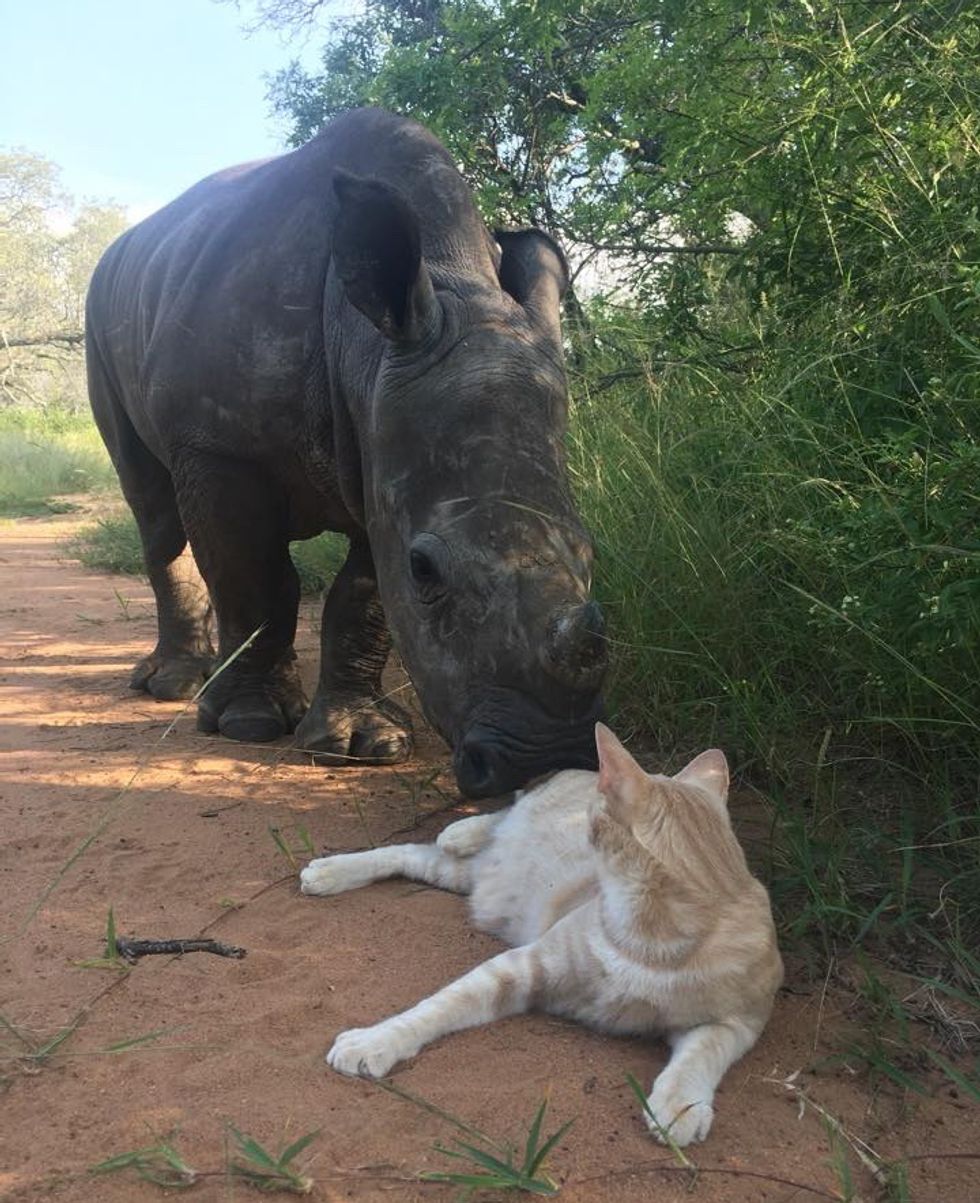 Courtesy: Jamie Traynor
Mewie takes the lead and his rhino follows.
The kitty may be much smaller, but what he lacks in size, he surely makes up for it with his enormous personality.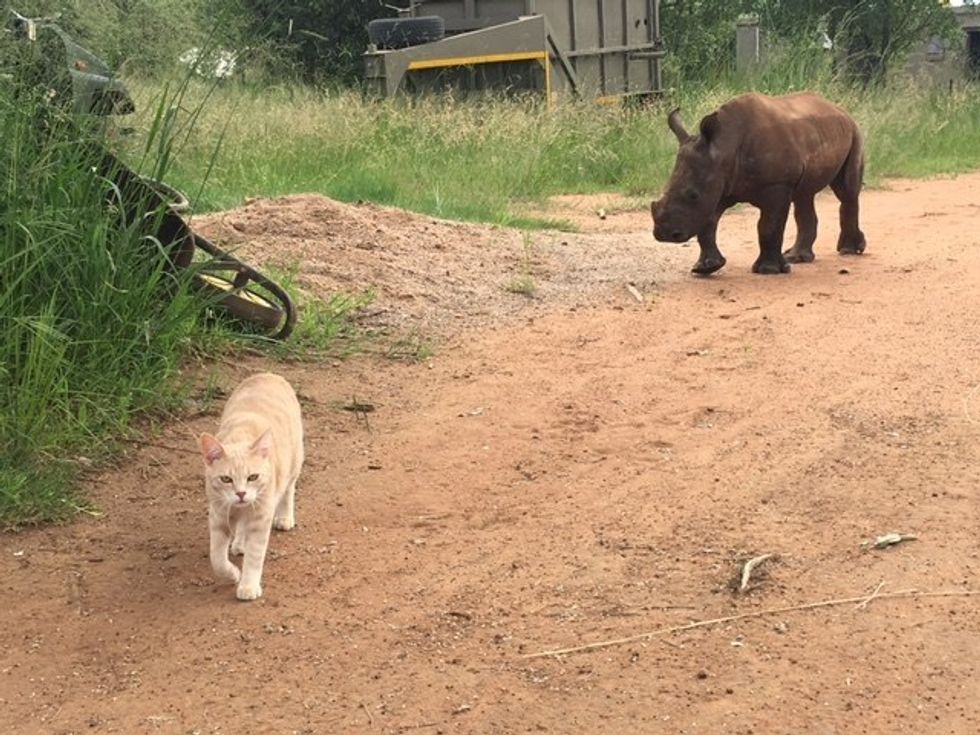 Courtesy: Jamie Traynor
The two best friends are inseparable.
Both animals were found without a mother, and both were saved by a second chance at life. Despite how different they are, they have bonded. Mewie may think Nandi is just a strange looking cat, and Nandi may think Mewie is a tiny soft fuzzy rhino.
No matter, they know they are each other's family now.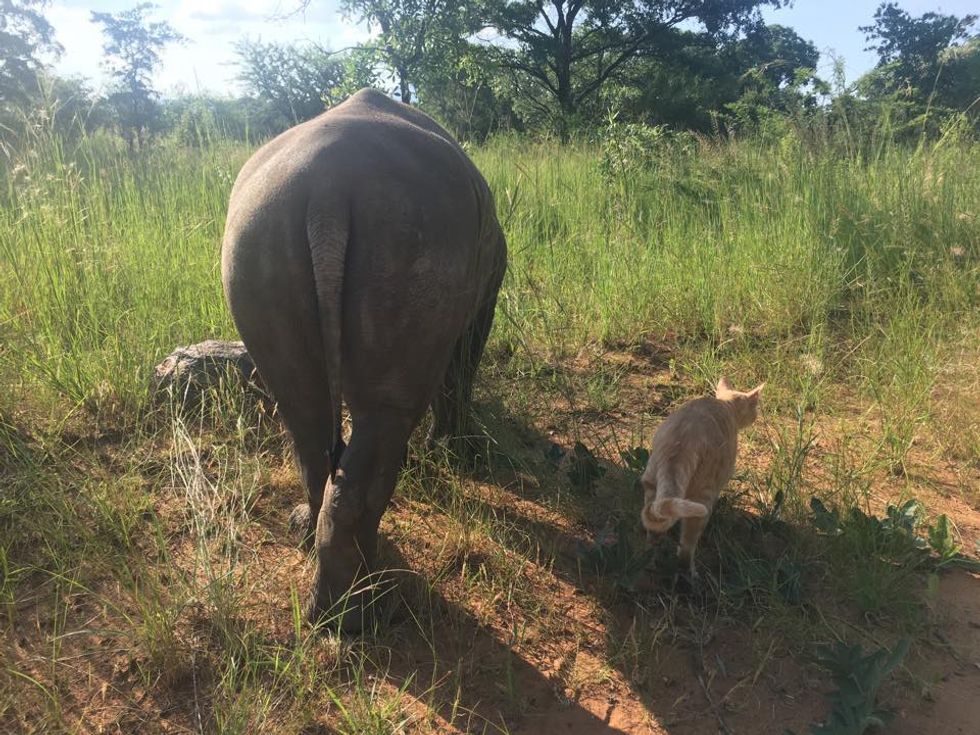 Courtesy: Jamie Traynor
Mewie joined Nandi on their morning walk.
Watch video:
Share this story with your friends. Follow Mewie and Nandi on Facebook at The Rhino Orphanage and Instagram at @j.traynor.
Related story: Barn Cat Surprises Everyone When He Acts as Midwife to Pregnant Goat