Rescuers never gave up searching for the mother of three young kittens found in a dumpster. A few days later, she came back.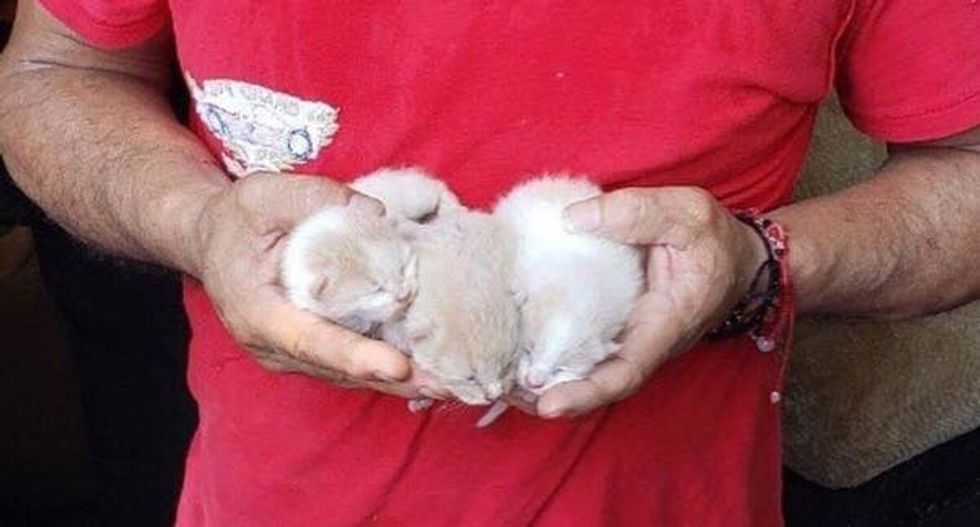 Alley Cat Rescue
Last weekend, a resident from an apartment complex in Maryland was taking out garbage when he heard what seemed to be kittens' cries. He traced the sound and discovered three little kittens inside a dumpster, crying loudly for their mother.

The kittens were healthy and chubby, indicating that they had been nursing on a cat mom. However, dumpsters were set to be picked up on Monday. Leaving the kittens there for another day would not be safe.
After looking everywhere but to no avail, he decided to contact Alley Cat Rescue in Maryland for help.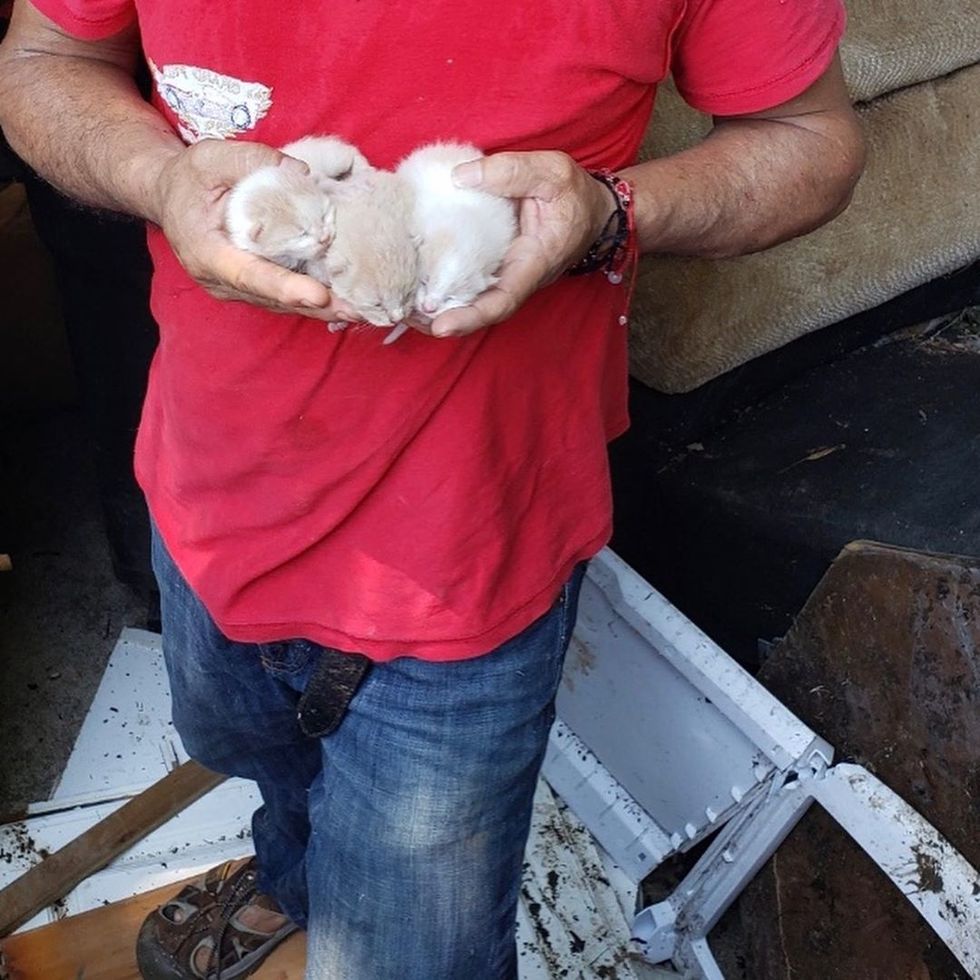 Alley Cat Rescue
To ensure the kittens' survival, rescuers took them in and left humane traps in the area for the cat mother. They were determined to find her.
Volunteers returned every day to check on the traps, hoping to reunite the kittens with their mom. "We continued to trap for three days, and finally we caught the mom," Desiree Stapley of Alley Cat Rescue shared with Love Meow.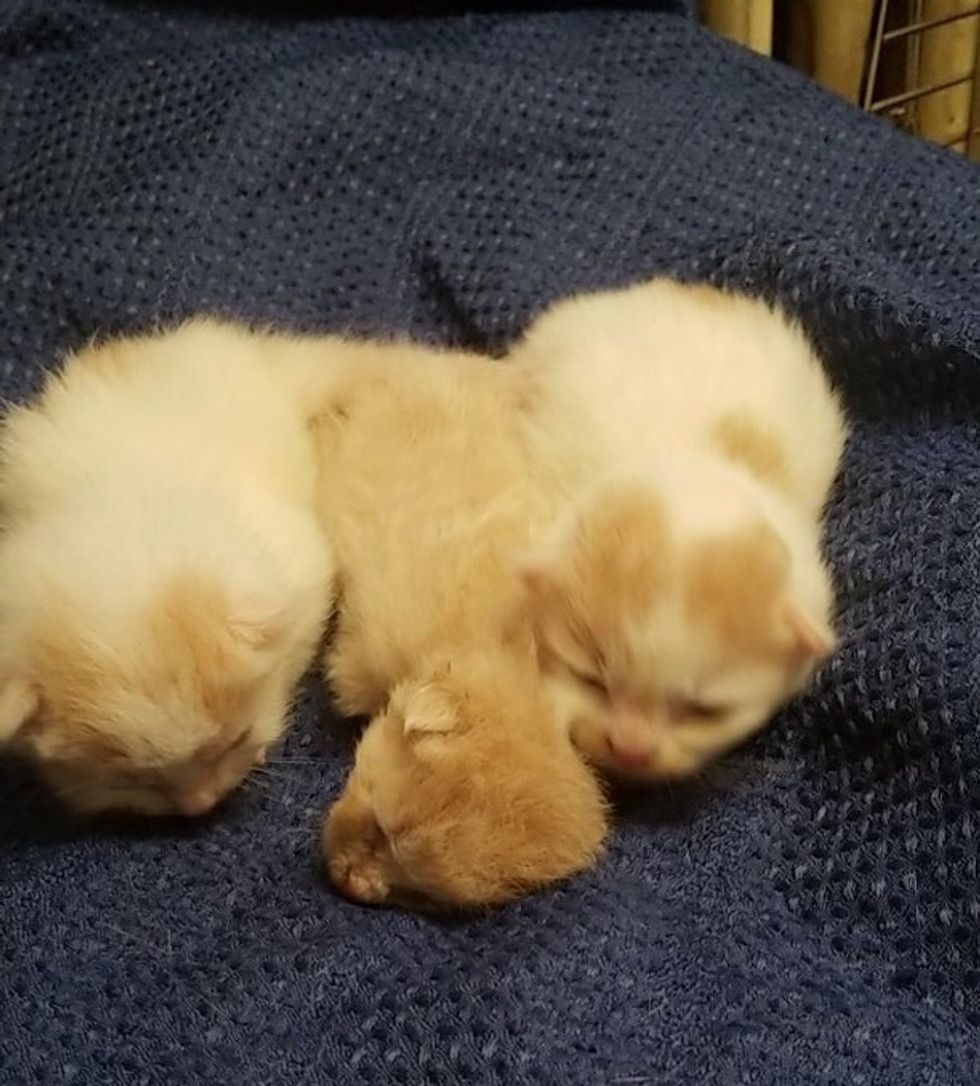 Alley Cat Rescue
The cat whom they named Champagne, was a bit shy but as soon as they brought her to the foster volunteer who had been caring for her babies, she quickly came out of her shell.
Right away, she took over the kittens' care and gave every single one of them a wonderful bath.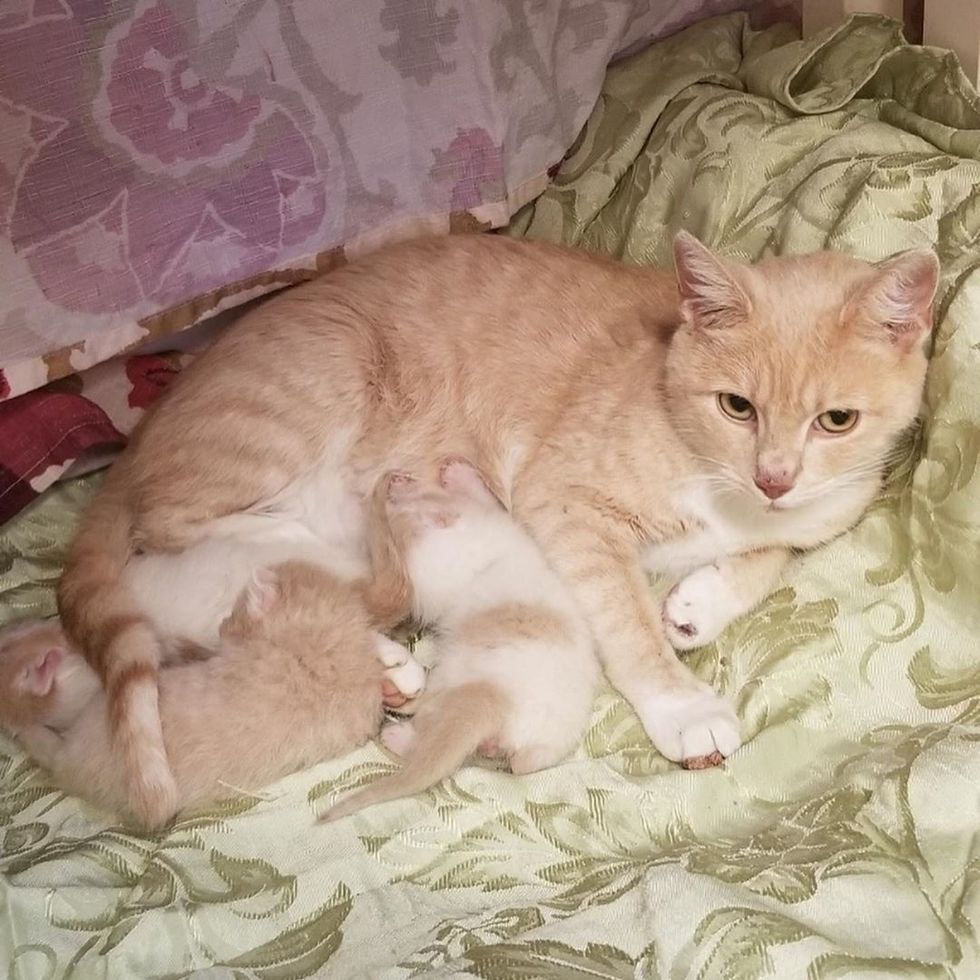 Alley Cat Rescue
After lots of loving on her precious babies, she finally started eating, replenishing herself with a bowl of food while nursing the little munchkins at the same time.

The sweet mama purred up a storm when she had her kittens back in her arms - she wouldn't leave their side.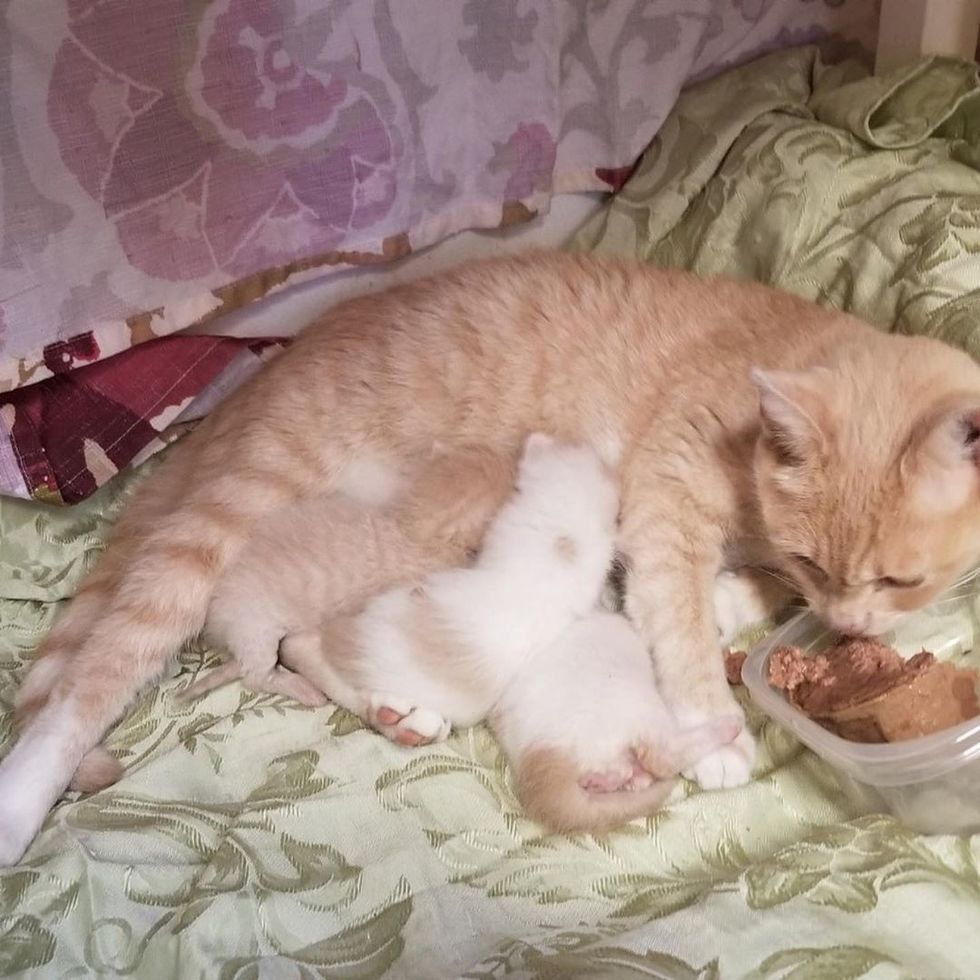 Alley Cat Rescue
Meanwhile, Alley Cat Rescue received another litter of four kittens found in a box in an open garage at a local business. The tiny orphans were in desperate need of round-the-clock feedings. They were transferred to the same volunteer who had the mama cat.

The foster carer placed the new kittens in their comfy nest and left for just 10 minutes. When she came back, she couldn't find them in their bed.
As it turned out, Mama Champagne went and took them and started caring for them as her own.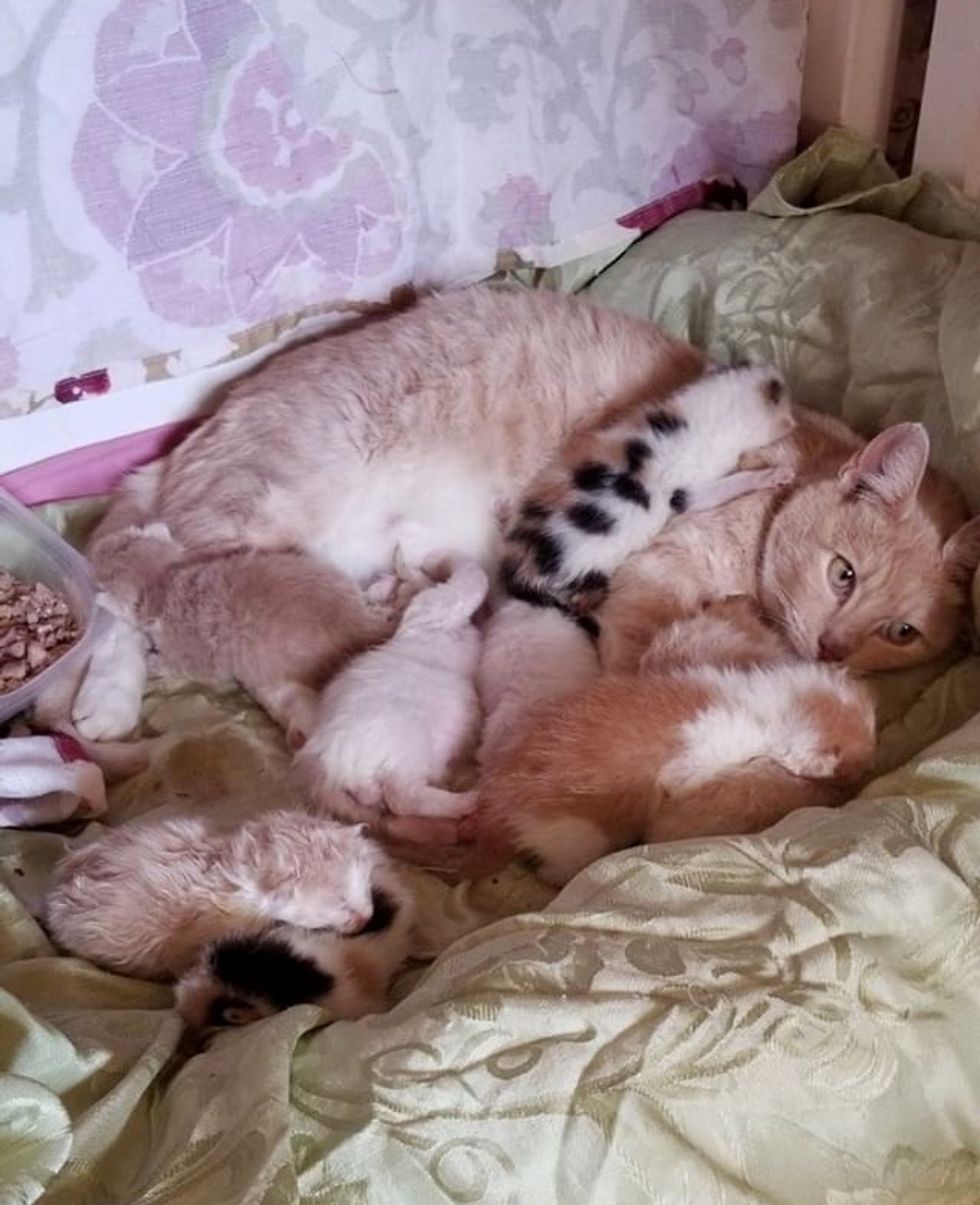 Alley Cat Rescue
They were surprised by how quickly the cat mom responded to the orphaned kittens. She must have heard their meows and decided she would be their new mom.
The litter of four are about the same age as the trio. They have been nursing, snuggling since their mom brought them together.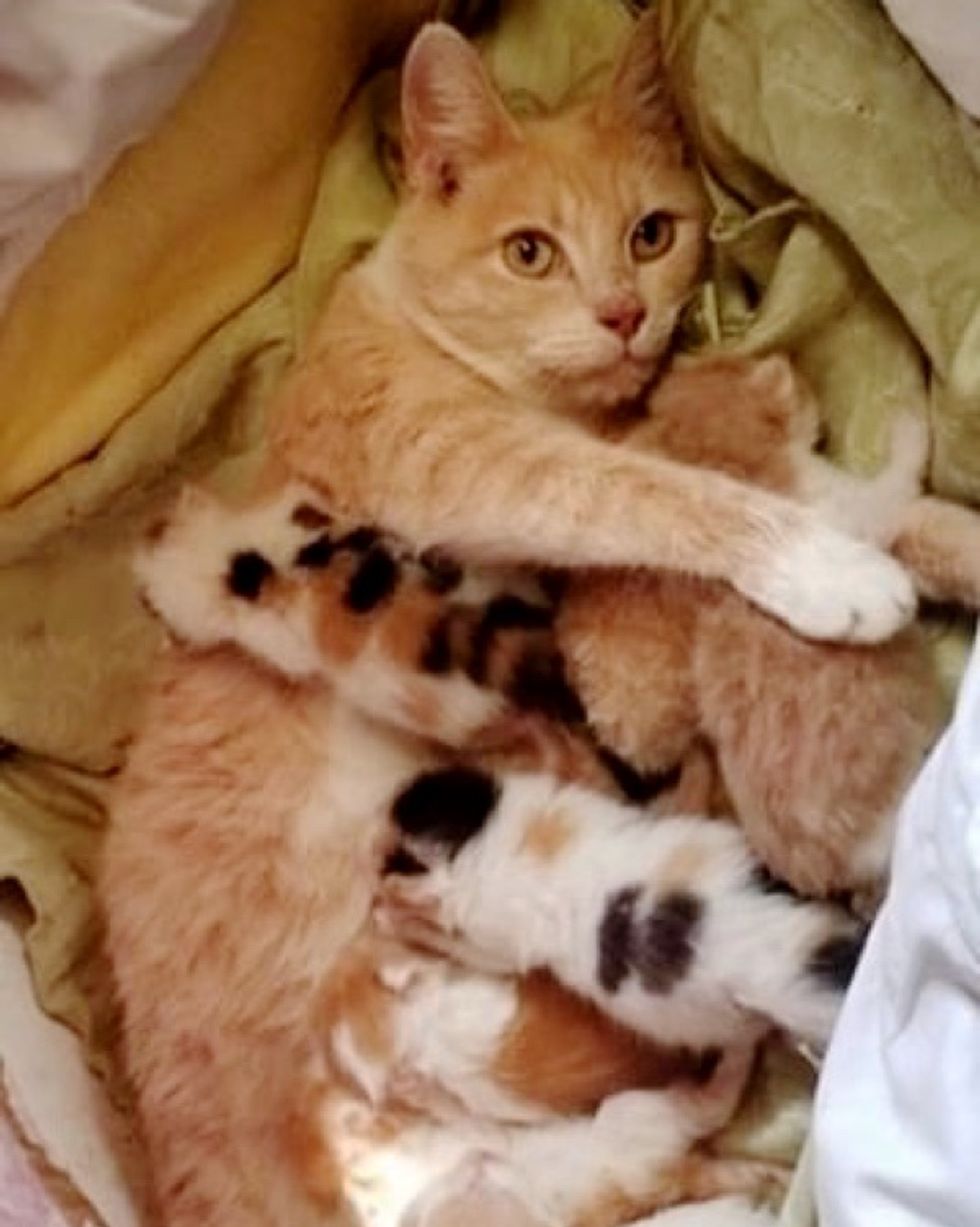 Alley Cat Rescue
The little clowder of three came to their foster home last weekend.
It has grown into a big family of eight with a mama cat doting on them and tending to their every need.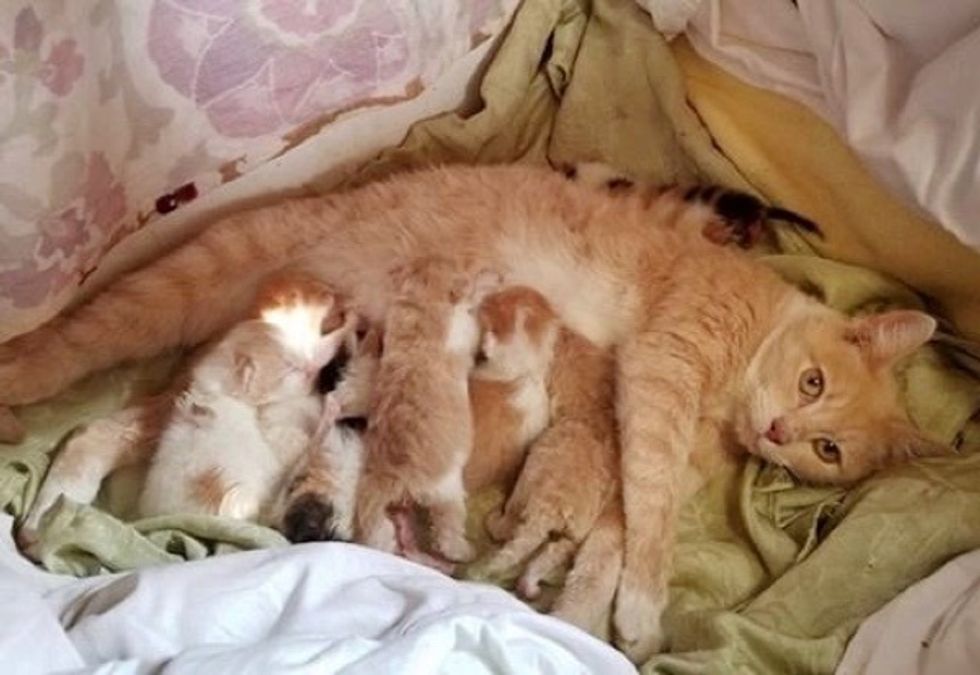 Alley Cat Rescue
Share this story with your friends. Follow updates on the feline family and Alley Cat Rescue on Facebook and Instagram.
Related story: Stray Cat Comes Back to Find Her Kittens Who Were Brought to the Shelter