A 103-year-old woman had the biggest smile on her face when her wish came true on her birthday after mourning the loss of her cat for two years.
A 9-year-old kitty named Marley filled the void in her heart.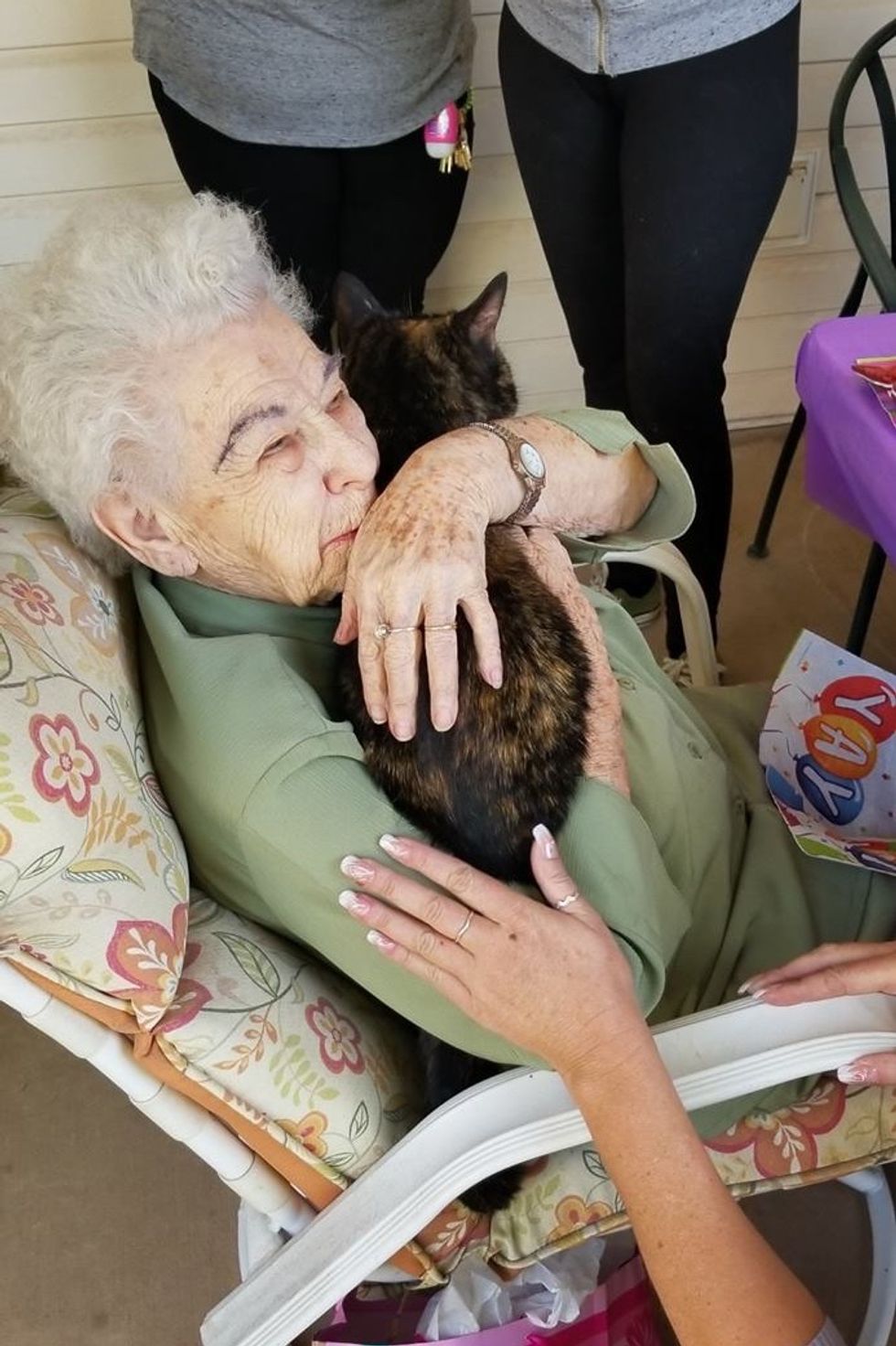 St. George Animal Shelter
Marley the cat was taken into St. George Animal Shelter (in St. George, Utah) six weeks ago. She was eager to be loved, looking for that special person to take her home.
Meanwhile, Debbie Presland, administrator of Ridgeview Gardens Assisted Living, reached out to the shelter to inquire about a feline companion for one of their senior residents, Lillian (born in 1915) who has always been an animal lover.
"Last week when I asked Lillian what she'd like for her birthday, her reply was to have a cat again," Debbie wrote. "Lillian's cat 'Sammy' passed away a couple of years ago and she's missed her dearly."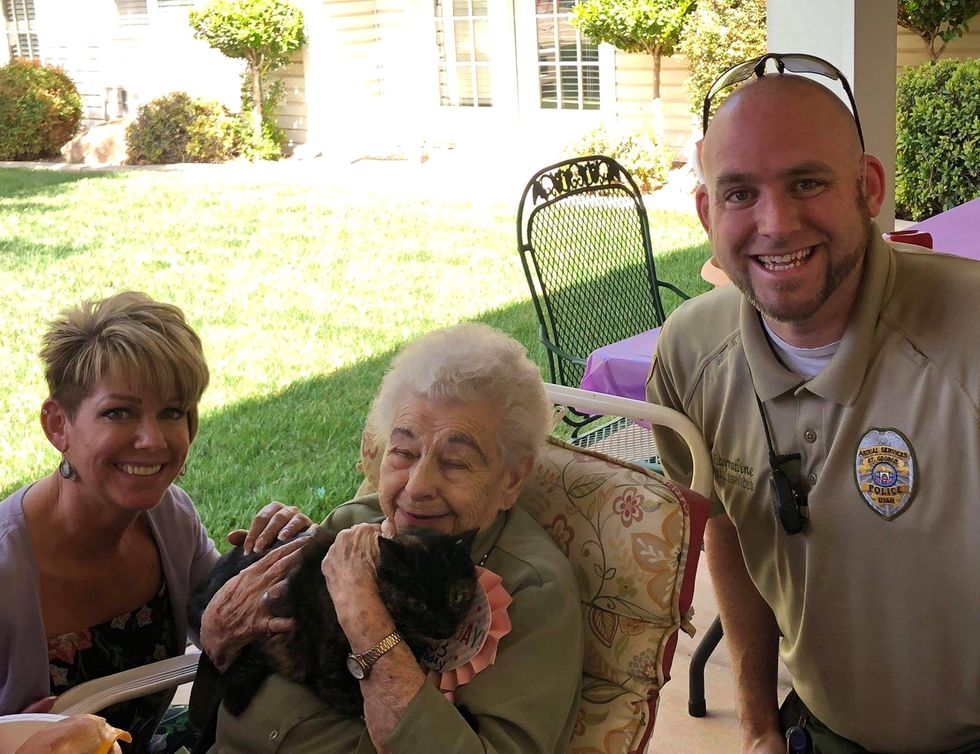 St. George Animal Shelter
She would often head outside to leave food, looking for a feline friend that needed some nourishment and hopefully, some love.

Debbie wanted to do something special on her 103rd birthday while helping a shelter cat find a forever home. Her brother, Joseph Harradine, Animal Services Officer at the shelter, asked if there was a way to help find Lillian a cat.
"My reply was of course we could help find her a cat," April Jewell of St. George Animal Shelter told Love Meow.
St. George Animal Shelter
She immediately thought of Marley, the mellow, laid-back tortie cat, who loves to cuddle and keeps her human company. "Marley is a very sweet, calm, and loving cat. She was used to being in a quiet home, and being the center of attention," April added.
They knew that she would be the perfect match, and Lillian's close family will help look after her for many years to come. "I waived adoption fees, and we put together a cat care package to go with Marley."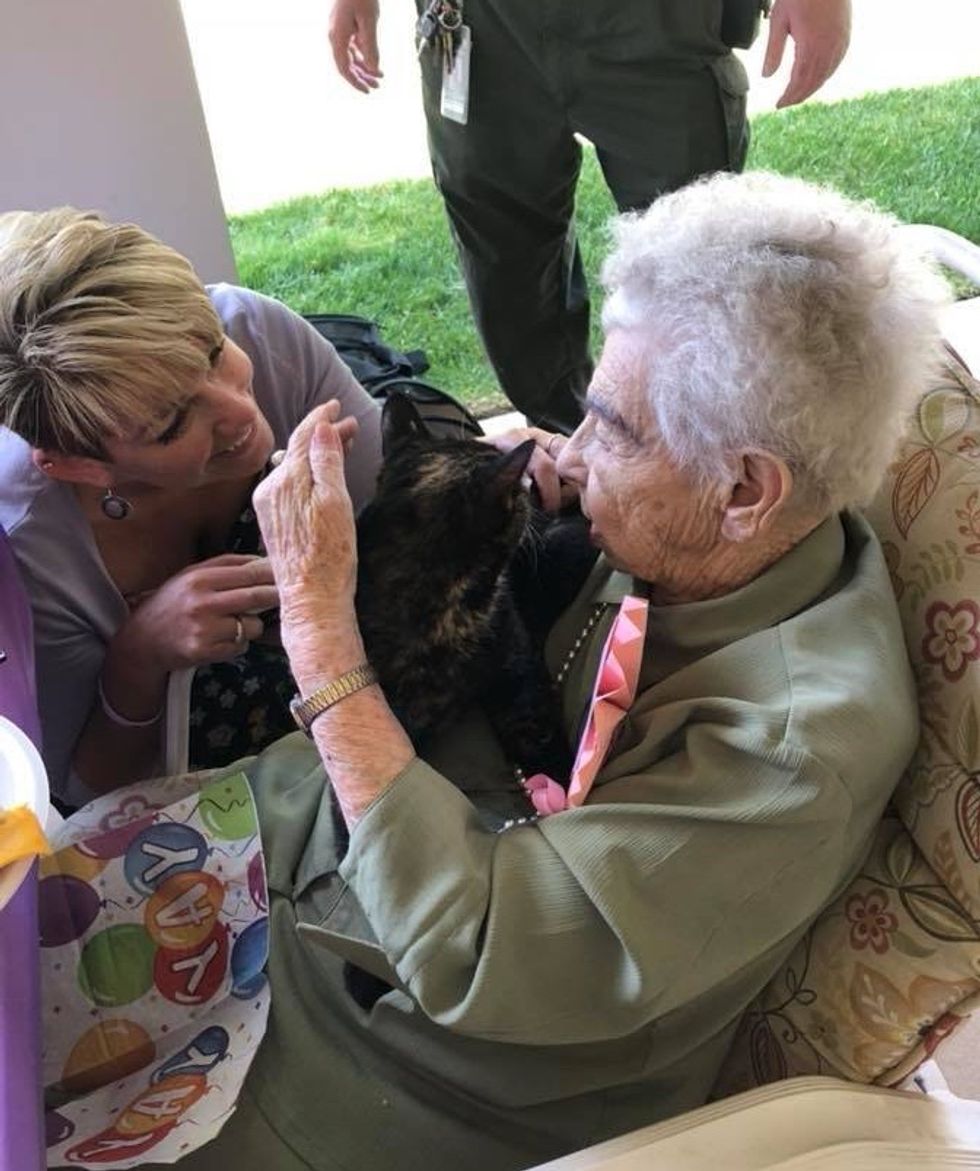 St. George Animal Shelter
On April 6th, they brought the sweet kitty to meet Lillian at her birthday party.

When she saw the tortie girl, her eyes lit up and she was so excited that she reached out to hold her and kept her close to her chest. The purring kitty put a big grin on her face and instantly filled her heart with joy.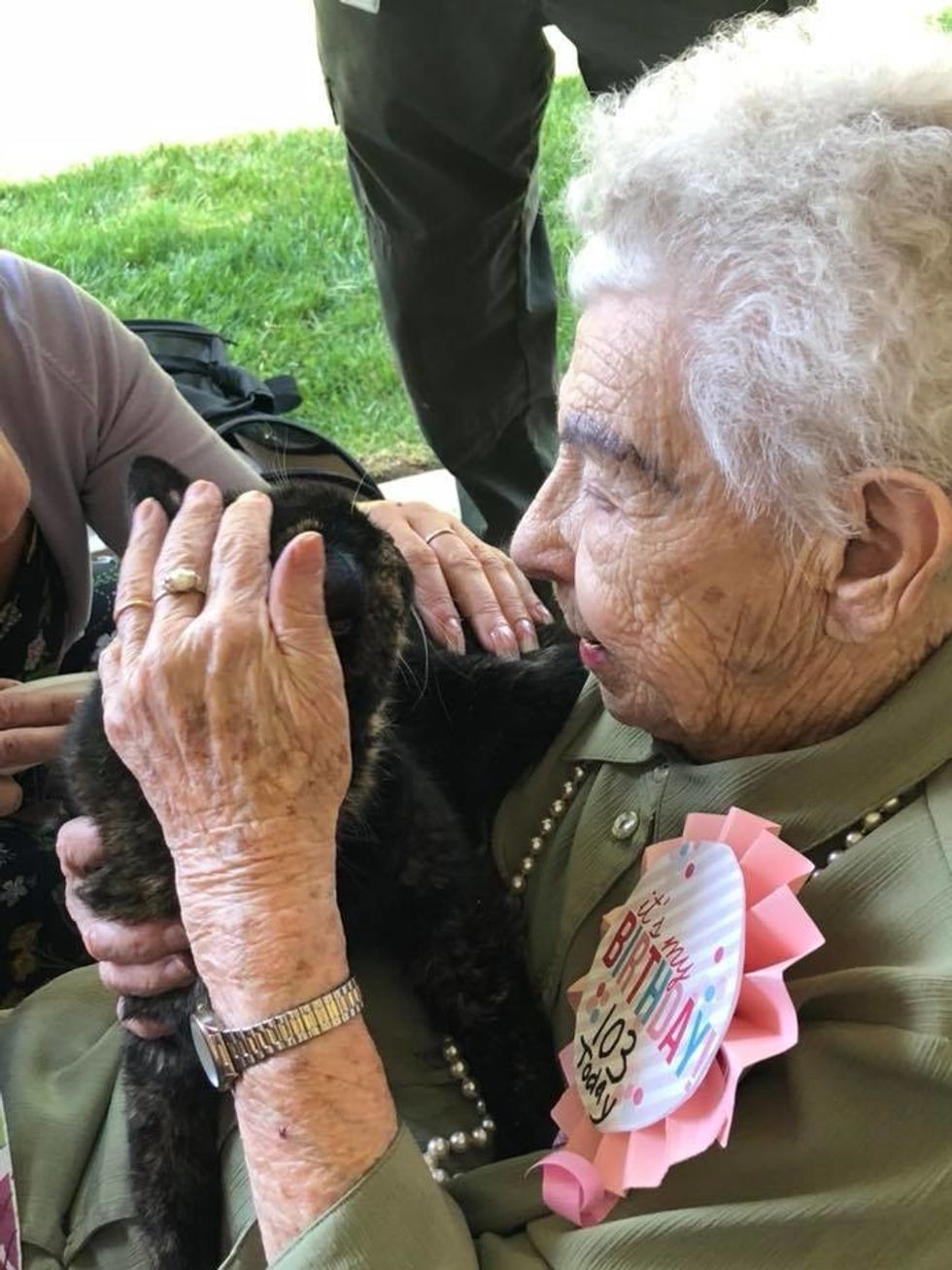 St. George Animal Shelter
"Her reaction was priceless and brought tears to my eyes. She is certainly one very happy lady and you can tell Marley loves her new adopted momma," Debbie said.

During her birthday celebration, staff took Marley to Lillian's room to get her set up and settled in, but Lillian kept asking about her cat.
"Lillian kept saying she wanted to go to her room to see her kitty," April said.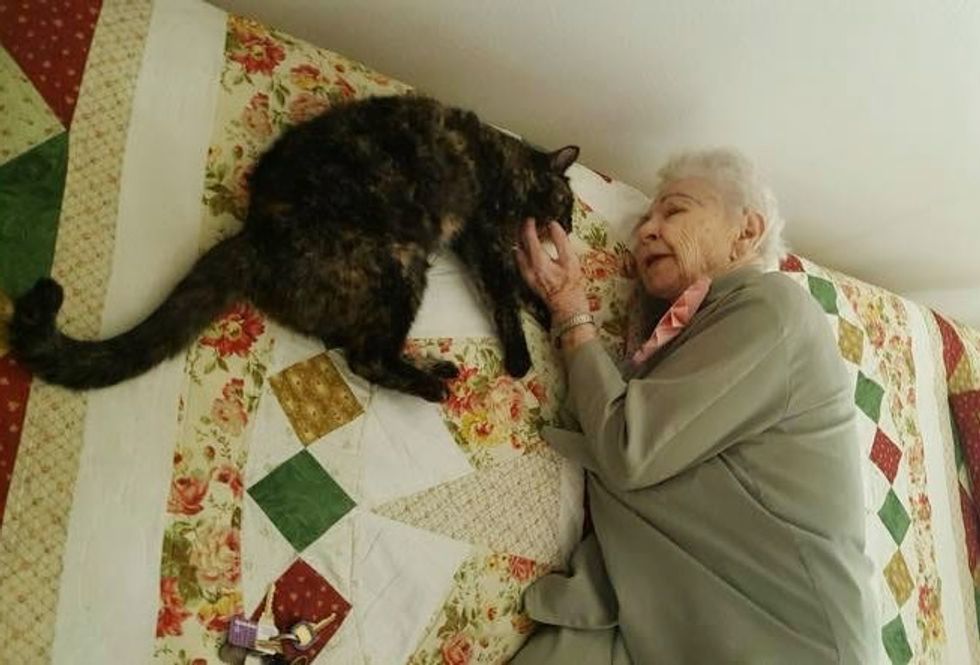 St. George Animal Shelter
"They both love each other the moment they met, and I think they are a perfect match," April told Love Meow.
"It was a great birthday for Lillian and a great adoption day for Marley. I don't think it could have been any better of a day!"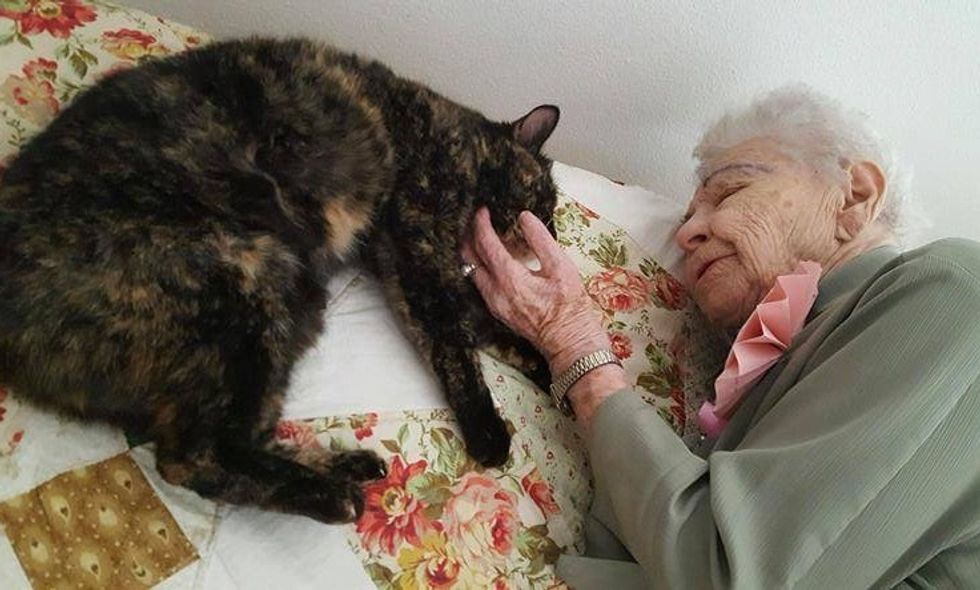 St. George Animal Shelter
Share this story with your friends. Follow St. George Animal Shelter on Facebook.
Related story: "I Got A Cat For My Sick And Grumpy Grandpa, and He Turned His Life Around"