A woman hugged a shelter cat that no one would touch. The kitty was so thankful that he thanked her with the sweetest meow.
Meet Valentino the cat.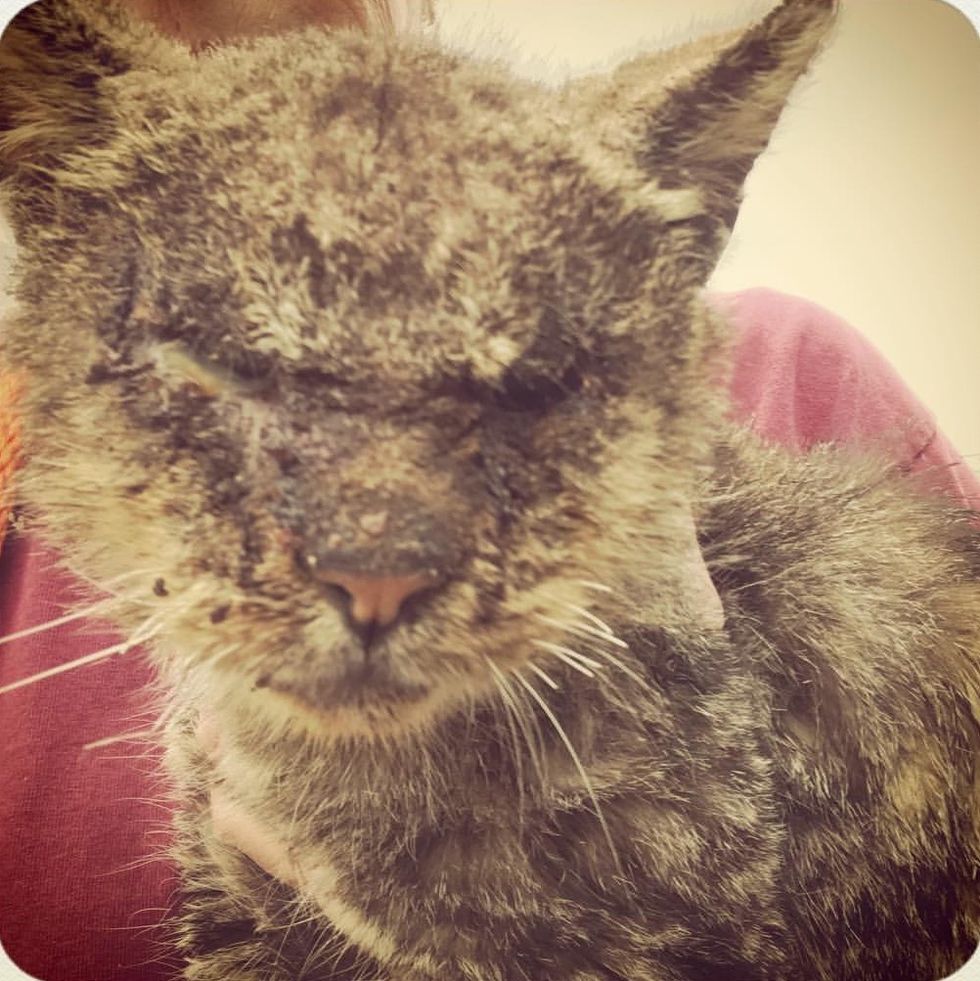 Elaine Seamans
Valentino had a really rough past. No one knows his story but it was evident that his life had been very difficult.
When Elaine Seamans headed to medical at Baldwin park shelter, she was shocked by the kitty's condition. The mange-ridden cat was covered in filth and suffered from a condition called sarcoptic mange which is highly contagious. His eyes were so infected that they were stuck shut.

"It killed me to see him in that condition, knowing how defeated he must have felt," Elaine told Love Meow.
"I opened his cage door after being shocked by his appearance. He stood up and almost fell over but he turned and came to me." Valentino reached out his little paw and made the tiniest cry for help.
Elaine wasn't afraid of his illness and held him in a warm embrace that he had longed for.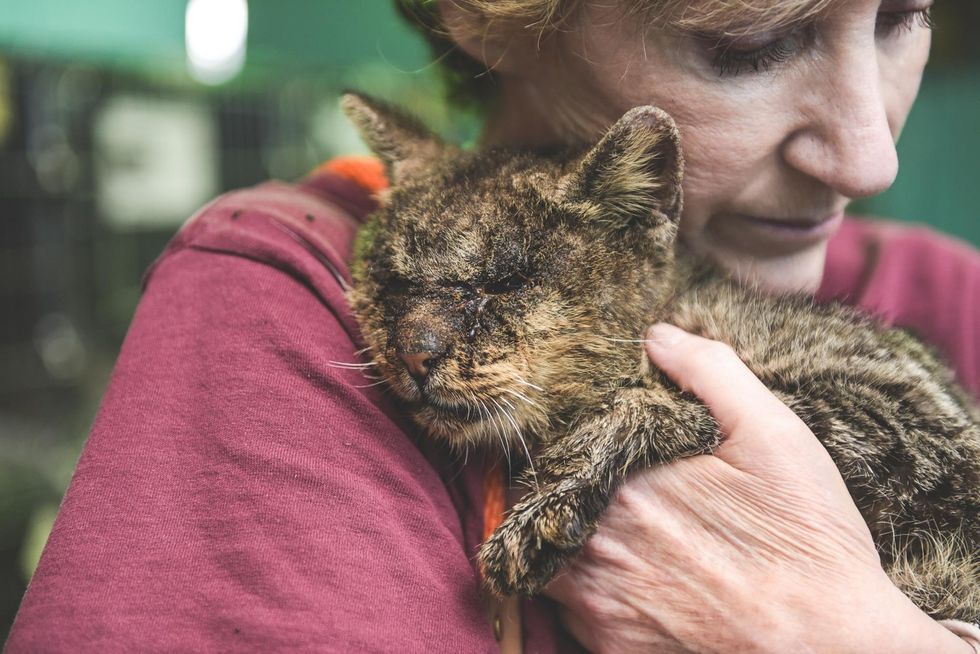 John Hwang
Many thought that this sickly kitty was at death's door, but that hug somehow brought life back into that tiny frail body. He put his head on her shoulder and extended his paw with the little strength he had, reaching out for love.
Then he let out that tiniest meow as if he was saying, "Thank you!"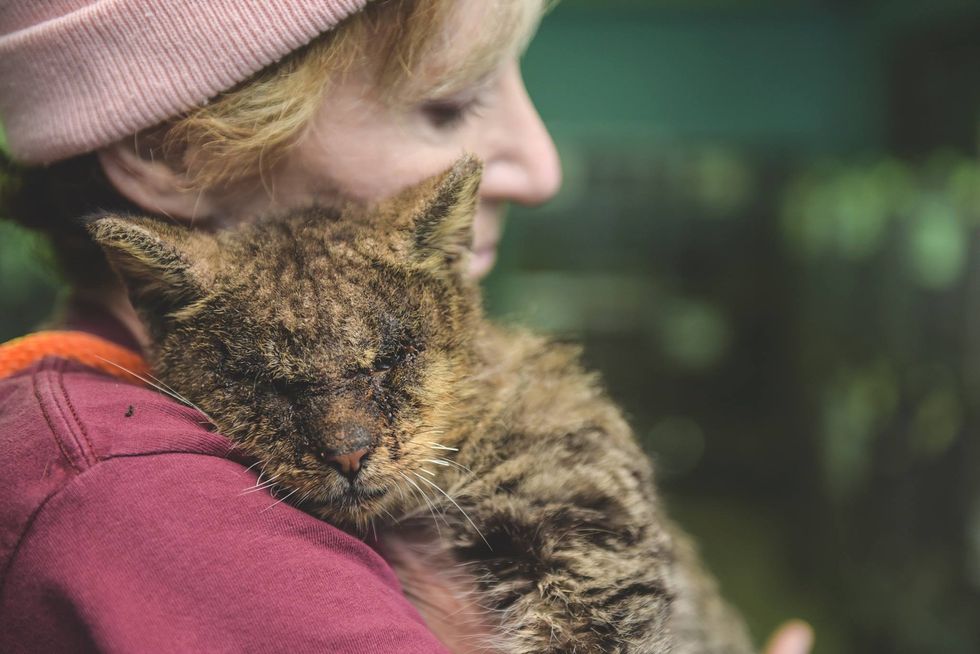 John Hwang
"This is one of the sweetest cats I've ever met. When I saw him in medical at Baldwin park shelter he stole my heart," Elaine shares with Love Meow.

Elaine contacted Toby Wisneski, founder of Leave No Pets Behind (a rescue group in California). "I heard his little cries for help over the phone and my decision was made," Toby said. "We cannot let him die."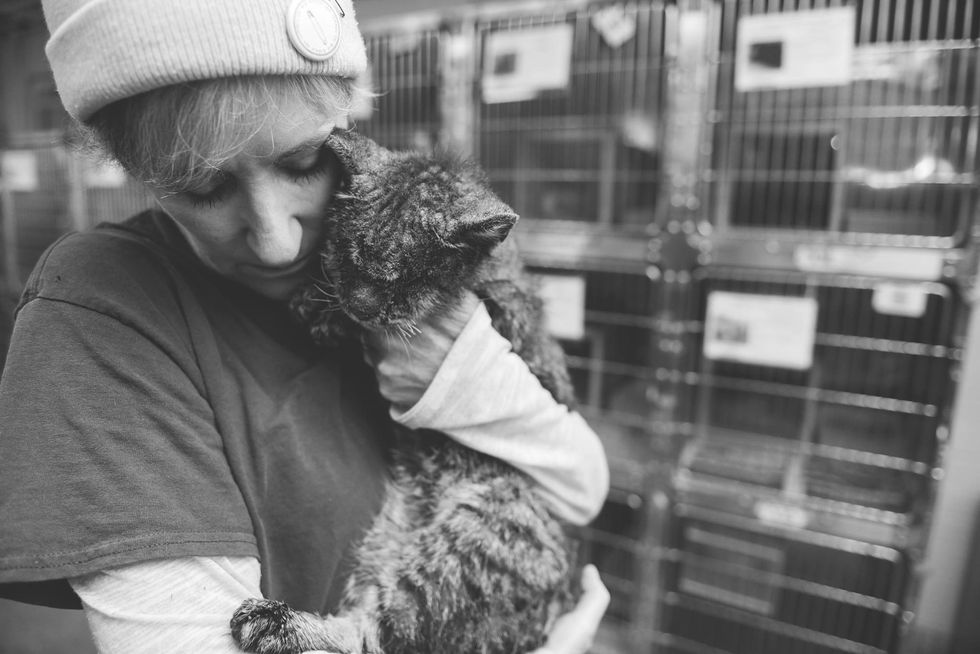 John Hwang
Toby headed off to the shelter to pick up sweet Valentino, and that day they saved his life and he found love! They named him Valentino for he has a big heart and is so incredibly loving.
Valentino couldn't see the staff and veterinarians that helped him but he knew he was in good hands. On the first day at the hospital, he got some much needed relief from pain and even started to purr and snuggle. "He is so lovable and so grateful for his gift of life, love and excellent medical care."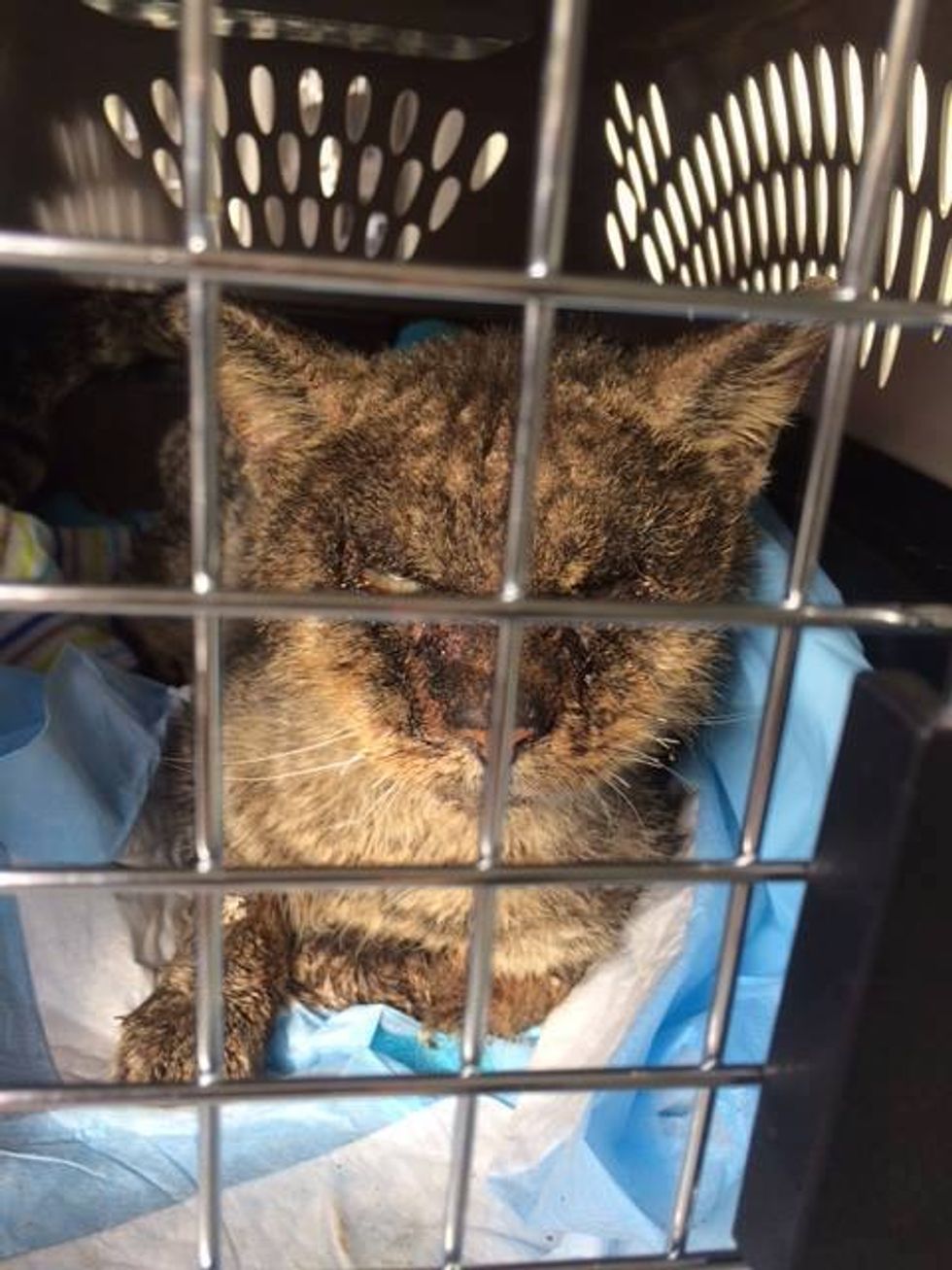 Leave No Paws Behind
"In spite of all of this Valentino is so loving and so sweet and he has captured the hearts of the entire staff at The Pet Doctors of Sherman Oaks," Leave No Paws Behind said.

His eyes are now slowly starting to open. "He has a long way to go, however each new day brings small improvements… All he wants is love."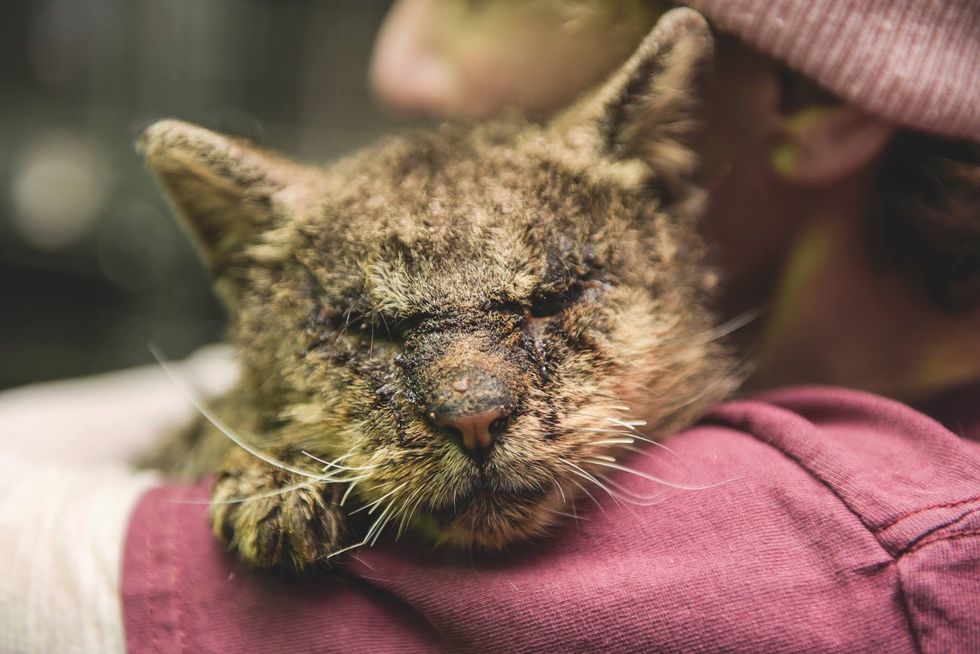 John Hwang
That little tiny meow has now amplified.
Valentino is doing well and eating well. His journey to recovery is going to be a while, but he knows he is safe, loved, receiving the best of medical attention and most importantly, he knows that his life matters.
Share this story with your friends. If you would like to help with Valentino's medical expenses, click here to see how you can help. Follow his updates on Facebook at Leave No Paws Behind.
Related story: Cat Saved Hours Left on Death Row Can't Stop Thanking His Rescuer