A kind woman saved a three-month old kitten in the nick of time and gave him a fighting chance at a wonderful life.
Meet Titus the one-eyed cat!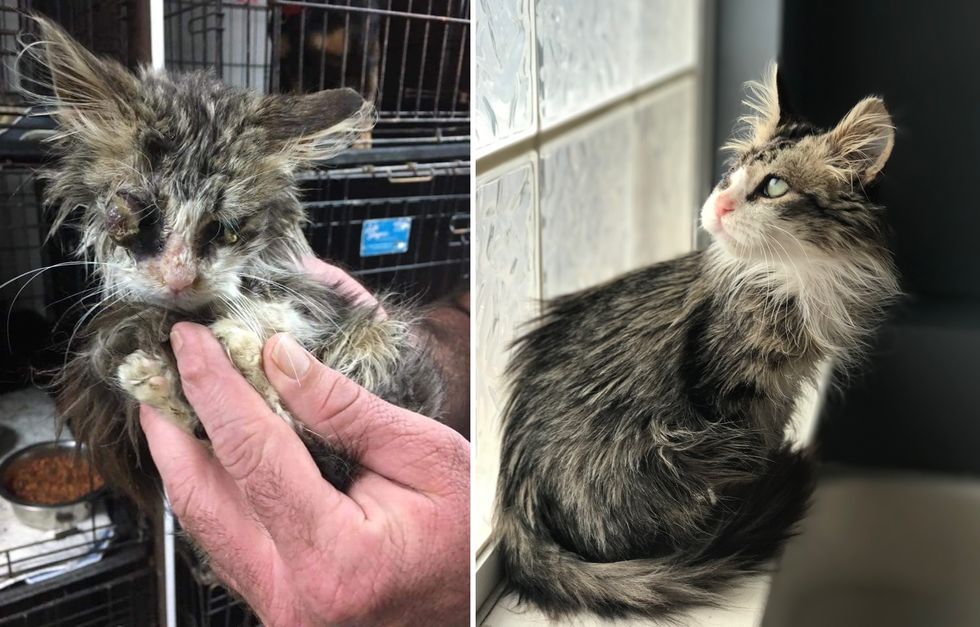 Courtesy: Kaitlyn Roy
Titus was just 14 ounces when he was found. "He was brought into the county shelter in a feral cat trap. He had a protruding eye, had an awful upper respiratory infection, and was extremely malnourished," Kaitlyn Roy, Titus' foster mom, told Love Meow.

He was set to be euthanized due to his suffering and the shelter not having the resources to treat him. Holly Wise from Union, South Carolina was at the right place at the right time. She stepped in to save him and jumped on raising funds to have him treated.
The kitten was very sick, but as soon as Holly took him into her loving arms, he began to purr. She could see that fire in him that he wanted to live.
"She helped him to gain some weight and get over his upper respiratory infection and prepared him for his eye to be surgically removed."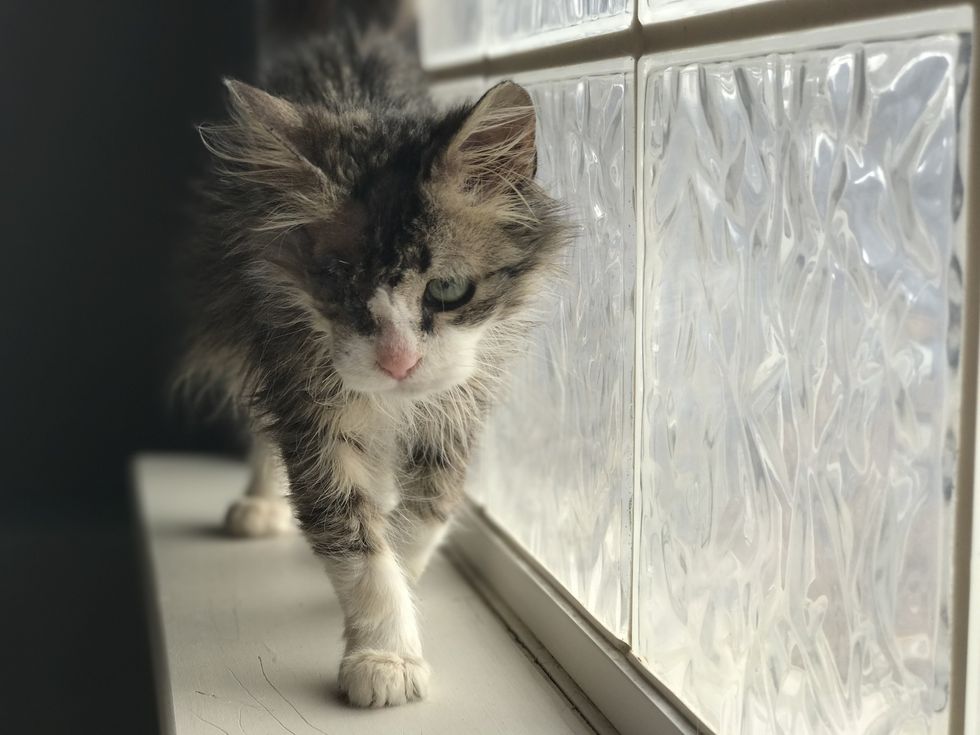 Courtesy: Kaitlyn Roy
Paws Up Rescue and Resources (PURR) found Titus a foster home after the life-saving surgery, so he could heal while continue to be socialized.
"PURR is a local rescue that pulls high risk cats from a local high kill shelter. PURR also helps community cats (like with Titus), particularly vulnerable kitties," Kaitlyn told Love Meow.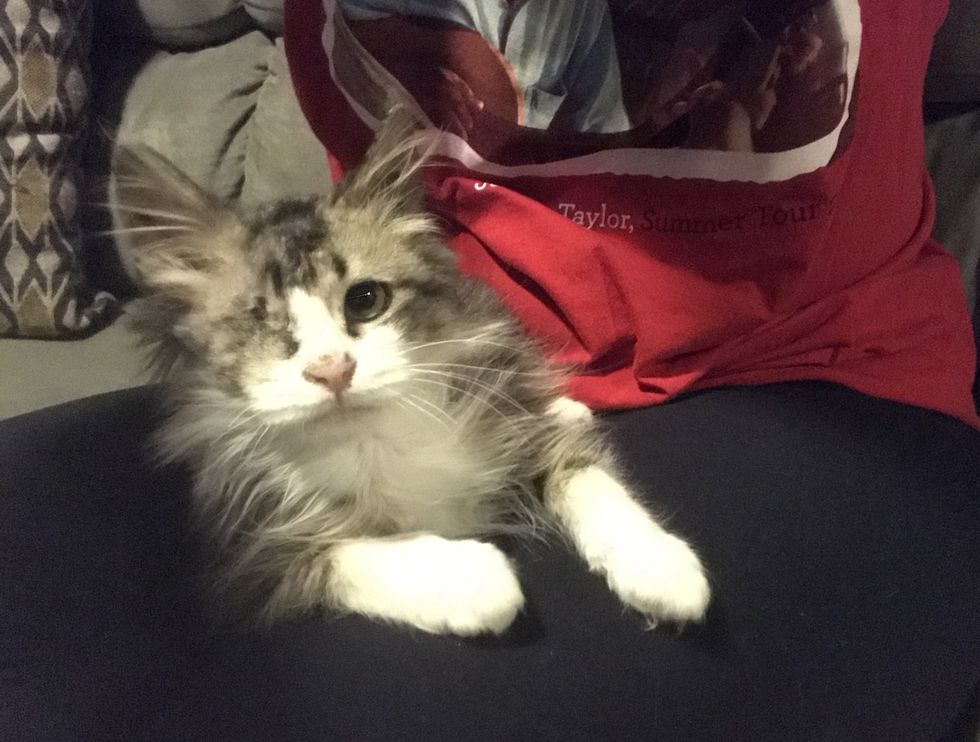 Courtesy: Kaitlyn Roy
Titus has made huge improvements since he was rescued.
"He now eats all that his little heart desire and is a healthy weight! If you spend time with him when he is in a quiet area, he climbs and rubs all over you."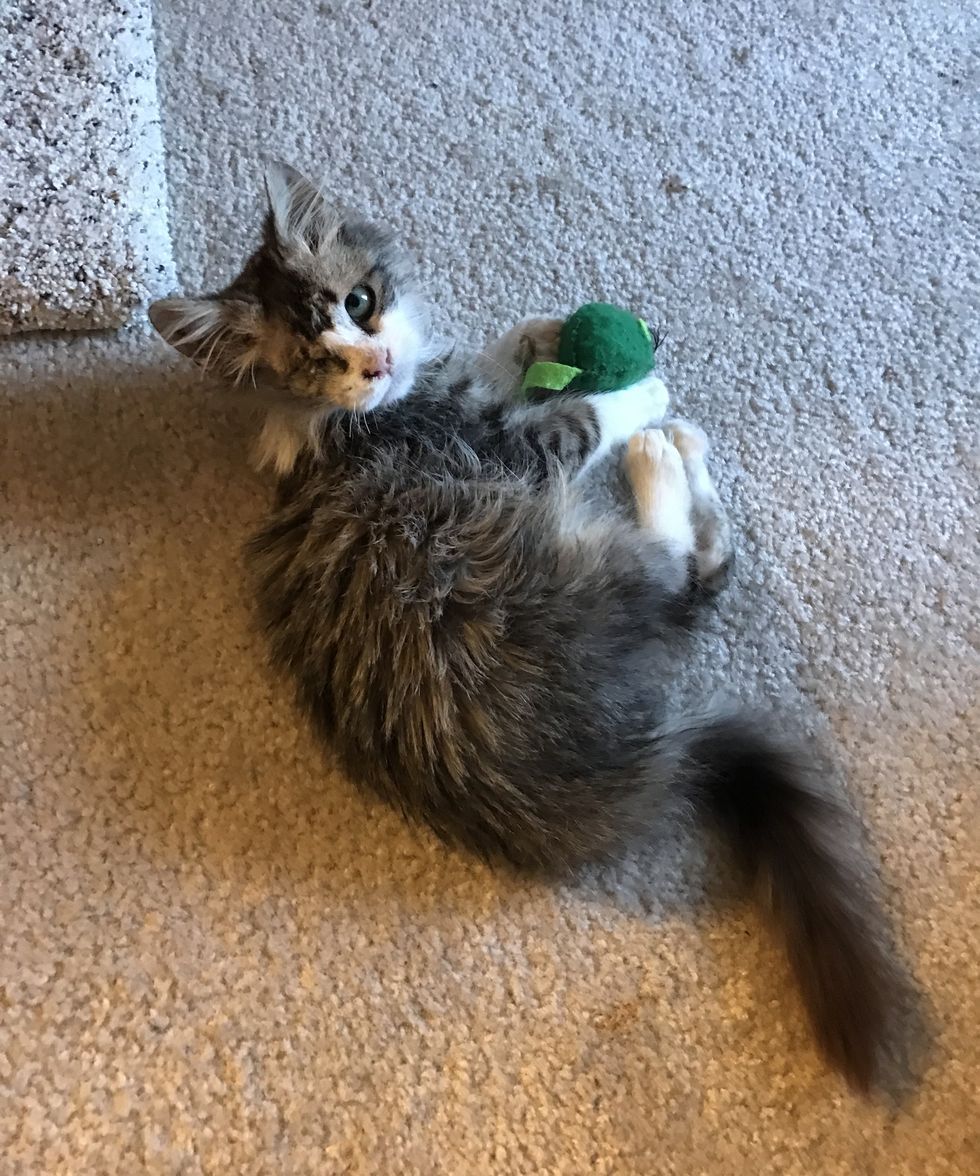 Courtesy: Kaitlyn Roy
The kitty is doing very well and looking absolutely magnificent with his glorious fluff.
He tells his foster mom how happy he is every day with affection and purrs. "He meows at and circles my feet when I get up to go to another room because he doesn't want me to leave! He has an infectious purr hat starts up immediately after he gets in our laps," Kaitlyn told Love Meow.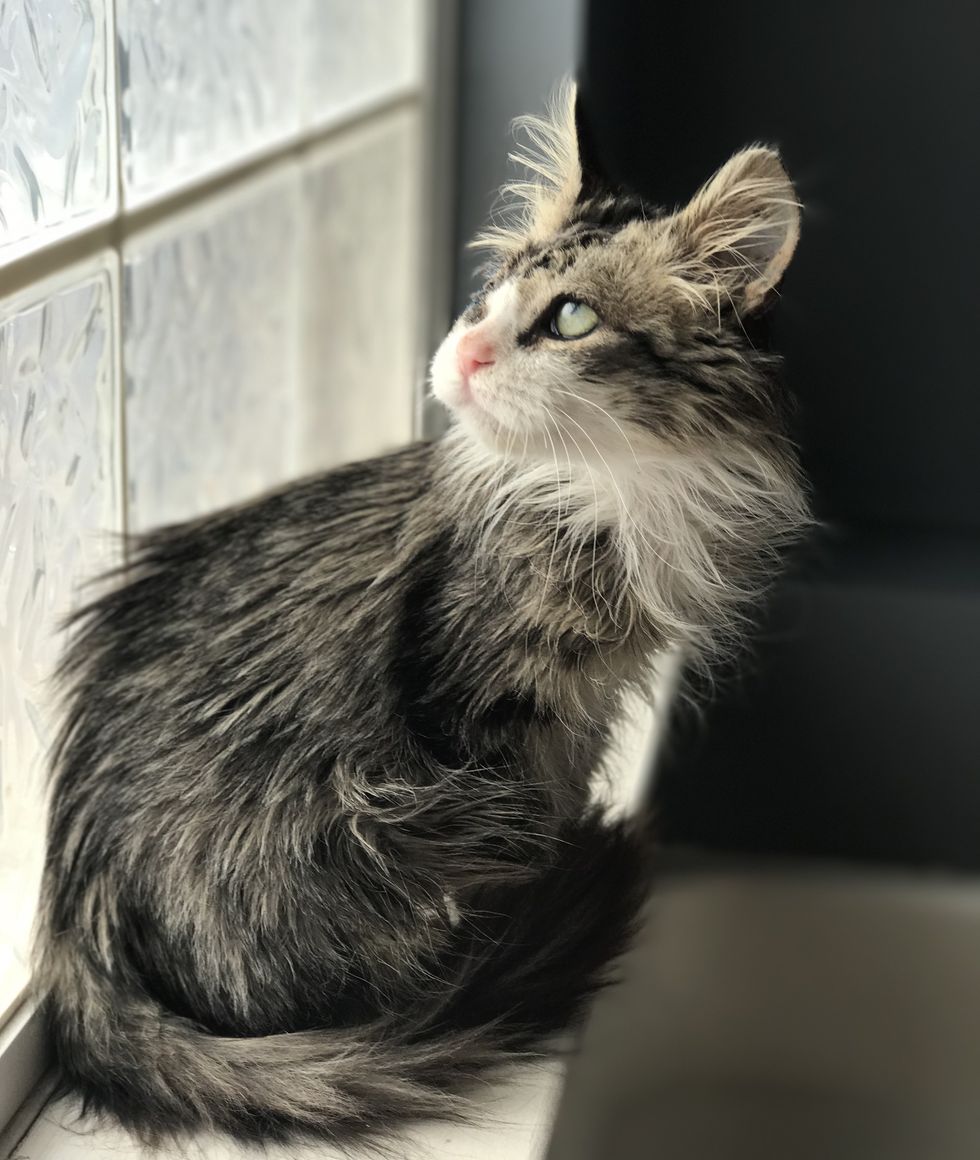 Courtesy: Kaitlyn Roy
"He loves to self play and to play with his (coincidentally also one-eyed) foster sister, Maggie."
Maggie, who also lost her eye to a bad upper respiratory, gives Titus a kiss and reassures him that everything is going to be all right.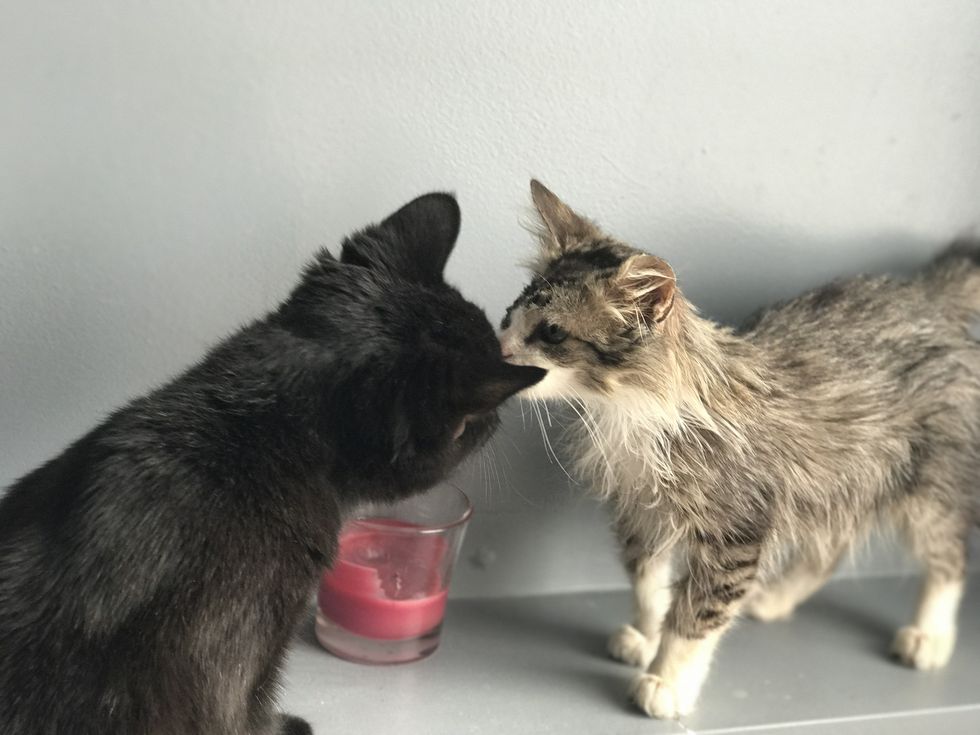 Courtesy: Kaitlyn Roy
The fluffy boy has come a long way, and now he has found a friend to cuddle with every day. Both kitties are ready for their forever loving home.
"Titus and Maggie play so well together and they could tumble around together for hours and be content."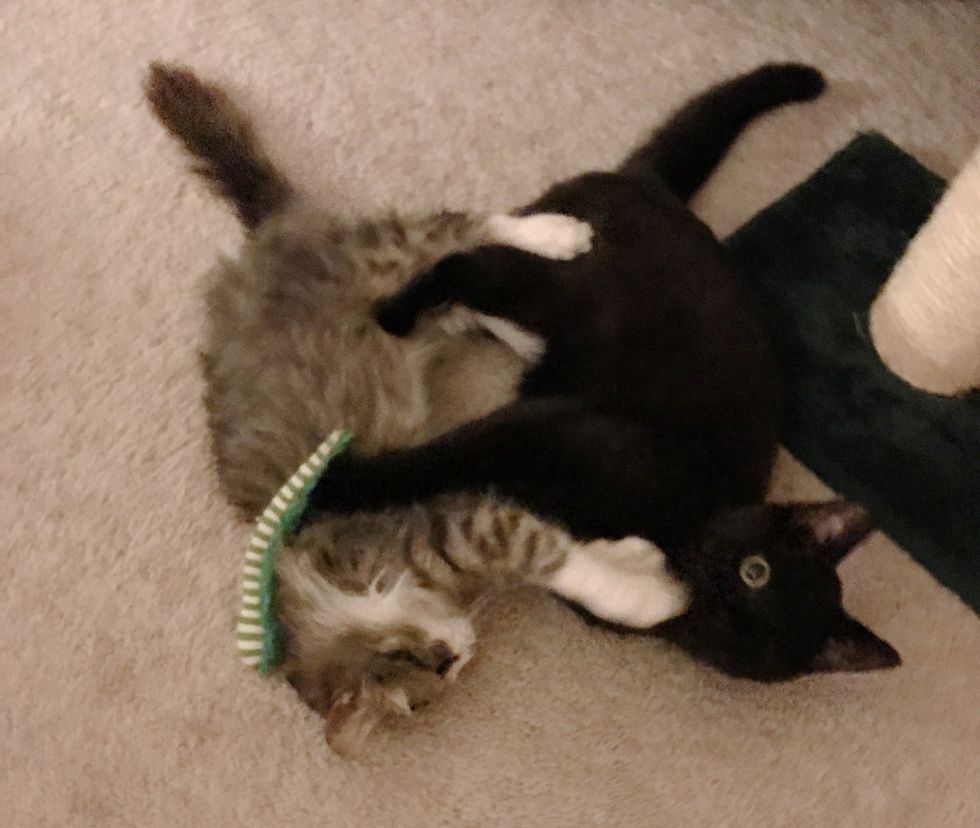 Courtesy: Kaitlyn Roy
What a difference a second chance can make! Share this story with your friends. If you are interested in adopting, message PURR on Facebook.
Related story: Man Saves Roadside Kitten Meowing for Help, The Transformation Will Amaze You!