A kitten asked everyone for attention and hoped they noticed him after being rescued from outside.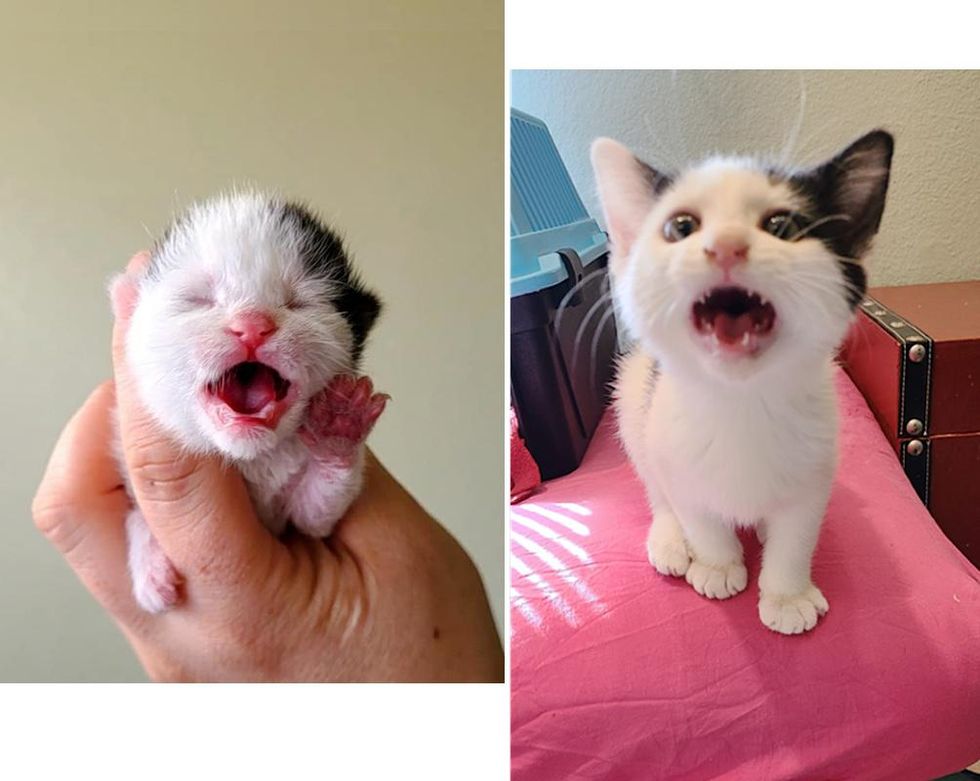 Jin's Bottle Babies
A litter of kittens was brought to a vet clinic in Arizona after they were found outside as orphans. At just one day old, the kittens desperately needed round-the-clock specialized care.
Shelbi Uyehara, founder of Jin's Bottle Babies, was contacted by the clinic and immediately stepped up to help. Without a mom, the kittens had to be hand-reared every 1-2 hours and stay in an incubator to help regulate their body temperature.
While Shelbi began caring for the litter of five, one of them really stood out. Little Pikitis, the black and white baby, whose eyes hadn't opened, was already very vocal. He demanded constant attention and would cry until he was held.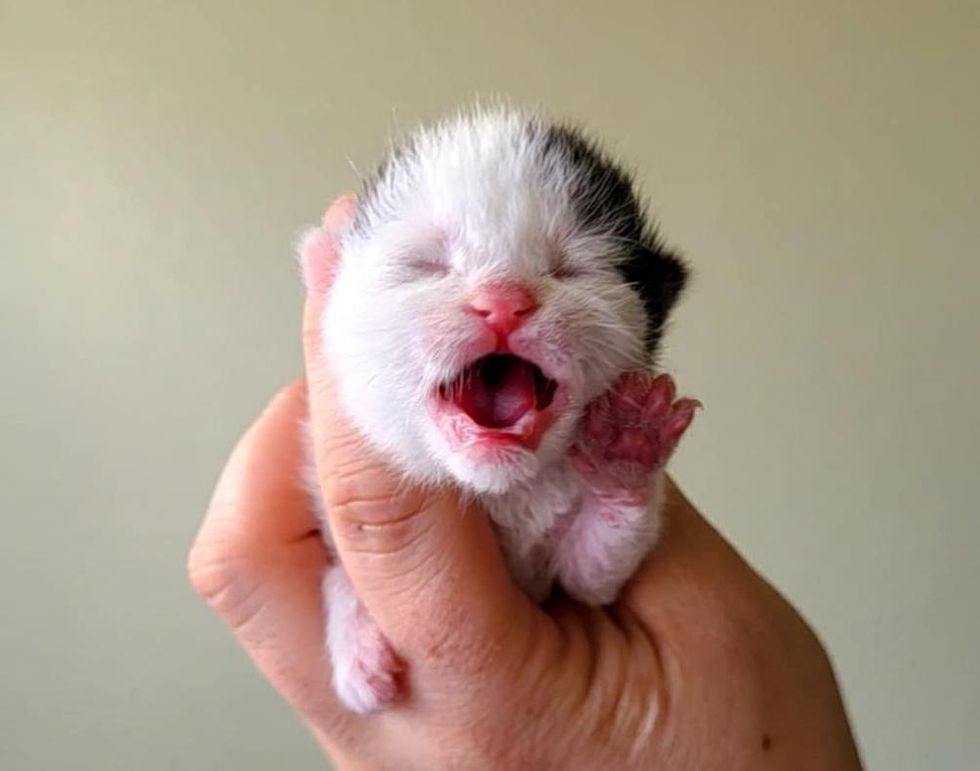 Jin's Bottle Babies
As soon as his eyes cracked open, Pikitis would try to waddle about and seek affection from his people. Whenever Shelbi walked in the room, he would make a beeline to her and crawl up on her lap for some intense snuggles.

He and his siblings were introduced to five other foster kittens, so they could have more friends to roughhouse with. While other kittens were busy running around, chasing each other, Pikitis would happily settle on Shelbi's lap for more pets and cuddles.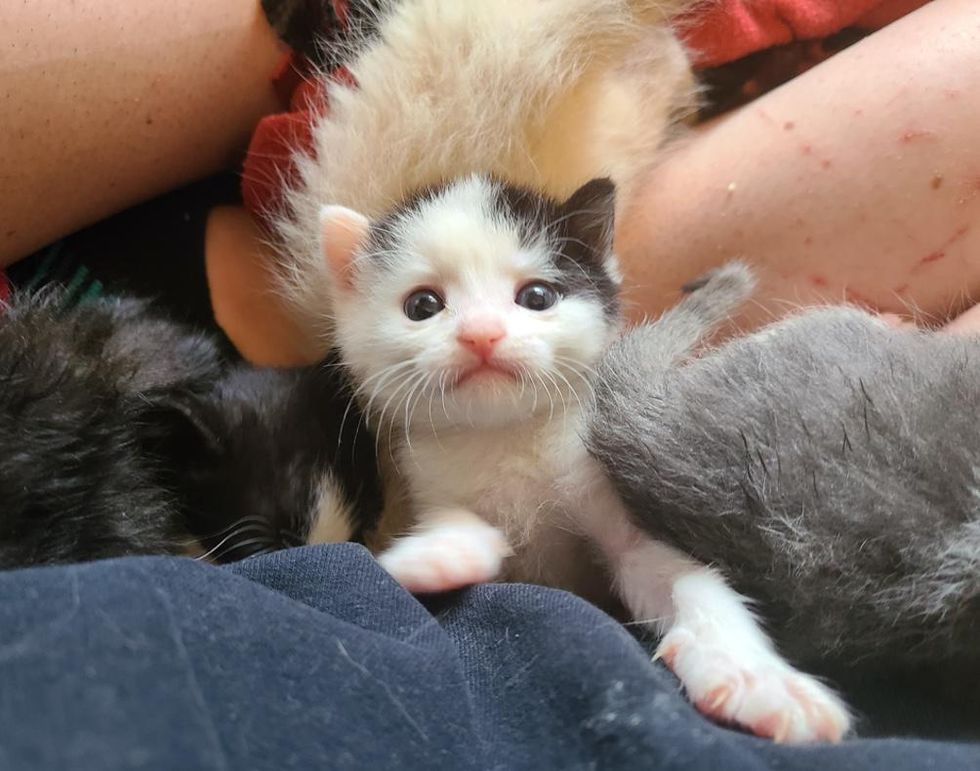 Jin's Bottle Babies
If Pikitis wanted something, he was never shy of making his voice heard.
"He is extremely talkative. He has so much to say to his people. He starts off bright and early in the morning to let you know he hasn't eaten breakfast yet, and then constantly throughout the day to remind his humans they haven't been in to pet him in a while," Shelbi told Love Meow.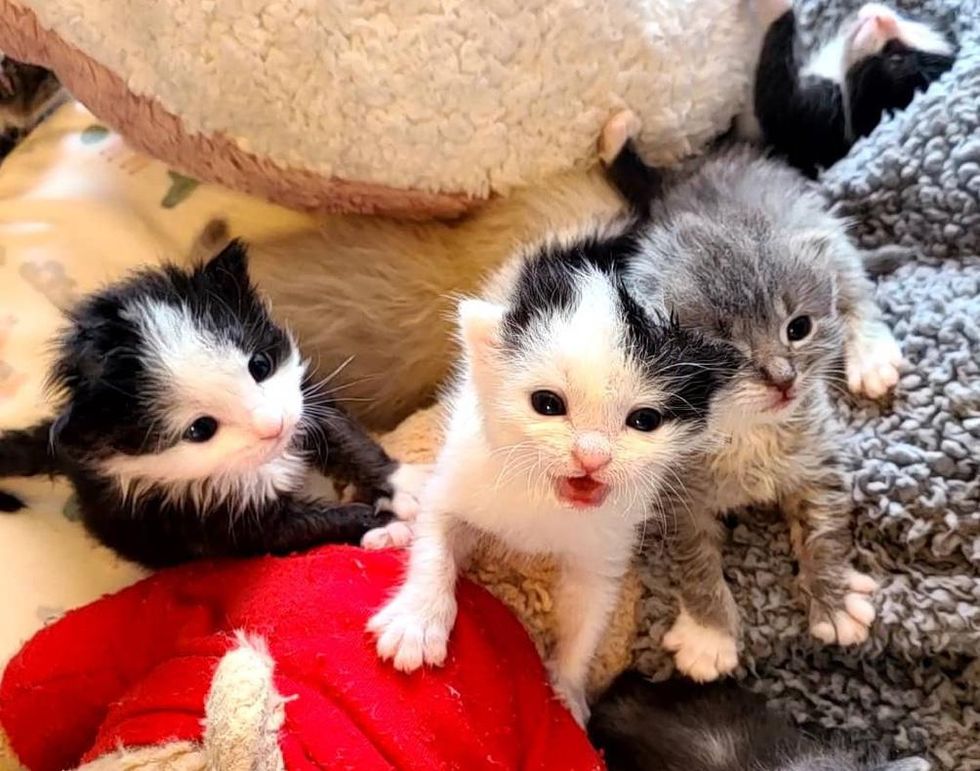 Jin's Bottle Babies
"Every time I'd walk into the foster room, he'd be the first to claim my chest, neck or face region. He picks his people, and once you are his people, he is your cat."

When the kittens were weaned, Erin, a volunteer of the rescue, took on the foster duties. The little feline crew continued to learn to socialize with the help of Erin's big family.
Pikitis immediately made it his mission to hog Foster Mom's attention and be her biggest lap cat.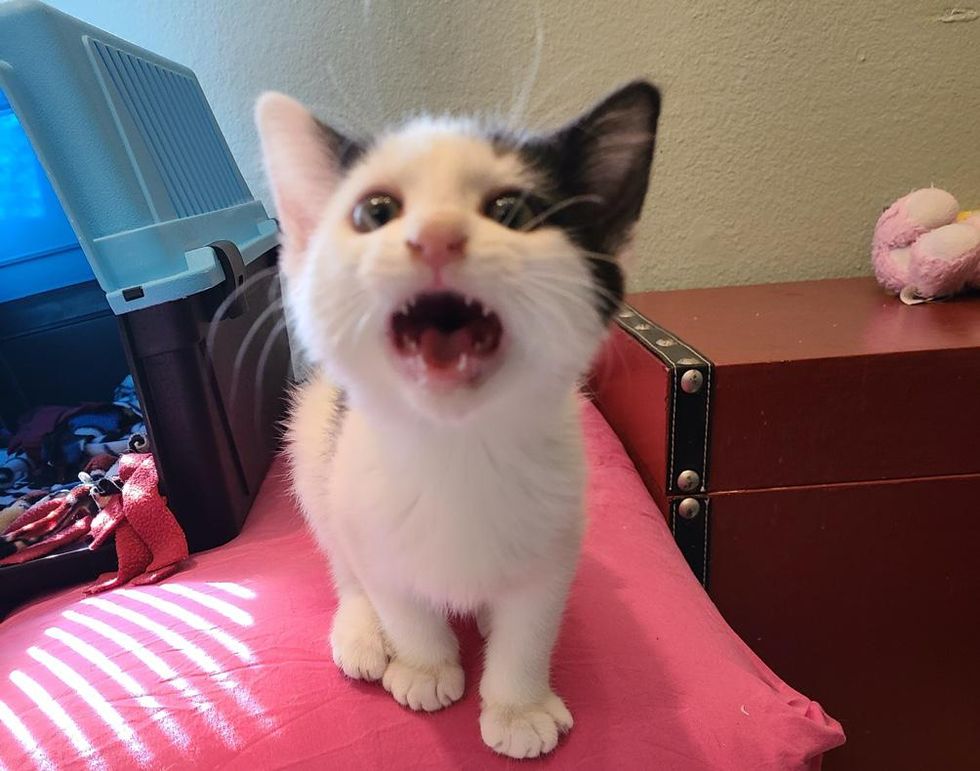 Jin's Bottle Babies
"He will seek you out and be very, very loyal to his people — almost dog like. He lets you hold him like a baby and will smash his face into yours constantly to try to get closer to you," Shelbi shared with Love Meow.

Watch the kitten in this cute video:
Pikitis the kittenwww.youtube.com
The sweet kitty wanted everyone to notice him and love on him.

When it came time for adoption, one by one, all his siblings went to good homes, and five other foster kittens that he had befriended, also found their forever families.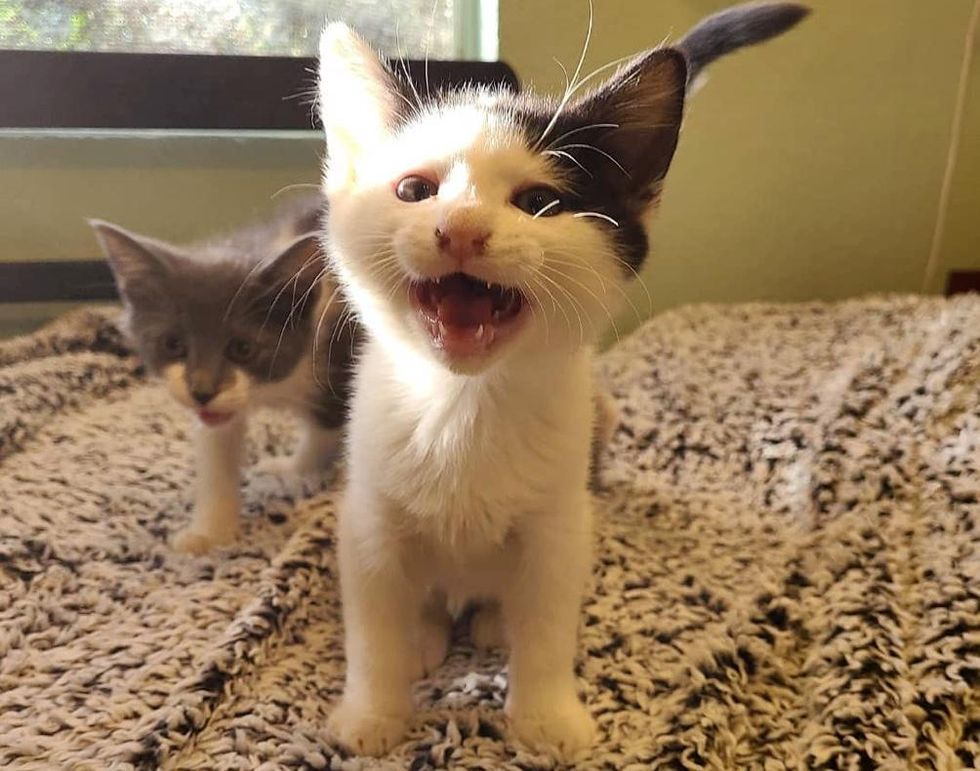 Jin's Bottle Babies
Suddenly, Pikitis found himself as the only kitten left in foster care. Erin showered him with cuddles so he would not feel alone.

The kitten followed her around the house and was so thrilled whenever he was snuggled and doted on.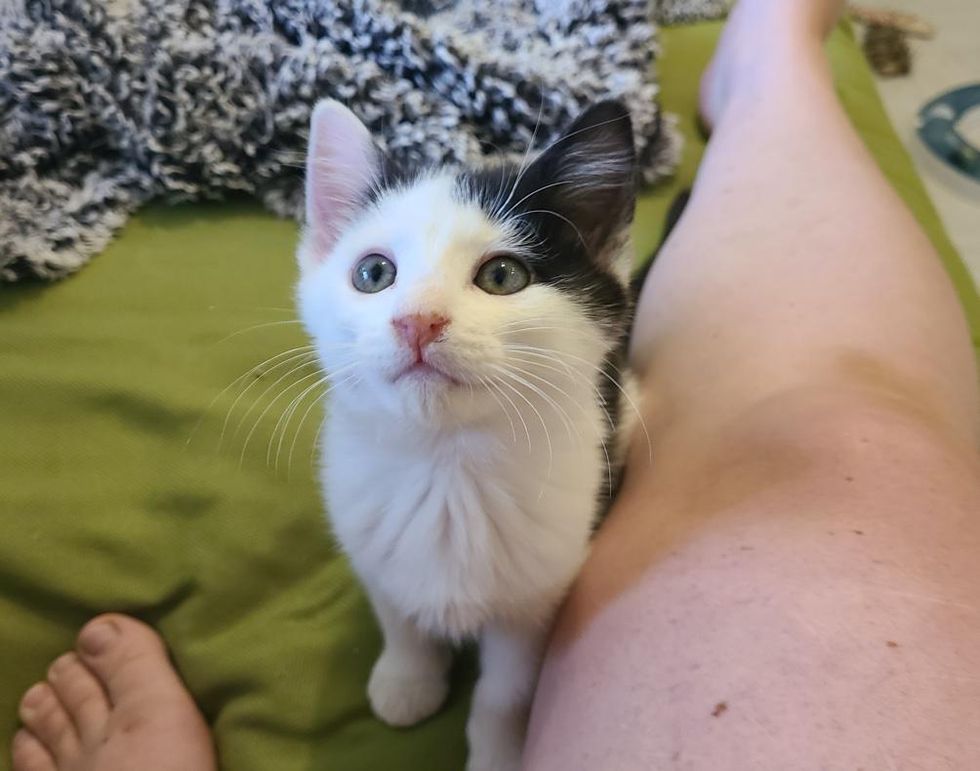 Jin's Bottle Babies
"I couldn't believe the best baby out of the litter was the only one without a home," Shelbi added.
The sweet boy patiently waited for his dream home to come along.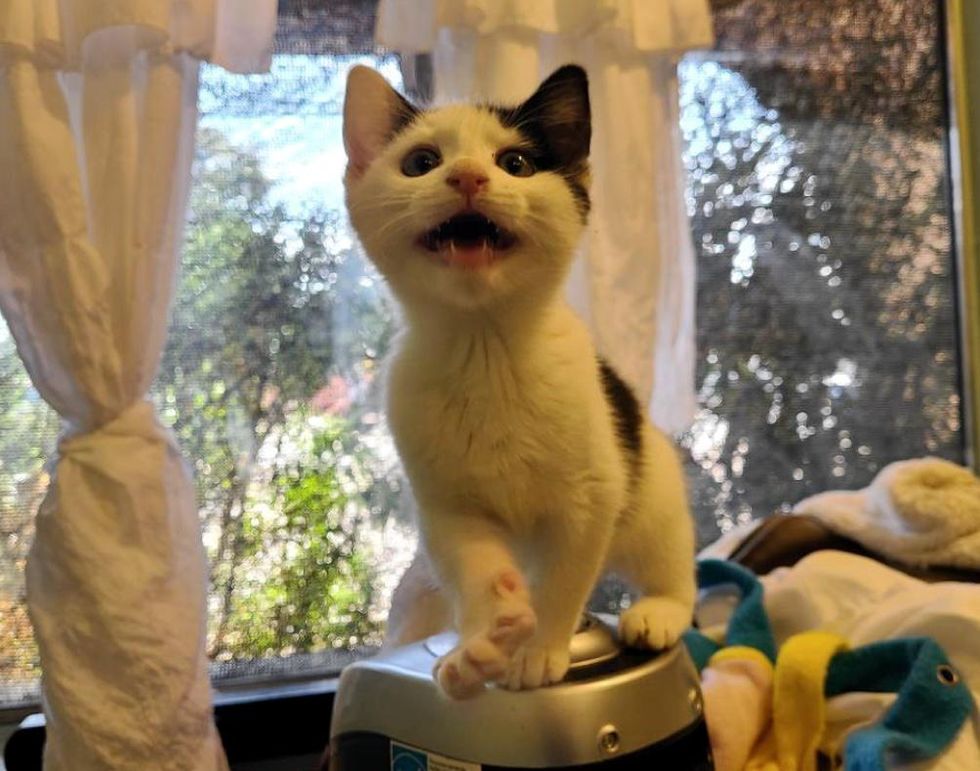 Jin's Bottle Babies
Earlier this week, a family came to meet little Pikitis after they heard about his story. The kitten walked right up to them and started sniffing their faces and purring up a storm.
The family fell head over heels for the little love-bug and knew they had been chosen.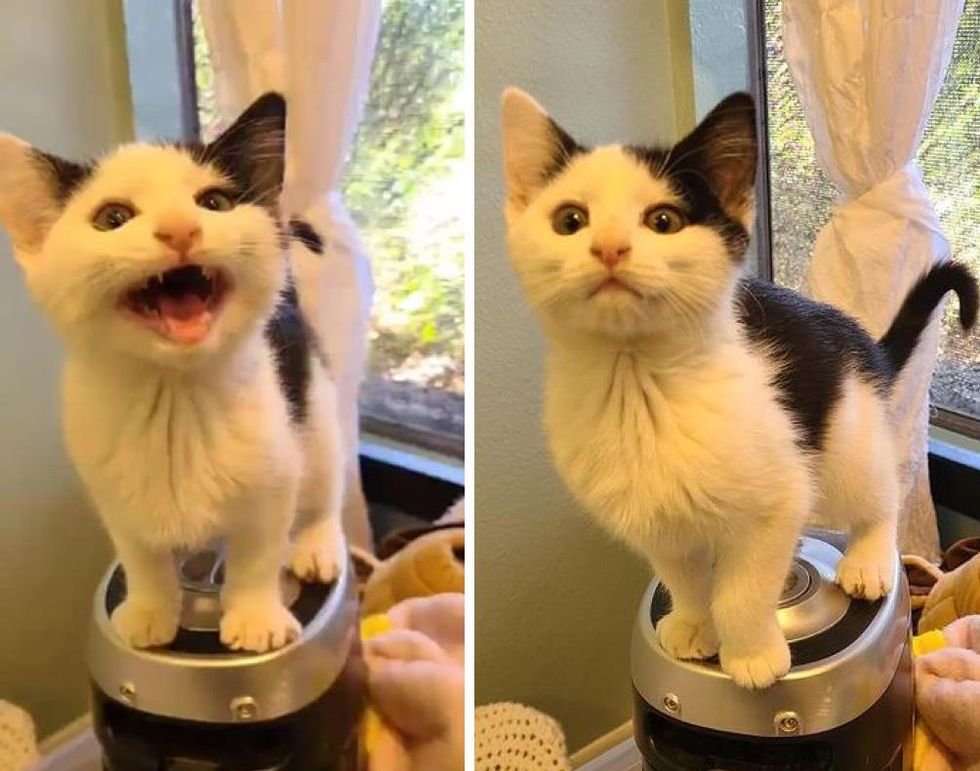 Jin's Bottle Babies
Yesterday, Pikitis officially graduated from foster care and moved into his new home with the family of his dreams, just in time for the holidays.

"Once you become his person, and it won't take long, you got a ride or die in baby Pikitis."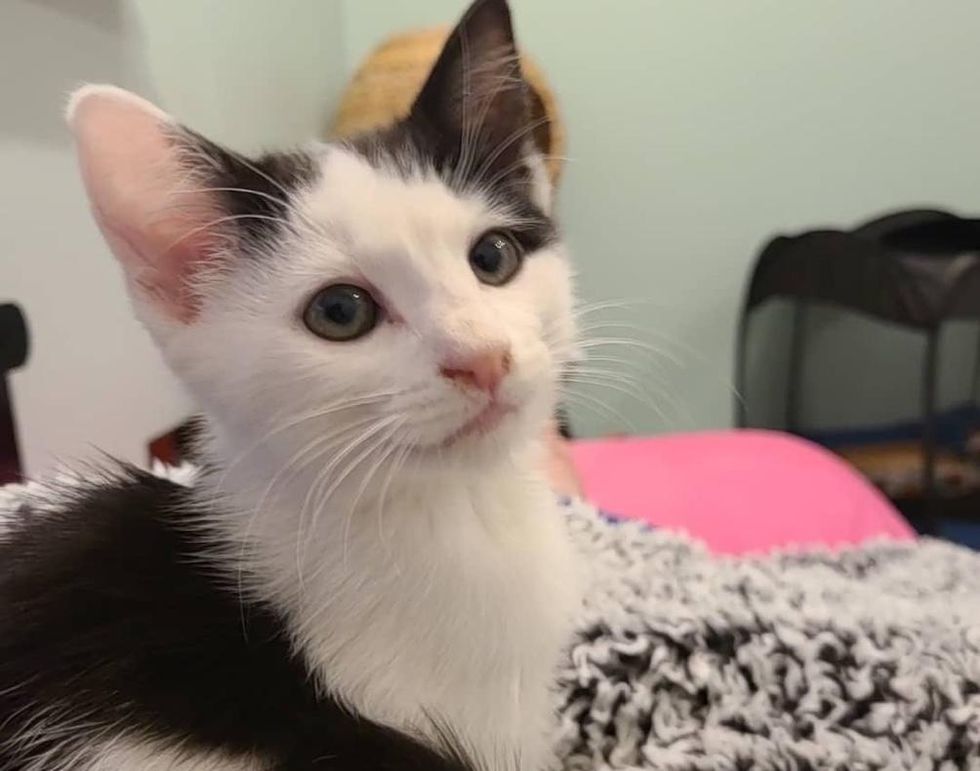 Jin's Bottle Babies
Share this story with your friends. Follow Jin's Bottle Babies on Facebook and Instagram.
Related story: Sweet Kitten Insists on Being Carried Everywhere He Goes After He was Rescued