This kitten insisted on staying with the family that helped him thrive.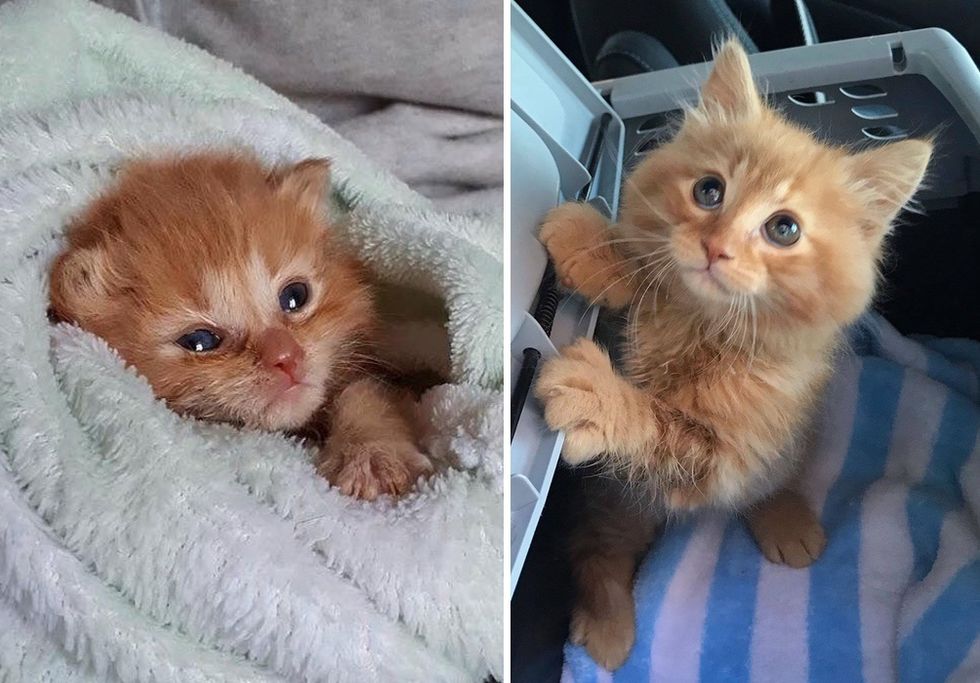 Chatons Orphelins Montréal
A litter of one-week-old kittens was rescued and brought to a shelter in Montreal, Canada. They required round-the-clock feedings, so a team of volunteers took it upon themselves to care for them. Among the littermates, the ginger kitten was much smaller and struggling to thrive.

Jess, an experienced rescuer, stepped up to help. She brought him home and began tube-feeding him, keeping him warm and staying by his side around the clock.
She didn't know if the little one would survive but wouldn't go without a fight. After several sleepless nights and tremendous efforts, the kitten made it over the hump and started to perk up.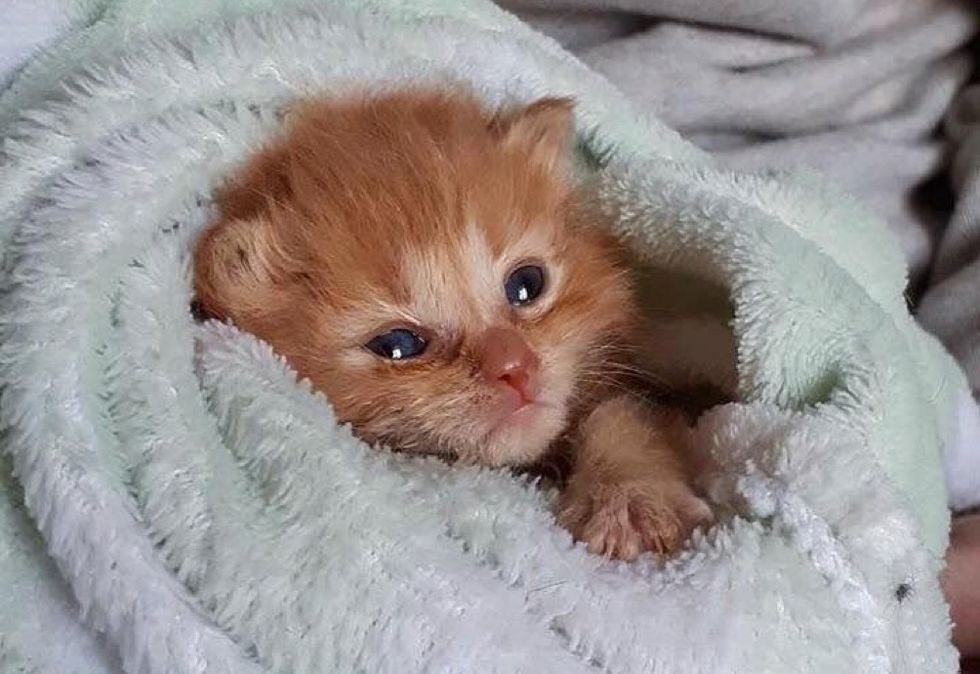 Chatons Orphelins Montréal
The ginger boy named Baby Mars was finally strong enough to latch on and eat without a tube. He was still very small and had to be fed from a syringe. Despite it all, he tried his utmost to fill up his tummy at every meal.
The plan was to get the kitten healthy and big enough so he could be adopted into a good home. Chatons Orphelins Montréal, a local rescue, offered to help and took him into their care.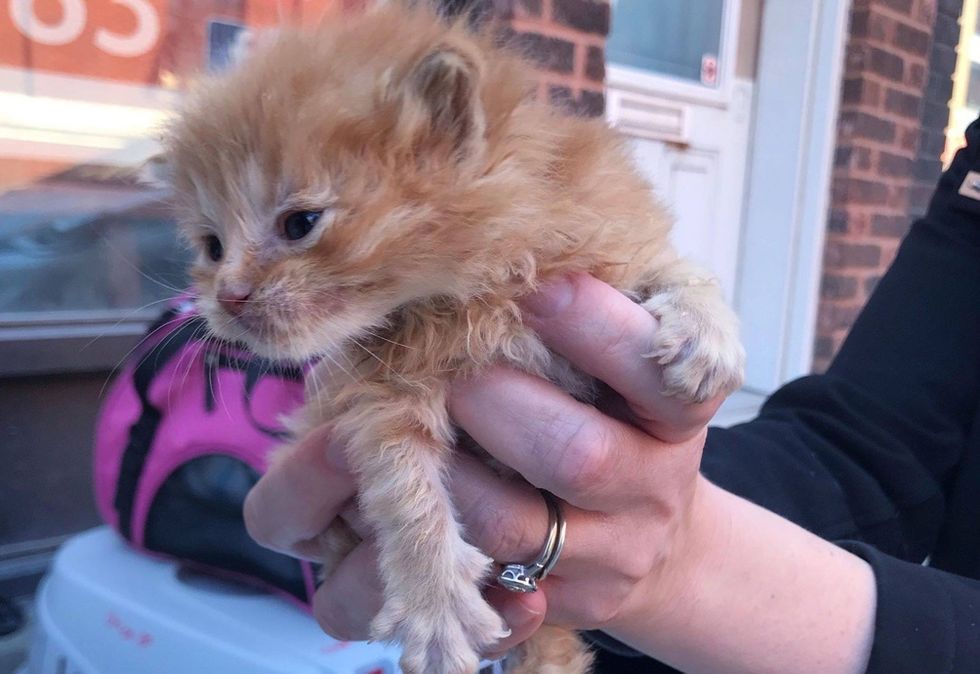 Chatons Orphelins Montréal
"Jess took great care of the kitten. She fed him every couple of hours, kept him warm and loved. That's what saved his life," Celine Crom of Chatons Orphelins Montréal told Love Meow.

As soon as Baby Mars bounced back on his paws, he tried to waddle up to the food himself and was very motivated to eat. The kitten was finally catching up in weight.
Coralie, a foster volunteer of Chatons Orphelins Montréal, welcomed the little guy into her home. She took him with her everywhere she went to make sure he didn't miss a single feeding.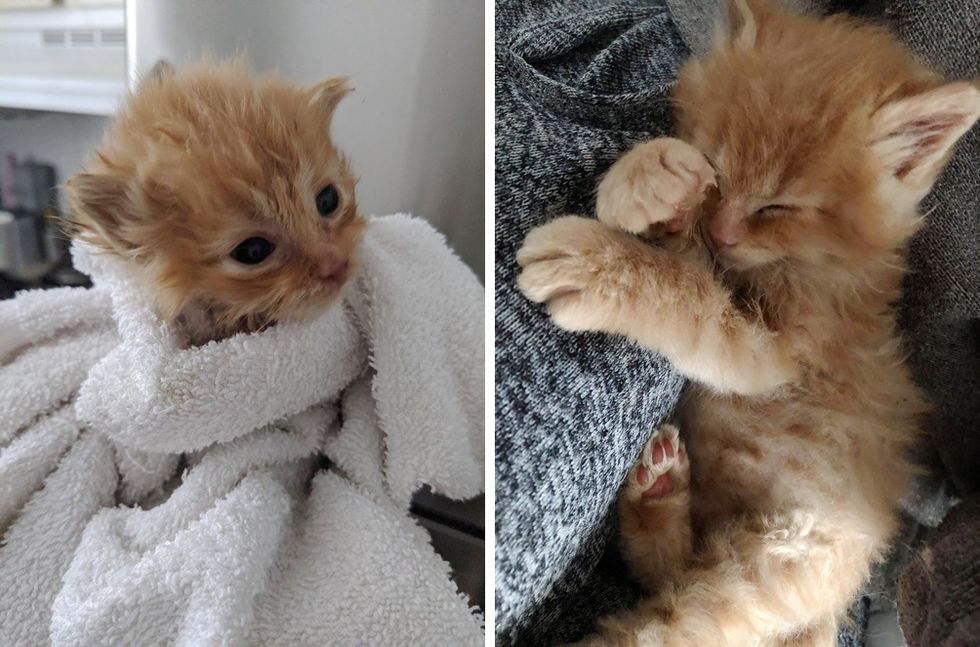 Chatons Orphelins Montréal
After getting a full belly, the sweet kitty would make the tiniest biscuits on his soft blankets before purring himself to sleep. He was always so content as long as his foster mom was right there by his side.

When Coralie got the kitten, she didn't have intentions to adopt a new cat. She wanted to nurse him back to health and find him a place of his own when he was ready. But the ginger boy had a different idea.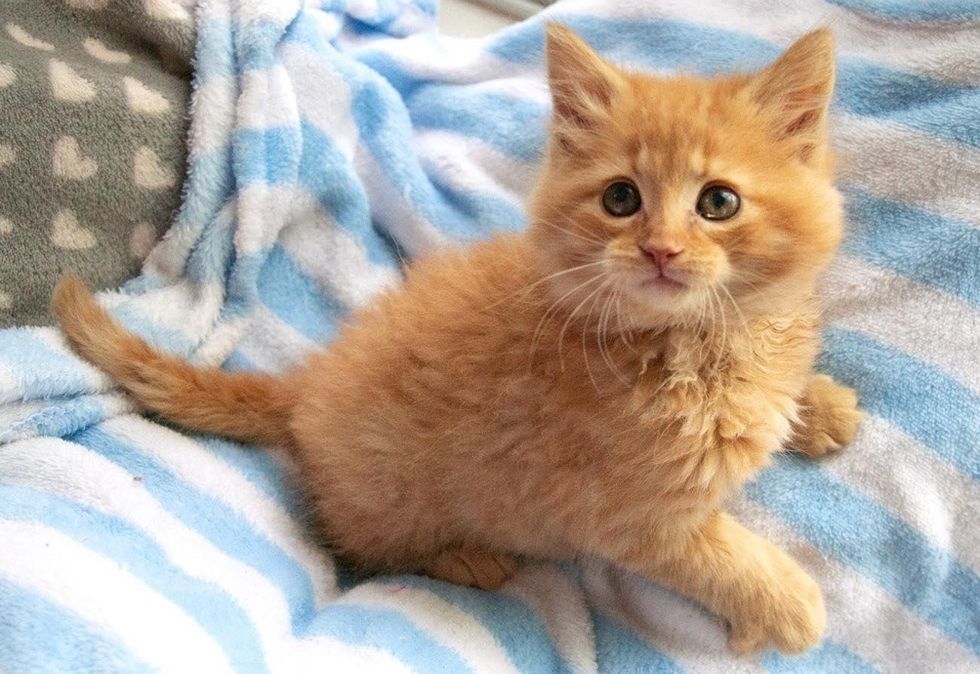 Chatons Orphelins Montréal
Throughout this journey, Baby Mars has been Coralie's little shadow, following her everywhere she goes. He will curl up on her lap or nuzzle into her arms when he naps.

Watch Mars the kitten in this cute video:
Kitten forever homewww.youtube.com
Now that he has grown, the rambunctious ginger will wrestle with other cats in the house even though they are larger in size. The intrepid ball of energy is the king of the hill when he plays.
After all the antics around the house, the kitten will seek out his foster mom and cuddle up to her for some quiet time and TLC.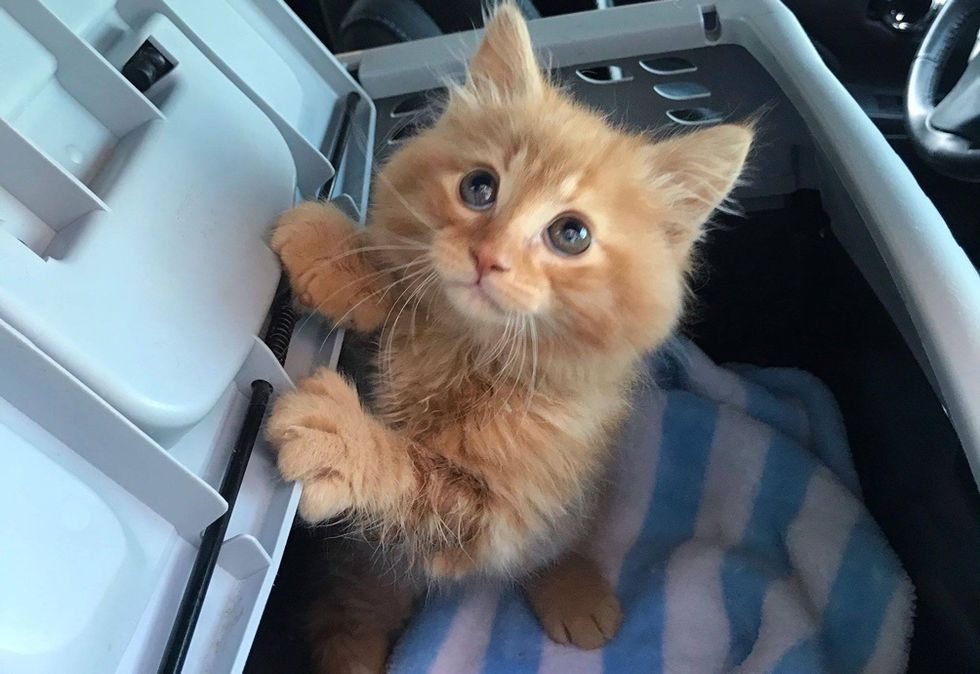 Chatons Orphelins Montréal
"He is very persuasive with his little meows and big eyes. Sometimes, he will wait and stare at his human until he gets what he wants — cuddles."

Before they knew it, Baby Mars had wiggled his way into the heart of his foster family. When it came time for his adoption, Coralie knew that the kitten had made the choice that she simply couldn't refuse.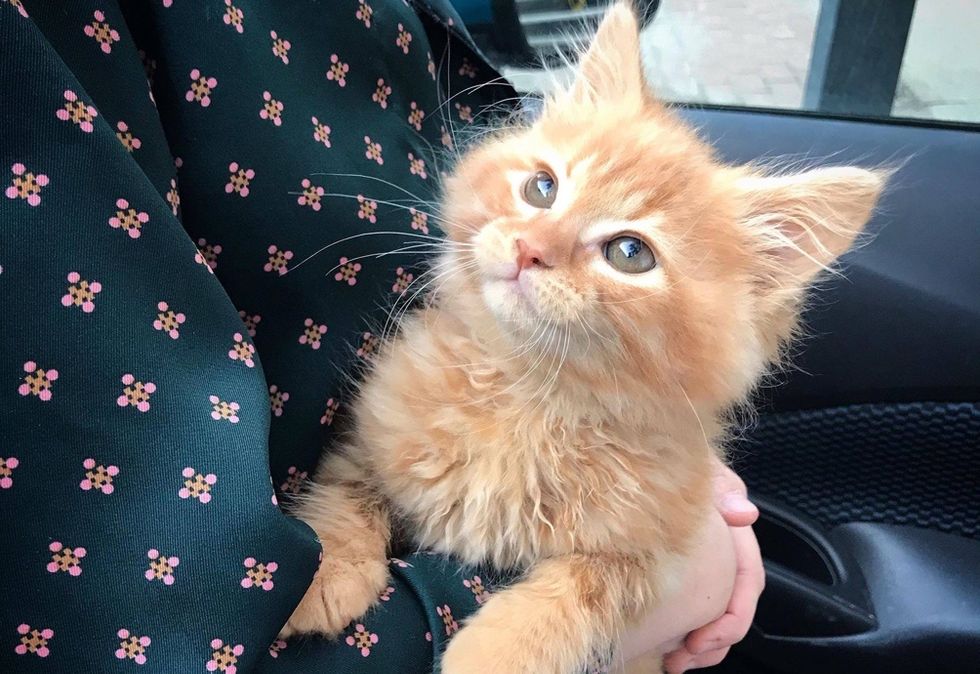 Chatons Orphelins Montréal
"At three months old, Mars was officially adopted by his foster family. It's the perfect match," Celine shared with Love Meow.

The fluffy kitty graduated from his foster program and started a new chapter with his now forever family.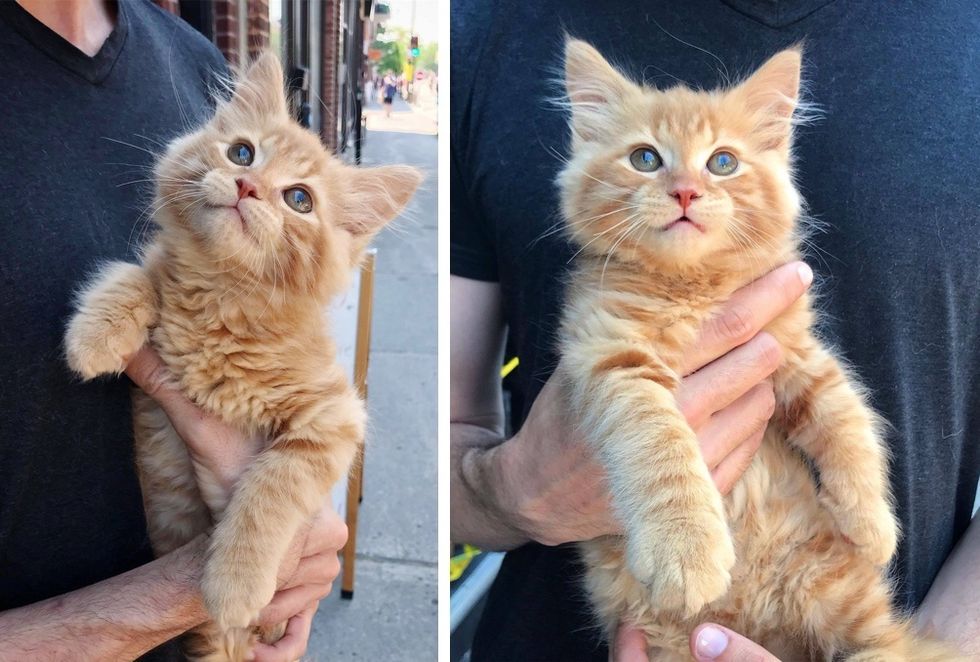 Chatons Orphelins Montréal
Baby Mars has found his happily ever after and is blossoming into a healthy, handsome young cat.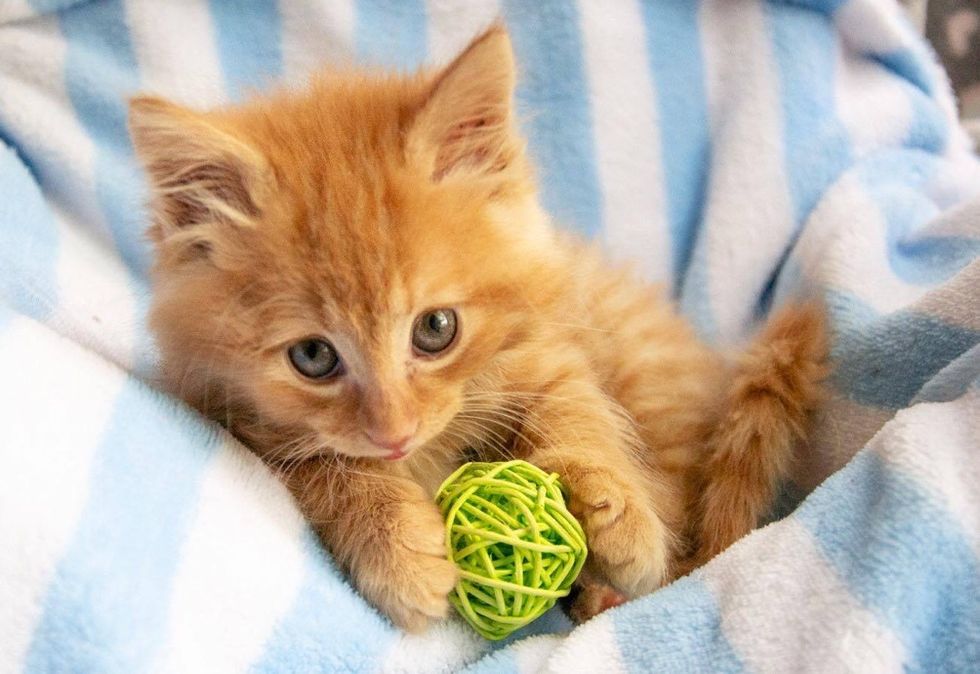 Chatons Orphelins Montréal
Share this story with your friends. Follow Chatons Orphelins Montréal on Facebook.

Related story: Kitten Walks Up to Man, Insists On Being Cuddled, She Wouldn't Have It Any Other Way