A kitten who was found on a farm, scooted her way into people's hearts with her unstoppable will to live a happy life.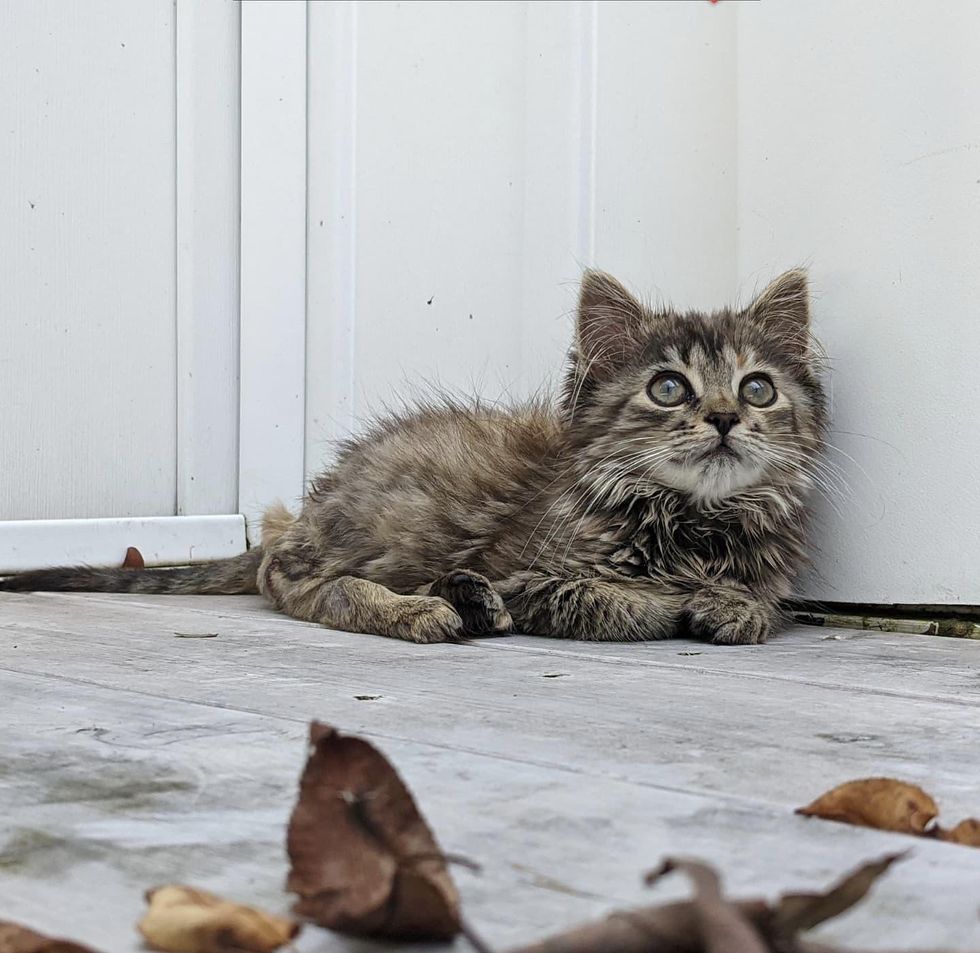 Merida the kittenFosterBabyCats
Merida, a tabby kitten, was 2.5 months old when she was found on a farm in desperate need of help. Jillian, the founder of FosterBabyCats (in Columbus, Ohio), rushed to her rescue.
The kitten had sustained a spinal injury (possibly by being stepped on by a large farm animal) and was not able to move her wounded back legs. Jillian immediately took her to a local specialist and emergency vet hospital, where she was told that there was nothing they could do to save her.
Despite it all, Jillian wanted to give the tabby a fighting chance.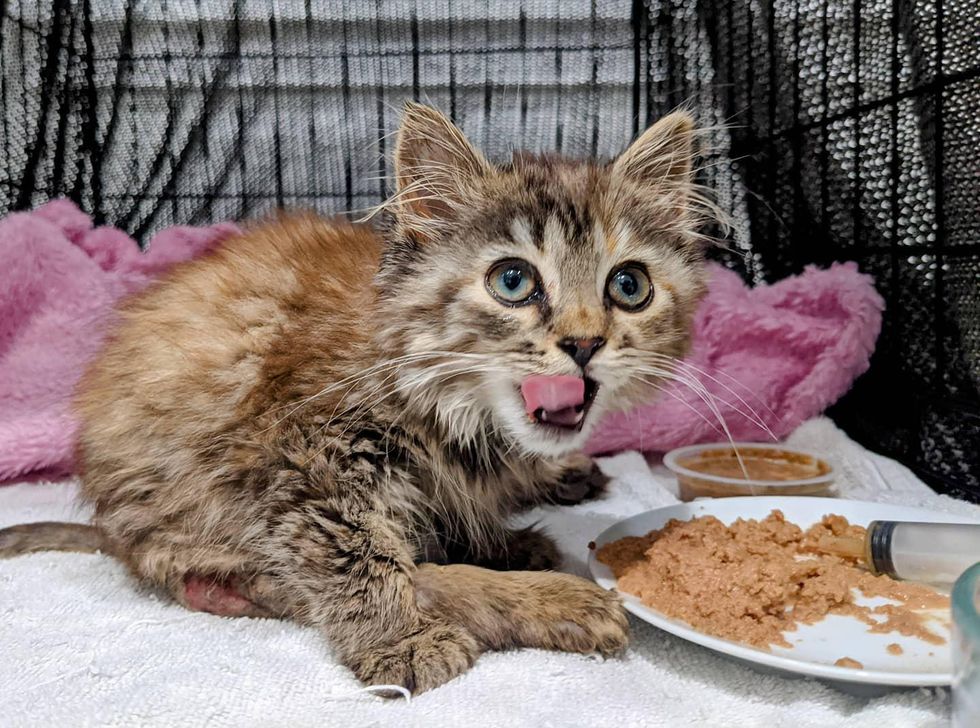 She was found on a farm with back legs paralyzedFosterBabyCats
While Jillian was seeking ways to help Merida, she received assistance from Dr. Jackie Holdsworth, a surgeon and neonatal specialist. "She reached out and offered guidance and sent us a ton of supplies to help take care of Merida," Jillian told Love Meow.
The tabby girl who was named after the character from the movie Brave, was determined to navigate her life as a happy paraplegic cat.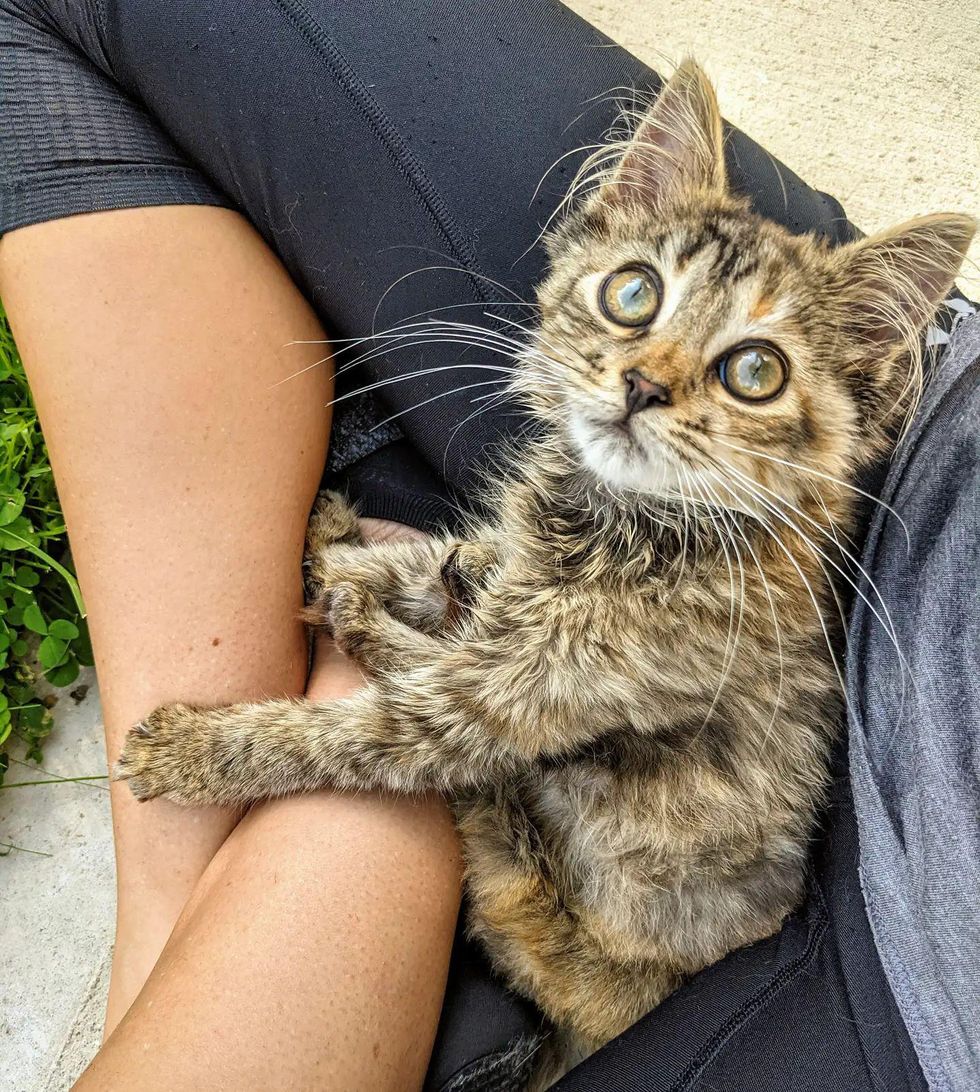 Merida quickly turned into a sassy, playful, and tenacious kittyFosterBabyCats
As soon as Merida regained her strength, she became a force to be reckoned with. She started scooting around, chasing resident cats (who were bigger). She didn't think she was any different and wanted to be the toughest kitty in town.
"The first time she decided to 'cat,' she also showed me what a tenacious little fighter she was going to be. She might only have two fully functional legs but she still gets the zoomies."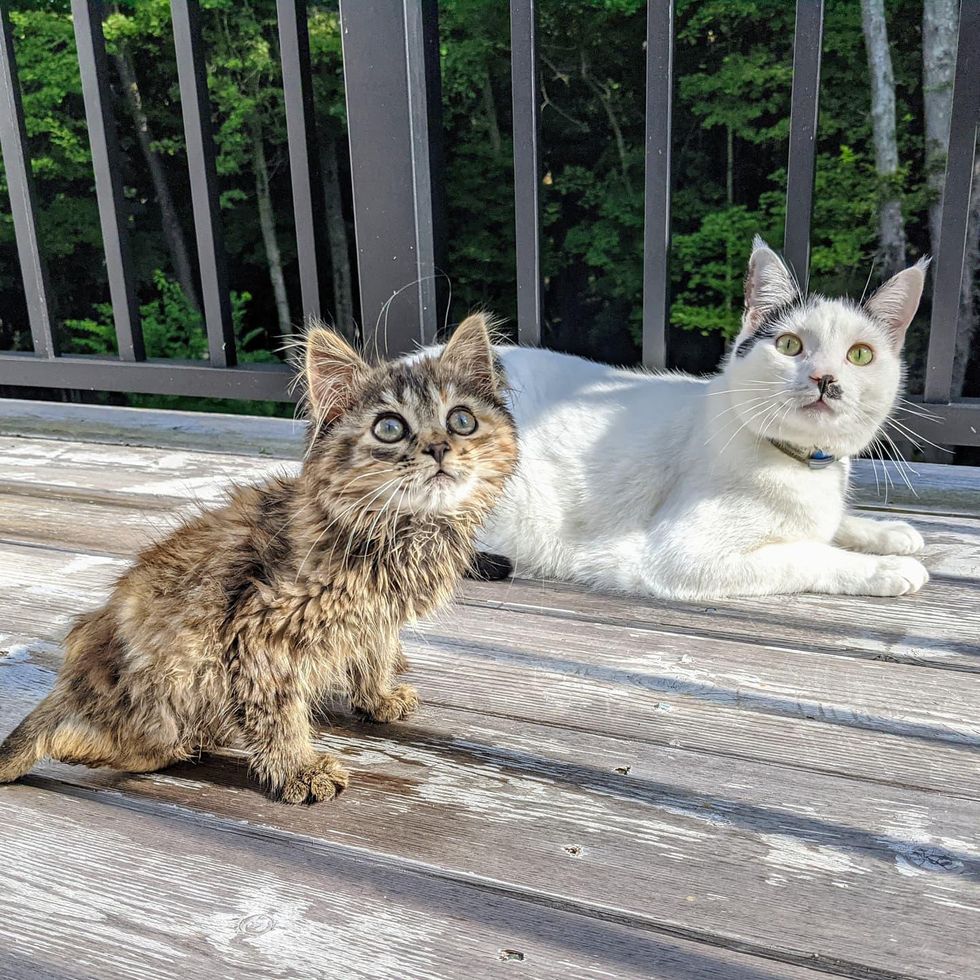 She started scooting around the house with other feline friendsFosterBabyCats
Over the next several months, Merida went through a host of treatments and therapy to help improve her mobility. When she was put on a set of wheels, she turned her energy up to eleven.
She became a little tornado, zooming around the house with other feline friends. When she discovered fetch, she was obsessed, retrieving toys like a pro.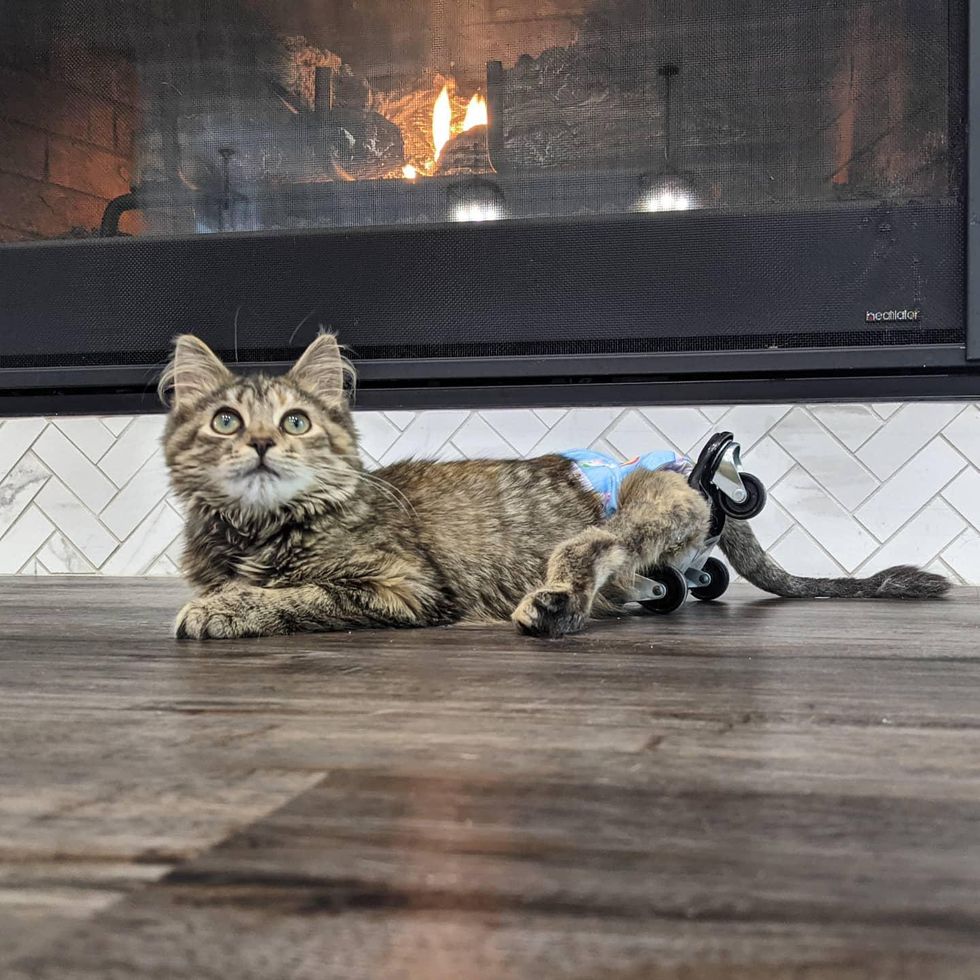 When she was put on a set of wheels, she went zooming aroundFosterBabyCats
"One of the reasons the wheels work so well for Merida is because she can do everything with them on that she can do with them off," Jillian wrote. "She can roll over, stretch, lay down, climb, sneak up on other cats, etc. They don't inhibit her movement at all."
Watch Merida as she zooms around in this cute video:
Merida the catwww.youtube.com
When Merida is off her wheels, she turns into an incredible climber, conquering any summit she lays her paws on.
"She continues to find ways to make life work for her. Every day is a new adventure, and I'm just here to help her live out her life to the fullest."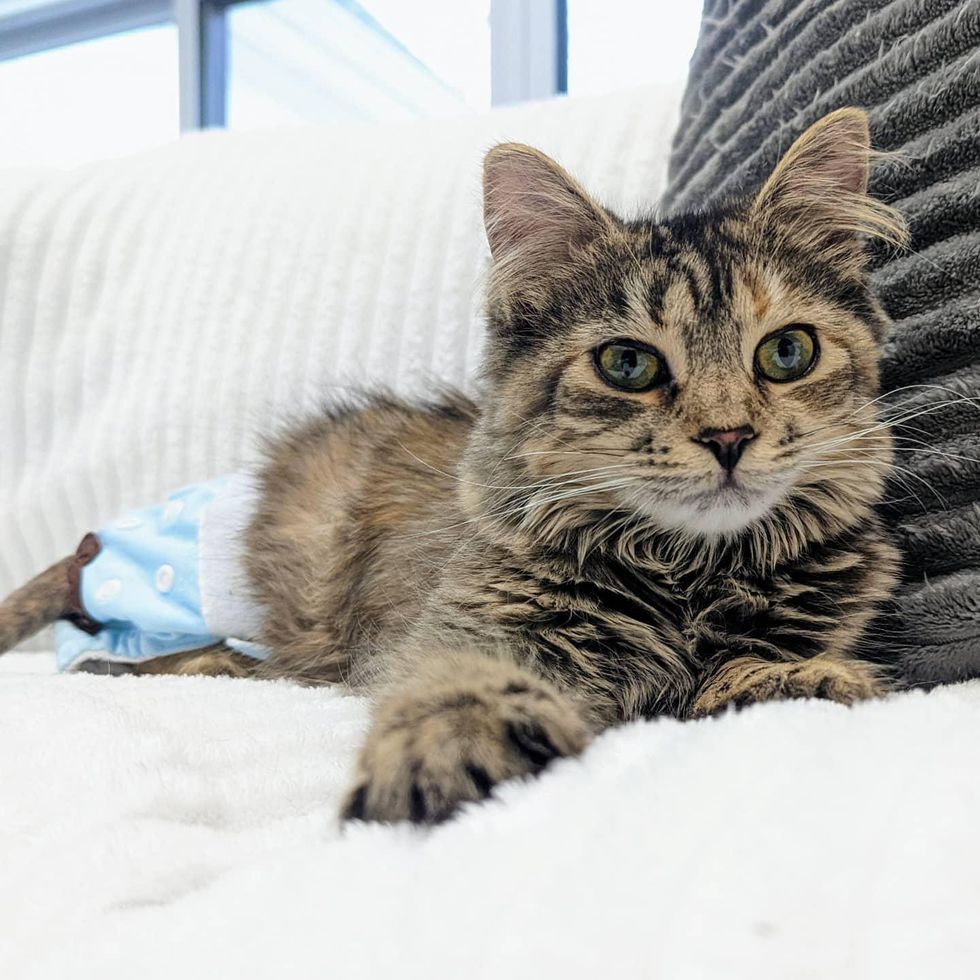 FosterBabyCats
"She is my first paraplegic cat and I truly relied on the many vets to guide me in the proper way to care for her. Around her 9-month birthday was when I realized that I am fully capable of keeping her comfortable and happy," Jillian shared with Love Meow.

Merida has seen about a dozen vets and specialists. She does electromagnetic and light therapy at home, and is currently on nerve pain medication.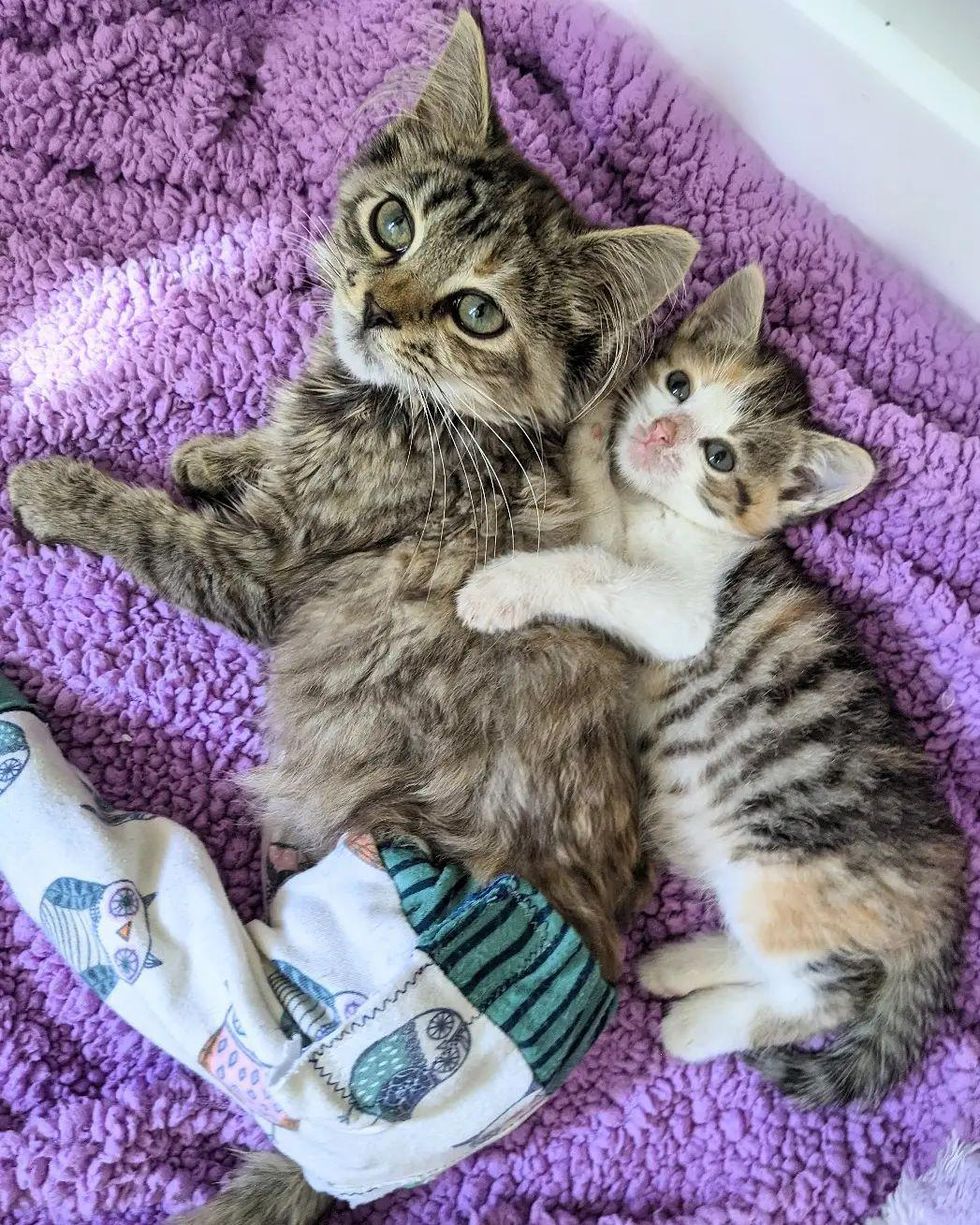 She befriended other foster kitties and took them under her wingFosterBabyCats
Merida has blossomed into the bravest, happiest, and most confident mischief-maker. She is constantly plotting her next move, and her determination to do whatever she wants never ceases to amaze her humans.
"Her personality has completely changed being at FosterBabyCats. She was a little scared of the world but she's turned into the sassiest kitty and loves picking on other cats (even the ones that are much bigger than her)," Jillian shared with Love Meow.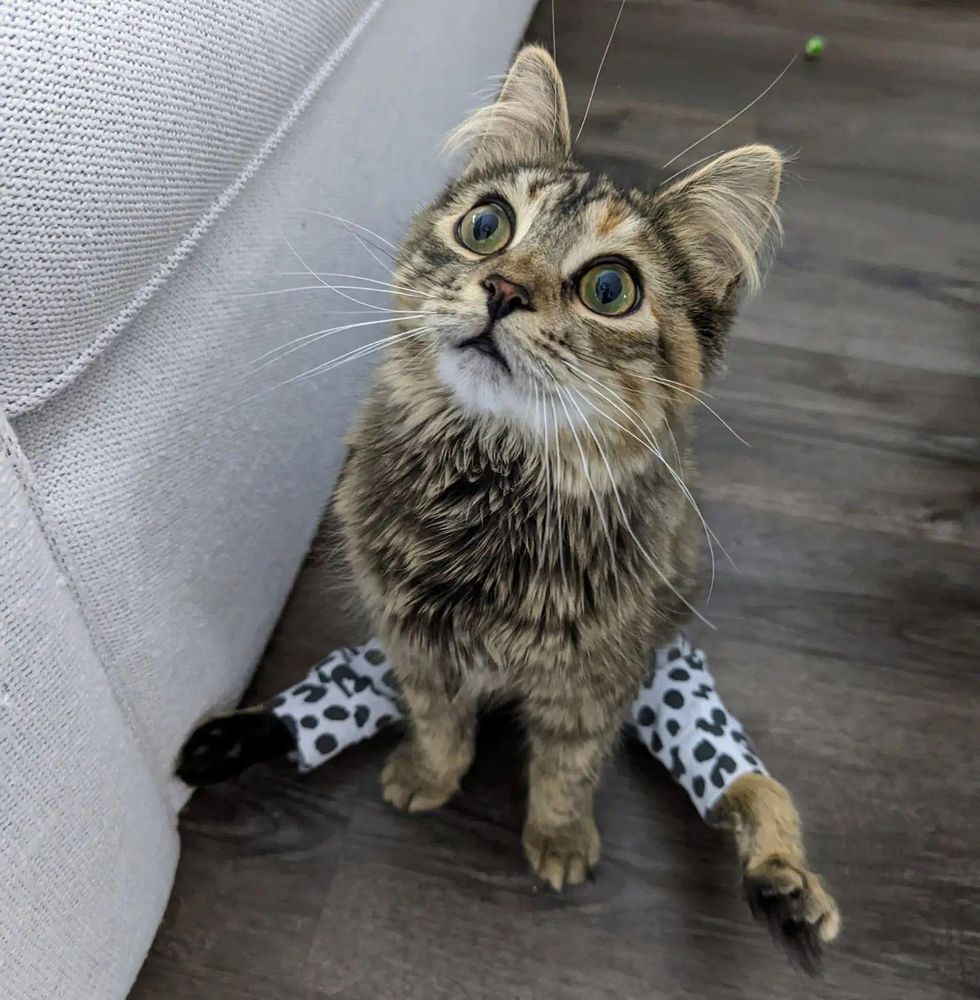 All grown up now, Merida has blossomed into the most confident, energetic, mischievous catFosterBabyCats
"Her favorite things to do are sunbathe on her balcony, chase her unsuspecting siblings through the house, play with door stops, and roll around on her custom mobility device that helps her go extra fast."
Jillian celebrates every little thing (such as toe wiggles) as a big win with Merida. "I know her personality is the only way she survived her first 2.5 months of life without intervention."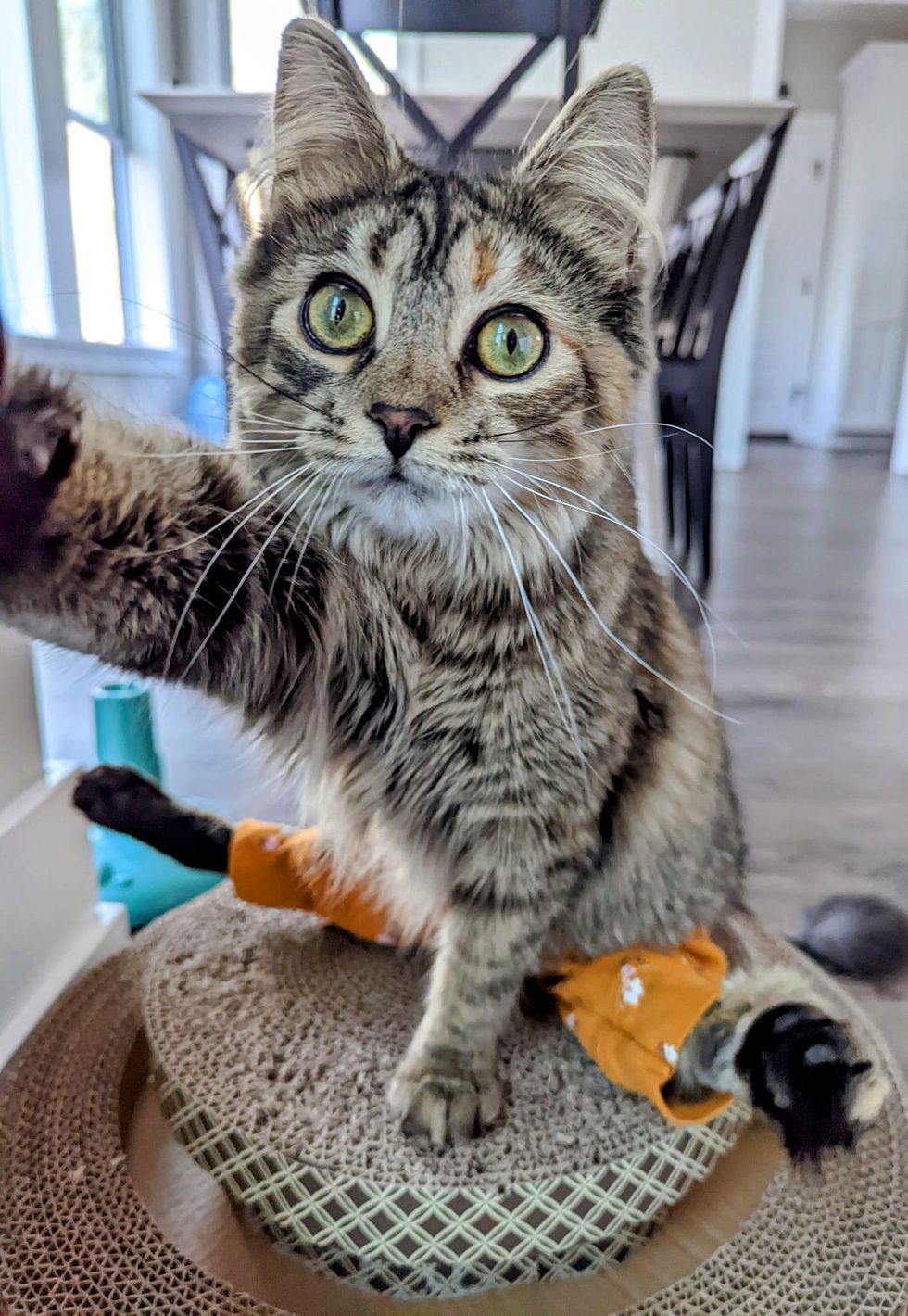 She wears pants to help protect her hind quarters as she zooms around the houseFosterBabyCats
"She pushed me to learn how to take care of and how to help a paralyzed kitten flourish. I'm so happy she gets to feel safe, and so proud of how far she's come," Jillian wrote.
"She demonstrates every single day that she is tough, fearless, and persistent, but she also knows that if she needs a little extra help, that's okay too."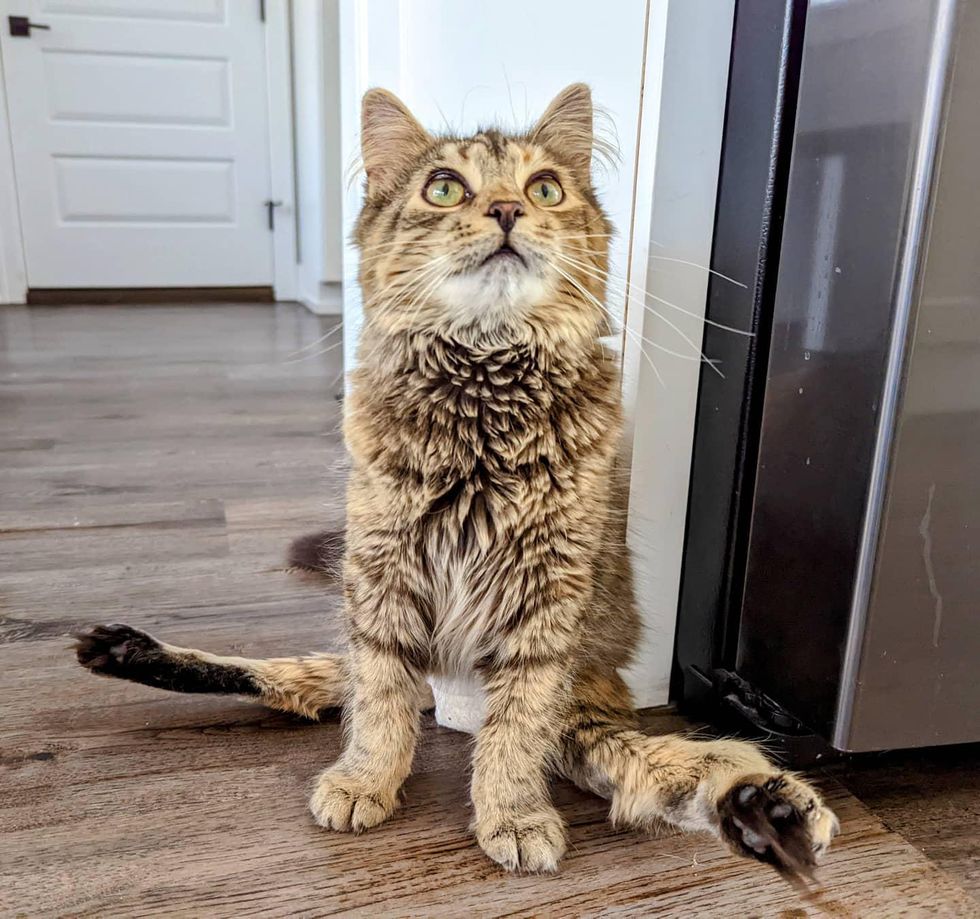 She doesn't let anything slow her downFosterBabyCats
Share this story with your friends. Follow updates on Merida on Instagram @meridawearsthepants. Follow FosterBabyCats on Facebook and Instagram @FosterBabyCats.
Related story: Kitten Stumbles Her Way into the Heart of Dog After Being Found Wobbling Outside