When a cat, a dog and a rat came to a local shelter, they couldn't be apart from each other. They were very bonded like siblings.
Meet Jack (cat), Sasha (dog), and Tweaks (rat)!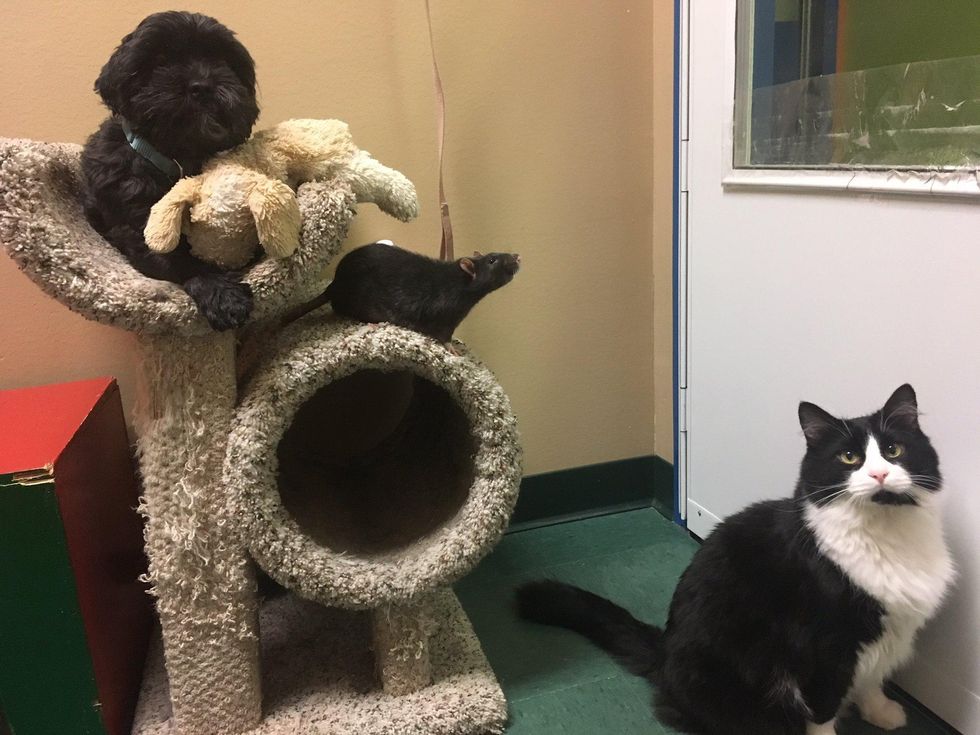 Oshkosh Area Humane Society
Three unlikely friends came to The Oshkosh Area Humane Society (in Oshkosh, Wisconsin) one day looking for a new home--Jack, a sight-impaired cat, Sasha, a young dog and Tweaks, a senior rat.
"They came here at the beginning of March as a surrender together. Their owner could no longer care for them but they let us know they were very bonded," Jennifer Ollanketo of OAHS told Love Meow.
Jack the feline can't see very well and relies on Sasha the dog as emotional support and sometimes as his seeing eye.
"She calms Jack and if Jack is away from Sasha too long he gets very upset."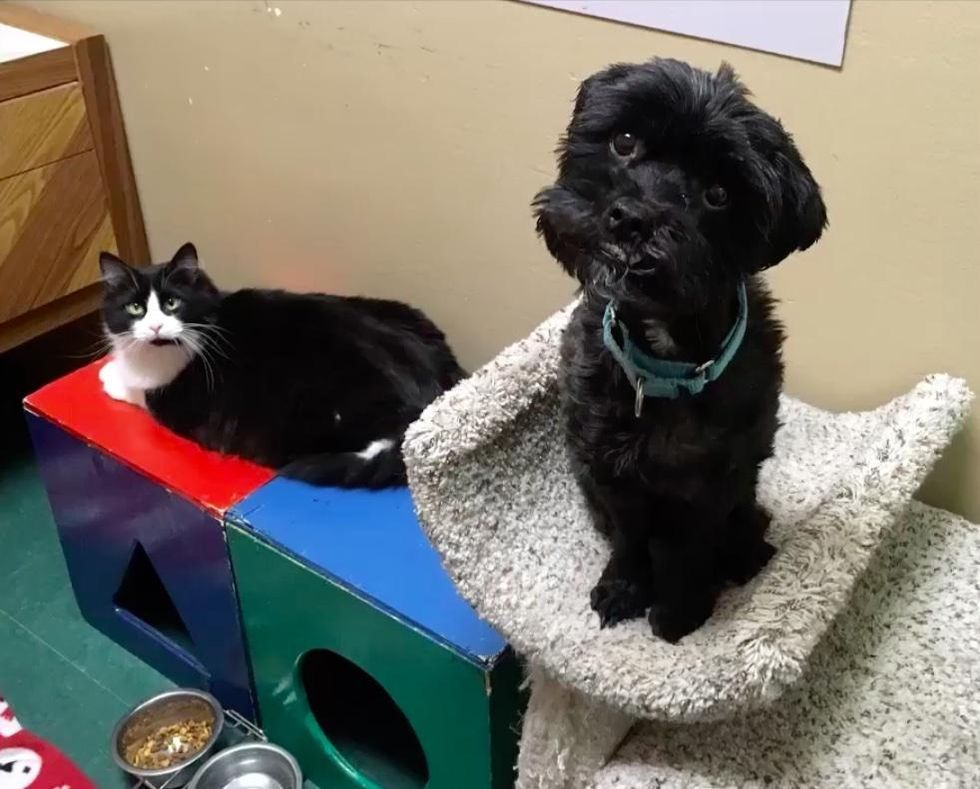 Oshkosh Area Humane Society
Tweaks the rat may be a senior, but he has a young heart and loves to wrestle with Sasha. He loves his best buddies and is extremely friendly to everyone.

The gorgeous tuxedo, Jack, gets anxious when his canine friend, Sasha, is not around. When the staff took the cat to the vet for a physical exam, Jack didn't want to cooperate until they brought in Sasha. Immediately, Jack calmed down by his best friend's presence.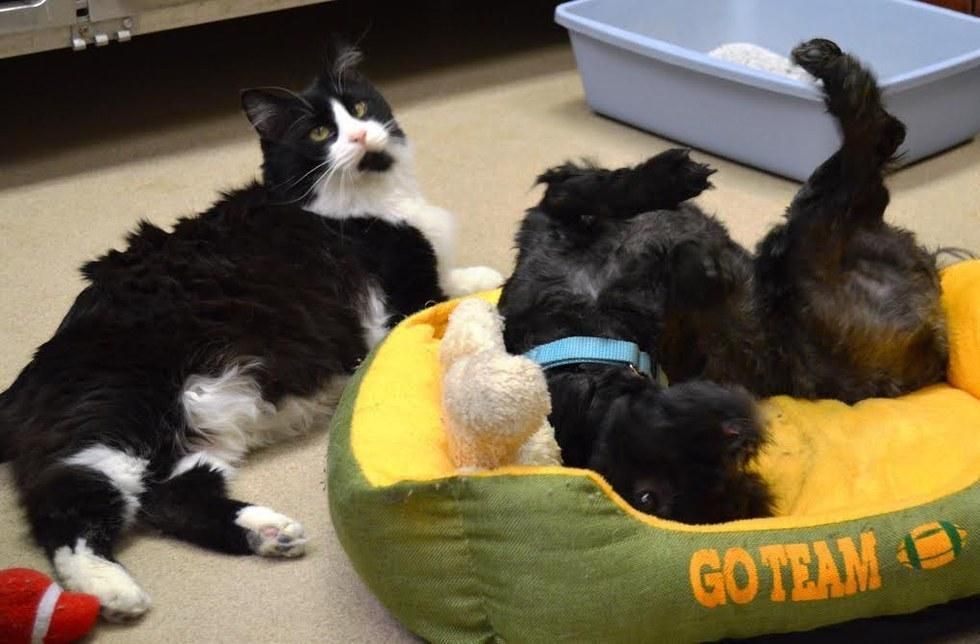 Oshkosh Area Humane Society
Tweaks the rat is the entertainer and cuddler of the three. He will run all over the dog and play with her like he's a puppy. Then he will walk up to Jack and cuddle with him in his arms while he tries to nap.
They say cats are rats' arch-nemesis, but these two buddies prove it otherwise.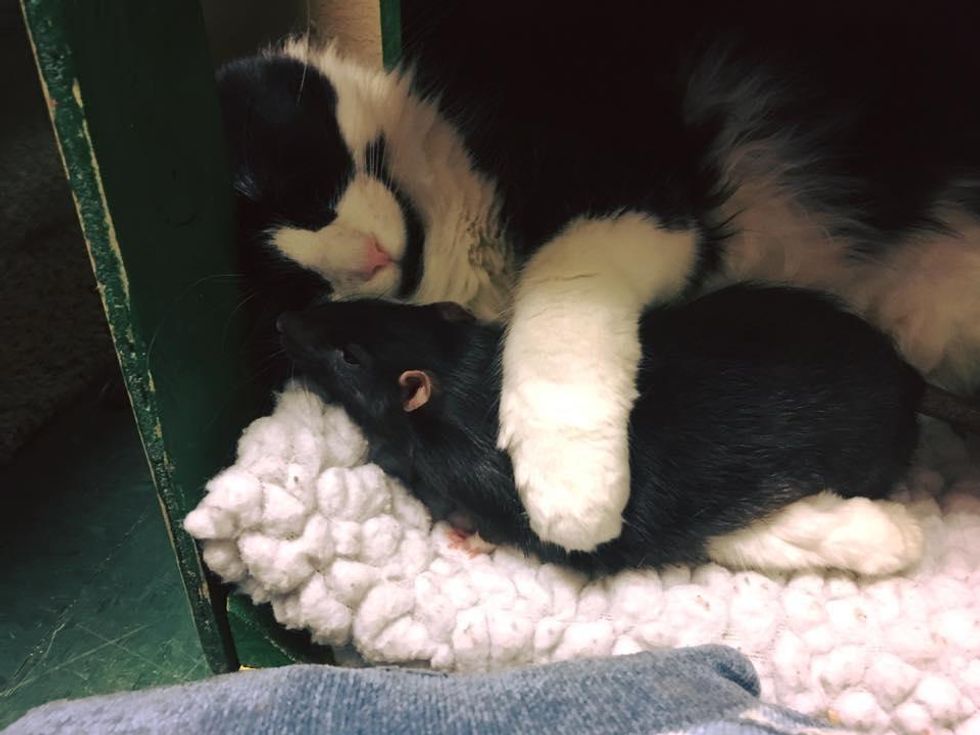 Oshkosh Area Humane Society
It was clear that these three unlikely friends couldn't be separated. When they were at the shelter, they shared a room, and they did everything together. The staff lovingly named them The Rat Pack.
They love giving each other kisses. "It's really been a joy to witness their special bond," Jennifer told Love Meow.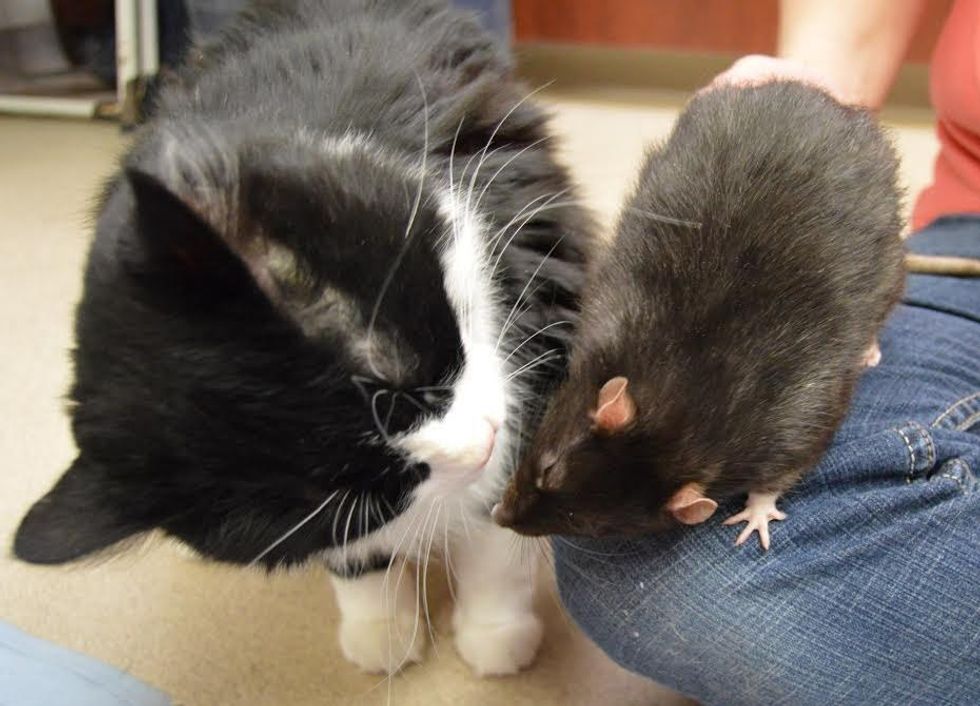 Oshkosh Area Humane Society
The shelter wanted to keep the trio together and started looking for a perfect home that would take all three in with open arms.
"These three are just amazing to watch, how they interact and how they all just get along so well... They bring out one another's unique personalities," Joni Geiger of OAHS told Fox11News.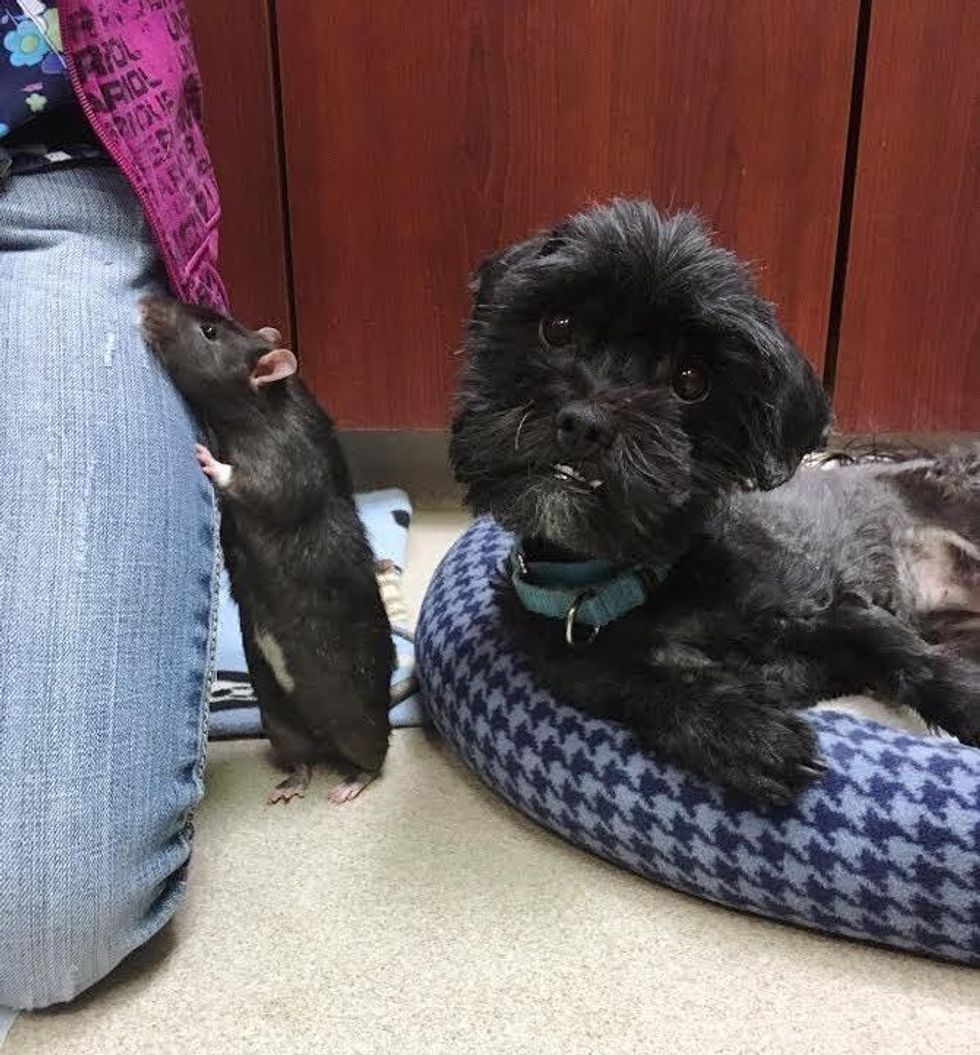 Oshkosh Area Humane Society
Three weeks later, a family came to the shelter, looking to adopt a cat and a dog.
The shelter staff introduced them to the Rat Pack since they were already bonded.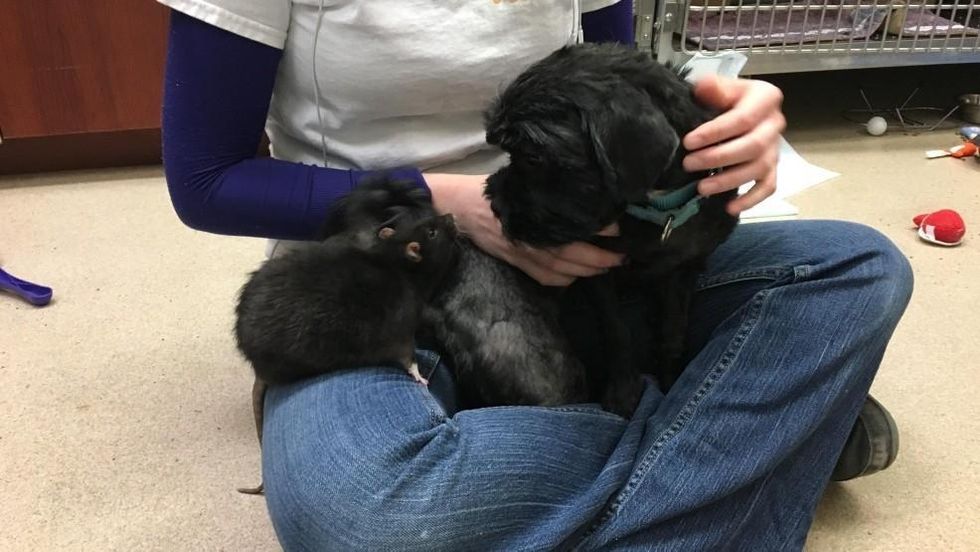 Oshkosh Area Humane Society
Kathy Berens and her daughter met the trio for the first time and were amazed by the incredible connection they shared.
Even though they had no previous experience of owning a rat and weren't sure about adopting one at first, as soon as they met Tweaks, they came to see just how affectionate he is, and instantly their hearts were stolen.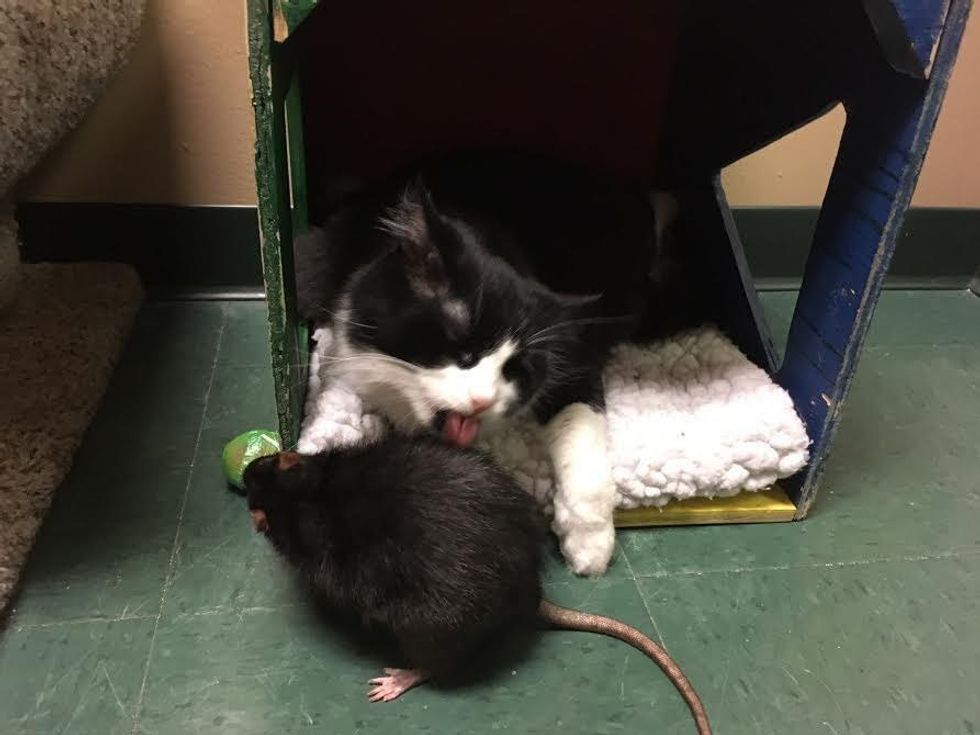 Oshkosh Area Humane Society
"The Rat Pack just left for their new home today! We're all very excited that they all went home TOGETHER," Jennifer shared the good news with Love Meow.
The three buddies couldn't be happier!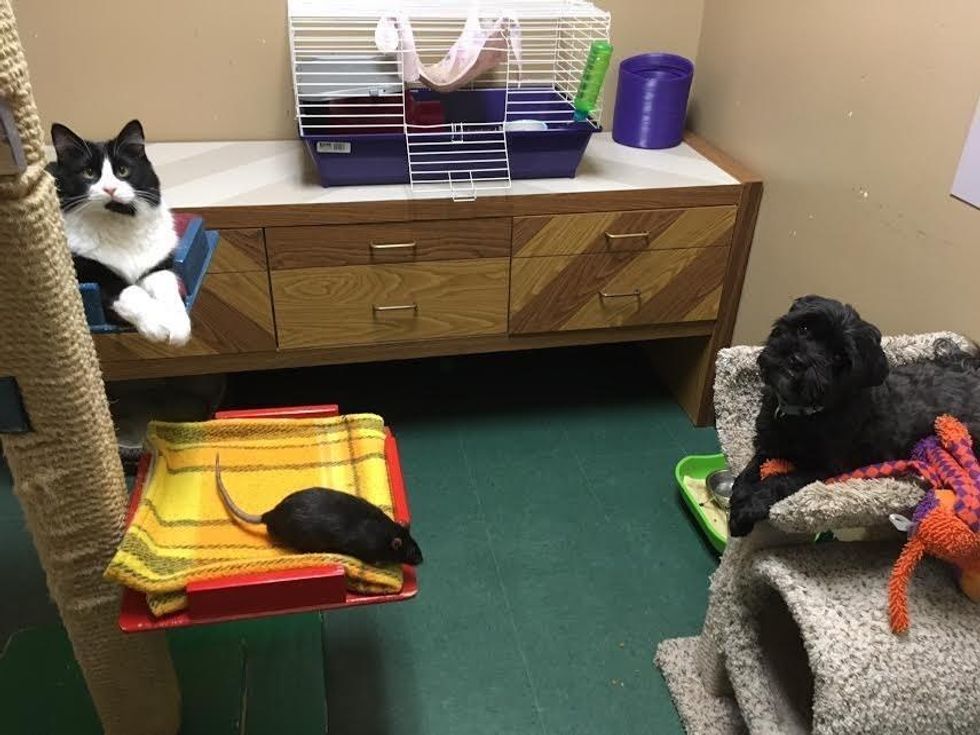 Oshkosh Area Humane Society
It was bittersweet for the staff to say goodbye to the trio, but knowing they will spend the rest of their lives together as a unit at a loving home, it makes their work so much more rewarding.
Now Jack, Sasha and Tweaks are snuggling together at a place they call their own.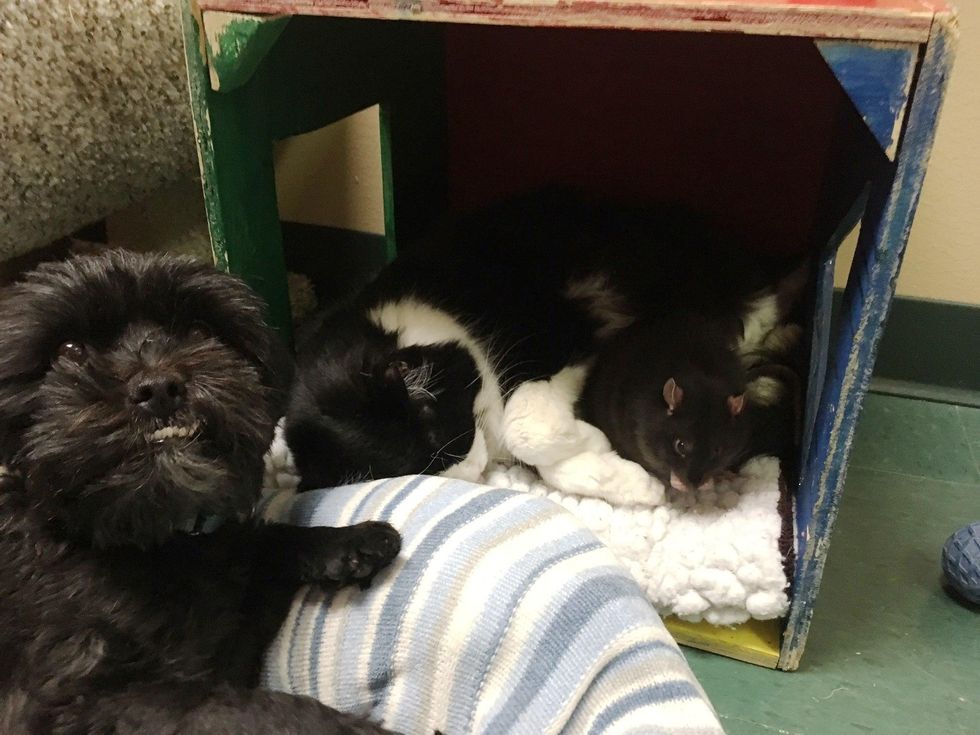 Oshkosh Area Humane Society
Watch this cute video:
Share this story with your friends. If you would like to support their rescue efforts, click here to see how you can help. Follow Oshkosh Area Human Society on Facebook.
Related story: Rescue Cat Leads a Pack of 4 Dogs and 2 Ducks and Gives Them Cuddles