A cat came up to the kind people that found her with her kittens, and decided to trust and chirp happily one day.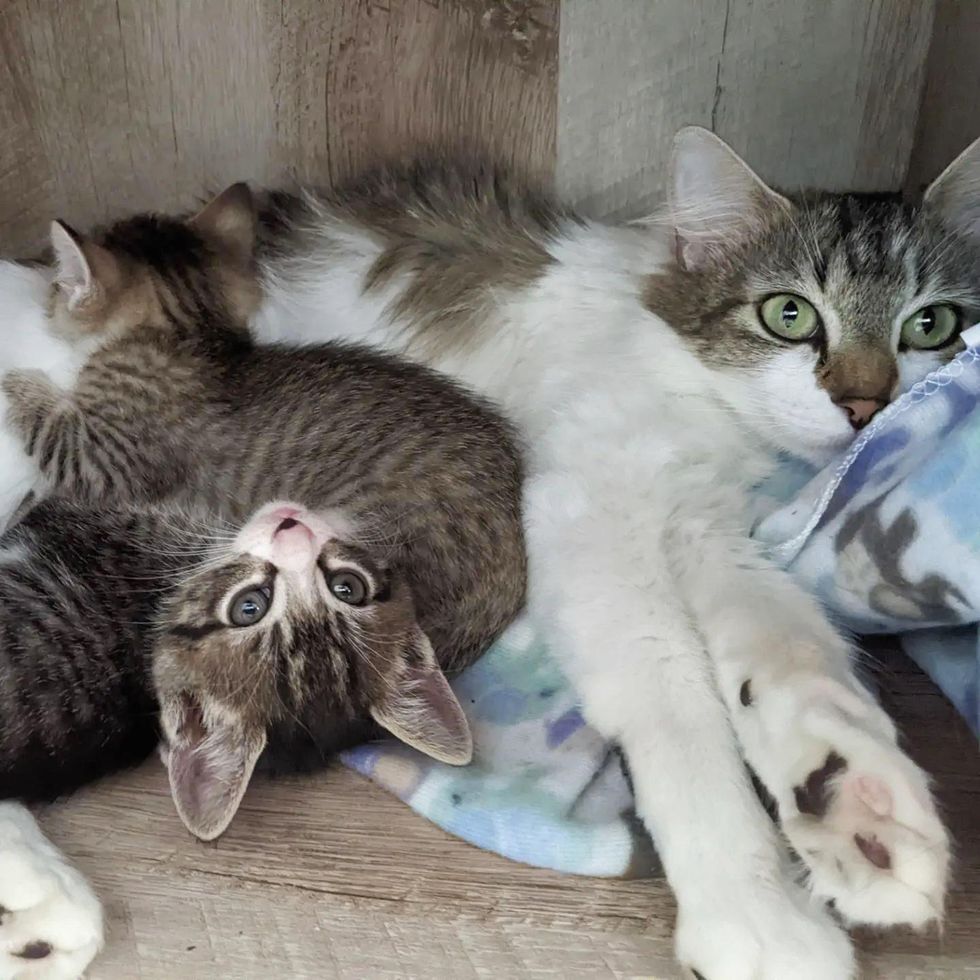 Farah the cat and her kittensElaine Keating-Brown
A Good Samaritan from The Bronx, New York, found a mother cat and her two kittens abandoned outside in a bag. They reached out to their local animal rescue, Little Wanderers NYC, for help.
Rescuers of Little Wanderers sprang into action and rushed to get them. They saw the mom huddled with her two kittens in a corner as she tried to keep them out of harm's way. They offered a plate of food, and the scrawny momma walked up to it and started eating.
Despite being a bit scared, she was so glad to have some grub in her belly at last.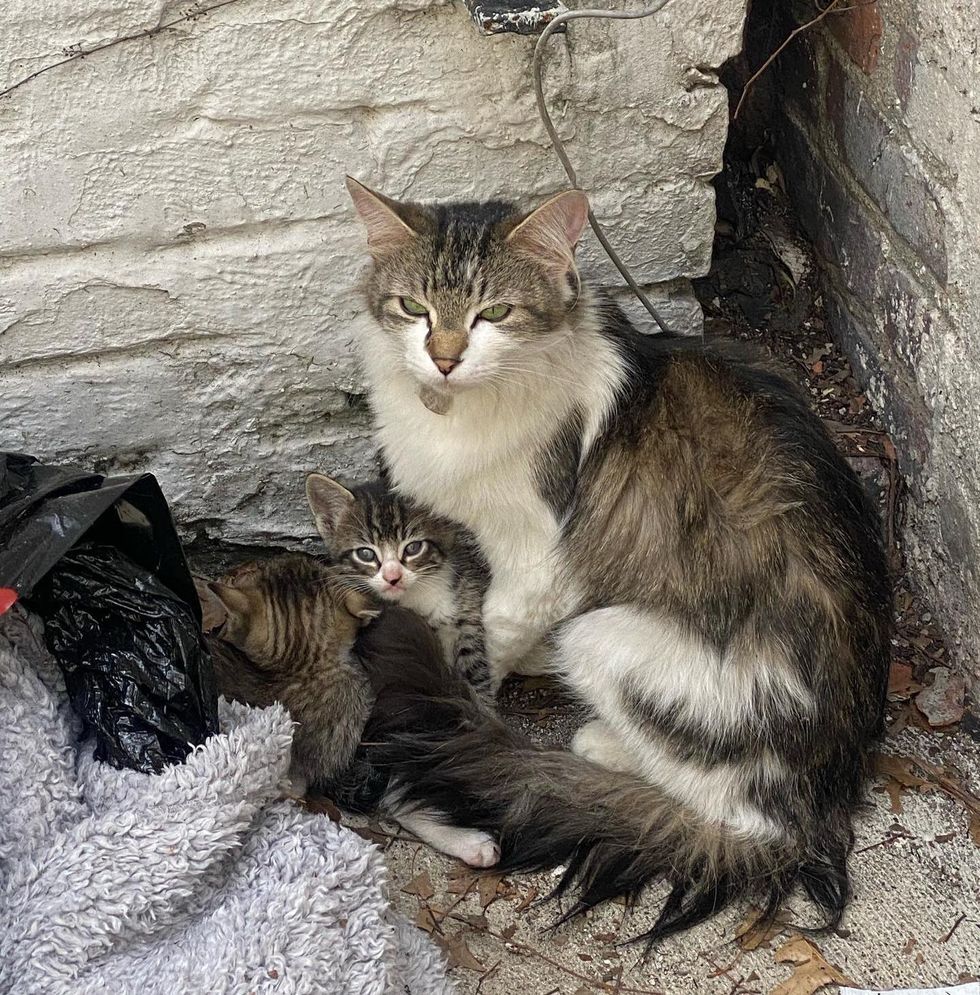 Farah and her kittens were found outside in a bagLittle Wanderers NYC
"They were found in a trash bag. We don't know why but we do know that they've been rescued and are now with one of our rockstar fosters, Elaine, who will take good care of them while they grow up," Little Wanderers NYC shared with Love Meow.
"She's a very pretty mom cat with a long-haired tail. We've named her Farah, and her baby girls Francesca and Florence."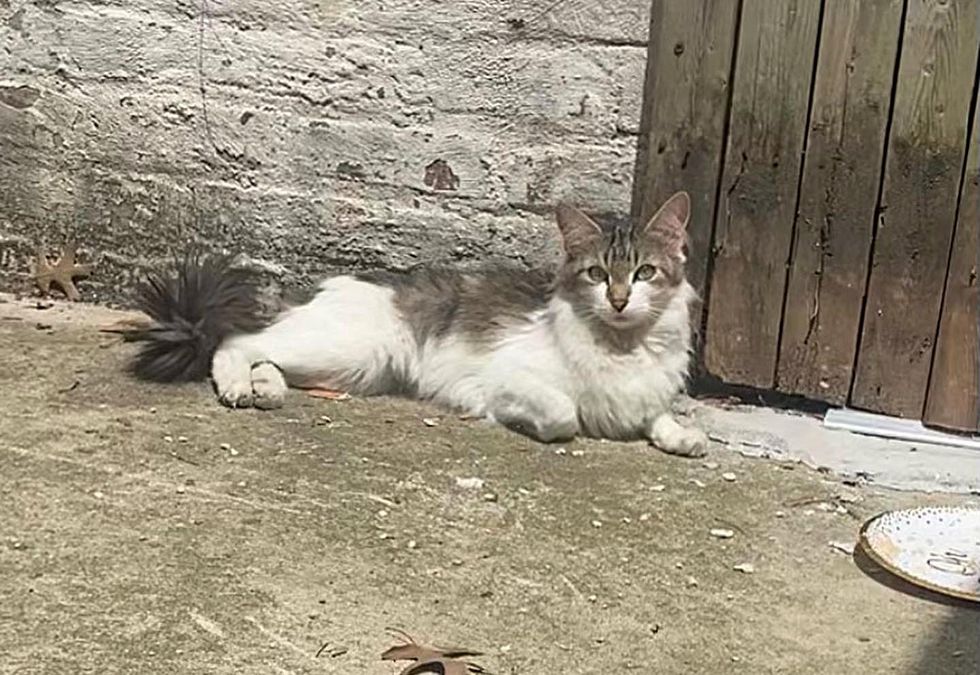 Little Wanderers NYC
The feline family of three were transported to their foster home. While the kittens settled in and warmed up to their people quickly, mama Farah was understandably still wary and fearful after the long ordeal.
"She came rather stressed unsurprisingly, and did lash out a lot," Elaine Keating-Brown, the foster mom, shared with Love Meow.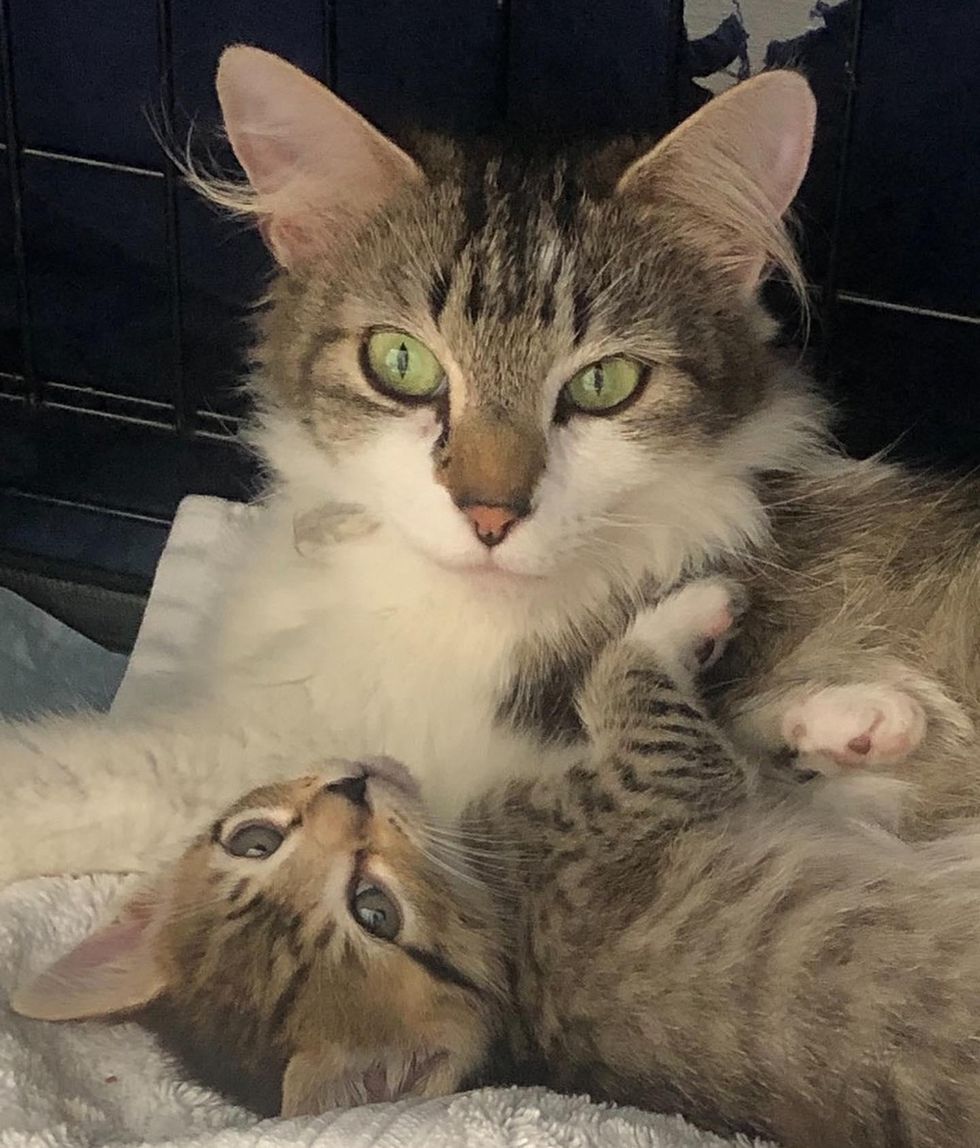 Little Wanderers NYC
Elaine kept the foster room door open to encourage Farah and her kittens to venture out and explore. Over the next few days, the kittens came out of their shells and experienced their first snuggles with their humans.
They began to enjoy chasing and playing with toys between cuddle sessions. Their energy and confidence rose, and it rubbed off on their mom, who watched them interact with their humans attentively, and started to relax more.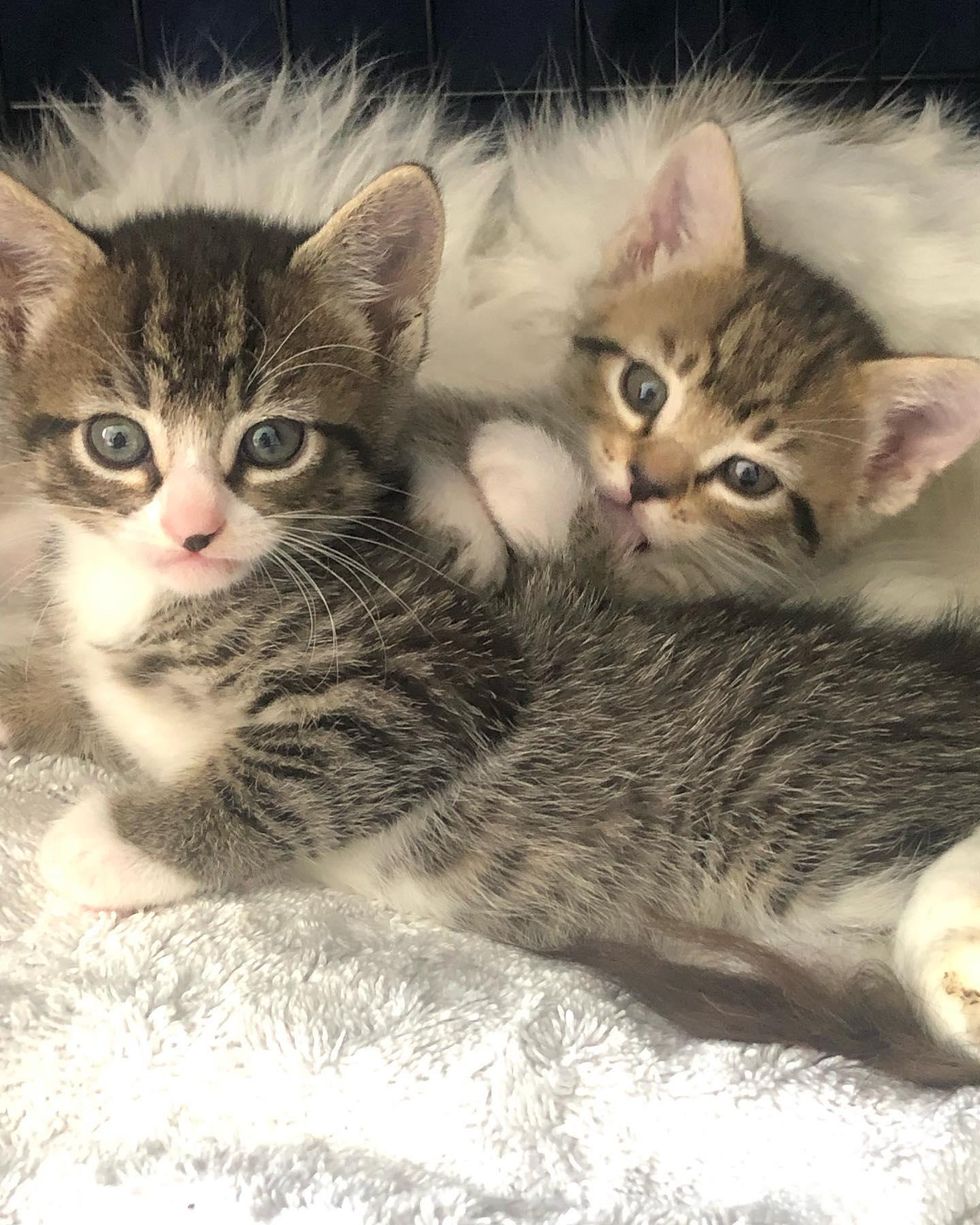 Little Wanderers NYC
After about a week, momma Farah was feeling more comfortable and learning to trust people again.
Watch Farah and her kittens in this video:
Farah the cat and kittenswww.youtube.com
"She was becoming more used to me. It took time and patience which I have plenty of," Elaine shared.
"She must have been on the streets for a long time as under that stunning coat she is skin and bones. She has some trust issues—understandable—but she is allowing more pets every day."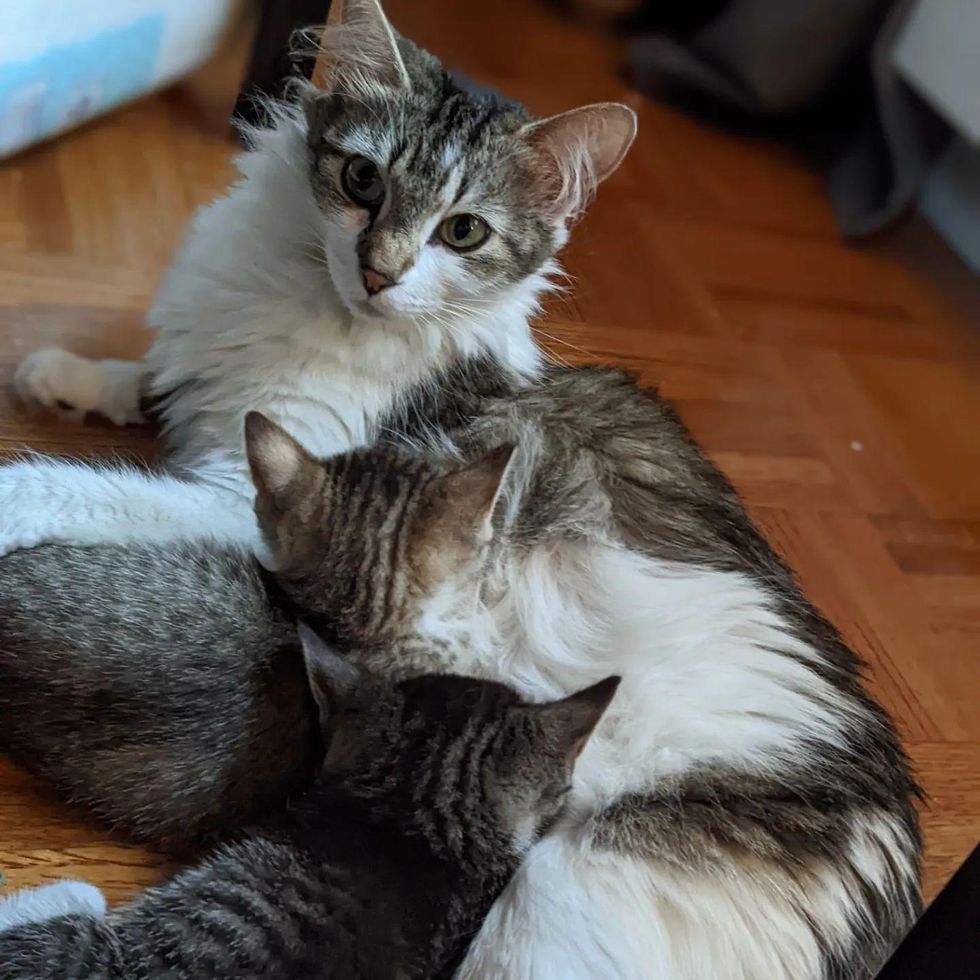 Elaine Keating-Brown
Over time, the kittens grew to be more playful, inquisitive and adventurous while living the cushy indoor life. Farah worked up her courage and started coming up to her foster family for treats and head scritches.
"She is way calmer now and lets us pet her and comes out of the room when she hears us get up in the morning," Elaine told Love Meow.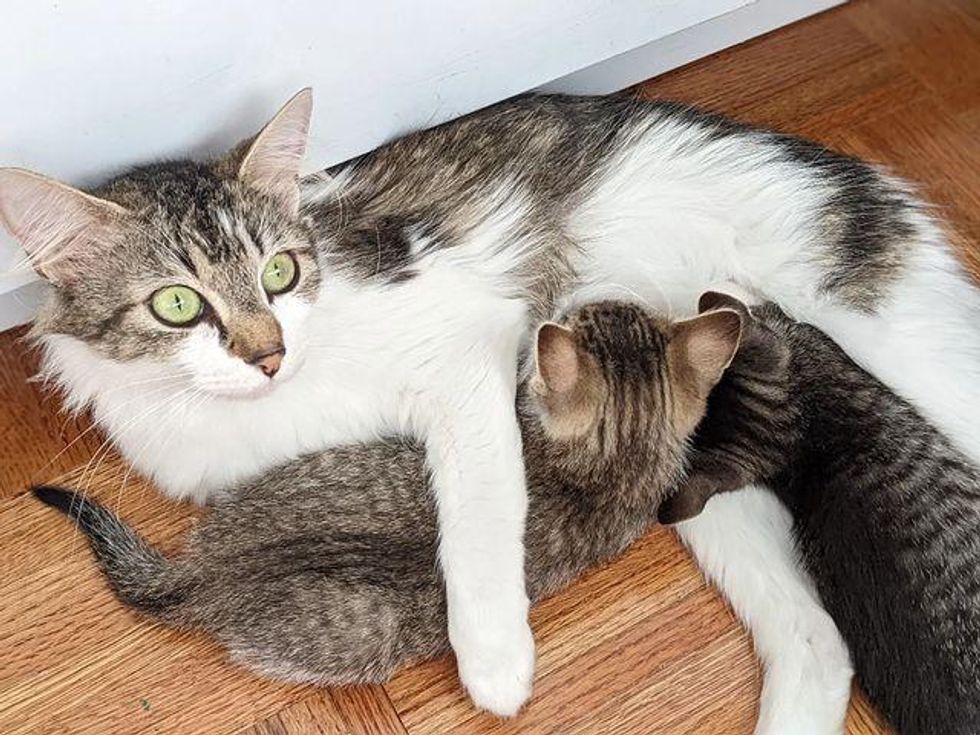 Farah learned to trust again after a week in foster careElaine Keating-Brown
Farah is finally filling out with a bountiful supply of food at her disposal. Now that she has trust and confidence, she has become more vocal and makes the cutest chirps when she calls to her kittens or asks for attention from her humans.
"Mama is so sweet with her babies. She comes running as soon as they cry. She is rather forceful when she cleans them—she sort of headlocks them to clean their ears. She is still nursing them and is never far away from them."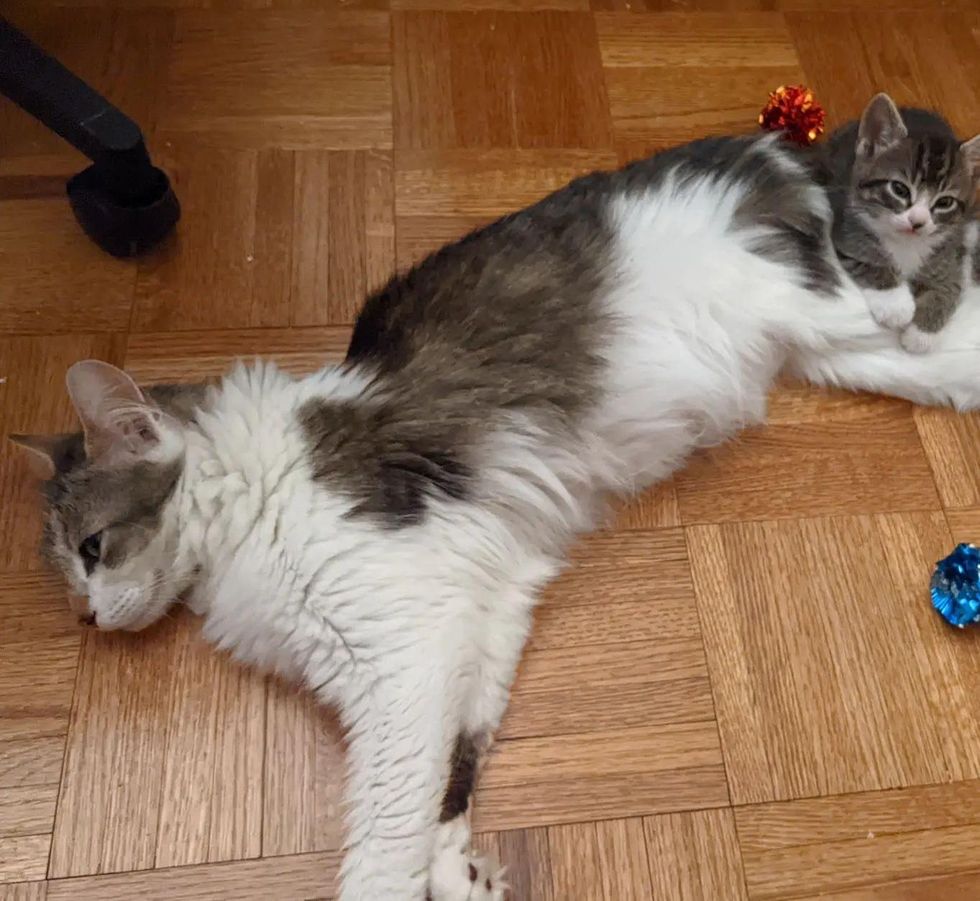 She is much calmer and makes the cutest happy chirpsElaine Keating-Brown
The sweet family of three are thriving in foster care. Mama Farah is so content knowing she will never have to worry about food and shelter or fending for her kittens.
She is reveling in her new life with loving humans and opening up more every day.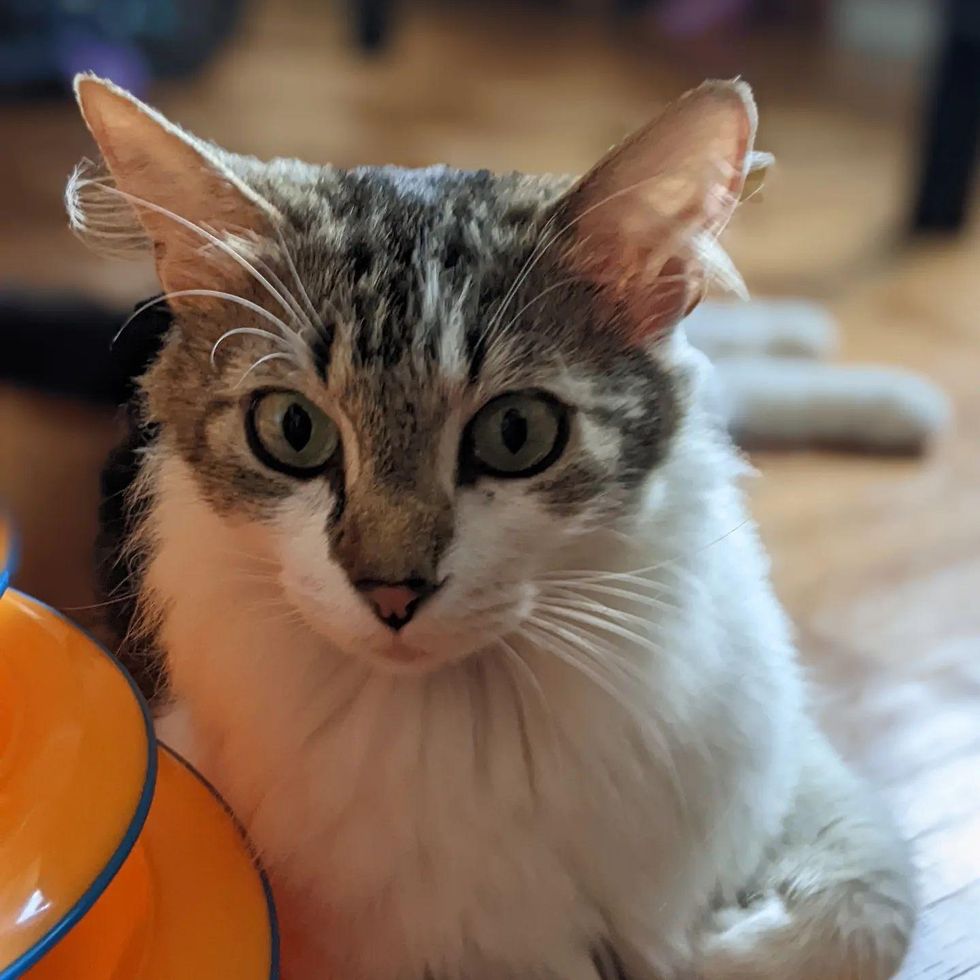 Elaine Keating-Brown
Share this story with your friends. Follow updates on the feline family and Little Wanderers NYC on Facebook and Instagram @littlewanderersnyc. Follow Elaine's fosters on Instagram @remarkablerescues.

Related story: Kittens Come Out of Bushes Together, Climb on Rescuer and Ready to Leave with Them