A stray cat was so happy when her kittens were saved from an uncertain fate.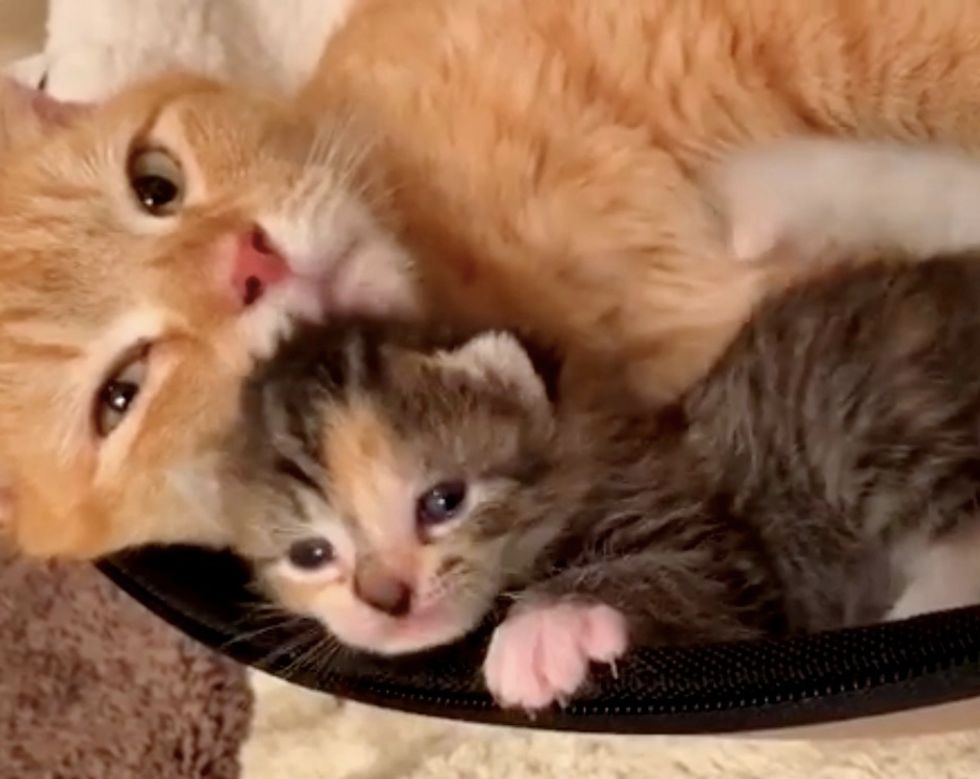 Sarah Kelly @kellyfosterkittens
A ginger cat mom and her litter of four kittens were found in a rough situation. Sparkle Cat Rescue, an all-volunteer rescue in Burlington, North Carolina, rescued them from their plight just in time.

"They came from a trailer park community in the Whitsett, NC area. Someone not affiliated with Sparkle Cat Rescue trapped her and her babies and took them to a clinic," Stephanie Grantham, Co-Founder/Executive Director of the rescue, told Love Meow.
"We were told the kittens were at risk of euthanasia because the cat mom was going to be fixed and released back to the property."
The momma cat was very protective and didn't let her kittens stray far from her sight. "She loves her babies and wants them to be safe."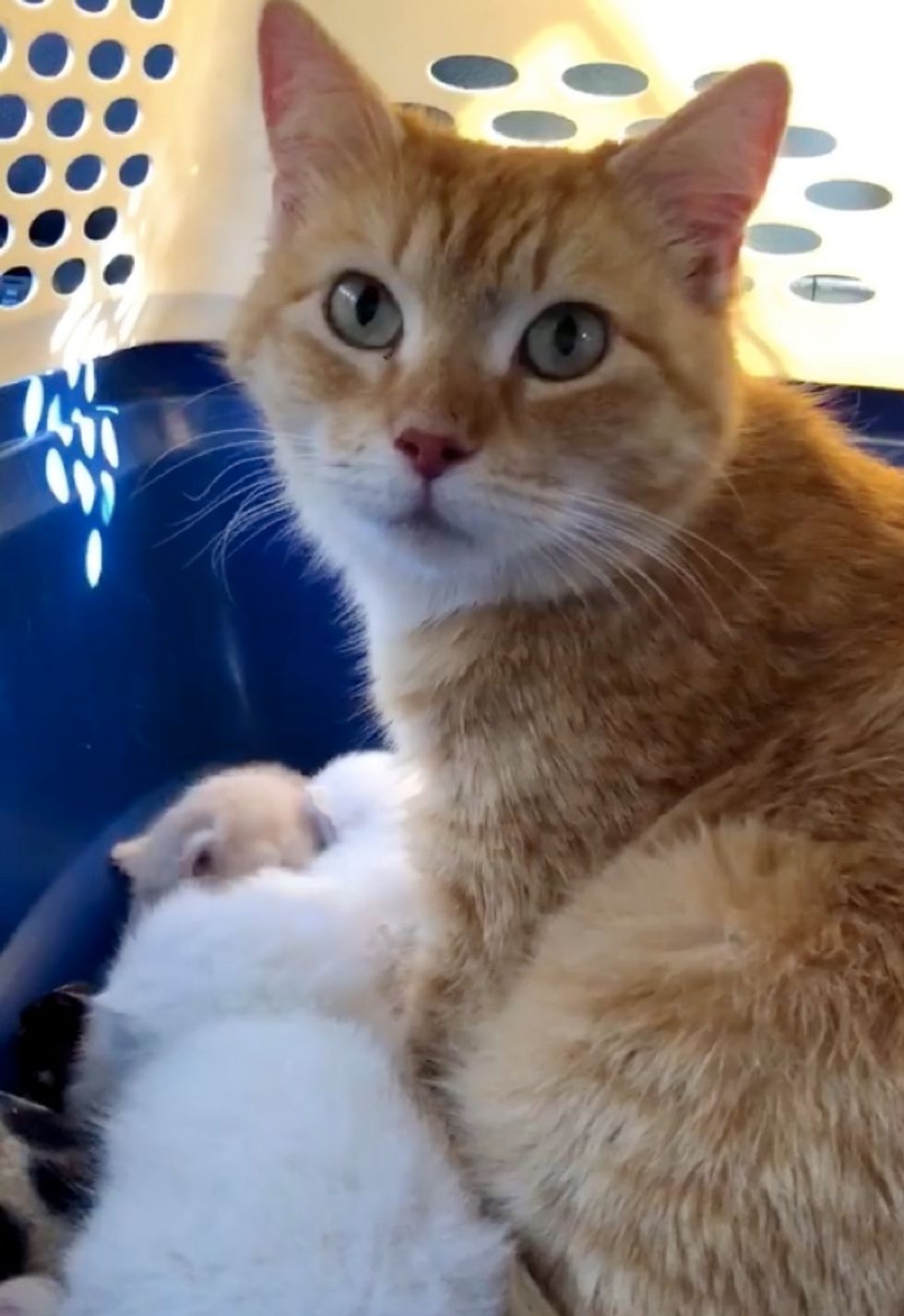 Sparkle Cat Rescue
Kristi, a volunteer of Sparkle Cat Rescue, rushed to get them to ensure their safety, and foster mom Sarah Kelly stepped up to help. "The kittens have upper respiratory infections and one of the white babies is sicker than the rest," Stephanie said.
After the ordeal, the mama cat could finally relax. She lay down with her kittens, as if she knew that they were in good hands.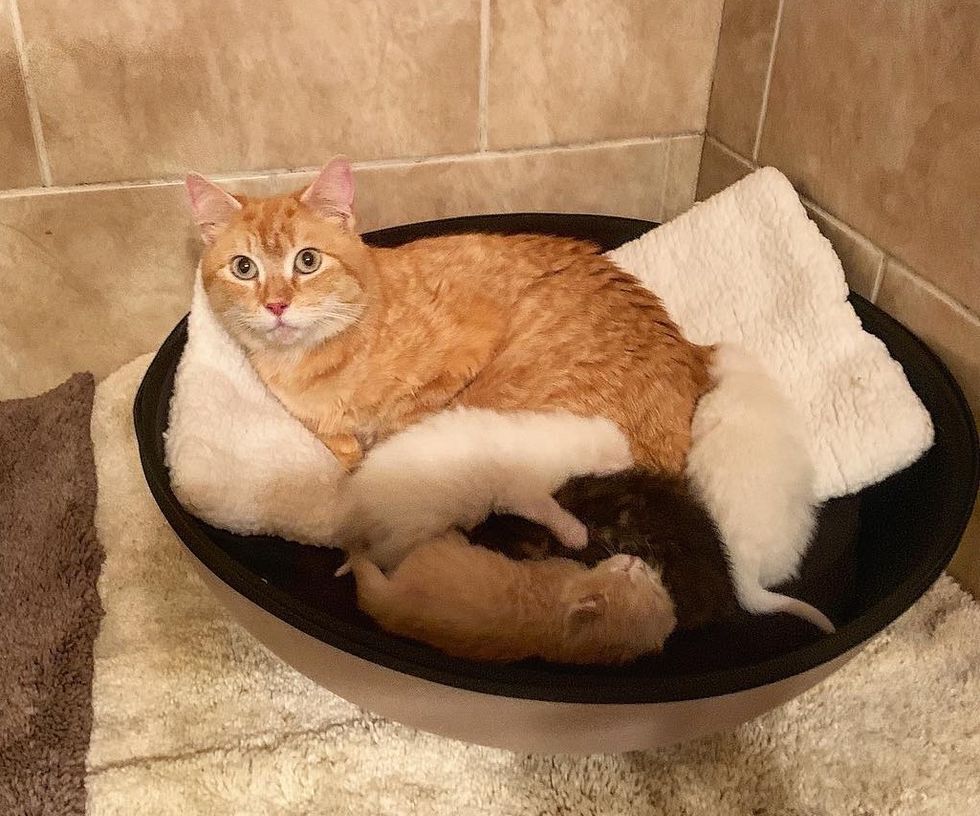 Sarah Kelly @kellyfosterkittens
The tiny bundles of fur nestled in their new, warm bed with their mom and started nursing away.
"They were able to spend their first night feeling safe and warm, with a humidifier running and were all started on antibiotics, lysine, and eye ointment," Sarah said.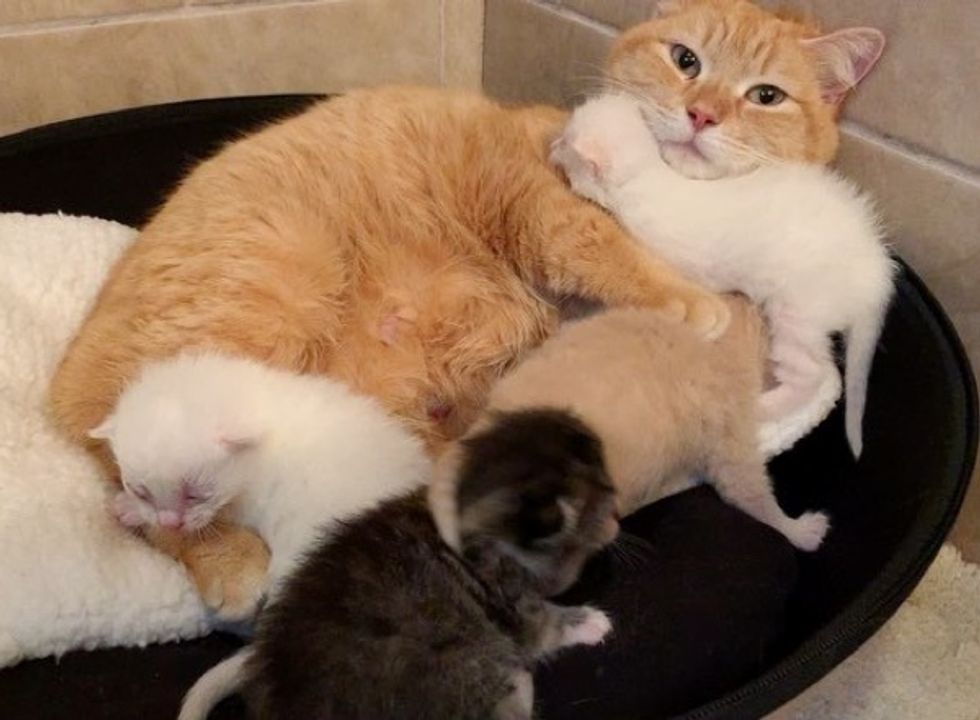 Sarah Kelly @kellyfosterkittens
The protective mama kept her babies close and couldn't bear being away from them for a second.
Watch their rescue journey in this video:
Cat mom so happy when her little family is safeyoutu.be
"I have not had a mom so protective. She lets me handle the kittens but watches closely and growled when I weighed them. Other than that, she is so sweet and purrs and seeks out affection," Sarah said. "They are warm, fed and safe, and that's what matters most."

The tiny runt of the litter is a fighter. Despite having the worst case of URI, she never gave up, made it through her first night and continued to fight.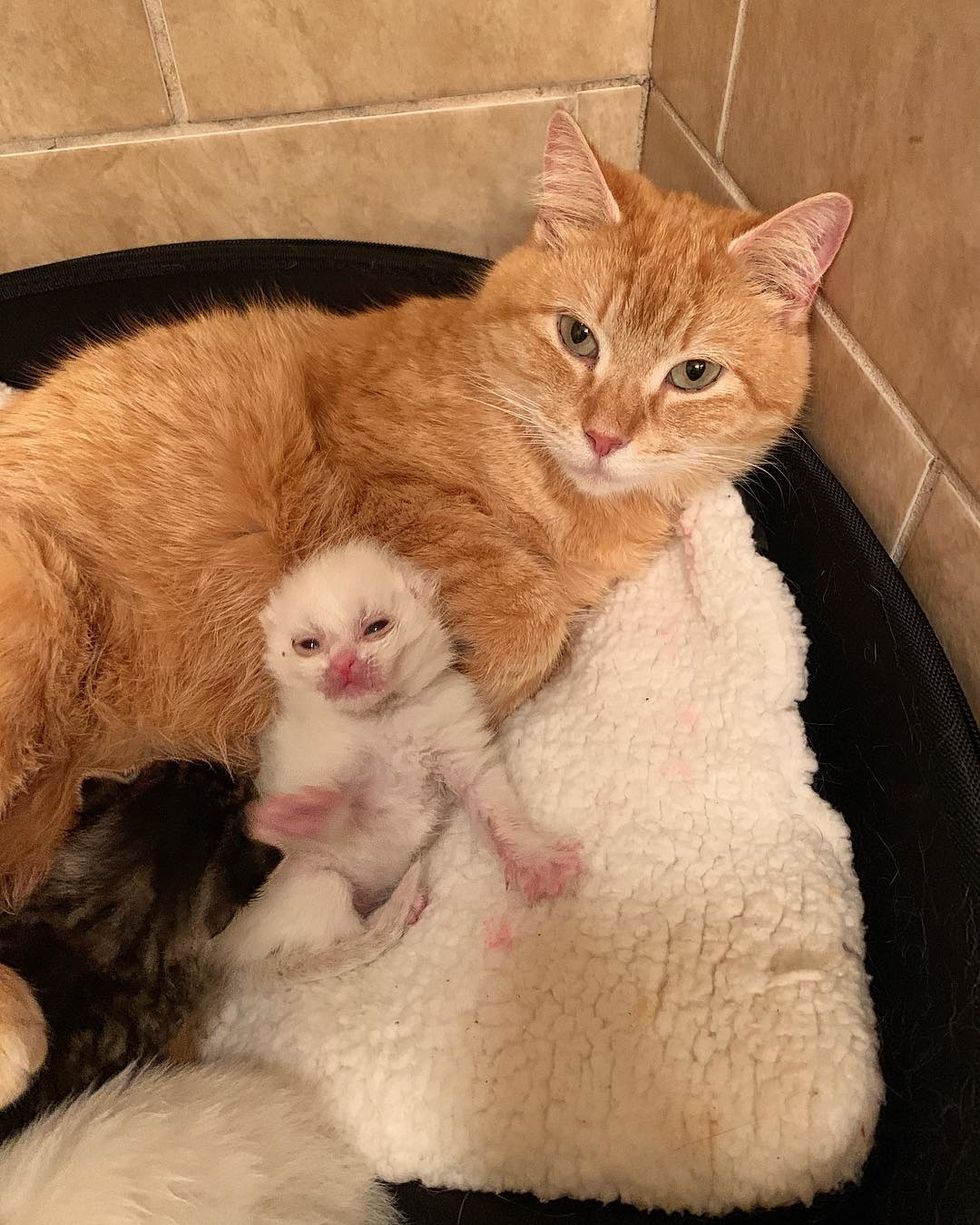 Sarah Kelly @kellyfosterkittens
"The smallest girl is feisty and still giving this fight her all - and so are we," Sarah added. "Her eyes look better already, but they still have a long way to go. We are in close contact with our vet and doing all that we can to keep this whole family comfortable and return them to health."
The mama cat is so happy that her kittens are safe. She's constantly snuggling with them, making sure they are loved.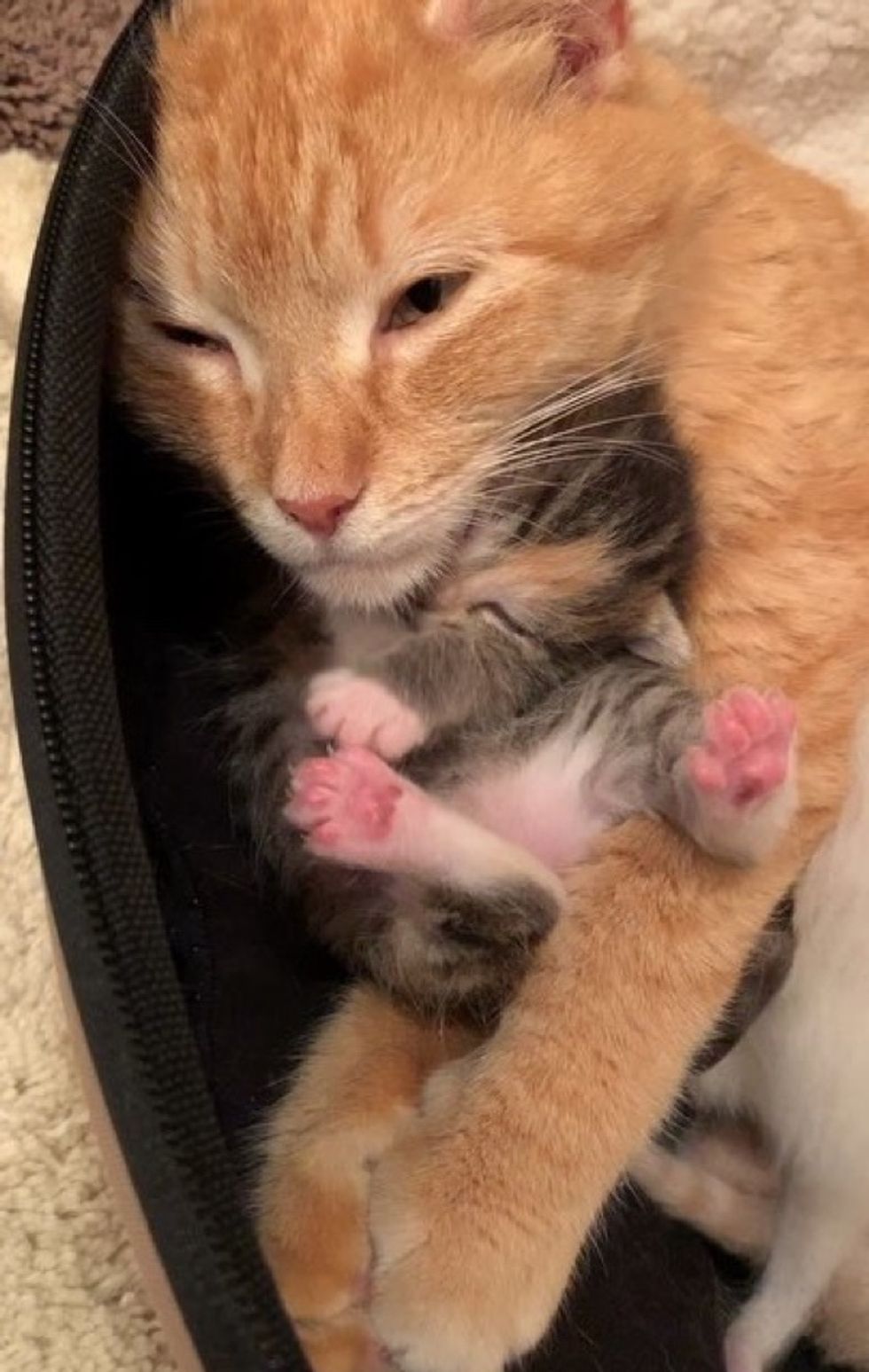 Sarah Kelly @kellyfosterkittens
"This Mama loves her babies so much. It's heartbreaking to think of their fate if Sparkle Cat wasn't able to take them in. She is living in a palace compared to where she came from," Stephanie told Love Meow.

"Because of our amazing fosters and supporters, we were able to jump in and make sure this family had a chance at life. We will be sure they are well taken care of and find loving indoor homes - never to be homeless or hungry."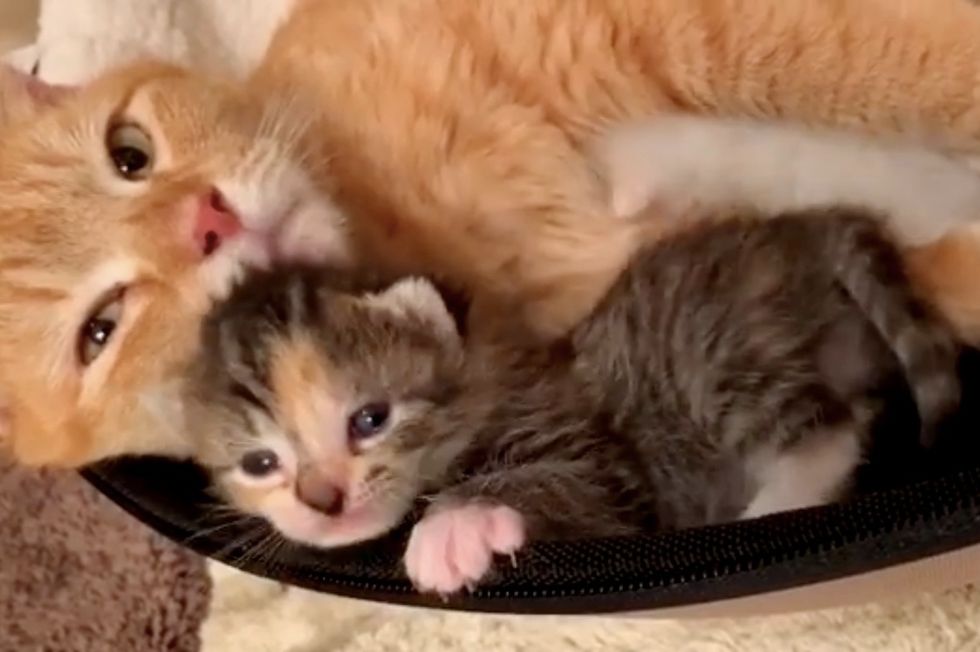 Sarah Kelly @kellyfosterkittens
Share this story with your friends. If you would like to help with their medical needs, click here to see how you can help. Follow updates on the little feline family on Facebook and Instagram.
Related story: Stray Cat Sneaks into Basement with Her Kittens and Finds Someone to Help Them